Arabian Coast is a sprawling port full of minarets, colorful domes, pointed arches, and winding streets.
The buildings all look like they were built out of sandstone and clay bricks. There is a sense of being very far away, in a hot and arid desert.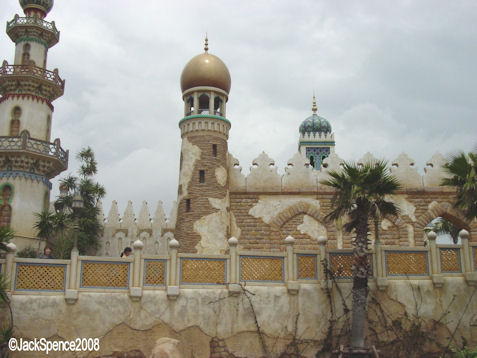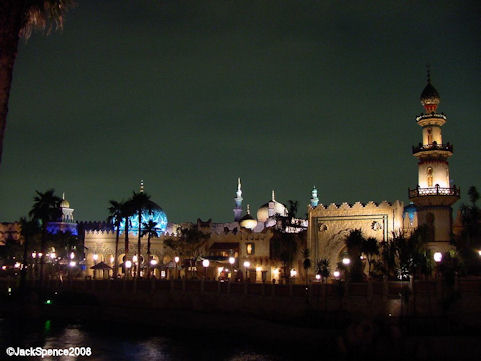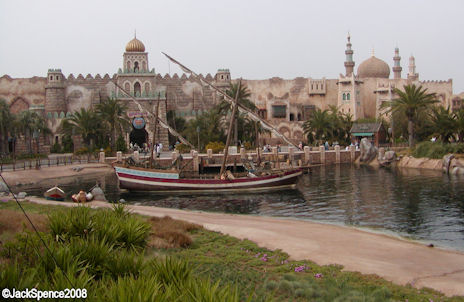 If approaching Arabian Coast from Lost River Delta, the first attraction you come to is Sinbad's Storybook Voyage (SSV).
This is a boat ride comparable to Pirates of the Caribbean, minus the waterfalls. Disney expected SSV to be a major draw as its scope was large and encompassing. Unfortunately, it didn't work out that way. From what I understand, the Japanese people aren't all that familiar with the story of Sinbad and this attraction often had minimal lines while the rest of the park was busy.
To try to remedy this, last year the attraction was closed for a major refurbishment. One of their first goals was to change the storyline and soften the foreboding feel. In the original version, Sinbad had a beard. In the second incarnation, he's clean shaven for a less sinister look. The Giant in the first version was vengeful. Now he's grateful. And Sinbad was given a sidekick in this second go-round, Chandu. This is a cute little tiger cub that helps Sinbad conquer evil. And finally, a very melodic song, written by Alan Menken, was added for Sinbad to sing. I really like this new music, but unfortunately, it hasn't been released on CD yet.
To be honest, I thoroughly enjoyed the previous ride, but with the addition of the new song and Chandu, this is now one of my favorite attractions at Tokyo DisneySea. However, I'm not so sure that the Japanese agree with me since this attraction still had minimal or no lines during my visit.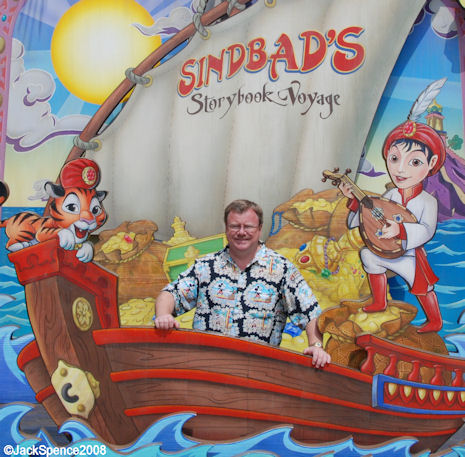 I must apologize. I had a new camera on my latest trip to Tokyo and I was still figuring out how to use it. Unfortunately, all of my interior pictures of the new SSV were out of focus. The following pictures were all taken five years ago, before the refurbishment. For the most part, they will still give you an accurate depiction of the attraction.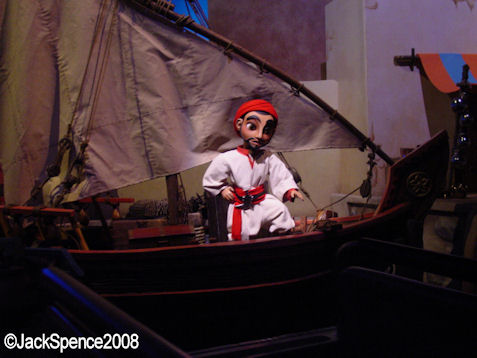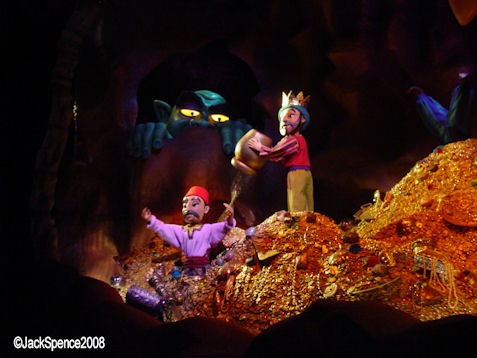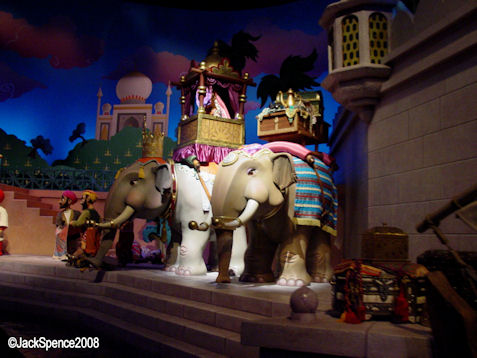 I know that the audioanimatronics look very "Small Worldish." Trust me, this is not the case. These AA's have full body movement. They are very sophisticated.
For sale in a nearby shop, you can buy a plush Chandu (imagine that). Since I love this attraction so much, I just had to have one. However, I bought the smaller version as I had no idea where I was going to put it once I got home.
After leaving Sinbad's Storybook Voyage you walk through the streets of Agrabah.
As you'd expect, this area is filled with shops and eateries. You'll also find several humorous props such as a magic rope and a silly camel. If you're wondering why there are no people in many of these pictures, it's because I was in the park during "early opening" for MiraCosta guests.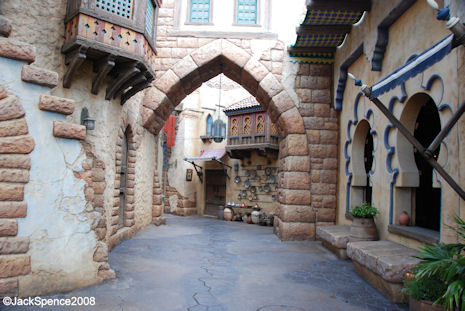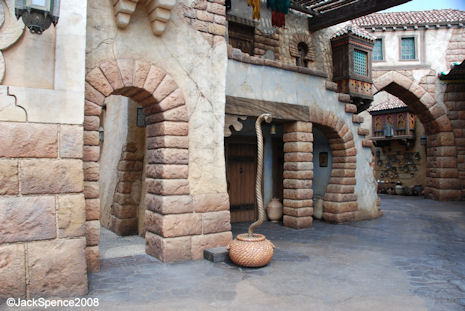 At the far end of Arabian Coast is a beautiful courtyard. This is a festive area that makes you feel like you're in the center of a vast marketplace. It's in this area that you'll also find a major food court and two more attractions. I'm hungry so let's start with the restaurant.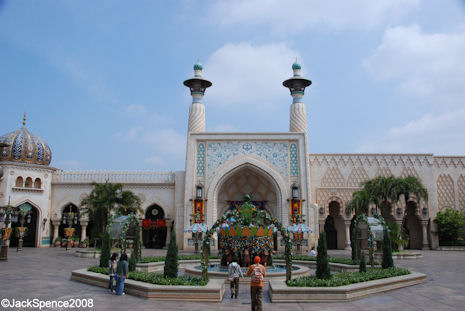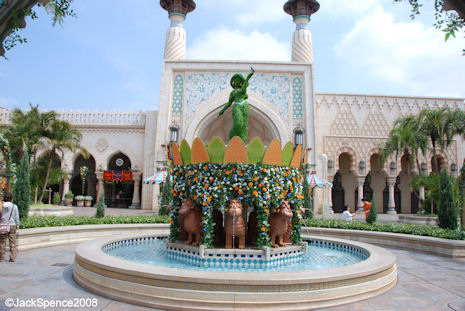 The Casbah Food Court is a large eatery that offers beef and chicken curries, tandoori chicken, seafood chow mein, salads, and desserts.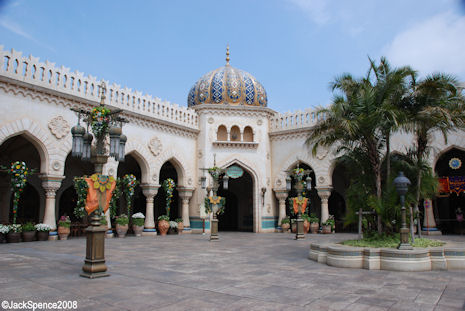 The food-ordering area was designed to look like the marketplace from the Disney animated film Aladdin.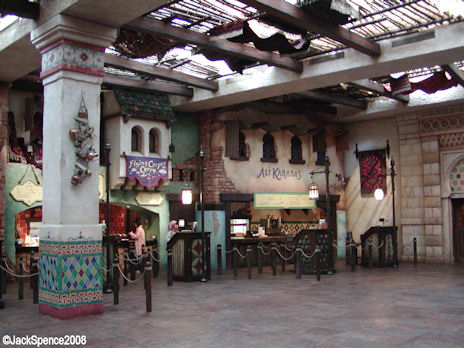 The dining area is elaborate. Ornate chandeliers, intricately carved tables and chairs, tile floors and sumptuous wall coverings make you feel like you're dining with royalty. Unfortunately, I don't have a picture of this dining room. Sorry.
Next to the Casbah Food Court is the Magic Lamp Theater. This show is unique for Disney as it mixes live action performances and a 3D movie. But before you actually go into the theater, you enter a preshow area. Here, an audioanimatronic snake and an animated, genderless character, dressed in Arabian garb, set up the story to come.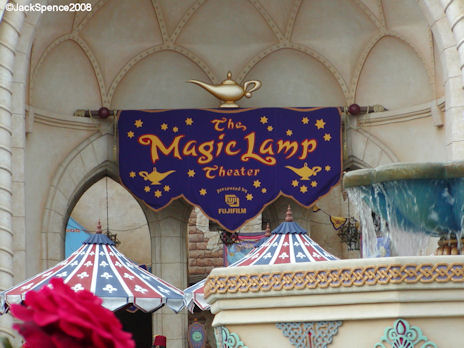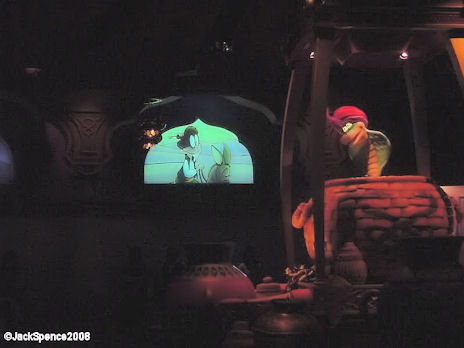 Inside the main theater, you don your 3D glasses and the animated character from the preshow is now a real human being and is joined by a somewhat insane magician. Antics pursue until the Genie from Aladdin appears overhead on a large screen. The effects are seamless as the real live performers interact with the animated 3D Genie.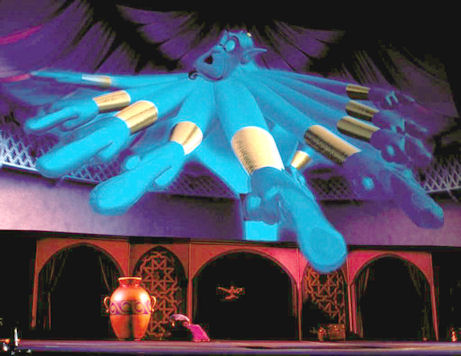 This show is presented entirely in Japanese and the audience laughs often. But even if you don't speak the language, you will still enjoy the antics and special effects. This attraction is popular and often has long lines.
Note: When I returned home and finally got around to reading the DisneySea Guide Map that is available everywhere, I found that English Subtitles can be arranged by seeing a Cast Member before the show starts. Silly me.
The last attraction in Arabian Coast is Caravan Carousel. This is a two-story merry-go-round where young and old can ride many of the characters from the Aladdin movie. The upstairs section of this ride is more popular than the lower section and thus, has longer lines.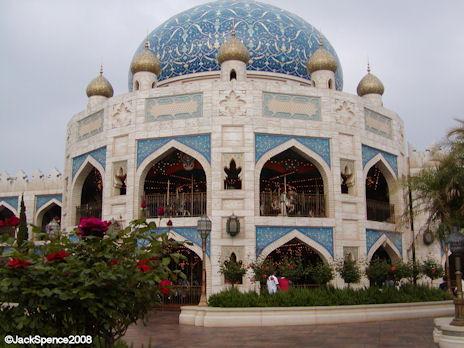 Next stop, Mermaid Lagoon.