New Hidden Mickeys can appear anywhere on Disney property at any time. Your best bet is to check out a refurbished area or a new attraction.
Toy Story Midway Mania, a new attraction at Disney's Hollywood Studios, doesn't disappoint!
A compelling new classic Mickey image is near the end of the Standby queue (the attraction also has FASTPASS and Single Rider queues).
It's on the wall past the large map of the U.S.A. below a green dinosaur and a red fish, near the floor and behind the handrails on the left side of the queue. So far, 14 folks have written to me about this cool image, but Matt Hochberg, Jesse Kline, and Jennifer Bogdan described it to me first.
Orlando Attractions Magazine and Jake Thompson wrote to me about another Hidden Mickey on the ride.
Look for the words "Circus Fun!" on the wall to your right as you rotate into position for the last screen stop. The dot below the exclamation point is a decent classic Mickey.
I was on the ride with Amy from Massachusetts when we spotted this Hidden Mickey, and she was in position to snap the photo for me. Thanks, Amy!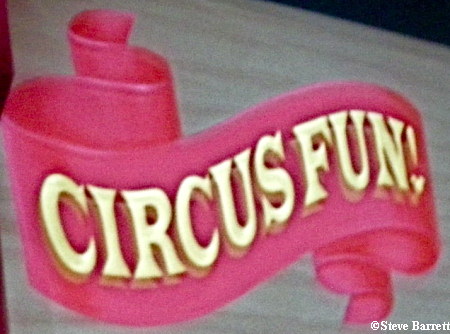 You can see this third image at loading and unloading, and you can study it as you take the exit walkway. Three ovals encircle Toy Story characters on the wall to the left of the ride vehicles.
Matt Hochberg, Alexis, and Frank Marando described this image to me, and it seems close for a classic Mickey image. Let me know what you think!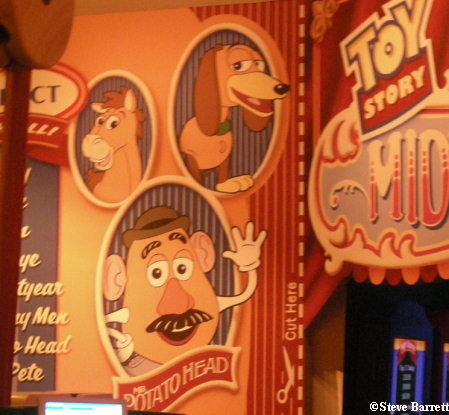 The walls, ceiling and floor inside Toy Story Midway Mania are blanketed with colorful images. Undoubtedly, more Hidden Mickeys are waiting for us to find them!

Read more about Steve's Hidden Mickey finds on AllEarsNet.com
Steve maintains a Catalog of Hidden Mickeys on the Hidden Mickeys Guide.