Vickie and I recently met up with old friends from Oklahoma. Dick and Debi hadn't been to WDW since 2001, so they were excited about experiencing new attractions and old favorites. T
Their son Brian, a graduate student, accompanied them for this special trip to Florida. We met up at the Flying Fish Cafe at the BoardWalk for the first evening. Vickie and my son Steven joined the group.
The photo of all of us (from the left, me, Steven, Brian, Debi, Dick, and Vickie) is a bit blurred; I think I made the cast member nervous? No, I'm just kidding. Most CM's don't know who I am, unless I tell them that I wrote the Hidden Mickeys book. Thankfully, every CM I've talked with knows about my book!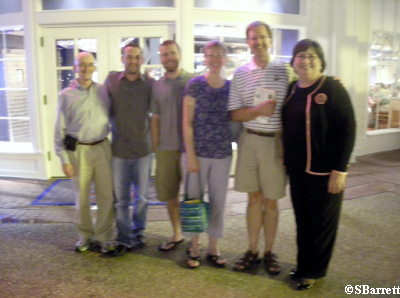 The next day, I joined the group at opening (9 a.m.) of the Magic Kingdom. We used FASTPASS to our advantage and hopped onto any major attraction with a short wait during the morning hours. We didn't have lunch reservations, so I recommended snacks inside the old Diamond Horseshoe in Frontierland. We were pleasantly surprised! The sandwich portions were generous, and we satisfied our hunger in air conditioned comfort.
Later in the afternoon, we headed to Epcot. The wait for Soarin' was too long, and all FASTPASSES had been distributed for that day. My friends would enjoy Soarin' later in the week. Dinner was at San Angel Inn (one of my favorites). Like many WDW veterans, I have my favorite spots for viewing IllumiNations. If I have time, I check out the small alcove behind the Yorkshire County Fish Shop in the United Kingdom Pavilion; it's usually rented beforehand and roped off. Alas, the rope wasn't up! We walked leisurely down to the small area and stood behind the benches near the fence to watch the spectacular show, which seems to erupt right in front of you!
A few days later, I returned to Epcot for research (someone's got to do it!). In the late afternoon, I listened to a great band at America Gardens Theatre, a tribute band for the Bee Gees.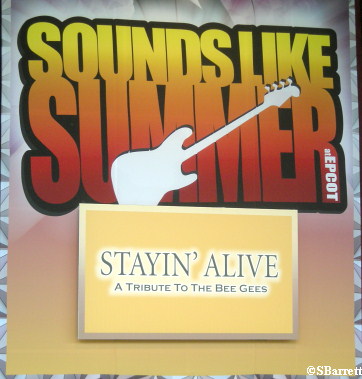 I met Vickie and some local good friends, Jimmy, Ginny and Jake at the Portobello Yacht Club Restaurant at Pleasure Island. After dinner, we checked out some Hidden Mickeys at Downtown Disney. Frank Tonra III wrote me about a rat with a Mickey hat in a display window on the side of the World of Disney store.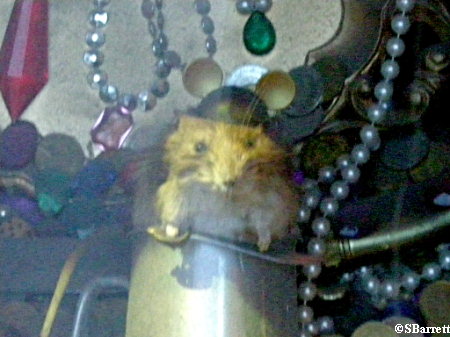 Jake and Jimmy are pointing to a map on the rear wall of this display window. Mickey and other character images are on the map.
This type of map has been in Pirates displays around WDW. We'll see if the rat with the hat and the pirate's map last a while. As you know, displays in WDW windows change periodically.

Read more about Steve's Hidden Mickey finds on AllEarsNet.com
Steve maintains a Catalog of Hidden Mickeys on the Hidden Mickeys Guide.