Epcot encompasses about 300 acres. I realize that once you subtract the buildings, walkways, and World Showcase Lagoon this number is diminished greatly, but this is still an enormous amount of property to landscape and maintain.
In case after case, Disney uses trees to create a visual barrier. Take a look at these Epcot examples.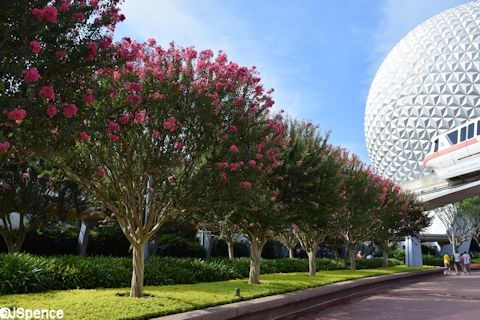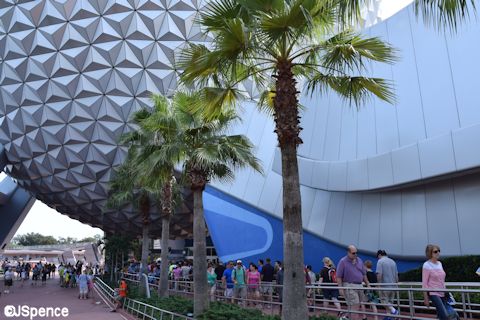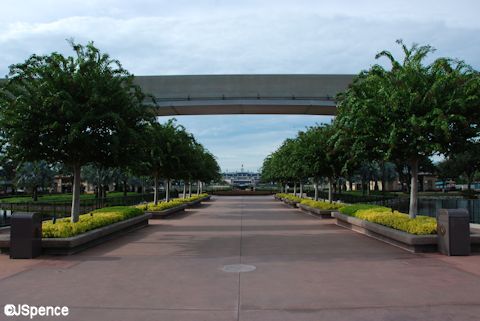 Many people, including myself, often compare Future World with Tomorrowland at the Magic Kingdom. When Epcot was new, this was a fair comparison as both areas promoted science and technology. Today, that association becomes weaker as Tomorrowland has become a far more fanciful land than it was in the 1970s and 1980s. However, the architecture found in Future World and Tomorrowland still has some similarities. In both cases, the Imagineers were trying to envision a future with grand structures and massive expanses. Nevertheless, there is one major difference between the two. That difference is landscaping.
The Imagineers learned their lesson with Tomorrowland. As wonderful as this futuristic land was, they found out that people wanted some trace of nature. Concrete is cold. Plants are soothing. To that end, the Imagineers corrected this shortcoming and filled every nook and cranny of Future World with greenery and flowers.
Take a look at the Epcot ticket booths. The massive columns that support the overhang are surrounded by plants. A short walk away, the main entrance is augmented with more planters.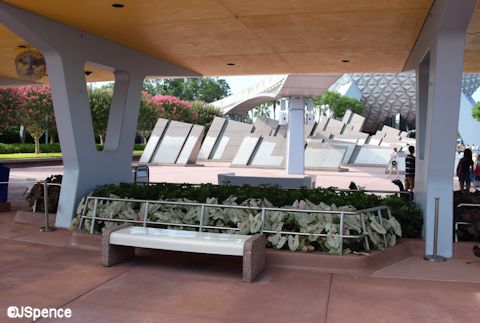 For a long time, the entrance plaza of Epcot was filled with squat planters containing low growth and small trees. This area was open and provided guests with a vast expanse.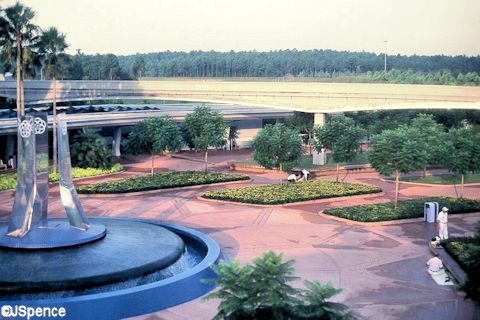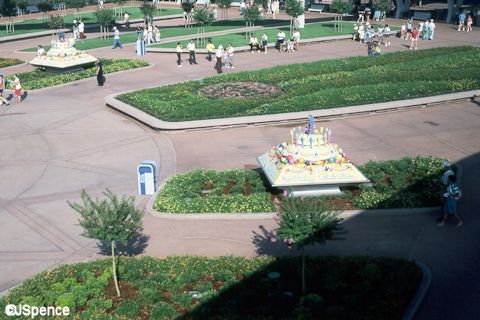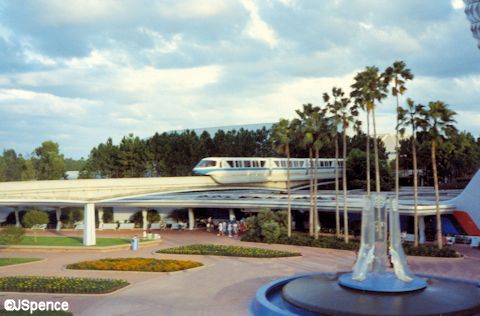 For the Millennium Celebration, the Imagineers removed most of these planters and replaced them with 35 granite monoliths ranging in height from 3 to 19 feet. On their surfaces was room for approximately 700,000 one-inch-square photo etchings. Many people loved this addition while others felt it blocked off the panoramic view of this area.
The grounds of Epcot are magnificent year round, but each spring, the Epcot International Flower and Garden Festival transforms this park from fantastic to spectacular with the addition of even more plant life and topiary. Although this article will not be focusing on that event, it must be mention when discussing the first flower bed guests encounter when entering the park.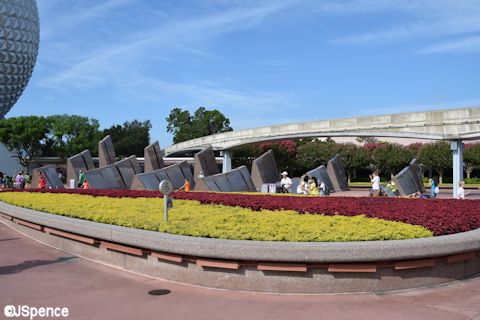 Each year, this simple planter is transformed for this annual event and greets guests with a fantastic array of color and fancy.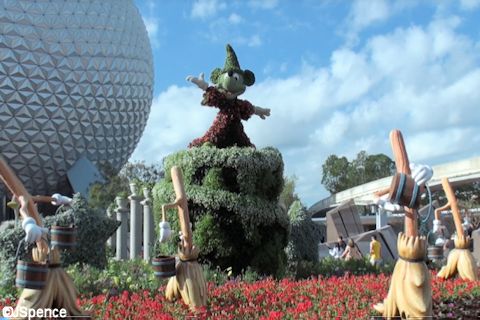 Guests encounter a well-tended symmetrical garden when approaching Spaceship Earth.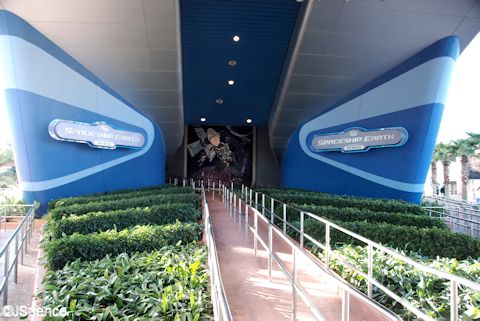 A number of years ago, a large awning was built behind Spaceship Earth. It was a desperately needed addition as shade was difficult to find in this area. To secure this covering, massive cables were attached to anchors on the ground. To help "hide" these anchors, potted plants have been positioned nearby.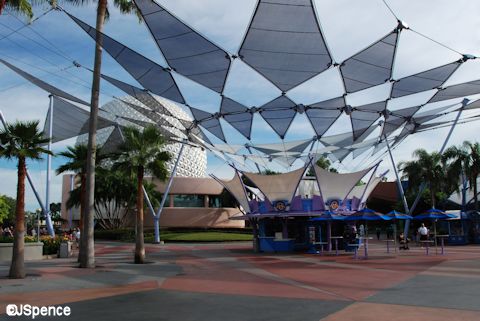 When Epcot first opened, a very unusual palm tree grew directly behind the Spaceship Earth lounge. Today, two such trees grow in this flower bed.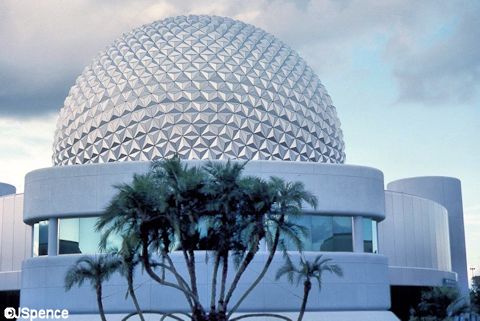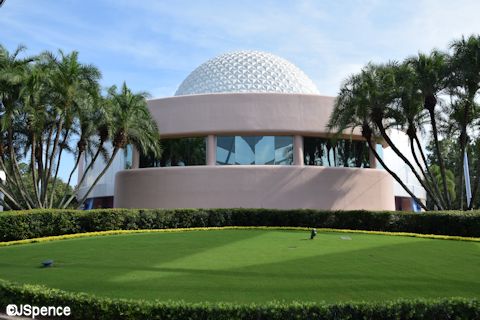 From the very beginning, the Imagineers have used foliage to soften and hide the massive walls and windows of Communicore/Innoventions. Here are a few examples.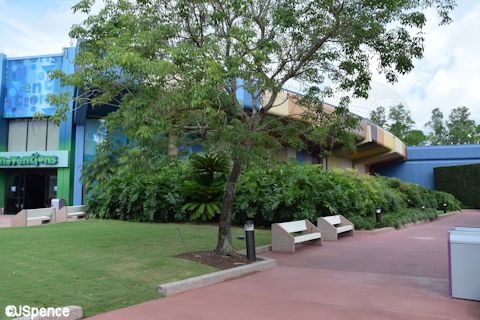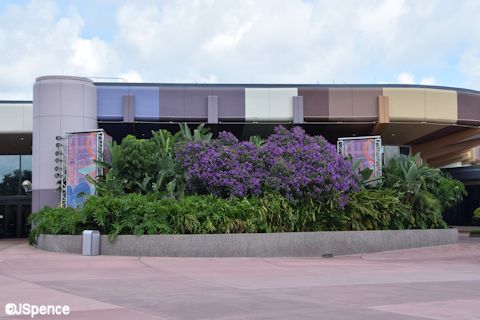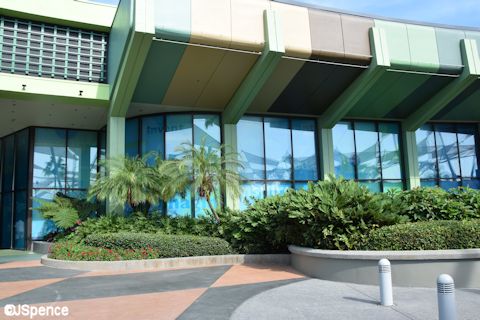 For many years, a garden and flagpole sat in the middle of Communicore/Innoventions Plaza. It was removed when the stage was added behind the fountain to make up for the lost pedestrian space and provide more viewing area for performances.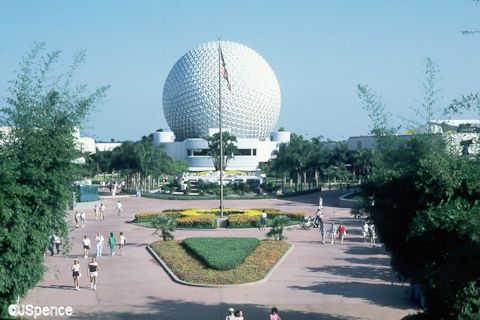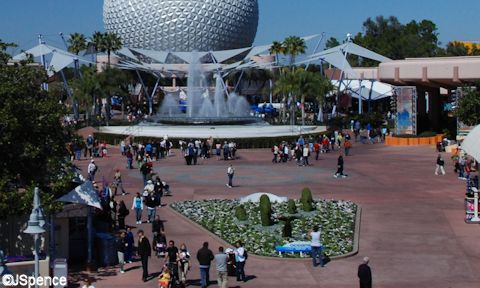 In Future World West we see a number of planters gracing the entrances of The Seas with Nemo and Friends, The Land, and the Imagination Pavilions. Once again, this was the Imagineers attempt to distance this area from Tomorrowland. Besides flowers, massive trees fill this space.
Before Nemo came to Epcot, the foliage in front of the Living Seas Pavilion played a much smaller role in creating an atmosphere. This can be seen in the first two pictures. Today, this area is thick with lush growth as can be seen in the third and fourth pictures.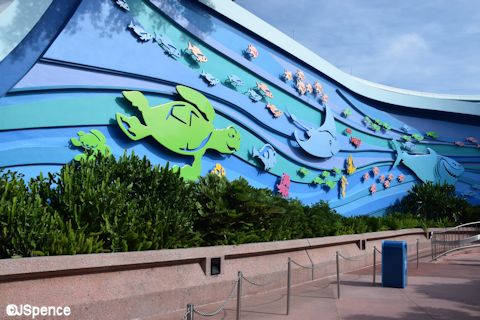 Flanking the Land Pavilion to the north and south are two vast expanses of lawn. Technically, these spaces are place holders for future pavilions. Of course, I wouldn't hold my breath of anything happening soon. So to make this area more attractive, the Imagineers have planted a number of shrubs and sculpted them into fanciful hedges.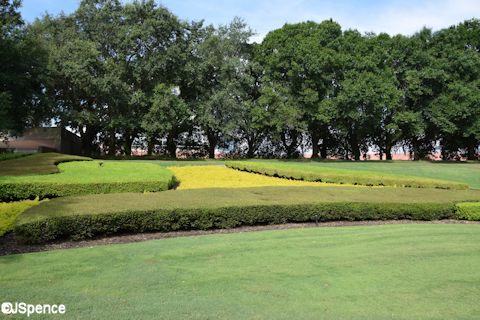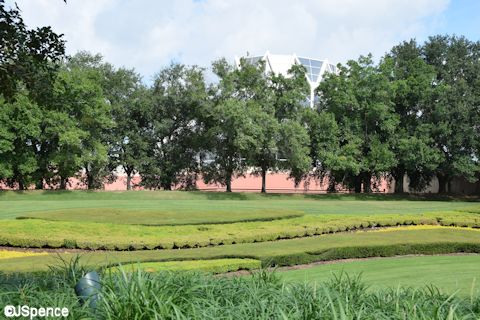 When Epcot opened, a group of palm trees graced the entrance to the Land Pavilion. These were replaced a few years ago with shade-producing deciduous trees.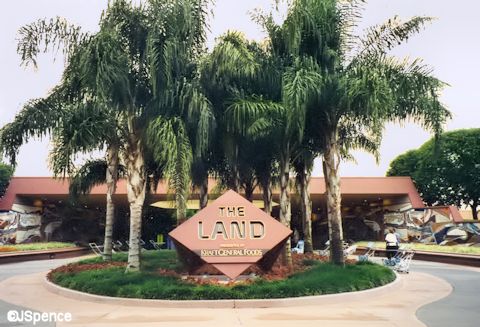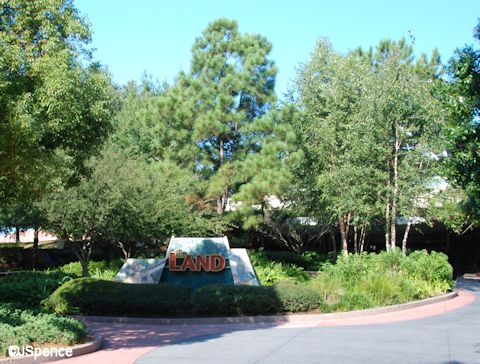 Beneath these trees is a simple water garden and a patchwork of ground cover and river rocks. The various colors and textures create a beautiful work of art.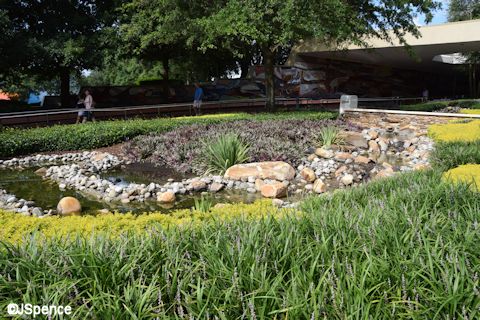 Perhaps the most celebrated garden in all of Walt Disney World can be found inside the Land Pavilion. The "Living with the Land" attraction takes riders on a 14 minute journey through tropical and temperate greenhouses, highlights aquacell farming, and discusses a multitude of innovative growing techniques.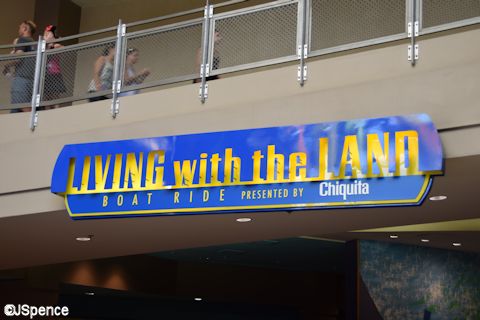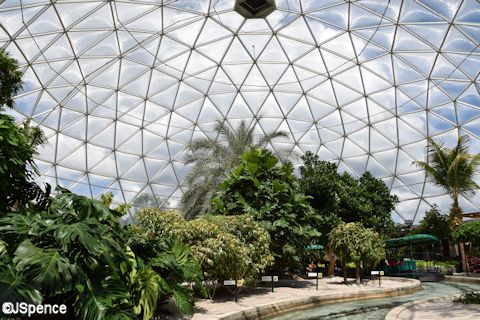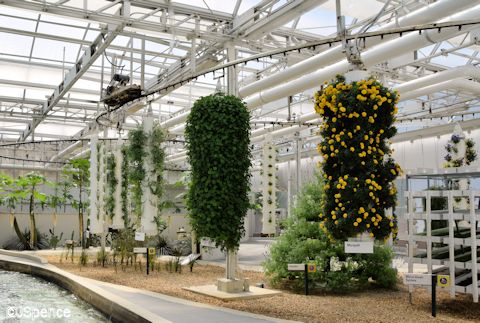 The primary draw factor for the Imagination Pavilion is an "up" waterfall and playful fountains. Still, plants play a part in the overall design. Take a look at the sign out front. It is overflowing with growth. In addition, the base of the pyramid features a number of planters. This can be seen in both the old and new color schemes.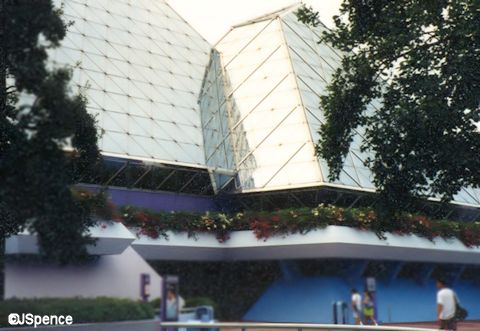 For a number of years, a topiary of Figment graced the upper terrace of this pavilion. But alas, he has been retired.
Here's a little known fact about Epcot. When the park first opened, Future World West was supposed to represent the right brain, the artistic side. This was represented by curving walkways, rounded planters, and water features. Future World East was supposed to represent the left brain, the logical side. This was represented by the straight walkways and angular planters. Some of this has been removed over the years, but it is still evident if you look for it.
The landscaping of the Energy Pavilion is rather modest. A simple flowerbed follows the straight lines of the reflecting pool. However the sides of the building are flanked by thick growth. This lush landscaping was selected to help tell the story of the prehistoric world we're about to enter.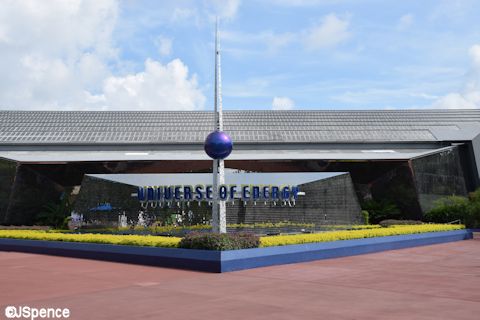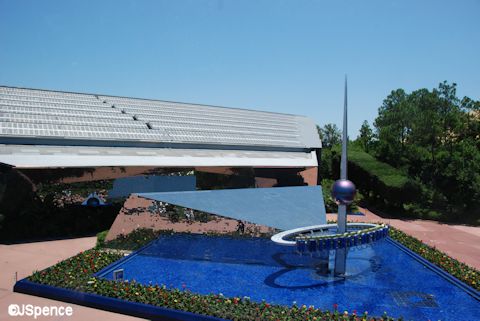 Inside the Energy Pavilion, the Imagineers needed to create an entire world of ancient growth. For the foreground scenes they replicated a forest of realistic looking plants. For the background scenes, nearly 500 running feet of murals were created.
Mission: Space is flanked on each side by a large stand of trees. Besides framing this futuristic structure, these trees help hide backstage buildings from guests' view.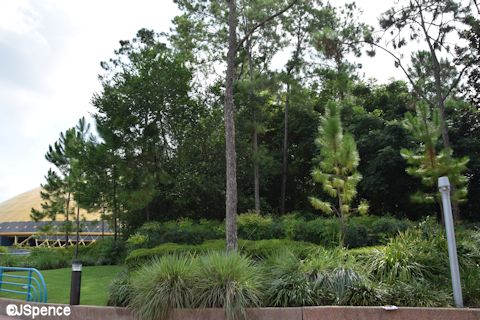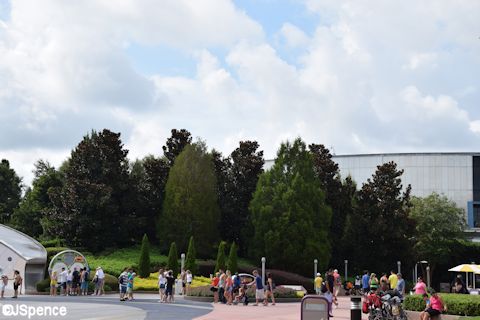 The pavement in front of Mission Space contains a number of curved lines embedded in the concrete. These are supposed to represent the orbits of planets and other space objects. Notice how the floral design surrounding the attraction's marquee follows this same pattern.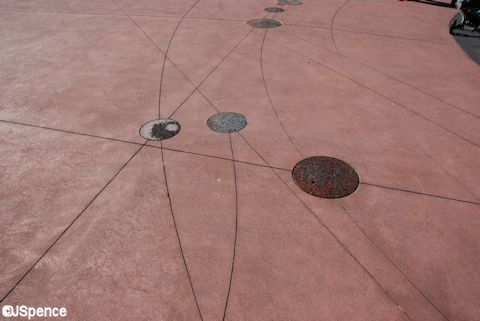 Near the Mission: Space shop is a sloping wall. Take note of how the hedge is cut to match the incline.
When Epcot opened, there was an attraction in Communicore called Electronic Forum. Here, guests would enter an "electronic" theater where each seat was equipped with four buttons labeled A through D. On stage was a cast member who would asked topical questions and guests could voice their opinion by pressing one of these buttons. The answers were immediately tabulated and projected on an overhead screen. The results were also shared with recognized research-based organizations. Outside this theater were dozens of television monitors broadcasting news programs from all over the world. One channel even broadcast live from the House of Representatives. To make all of this communication possible, two huge satellite disks were positioned nearby.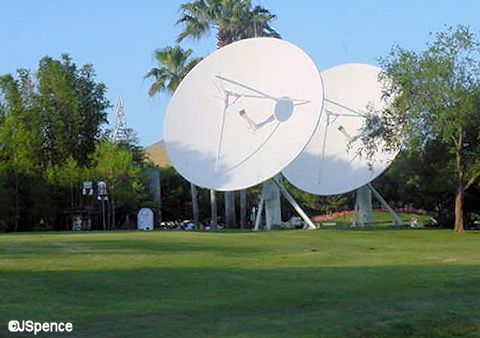 The Electronic Forum only lasted a few years before it was discontinued and this area was converted into additional shopping space. However, the outdated satellite disks remained until the early 2000s. Today, these disks have been replaced by trees.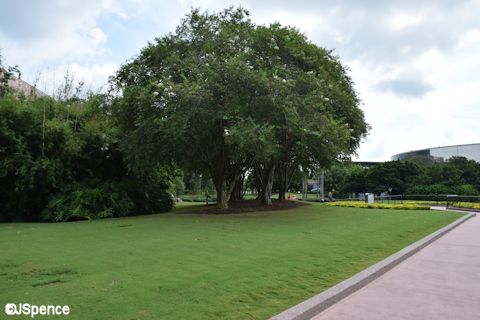 That's it for today. Check back tomorrow when I'll be discussing the gardens of World Showcase.