Life is about to be like a hurricane at Epcot's World Showcase, because the McDuck Family is set to invite you on its latest adventure!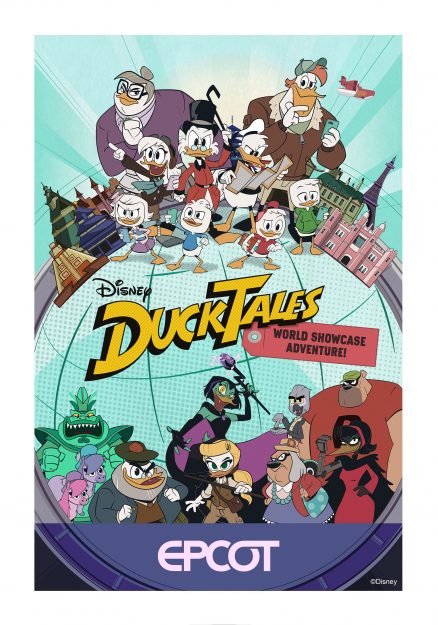 That's right, the popular World Showcase Adventure is getting a DuckTales makeover! Hold on tight, because this is going to be a duck blur!
This will be the third iteration of the World Showcase Adventure scavenger hunt, currently hosted by Agent P of Phineas and Ferb fame. Unlike that version and its earlier Kim Possible themed incarnation, this one will be based entirely in the Play Disney Parks mobile app, and will likely take advantage of the updated power of mobile phones. The Phineas and Ferb version is fully voice acted and features simple animations, so it remains to be seen how the new DuckTales iteration of this popular game will play out.
The poster for DuckTales World Showcase Adventure promises appearances from the core cast: Uncle Scrooge, Donald, Huey, Dewey, Louie, Webby, Launchpad McQuack, Ms. Beakley, and Della. For those of you who haven't been following the new series (now streaming on Disney+), it's an action-packed love letter to the classic Donald Duck comics of yore and adds new depth to some of your favorite characters. Ms. Beakley is a spy! Webby knows kung fu! THE TRIPLETS ACTUALLY HAVE A MOM!
We don't have any information as what the game will actually look like (Disney shared the poster and basic info earlier tonight), but that poster does have pictures of some villains we'll likely be facing! Let's take a look (from left to right!) Oh, and this is all speculation of course.
Toad Liu Hai is on the far left. He's an ancient spirit of luck and fortune who once kidnapped Donald's preternaturally lucky cousin, Gladstone Gander, so he could feed off of his energies. He was only defeated when Scrooge convinced him to try feeding on Donald, who was so phenomenally unlucky he made the spirit sick! We predict Toad Liu Hai to be the main villain of the China pavilion's adventure, considering his cultural influences.
Briar and Bramble, the two ponies in adorable caps, are actually kelpies: malicious spirits who drown anyone foolish enough to ride on them. They're not actively malicious, but their ineffectual attempts to lure the Duck family to their doom are a major source of comedy in the episode in which they appear.
Flintheart Glomgold is one of Scrooge's most persistent rivals and a frequent second place for the title of the richest duck in the world. He also frequently and loudly declares he's more Scottish than Scrooge will ever be, driving Scrooge to fund Donald's Dino Bash as an attempt to disprove his claim of being related to Scottish dinosaurs. Yes, that's actually the backstory of that attraction. We'll expect to see Flintheart in the United Kingdom pavilion, engaging in his trademark aggressive oneupsmanship.
Magica De Spell (Center Rear) is Scrooge's oldest and most notorious foe, and she's shown here at her most powerful. The bulk of season one revolved around her breaking free from a magical prison to torment the Duck family, so it's possible she'll serve as the final villain of the attraction.
Goldie o' Gilt (Center Front) is Scrooge's old flame. She's an equally skilled adventurer but also a manipulative con artist who is the only one ever to truly outsmart Scrooge McDuck. It's unknown where she'll appear; the Canada pavilion would be an obvious choice due to Goldie's connection to the Klondike, but it doesn't have a World Showcase adventure installed… well, not yet anyway. We'll see if that changes.
Ma Beagle is the leader of the Beagle Boys, and you can see her son Bouncer looming in the background. This gang of thieves is constantly after Scrooge's fortune, relying on harebrained schemes and brute force to get their hands on his gold. New in the 2017 series is the addition of an extended Beagle family, including the magic-using Black Arts Beagle. We'll see how their section of the new experience plays out when it launches!
Mark Beaks, located behind Ma Beagle, is a tech mogul responsible for some nefarious plots and schemes. While shallow and social media obsessed, he's been a persistent foe to the mechanical hero Gizmoduck over the show's run and often uses his company as a front for his self-centered schemes. We'll expect to see him in the Japan Pavilion, as the nation's high tech culture meshes well with Beaks' schemes.
Black Heron is an agent of F.O.W.L., frequent enemies of Darkwing Duck in his original series and arch nemesis of Ms. Beakley in the reboot. While we don't know where she'll appear yet, expect plenty of schemes and spy games as she, Beakley, and Webby fight over whatever relic Scrooge is hunting.
That's it for our exclusive preview! Are you excited for this new addition? Are you going to miss Perry the Platypus? Let us know your thoughts in the comments!
Join the AllEars.net Newsletter to stay on top of ALL the breaking Disney News! You'll also get access to AllEars tips, reviews, trivia, and MORE! Click here to Subscribe!