Epcot's Transformation
With all of the construction walls up around Epcot and the flurry of announcements before, during, and after the D23 Expo it may to hard to remember what is going on there! We have put together a list of all of the changes that are underway, or planned, as part of Epcot's transformation.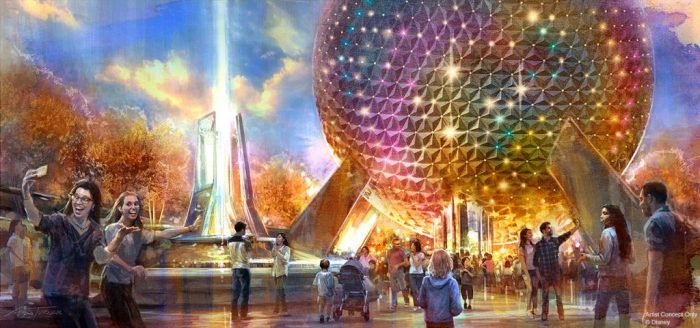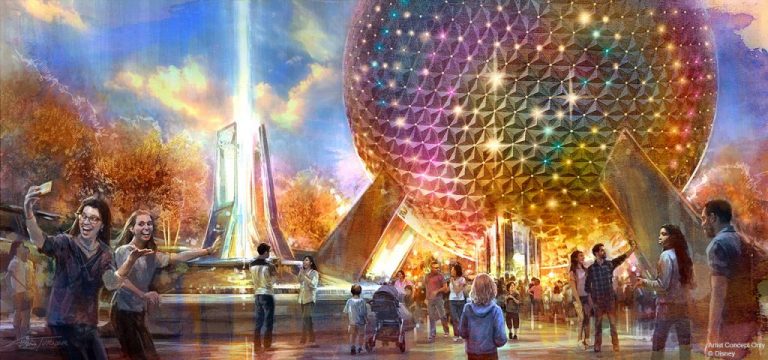 Everything Still to Come for Epcot!
Space 220
Restaurant Opening
Early 2020
Space 220 will open as a space-themed restaurant between Mission: Space and Test Track this winter. When you enter you will "travel" to a space station that includes views of earth from 220 miles away as you enjoy your meal.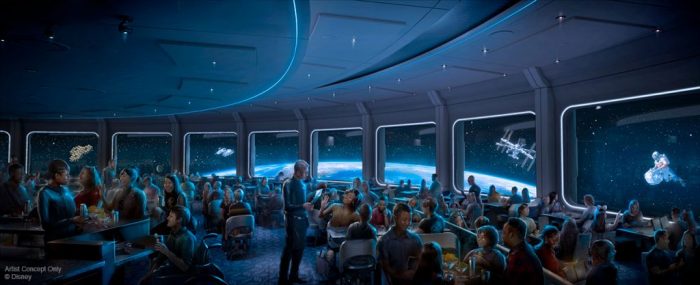 Taste Track Burgers and Fries
Restaurant Opening
March 2020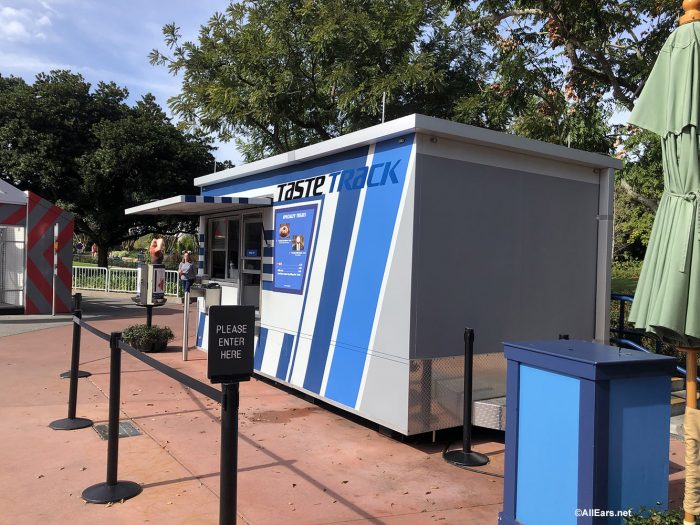 With the closure of Electric Umbrella, Taste Track will be taking over as the primary quick service location at Epcot, serving burgers, fries, and other culinary staples in a Food Truck setting.
Remy's Ratatouille Adventure
Attraction/Ride
Summer 2020
Disneyland Paris' Ratatouille makes a trans-Atlantic trek to open its kitchen doors in the France pavilion next summer! Shrink down to the size of a rat, and get ready for adventure as you race around the kitchen!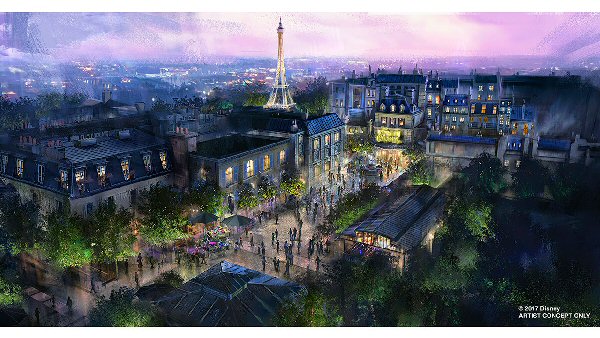 La Creperie de Paris
Restaurant Opening
Summer 2020
A brand new creperie will open in the France pavilion next summer.  La Creperie de Paris will feature a menu inspired by the Brittany region of France. The new location will offer table service dining as well as a quick-service stop for guests craving sweet or savory crepes. Learn more about La Creperie here.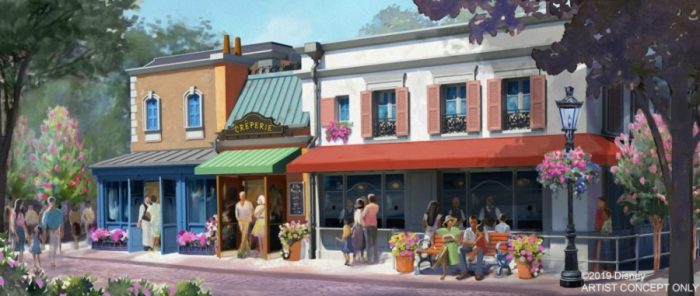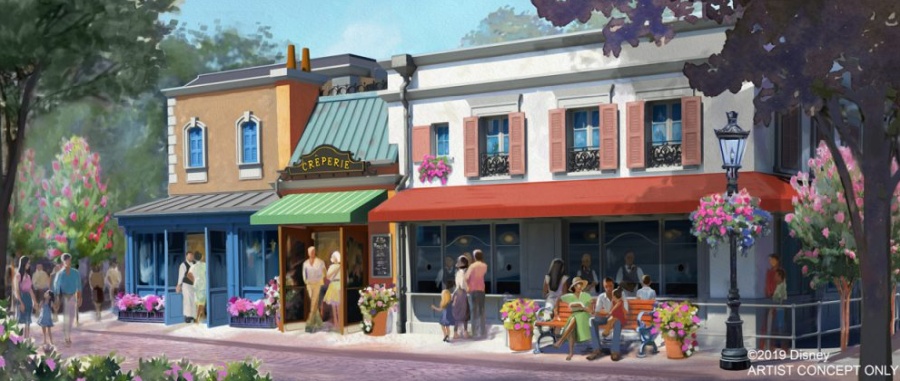 Harmonious
Nighttime Spectacular
2021
Harmonious will replace Epcot Forever in Spring 2020. Harmonious promises to be Disney's largest nighttime spectacular ever. The show will include Disney music reinterpreted by artists from around the world to illustrate how music inspires people everywhere. There will be floating set pieces, custom-built LED panels, choreographed moving fountains, lights, pyrotechnics, lasers, and more.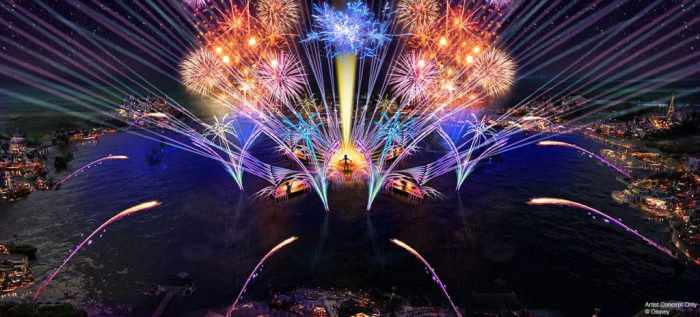 Guardians of the Galaxy: Cosmic Rewind
Attraction/Ride
2021
The Guardians will arrive in time for Disney World's 50th anniversary in 2021. The new attraction is being dubbed a "storytelling coaster" that has seats that rotate 360 degrees to focus riders' attention on the story. This new coaster will also include the first reverse launch for a Disney ride. Learn more about the Guardians of the Galaxy: Cosmic Rewind ride vehicles here!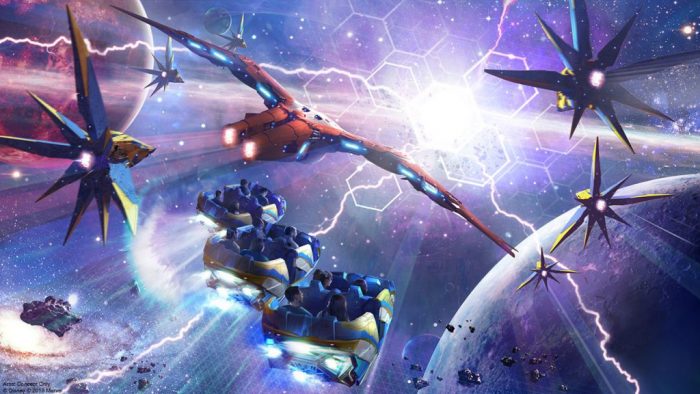 PLAY! Pavilion
Pavilion Opening
2021
The PLAY! pavilion will also open in time for Walt Disney World's 50th anniversary. The pavilion will be a digital metropolis full of games and experiences that see you interacting with Disney characters — both virtually and in real life.  Learn more about the PLAY! pavilion here.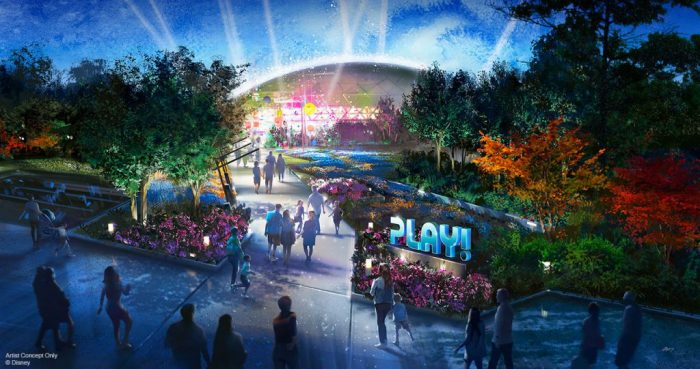 Openings, Additions, and More
The following items have been announced but do not have an opening date or season associated with them yet.
Introduction of Epcot's New Neighborhoods
Say goodbye to Future World and hello to World Celebration, World Nature, and World Discovery. Learn more about Epcot's neighborhoods here.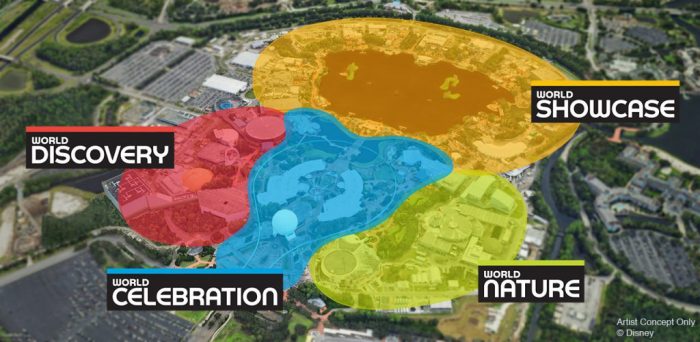 Mary Poppins Attraction
Get ready to visit Cherry Tree Lane for a new Mary Poppins attraction coming to the UK pavilion!  Learn more about Epcot's Mary Poppins attraction here.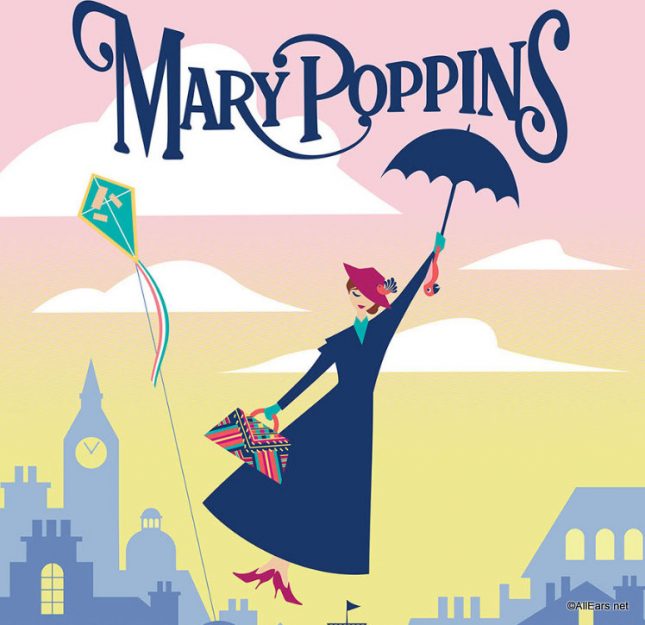 Journey of Water, Inspired by Moana, Attraction
Journey of Water will be an exploration trail where you will  meet and play with magical, living water. The water will have a life of its own – just like Moana's friend, the ocean – and you'll learn about the importance of the natural water cycle. Learn more about Journey of Water, Inspired by Moana, here.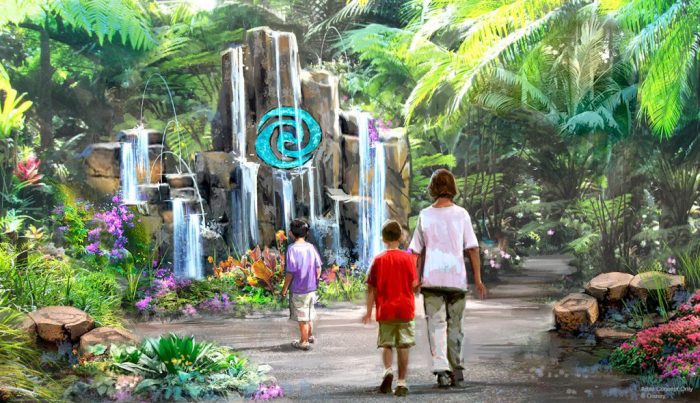 New Festival Center
A new, three-level pavilion will open in World Celebration and serve as a home for live events and as the Festival Center for Epcot's festivals. Being three-levels it will offer new views of the Park as well as a great view of the nighttime spectaculars. The pavilion will include a plaza level, and expo level, and a Park on the top level.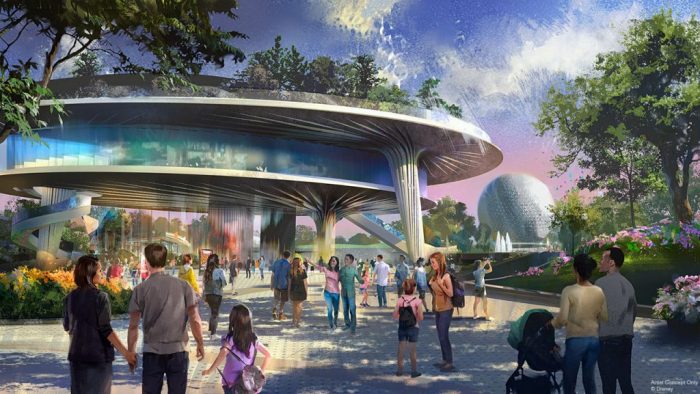 New Entrance Plaza
Epcot's new entrance will include new paths, a new fountain, and green spaces. The design will pay homage to the origins of Epcot. Learn more about Epcot's new entrance here.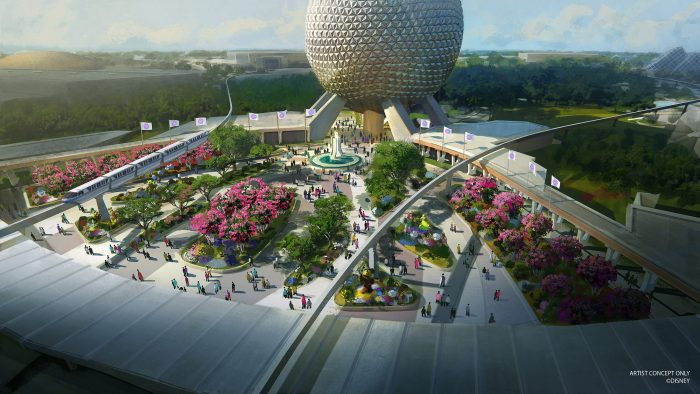 Dreamers Point
Dreamers Point be located behind Spaceship Earth. This will include a new statue of Walt Disney, as well as a wishing tree in an enchanted forest with a fountain.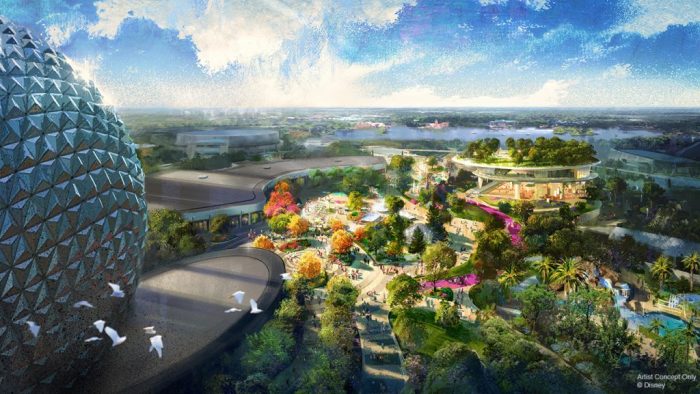 Update to Spaceship Earth
Spaceship Earth will still take us on a trip through time but with new narration, new music, and a new focus on the moments and ideas that define our story. The attraction will follow a magical "story light" that brings the attraction to life in  new ways and ties each scene to the entire human journey. It was announced that the attraction in its current iteration will close May 26th, 2020 to begin work on this new reimagining.
Closures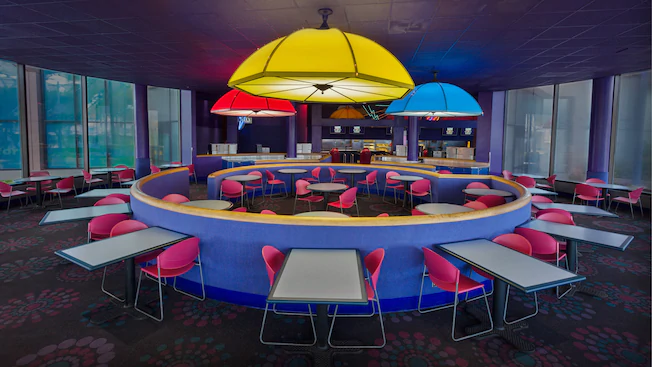 Several Epcot Staples have been closed/will be closing or relocated as part of the transformation. These include:
Innoventions: September 8, 2019
Club Cool: September 8, 2019
Fountain View Cafe: December 3, 2019
Epcot Character Spot: Characters have been relocated around the park.
Mouse Gear: Temporarily Relocated across the Breezeway.
Electric Umbrella: Closed February 16th, 2020
Agent P's World Showcase Adventure: Closed February 16th, 2020
Pin Traders: Closed February 16th, 2020
Spaceship Earth: Closing May 26th for Long Refurbishment for Updated Spaceship Earth
What do you think of all of the changes to Epcot? Let us know in the comments!
Want to learn more about Epcot's transformation? We can help!
Be sure to follow @allearsnet on Instagram and Twitter!
Check out our YouTube Channel for reviews, news, information and more!
Click below to subscribe to the AllEars® newsletter so you don't miss any of the latest Disney news!