Remy's Ratatouille Adventure — France — EPCOT
Remy's Ratatouille Adventure is a new attraction opening in EPCOT's France Pavilion on October 1, 2021!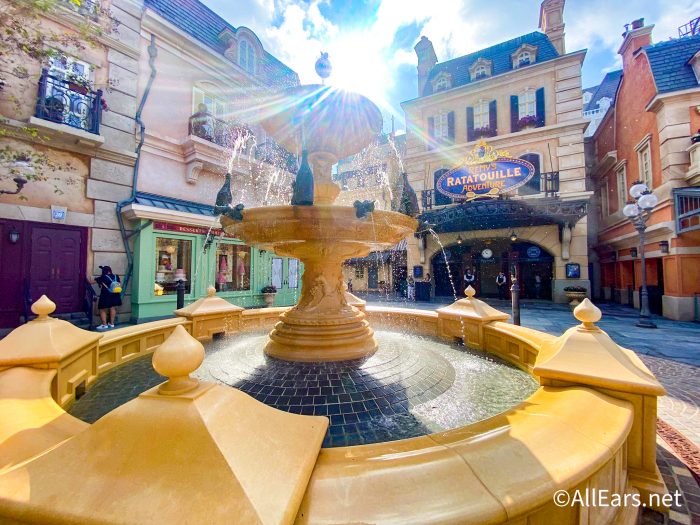 Introduction
Remy's Ratatouille Adventure is a trackless dark ride located to the right side of EPCOT's France Pavilion. An expansion of the pavilion created a new facade and an entrance for the ride. Remy's Ratatouille Adventure is based on the Ratatouille: The Adventure attraction at Disneyland Paris.
Attraction Details
Remy's uses a trackless ride vehicle to carry guests through Gusteau's fabulous Paris restaurant — all from the perspective of a rat (of course)!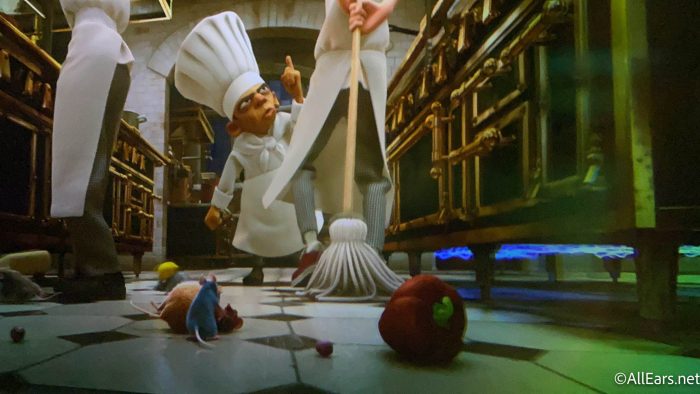 The illusion is created by a combination of 4K projections, larger-than-life screens, and physical environments. And since it's called "4D", expect some added elements like getting splashed with water!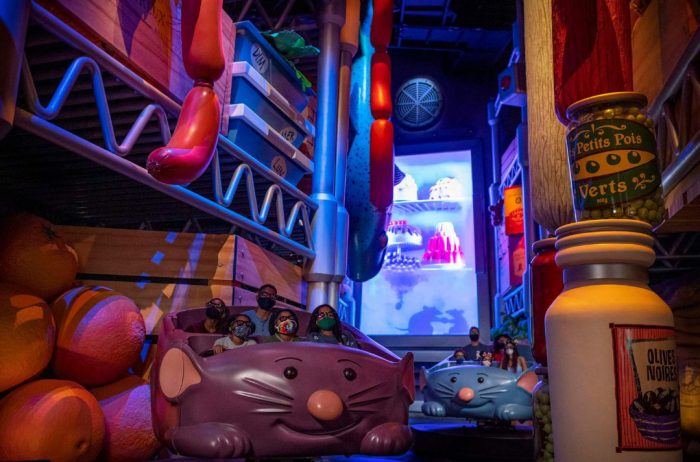 Virtual Queue
When Remy's Ratatouille Adventure opens on October 1, the attraction will use only a Virtual Queue. This fall, when Disney Genie launches for My Disney Experience, guests will also be able to purchase an Individual Attraction Selection Lightning Pass for Remy's as well.
Virtual Queue
The Virtual Queue will require guests to use the My Disney Experience app. Guests need:
Guests using the Virtual Queue will only be able to ride time per day.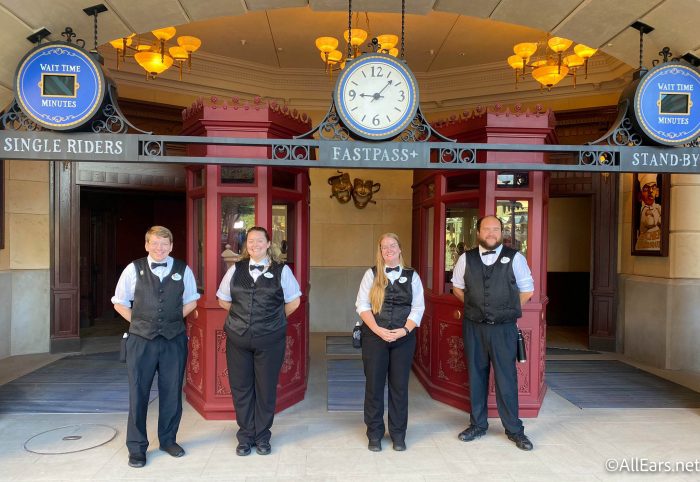 Individual Attraction Selection
Disney Genie will provide the option for guests to purchase Lightning Lane passes, replacing the FastPass+ program of the past. When the Disney Genie functions launch in fall 2021, guests will be able to purchase an Individual Attraction Selection for the ride.
The timing for when a user can make a first Individual Attraction Selection for the day varies depending on which property they're visiting and whether they're in a participating Resort hotel.
At Walt Disney World, select Resort guests (Disney Resorts, Swan & Dolphin, and Shades of Green) can make their first reservation at 7AM (so they do not need to be in the Park).
Guests not staying at a participating Resort or hotel will be able to make an Individual Attraction Selection at the time of Park opening.
Touring Tips
Rope Drop
If you're planning to rope drop this attraction, we recommend entering via EPCOT's International Gateway. This will give you quick access to the France pavilion. Friendship Boats from the EPCOT-Resorts and the Disney Skyliner both provide convenient access to the International Gateway.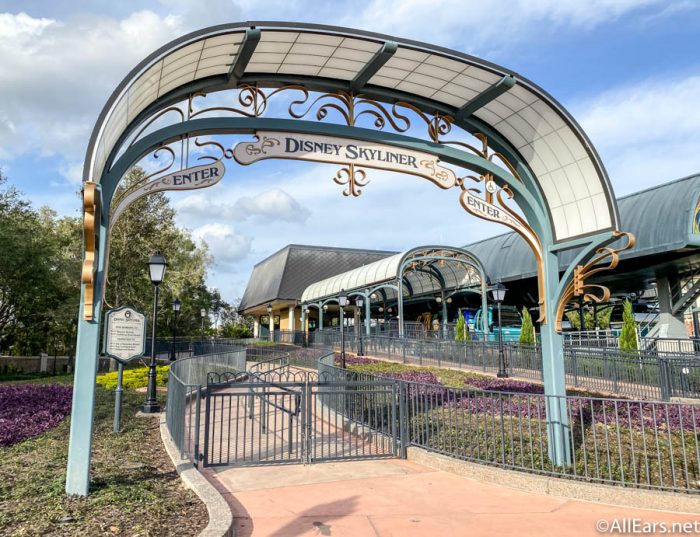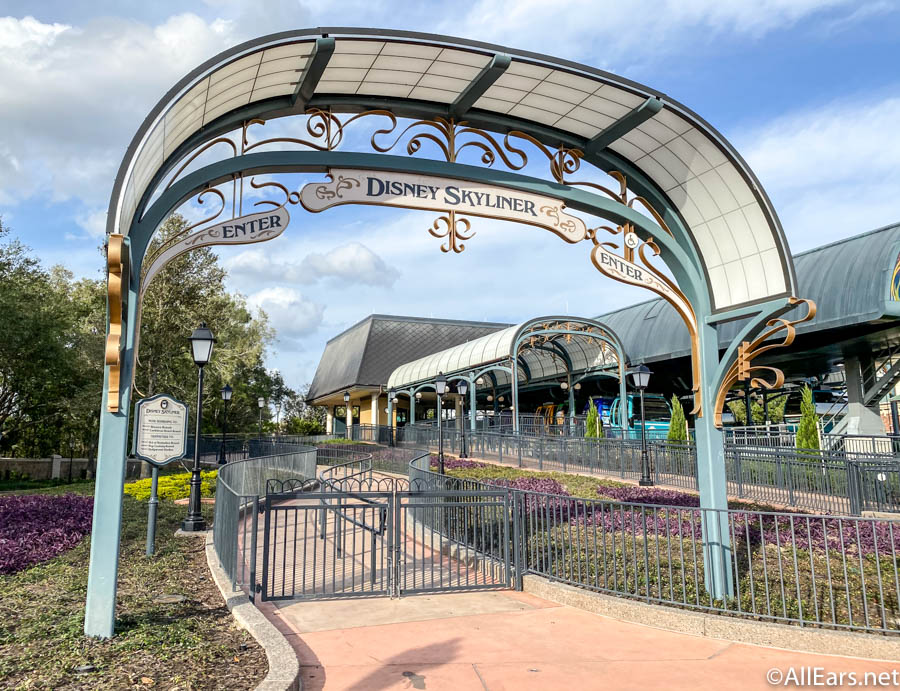 Accessibility
Remy's Ratatouille Adventure has no height requirement, and it is suitable for all ages. Children under the age of seven must be accompanied by an adult. Expectant mothers and guests prone to motion sickness should see safety information at the ride entrance and/or speak to a Cast Member.
There are some surprises in the ride, but there are no drops and no overtly scary elements.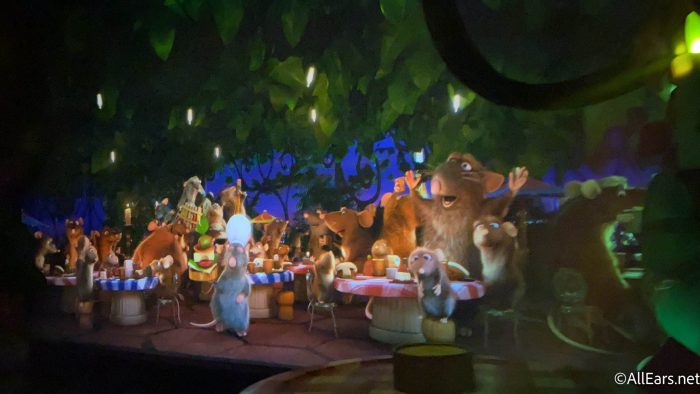 The ride is wheelchair accessible. Specific ride vehicles are designed to accommodate wheelchairs. They will not accommodate ECVs, however, so guests using ECVs will need to transfer to a traditional wheelchair before boarding.
Some vehicles are designed with wider entrances so that those wishing to transfer from a wheelchair to the ride vehicle can do so more easily.
Service animals are allowed.
Dining
If your chaotic ride through Gusteau's leaves you famished, head over to the new La Creperie de Paris, located near Remy's Ratatouille Adventure in the France expansion. You can dine on both savory and sweet crepes and galettes. La Creperie offers both Table Service and Quick Service dining options.