France — World Showcase — Epcot
INTRODUCTION
Located between Morocco on its left and the International Gateway Bridge to the United Kingdom on the right, EPCOT's France pavilion is a favorite among guests.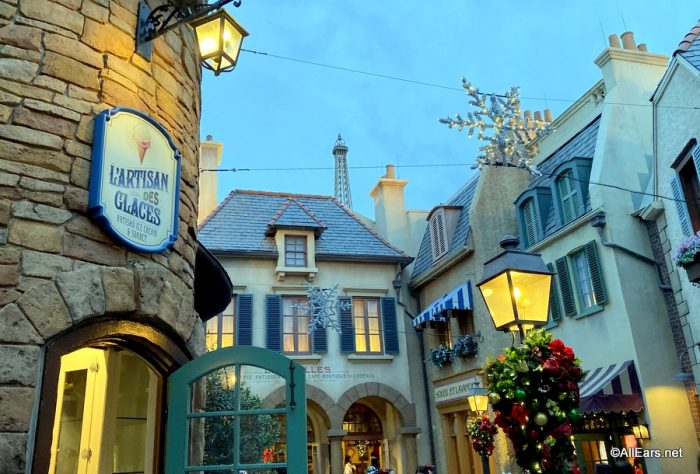 The Showcase reflects France from 1870-1910, a period known as La Belle Epoque, the beautiful time. Here you will find a book shop, art, a perfume shop, a theater with two shows, a sidewalk cafe, restaurants, a brand new ride (coming October 1, 2021), and the busy garden marketplace of Paris.
France is also a favorite of guests enjoying the food booth tastes of EPCOT's four festivals.
ATTRACTIONS
Impressions de France
The Palais du Cinema is the home of the 200 degree airborne French travelogue set to classical music. The score of Impressions de France was recorded in London by the National Philharmonic. It was the first motion picture to have its soundtracks recorded digitally and then to be taken digitally through every step of editing, mixing and dubbing. The movie is approximately 18 minutes long.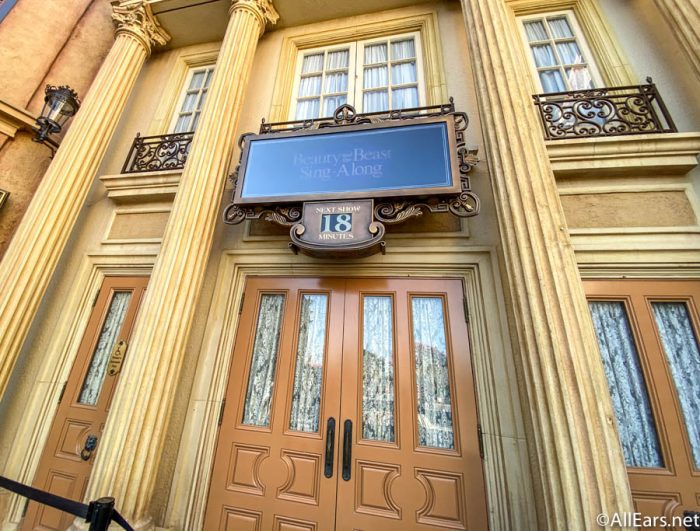 Click here for the full listing of Impressions de France scenes in order of appearance.
Click here for a listing of the musical selections in Impressions de France.
Beauty & the Beast Sing-Along
This new film is an interactive experience, also shown in the Palais du Cinema and therefore sharing the screen with Impressions de France. Check your Times Guide for details on showtimes. The Sing-Along stars Lefou, Gaston's dopey sidekick.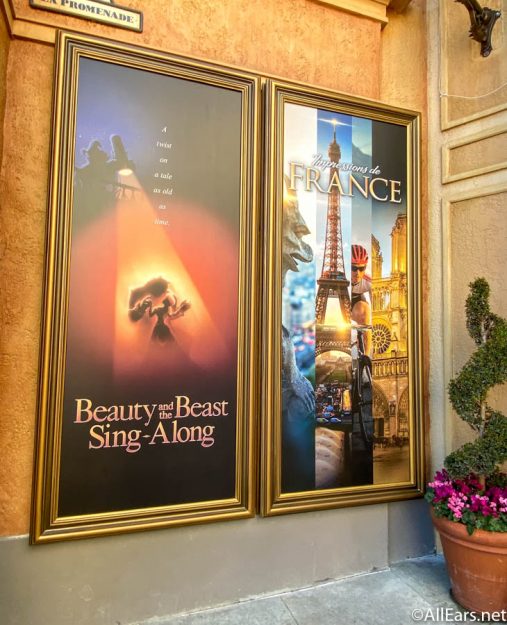 Remy's Ratatouille Adventure — Opening October 1, 2021
Remy's Ratatouille Adventure is a whacky ride through Gusteau's restaurant — seen from the perspective of a rat! The ride is a transplant from Disneyland Paris and will feature a trackless ride vehicle that whips riders around in unpredictable ways!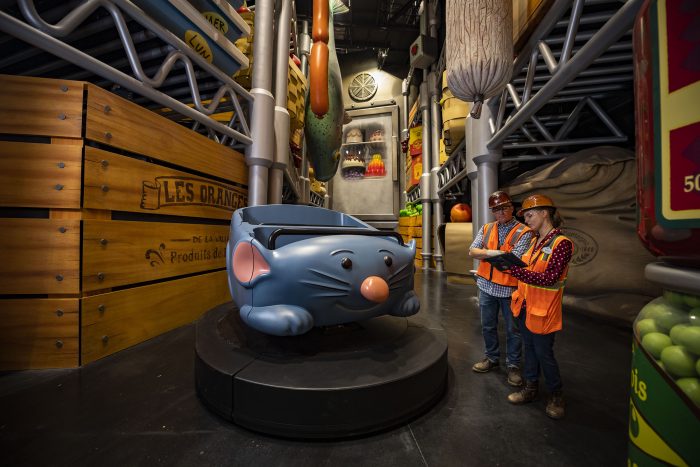 Learn more about Remy's here.
DINING
Chefs de France
Located on the main level, the menu here features the creations of its three famous owner-chefs: Paul Bocuse, Gaston Lenotre and Roger Verge. Escargot, Coquilles Saint-Jacques, French onion soup, Mediterranean seafood casserole, and duck à l'orange are some of the flavors you will find here.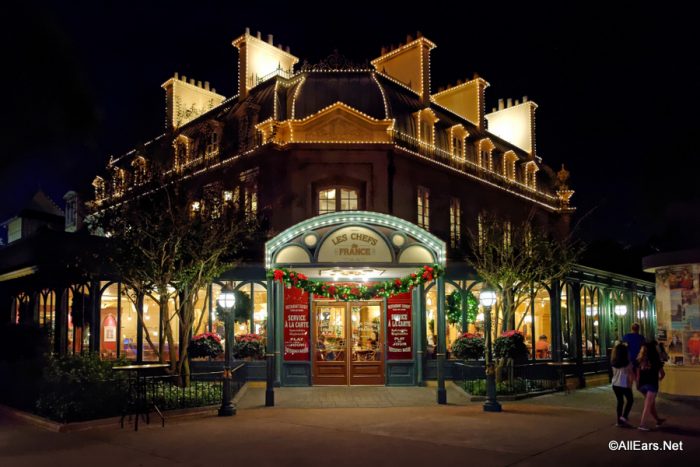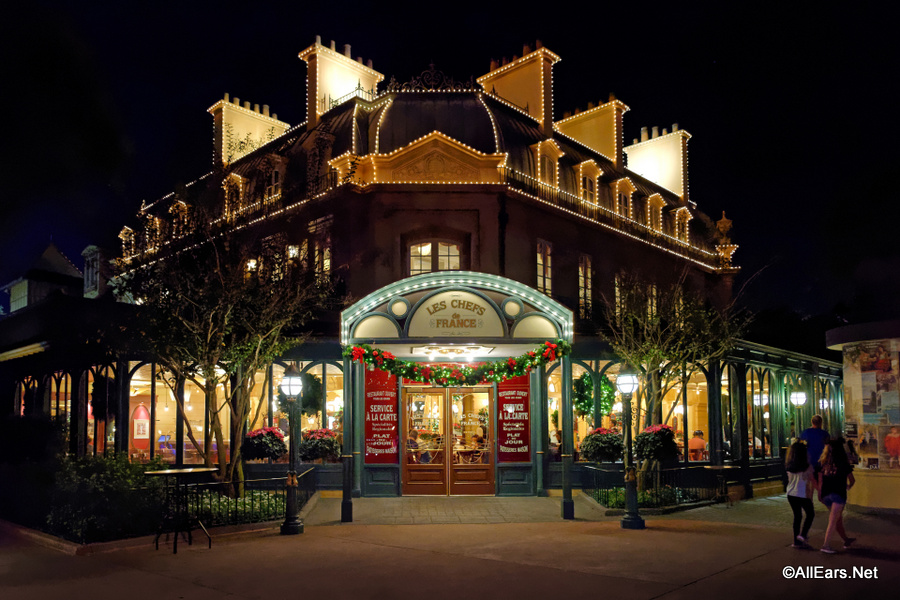 Monsieur Paul
Named after one of its founders, Paul Bocuse, the restaurant opened December 2012 in the space that was once Bistro de Paris. Menu items feature French technique and tradition with some modern additions.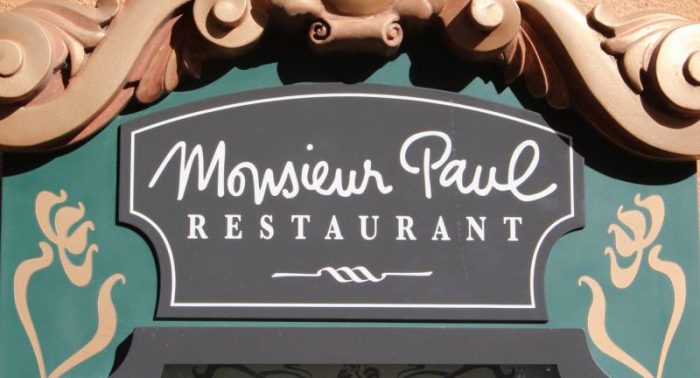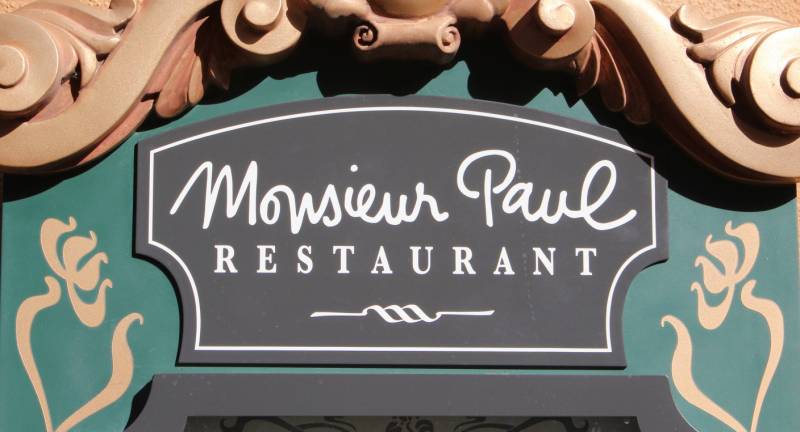 Boulangerie Patisserie les Halles
Opened in Epcot's France pavilion (January 2013), in the space adjacent to the movie theater exit. The new bakery, which replaces the former Boulangerie Patisserie in the pavilion, is much more spacious and offers a new, expanded menu.
Offerings include pastries and other sweets, soups, sandwiches, salads and authentic French dishes such as quiche, Croque Monsieur (grilled ham and cheese), and pissaladiere, a pizza-like dish from the South of France. The bakery opens at 9AM every morning, before the official 11AM World Showcase opening time and is a convenient spot to grab breakfast when arriving to Epcot via International Gateway.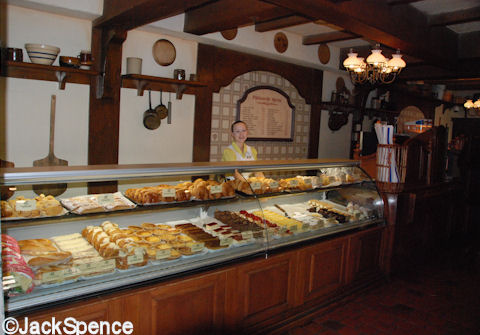 L'Artisan des Glaces
This ice cream and gelato spot opened in the previous location of Les Halles and features a rotating selection of ice cream and gelato. Order yours on a cone, in a dish, or sandwiched between macarons or brioche bread!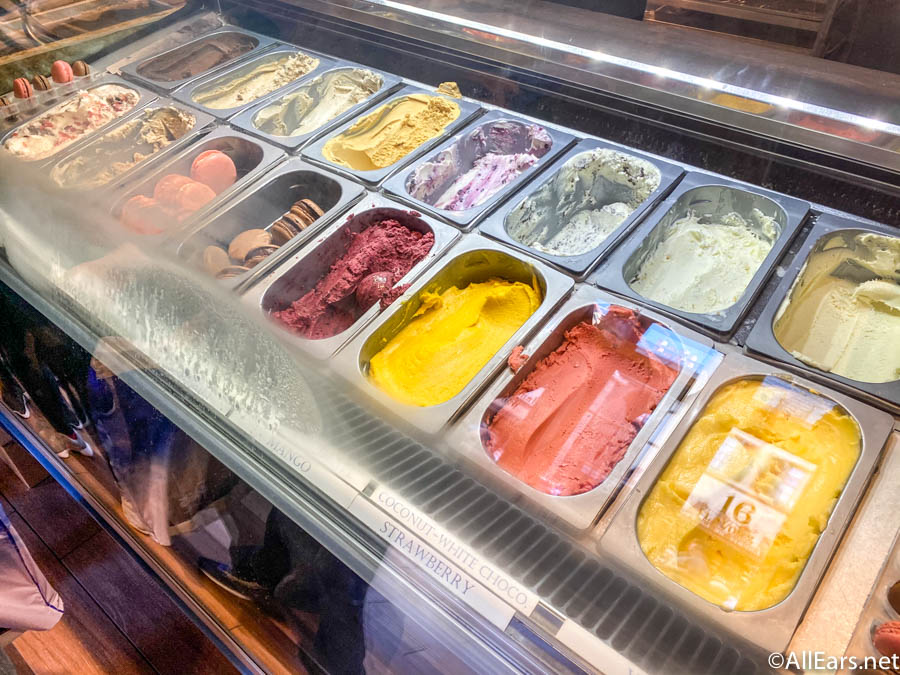 La Creperie de Paris — Opening October 1, 2021
La Creperie de Paris will feature both Table Service and Quick Service options, all centered on crepes, of course! Try sweet and savory offerings in crepe and galette forms!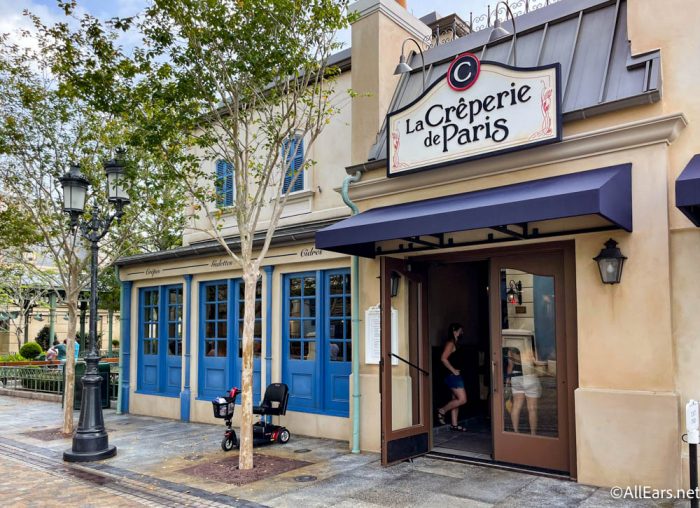 Epcot Restaurants At A Glance
Menus From Around the World
Vegetarian and Other Special Diets
ENTERTAINMENT
Serveur Amusant
A comical waiter/juggler performs 20 minute shows usually Wednesday thru Sunday.
TOURING TIPS
Impressions de France is a must-see on your Epcot Attraction List. Relax in the air-conditioned theater, and enjoy the wonderful music and scenery.
Beauty & the Beast Sing-Along is a must for fans of the original film and its soundtrack.
Stop in Vins De France to learn about French Wines. You can sample wines with the "Wine Passport" which also includes Italy and Germany.
EPCOT International Flower and Garden Festival – Beauty and the Beast and the Prince and Princesses.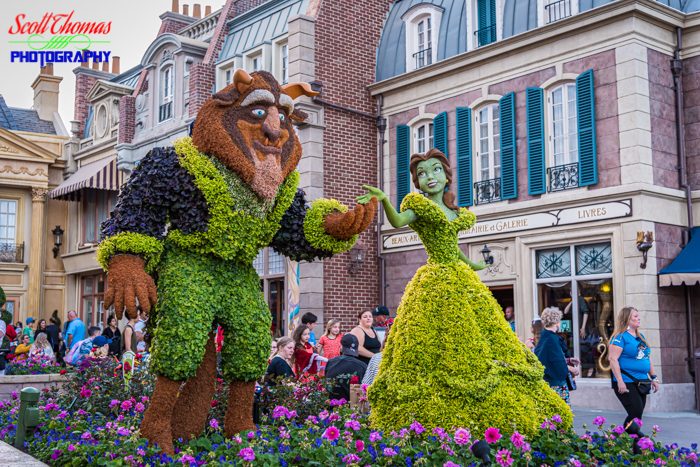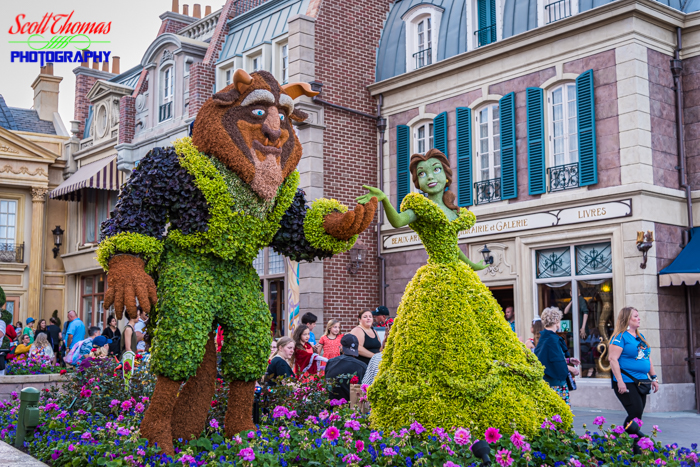 EPCOT International Festival of the Holidays features storytellers in each country. In France, Pere Noel (Santa Claus) makes appearances throughout the afternoon.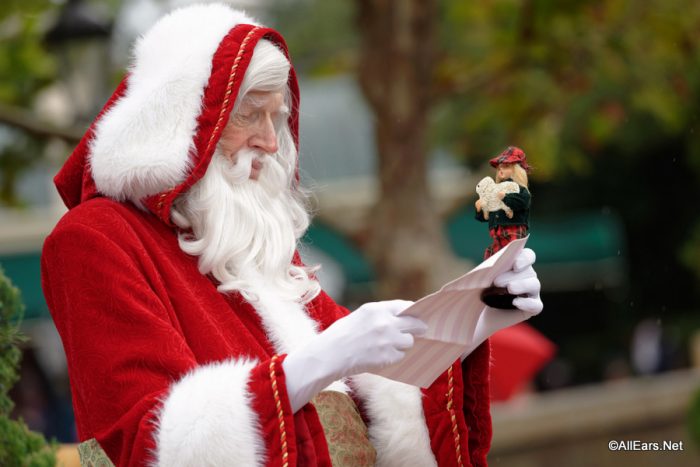 Assistive Listening Devices from Guest Services Can Be Used Here.
Reflective Captioning Available for the films.
KIDS AND CHARACTERS
Belle regularly meets guests in her village dress on the World Showcase Lagoon side of the France Pavilion.
Princess Aurora from Sleeping Beauty has a meet-and-greet in the Gazebo in France, located on the far right of the pavilion area.
Each of the World Showcase countries has a special "KIDCOT" area that provides an opportunity for your child to interact with a native of the country you are visiting.
EPCOT PassPorts are great fun for kids as they have them stamped at each pavilion around World Showcase.
EPCOT Characters At A Glance
Character Meet and Greet FAQ!
SHOPPING
L'Esprit de la Provence
Dinnerware, tabletops, decorative items from Southern France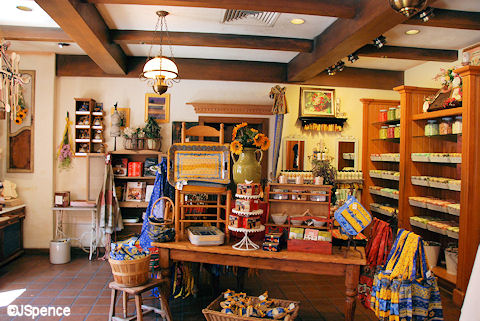 Souvenirs de Frances
Purchase France-inspired souvenirs in this shop, including Eiffel Tower statues and berets.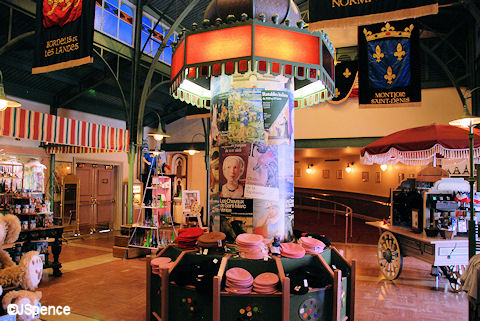 La Signature
Personal accessories, perfumes. Guerlain cosmetics.
Les Vins De France
B&G wines and accessories. Wine-tasting, cost includes souvenir wine glass.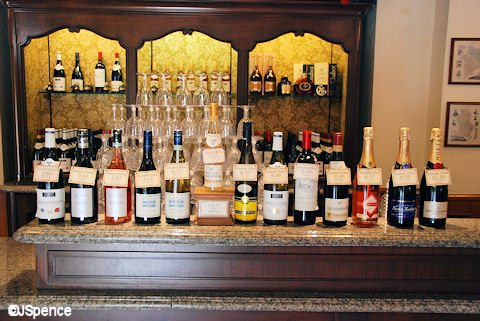 Plume Et Palette
Designer fragrances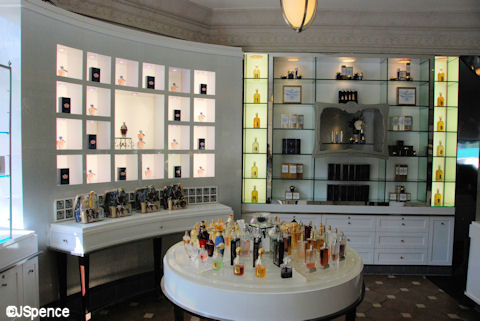 INTERESTING FACTS
The park bordering the canal along the right side of the pavilion was inspired by the famous painting "A Sunday Afternoon on the Island of La Grande Jatte" by pointillist artist Georges Seurat.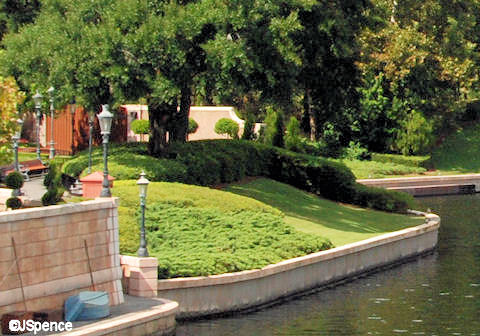 The landscape here has a single objective: to reflect an urban ambiance, particularly springtime in Paris. Street trees along the central boulevard are positioned and pruned to enhance the illusion of distance. Planters in this area reveal pastel mixes of flowers, lending an impressionistic flavor and reinforcing the theme.
The France expansion that made room for Remy's Ratatouille Adventure and La Creperie de Paris more than doubled the pavilion's footprint! The new section is a French market street called Alleé des Marchands (Alley of Merchants).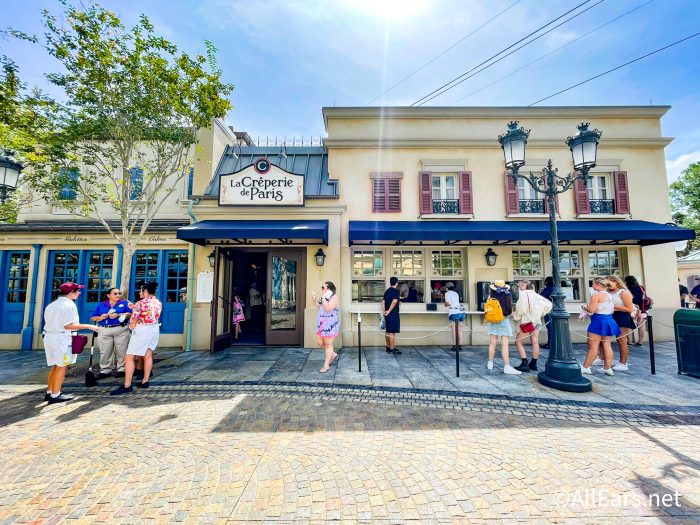 Exaggerated details and slightly wonky architecture in the expansion near Remy's Ratatouille Adventure is meant to evoke the "crookedology" of the Pixar film.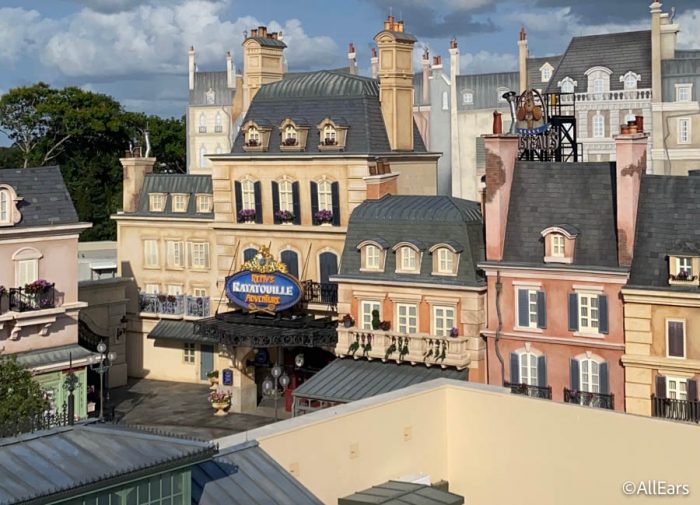 A Ratatouille-inspired fountain is a focus of the expanded area, and Remy stands tall at the fountain's center. There are plenty of other rats playing on the three-basin fountain, and what's a journey to Paris without some champagne?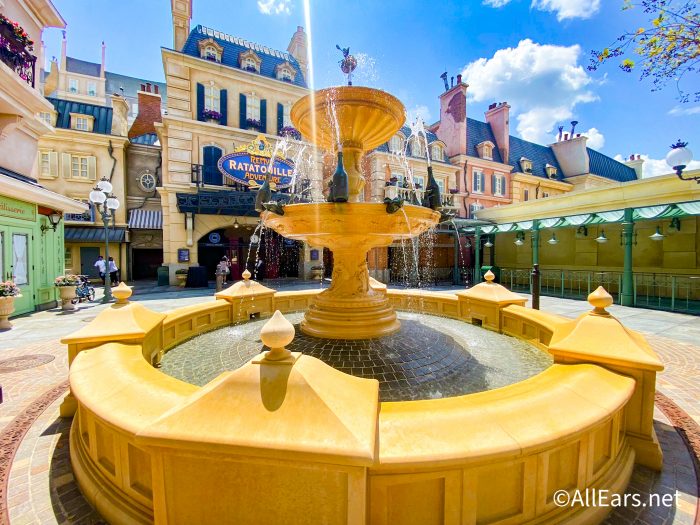 The Eiffel Tower is an example of Forced Perspective. The one-tenth replica of the Eiffel Tower was constructed using Gustav Eiffel's original blueprints. If you looked at the Eiffel Tower today as it stands in Paris, it would have similar coloring to the Statue of Liberty in New York. However, here in Epcot, the Eiffel Tower is more tan and pinkish. The reason is the France Pavilion here represents the late 1800s and the Eiffel Tower is the same color it would have been then.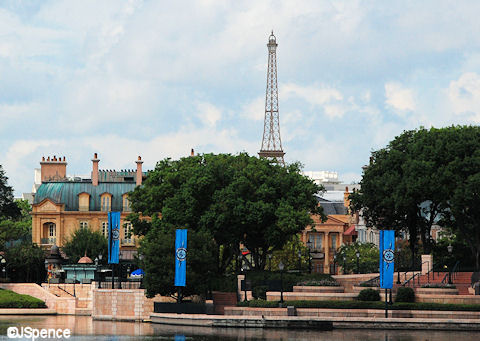 Epcot's France pavilion celebrated the opening of its redesigned La Signature shop on July 26, 2007, with a ceremony attended by executives of the perfumer Guerlain, Inc. La Signature has been remodeled as a Haute Perfumery patterned after the original La Maison Guerlain flagship boutique on the Champs-Elysees in Paris.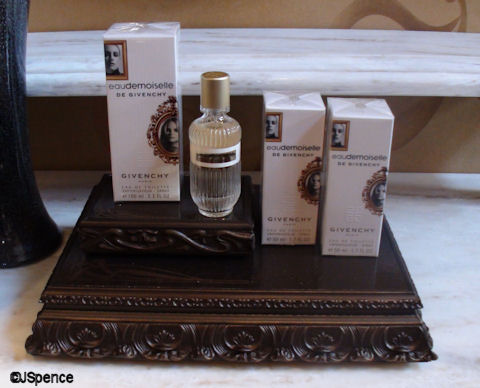 As a Haute Perfumery, La Signature carries exclusive and limited-edition specialty fragrances for men and women, including the new L'Art et la Matière collection and the vintage Les Parisiennes collection.
Bistro de Paris – located on the 2nd floor above Chefs de France closed in 2012 and reopened December 2012 as Monsieur Paul.