EPCOT International Festival of the Holidays
EPCOT

International

Festival

of the

Holidays


runs from November 25th to December 30th, 2022
This celebration of the season replaced the previous event Holidays Around the World.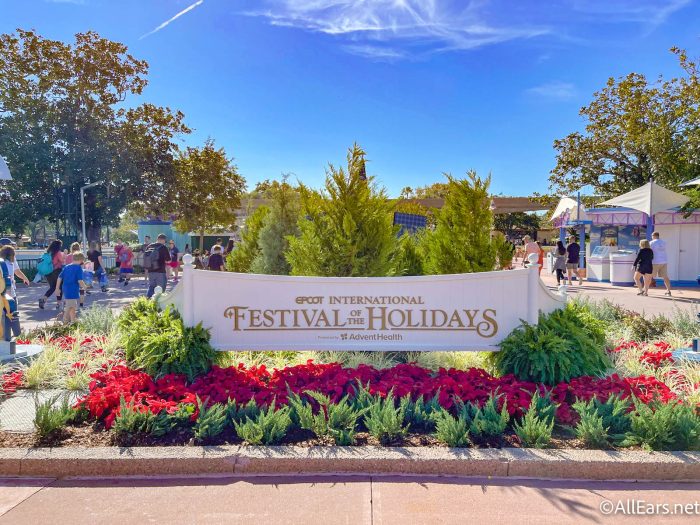 In 2022 the Festival will feature the always-popular Holiday Kitchens and more. The Candlelight Processional is a guest favorite (info below!) and the International Storytellers from around World Showcase are a truly unique experience.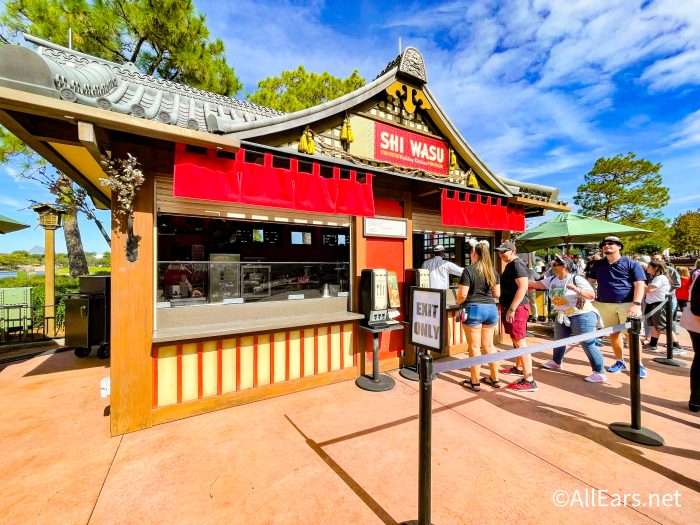 Festival of the Holidays Logistics
The Festival begins on November 25th, 2022.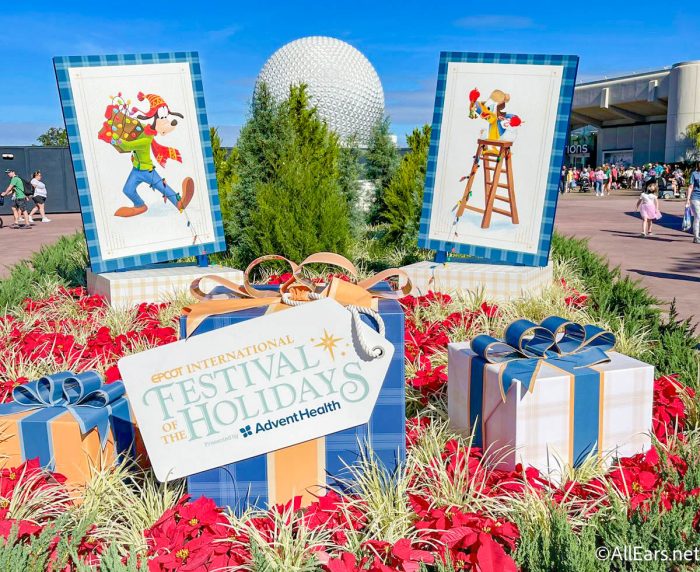 The Festival is included with the price of admission to EPCOT, though Holiday Kitchens, Festival merchandise, and some Festival offerings are an additional cost.
This retelling of the Christmas story as told by a celebrity narrator accompanied by a large and incredibly impressive orchestra (typically a 50-piece orchestra) and a mass choir will wow audiences starting November 25th!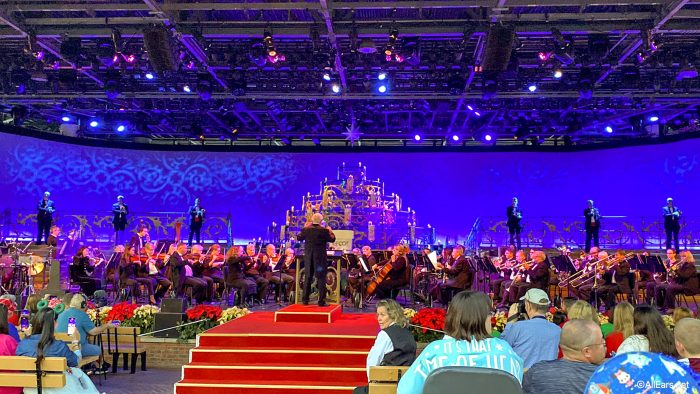 The 2022 Narrators are as follows:
November 25th and 26th, 2022: Simu Liu *NEW
November 27th to 29th, 2022: Chita Rivera
November 30th to December 1st, 2022: Raul Esparza *NEW
December 2nd and 3rd, 2022: Whoopi Goldberg
December 4th to 6th, 2022: Isabella Rossellini
December 7th to 9th, 2022: Daymond John *NEW
December 10th to 12th, 2022: Josh Gad *NEW
December 13th and 14th, 2022: Gloria Estefan *NEW
December 15th to 18th, 2022: Neil Patrick Harris
December 19th and 20th, 2022: Mariska Hargitay *NEW
December 21st to 23rd, 2022: Cal Ripken Jr.
December 24th to 26th, 2022: Marie Osmond
December 27th and 28th, 2022: Courtney Vance
December 29th and 30th, 2022: Angela Bassett
The show typically takes place at the America Gardens Theatre each evening at 5:15PM, 7PM, and 8:30PM.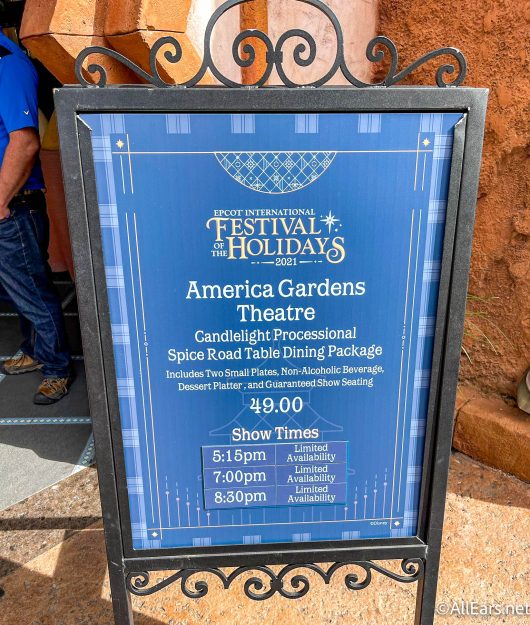 Dining packages are usually available to pair with your Candlelight Processional experience. These enable you to enjoy a meal at select restaurants in EPCOT and then get reserved seating for one of the Candlelight Processional shows for the day. There are usually dining packages you can reserve in advance, as well as some day-of options. Check back for 2022 details.
JOYFUL! A Celebration of the Season
This uplifting performance typically takes place on World Showcase Plaza Stage, right at the top (or bottom?) of World Showcase between Canada and Mexico. JOYFUL! brings song traditions from both Christmas and Kwanzaa!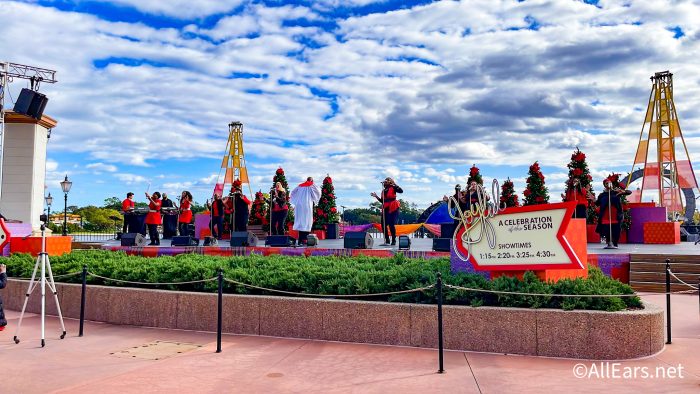 Daily Performance Times: 
2:40PM, 3:45PM, 4:50PM, and 6:10PM
Starting November 25th, the Festival of the Holidays will bring back Holiday Kitchens. Favorite dishes like Slow-Roasted Turkey from American Holiday Table and Cheese Fondue in a Bread Bowl from Bavaria Kitchen could return in 2022!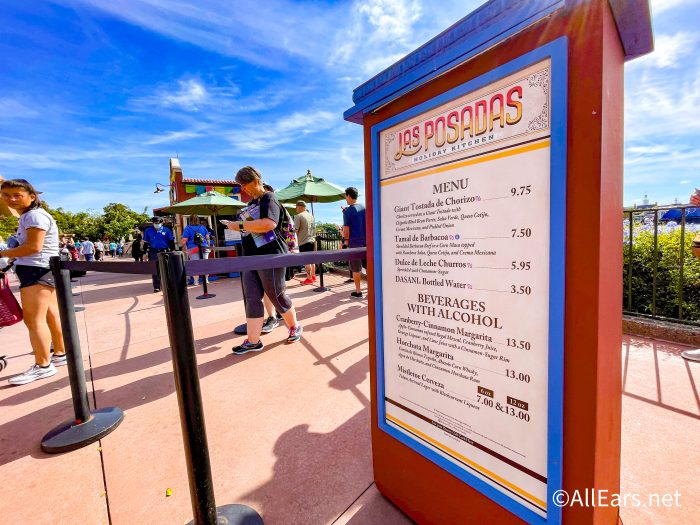 Click here to check out the 2022 Holiday Kitchen booths while we wait for 2022 menu details.
Cookie Stroll
Back in 2018, the Festival of the Holidays started offering a Cookie Stroll. This tasty survey of Holiday Kitchens' cookies culminates in a celebratory final cookie — and it's confirmed to return for 2022!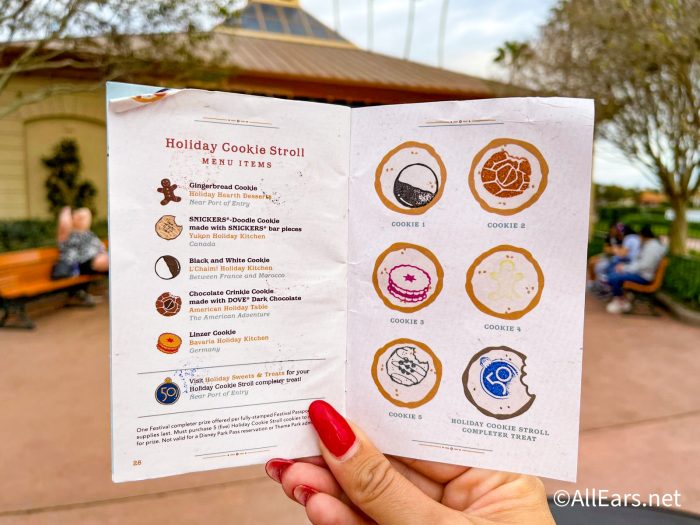 The 2022 Cookie Stroll will include:
Nochebuena Cocina
Alfajores — Vanilla Shortbread Cookie with Dulce de Leche and Coconut
Yukon Holiday Kitchen
SNICKERS® — Doodle Cookie made with SNICKERS® bar pieces
L'Chaim! Holiday Kitchen
Black and White Cookie (plant-based)
American Holiday Table
Chocolate Crinkle Cookie
Bavaria Holiday Kitchen
Linzer Cookie
Holiday Hearth Desserts
Gingerbread Cookie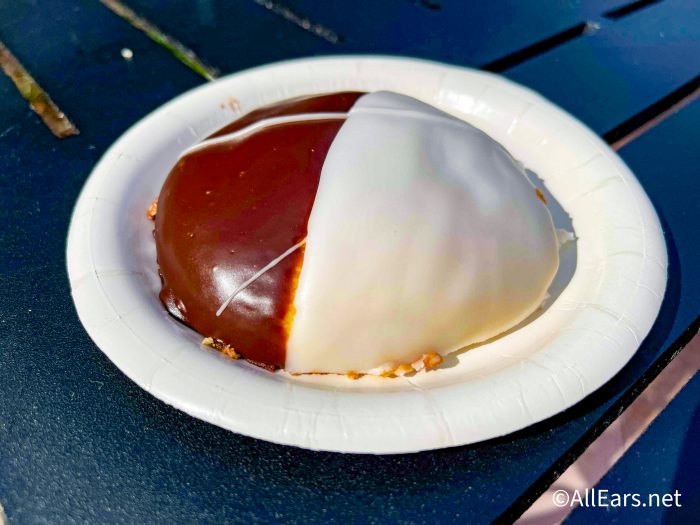 The prizes for 2021 included a completer cookie that celebrates the 50th anniversary, a Festival of the Holidays cup with a Peppermint Sundae, and a choice of one foam ornament!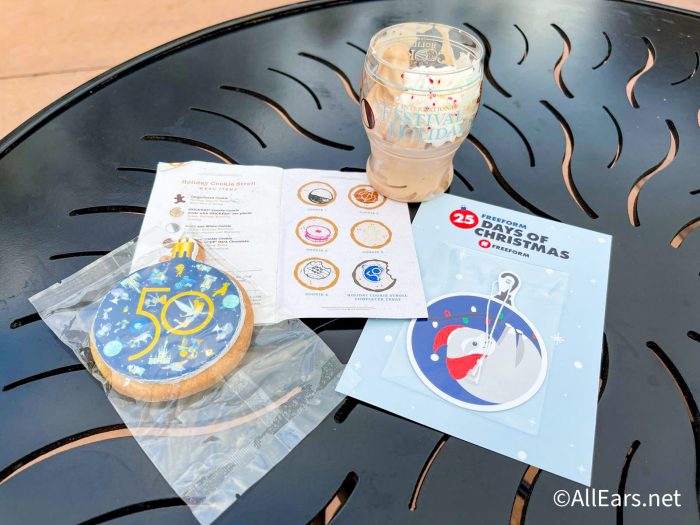 In 2022, it looks like cookies will also be available at Sunshine Seasons inside The Land Pavilion and Connections Cafe.
Olaf's Holiday Tradition Expedition
This family-friendly holiday fun allows guests to purchase a map and stickers from select merchandise locations and travel around World Showcase looking for traditions the famous snowman has lost along the way.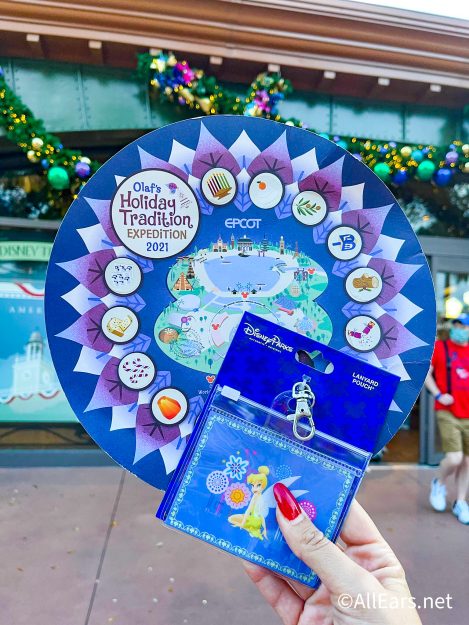 Guests can return their completed maps to Creations Shop or World Traveler for a festive surprise. Maps cost $9.99 plus tax and can be purchased at select Festival merchandise locations including Creations Shop, Port of Entry, and World Traveler.
Enjoy the sights and sounds of the nations of the World Showcase as each country's holiday heritage comes to life amid joyful music and time-honored traditions.  Live musical performances typically happen throughout World Showcase. For entertainment, showtimes, and information, visit our full list of Festival of the Holidays Entertainment.
Holiday Storytellers in nearly every World Showcase country share tales from their own traditions, including (usually) a presentation in Norway to celebrate the Scandinavian Julenissen!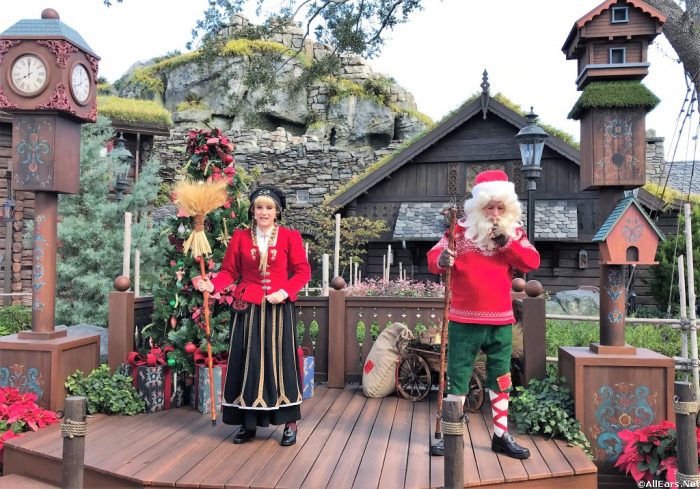 You can find Storytellers in the following locations:
Las Posadas Celebration (Mexico)
Mischievous Barn Santa and Sigrid (Norway)
Chinese Lion Dancer (China)
La Befana (Italy)
Santa Claus (The Odyssey Pavilion)
Daruma Storyteller (Japan)
Hanukkah Storyteller (Between France and Morocco)
Père Noël (France)
Father Christmas (United Kingdom)
Canadian Holiday Voyageurs (Canada)
Learn more about Festival of the Holidays Storytellers here!
Holiday Lights at Spaceship Earth
In years past, EPCOT's nighttime spectacular, IllumiNations, included a special holiday tag at the end of its nightly performances. IllumiNations has since ended and now the new Harmonious show is being presented in EPCOT.
If you're looking for a special way to end your night with a bit of the holiday spirit though, you'll want to head to Spaceship Earth!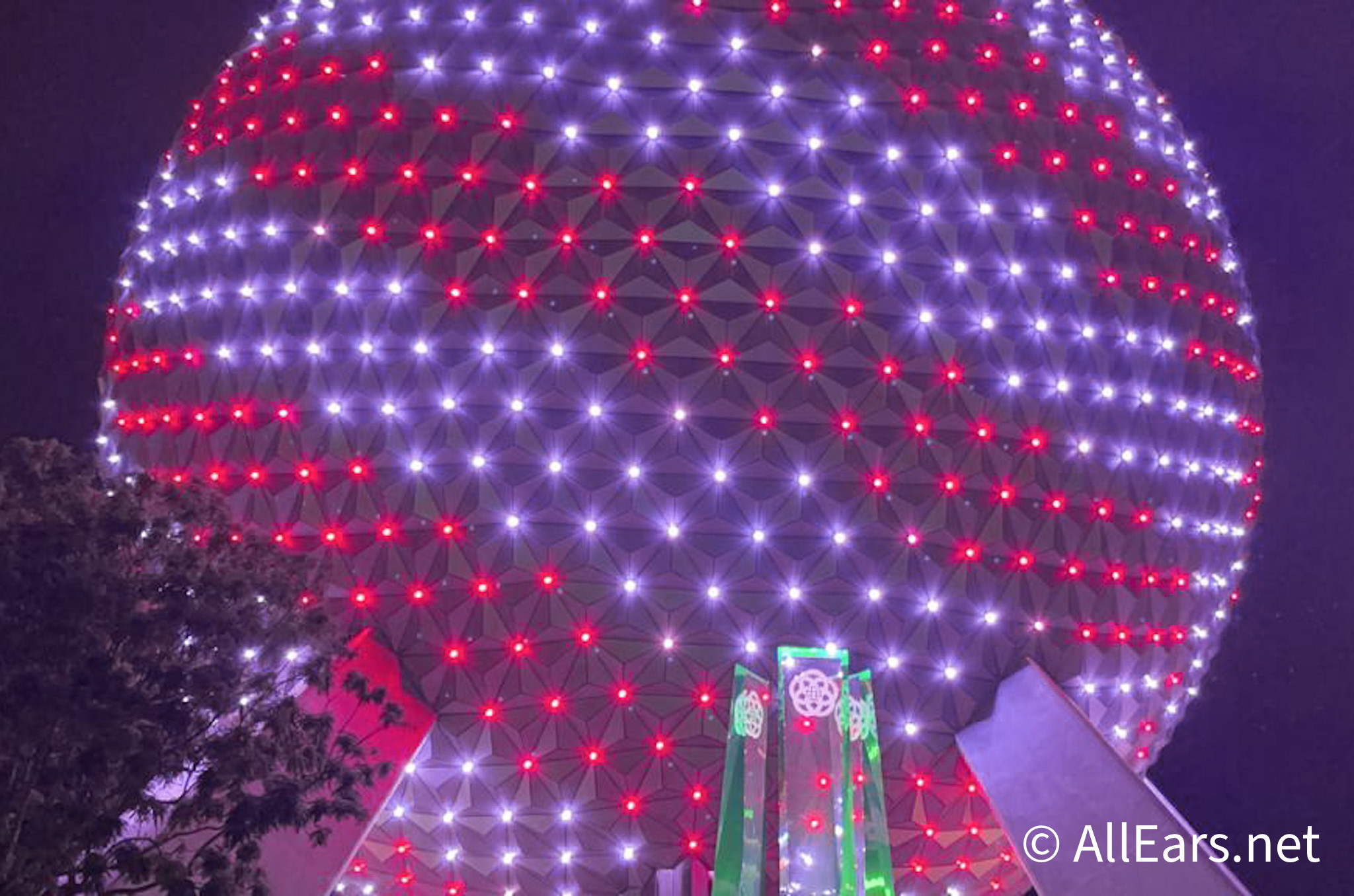 During the 2021 holiday season, Spaceship Earth added a special holiday section to its Beacon of Magic performance. Check back for details about what will be offered in 2022.
Click here to see more photos and a video of this holiday overlay!
Stay tuned for more updates about EPCOT's International Festival of the Holidays.
Click here for our post about everything confirmed to return to the 2022 EPCOT International Festival of the Holidays