Epcot International Festival of the Holidays Holiday Kitchens
Epcot's International Festival of the Holidays will run from Nov. 18 through Dec. 30, 2018.
Celebrate holidays around the world through the beloved culinary traditions of different nations.
With 12 Holiday Kitchens as well as additional locations throughout the park, there are festive dishes around every corner. New at the 2018 festival: The L'Chaim! Holiday Kitchen features traditional Jewish dishes such as Pastrami on Rye, Chicken and Matzo Ball Soup, Egg Cream, and more.  The entire menu at the Feast of the Three Kings Kitchen is completely new, also.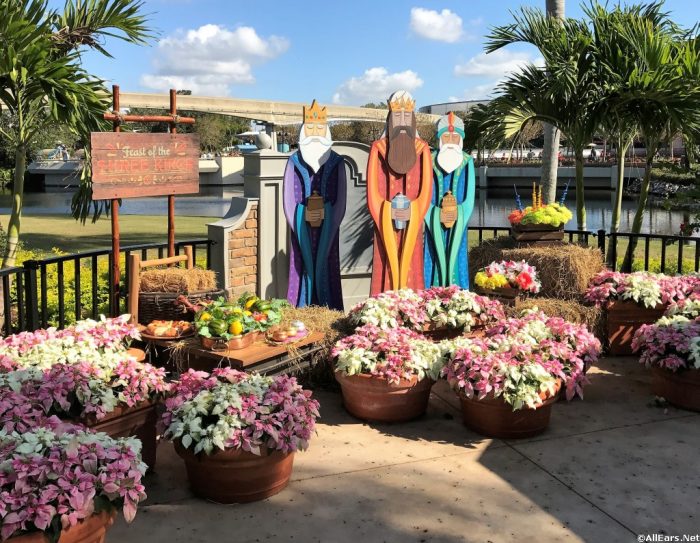 Most Marketplace food items are one snack credit on the Disney Dining Plan.
Most kitchens have Bottled Water $3.50

(V) = Vegetarian – These items do not include meat.
(GF) = Gluten/Wheat Friendly
(KA) = Kid-Approved
Le Marche de Noel Holiday Kitchen (France Pavilion)
Food
Napoleon de Saumon Fume, Brioche a l'aneth: Smoked Salmon Napoleon in a Dill Brioche
Bouchée à la Reine Traditionnelle: Turkey and Mushrooms in a Veloute Cream Sauce served in a Light Puff Pastry
Buche de Noel au Chocolat "Christmas Log": Chocolate Cake with Dark Chocolate Caramel Ganache (KA)
Beverages
Spiced Rum Punch Slush: Spiced Rum, Rhum Clement V.S.O.P., Orange and Pineapple Juice with Cinnamon
Cabernet Sauvignon and Merlot Blend, Château La Grand Moulin, Blaye, Côtes de Bordeaux
Holiday Kir: Sparking Wine and Monin Cranberry Syrup
Willm, Brut Blanc de Blanc Sparking Wine
American Holiday Table (American Adventure Pavilion)
Food
Slow-Roasted Turkey with Stuffing, Mashed Potatoes, Green Beans and Cranberry Sauce 
Hand-carved Smoked Ham with Green Beans and Sweet Potato Casserole (GF) (KA)
Chocolate Pecan Tart with Whipped Cream and Caramel Sauce  (V)
Red and Green Chocolate Chip Cookie (V)
Beverages
American Heritage Milk Chocolate Gourmet Hot Cocoa with Wondermade Marshmallows (non-alcoholic) (KA)
Orange Blossom Brewing Cranberry Kringle Pilsner, Orlando, FL
Shipyard Eggnog White Porter, Clearwater, FL
JDub's Season's Greetings Peppermint Milk Stout, Sarasota, FL
Holiday Beer Flight
Cocoa Candy Cane: American Heritage Milk Chocolate Hot Cocoa with Peppermint Schnapps
Bottled Water
Bavaria Holiday Kitchen (Germany Pavilion)
Food
Potato Dumpling with Mushroom Sauce (KA)
Sauerbraten, Red Cabbage and Spätzle
Cheese Fondue in a Bread Bowl with Fresh Steamed Baby Vegetables and Marble Potatoes featuring Melissa's Produce (V) (KA)
Black Forest Roulade with Cherry Whipped Cream
Peppermint Sugar Cookie (V)
Beverages
Possmann Pure Hard Apple Cider, Frankfurt, Germany
Possmann Pure Hard Black Currant Apple Cider, Frankfurt, Germany
Schöfferhofer Pink Grapefruit Hefeweizen
Cider Flight
Glühwein: House-made Hot Spiced Wine
Regional Riesling
Bottled Water 

Feast of the Three Kings (Showcase Plaza)
Food
Pastelón: Sofrito-marinated Beef with Sweet Plantains and Olives (GF)
Queso Fresco-stuffed Arepa topped with Shrimp, Crushed Avocado Aji and Tomato Sauce (GF)
Arepas topped with Melted Queso Fresco (V) (GF) (KA)
Tres Leches Rice Pudding with Pumpkin Seeds (GF)
Green and White Sugar Cookie (V)
Beverages
Coquito: Tropical Eggnog (non-alcoholic) (KA)
M.I.A. Beer Company Trey Reyes Mango Golden
Coquito: Tropical Eggnog with a Bacardi Gold Dark Rum Floater
Bottled Water

Shi Wasu Holiday Kitchen (Japan Pavilion)
Food
New Year Celebration Soba: Buckwheat Soba Noodles in Hot Dashi Soup with Chicken and Spinach
Holiday Green Tea "Yule Log": Delicate Spongecake rolled with Whipped Cream Filling
Beverages
Ichigo Milk Boba: Popping Strawberry Boba Cream Drink with Japanese Calpico (non-alcoholic)
Sapporo Draft Beer
Cinnamon Apple Cider: Plum Wine, Orange Juice with Lemonade and Apples
Bottled Water
Holiday Sweets and Treats (Showcase Plaza)
Food Items
Peppermint Sundae: Chocolate Ice Cream, Whipped Cream, and Peppermint Candy (GF) (KA)
Holiday Tree Sugar Cookie (V)
Holiday Cookie Stroll Completer Cookie – Red and Green Mickey Sugar Cookie (V)
Beverages
Hot Cocoa (non-alcoholic) (KA)
TG Lee Eggnog (non-alcoholic)
Chocolate Apple Shake featuring Twinings Winter Spice Tea (non-alcoholic)
Shipyard Eggnog White Porter, Clearwater, FL
Hot Cocoa with Assorted Cordials (Baileys Irish Cream, Frangelico Liqueur or Fireball Cinnamon Whisky)
Firenog: T.G. Lee Eggnog with Fireball Cinnamon Whisky
Chocolate Apple Shake featuring Twinings® Winter Spice Tea and Butterscotch Schnapps
L'Chaim! Holiday Kitchen (between Morocco and France)
Food

Pastrami on Rye with House-made Pickles and Deli Mustard
Potato Knish with Herb Sour Cream (V) (KA)
Chicken and Matzo Ball Soup
Black and White Cookie (V)
Beverages
Egg Cream: Milk, Chocolate Syrup and Seltzer (non-alcoholic)
Brooklyn Brewery Brooklyn Lager
Blue Cosmo Cocktail

Las Posadas Holiday Kitchen (Mexico Pavilion)
Food
Enchilada de Pollo con Mole: Chipotle Chicken in a Corn Tortilla topped with Mole Negro and garnished with Shredded Oaxaca Cheese and Sesame Seeds
Tamal de Camarón: Corn Tamal stuffed with Guajillo-marinated Shrimp topped with Mole Rojo and Shredded Cotija Cheese
Arroz Con Leche: Rice Pudding with Cranberries
Beverages
Cerveza Mexicana Artesanal: Allende Mexican Craft Ale served with a Floater of Kahlúa
Noche Buena Margarita: Libélula Joven Tequila, Cranberry and Lime Juices and Agave Nectar topped with Lime Foam and Sprinkles
La Posada Margarita: Cazadores Blanco Tequila, Horchata-Cinnamon Liqueur, and Agua de Horchata topped with Cinnamon

Shanghai Holiday Kitchen (China Pavilion)
Food
Pork and Vegetable Egg Rolls (KA)
Mongolian Beef Bao Bun and a Fortune Cookie
Celebration Barbecue Pork with Steamed Rice and a Fortune Cookie
Spicy Mala Chicken with Steamed Rice and a Fortune Cookie
Beverages
Sweetened Bubble Milk Tea: Mango Flavored Milk Tea with Tapioca Pearls (non-alcoholic)
Jasmine Beer
Plum Wine
Bottled Water
Tuscany Holiday Kitchen (Italy Pavilion)
Food
Cavatappi ai Quattro Formaggi: Baked Four-Cheese Pasta, Parmesan Crumble and Truffle Essence (KA)
Mozzarella in Carozza: Golden-crusted Fried Mozzarella Sandwich and Tomato Sauce (KA)
Crespelle di Mele: Cinnamon Apple Fritters and a Vanilla Sauce Drizzle with Chocolate Caramel Sauce
Bacio al Cioccolato: Warm Hazelnut Chocolate Cake with Vanilla Mascarpone Cream
Panettone Mignon: Miniature Traditional Italian Christmas Fruitcake
Beverages
Moretti Lager
Moretti La Rossa Double Malt Beer
Pinot Grigio
Chianti
Prosecco
Corbinello
Moscato
Sapphire Holiday Kitchen (Morocco Pavilion)
Food
Grilled Lamb Kefta Kebab with Whole Wheat Pita, Cucumber, Olives, Tomatoes, Mint Yogurt Sauce and Harissa-cilantro Dressing
Confit of Chermoula Chicken Drum with Cinnamon Granny Smith Apple, Toasted Almonds, Brussels Sprouts and Pinot Noir Glaze
"Sfenj" – Warm Beignets with Cream, Cinnamon Sugar, Toasted Almonds and Chocolate Sauce
Beverages
Casa Beer
Kasbah Prestige Red Wine
The Andalusian "Poinsettia" Cocktail: Sparking Wine, Orange Liqueur and Cranberry Juice topped with Orange Blossom Water
Walnut Spiced Coffee with Walnut Liqueur and topped with Cinnamon and Whipped Cream
Bottled Water

Yukon Holiday Kitchen (Canada Pavilion)
Food
Seared Salmon with Crown Maple Whisky Glaze, Parsnip Silk, Apple Chutney and Hazelnut Croquant
Traditional French Canadian Tourtiere with Canadian Ketchup (KA)
Maple Bûche de Noel: Maple Mousse rolled in Gingerbread Chiffon Cake with Cranberry Sauce and Pecan Crumble (V) (KA)
Gold Chocolate Chip Cookie (V)
Beverages
Frozen Coffee (non-alcoholic)
Unibroue Éphémère Strawberry and Rhubarb
Inniskillin Riesling Icewine
Inniskillin Pearl Vidal Icewine
Inniskillin Gold Oak Icewine
Ice Wine Flight
Frozen Coffee with Tap 357 Whisky
In addition to the holiday kitchens, select food and beverage locations will feature seasonal treats.
L'Artisan Des Glaces
Glace au Pain d'Epices: Gingerbread Ice Cream with Gingerbread Pieces (KA)
Boulangerie Patisserie Les Halles
Buche de Noel au Chocolate: Chocolate Christmas Log with Chocolate Mint Cream Mousse and Chocolate Crunch Biscuit (KA)
Canada Popcorn Cart
Pecan Maple Bark featuring Crown Maple Sugar
Fife & Drum Tavern
Holiday Apple Pie Sundae with Soft-Serve Ice Cream, Caramel Sauce and Crunchy Streusel Topping (KA)
Budweiser Reserve Collection Copper Lager
Fountain View Cafe
Funnel Cake (The American Adventure)
Pumpkin Spice Funnel Cake
Joffrey's Coffee & Tea Company at Future World East
Mistletoe Mile – Brown Jug Bourbon Cream with Eggnog topped with Whipped Cream and a dash of Cinnamon
Joffrey's Coffee & Tea Company in the Canada Pavilion
Naughty and Nice – Grey Goose and Kahlua with Eggnog topped with Whipped Cream and a dash of Cinnamon
Joffrey's Coffee & Tea Company at Showcase Plaza
Rum Rudolph – RumChata with Eggnog topped with Whipped Cream and a dash of Cinnamon
Joffrey's Coffee & Tea Company in the American Adventure Pavilion
Cheerful Elf – Baileys Salted Caramel with Eggnog topped with Whipped Cream and a dash of Cinnamon
Kringla Bakeri Og Kafe
Traditional Holiday Rice Cream
Refreshment Outpost

Warm Caramel-Stuffed Salted Pretzel with Soft-Serve Ice Cream and Chocolate Sauce
Shipyard Eggnog White Porter, Clearwater, FL
Refreshment Port
Turkey Poutine: Sweet Potato Fries with Turkey Gravy, Cranberry Relish and Crispy Onions
Eggnog Shake (non-alcoholic)
Eggnog Shake with Baileys Irish Cream
Taste Track
Croissant Doughnut tossed in Cinnamon Sugar
Croissant Doughnut with Chocolate and Holiday Sprinkles (KA)
Croissant Doughnut with Eggnog Pastry Cream and Gingersnap Crumbs
Gelato
Pancake Milkshake (non-alcoholic) (KA)
Banfi Rosa Regale Sparkling Red
The Tea Caddy
Twinings Iced Christmas Toddy: Twinings Iced Christmas Tea with Honey and Drambuie
Twinings Iced Christmas Toddy: Twinings Iced Christmas Tea with Honey (non-alcoholic) (KA)
UK Beer Cart
TG Lee Eggnog with Irish Whiskey
TG Lee Eggnog (non-alcoholic)