It's been over a year since a brand new attraction opened at Disney World, but the wait is almost over!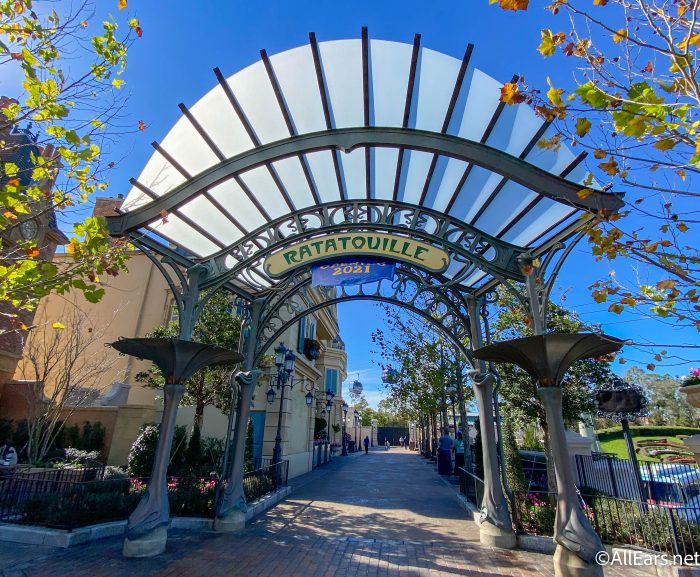 Remy's Ratatouille Adventure is set to open in EPCOT's France Pavilion on October 1st as part of the Walt Disney World 50th Anniversary celebrations and will take guests on a wild ride through Gusteau's famous Parisian kitchen. Disney has been hosting preview events for Cast Members and Annual Passholders, and we were able to stop in for a preview too! So, today we're bringing you along with us on our first ride!
Before we could even get to the ride, we took some time to look around the brand new France Pavilion expansion area. It is now known as "Pixar Paris" and features tons of little details that will remind you of Ratatouille the movie!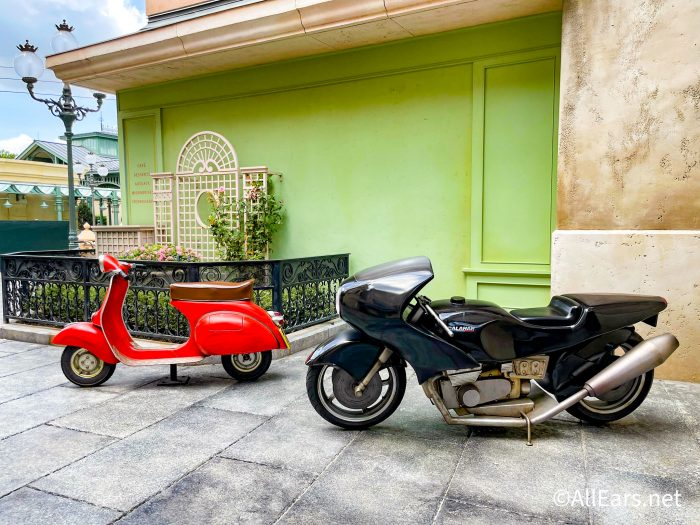 For example, you can find Remy-themed manhole covers on the streets, and right out front of Remy's Ratatouille Adventure, there's a new fountain that is designed to look like the champagne bottles are literally popping!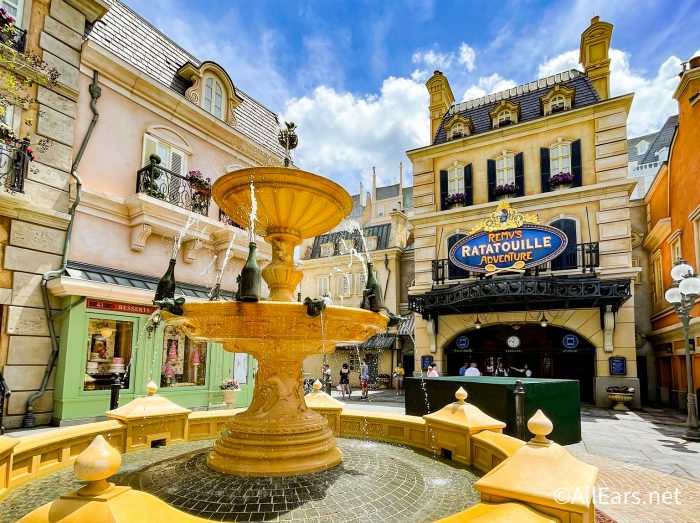 Plus, if you look even closer you can find Remy carvings along the side that would make it appear as if he were moving if we could spin the fountain itself (which is a trick inspired by animators).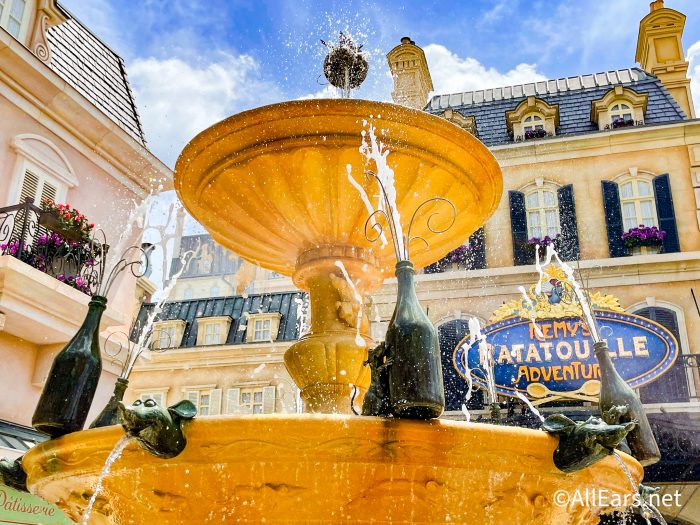 And, near the entrance to the attraction, you'll see a small display window filled with wines named Chateau Ego. The names and logo are actually featured in the film itself and, if you look close, you'll be able to see that they're dated with the year that Ratatouille the movie was released (2007), the year that the attraction opened in Disneyland Paris (2014), and the year that it opened in Disney World (2021).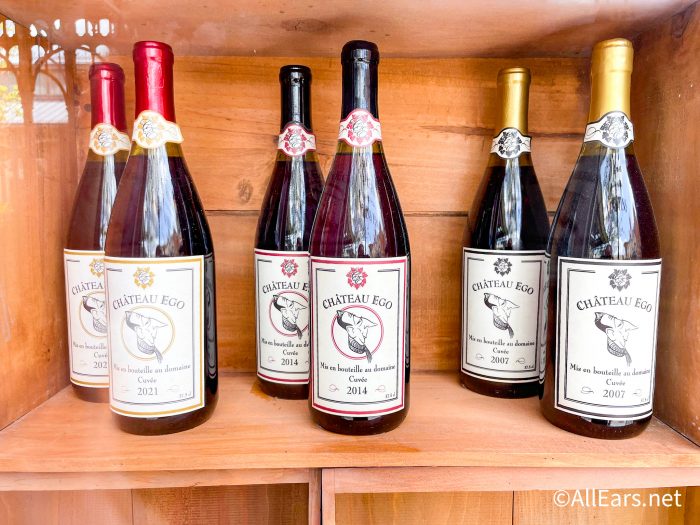 So, we spent some time looking around, and then it was time to head into the attraction!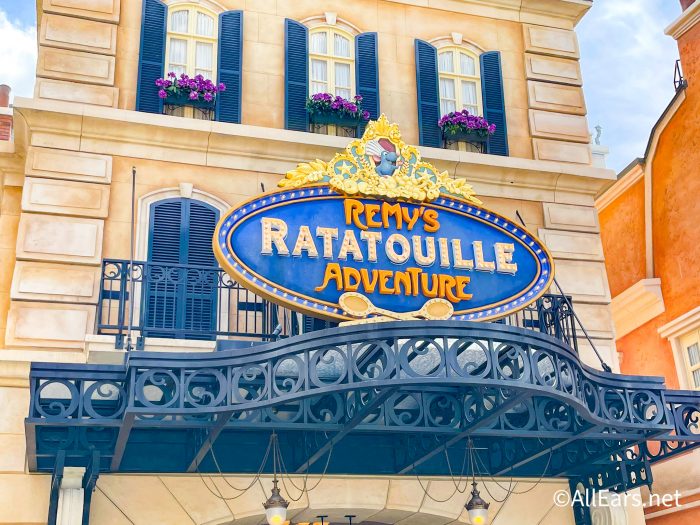 Because we were there for a preview event, we weren't able to take any photos or video once inside the queue or on the ride, but we'll share a little bit about what you can expect!
Keep in mind that if you don't want any spoilers about the attraction, then you'll want to skip ahead to the end of the article!
Much like Rise of the Resistance, Remy's Ratatouille Adventure features trackless ride vehicles which immerses you even further into the story than ever before as you travel through Gusteau's kitchen with Remy. The ride vehicles themselves sit up to 6 people with two rows that have three seats each.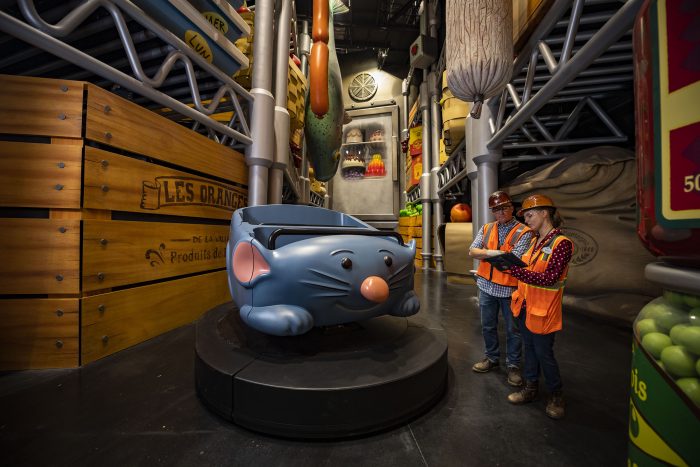 And, once you're in it's time to pop on the 3D glasses that were given to you and head off on your adventure! Chef Gusteau will welcome you and then you'll find yourself on the roof of Gusteau's Restaurant as Remy is trying to decide what he is going to make for a food critique that is coming to the restaurant.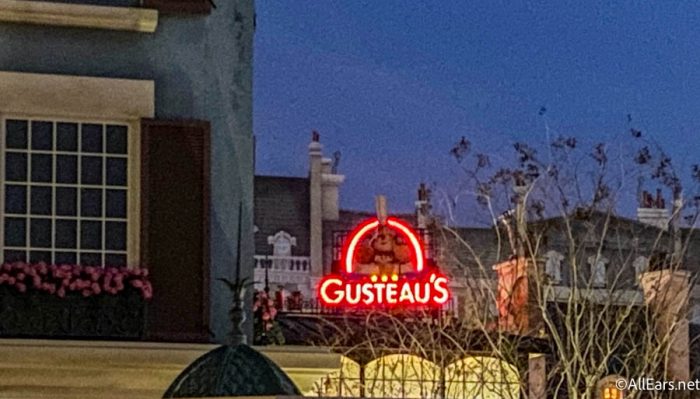 Remy decides to make ratatouille and that's when the window opens up to the restaurant below and you're dropped into the restaurant Remy-sized!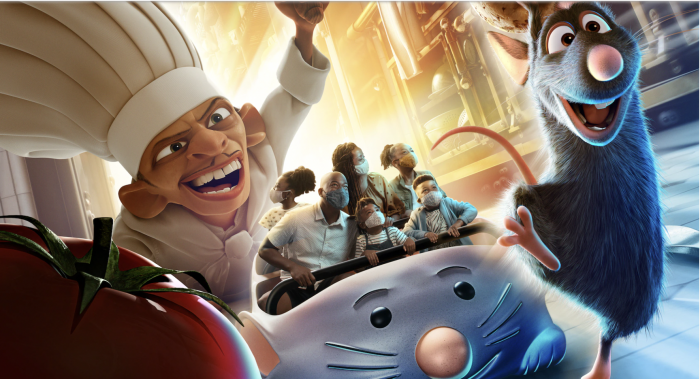 But, Linguini doesn't want Skinner to know that you're there, so it's off on the run you go! You'll find yourself scampering around the entirety of the kitchen, making your way into the kitchen's cooler, getting splashed by a mop (which you can feel), and you'll even end up a little too close to the furnace (where you can feel the heat).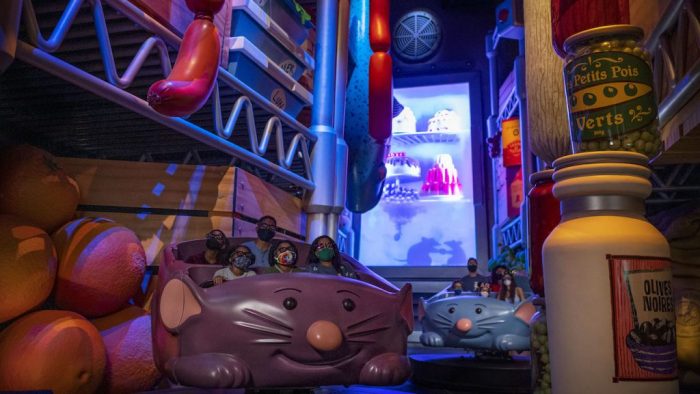 Eventually, Skinner spots you so Linguini has to push you into a vent and it's on the run you go again. Skinner does everything he can to catch you, but luckily all the rats come to help in the kitchen until you finally escape to Remy's personal dining area on the roof where many of the characters from the movie are waiting for you (and you'll even smell the food)!
Of course, it wouldn't be a Disney attraction without some hidden details to look for, right? While Cast Members shared that there are no hidden Mickeys in the actual attraction, we learned that you can spot some easter eggs from other Pixar movies. For example, in the opening scene of the ride with Remy on the roof, you can spot a shadow of the truck from Toy Story!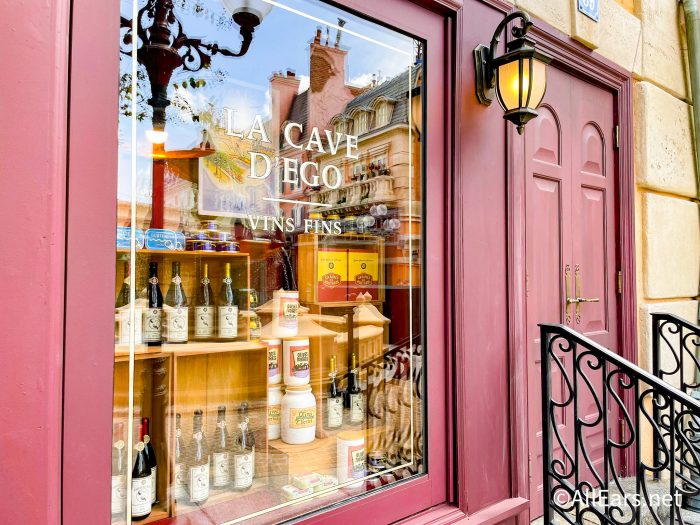 Well, that's it for our first look at Remy's Ratatouille Adventure! Keep in mind that the attraction will open to all guests on October 1st with a Virtual Queue, meaning that guests will need to secure a spot in the virtual queue at one of two distribution times (7AM and 1PM) each day in order to ride.
Of course, we'll continue to keep an eye out for more updates and bring you a look at the virtual queue process when the ride opens. And, in the meantime, be sure to stay tuned to AllEars for the latest Disney news!
Join the AllEars.net Newsletter to stay on top of ALL the breaking Disney News! You'll also get access to AllEars tips, reviews, trivia, and MORE! Click here to Subscribe!

Are you excited to ride Remy's Ratatouille Adventure? Let us know in the comments!