Ever wanted to EAT in SPACE? Well, all your dreams are about to come true (sort-of)!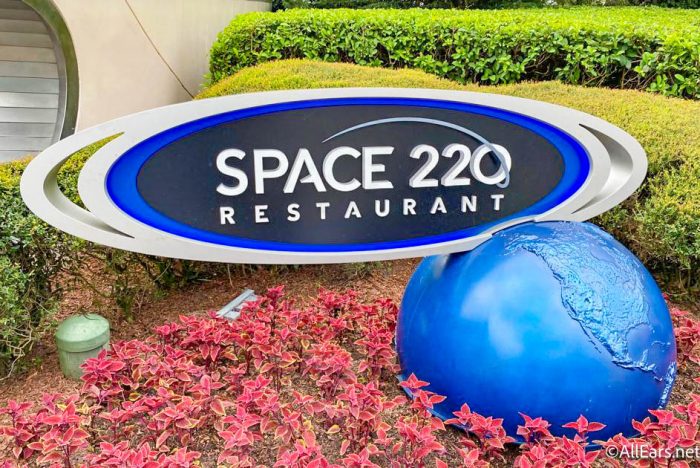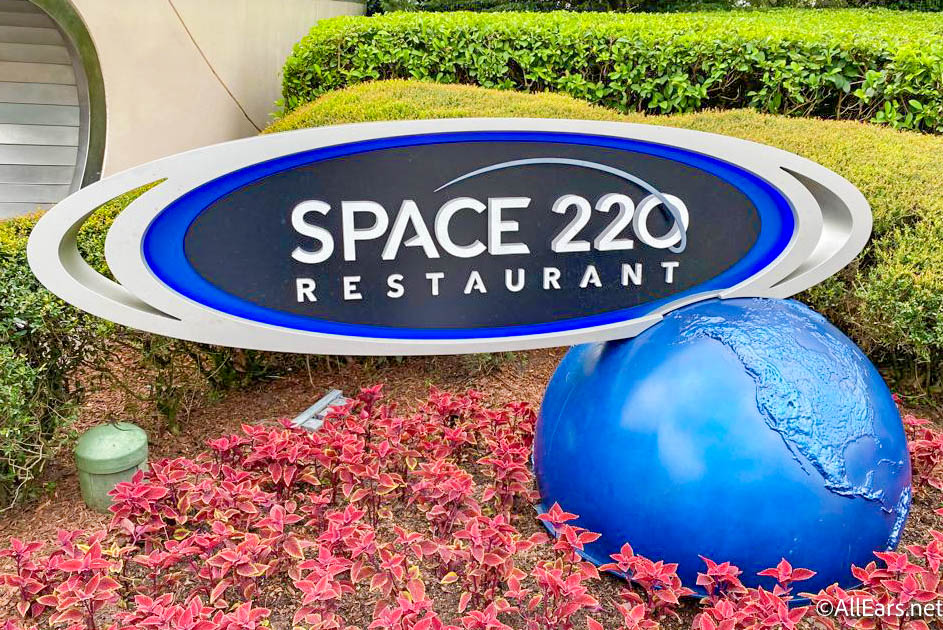 Space 220 might not actually send you to a real space station (shhhhh…don't ruin the dream), but it'll certainly feel that way. This space-themed restaurant, located near Mission: SPACE has been in the works for several years now as it was set to open quite a while ago but was ultimately delayed. But today we're finally getting the chance to "leave" Earth, board the Centauri Space Station, and eat in space! So, just what is Space 220 like? We're sharing everything you need to know right here!
Grand Opening
Space 220 is now officially open today (September 20th) in EPCOT! And, Disney marked the occasion during a special grand opening media event that we were invited to. It began with a welcome from Walt Disney World Ambassador, Ali Manion…
WDW Ambassador Ali Manion is speaking at the Space 220 Grand Opening media event 🚀 #Space220 pic.twitter.com/cnsBYbyWo2

— AllEars.Net (@AllEarsNet) September 20, 2021
…and ended with a celebration fit for any Disney restaurant — fireworks and 
lots 
of smoke for blast-off.
And…Space 220 is officially OPEN! 🚀 #Space220 (📍Grand Opening Media Event) pic.twitter.com/koQqbFfP6e

— AllEars.Net (@AllEarsNet) September 20, 2021
Reservations
If you're hoping to be one of the first to dine here, reservations will look a bit different for the first week compared to other Disney World restaurants. Now through September 26th, Space 220 will be operating on a walk-up only basis.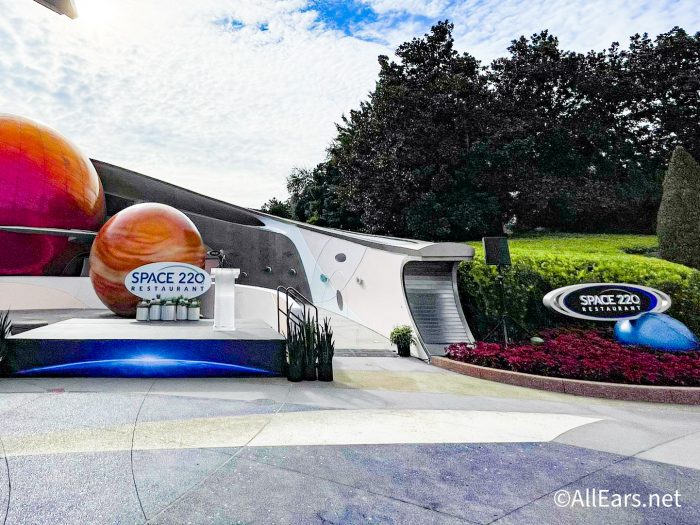 Just keep in mind that you may experience a longer wait to be seated this first week, as there are quite a few guests hoping to dine here for the first time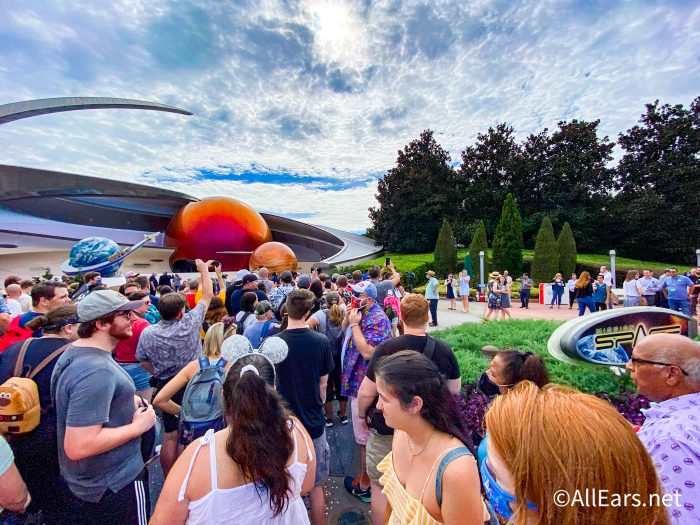 If you want to visit Space 220 on September 27th or a date after that, however, reservations will be available. You can start making reservations TODAY for dates starting on September 27th.
Checking In
When you're ready to eat at Space 220 (either you're walking up or your reservation time arrives), you'll check-in at the Space 220 Departure Lounge, which is located inside the area with Mission: SPACE in Future World.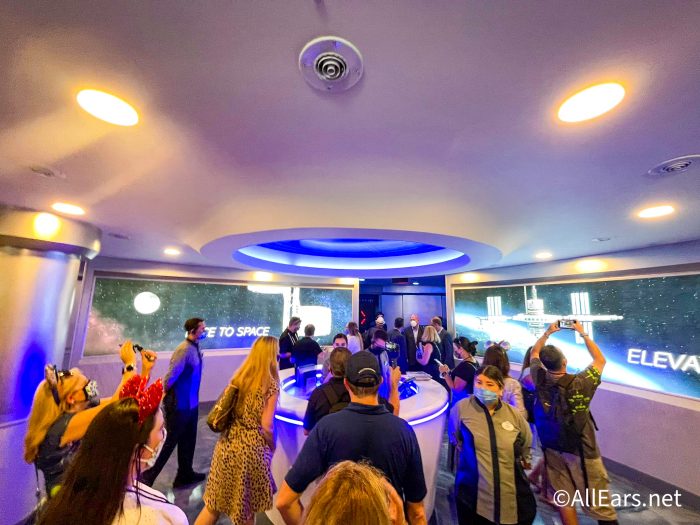 Here you'll be able to get your first look at the new Cast Member costumes for the restaurant…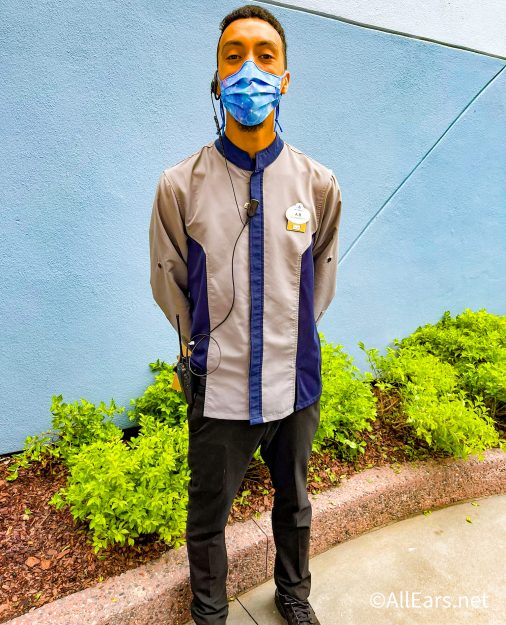 …and you'll even get to see what the Centauri Space Station (which is where you'll be dining) looks like from space in the decorations around you.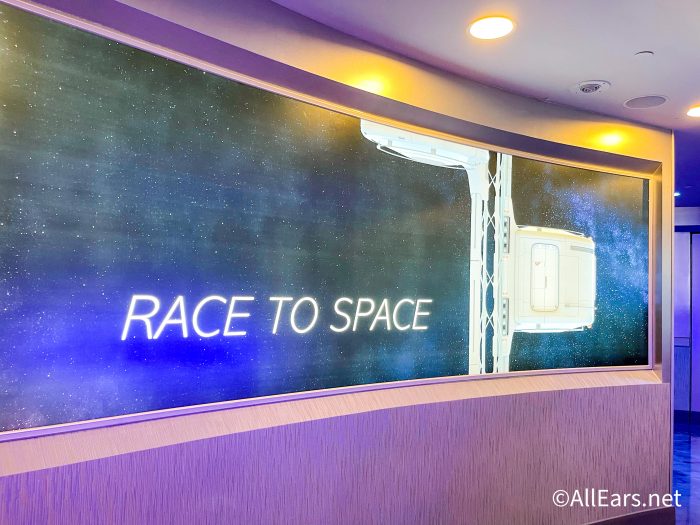 We got to learn a little bit more about the decorations and what to expect once up in space from the Space 220 Show Producer!
The show producer for #Space220 giving some info on the new experience! 🚀 (📍Grand Opening Media Event) pic.twitter.com/vgYuc4eBSy

— AllEars.Net (@AllEarsNet) September 20, 2021
After you've checked in, you'll receive a boarding group pass for one of TWO space elevators.
Got our Boarding Pass! 💫 #Space220 (📍Grand Opening Media Event) pic.twitter.com/4UieZCuOqD

— AllEars.Net (@AllEarsNet) September 20, 2021
Going Up to "Space"
Once it's time for your reservation (or time for you to visit the restaurant after having walked in), you'll board the Space Elevator!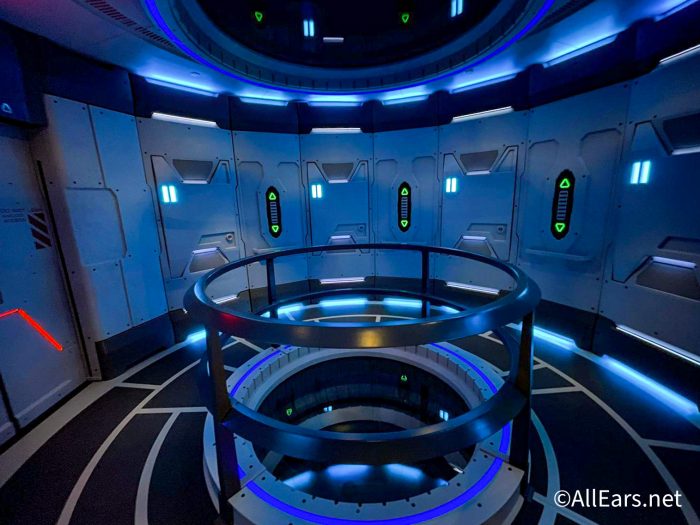 This special elevator will transport you what feels like 220 miles above the Earth. The space elevator is round in shape and guests can stand all around a central circular "viewpoint." And, if you look down, the viewpoint on the ground shows Earth disappearing into the distance as you shoot into space.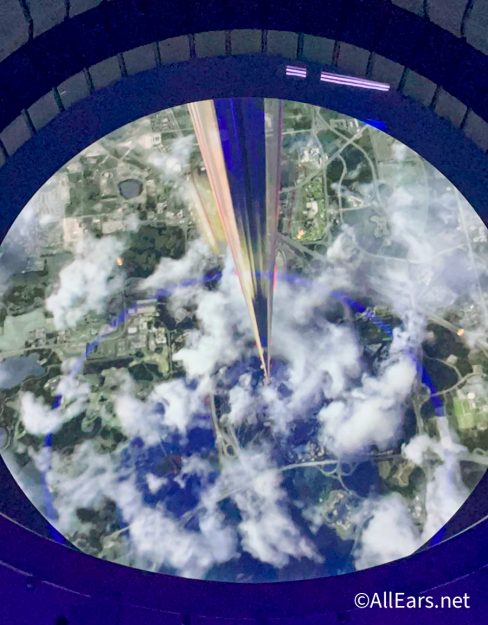 There is also a viewpoint on the top where you'll be able to see the Centauri Space Station as you approach it.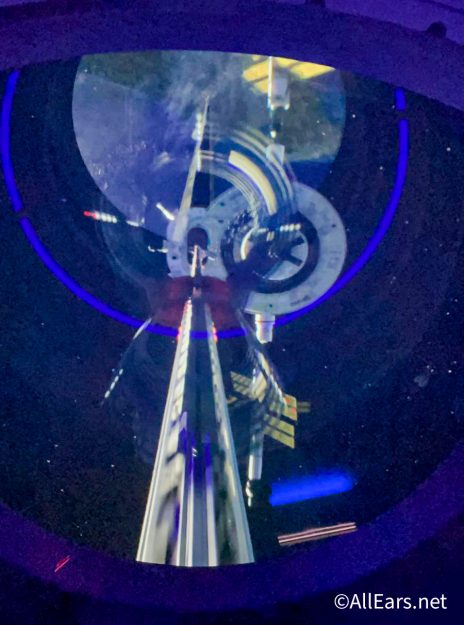 Here's a full look at the ride!
Heading UP! 🚀 #Space220 (Grand Opening Media Event) pic.twitter.com/zvO4HfSfSR

— AllEars.Net (@AllEarsNet) September 20, 2021
In terms of capacity, Disney was loading a few parties per elevator, so expect to be traveling to space with more than just your friends and family.
Entering the Space Station
Once you've made the trip into space, you'll step into the Centauri Space Station!
There, you'll speak to a Cast Member in order to get seated at your table in the main dining space. Before you enter the main dining area, you'll pass some futuristic looking lettuce growing areas and more.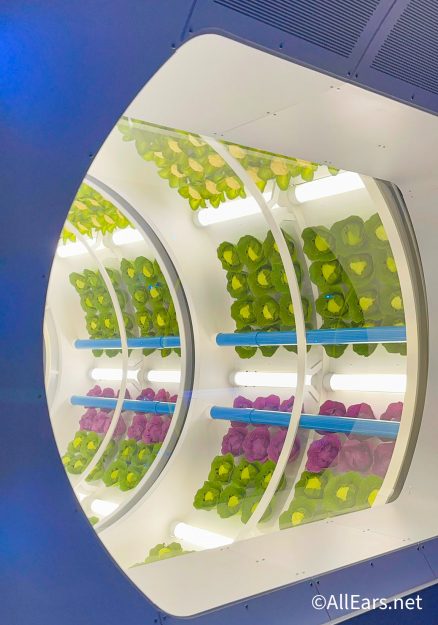 Then, it's time to enter the main dining area and see those incredible "windows" out into space!
We're here!🌌 #Space220 (Grand Opening Media Event) pic.twitter.com/1HiY0FEPr2

— AllEars.Net (@AllEarsNet) September 20, 2021
Seriously, folks, photos don't do this spot justice.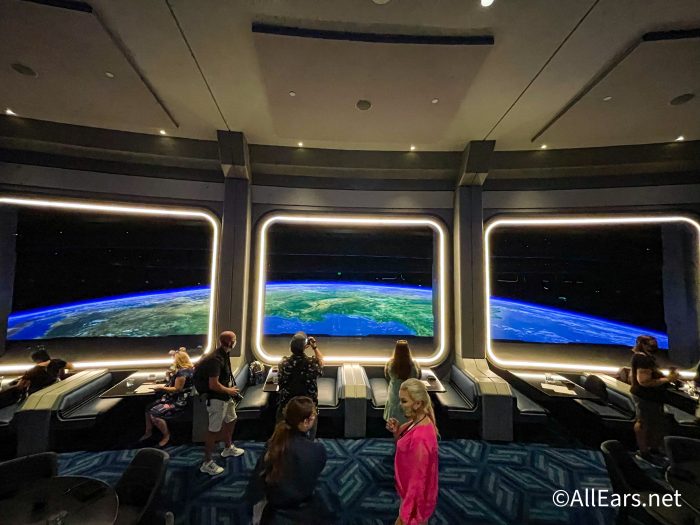 Keep a close eye on those windows as a Disney Imagineer shared with us that you might get to see some "longer-term residents" having fun out in space around the station.
During our leam we saw a couple of astronauts having a lightsaber battle…
There are some friends out in space having a…lightsaber battle? 😂 #Space220 (Grand Opening Media Event) pic.twitter.com/0zOfjXQdkQ

— AllEars.Net (@AllEarsNet) September 20, 2021
…and another was holding an X-Wing from
Star Wars
!
More Star Wars Easter eggs at #Space220! Can you spot it! 👀 (📍Grand Opening Media Event) pic.twitter.com/9BOtfBfHkv

— AllEars.Net (@AllEarsNet) September 20, 2021
There's quite a lot of seating in the restaurant and it feels very large.
Plus, there are even multiple levels, ensuring that all guests get a good view of the windows.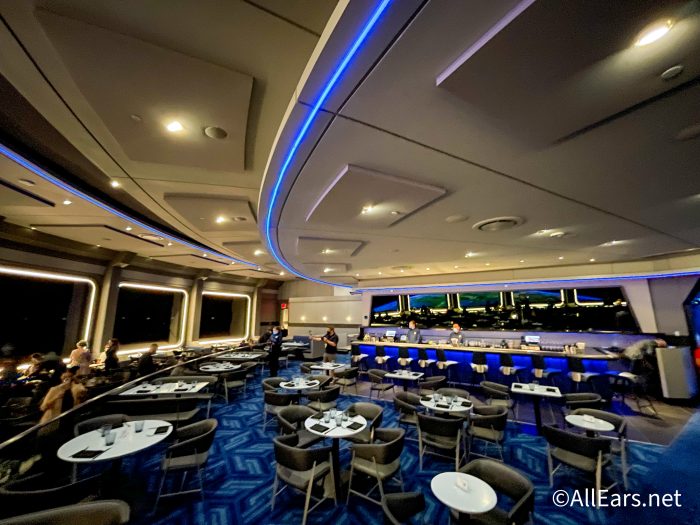 Don't forget there is also a Space 220 lounge if you aren't interested in getting the full sit-down prix fixe menu experience! The lounge is in the same dining room as the full restaurant and we spoke with a Cast Member who shared that it is currently first-come, first-served. So, you'll need to arrive early to be sure you get a spot.
The Food and Drinks
In terms of food and drinks at Space 220, you'll find a prix fixe menu available at both lunch and dinner for adults and kids, with select items you can add on for an additional cost.
Lunch
For lunch, the price is $55 per adult and the prix fixe menu includes 2 things — 1 appetizer (called Lift-Offs) and 1 entree (called Star Courses). You can get a look at the items below.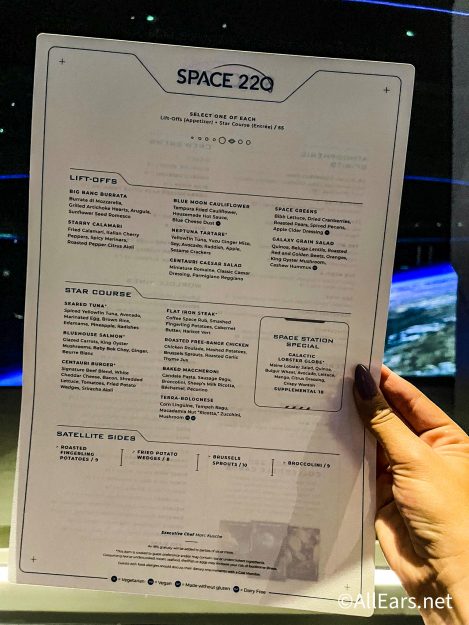 On the other side of the menu there are also a variety of beers, wines, cocktails, and more (including specialty non-alcoholic drinks too) available at an additional cost.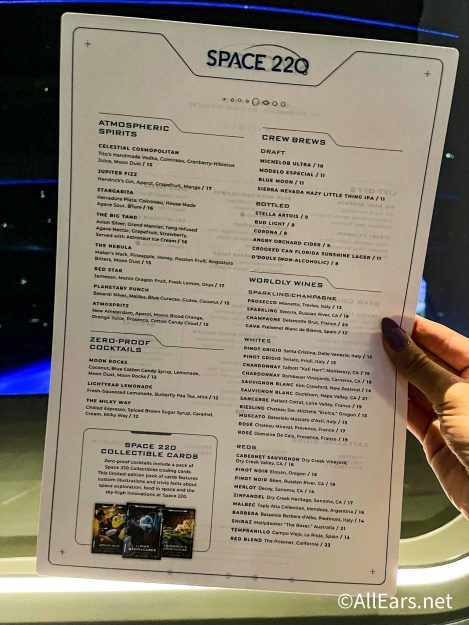 If you want some additional sides with your meal, you can get those for an additional cost…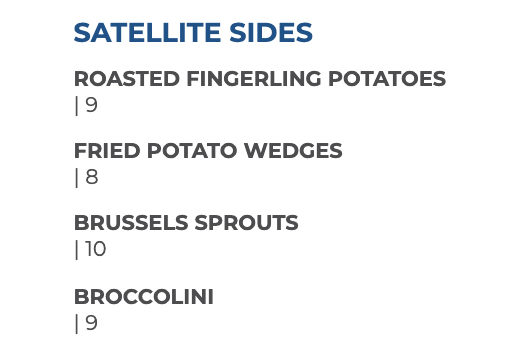 …and you'll also find a "Space Station Special" that you can add onto your meal for an additional fee.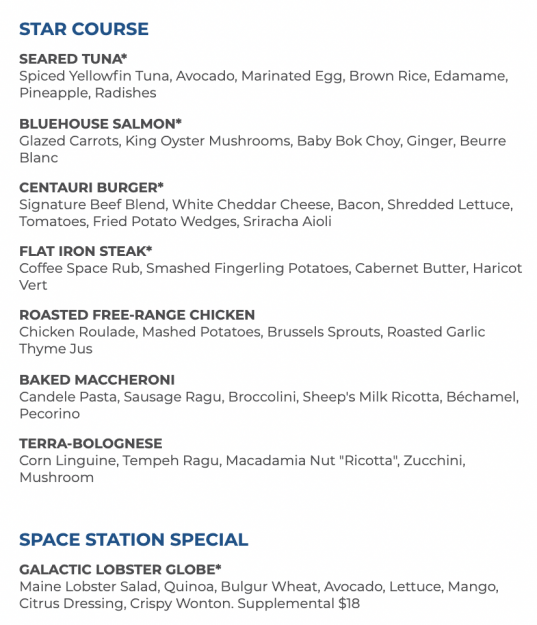 There are also sweets and dessert drinks available at an additional cost too.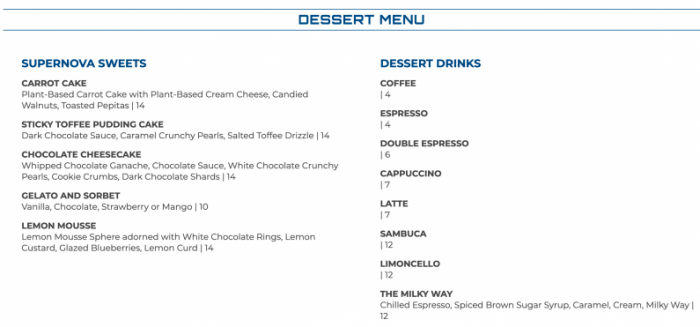 Plus, kids also can order up from their own menu that includes one Star Course, one Supernova Sweets, and one Celestial Beverage for $29.
During the media event, we started our meal off with the Planetary Punch. It is made with Bacardi Silver, Malibu, Blue Curacao, Guava, Coconut and costs $15.
Planetary Punch💫 #Space220 (Media Event) pic.twitter.com/fGx5aetk1v

— AllEars.Net (@AllEarsNet) September 20, 2021
Other alcoholic beverage options include the
Red Star,
which is made with Jameson, Dragon Fruit, Fresh Lemon, and Onyx and costs
$17
…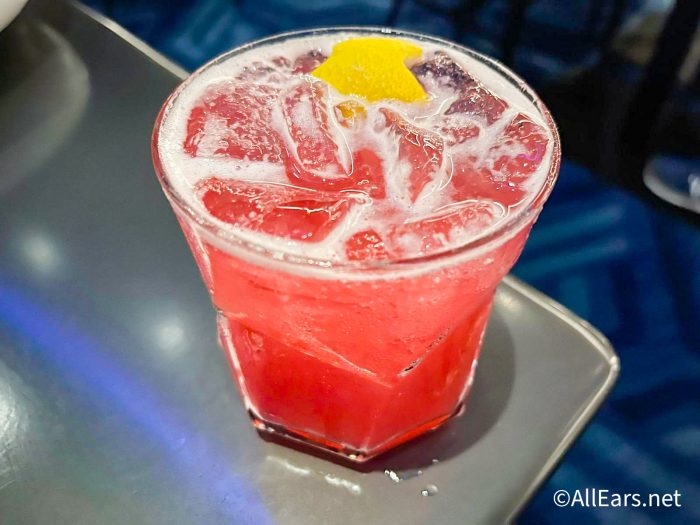 …the Jupiter Fizz, which features Hendrick's Gin, Aperol, Grapefruit, and Mango for $17…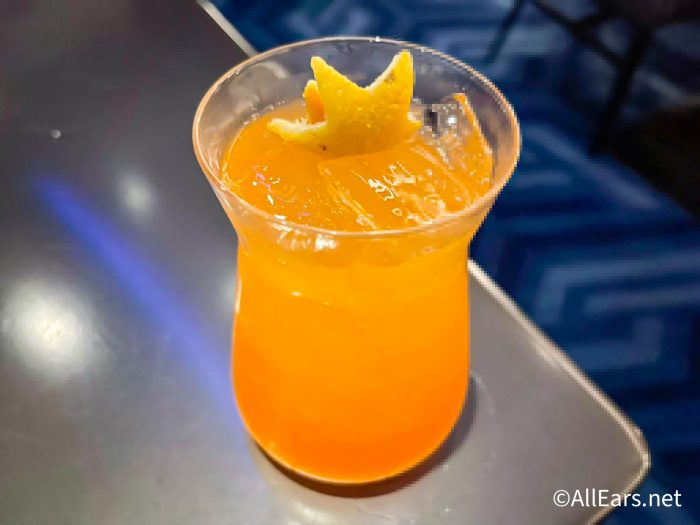 …and the Celestial Cosmopolitan, which has Tito's Handmade Vodka, Cointreau, Cranberry-Hibiscus Juice, and Moon Dust and costs $15.
Plus, we also got to try the Moon Rocks drink during the media event, which is a non-alcoholic option that is made with Coconut, Blue Cotton Candy Syrup, Lemonade, Moon Dust, Moon Rocks and can be served in a special Space 220 collectible cup for $12.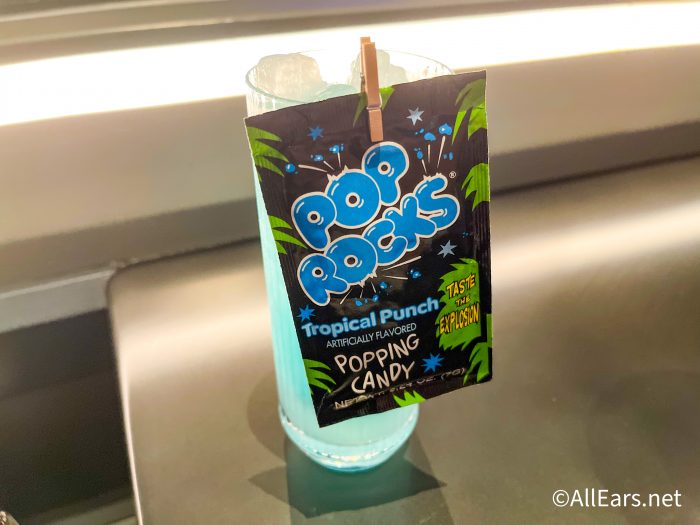 If pop rocks in your drink sounds a little too out there for you, there's also the non-alcoholic Lightyear Lemonade that is made with Fresh-Squeezed Lemonade, Butterfly Pea Tea, Mint and can also be served in a special Space 220 collectible cup for $12.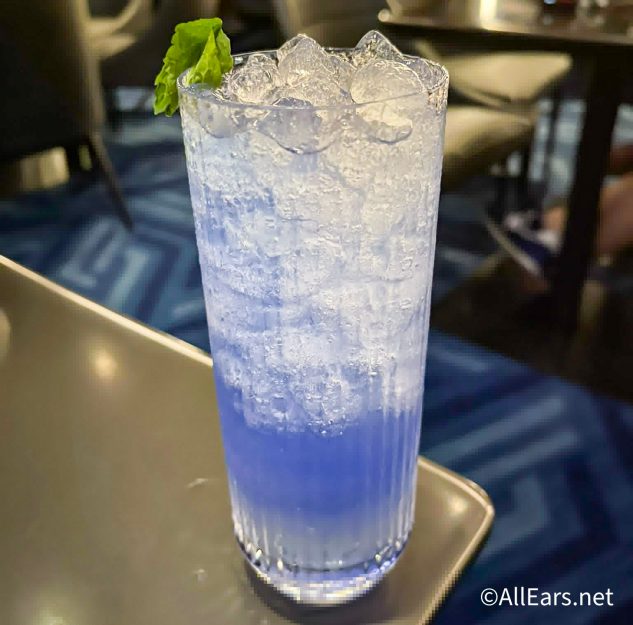 Both of these drinks are part of the "Zero Proof Cocktail" portion of the menu, which means that you'll get an exclusive Space 220 Trading Card with your purchase too! Kids will also get one of these trading cards with the purchase of any kids' meal.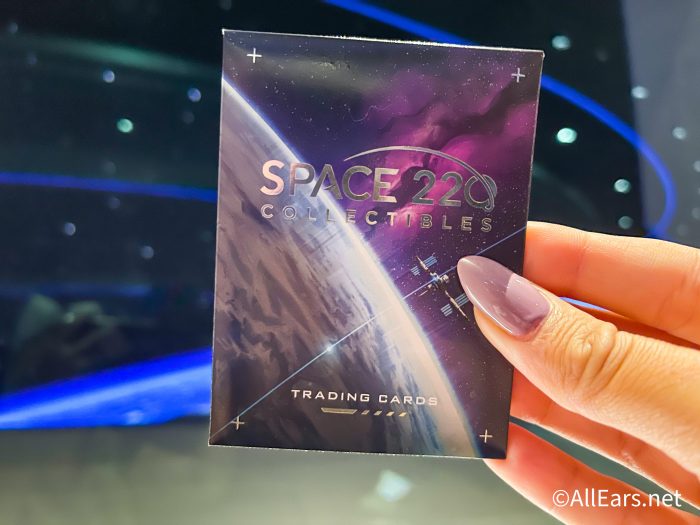 But that's not all for the drinks! The menu does include a few select dessert drinks like coffee and Limoncello but that's also where you'll find The Milky Way. This drink is made with Chilled Espresso, Spiced Brown Sugar Syrup, Caramel, Cream, Milky Way and costs $12 to add to your meal.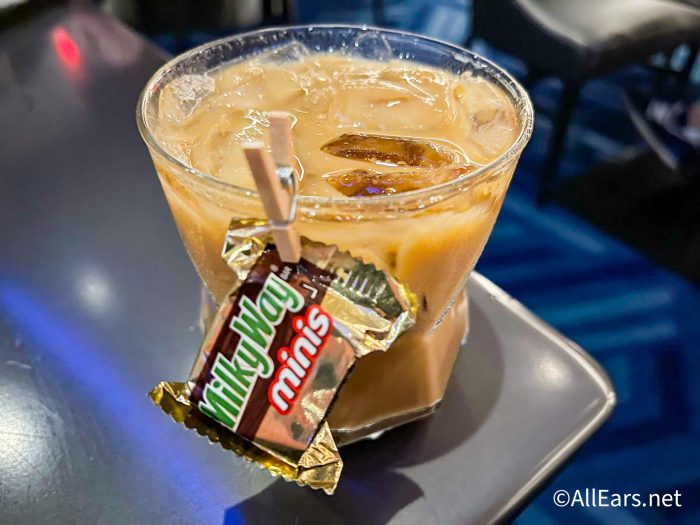 For our starter or "Lift-Off," we ordered the Big Bang Burrata, which has Burrata di Mozzarella, Grilled Artichoke Hearts, Arugula, Sunflower Seed Romesco…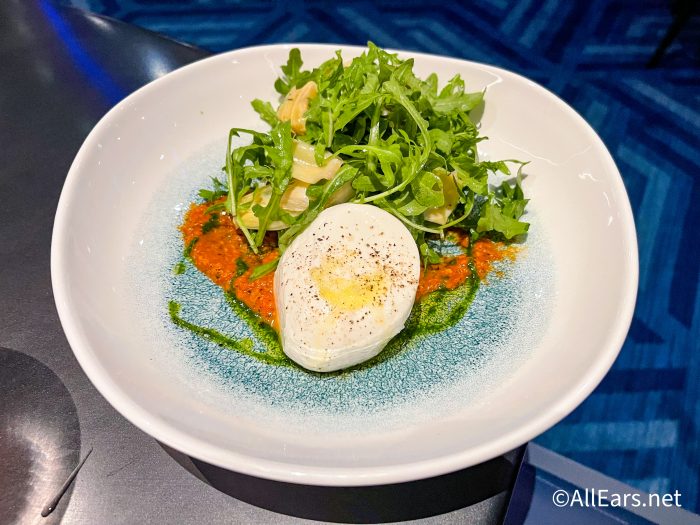 …and the Starry Calamari which includes Fried Calamari, Italian Cherry Peppers, Spicy Marinara, Roasted Pepper Citrus Aioli.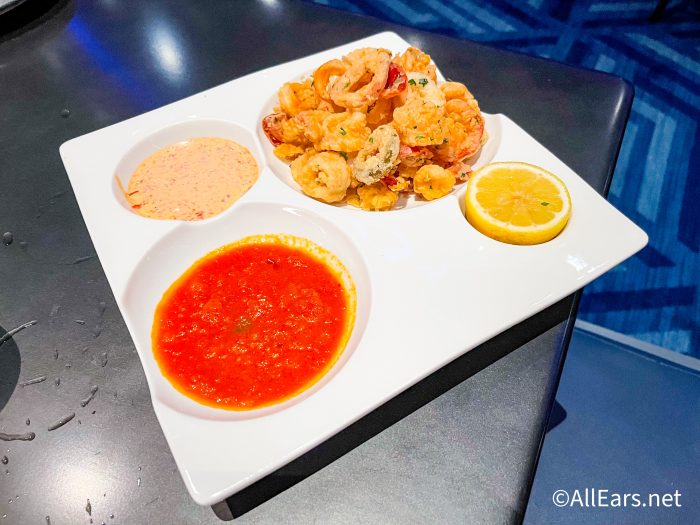 Other selections include the Galaxy Grain Salad (which has Quinoa, Beluga Lentils, Roasted Red and Golden Beets, Oranges, King Oyster Mushroom, and Cashew Hummus)…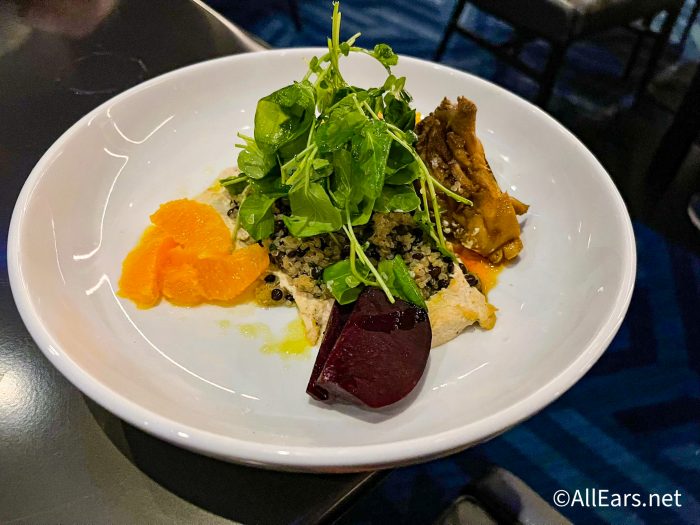 …Space Greens (which includes Bibb Lettuce, Dried Cranberries, Roasted Pears, Spiced Pecans, and Apple Cider Dressing)…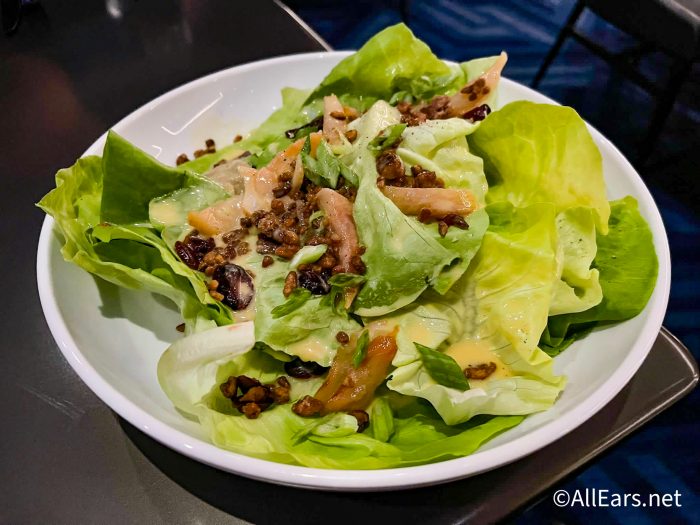 …the Centauri Caesar Salad (which is made with Miniature Romaine, Classic Caesar Dressing, and Parmigiano Reggiano)…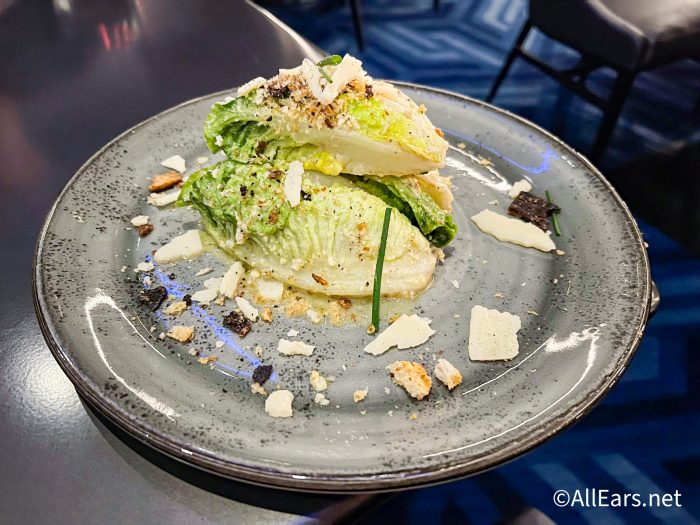 …Blue Moon Cauliflower (which is Tempura Fried Cauliflower topped with Housemade Hot Sauce and Blue Cheese Dust)…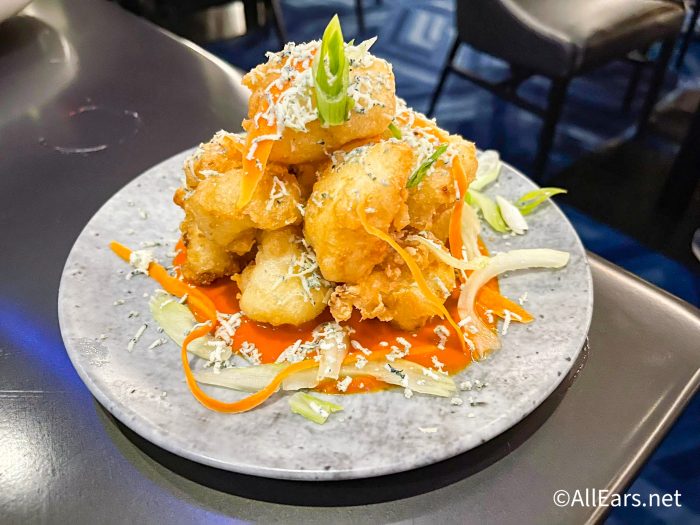 …and Neptune Tartare (which features Yellowfin Tuna, Yuzu Ginger Miso, Soy, Avocado, Raddish, Apple, and Sesame Crackers). Just keep in mind that each guest can only choose one appetizer with their prix fixe meal, though you can always share what you order with the rest of your table!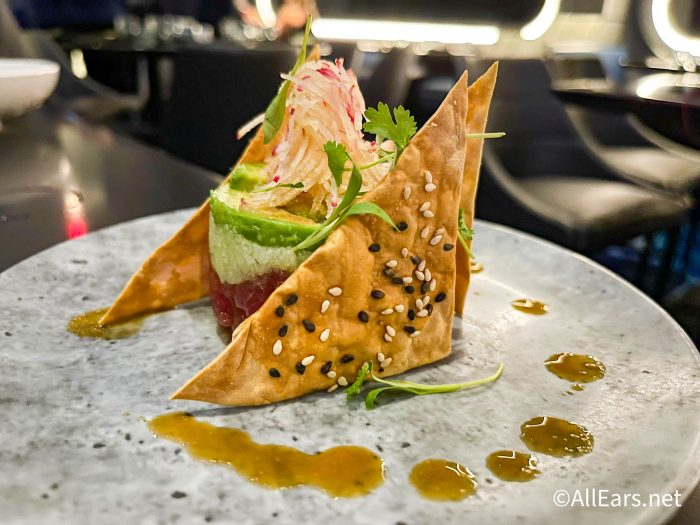 And, then it was time for the main course! We got the Flat Iron Steak, which is made with Coffee Space Rub, Smashed Fingerling Potatoes, Cabernet Butter, and Haricot Vert…
…and the Bluehouse Salmon, which comes with Glazed Carrots, King Oyster Mushrooms, Baby Bok Choy, Ginger, and Beurre Blanc.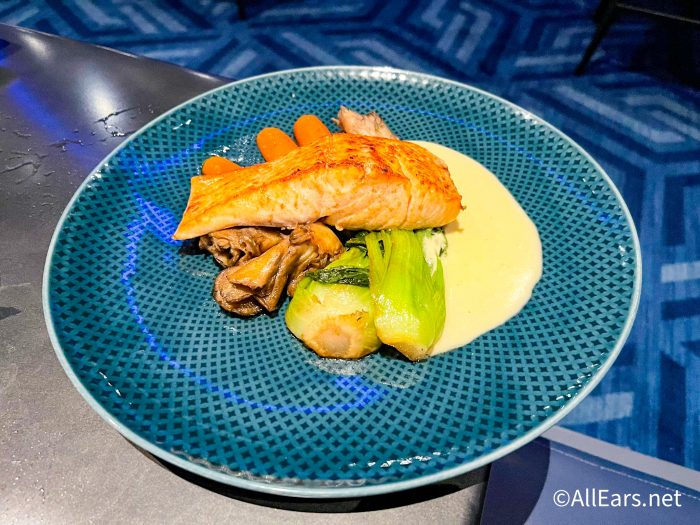 Plus, we even ordered a side of the Brussels Sprouts, which is an extra cost of $10.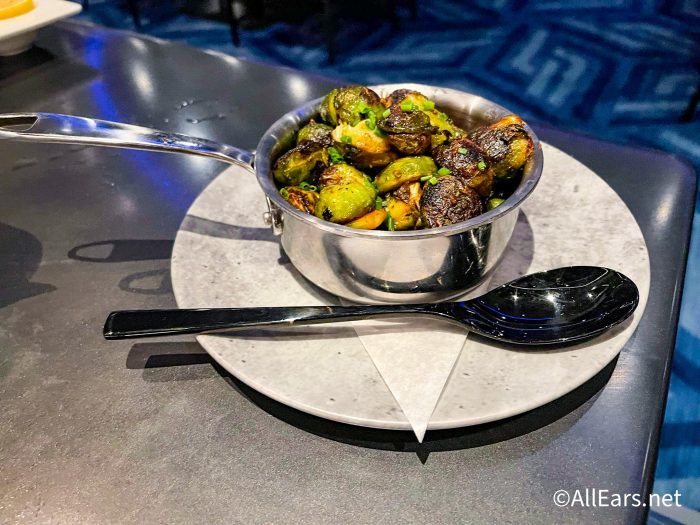 Other Star Course entrees available for lunch include the Centauri Burger, which is a Signature Beef Blended Burger with  White Cheddar Cheese, Bacon, Shredded Lettuce, and Tomatoes served with Fried Potato Wedges, and Sriracha Aioli…
…and the Backed Maccheroni, which is made with Candele Pasta, Sausage Ragu, Broccolini, Sheep's Milk Ricotta, Béchamel, and Pecorino.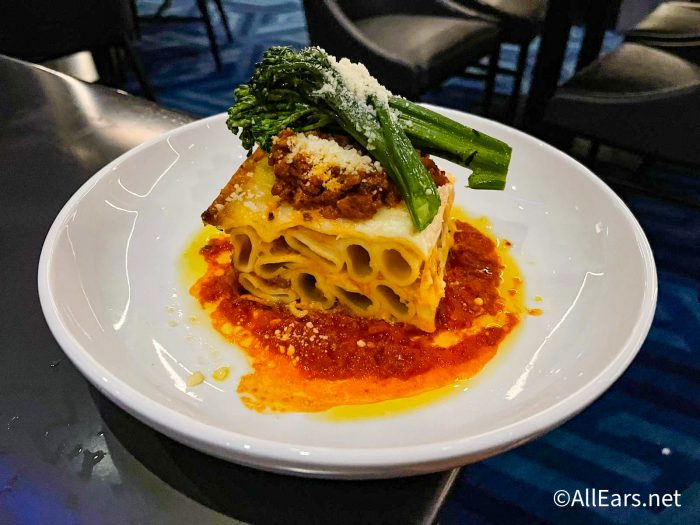 Plus, there's also the Roasted Free-range Chicken that includes Chicken Roulade, Mashed Potatoes, Brussels Sprouts, and Roasted Garlic Thyme Jus…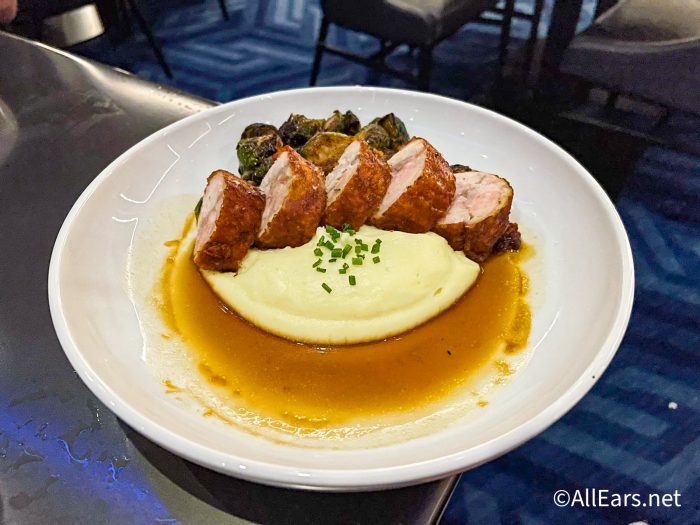 …the Seared Tuna, which has Spiced Yellowfin Tuna, Avocado, Marinated Egg, Brown Rice, Edamame, Pineapple, and Radishes…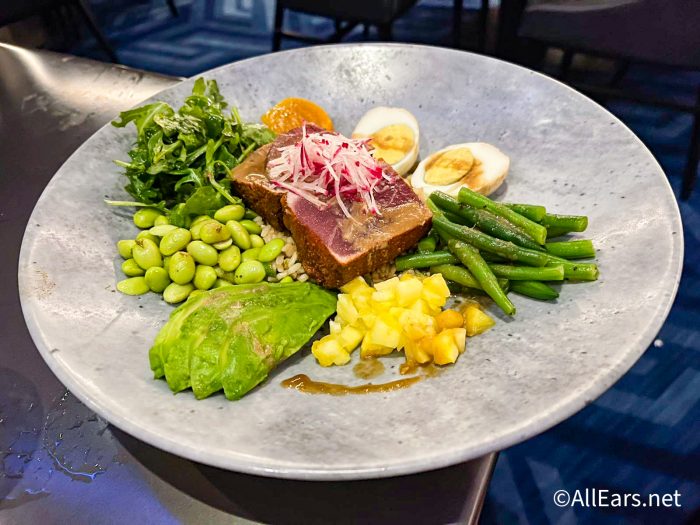 …or you can take your meal to the next level with the Galactic Lobster Globe, which is a Maine Lobster Salad with Quinoa, Bulgur Wheat, Avocado, Lettuce, Mango, Citrus Dressing, and Crispy Wonton. This dish is a "Space Station Supplemental," so it will cost an extra $18.
Now, dessert isn't included in the prix fixe meal for lunch, but you can still order something for an additional cost if you'd like. As part of the media event, we got to try the Sticky Toffee Pudding Cake, which comes with Dark Chocolate Sauce, Caramel Crunchy Pearls, Salted Toffee Drizzle for $14.
Dinner
At dinner, you'll find a 3-course meal for adults that includes 1 appetizer, 1 entree, and 1 dessert. Dinner is priced at $79.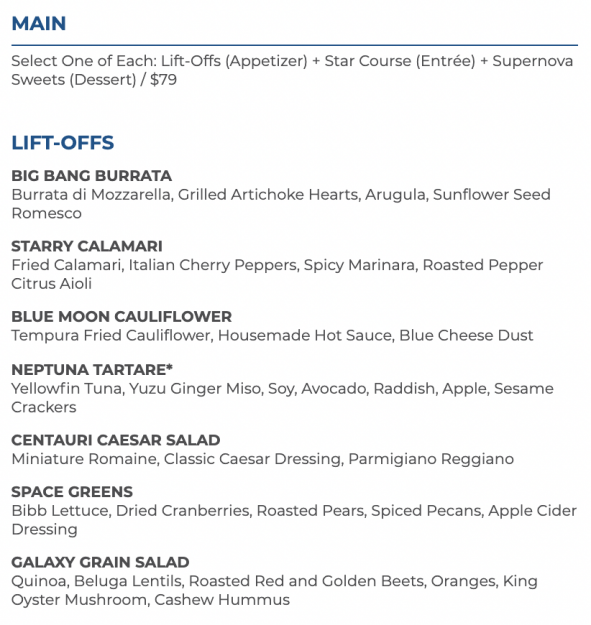 Here's a look at the entrees available for dinner, as well as those Space Station Specials which can be added to your meal for an extra cost.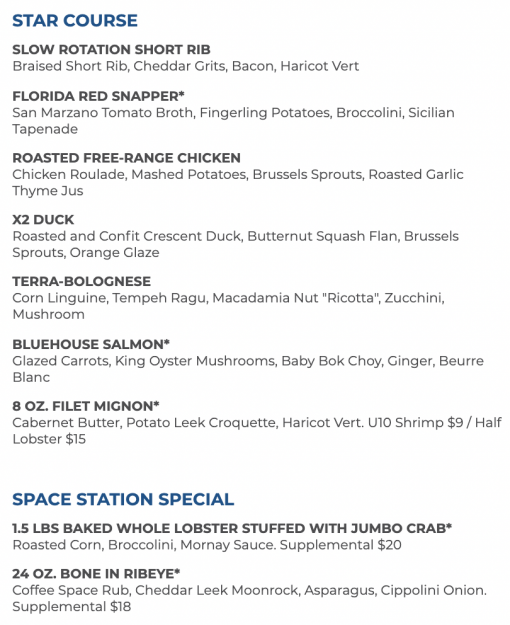 There are some sides you can add on for an additional cost at dinner too.
And, here are the sweets available at dinner (your choice of 1 of these is included in the adult prix fixe meal).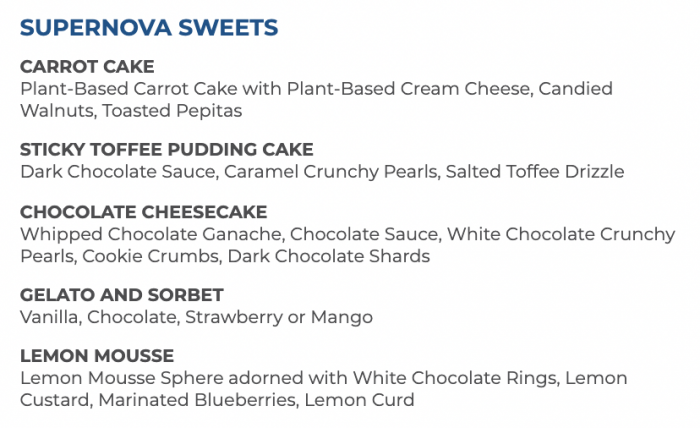 If you'll be traveling to "space" with a kiddo, they'll have their own menu to pick from. The kids menu is priced at $29 during lunch and dinner. It includes the choice of 1 entree, 1 dessert, and 1 drink.
Here's a look at the dinner menu for kids. It's mostly the same as lunch, with a few changes.
As we mentioned above, for those 21 and up, there are a variety of drinks available at Space 220, including specialty cocktails and more. These are all an additional cost on top of your standard meal price.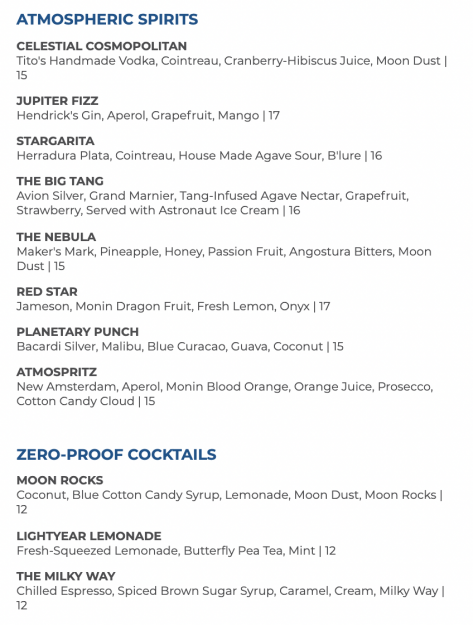 Of course, we had to stop by Space 220 again to give some of the dinner options a try too! All of the appetizers are the same at both mealtimes, so we'll dive right into the entrees!
First up is the Slow Rotation Short Rib, which is a Braised Short Rib served on top of Cheddar Grits, Bacon, and Haricot Vert.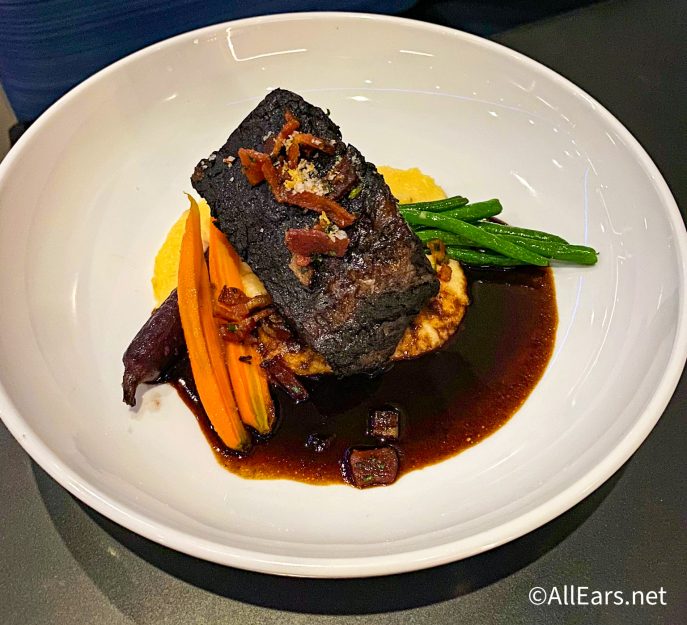 Plus, there's also the Terra-Bolognese, which is made with Corn Linguine, Tempeh Ragu, Macadamia Nut "Ricotta," Zucchini, and Mushroom…
…the X2 Duck, which includes a Roasted and Confit Crescent Duck, Butternut Squash Flan, Brussels Sprouts, and Orange Glaze…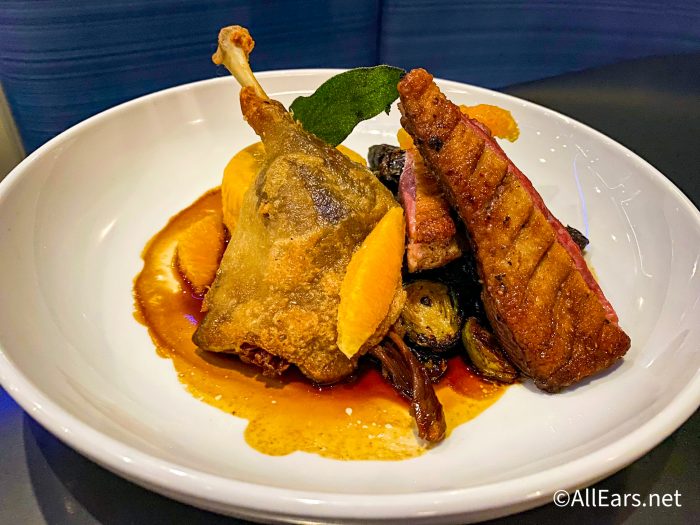 …and the Florida Red Snapper, which features a San Marzano Tomato Broth, Fingerling Potatoes, Broccolini, and Sicilian Tapenade.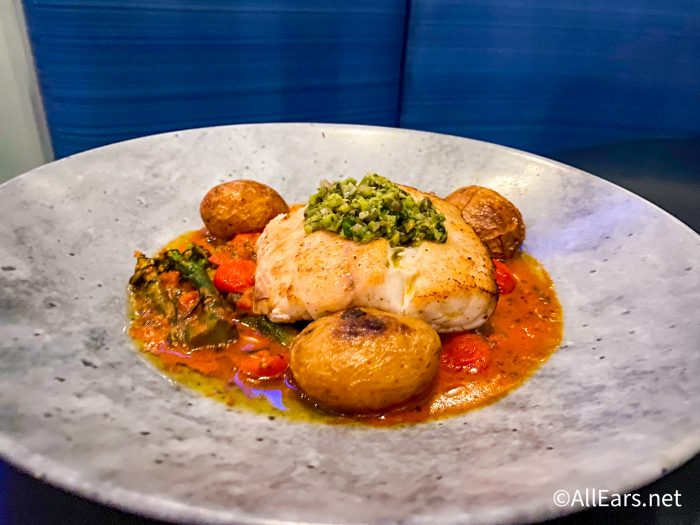 And, even the "Space Station Supplementals" are different for dinner! For an extra $20, you can order the 1.5 lbs Baked Whole Lobster Stuffed with Jumbo Crab, which comes with Roasted Corn, Broccolini, and Mornay Sauce…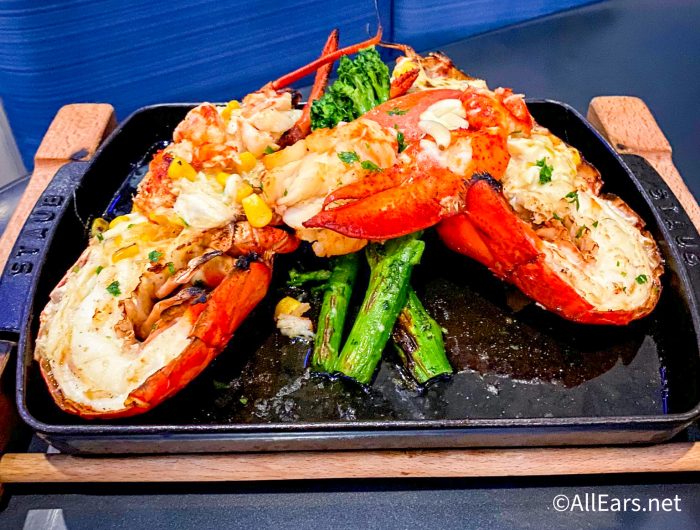 …or for an extra $18, you can get the 24oz Bone in Ribeye, which is prepared with a Coffee Space Rub, and plated with Cheddar Leek Moonrock, Asparagus, and Cippolini Onion.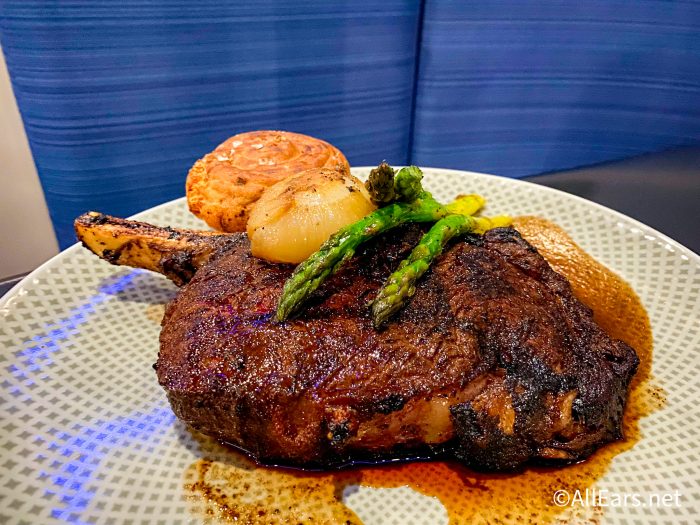 The big difference with dinner is that dessert is included in your prix fixe cost, so we ordered up the Chocolate Cheesecake, which is made with Whipped Chocolate Ganache, Chocolate Sauce, White Chocolate Crunchy Pearls, Cookie Crumbs, and Dark Chocolate Shards.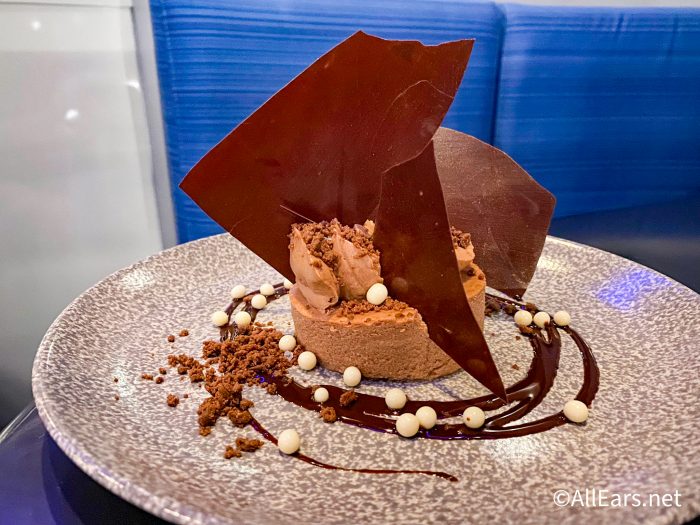 Other dessert options include the Carrot Cake, which is a Plant-Based Carrot Cake with Plant-Based Cream Cheese, Candied Walnuts, Toasted Pepitas…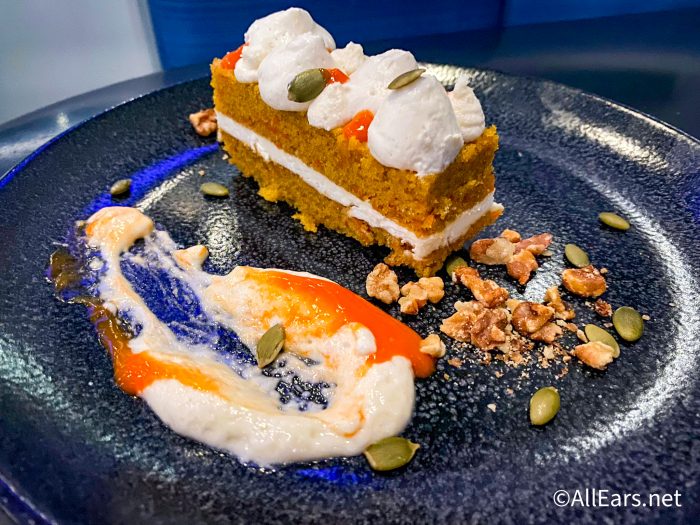 …and the Lemon Mousse, which features a Lemon Mousse Sphere adorned with White Chocolate Rings, Lemon Custard, Marinated Blueberries, and Lemon Curd. Plus, the Sticky Toffee Pudding Cake and Gelato and Sorbet are also available for dessert with dinner.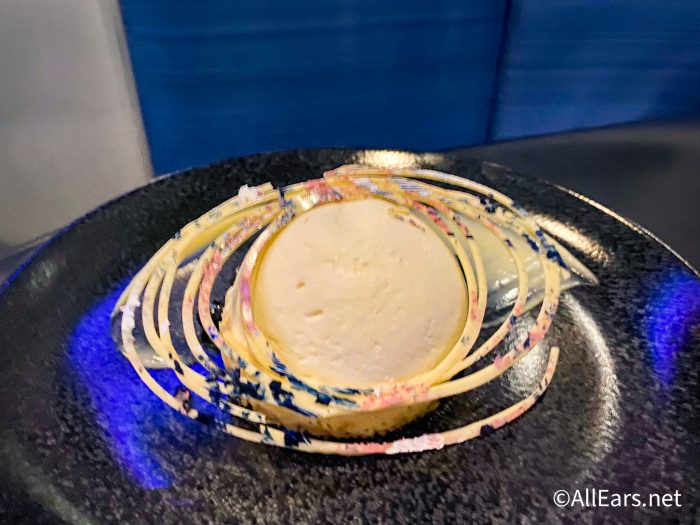 Lounge
If you'd rather forego a full meal and stop by the Space 220 Lounge, you'll find a variety of small bites, "Asmosphereic Spirits," brews, and wines on the menu.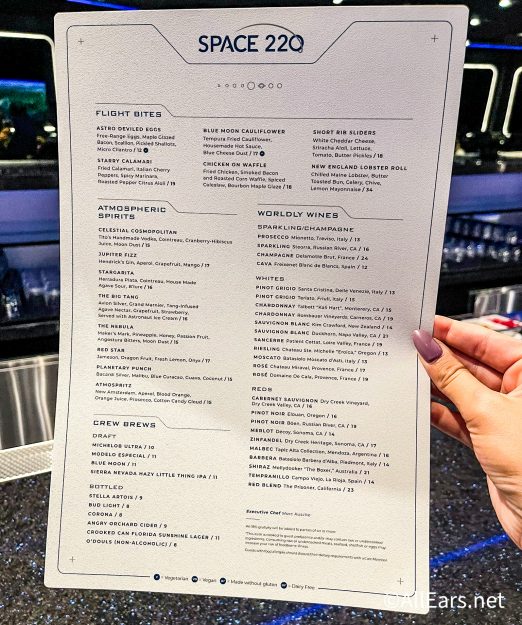 During the grand opening media event, we were able to try the Atmospritz, which is made with New Amsterdam, Aperol, Blood Orange, Orange Juice, Prosecco, Cotton Candy Cloud and costs $15.
The Atmospritz 🪐 with a cotton candy cloud! #Space220 (Grand Opening Media Event) pic.twitter.com/zDdtBsjVgN

— AllEars.Net (@AllEarsNet) September 20, 2021
We also ordered up the
Stargarita,
which has Herradura Plata, Cointreau, House Made Agave Sour, B'lure for
$16…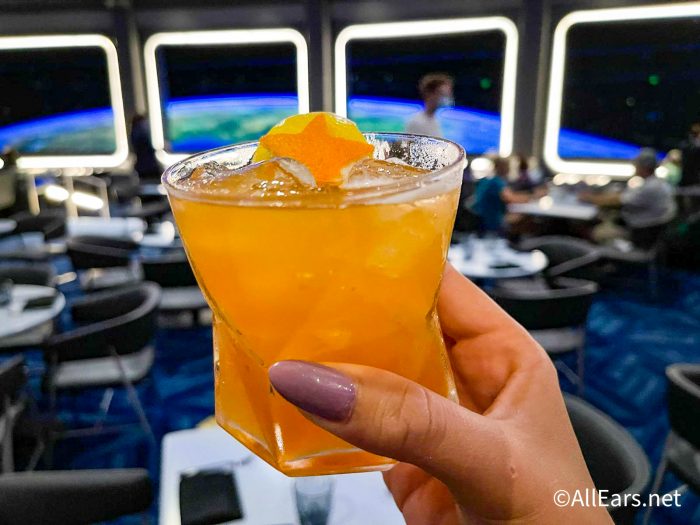 …and the Nebula, which is made with Maker's Mark, Pineapple, Honey, Passion Fruit, Angostura Bitters, Moon Dust for $15.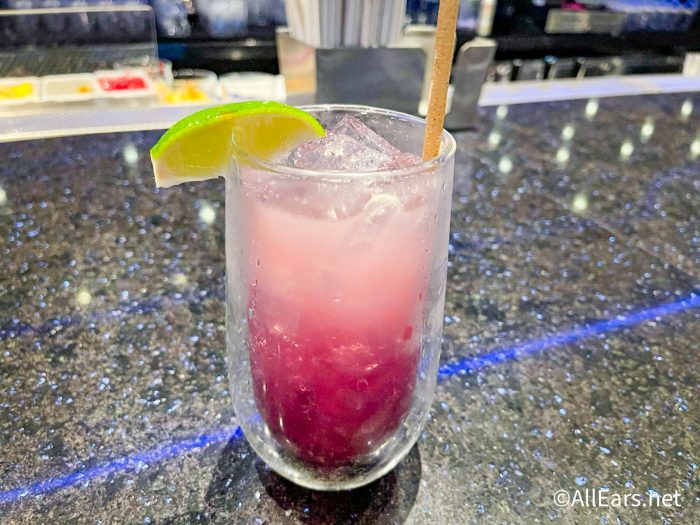 And, we even got to try two of the Flight Bites that are exclusive to the lounge, including the Astro Deviled Eggs, which includes Free-Range Eggs, Maple Glazed Bacon, Scallion, Pickled Shallots, Micro Cilantro for $12…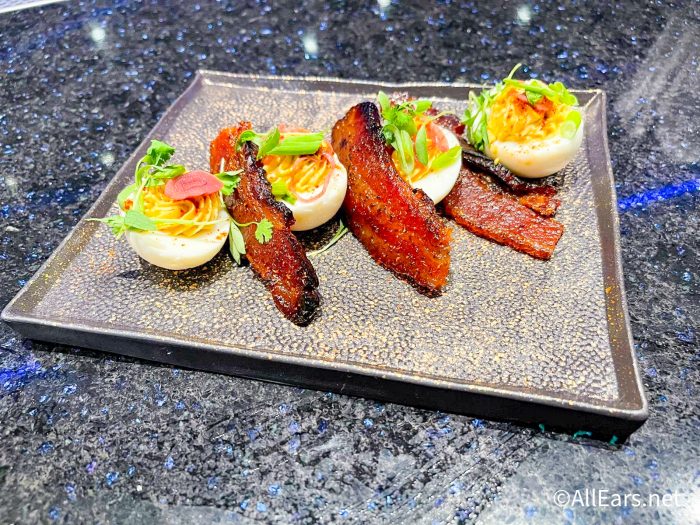 …and the Chicken on Waffle, which comes with Fried Chicken on top of a Smoked Bacon and Roasted Corn Waffle with Spiced Coleslaw and Bourbon Maple Glaze for $18…
And, that's it for our first look at EPCOT's brand new space-themed restaurant! Of course, we'll continue to bring you all the latest details that you need to know before heading to Space 220, so be sure to stay tuned to AllEars for more!
Are you excited about the opening of Space 220? Got questions about Space 220? Tell us in the comments!
Join the AllEars.net Newsletter to stay on top of ALL the breaking Disney News! You'll also get access to AllEars tips, reviews, trivia, and MORE! Click here to Subscribe!

Disclosure: We were invited by Walt Disney World to attend a media preview of Space 220. This did not affect our reporting of the event — our opinions are our own.