Walt Disney World has come to host a rich variety of restaurants, ranging from Magic Kingdom's Be Our Guest, where the immersive interior of the Beast's Castle complements French dishes fit for royalty, to Animal Kingdom Lodge's Boma, featuring diverse cuisines from across Africa. There are so many possibilities, and it's always exciting when a new eatery enters the picture.
That's why we (and many of you!) are so intrigued by the Epcot's (hopefully) soon-to-open Space 220.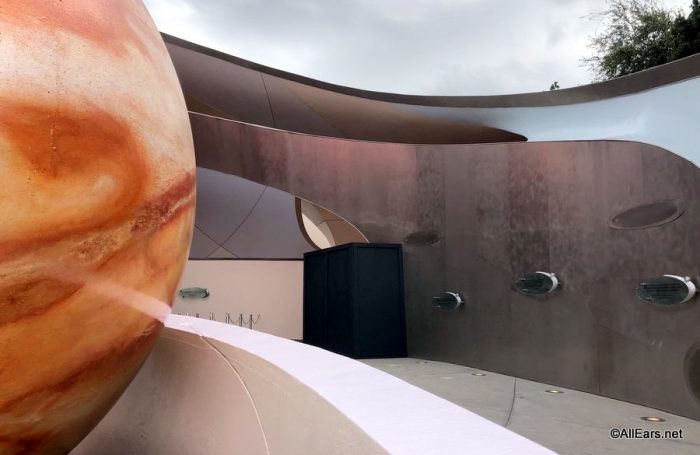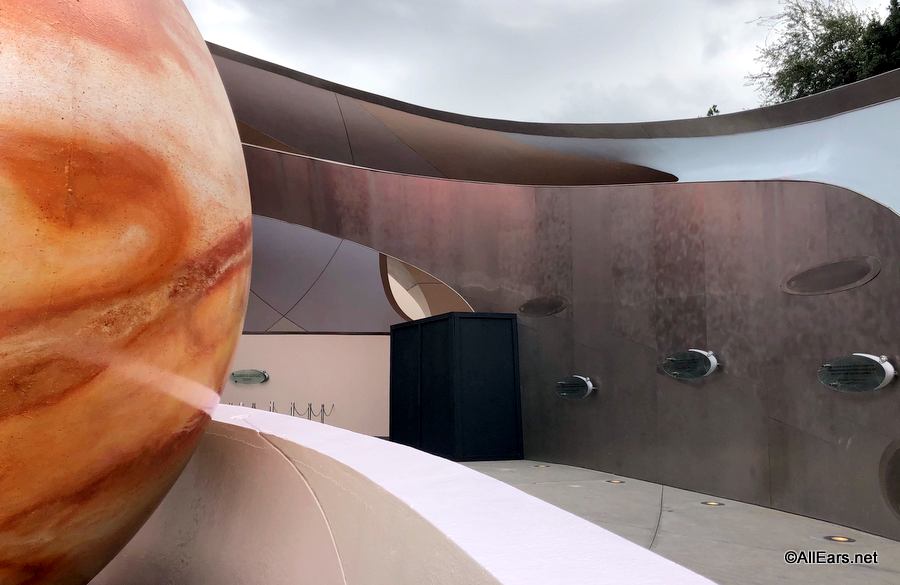 Reflecting Epcot's celebration of scientific discovery, this new restaurant will be modeled after current and future visions for space stations, making it seem as if diners are really out of this world (220 miles up, to be exact). The table service restaurant (no word yet if it will be Signature dining) was supposed to open in February, but that opening was pushed back, and now we're in waiting mode — increasing the intrigue even more! 
For now, there's not much we can do except wait, but here are some

key things that we hope are part of the new Space 220

.
Realistic Backdrop
The aesthetic of an attraction and its ability to immerse audiences in another world entirely can make or break a ride's appeal to guests, and the same goes for restaurants. More importantly, the immersion needs to fit with the theme of the restaurant, making Space 220's design and decor critical. Space 220 is not designed to be a traditional sci-fi restaurant that embodies fantastical and whimsical visions of the future like Tomorrowland. Rather, it is described as being based on a realistic international space station and should reflect current and future practices for space travel. Therefore, the vivid "window view" of space, which promises diners daytime and nighttime views of the Earth from above, needs to be especially lifelike.
Optimally, I am looking for something that really emphasizes the constant, yet ever-changing and beautiful nature of space. The views of Earth, the Moon, and the orbiting space stations and satellites should not only be lifelike but also constantly in motion, just as they are always moving in real life. And since the Earth is always not only spinning but also orbiting the sun, the overall view of space should gradually shift, too. I'm not sure how much of the actual rotations and orbits can be realistically simulated in this manner, but even a bit of ever-changing, lifelike scenery will deepen the realism and keep guests entertained as they savor the food and experience.
Exciting Elevator
The massive curved screen backdrop of space isn't the only feature hinted at in official information about restaurant; there's also going to be a simulation of traveling up to the sky-high restaurant in a glass elevator, watching the Earth slowly grow smaller and smaller. This is another fascinating concept that will be crucial to execute properly. Again, a key part of the experience will be the realism, showing both Epcot and the Earth in vivid detail as the elevator makes its way upward. But another important factor will be the convenience and enjoyability of the elevator ride. The view going up will be fun, of course, but the main attraction is the restaurant, and many guests will want to get into the restaurant proper quickly – and out afterward–  so they can get back to checking out the rest of Epcot.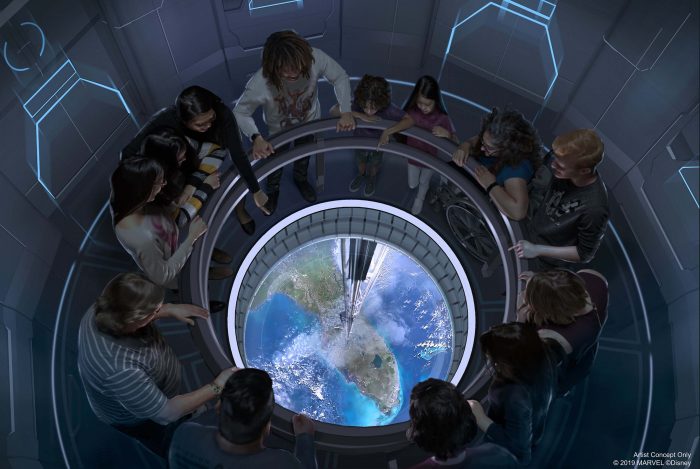 Space 220 Space Elevator
Therefore, the elevator will need to strike a balance between entertainment and efficiency. If the elevator ride is too brief, the immersive experience will be drastically reduced, making the elevator's inclusion irrelevant. On the other hand, if the time in the elevator is prolonged too much, it could bore the passengers and hold up the likely long lines to get into the restaurant. I'm also curious about how expansive the elevator(s) will be; hopefully each elevator will have ample room for a large number of passengers, as well as offer a 360-degree vision "out" the glass, so nobody misses out on the view. Plus, I assume that there will be elevators going both up and down to make the immersion complete, so the elevators going back down to the entrance will need to be time-efficient while still offering their own amazing view of the descent back to Earth, distinctly different from the trip upwards but equally engaging.
I
mmersive Dining
A restaurant's atmosphere comes not only from its design, but also from the staff and guests who give life and voice to the setting. Fortunately, Disney can draw on its many talented cast members, who can make it seem as if this really is a restaurant up in orbit. Something as simple as giving the waiters an astronaut theme would be great, but there's a lot more that could be done. For instance, cast members, dressed as crew for the space station, could pretend to be other diners, acting out their own scenes for the benefit of the actual guests. And the attire could also be diverse, ranging from bulky astronaut outfits to the more casual clothing and jumpsuits worn within a space station. This sort of experience, with actual actors giving life to the already vivid setting, can liven up the experience, and it's something I'd like to see more of at Disney restaurants.
The overall design of the dining area in the restaurant will be crucial in making this immersive cast-guest confluence work. Early concept art showed round tables with centers uplit — perhaps this will be a screen displaying data or with simulations diners can enjoy during their meal (or perhaps these plans will live on in concept only).  
Space-Themed Cuisine
Of course, however exciting the decorations and entertainment might be, a restaurant's true draw is its food, and for themed restaurants in particular, there need to be some unique dishes that complement the aesthetics and help the restaurant stand out. There can certainly be a variety of standard foods that many people are used to, but it's important that there are at least some culinary moments of inspiration that embody the theme of the restaurant – in Space 220's case, astronaut food. This is actually a fascinating subject, as astronauts have needed to find flexible alternatives to traditional meals in order to accommodate the lack of gravity and resource and space restrictions on board a space station.
The meals at Space 220 can embody space travel's rich history, as well as feature ongoing innovations in improving food options for space travelers. For instance, there could be freeze-dried meals that can be quickly rehydrated to eat, and there could also be alternative forms for foods, like a tabular version of salt and pepper that won't float off and corrode the delicate systems onboard.
Even unchanged foods like pastas could be presented in special containers that are designed to take up less space on board and even keep food from flying away in zero-gravity. Plus, reflecting how the International Space Station is a cooperative effort by countries around the world, there could be different cuisines from around the world, each modified into its own unique type of space food. In addition, though space regulations generally prohibit astronauts from drinking alcohol, there should be some special drinks – both non-alcoholic and alcoholic – for adventurous guests to try.
Flexible Food Accommodations
That said, while I certainly hope there will be unusual and ambitious experiments with space-style food, I hope that the overall menu will remain flexible, particularly in regard to allergies and dietary restrictions. It can be hard for people with food allergies to find food they can eat and enjoy. This can be especially difficult at themed restaurants, which tend to have specialized menus that may not leave diners with many options if the focus conflicts with their diet. And yet, since restaurants'  themes can be as engaging as the actual food, many people still want to visit those restaurants for the experience, despite the challenges they face at finding food. If there are allergy-friendly options mixed in, however, that incorporate the theme but exclude allergens, nobody will feel left out, and everyone can enjoy the out-of-this-world experience (without leaving earth!).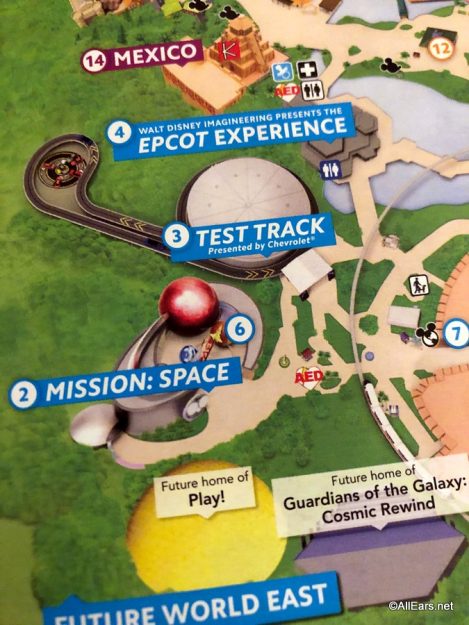 Space 220 has loads of potential, drawing on the key themes of Epcot and promising a unique dining experience. It's up to Disney's creative design team to make this dream a reality. Hopefully, by keeping in mind the public's key interests and concerns for this project, Disney will create a restaurant that both showcases the marvels of space travel and adds into own unique flavor to Epcot and Walt Disney World's gourmet dining.
Are you looking forward to a meal in outer space? Let us know in the comments! 
Join the AllEars.net Newsletter to stay on top of ALL the breaking Disney News! You'll also get access to AllEars tips, reviews, trivia, and MORE! Click here to Subscribe!