Club Cool — World Celebration — EPCOT
What is Club Cool?
Club Cool is the place to go to cool down and sip a FREE beverage (or eight). Sponsored by Coca-Cola, this "exhibit" is situated next to Creations Shop in World Celebration and offers free samples of soft drinks from around the world as well as select Coca-Cola merchandise. (Remember, you can find a full Coca-Cola store in Disney Springs!)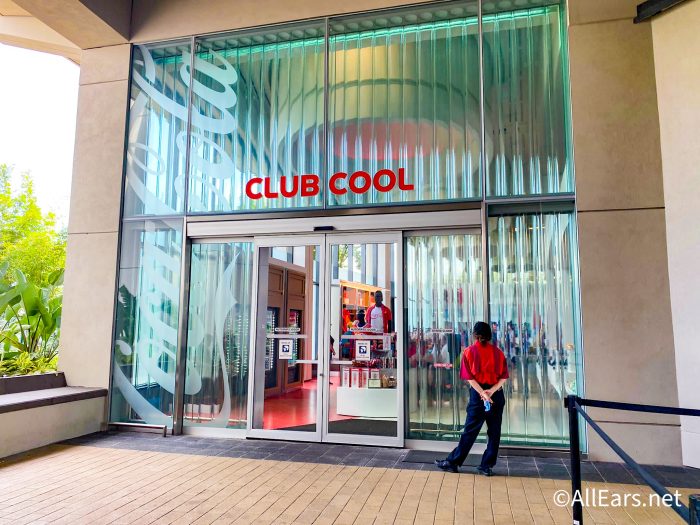 Club Cool was originally located in Future World, but this location was closed in 2019 as part of the EPCOT Transformation. It then reopened in 2021 in a brand new spot in the park with new flavors in addition to some old favorites!
Attraction Details
This really isn't an attraction, more a showcase for Coca-Cola and its products. But it's free, can be refreshing, and it's been a staple of EPCOT for years.
Presently there are eight soda flavors from around the world, most of them new when Club Cool reopened in 2021.
Beverly from Italy — a bitter flavor that is a popular non-alcoholic apéritif that is a traditional part of Italian refreshment culture
Bon Bon Anglois from Madagascar — exclusive to Madagascar, offers a unique taste experience with a blend of tropical fruit flavors
Country Club Merengue from the Dominican Republic — smooth, creamy tropical fruit taste pronounced "muh-reng-gey" like the dance
Minute Maid Joy Apple Lychee from Korea — still beverage with ripe apple and lychee notes, which is a tropical and subtropical fruit tree native to southern China and now cultivated in many parts of the world
Royal Wattamelon from the Philippines — a sparkling beverage with a refreshingly, sour watermelon flavor available exclusively in the Philippines
Smart Sour Plum from China — Suan Mei Tang or Sour Plum Tea is a traditional Chinese beverage that has existed for over 1,000 years with a savory, sweet, and tart flavor that is considered by many to be the most ultimate sparkling thirst quencher on a hot day
Sprite Cucumber from Russia — a crisp cucumber flavor, providing a refreshing twist on this classic lemon-lime beverage
Viva Raspberry from Moldova — a delicious sparkling beverage that is a slightly tart, yet sweet raspberry flavor that is complemented by a hint of raspberry juice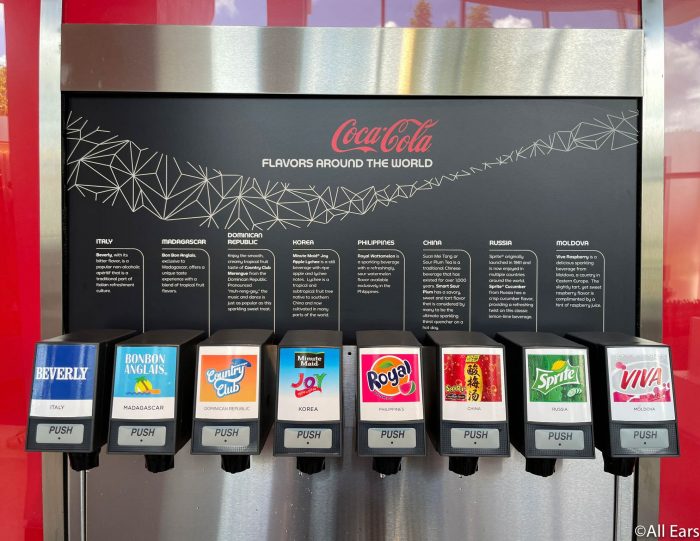 To give these flavors a whirl, grab a clean paper cup from the dispensers on either side of each soda fountain. Choose a soda, and dispense a little into the cup.  If you enjoy your sip, you can always go back for another taste. And if you don't love it (Beverly, we're looking at your controversial self), you can move on to the next flavor.
Touring Tips
A great place to escape the hot Florida sun or the rain!
Taste each one and find your favorite!
While the tasting is free, you can also purchase specialty Coca-Cola products and treats inside!
Kids and Characters
There are no characters found in Club Cool. Kids love sampling the different sodas from around the world, though!
Dining
There's no food sold or offered in Club Cool, but you can purchase select drinks and treats inside. The limited menu includes Coca-Cola Fountain Beverages for $3.99, Ice Cream Floats for $5.49, and Frozen Beverages made with Minute Maid Lemonade for $4.99.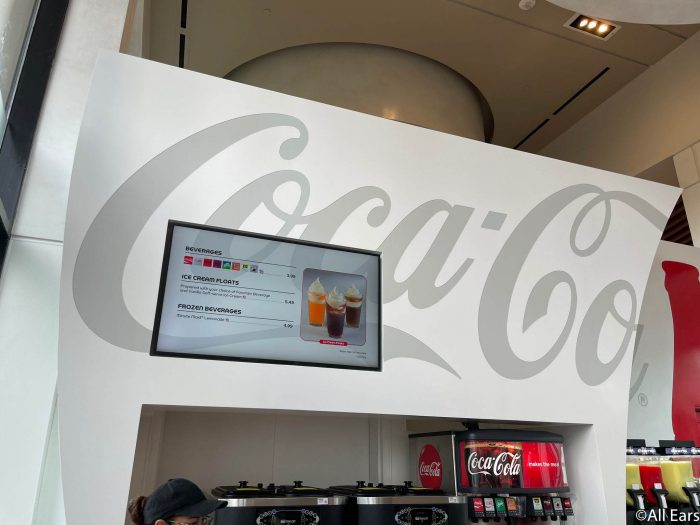 You can check out other dining options in EPCOT here:
Shopping
Coca-Cola-branded merchandise is on sale here including tee shirts, water bottles, wall decor, accessories, and more.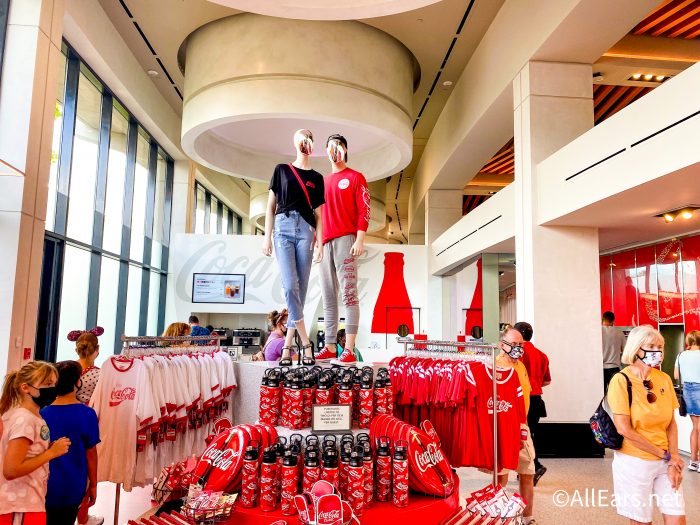 Flavors From The Past
Available flavors until October 20, 2013
Smart Watermelon (China) —The Chinese name for watermelon, his-kua [pronounced she-gua] means melon from the west, which introduced it to china nearly 1200 years ago. Today, the Chinese produce 40% of the world's watermelon crop and consume millions of watermelons each summer.
Kinley Lemon (Israel) — Invading Mongols were probably the first to introduce lemonade to the Middle East. Historical records from the 12th century reveal that a drink made of lemons, water and honey was popular among Genghis Khan's thirsty warriors.
Lychee Mello (Thailand) — This unique beverage is very popular in its home country of Thailand. It contains the essence of lychee, a very sweet and juicy grape-like fruit.
Fanta Kolita (Costa Rica) — The sweet quality of this fruity flavor from Costa Rica makes it very popular with children of all ages.
Mezzo Mix (Germany) — The best known German beverage is beer. Germans often mix their beer with other beverages to weaken the alcohol content and enhance the flavor. Mixing flavors has also become popular in non-alcoholic beverages like Mezzo Mix.
Krest Ginger Ale (Mozambique) — Ginger has long been used as a medicinal herb throughout Africa so it is not surprising that ginger ale is a popular drink in Mozambique. It is also popular in shebeens, informal bars where it is used as a mixer.
Available flavors until 2019
Beverly (Italy)— Drinking an aperitif before dinner to stimulate the appetite is a traditional part of Italian refreshment culture. Beverly, with its bitter flavor, is a popular non-alcoholic aperitif.
Fanta Pineapple (Greece)

— Fanta has 90 disctinct flavors around the world. This one caffeine-free and features a sweet piineapple taste.

 Fanta Melon Frosty (Thailand)

— Fanta is the number one soft drink in Thailand!

Vegitabeta (Japan)

— The Japanese have long recognized the importance of beverages for both nutrition and health benefits. In modern Japan, this interest in healthy consumption finds its ultimate expression in "health" vending machines that dispense vitamin drinks like Vegitabeta.

Bilbo (South Africa)

— fruit flavored lime juice featuring charactres like Johnny Orange, Taka Strawberry and Paolo Peach.

Sparberry (Zimbabwe)

– raspberry flavored cream soda

Inca Kola (Peru)

— The taste of Peru has an unusually sweet fruity flavor some say is liquid bubblegum.

Gurana Kuat (Brazil)

— guarana berry flavored soft drink.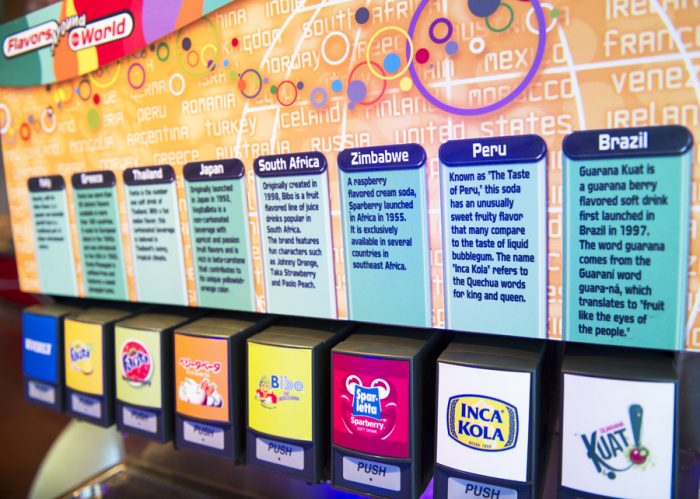 Fun Facts
According to Disney, Club Cool at EPCOT is only one of three locations in the entire country that serves many of these soda flavors. The others are Coca-Cola attractions in Atlanta and Las Vegas.
Originally Club Cool was called Ice Station Cool and you entered through an igloo-style door. It reopened as Club Cool in November 2005 with a new look, though it later closed in 2019 and moved to a new location that opened in 2021.
The new Club Cool opened in 2021 after a lengthy closure and refurbishment. This new space features a shiny glass entrance reminiscent of old Coke bottles. And the tiles in Club Cool have bits of recycled bottles incorporated into them!