Club Cool Future World Epcot
INTRODUCTION
Club Cool is the place to go to cool down and sip a free beverage or two. Sponsored by Coca-Cola, this "exhibit" situated near Innoventions West, offers free samples of soft drinks from around the world, as well as Coca-Cola merchandise.
ATTRACTION
This really isn't an attraction, more a showcase for Coca-Cola and it's products. There are 8 cola flavors from around the world.
Italy – Beverly — Drinking an aperitif before dinner to stimulate the appetite is a traditional part of Italian refreshment culture. Beverly, with its bitter flavor, is a popular non-alcoholic aperitif.
Greece – Fanta Pineapple — Fanta has 90 disctinct flavors around the world. This one caffeine-free and features a sweet piineapple taste.
Thailand – Fanta Melon Frosty — Fanta is the number one soft drink in Thailand!
Japan – Vegitabeta — The Japanese have long recognized the importance of beverages for both nutrition and health benefits. In modern Japan, this interest in healthy consumption finds its ultimate expression in "health" vending machines that dispense vitamin drinks like Vegitabeta.
South Africa – Bilbo — fruit flavored lime juice featuring charactres like Johnny Orange, Taka Strawberry and Paolo Peach.
Zimbabwe – Sparberry – raspberry flavored cream soda
Peru – Inca Kola — The taste of Peru has an unusually sweet fruity flavor some say is liquid bubblegum.
Brazil – Gurana Kuat — guarana berry flavored soft drink.
TOURING TIPS
A great place to escape the hot Florida sun or the rain!
Taste each one and find your favorite!
There is loud electronic music inside.
KIDS AND CHARACTERS
There are no characters found in Club Cool. Kids love sampling the different sodas from around the world, though!
Characters can be found around the corner at the Epcot Character Spot (entrance is inside).
Epcot Characters At A Glance
Character Meet and Greet FAQ!
DINING
There's no food sold or offered in Club Cool, but the Starbucks Cafe is located near the entrance and the Electric Umbrella is a short walk just across the plaza.
Epcot Restaurants At A Glance
Menus From Around the World
Vegetarian and Other Special Diets
SHOPPING
All types of Coca-Cola logo merchandise is on sale here.
If you have comments or tips to share with others about touring Epcot, please email us. Thank you.
OTHER INFORMATION
Avalable flavors unti October 20, 2013.
Smart Watermelon – China
The Chinese name for watermelon, his-kua [pronounced she-gua] means melon from the west, which introduced it to china nearly 1200 years ago. Today, the Chinese produce 40% of the world's watermelon crop and consume millions of watermelons each summer.
Kinley Lemon – Israel
Invading Mongols were probably the first to introduce lemonade to the Middle East. Historical records from the 12th century reveal that a drink made of lemons, water and honey was popular among Genghis Khan's thirsty warriors.
Lychee Mello – Thailand
This unique beverage is very popular in its home country of Thailand. It contains the essence of lychee, a very sweet and juicy grape-like fruit.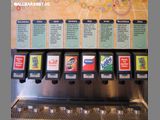 Fanta Kolita – Costa Rica
The sweet quality of this fruity flavor from Costa Rica makes it very popular with children of all ages.
Mezzo Mix – Germany
The best known German beverage is beer. Germans often mix their beer with other beverages to weaken the alcohol content and enhance the flavor. Mixing flavors has also become popular in non-alcoholic beverages like Mezzo Mix.
Krest Ginger Ale – Mozambique
Ginger has long been used as a medicinal herb throughout Africa so it is not surprising that ginger ale is a popular drink in Mozambique. It is also popular in shebeens, informal bars where it is used as a mixer.
Club Cool at Epcot is only one of three locations in the entire country that serves these sodas. The others are Coca-Cola attractions in Atlanta and Las Vegas. (2013)
Originally Club Cool was called Ice Station Cool – you entered through the igloo shown below. It reopened as Club Cool in November 2005.