You may think you know everything there is to know about Journey of Water — Inspired by Moana, the NEW walk-through attraction coming to EPCOT, but do you REALLY?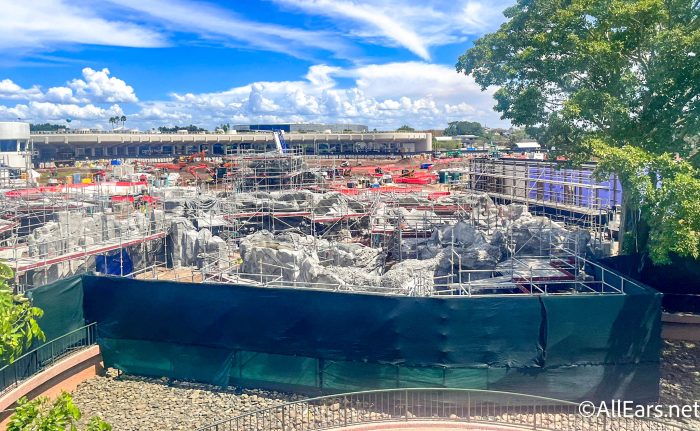 Maybe you've seen our updates on the construction, you know that the experience will open in late 2023, and you've seen the GIANT Te Fiti that will be incorporated into the attraction — but have you taken a deep dive into the concept art to see what other secrets may be hiding within? Well, you're about to! Join us as we delve deep into the concept art and break down everything we see that you may have NEVER noticed before.
Warning: It Is Concept Art
Before we begin, we do want to make some quick disclaimers. First, this is just concept art, so it is not meant to be an exact depiction of how the attraction will look when it opens. That means things that are depicted here might look totally different or even be removed from the attraction's final form. There might also be NEW things incorporated into the attraction that are not depicted here. Still, it's interesting to dive into the little details of the artwork to see what could be just around the corner.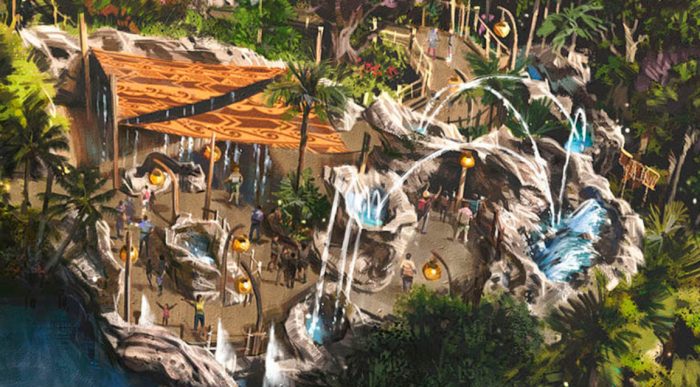 Second, we are examining the concept art with our own human (and fallible) eyes. What looks like a palm tree to us might look like a light post to you. We've stared at this concept art for a LOOOOOOOONG time, so you'll have to excuse us if we've started to see things in there that may only be appearing to us. 😂
Still, we think the experiment is worth doing and we can't wait to come back to this post once the attraction is fully open to see just what things from the concept art (and our interpretation of it) made it into the experience's final iteration.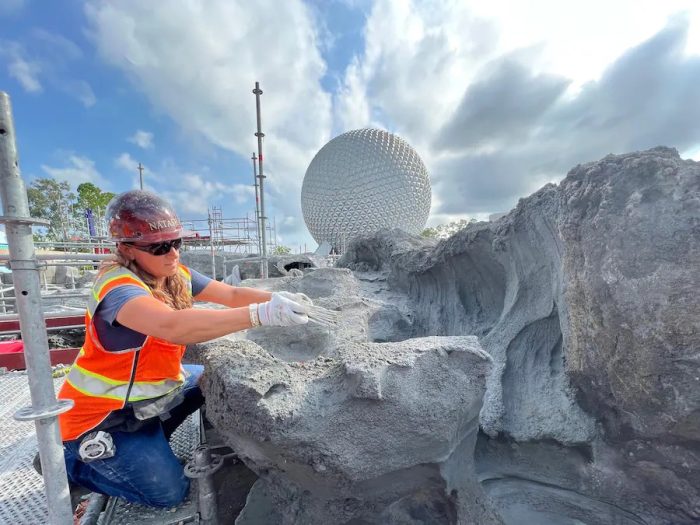 Alright, enough with the disclaimers, let's begin!
The Attraction
What is Journey of Water — Inspired by Moana? It's a walk-through attraction coming to EPCOT in World Nature that is meant to allow guests to "engage with" and "explore" water. The experience has been described as a "lush exploration trail" that'll also teach guests about the importance of the natural water cycle — from the sky to oceans and back around.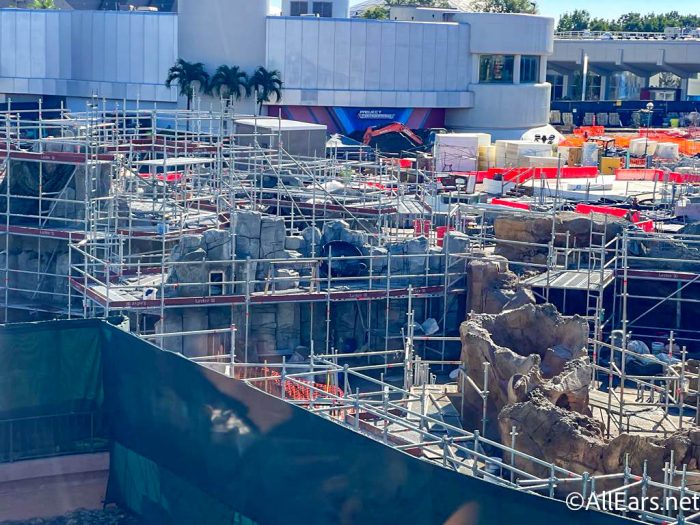 But just what exactly will this attraction include? We've got some clues.
Hidden Details
Let's start with a distanced look at the concept art shared for this space. In the background, you can see EPCOT and some of World Celebration. In the front, closer to the left-hand side, you can see The Seas pavilion. And right in the middle is the Moana attraction. Now, let's zoom in, shall we?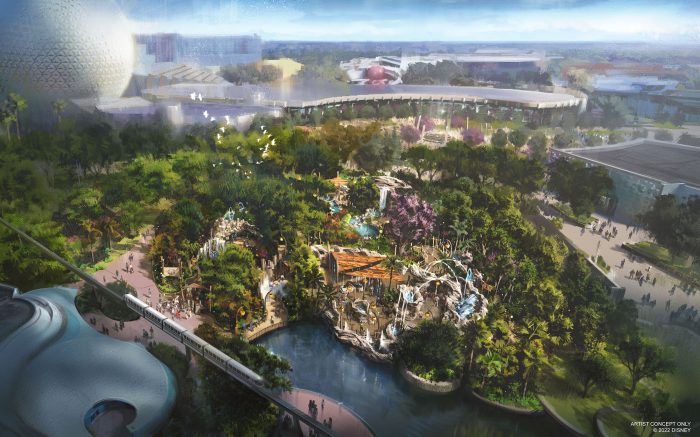 We start at what appears to be the entrance to the attraction, which is located across from the portion of the Seas pavilion that you see below.
On the left side, it looks like there is a Journey of Water sign with some natural-looking posts near it and lots of vegetation around it. In the center of that front area, we have some poles holding up a little canopy/cover. It's possible that this area could be a space for Cast Members to stand under as they greet guests into the attraction. Cast Members stationed there could also help with any questions guests may have.
And finally, if you look in the bottom right corner of this first portion of the concept art, you see another path. Since this is a walk-through attraction, we expect that the path to the left (near the Journey of Water sign) is likely the entrance, while this is the exit. Keeping it to just one entrance and one exit would help the flow of traffic throughout the attraction and keep things from becoming total chaos. So we'll come back to that potential exit area later!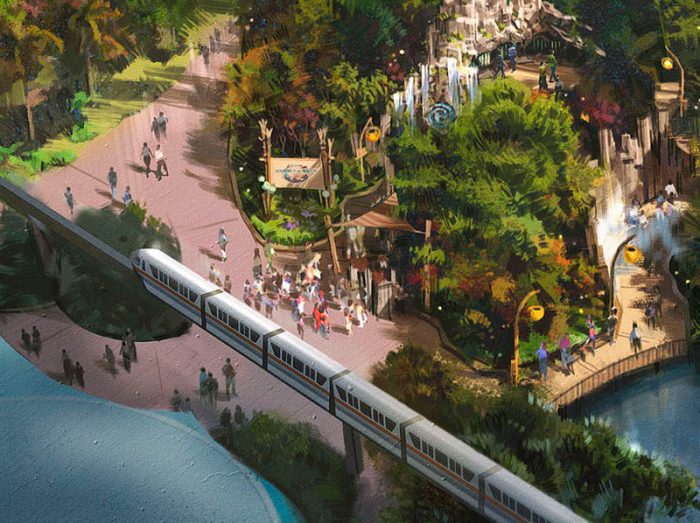 Before we move on though we do want to point out the lamp posts in this area. They have a really "in-world" feel and it looks like Disney is working hard to make them feel like they are part of the space (rather than being something added later without much thought).
They remind us a lot of the ones used at Pandora — The World of Avatar in that they have a very natural and unique feel. We have a feeling that the Moana attraction if really nicely illuminated, could be gorgeous around dusk or dark.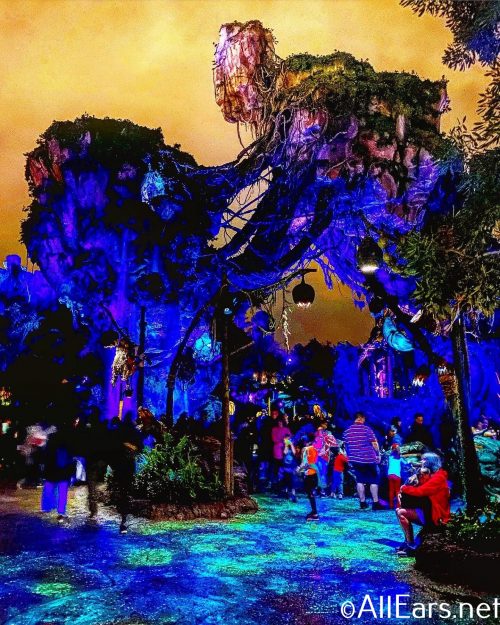 Alright, let's move past the entrance and into the first area. It looks like as you walk past the sign, you'll be met by a water and rock feature that has Moana's iconic swirling symbol right at the center.
Now, where have we seen this before? Well, we've actually seen it in some more detailed concept art shared years ago by Disney. So it seems like that is one part of the concept art that has really stuck around. That more detailed depiction shows some water pouring from one area to another in thinner streams as well.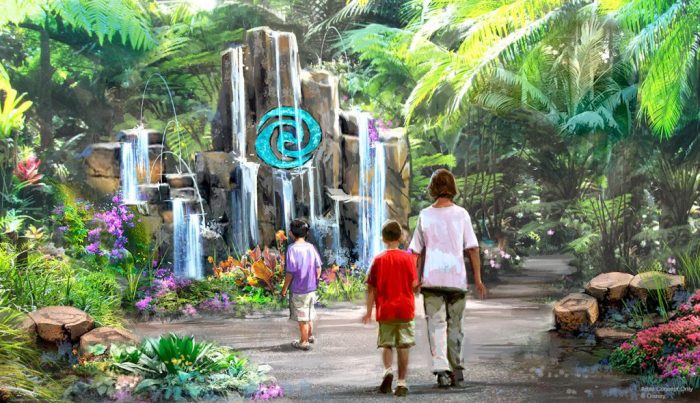 We've also seen this general area in some of Disney's more recent updates that showcase actual pieces being worked on for the attraction. Disney described this as a "sample from the mountain-like forms that will soon mark the entrance to the attraction."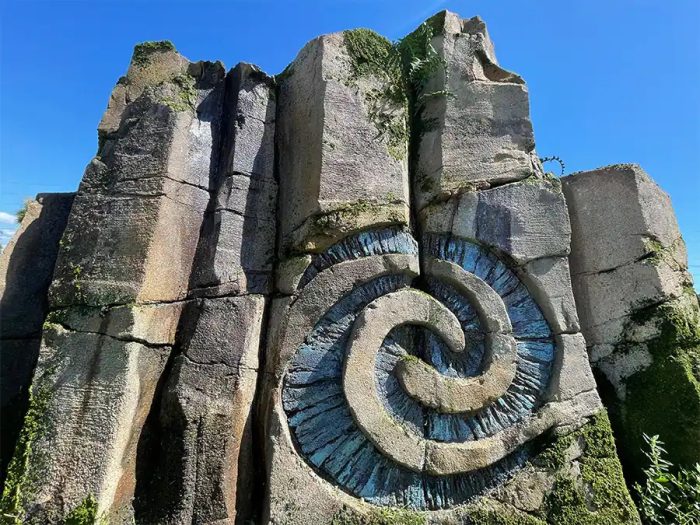 We also see this space represented in the Journey of Water poster available on shopDisney (and can you spot the Te Fiti figure in the background?!). These are actually still available as matted prints if you want to pick one up for $39.99.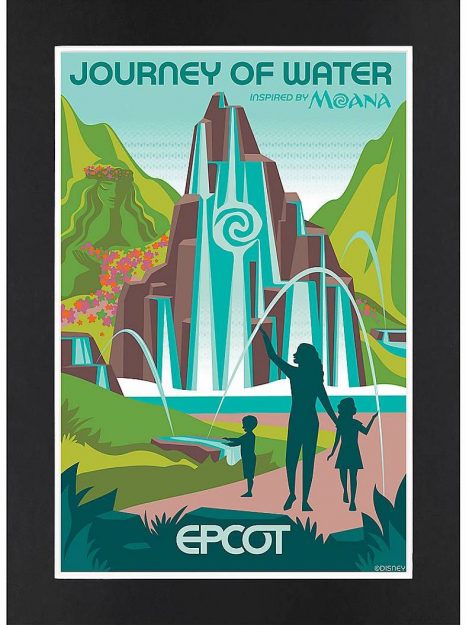 From that main entrance area, we move to an interactive space. In this area, it looks like there are little pools of water on the top of the rockwork, and some of that water is jumping or shooting from one little pool to another up above. Moving down, you then see the rockwork in place with what appears to likely be moss or vegetation growing on it.
From there you move down to what's underneath the rocks, and that's where things really get interesting. It looks like there are different colors of light coming down with vertical streams of water.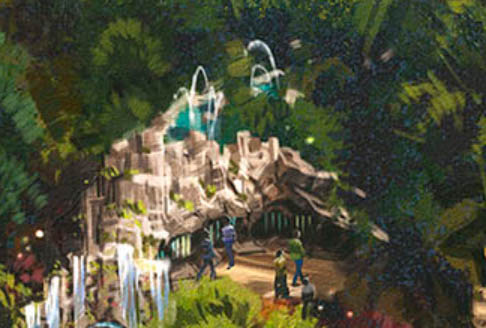 This is another one we've seen potentially pop up in another concept art depiction. That other concept art showed kids and adults placing their hands underneath rocks (though those rocks were shorter) where there were various colorful lights illuminating water pouring from under the rocks. The kids and adults were shown placing their hands underneath the rocks to touch the water as it splashed down.
This reminds us a bit of the part of the Seven Dwarfs Mine Train queue where you can put your hands underneath one portion to trigger some water effects. We'll have to wait and see if this area ends up having a somewhat similar effect.
Beyond that water play area, guests appear to be directed down some paths obscured in the concept art by lots of trees.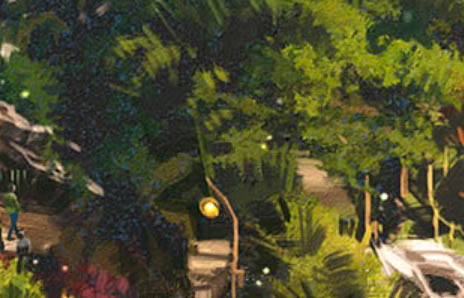 Those paths appear to lead to a more open space. On the top of this space, it looks like there is a brown structure. At least to our eyes, this looks similar to the canopy from the front where we expect a Cast Member could be stationed. It's possible that this will be a seating or play area of some kind for families to take advantage of as a sort-of midway point in the attraction.
Next to that structure, it looks like there are some pathways that take you next to a little river/stream with rocks in it.
And then you hit a big showpiece in this area — a waterfall! That waterfall pours into a little pond/series of ponds below with more rocks across the water.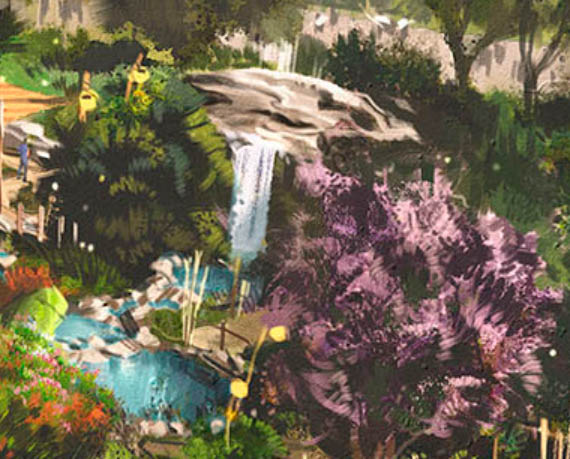 One waterfall played an important part in the story in Moana as it obscured the large boats used for wayfaring. Moana found them, which then prompted her to take further actions that led her to her destiny. Could this part of the attraction be a nod to that? Only time will tell!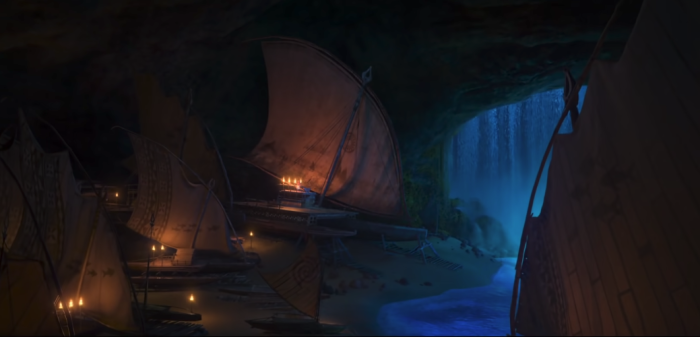 Following the waterfall, it looks like guests may be directed down some more paths and past foliage to get to a large interactive area. In this path-focused area, it looks like there is some rockwork to the right with water potentially pouring into it and out from it. It could potentially connect some water from the upcoming interactive area back to the waterfall and ponds, showcasing water's interconnectivity and natural cycle.
Once guests finish going down that path, it looks like they're led into a BIG interactive space!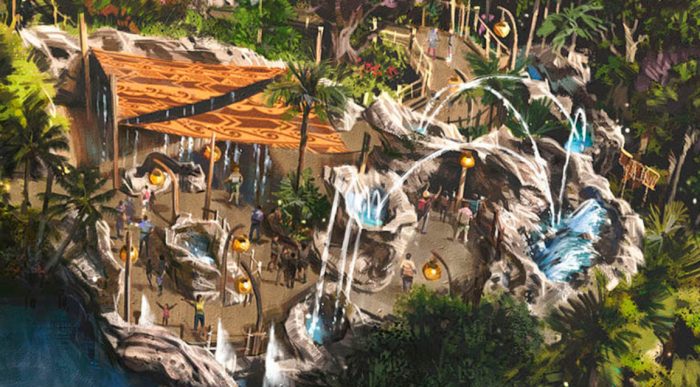 We'll start from left to right. On the left-hand side, it looks like there are some canopies attached to nearby poles. The patterns on the canopies feel very inspired by the patterns seen in the film and even some of the ones on Moana's own costume…
…and some patterns seen in the Moana-inspired rooms at Disney's Polynesian Village Resort.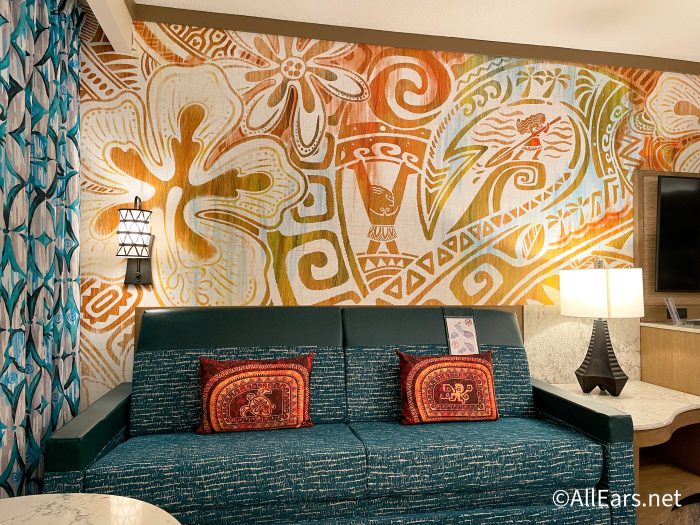 It looks like there are things pouring vertically down from certain parts of the canopies. Could these be design features? Structures? Lighting effects? Or could they be actual water? Water pouring from those areas could wet guests quite a bit which is what makes us question it, but it's possible that these are very light little streams of water (in keeping with the water cycle theme).
It also looks like there's some kind of rock structure (potentially some seating) under one of the canopies.
Whatever is underneath the entire back canopy is covered in shadows so it's not clear what could be featured there, but we expect it could be home to more interactive elements for guests to enjoy.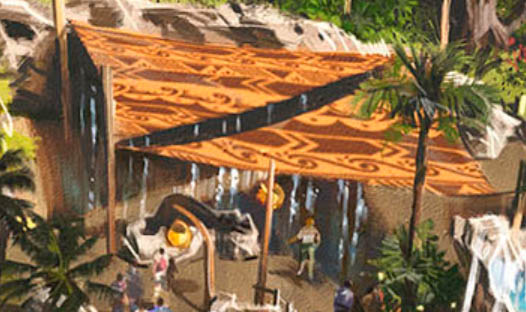 Moving down from that canopy area, we hit a center rock feature with water within it. It's not clear if that rock will feature any kind of special effect, but given some of the water jumping from the areas around it, it could! It could also be a great spot for some rock carvings of familiar faces from Moana.
Below that center rock, you can see two guests with their arms spread out and water and rock features next to them, with water shooting upwards. Is there some kind of interactive element here where guests' arm movements cause the water to jump up? Disney has worked on lots of interesting technology over the years aimed at making things very interactive and immersive, so it's certainly a possibility. And it's actually not the only instance where people with outspread arms are standing near water that is shooting upwards. More on that in a second.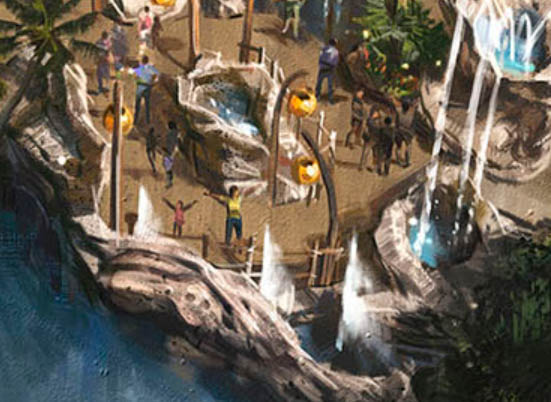 When you move to the right of those two people in the concept art, you reach what appear to be potential entrances to another space. It looks like the entrances here are framed by large pieces of rock with pools of water on top of them. The water is "jumping" or shooting from one pool of water to another, sometimes even over people's heads, making a sort of watery gate!
If this effect is put in place, you might want to be cautious of dripping water!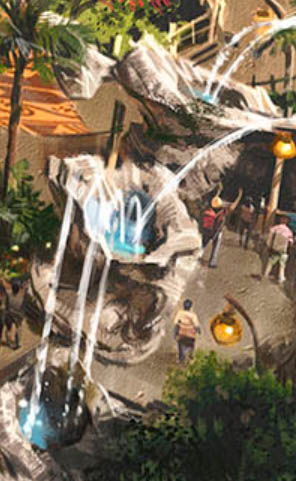 You then reach an area with more of those large rocks with pools of water on top of them. In one, the pool of water looks almost like it has more movement to it, making it more of a small waterfall. There are more "jumping" or strong water streams crisscrossing over guests in this space too.
And if you look carefully you can see one person with a red backpack whose hands are also pointed upward. It seems like a strangely specific position for multiple people to be in within this concept art if it means nothing. We'll be very curious to know if and how movement here potentially connects to the water in the space.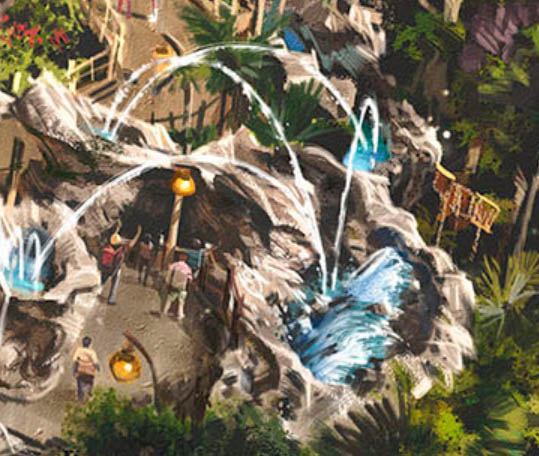 From this space with the canopies, rocks, and water, it appears guests head over to another space that has some taller structures and a mist effect on the bottom.
Then it looks like they enter the final area, which for now just has various plants and trees around it. BUT we think this area could be much more.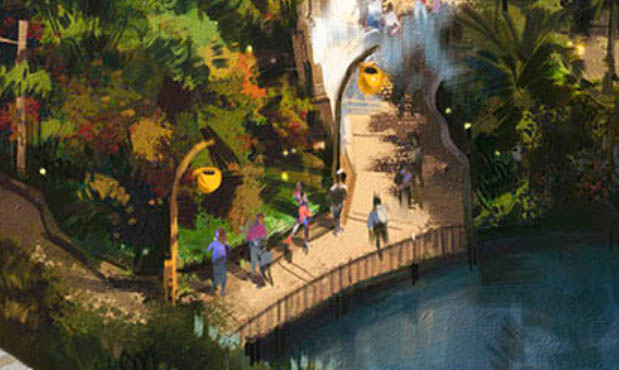 There is a GIANT Te Fiti statue that Disney has confirmed will be incorporated into the attraction. In fact, once she's fully built, the Te Fiti figure will be about 16 FEET tall! That's pretty huge!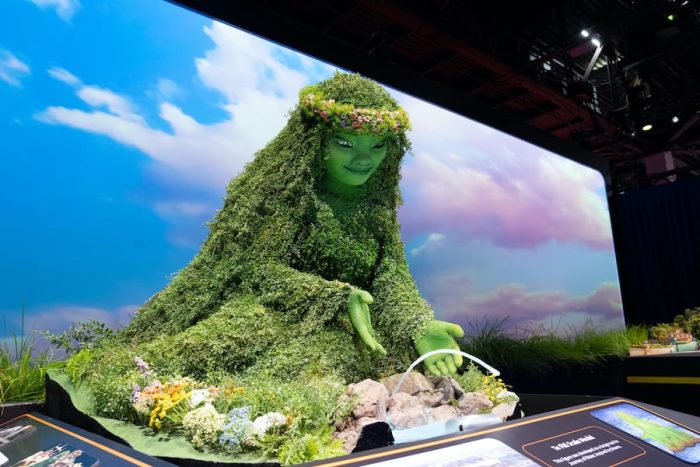 When we were discussing this structure with some Cast Members at D23 Expo, they seemed to indicate that it would be located in this general area close to the end/entrance of the attraction.
One image near the Te Fiti exhibit at the D23 Expo also seemed to show a model of the statue in a space near a little water feature, and there was a little canopy at the back, behind Te Fiti. Could that be the little canopy from the front of the attraction where we theorized a Cast Member could be placed to greet guests? If so, that could place Te Fiti potentially close to this last space in the attraction. It would make for one epic ending to the experience and a great photo op!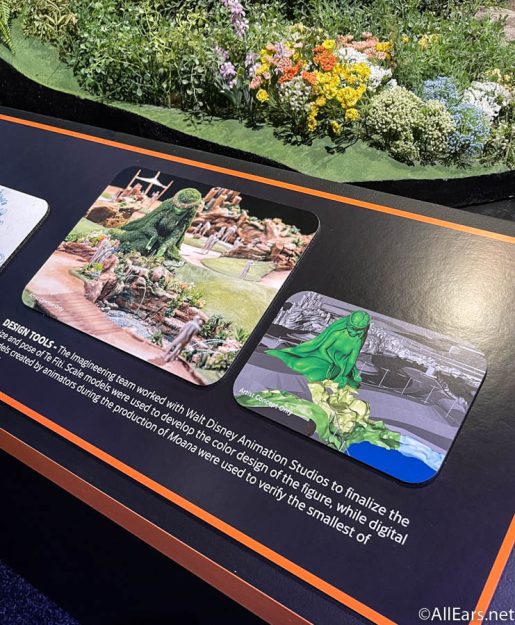 While that's what we've seen from the concept art itself, Disney has revealed a few little other things that we have to mention. First, Imagineer Zach Riddley previously shared an image indicative of the style of artwork guests will find throughout the space to teach them about the importance of the natural cycle of water. The attraction, which has a path that sort-of forms a circle, could itself be representative of this cycle. Each of the interactive areas could represent different parts of the cycle, leading us from one stage to another.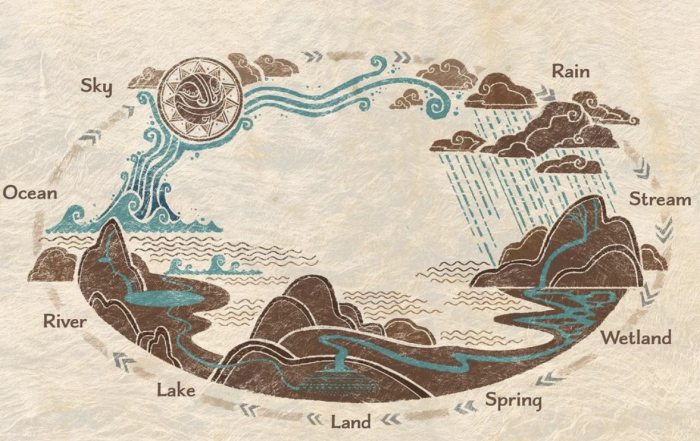 Additionally, Disney has shared that there will be familiar shapes and characters in the rockwork and waterways. One of the characters you'll find is Moana. Disney has said that you will find Moana "positioned proudly – celebrating water's arrival to our ocean." That also seems to support the idea that the attraction's various areas will be representative of different areas in the cycle of water. Whichever area aims to educate guests at the ocean part of the cycle could be where you'll find this carving of Moana!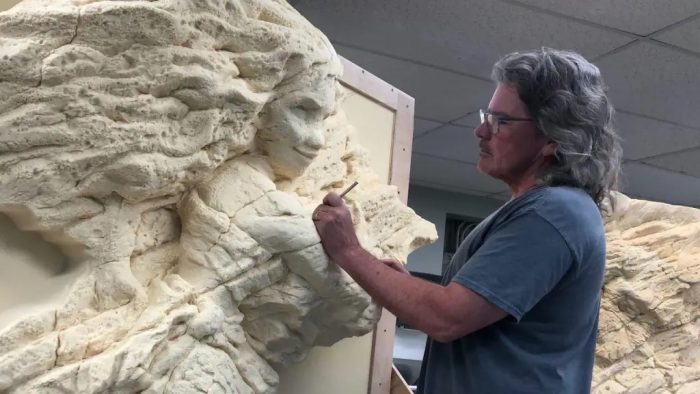 And that's all for our deep dive! What do you think? What details did you notice? Tell us in the comments below!
To see more deep dives into the worlds that could be coming to the Disney parks, click here to see our analysis of the hidden details in the concept art for a Moana land that could come to Disney's Animal Kingdom! 
You can also click here to see our breakdown of the potential expansions announced for Magic Kingdom!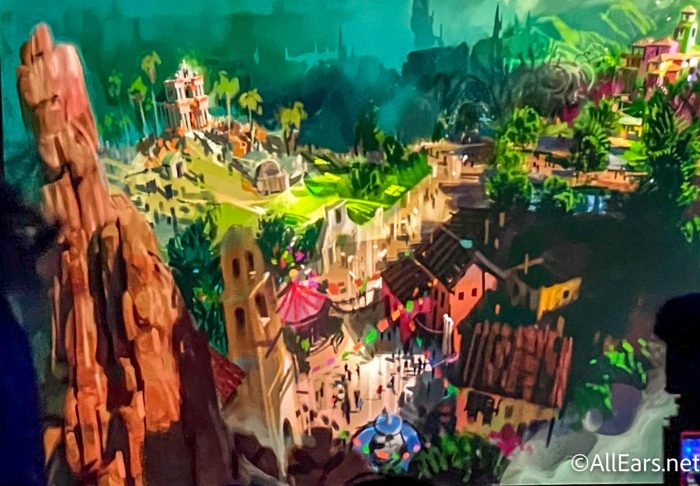 Stay tuned for more updates!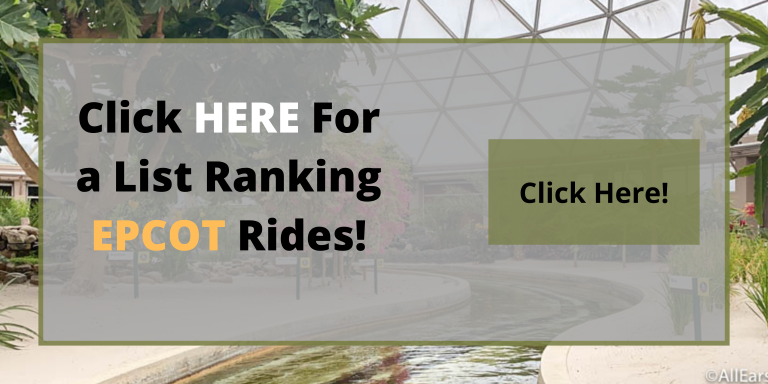 DISCLOSURE: This post may contain affiliate links, which means when you click a link and make a purchase, we receive a commission.
What little details in the concept art did you notice? What predictions do you have for this attraction? Tell us in the comments!