The D23 Expo unveiled lots of details about the transformation of Epcot — including its division of Future World into three neighborhoods and timelines for attractions, films, and restaurants throughout the Park. You can catch up on ALL of that here!
But now we want to highlight a really exciting piece of news: the name of Epcot's new nighttime spectacular, blasting off in World Showcase Lagoon in 2020.
It's called HarmonioUS, and it looks incredible!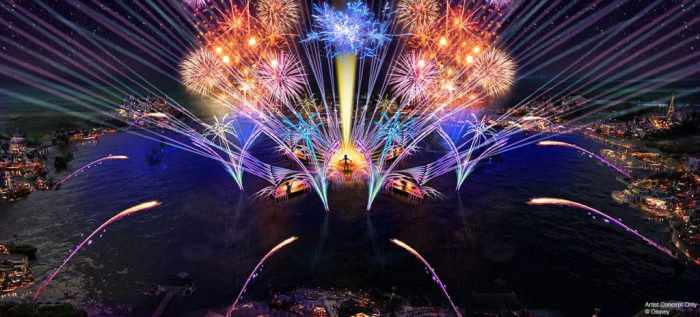 You'll recall that IllumiNations is saying farewell on September 30, 2019, to be replaced temporarily with Epcot Forever beginning October 1. And now we've got details about the permanent replacement coming on an unspecified date in 2020.
HarmonioUS embodies the Epcot spirit of human connection, and the new show will incorporate "floating set pieces, custom-built LED panels, choreographed moving fountains, lights, pyrotechnics, [and] lasers" to "celebrate how the music of Disney inspires people the world over."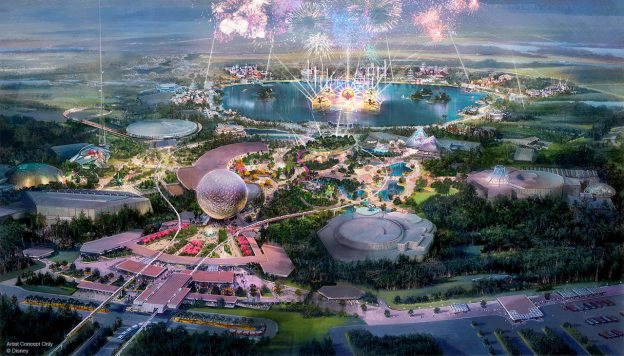 We're excited to see how HarmonioUS blends different styles of music with all those lights and explosives — and we'll keep you updated whenever we learn more about the show!
Are you looking forward to new nighttime entertainment at Epcot? Share your thoughts in the comments! 
Want to learn more about Epcot's transformation? We can help!