Guardians of the Galaxy Future World Epcot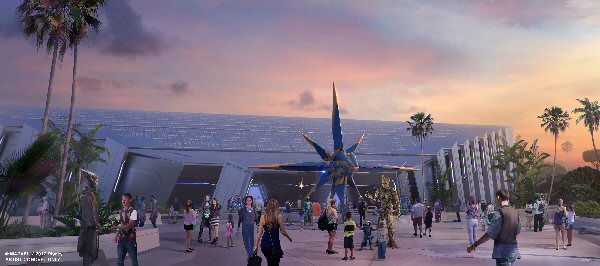 UPDATE: February 2018, D23 Expo Japan: Bob Chapek, Chairman of Walt Disney Parks & Resorts, announced: "With the "Guardians of the Galaxy"-inspired coaster, we're going big. This one-of-a-kind family attraction will be one of the world's longest enclosed roller coasters when it's added to Future World at Epcot. It'll feature a unique story currently being created by Walt Disney Imagineering and include a new innovative ride system that's guaranteed to "wow" guests.
The "Guardians of the Galaxy"-inspired coaster is part of our ongoing work to transform Epcot into a place that's more family, more relevant, more timeless and more Disney. "As we build upon its core mission of optimism and hope to inspire the world, the real will become fantastic and the fantastic will become real—in whole new ways at Epcot." The attraction will open in time for the 50th Anniversary of Walt Disney World in 2021.
At the 2017 D23 Expo on July 15, 2017, Bob Chapek announced a "Guardians of the Galaxy"-inspired attraction will be added to Future World, adhering to the original vision of Epcot's Future World as the place to experience the excitement and adventure offered by space travel. This new attraction will replace the current Universe of Energy attraction, which will close August 13, 2017.
Epcot's brand new E-ticket attraction will be based on the rockin' and action-packed world of "Guardians of the Galaxy" and is the next step in how guests can encounter these characters at the Walt Disney World Resort. Epcot just may be the perfect place for a "Guardians"-inspired attraction as you can see in the photo – Peter Quill (aka Star-Lord) actually visited Epcot as a kid!