The day is FINALLY here — we got the chance to ride Guardians of the Galaxy: Cosmic Rewind in EPCOT!
We've been waiting on the opening of this new "omnicoaster" for YEARS, and soon it'll be available for all guests when it opens on May 27th. But before that, we wanted to take this chance to point out a few key Easter eggs that you'll want to look out for during your visit!
Proceed with caution if you want to remain completely spoiler-free on the ride!
Disney is known for dropping little hidden details into theme parks, new lands, and new rides, and this one is no different! There are so many fun Easter eggs to look out for, and we caught several on our first visit.
SO Many Universe of Energy References
Guardians of the Galaxy: Cosmic Rewind is housed in the old Universe of Energy building, and there are lots of references to old EPCOT. In the queue, you'll find the Guardians being interviewed on Good Morning Xandar, where Peter Quill (Star-Lord) mentions that he can't wait to get back to EPCOT to ride Horizons and Universe of Energy…which might prove difficult as these once beloved EPCOT attractions are no more.
Convince us Peter Quill doesn't watch AllEars 👀#CosmicRewind #mediaevent pic.twitter.com/NxIdYZoB7d

— AllEars.Net (@AllEarsNet) May 5, 2022
Speaking of Universe of Energy, here's another reference to the "Big Bang." There's another one you'll find on the ride — when they mention the "big bang" on ride, Drax refers to it as the "ding dang", a reference to a conversation between Bill Nye and Ellen on Universe of Energy.
🚨Spoiler Alert🚨

"We're all galactic neighbors in a vast universe."

Pre-show for 💫Guardians of the Galaxy: Cosmic Rewind💫

Be sure to watch until the end, it's worth it 😉#SaveTheGalaxyTime #mediaevent pic.twitter.com/AO7D4EqcqY

— AllEars.Net (@AllEarsNet) May 5, 2022
The Universe of Energy references don't end there though. On ride, the Guardians fly in listening to a
very 
familiar song —
a rock version of the Universe of Energy theme song!
And, you'll even find some more references to Universe of Energy written in Xandarian on columns in the ride as well! From top left clockwise it reads: Ellen, Alex, E=MC, and Dino.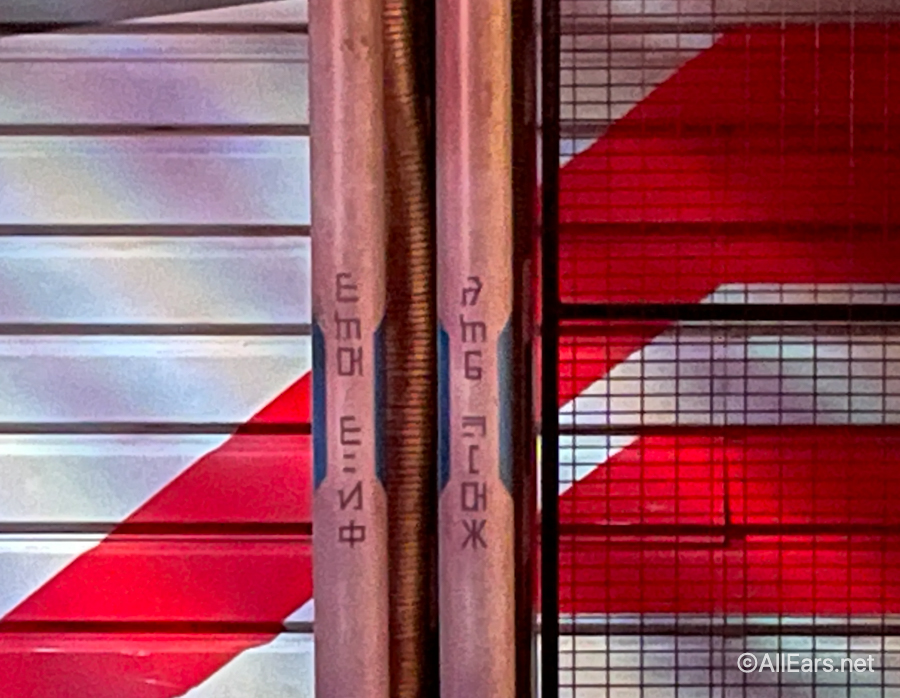 References to the Sheer SIZE of EPCOT
At the end of the ride, you'll be met with the Guardians and can have a few different conversations — all EPCOT related.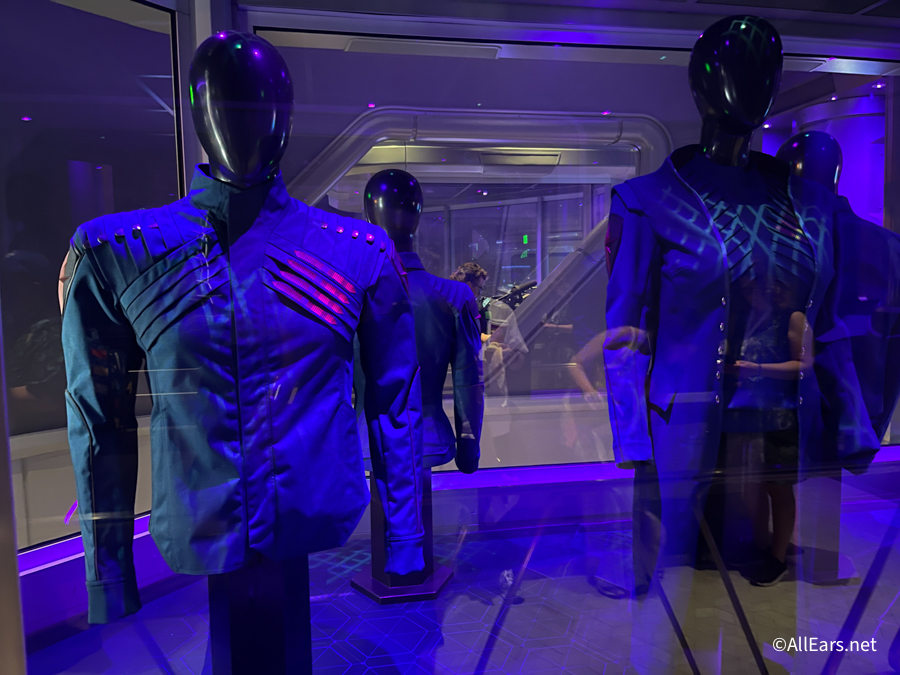 One of our favorites featured a conversation welcoming you to EPCOT. When asked if that was even a word, they responded with "Yeah! It means every person comes out tired." Anyone who has done a full day in EPCOT will tell you there is some real truth to that statement.
Hidden Mickey
What would a Disney ride be without a hidden Mickey?! Look closely in the Xandarian City model (a model that takes some real inspiration from PeopleMover's Progress City model!) and you'll spot a hidden Mickey.
Hidden Mickey at 💫Guardians of the Galaxy: Cosmic Rewind💫? ✔️

We're on the hunt for more Easter eggs 👀#CosmicRewind #mediaevent pic.twitter.com/blwZQoXfk3

— AllEars.Net (@AllEarsNet) May 5, 2022
Here's a closer look!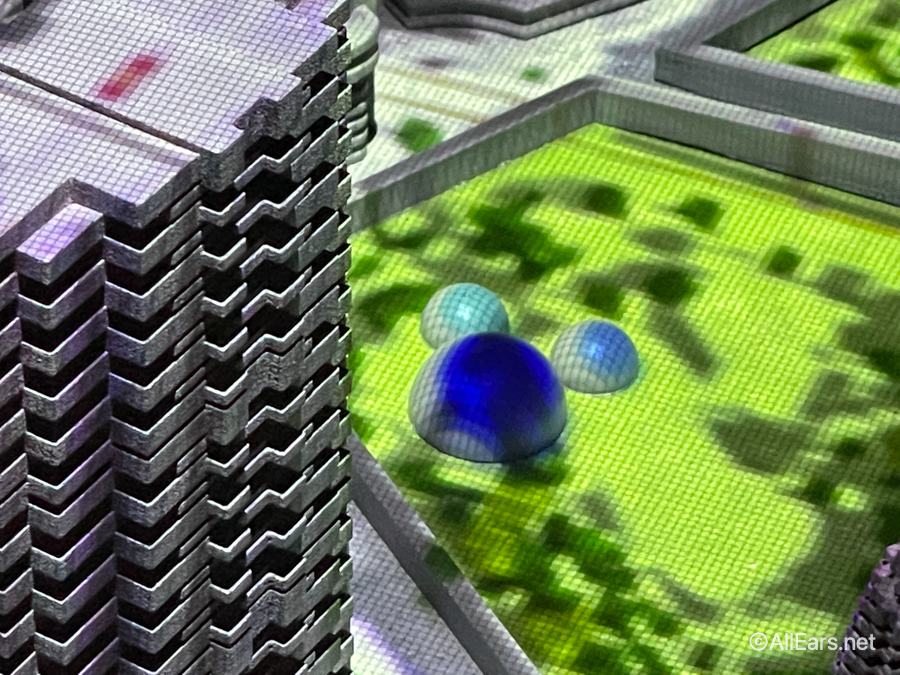 Walt Disney, Progress City, and EPCOT History
Speaking of Progress City, at one point in the pre-show you'll see a screen that shows Walt Disney and Progress City…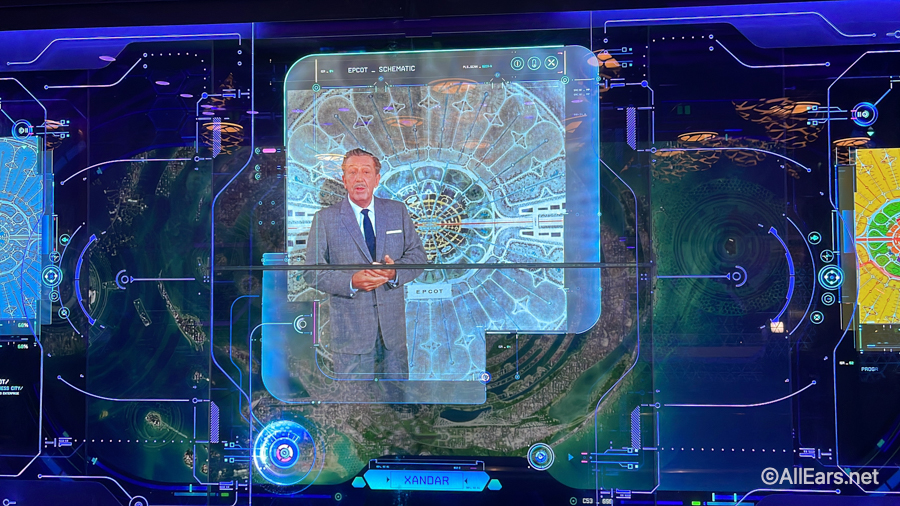 … and they also show a weather pattern that you might recognize as a MAELSTROM! You might remember that Maelstrom was the Norway Pavilion ride before it was replaced with Frozen Ever After.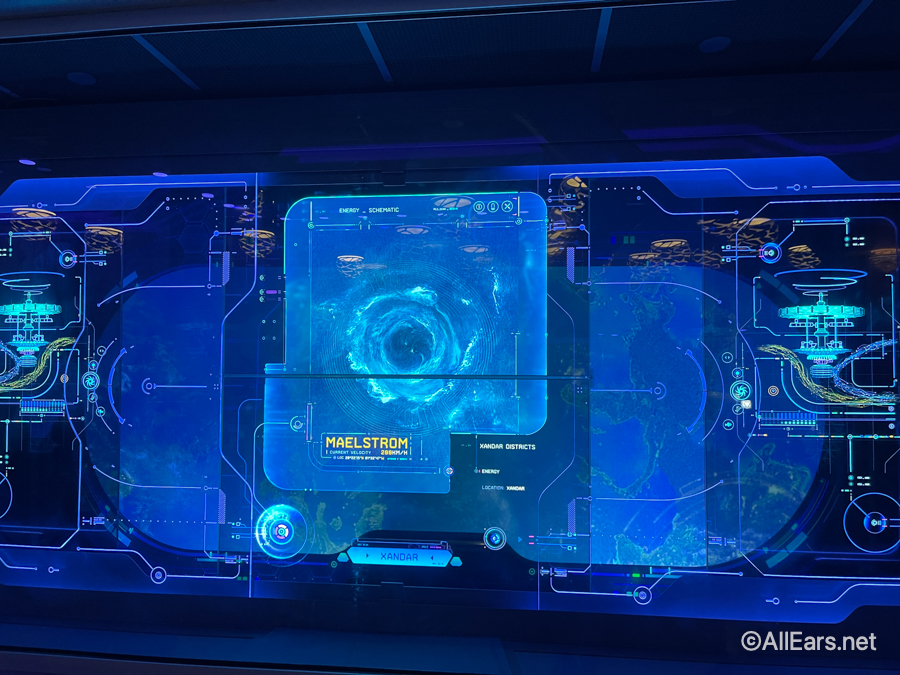 Disney Parks took to TikTok to share some additional Easter eggs with us, and in the process of doing so gave a nice little nod to Spaceship Earth. When you exit the ride and go through the doors, you'll see "EPCOT" spelled out in Xandarian overhead.
In the video, the narrator mentions thanking the Xandarians if you're able to read the text, as they invented that alphabet — which is a reference to the "Thank the Phoenicians" line from Spaceship Earth.
Anyone who has been to Disney World knows the unmistakeable scent of turkey leg that will occasionally waft its way throughout the parks, and it seems that Peter Quill thought this sodium-bomb of a snack was important enough to mention to the Xandarians.
As part of the queue, guests enter the Galaxarium where Worldmind, a Xandarian supercomputer, shares what it has learned about Terrans and poses the questions, "Why only the leg? What about the rest of this creature?"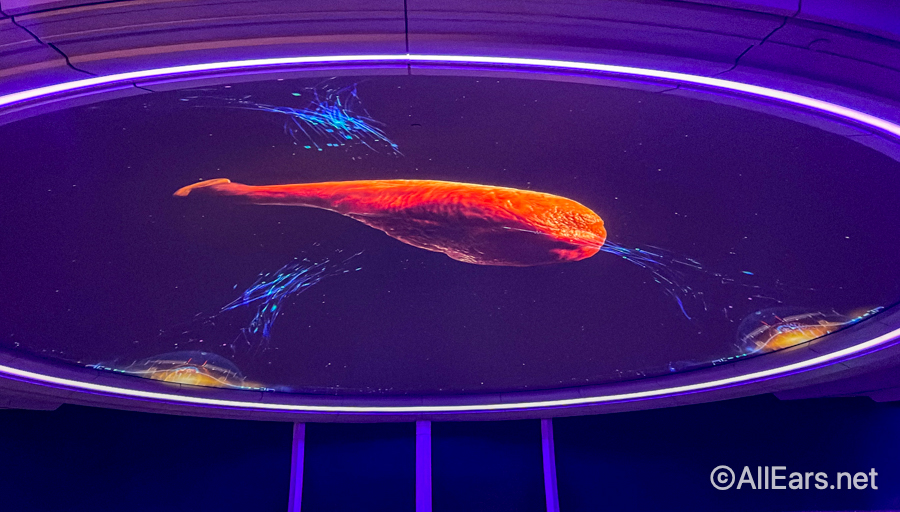 Cast Member Inside Joke
When you exit the ride, you're technically backstage. So Disney has placed a mirror at the exit — something Cast Members will recognize for taking a final look before you go on stage!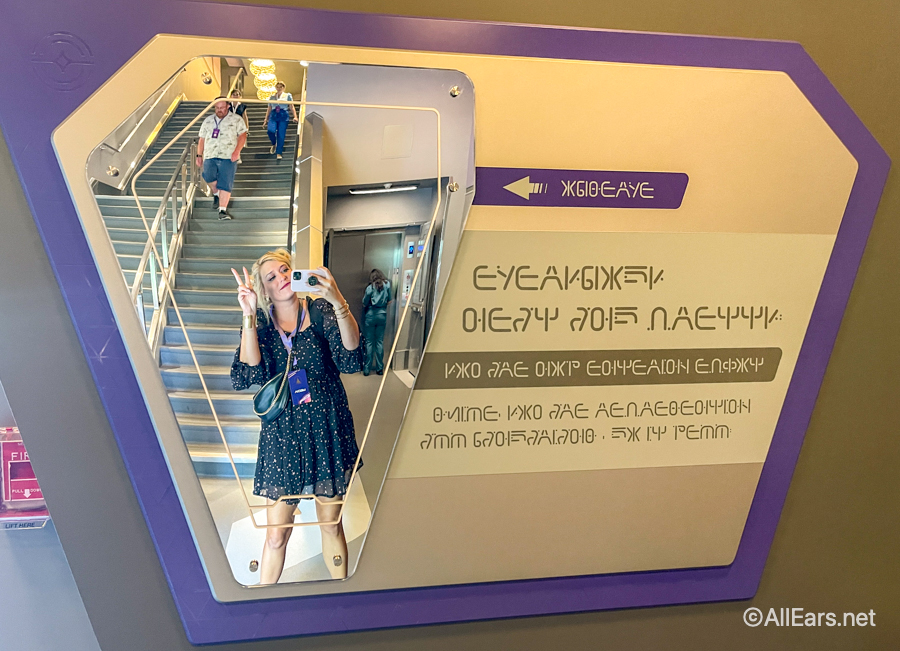 We'll keep you updated with any other Easter eggs we find on this exciting new ride! Stay tuned to AllEars for all the details on the latest offerings coming to Disney World.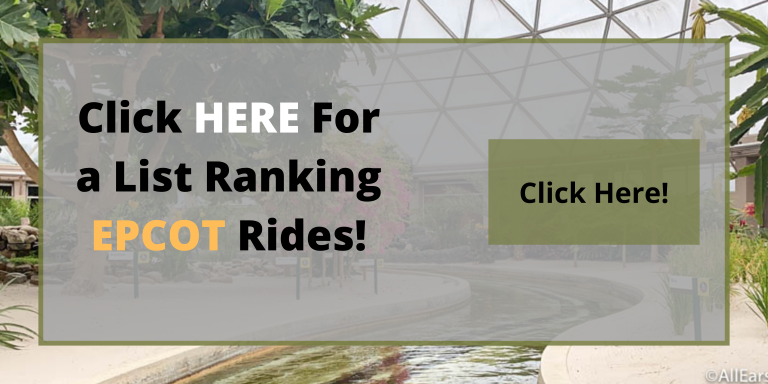 When are you riding Guardians of the Galaxy: Cosmic Rewind for the first time? Tell us in the comments!
Disclosure: We were invited by Disney to attend a media preview of Guardians of the Galaxy: Cosmic Rewind. This did not affect our reporting of the event — our opinions are our own.