Deep in the jungles of 1930's Central America you'll find El Rio Perdido, "The Lost River."
This river actually splits Lost River Delta in half as it runs through a lush tropical forest, by ancient ruins, and finally, past a shanty town.
This is an area ripe for discovery by the archeologists of the day. Look closely at the river and you might just spot the seaplane that rescued Indiana Jones in his very first adventure. Also, pay attention to the plane's identification number.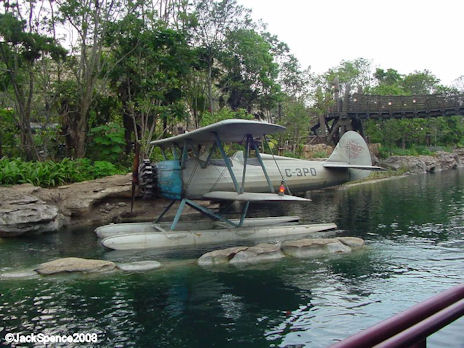 The first attraction you'll come to on the upper bank of the river is Mystic Rhythms. This is a big production show presented five times a day in the Hangar Stage.
The exterior of Hangar Stage looks run down – as if it's been abandoned and left for the jungle to reclaim it. A crashed airplane sits nearby, rusting in the elements. Inside the hanger, you'll find a large theatre that holds 1,140 guests.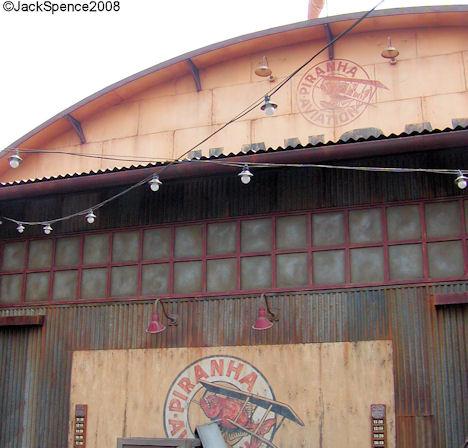 The setting for the show is deep within a Central American jungle. Here, actors take on the roles of many animals, including jaguars that skulk along the ground and birds that gracefully fly through the trees or swing from vines. Indigenous people of this area celebrate life by dancing and chanting. A beautiful set that features waterfalls, fire effects, and smoke help add to the lush atmosphere.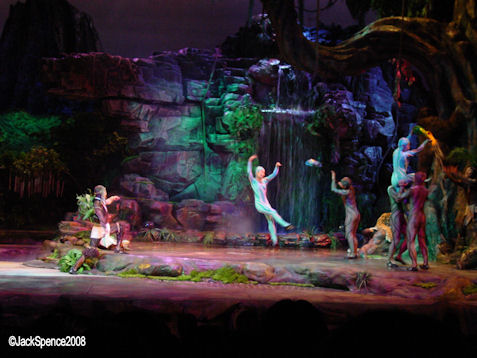 This show has elements of Cirque du Soleil, La Nouba as actors "dance" in the air while swinging from ribbons of cloth. The music is primitive with a strong tribal beat. It's more about "setting a mood" than telling a story.
Down the road from Hanger Stage you'll wander into a small, run-down village. On one side of the road you'll find Miguel's El Dorado Cantina. This is a counter service restaurant that serves unauthentic Mexican food.
When I ate here five years ago, I found white, sticky rice in my burrito. Not exactly what I'm used to. I ate here again on this last trip and I'm happy to report, the food has improved. But as someone who grew up in Southern California, it still has a long way to go to be considered "authentic."
There is plenty of seating divided between two levels. On the upper level you'll often find a mariachi band performing while the seats on the lower level are more tranquil and afford a peaceful view of the river.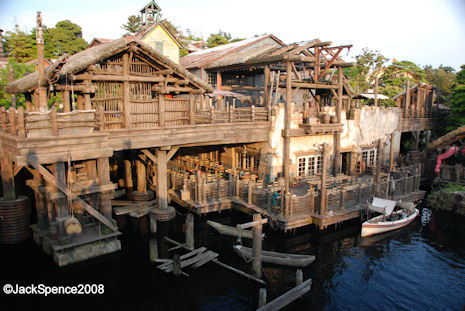 Next to the restaurant is Lost River Outfitters. This shop offers Indiana Jones merchandise as well as Aztec and Mayan jewelry and bric-a-brac.
Across from the shop is the third station of the DisneySea Transit Steamer Line. This is a scenic boat ride that circles the many ports around the park. Guests boarding here will be required to exit at the Mediterranean Harbor station.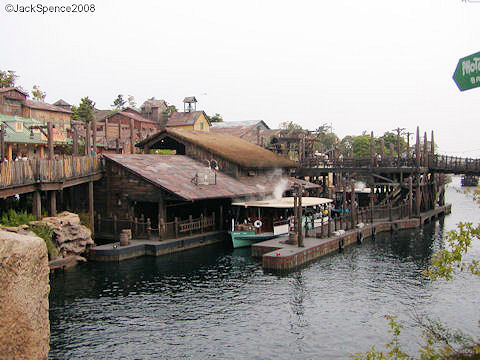 There are three bridges that cross El Rio Perdido. It's on the lower banks of the water that you'll find the real excitement of Lost River Delta.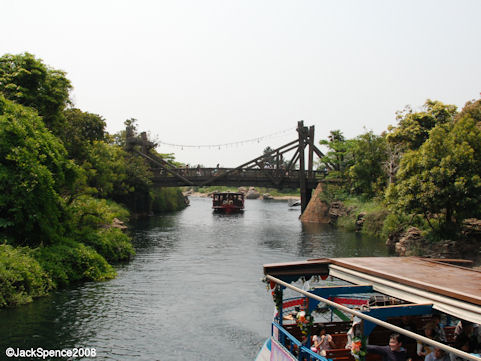 Dominating the skyline is an ancient Mayan pyramid and this is where you'll discover the Indiana Jones Adventure: Temple of the Crystal Skull.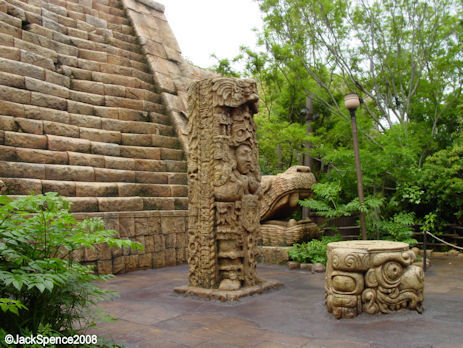 Much of the queue for this attraction winds its way through the jungle outside of the pyramid, until you finally enter this foreboding structure. The remaining queue wanders through labyrinth of Mayan statues and artifacts.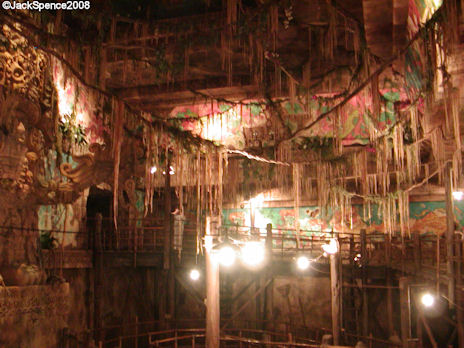 For those of you who have ridden the Indiana Jones Adventure: Temple of the Forbidden Eye at Disneyland, this attraction is VERY similar – in fact, the tract layout is identical.
The storyline in DisneySea is that you're looking for the Fountain of Youth but it's protected by the unforgiving, mystical spirit known as the Crystal Skull. Taking pictures while on the attraction is not allowed so I have nothing to show you here.
For those of you who have not ridden the Disneyland version of this ride, it's similar to "Dinosaur" at Disney's Animal Kingdom. You ride in motion-simulator jeeps and travel from one harrowing adventure to the next. Dart-blowing statues, large snakes, blasts of fire, thousands of insects, and a dozen other evil forces try to thwart your efforts as you search for the Fountain of Youth.
This is a must see attraction. In fact, I list the Tokyo and California version of this ride as one of my absolute favorites. Unfortunately, I think "Dinosaur," which uses the same vehicles and track layout, pales in comparison.
As you venture along the exterior of the pyramid and decaying temple, you'll come across Yucatan Base Camp. This is another counter service restaurant that serves barbecued specialties, fresh salads, and desserts. Live entertainment is also on hand while you enjoy your meal.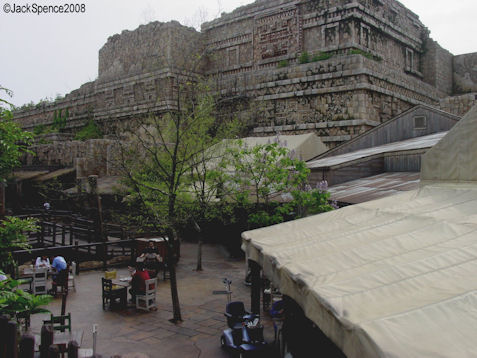 I especially like the atmosphere here. The outside tables are interspersed between a current archeological dig. Look carefully and you'll find ancient statuary, pottery, picks and shovels, lanterns, and human skeletons.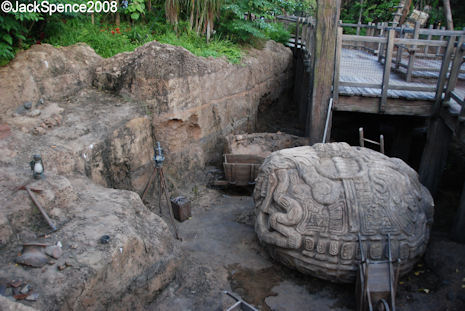 It's also in this area that you might just find a crate addressed to Harrison Hightower.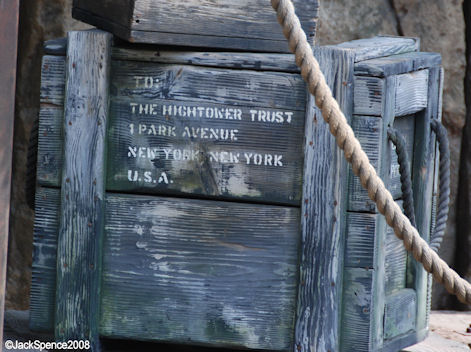 A little further down the road you'll come to Raging Spirits. This is a roller coaster fashioned to look like runaway mine cars. For those of you who have been to Disneyland Paris, Raging Spirits uses the exact same track layout and cars as the Indiana Jones and the Temple of Peril roller coaster in Adventureland. However, I think the DisneySea version is visually more appealing.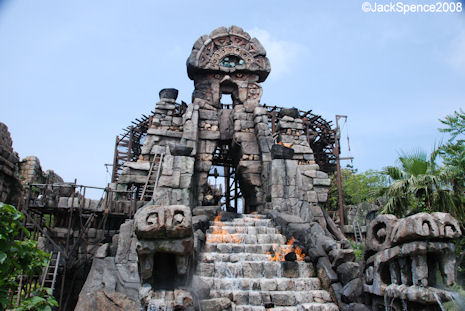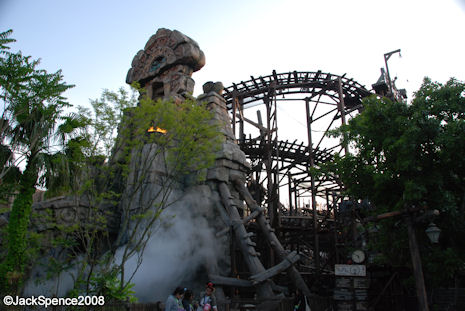 The storyline is that vengeful spirits have been awakened by the archeological dig and are angry with all who pass this way.
Personally, I think this attraction is a disappointment. From what I understand, when it first opened, it jostled guests around so much that there were constant complaints at Guest Relations. To remedy the problem, the restraints were padded, and then padded some more. Now when you're secured in your seat, you have absolutely NO movement whatsoever. So it really doesn't matter what the coaster does, you're "glued" in. All the excitement is gone.
This attraction does have some nice effects including a 360 degree loop and a blast of steam as you make your final turn. But overall, there is very little thrill here.
That's it for Lost River Delta. Next stop, Arabian Coast.