It's difficult to describe Port Discovery.

I've heard it called the "Tomorrowland" of DisneySea and the "Marina of the Future." Either way, it weaves science and fantasy into an intriguing mix. The storyline for Port Discovery is that it's home to the "Center for Weather Control." Here, new experiments to manipulate the climate are always underway.
There are three attractions in Port Discovery, Aquatopia, StormRider, and DisneySea Electric Railway.
Let's start with Aquatopia.
Aquatopia is one of the most visually appealing attractions you'll ever see. Its thrills are mild, but watching these little vehicles maneuver in what looks like absolute chaos is delightful. This is an open-air attraction with many good vantage points from which to take someone's picture.
Each vehicle holds two people. As you leave the loading area, you enter a giant lagoon of water that's approximately four inches deep. There is no track as the vehicles are controlled by a master computer that relays directional information to each individual unit from a number of towers positioned in the lagoon. This allows different vehicles to take different routes, adding to the confusion of the experience. As you move about the lagoon, you spin, travel forwards, travel backwards, almost get wet from random jets of water, and nearly hit the other cars as you maneuver your way through an unknown route. This attraction is a lot of fun for kids and adults.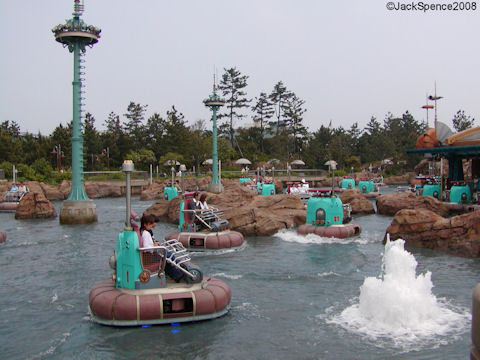 At night, Aquatopia is especially beautiful as each vehicle is lit from underneath, giving it an eerie glow as it moves about the lagoon.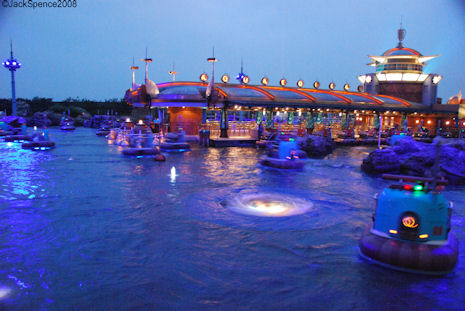 I was very disappointed when Disney removed the 20,000 Leagues attraction from the Magic Kingdom in Florida. But after the decision was made, I was hoping that they might replace it with Aquatopia. Maybe make the vehicles look like fish and give the attraction a "Little Mermaid" theme. I think this would have made a great ride for all ages and been fun to watch from the sidelines. But alas, Disney doesn't call me and ask for my opinion. LOL. Below is a rendering I created of what this attraction might have looked like if built in the Magic Kingdom.
The big draw in Port Discovery is StormRider.
The story line is this, The Center for Weather Control (CWC) has invented a "Storm Diffusion Device" that when detonated within a disturbance neutralizes the energy and renders the storm harmless. While watching a small-scale demonstration of this new technology in the pre-show area, guests are informed that a large typhoon is approaching Port Discovery and everyone is invited to board one of the CWC's flying laboratories and observe this new invention first hand.
After we board the plane, we secure our safety restraints and wait for take off. We're afforded a good view from a large window positioned at the front of the plane as we become airborne and fly directly into the approaching typhoon. The new "Storm Diffusion Device" is fired, but a mishap occurs and the missile crashes into our cabin, ready to detonate in a matter of seconds. But being a Disney attraction, a happy ending is eventually achieved and the CWC can proclaim success with their new invention.
This attraction can best be described as Star Tours on steroids. It is a motion simulator ride that holds about twice as many people as its space counterpart. In addition, there are more on-board special effects than on Star Tours.
No picture taking is allowed in either the pre-show area or the plane's cabin so I have no photos that I can share with you. But here's what the attraction poster looks like.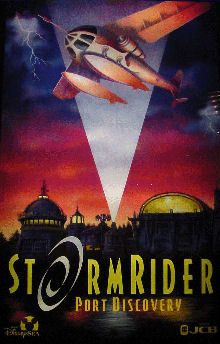 The last attraction in Port Discovery is DisneySea Electric Railway. This is the same ride I mentioned when talking about the New York City section of American Waterfront. This is an elevated electric trolley line that shuttles guests between these two ports. Guests board these trolleys from the upper level of Port Discovery for a one-way trip.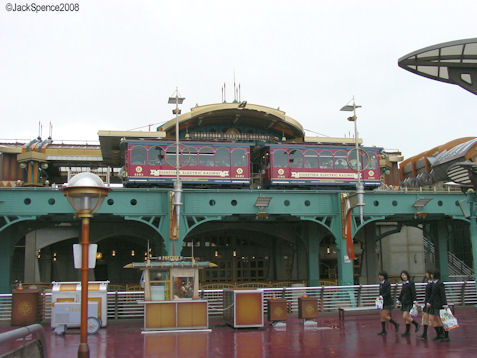 The Horizon Bay Restaurant is a buffeteria-style eatery that serves steaks and seafood from an open kitchen. At times, the seating area is split and half of the restaurant offers character dining.
The last few pictures are just some props and backdrops that make up the overall atmosphere of the area.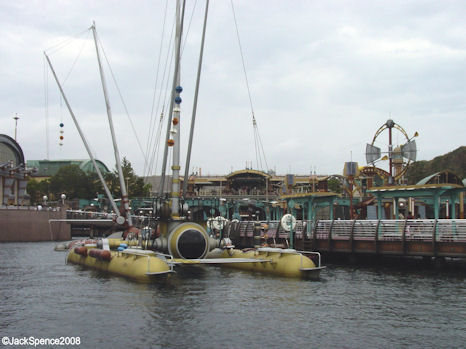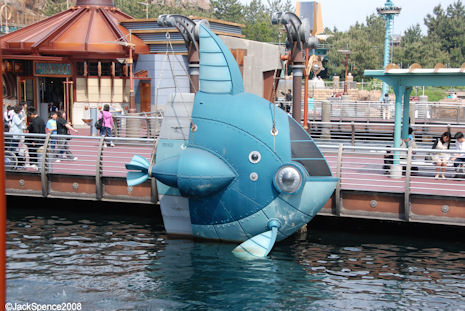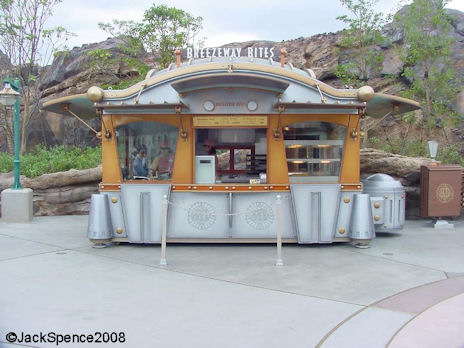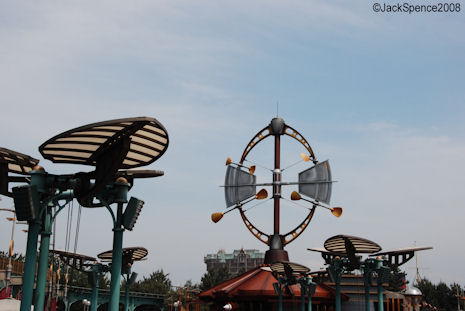 Next blog, Lost River Delta.