I saved the best port-of-call for last – at least in my humble opinion. For me, Mysterious Island is the most imaginative port/land Disney has ever created.
This is the home of Jules Verne and Captain Nemo. Iron girders studded with rivets perched precariously on jagged cliffs give this port an ominous feel. Limited access to this area also makes you sense you've entered a private sanctuary of some nefarious being.
Any discussion of Mysterious Island must start in Mediterranean Harbor. It's here that you get the best exterior view of this port. You can see Mount Prometheus to the left and the outer rim of a great crater that houses this port to the right. Periodically during the day, the volcano starts to rumble and smoke begins to billow. Soon, large flames reach skyward and thunderous sounds boom forth.
Look closely under the bridge that leads to Fortress Explorations and you'll see the Nautilus berthed at its home port of Vulcania.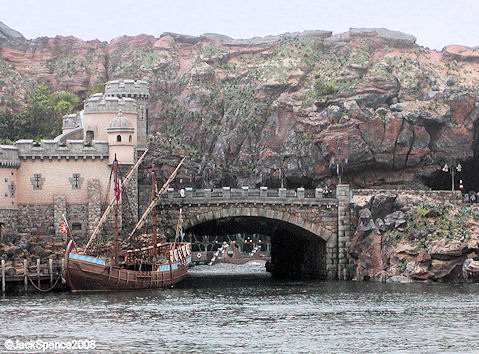 This is what Disney calls the "draw" concept. By putting something of interest within sight, but beyond your immediate reach makes you want to explore and discover. You can see the "draw" concept used in every Magic Kingdom around the world. The carousel is always placed just beyond the castle. That's so guests can see it turning through the entrance and are "drawn" into Fantasyland.
Mysterious Island sits in the middle of Tokyo DisneySea. Entrance can be gained through four other ports: Mediterranean Harbor, Port Discovery, Mermaid Lagoon and Arabian Coast. In all cases, access is gained by walking through tunnels, some short and some long. This helps make the port all the more forbidden.
When entering the crater for the first time, most guests walk to one of the railings and just gaze out over the many sights.
A miniature submarine is suspended from the 20,000 Leagues Under The Sea queue.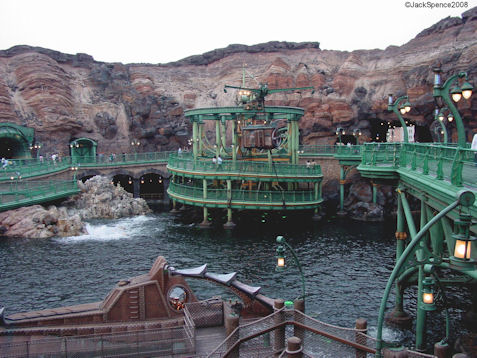 A unique boring machine is ready to start its "Journey to the Center of the Earth."
The side of Mount Prometheus is coated with a recent lava flow. Large iron-mesh screens have been erected to stop molten rock from splattering passing guests. Steam pours from crevasses and you can hear hissing sounds as it escapes.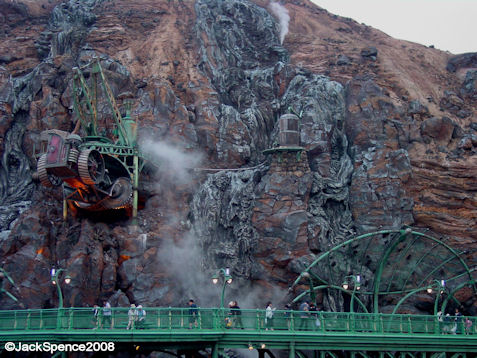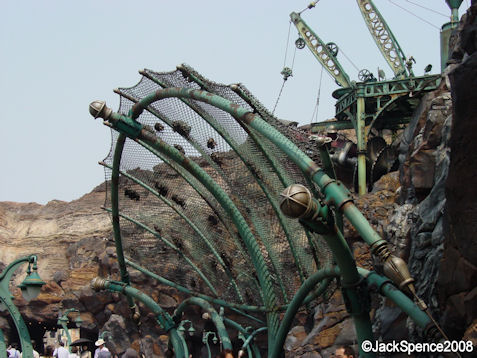 A DisneySea Transit Steamer passes beneath you.
The Nautilus is not counted as an attraction as you can't actually board the vessel. Instead, this is just a photo opportunity.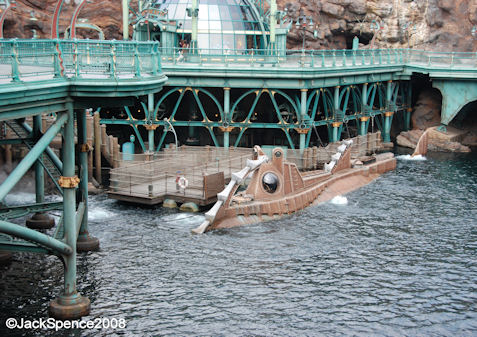 I have to admit, this is one of my very few disappointments at DisneySea. At Discoveryland in Disneyland Paris, you can also see the Nautilus berthed next to Space Mountain. There, you can actually board the ship and explore some of its compartments.
There are two attractions in Mysterious Island, 20,000 Leagues Under the Sea and Journey to the Center of the Earth. Let's start with the latter.
To get to Journey to the Center of the Earth you must enter a cave that leads directly under Mount Prometheus. Once inside, you can see the drill bits from the boring machine you saw earlier digging into the mountain.
The queue is interesting as it is divided into two sections. The first portion passes by an array of experiments being conducted by unseen scientists. You will also encounter more lava flows inside the volcano.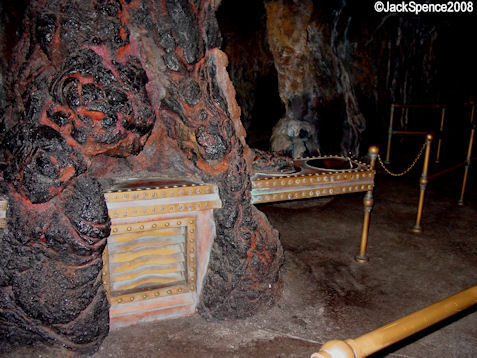 You then enter an elevator to travel deep within the mountain. Audio and visual effects enhance this ride.
When you exit the elevator, you enter a second queue. Here you'll see enormous drilling equipment that has been used to excavate the tunnels you will soon be traveling through. Eventually, you board a 6-passenger vehicle that was designed for exploring deep within the earth. This attraction uses the same ride technology as Test Track in Epcot.
As the ride begins, you start downward and encounter beautiful flora and fauna found nowhere else on earth. Lovely crystals and waterfalls delight the eye.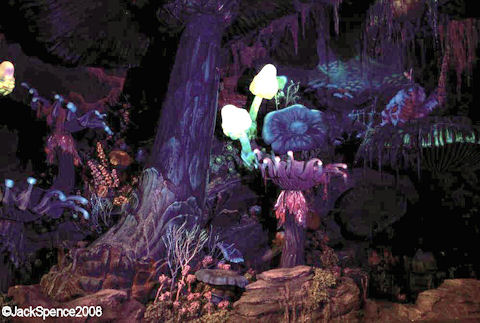 But as you venture deeper and deeper into the shaft, things become more foreboding. Now the plant and animal life take on a treacherous look. What was once tranquil is now dangerous. Lightning bolts spark nearby followed by a loud clap of thunder. Flames explode beside your vehicle. Suddenly, a lava-monster rises up and starts his attack.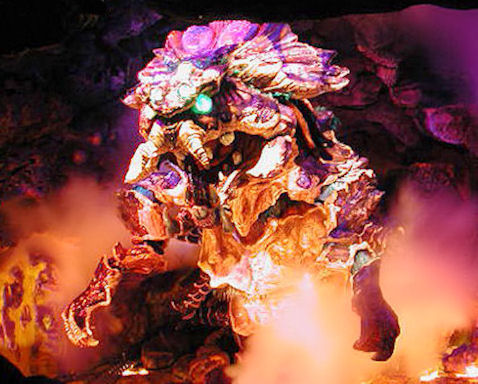 Your once leisurely ride has been turned into a nightmare. To escape, your vehicle shifts into high gear and lurches upward through the mountain. Suddenly, daylight is in sight and you burst outside and down a steep slope.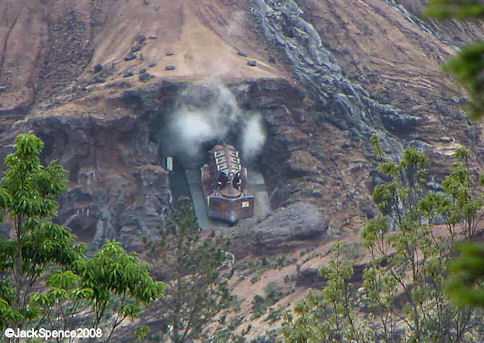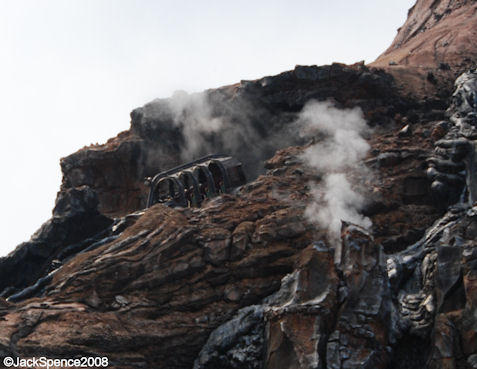 Still at top speed you re-enter another tunnel that travels the perimeter of the crater. You burst outside one more time to traverse a bridge then plunge back into darkness. Your vehicle slows quickly and you're finally back in a safe environment.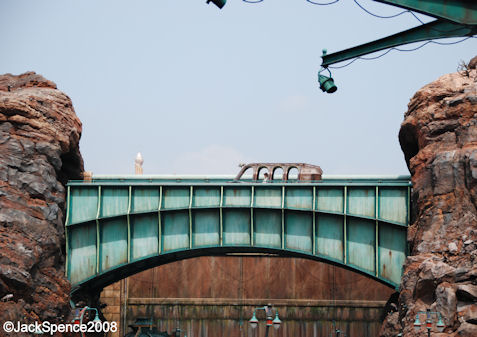 This is a must-see attraction. Lines can be very long during busy periods.
The other attraction in Mysterious Island is 20,000 Leagues Under the Sea.
The outdoor queue for this attraction is architecturally magnificent. You enter at the upper level of Mysterious Island and spiral your way down to sea level. Suspended from this structure is a miniature submarine – the type you will soon be boarding. On busy days, there is a secondary queue that passes by appropriate props and maps.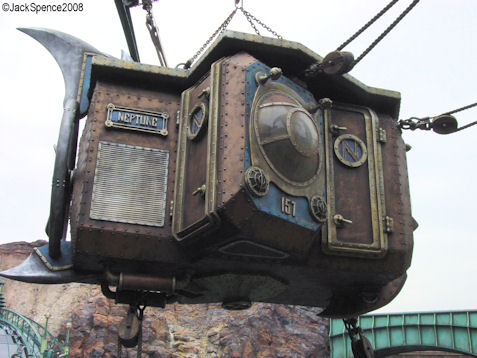 The mini-subs hold six people. Two people face out a window to the right, two face a window on the left, and two face a forward window. Definitely, the forward facing window offers the best view and it's worth requesting and waiting for. Also, the seats in these subs are small. Larger Americans might also want separate seats. In addition, the windows are low and anyone over 5'7″ will have to scrunch down to see out. In other words, it's cramped in here.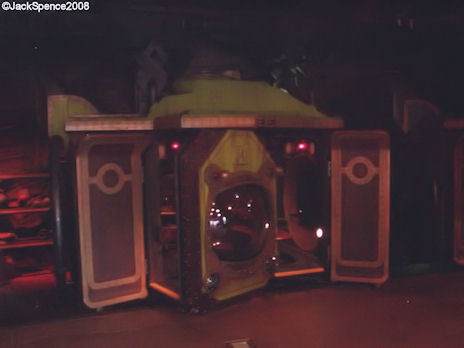 These subs are suspended from an overhead track (similar to the Peter Pan attraction) and they do not actually enter any water. But special effects built into the viewing windows make you believe you're actually descending and surfacing. Also, the track rises and falls along your journey adding to the illusion of submersion. Since there isn't any real water involved with this attraction, Disney has better control of the environment than its predecessors at Disneyland and Disney World.
Captain Nemo narrates your journey, entirely in Japanese. I'm sure I'm missing a few nuances, but here's the story as best as I can make out.
Your voyage begins peacefully enough. You see beds of kelp, coral, and a fish here and there. You also pass over a sunken ship. Then, in the distance, you see a large eye peering at you. As you get closer you discover it's a giant squid, intent on wreaking havoc on your sub. In order to repel your attacker, you electrify your vessel. As you do, you see the current spread across the ocean floor and eventually shock the monster.
Your sub continues on its journey, but is now dangerously low on power. As you approach the City of Atlantis, you start to see strange alien-like creatures staring at you from behind rocks and plants. You also start to see specks of light coming from crystals. Then you see the shadow of one of these creature swim by your sub, holding a crystal in his hands. You soon discover that these keepers of Atlantis are friendly and can use these mystical crystals to repower your sub and send you home.
Photos are not allowed on this attraction. And even if they were, it would be difficult to snap a good picture as the lighting is extremely low and your vehicle is moving at a steady clip.
The main eatery in this port is a restaurant called Vulcania. Built into the side of the crater, this is a buffeteria that serves Chinese cuisine. The interior of the restaurant is as spectacular as the rest of Mysterious Island and is designed to look like a geothermal power station that provides energy for Captain Nemo's base.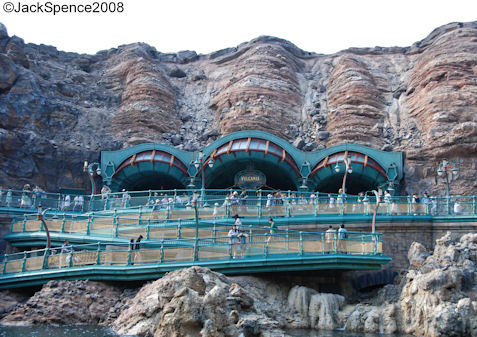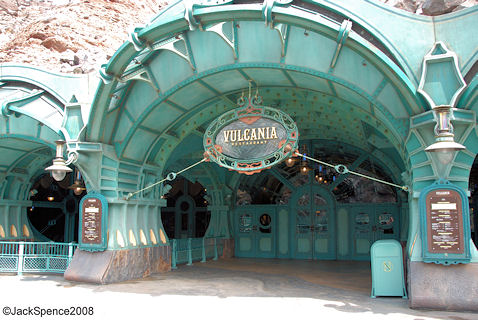 Lastly, there is a shop called Nautilus Gifts. Here you'll find souvenirs with a nautical or science-fiction theme.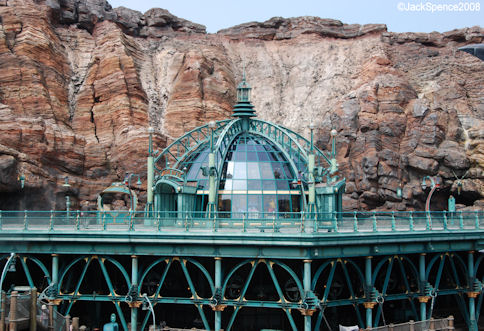 This is my last blog about Tokyo DisneySea. I hope you've enjoyed reading a little about this magnificent park. I know I enjoyed sharing it with you and I can't wait until my next trip – probably in another five to seven years. Sigh.
Next, I'll share some of the emails I have received from all of you and then I will move on to Tokyo Disneyland.