I can't believe how fast time goes by! I feel like I just finished writing my article on the 2007 Magic Meet Event, The Magic of Meets, and it's time to begin again.
All Ears is proud to be a sponsor of this year's Magic Meets event.
Planning for Magic Meets actually begins well over a year in advance. Fred is always working on something be it the hotel contract, or special guests, or new features.
For those of us who are Sponsors and/or Presenters, we also begin planning well in advance — we make notes of what worked and what didn't as well as enhancement ideas for the next year.
Planning began in earnest for me after the first of the year. Fred sent out requests for Break-out Topics and then I needed to consider what to talk about. My breakout last year on the Disney Cruise Line was very very well attended (standing room only) and some folks didn't get in. So, given the popularity I offered to do it again and Fred agreed.
In addition, last August I experienced an Adventures by Disney vacation and thought that would make a great breakout sessions too. MouseFanTravel President Beci Mahnken is co-presenting the talk with me which will be Sunday Morning.
Yes, this year Magic Meets begins on Friday evening and carrys into Sunday.
Friday night All Ears® is one of the co-sponsors for the Meet Before the Magic event. It's a social get together that allows folks to meet up and chat as well as get all registered and wrist-banded for Saturday! All Ears® is not only donating a Disney Gift Basket (approx retail value of $200) but has a great AllEars® coffee/tea mug for the first 100 attendees. MouseFanTravel and All Star Vacation Homes are the other co-sponsors. There will be "door prizes" and lots of fun to start off the weekend!!!
Here's a couple photos from last year's Friday Night Event: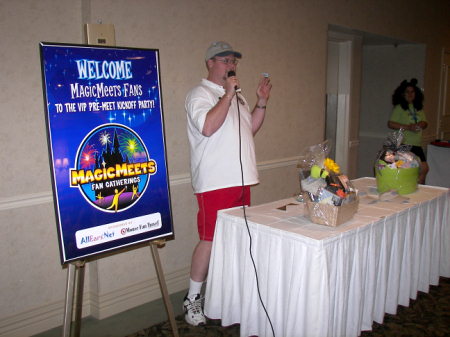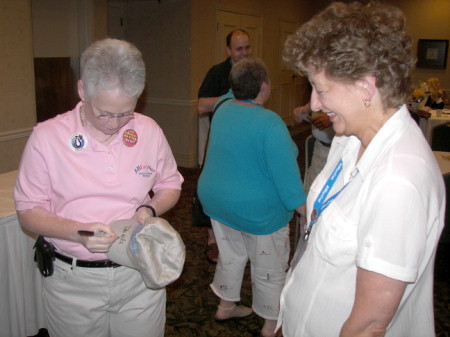 You can also read the Magic Meets news story on last year's Friday Night Event.
By popular demand, Sunday was officially added to the Magic Meets schedule this year. Last year was the first year for a Hershey Park Group Event and it was very well received. Some folks didn't want to go to Hershey Park and indicated they'd like something at the hotel on Sunday.
Fred responded and this year you could purchase breakfast and breakouts or the 2nd Annual Hershey Park Adventure. The Magic Meets group has the equivalent of Extra Magic Hour at Hershey park and can ride the new Fahrenheit coaster for one hour before the park opens.
Parallel to the planning for the breakouts and sponsor events is organizing the AllEars® table. This year a large contingent of the AllEars team will be attending and that will help out a great deal!!! You'll get to meet: Debbie Koma, LindaMac, Linda Lou, Mike Scopa, Anita (Andrea) Answer, Glo from Miami, Photo Bloggers Scott Thomas and Lisa Berton, Cathy Bock, Michelle Scribner-MacLean, Fred Block and our newest team member Erin Blackwell! Please stop by and say hello to these folks and thank them for all their hard work on the website and newsletter.
We've got a new banner to display over our table (so you can find us) and some new items for giveaways. We hope you like them.
Team All Ears® had a conference call earlier this week to make sure we were as organized as we could be for Magic Meets.
Ah.. I hear you asking why, if Magic Meets doesn't start until Friday night, does my Countdown say 5 Days to Go!
Well, it's because Magic Meet Presenters Shontell Crawford (DVCbyReSale.com) and Beci Mahnken (MouseFanTravel.com) will be arriving in the Washington DC area on Wednesday and staying with us, so for Linda Lou and myself… we have to have everything done by then!! So for us, Magic Meets begins next Wednesday!!!!
In the next blog I'll talk more about the planning process we go through to prepare for Magic Meets!