I ended my last blog with a photo of us being silly!
Ok, where was I?
We composed ourselves and headed over to the Hollywood Pictures Backlot area. It's time to go see Monster's Inc! It was one of the few "must sees" I had on my list for California Adventure.
I loved everything about this attraction. The themeing at the entrance was awesome!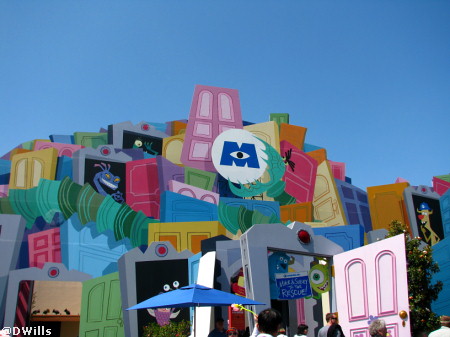 Ann decided to do her impersonation of Roz… what do you think?
Plus, there was a great photo op there as well!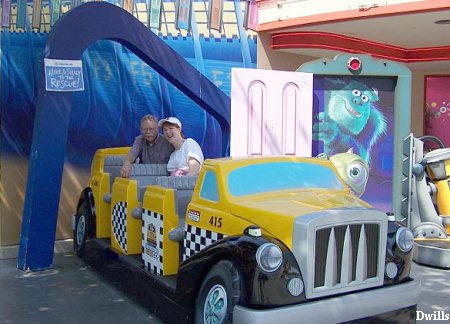 I think there is something to say about not reading much about attractions before you go on them. I honestly don't know if or what I had read about Monsters, Inc, but let me say it was awesome! The themeing was SO well done, kudos to the Imagineers who worked on this attraction. The attention to detail was ever present, the ride followed the storyline fairly well an it was one of my favorite parts of my Disneyland Resort experience!
After our ride with Mike, Sully, and Boo, LindaMac wanted to ride California Screaming! It had been down earlier in the day but she spotted it running. So off she went!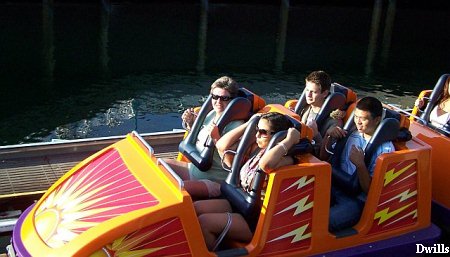 She was SO excited when she got off the ride. We gave her a huge round of applause for being… er braver.. yea, that's it, braver than the rest of us!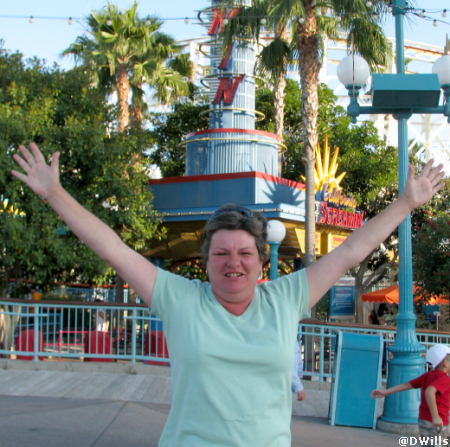 We walked past the Golden Vine Winery and well, had to relax with good friends and a glass of wine.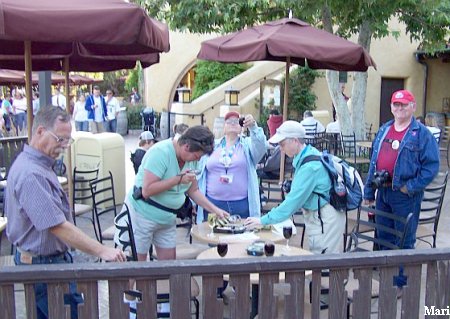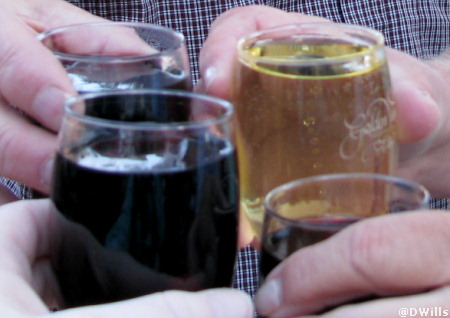 After a brief rest, we soon found ourselves at the west coast Tower of Terror.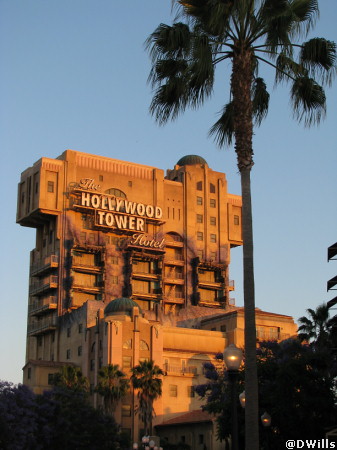 Since we were in the Hollywood Section and the park would be closing in about an hour, we decided to revist the friendly monsters….
We had two fantastic rides and really turned into children. The attraction was pretty empty so we quickly exited and got right back on the ride.
We were headed out of the park and found ourselves inside the amazing Disney Animation Building. We had missed the final showing of the day of Turtle Talk but found plenty to amuse ourselves with. We practically had the whole place to ourselves.
I couldn't really get a good photo of the main area that you walk into….but there are several very large movie screens with Disney animated features playing.
Soon, we were face to face with the Mirror!!!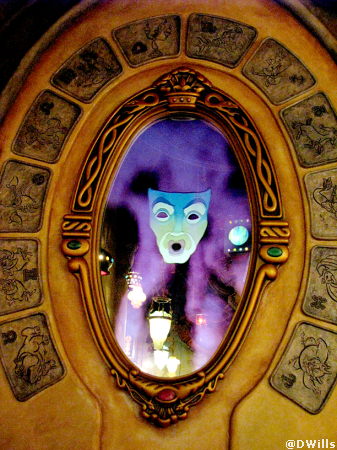 Next Beast's Library where Lumiere helped us discover what Disney character LindaMac is!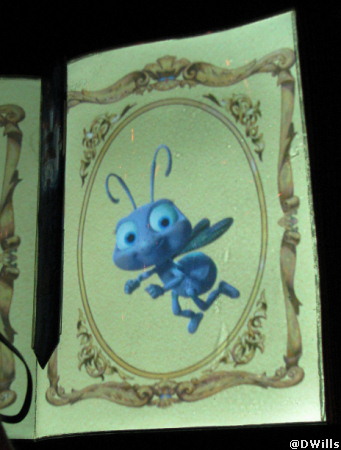 One final glimpse of Disney's Calfornia Adventure!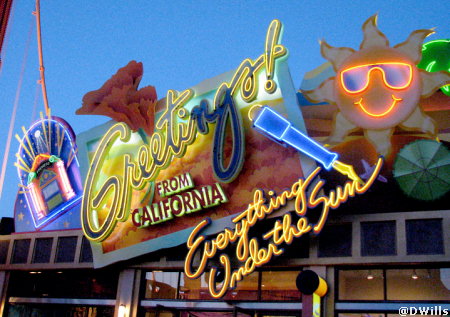 Across the way, Disneyland was still open. Being my last night, I wanted to see everything I could so in we went. We rode Indiana Jones one last time…a favorite of all of us. And soon, Disneyland was going to close too.
Walt and Mickey said "See You Real Soon"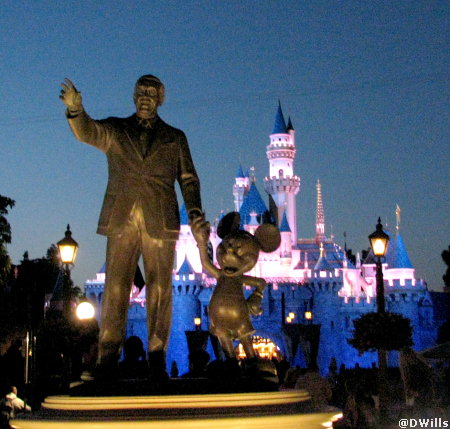 As we headed back to the Grand Californian, we all knew this wonderful day was coming to a close. Raleigh and I recalled some of the days highlights.
All good things must come to an end and my trip was quickly coming to a close.
I said goodbye to my dear friends Mari and Raleigh and hoped I'd see them again soon.
My ride to the airport was picking me up at 9:30, so LindaMac, George, Ann and I decided to have one last breakfast together – the character meal at Storytellers!
Characters were fun and there were lots of them. Chip and Dale, Timon, Terk, Brother Bear, Meeko.
We had barely sat down when Meeko came running over to me with an Autograph Book. I wasn't sure at first what was going on and then realized he, umm, borrowed it from a young girl at a nearby table! Soon as I realized what he had done, I got right into the fun and gave him a hard time for taking away her shiney book!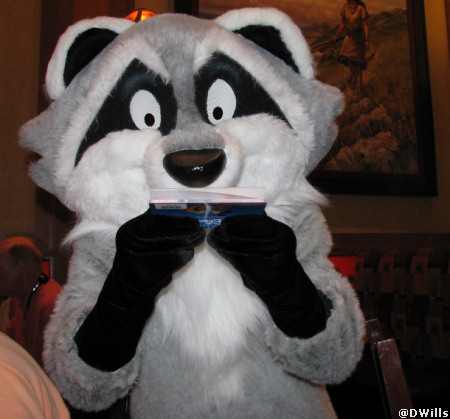 The food was super..best omelet of my whole vacation I think!!!!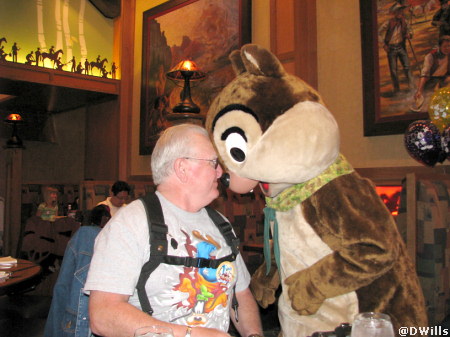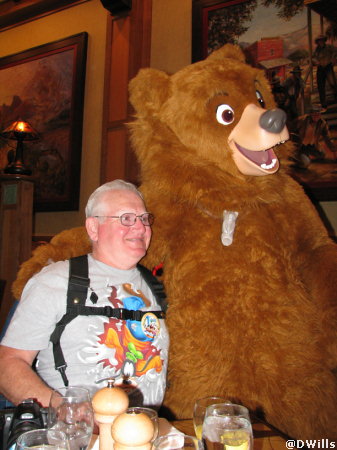 We had an incredible server who was always at the table getting something or refilling something. She was great fun too!
Overall a great experience! I highly recommend!
As I rode to the airport I reflected back on the last 3 weeks. A trip that began by flying out of Maryland and into Orlando. I visited several countries, crossed the Panama Canal, and docked in Los Angeles. What an amazing amazing experience. How fortunate I am to experience so many incredible adventures. I never dreamed, even 10 years ago, I would travel to the places I have visited.
To all of you who have followed my blog of this journey through the Panama Canal. Thank you. I hope that you enjoyed my narration and the photos. I enjoyed sharing it with you!
To all the people I met along the way, including those I traveled with, thank you for making this another amazing journey of discovery, imagination, wonder and friendship. I look forward to future adventures.
Til next time…..
Follow my Panama Canal Cruise and Disneyland Blogs. Beginning entries at the top, for most recent entries scroll down.
Deb