Next year, a brand NEW Disney Cruise Line ship, the Disney Wish, will set sail!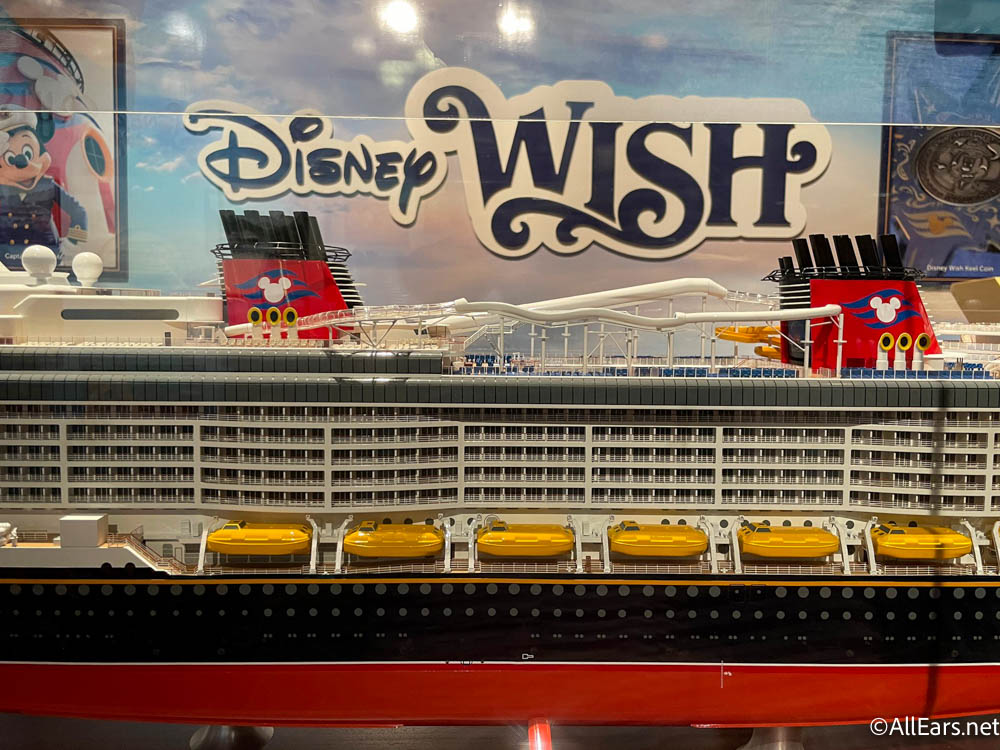 We've shared details about the beautiful staterooms you'll find on the ship, the cruise line's first attraction at sea, and more. But, now we've got some exciting new details about rare characters and more amazing details you'll be able to see on Disney's newest ship.
Recently, we had the chance to attend a special media event all about the Disney Wish. During that media event, we learned about some amazing details and unique characters coming to some of the ship's NEW dining experiences. Let's dive into the details now!
1923
We'll start at 1923, the NEW restaurant about the Disney Wish that is inspired by the evolution of Disney animation and the founding of The Walt Disney Company. The restaurant will feature 2 different dining spaces (a Disney Cruise Line first), named appropriately after Walt and Roy Disney.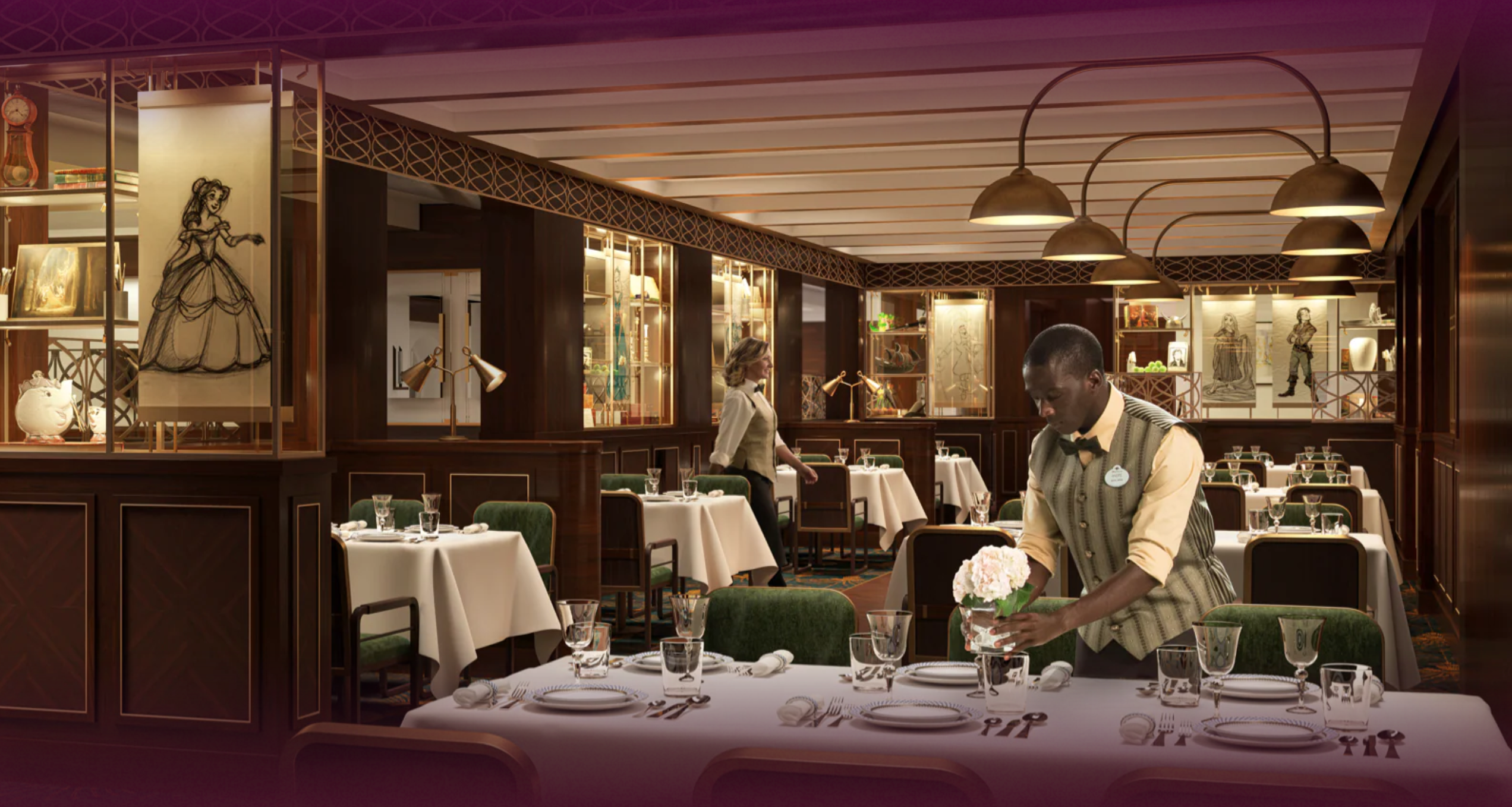 Overall, the space has a very elegant feel. As Imagineer Sachi Handke put it,
"we want you to feel classy dining there, like you might turn your head and there is Walt Disney sitting right next to you."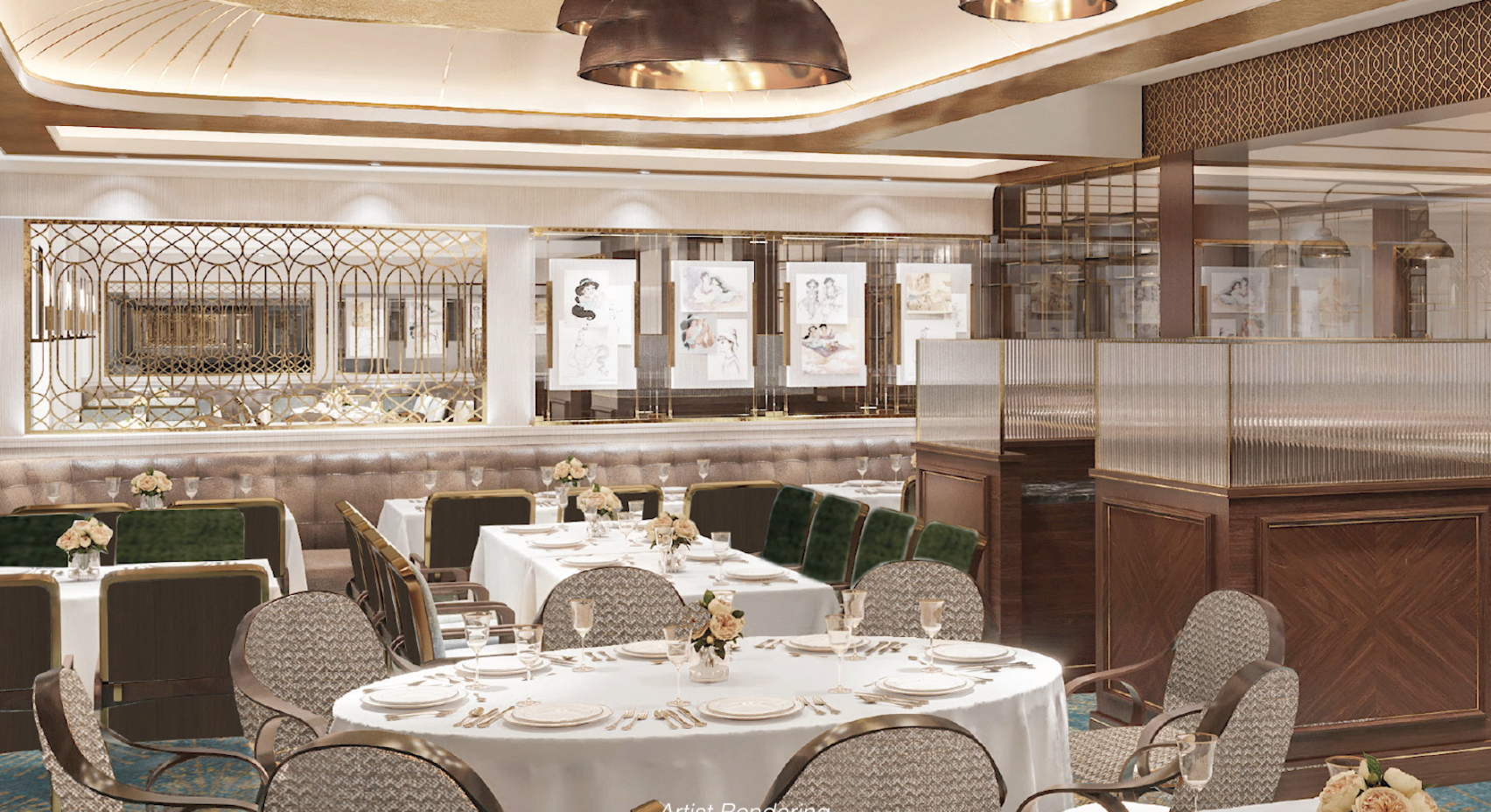 Throughout the space, there are literally over a THOUSAND things to look at. The restaurant will feature more than 1,000 drawings, props, and more, all inspired by Disney animation.
Disney Cruise Line shared that 1923 will have:
Nearly 800 pieces of artwork
24 multiplane cel set-ups
50 character maquettes
and custom-made props based on original items used in the animation process.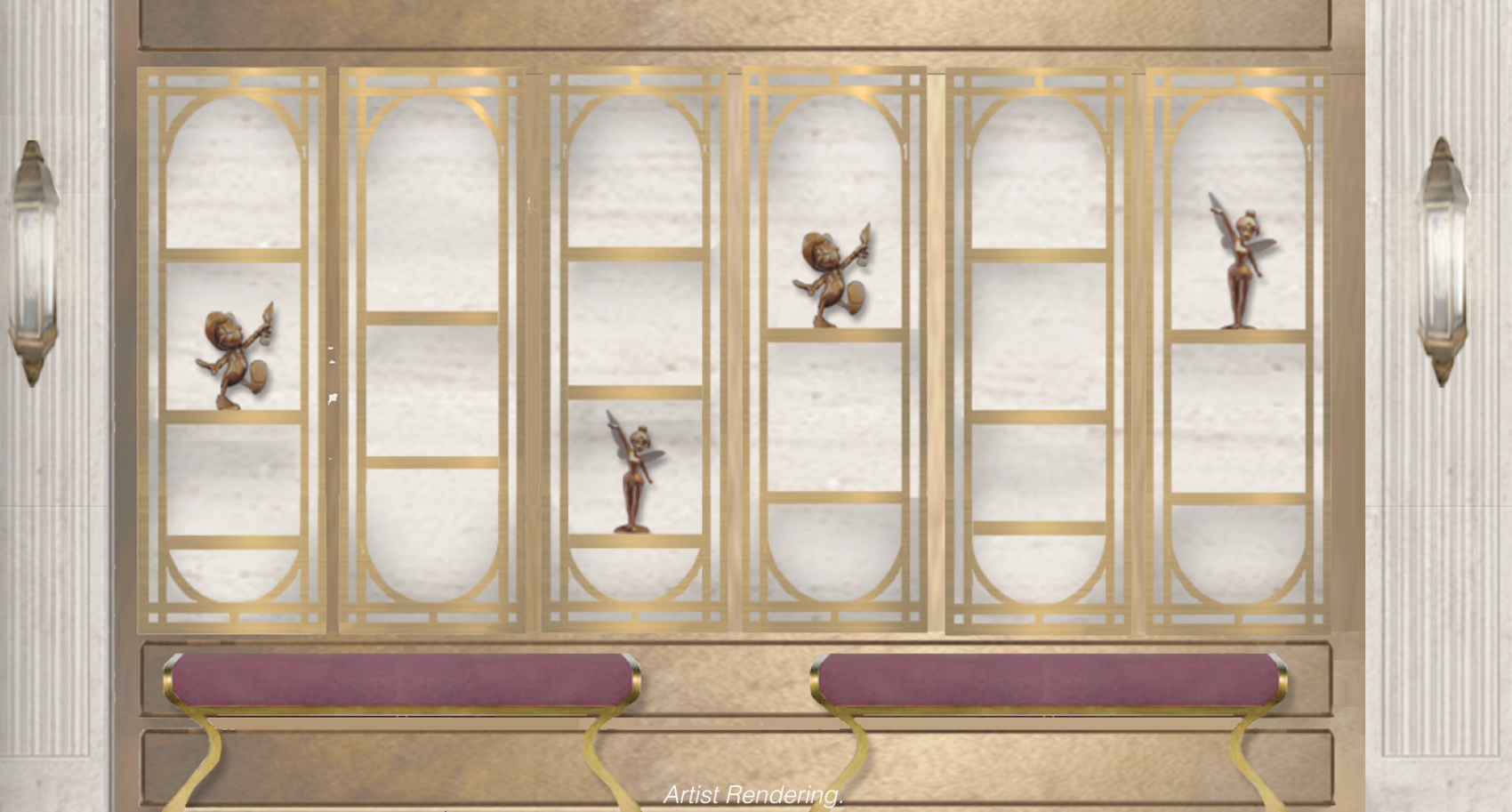 What are some of the items you might see in the restaurant? Well, if you look carefully you might find reproductions of the storybooks featured at the beginning of some Disney animated films, as well as items inspired by Tangled, Beauty and the Beast…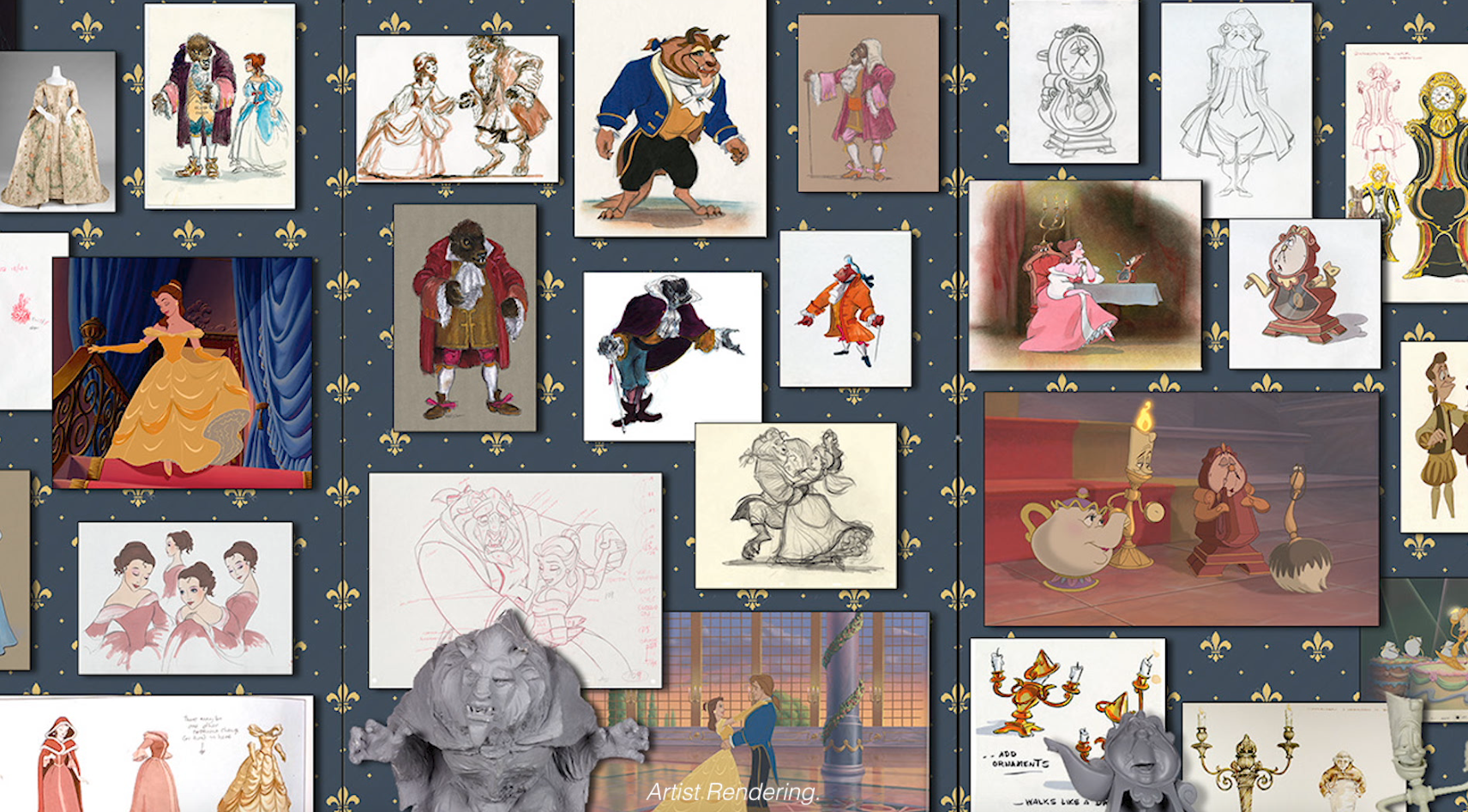 …Frozen 2…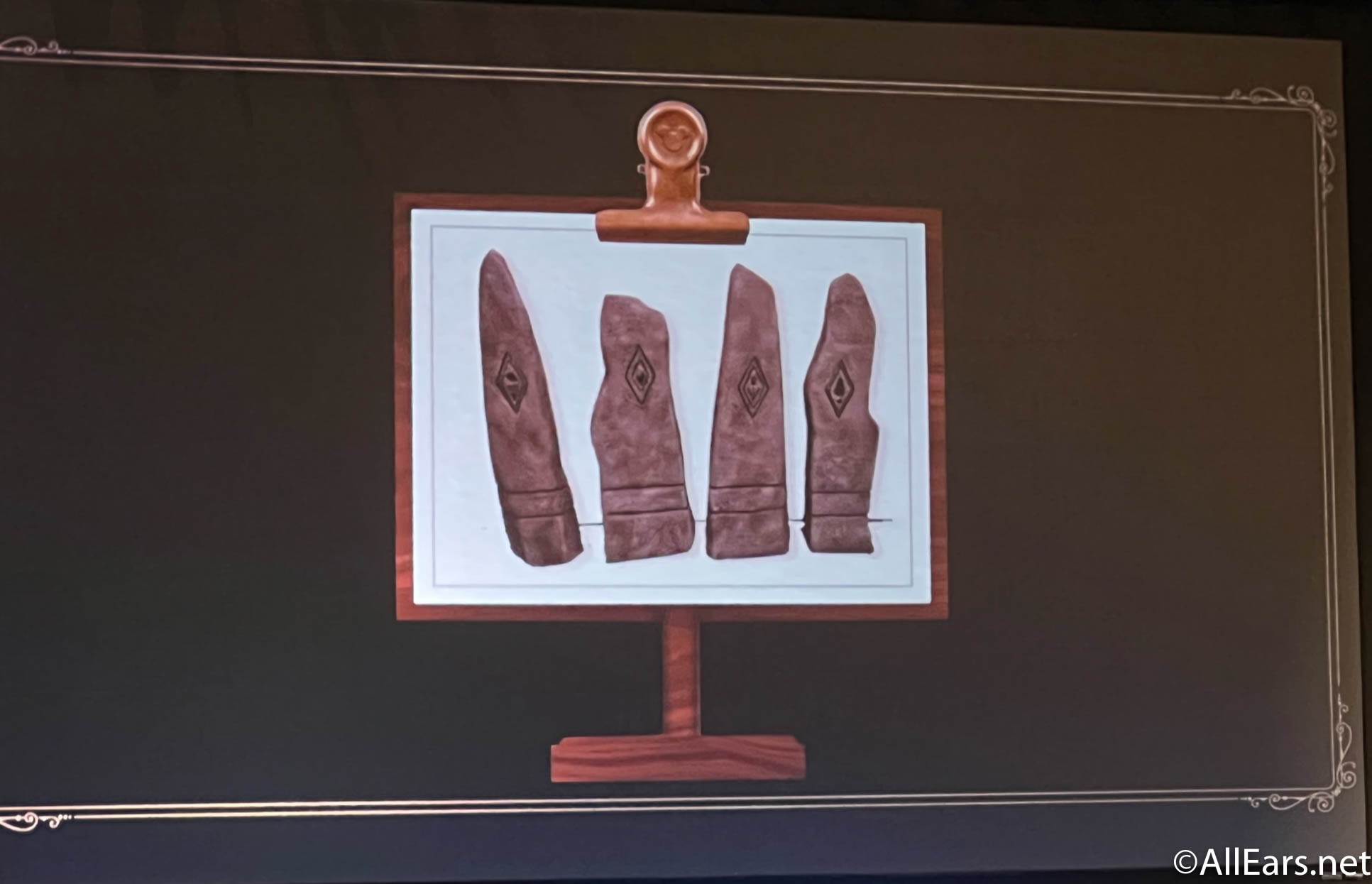 …and more. There will even be images and props inspired by the canoe Moana uses and the figure of Bambi used for reference when animating the film.
In fact, you'll see 16 specific Disney films represented in this space, each of which was chosen for its representation of the themes of wish fulfillment and magic. The movies that will be featured throughout this space are:
Snow White and the Seven Dwarfs
The Sword in the Stone
Beauty and the Beast
The Princess and the Frog
Bambi
Fantasia
Tangled
Moana
Cinderella
Frozen
Peter Pan
Sleeping Beauty
Pinocchio
Frozen 2
Alice in Wonderland
The Little Mermaid 
These movies fit the ship's overall theme of "enchantment." If you're a fan of hunting for hidden details, we have a feeling you're going to LOVE eating in this space.
Speaking of the space, during the media event we got the chance to see the table set-ups and Cast Member costumes for 1923. The costumes themselves are very elegant and simple.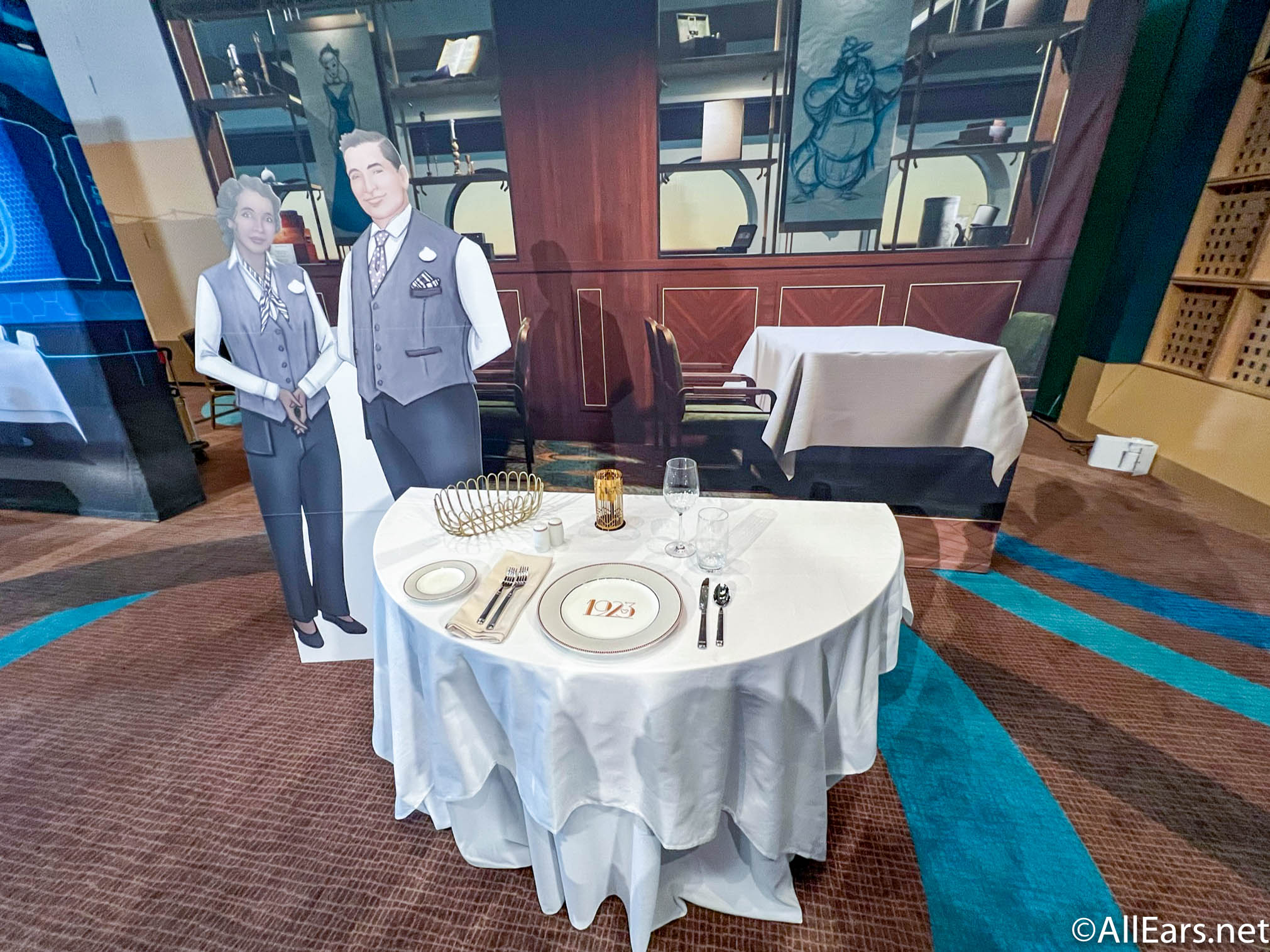 The table settings are quite classy, with golds and silvers all throughout.
But, there are also some fun touches like that Mickey on the plate!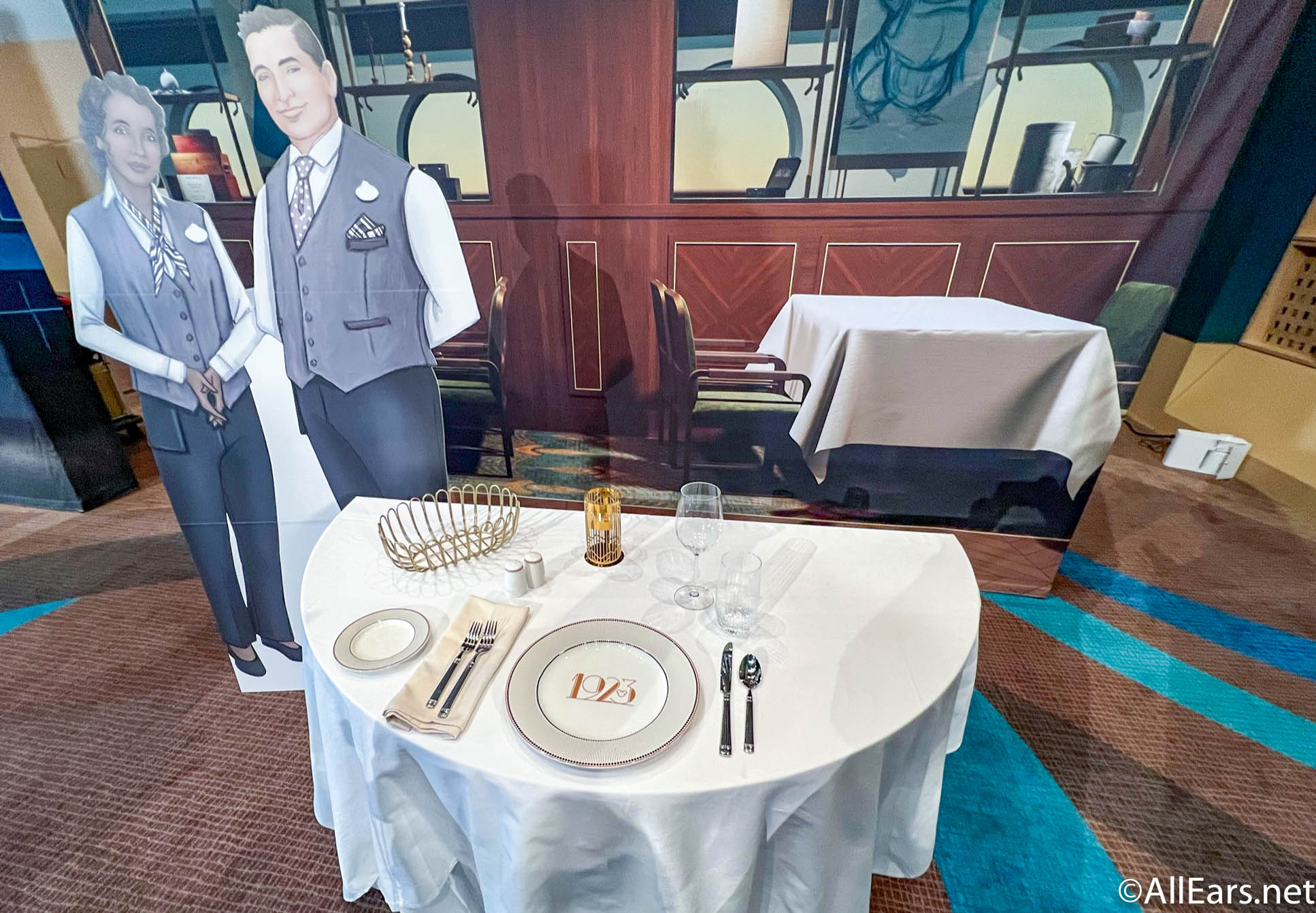 In terms of cuisine, the spot will offer dishes inspired by California and its blend of Asian, European, and South American cuisines. Fresh produce, like honey and pistachios, will be featured, along with Napa Valley wines.
Overall, it seems animation falls will have quite the ball sitting and just looking around this space, while enjoying a sophisticated meal.
Arendelle: A Frozen Dining Adventure
Next, it's time to take a look at Arendelle: A Frozen Dining Adventure. This restaurant picks up right after Frozen 2 with an engagement party for Anna and Kristoff in Arendelle's castle.
As you walk into the space, you'll be greeted by an entryway covered in Frozen details. The Disney team went through all of the Frozen films and pulled out all kinds of details for fans to enjoy.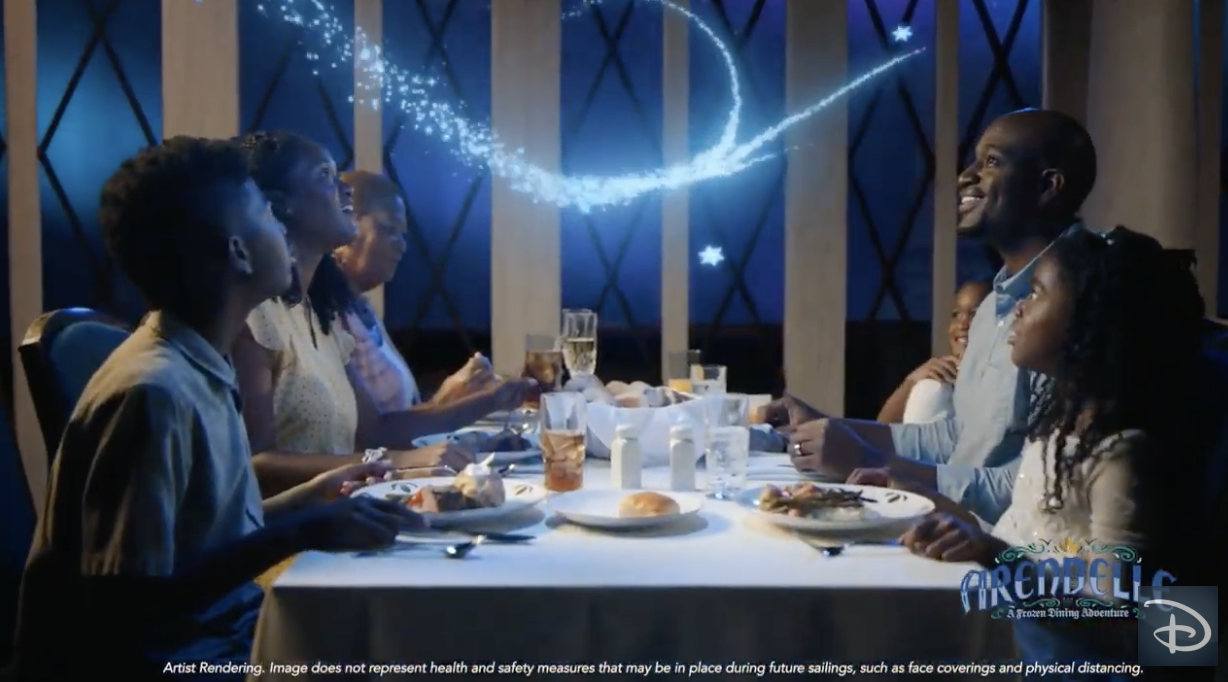 In this new restaurant, you'll see busts of Anna and Elsa, wallpaper reminiscent of that used in the castle, family heirlooms and paintings, an Arendelle soldier's sit of armor, the grandfather clock featured in the first Frozen movie, busts that Anna interacted with in the film, and even light fixtures inspired by the movies.
And be sure to look for the lantern from Olaf's Frozen Adventure too!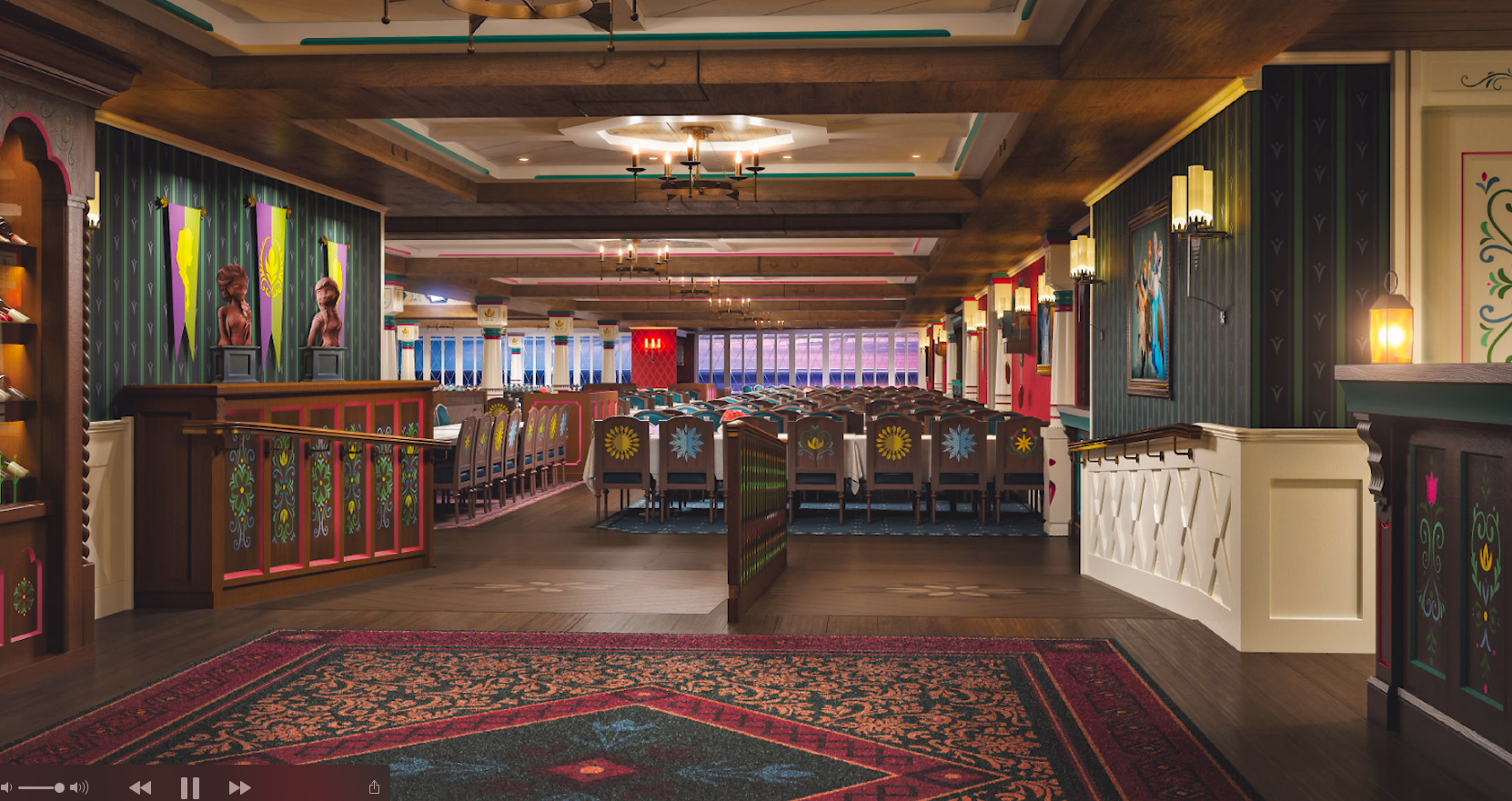 Once you step inside, you'll find a dining room structured as a theater in the round, so everyone can enjoy a view of the action going on in the center.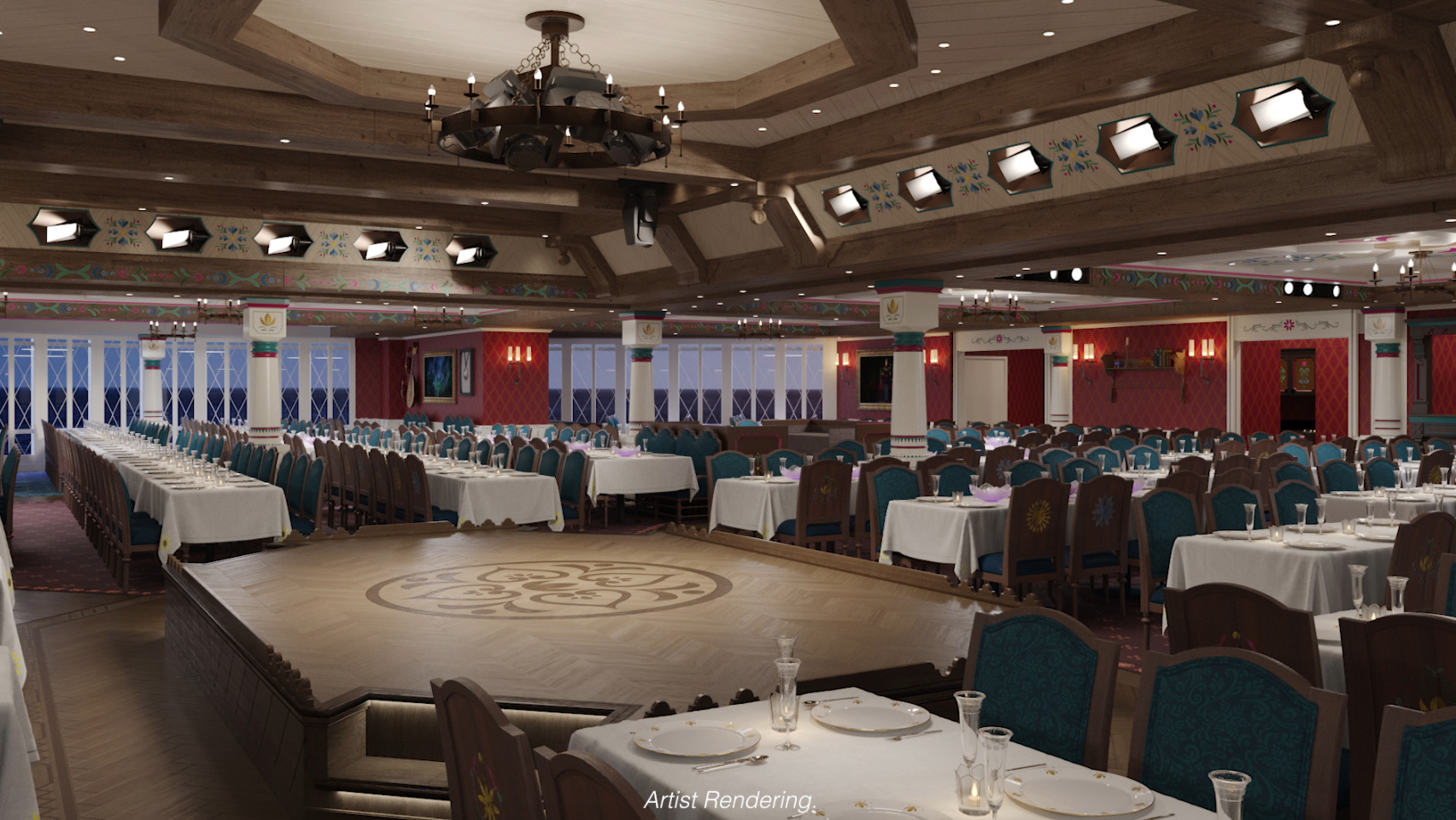 Speaking of action, Arendelle will feature a lot of fun entertainment, including performances from Elsa, Anna, Kristoff, and Olaf, as well as a troupe of "local" musicians who "specialize in Nordic renditions of familiar Frozen songs."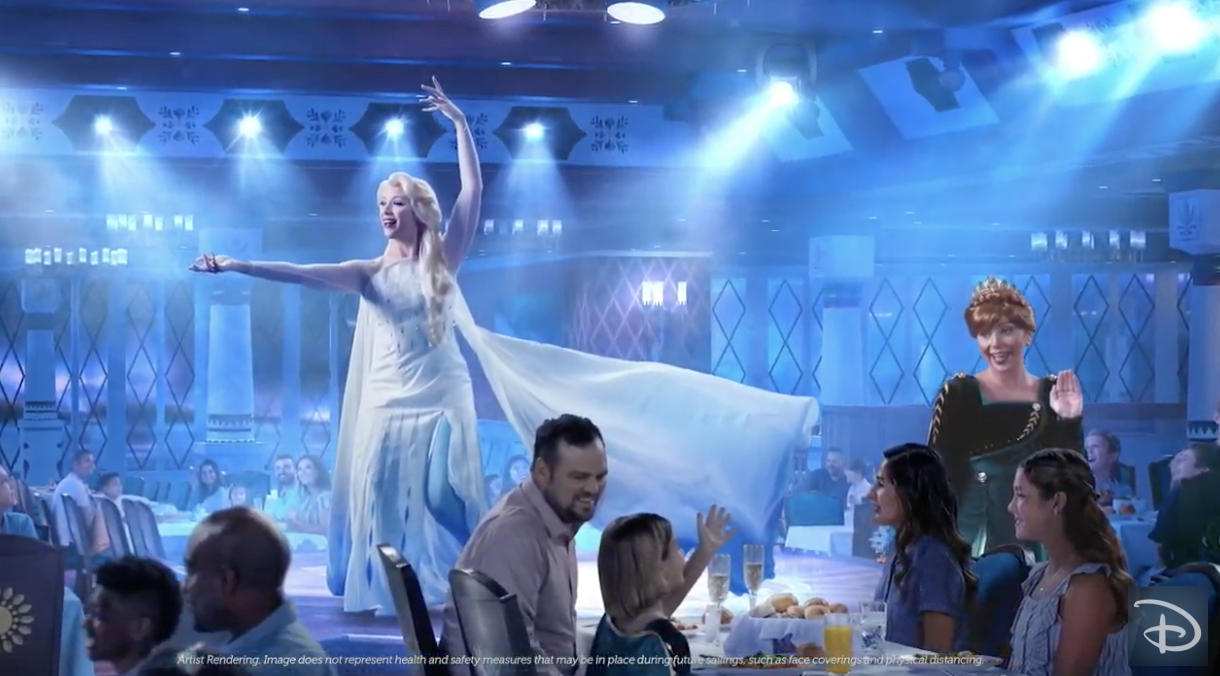 During the recent media event, we got some BIG news about 2 extra special characters Frozen fans will get to see at this new spot. First up, as we mentioned, fans will get to say "hello" to their favorite snowman, Olaf. But, it'll be a very special version of Olaf.
At Arendelle, Olaf will actually visit individual tables in the form of a special, interactive animatronic!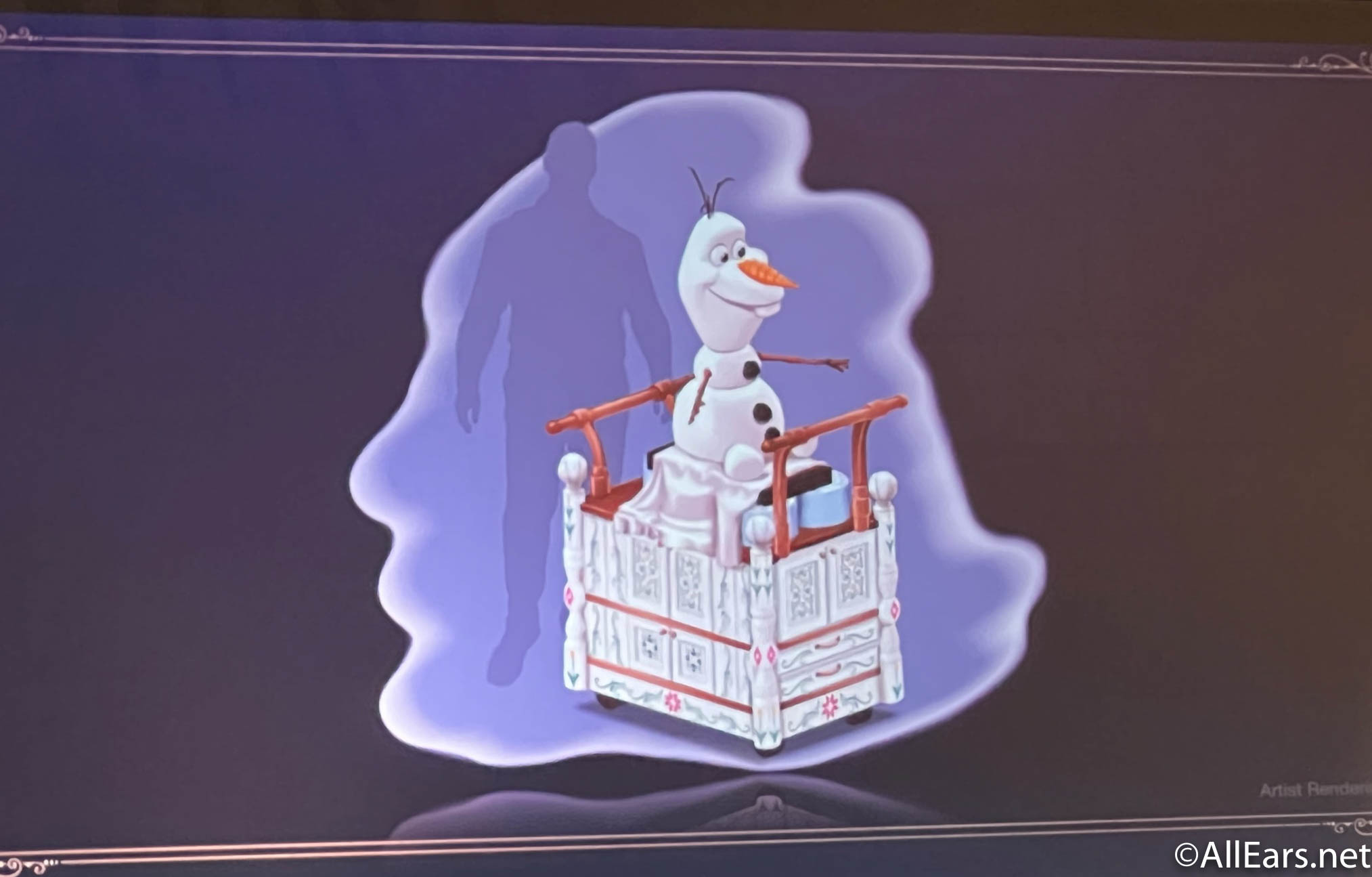 Olaf won't be alone though. For the first time (in forever), Oaken will actually appear as an in-person character on Disney Cruise Line! Oaken is actually the emcee for the engagement party overall, and he and his Hearty Party Planning Service crew have catered the event.
It seems Oaken wants to make sure everyone is having a good time so he will accompany Olaf with his crew, chat with guests at their tables, and give a friendly "yoo hoo!" to everyone.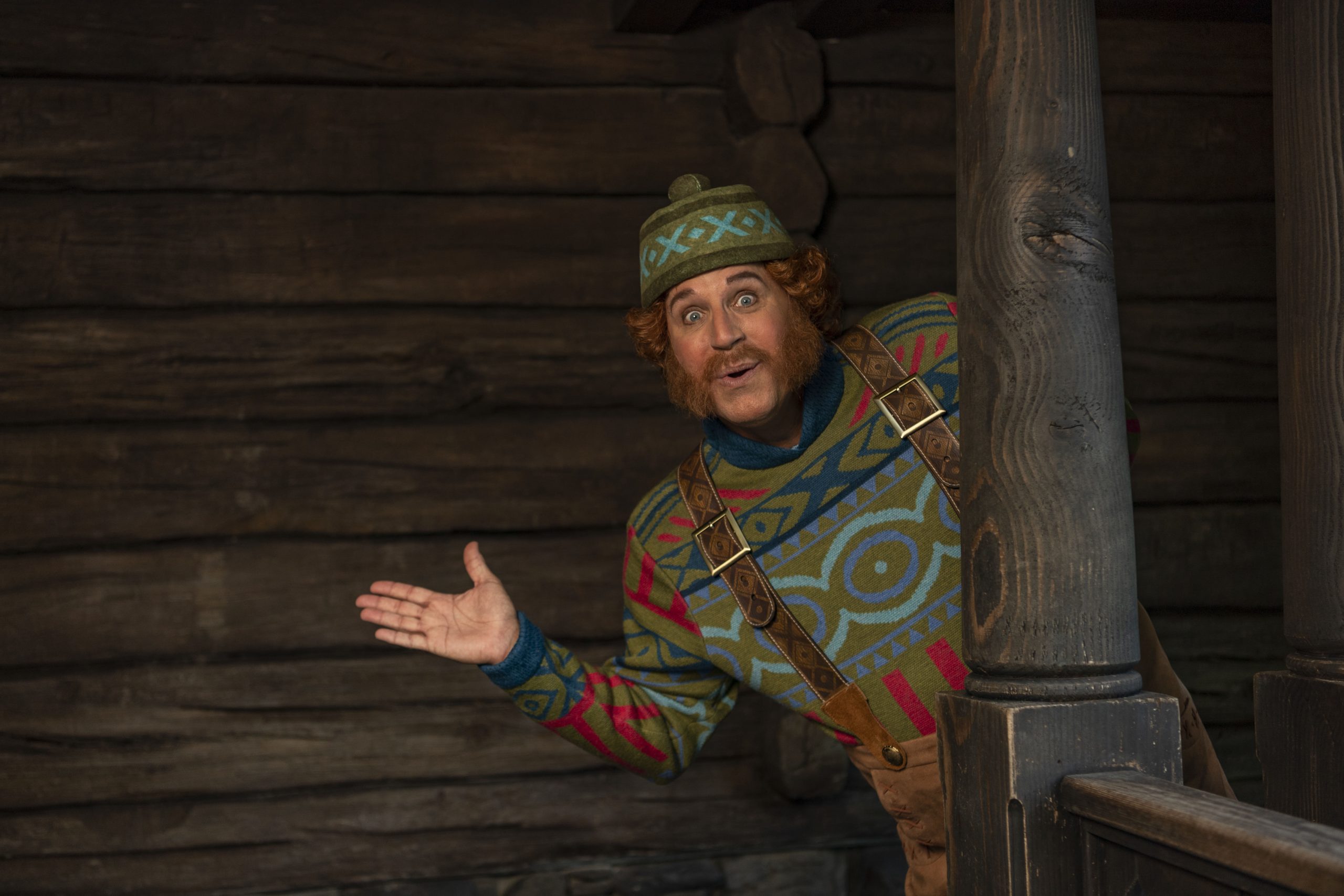 In terms of other activities, fans can look forward to participating in a little parade during the dining experience, and you'll want to look out for all of those special effects that will make Elsa's magic "come to life."
When it comes to the dining experience overall, it is meant to be interactive and immersive. So, Disney shared that the servers here (while they will certainly be accessible and able to help) are not meant to interrupt the meal as much as they might at other spots. Instead, things like salt and pepper will be available on the table so you don't have to stop your experience to ask for them. And the servers will blend more into the show.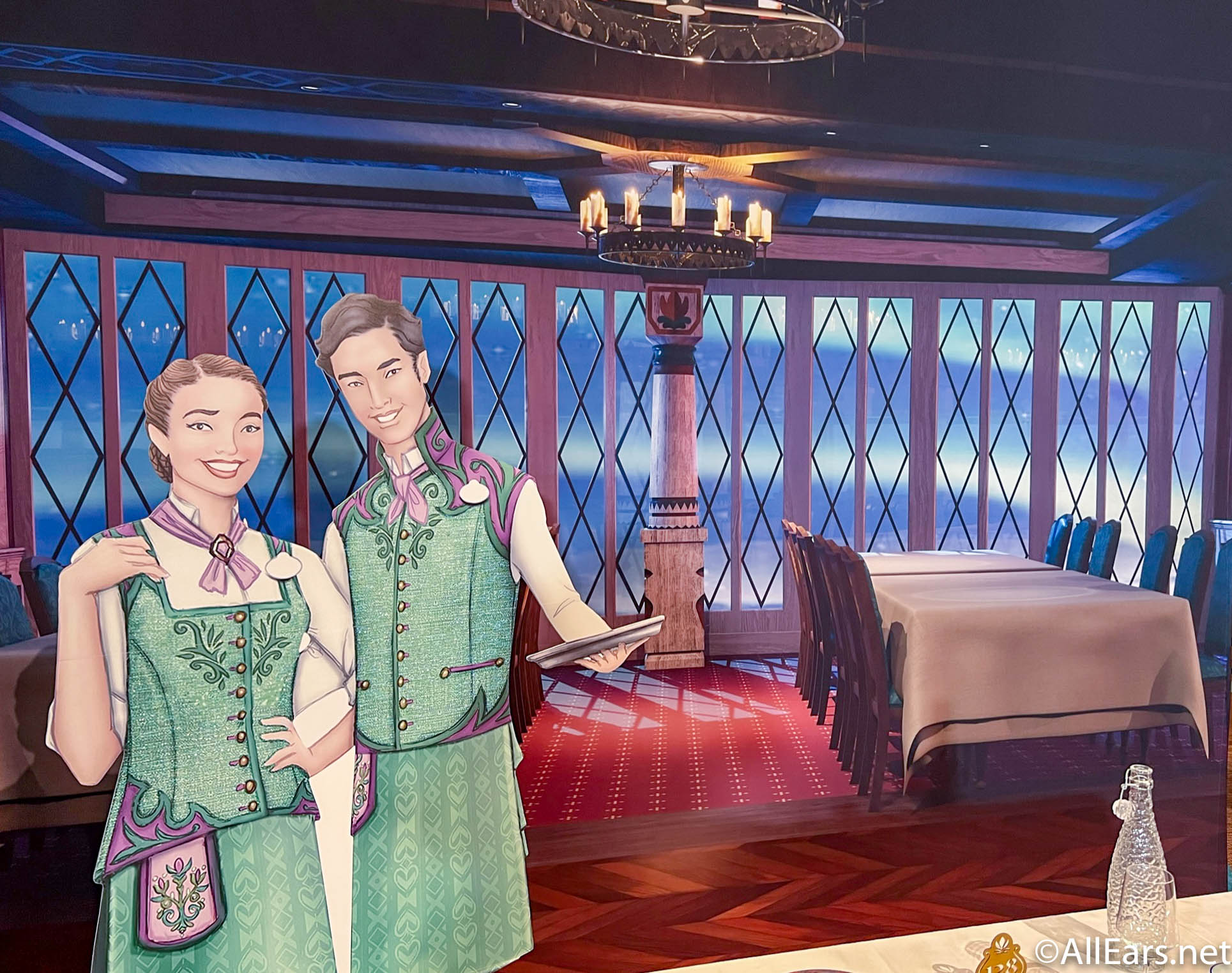 In terms of the food, the menu itself is inspired by various places including Norway, Germany, and Estonia. The dishes will include a variety of fish and seafood options, some game choices, unique liqueurs and more. The Disney team even traveled to Norway and Denmark to research the types of food that would best fit this location.
The menu will also be representative of the seasons, with both dishes representing summer (lighter options) and dishes representing winter (saucier options) available for guests to pick from. Disney has also shared that the kids' menu will be highly interactive.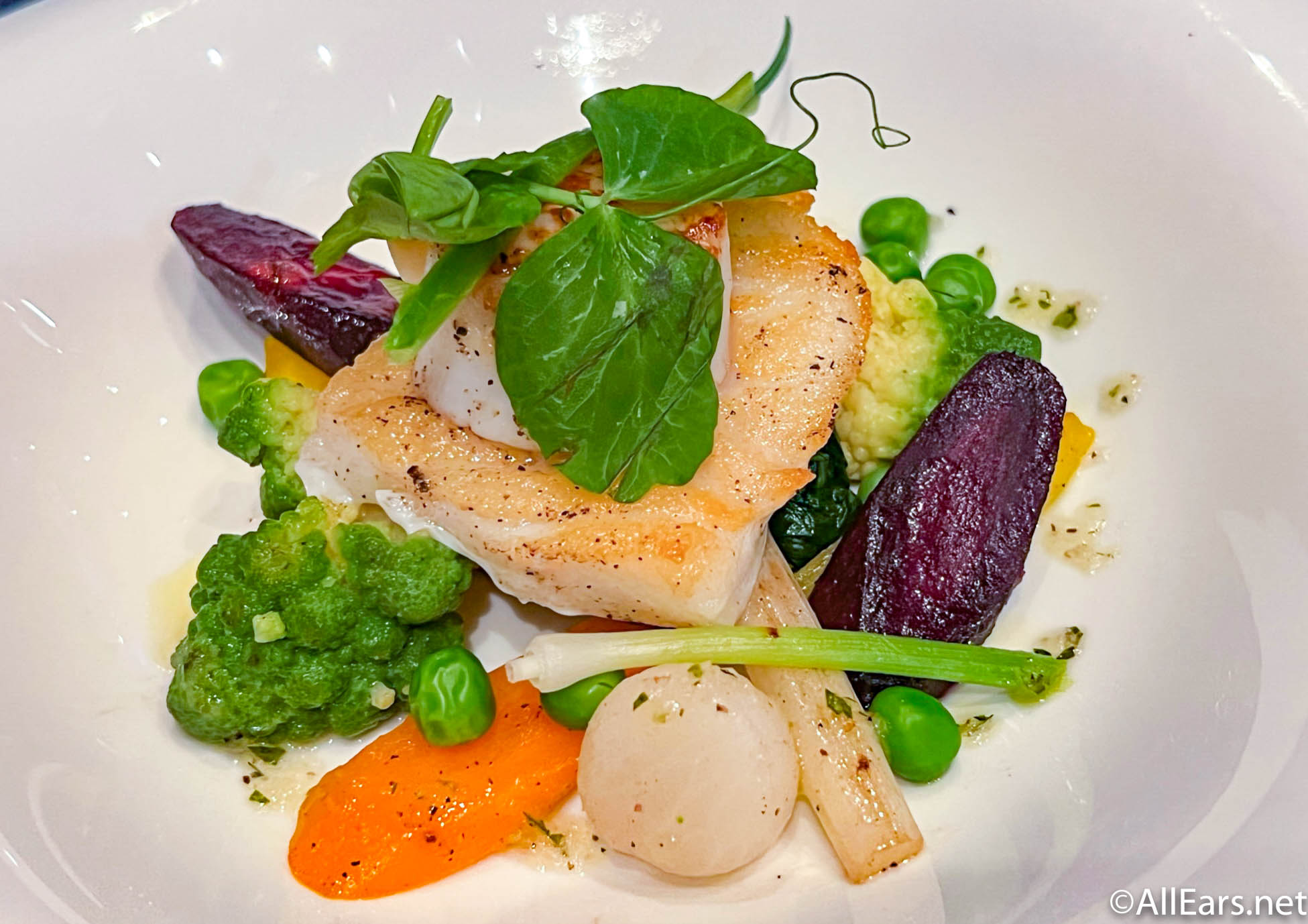 And if you're looking for something unique, you'll be able to get a mead vinaigrette poured table side!
Speaking of tables, during our media event, we got a special look at the table settings that are going to be used in this space. The plates and part of the napkins feature flowers and other designs that feel very similar to what you might have seen Anna or Elsa wearing in the films.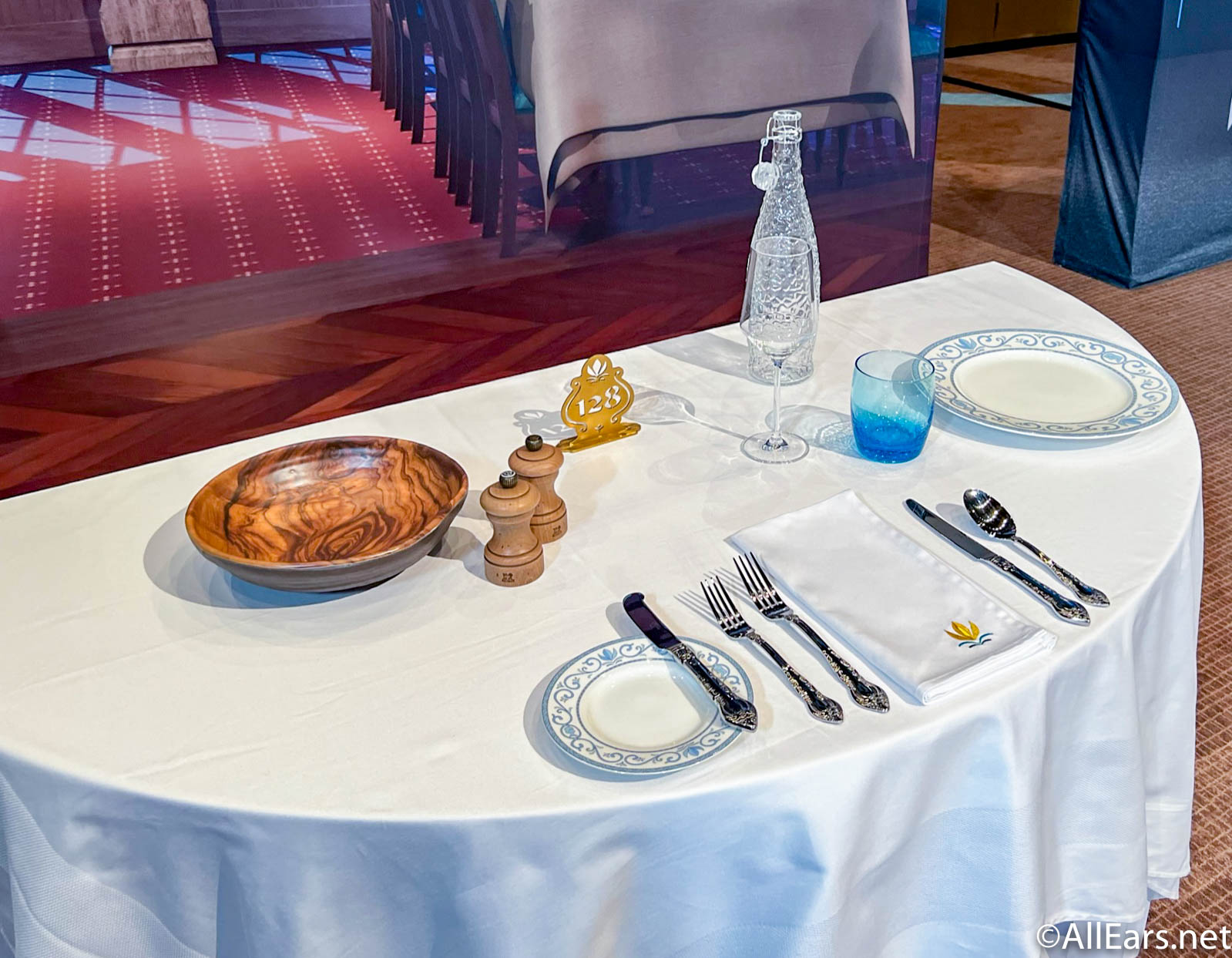 Look closely at the plates and you'll also find silhouettes of Anna and Elsa built into the design!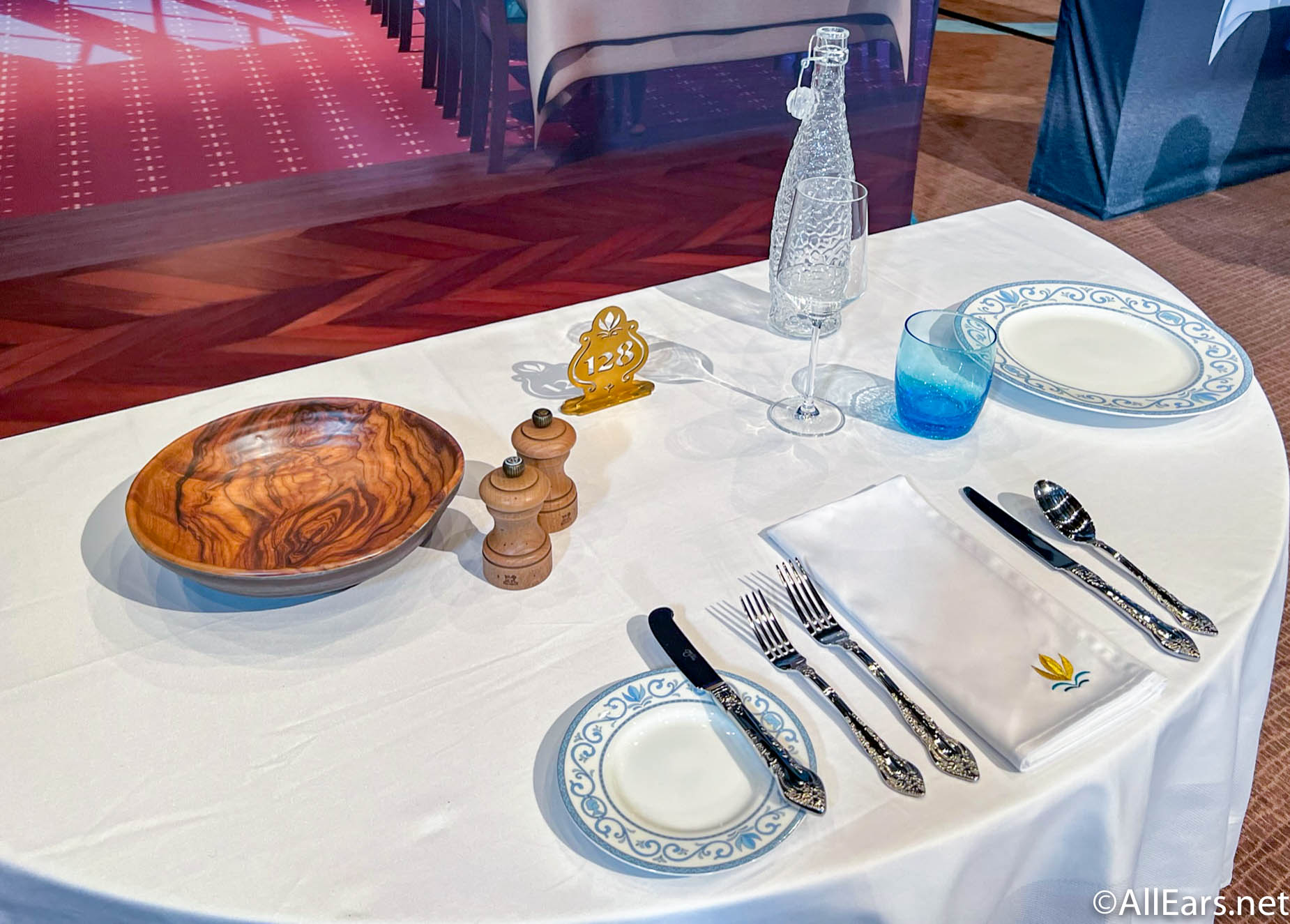 In terms of Cast Member costumes, we've shared a look at these before, but the costumes feature more of those flowers and patterns reminiscent of what what shown in the movie, in more green and purple colors.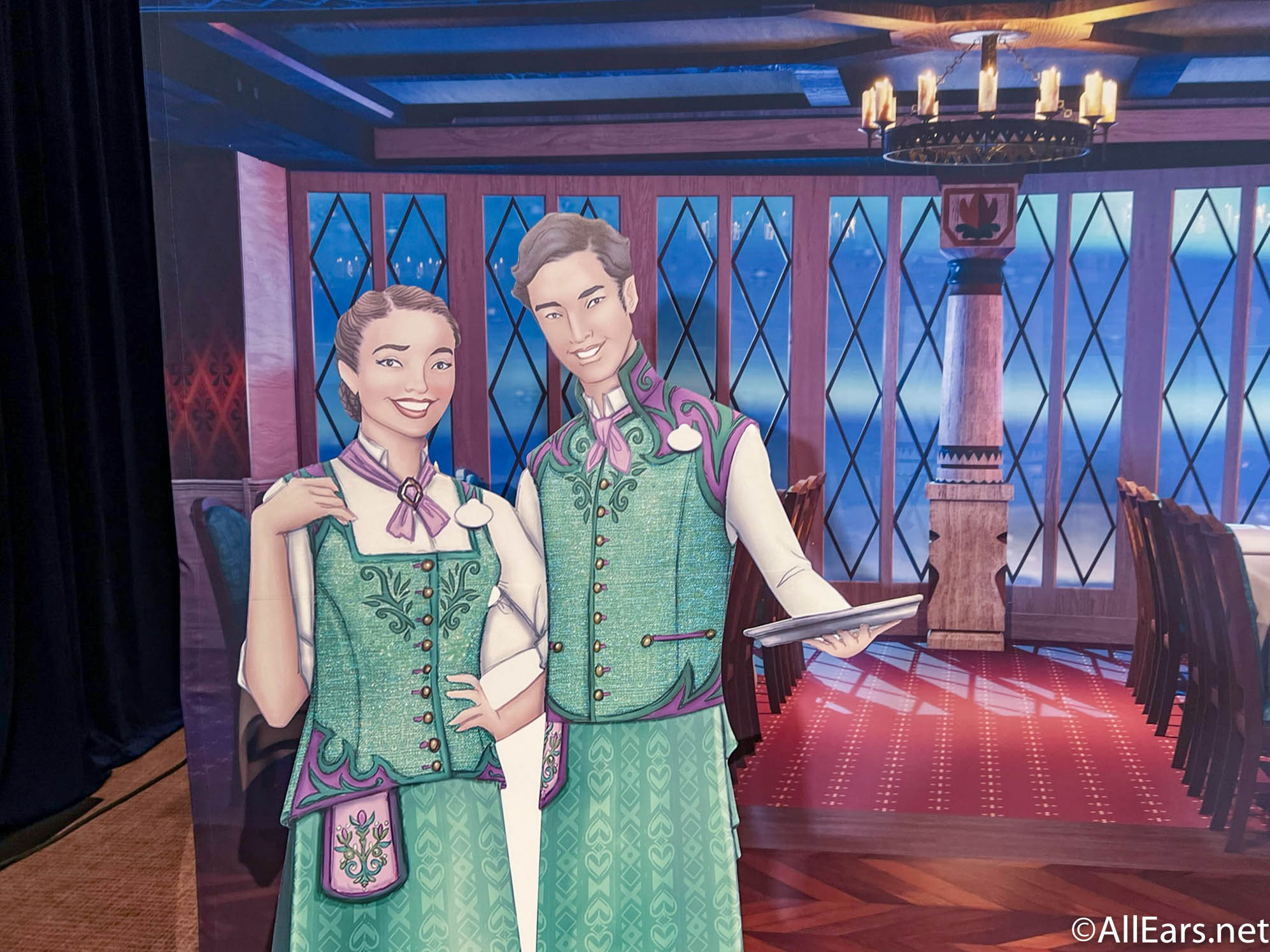 Sounds like Frozen fans will have a lot to look forward to in this brand new space. We'll be on the lookout for more news about this spot and we'll be sure to share those updates with you!
Which of these restaurants would you most like to eat at? Tell us in the comments!
Join the AllEars.net Newsletter to stay on top of ALL the breaking Disney News! You'll also get access to AllEars tips, reviews, trivia, and MORE! Click here to Subscribe!

Disclosure: We were invited by Disney Cruise Line to attend a media preview of the new restaurants coming to the Disney Wish. This did not affect our reporting of the event — our opinions are our own.