Although we're still waiting for Disney Cruise Line to resume operations, we've had some big news regarding the newest ship in Disney's fleet, the Disney Wish.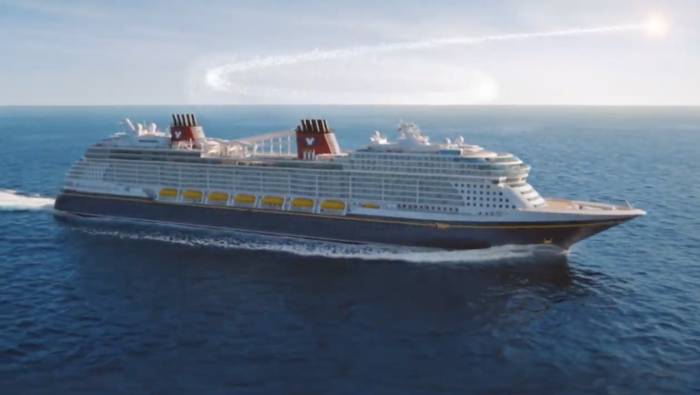 And with everything we've learned about the ship, we now know it's going to be one of a kind.
Disney is doing things with the Wish it's never done before.
The Disney Wish is unlike any cruise ship we've ever seen before, and we're really excited. Here's how it's going to blow other cruise ships out of the water (pun intended).
Atrium
The atrium of the Disney Wish is going to be quite spectacular with its silver, gold, and champagne decor. The grand staircase is…well…grand, and at the bottom sits a golden statue of Cinderella. Even the chandelier that hangs above the atrium is awe-inspiring.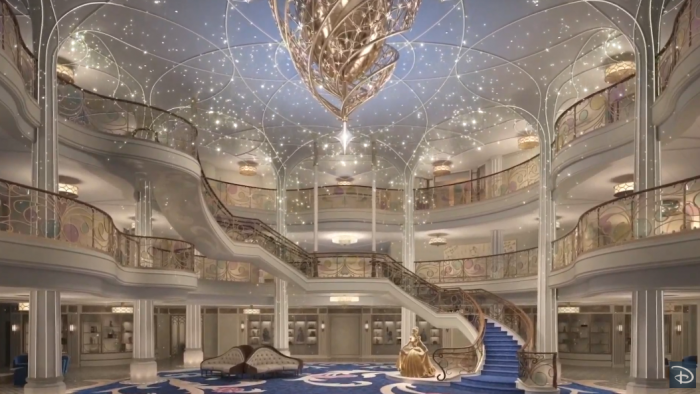 Perhaps what sets this atrium apart from all others, though, is that it has its own stage where guests will see random theatrical performances throughout the day.
But we can't mention the stage without talking about the stage's lighting. Disney Imagineers have set it up to look different at night than during the day.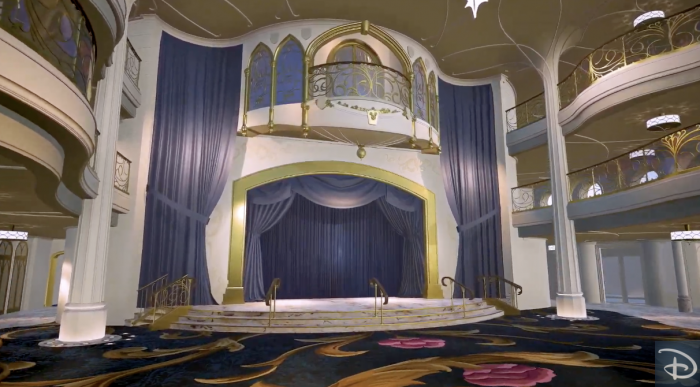 And we already know how great Disney is at special effects, so you know it's going to be a magnificent transformation when day becomes night and vice versa.
AquaMouse
Disney is doing something that's never done before — it's adding an actual attraction (aka a ride) to the Disney Wish! This ride is the AquaMouse, which will take guests into the world of Mickey Mouse cartoons with lighting and special effects.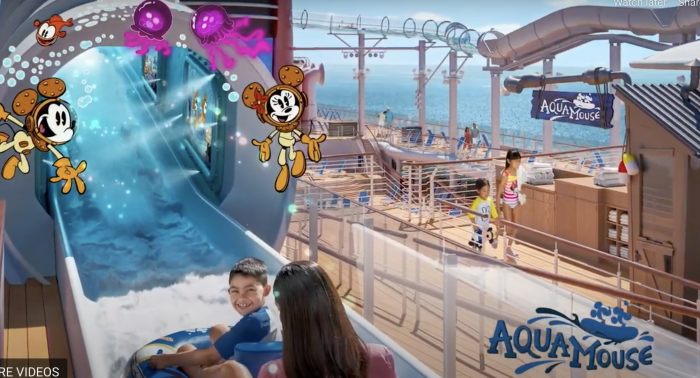 But this isn't just some quick thrill either — the water ride will take guests 760 feet around the Wish's upper deck.
Marvel Superhero Academy for Kids
We're pretty sure there's no other cruise ship where kids can go to a Marvel Superhero Academy, but they'll be able to do so on the Wish. The experience even lets them choose their own super suit for their heroic day of adventures with other Marvel superheroes.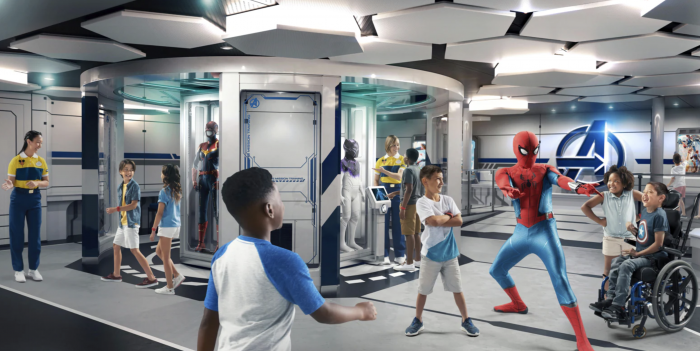 Our only complaint is that we kind of want adults to be able to participate, too. Where's our super suit?
Walt Disney Imagineer Lab
Another fun activity for kids will include the Walt Disney Imagineer Lab. This lab will allow kids to learn all about Imagineering technology that makes the Disney magic happen.
It also allows kids to design their own roller coaster and then ride it virtually. How fun! And this activity is one of the first of its kind for cruise ships.
Star Wars Hyperspace Lounge
There is no other place in the world outside of Star Wars: Galaxy's Edge at Disney World and Disneyland that lets you hang out in an authentic Star Wars themed bar, but there's about to be. The Star Wars Hyperspace Lounge on the Wish will use special effects to make guests think they're on a space cruise through a galaxy far, far away.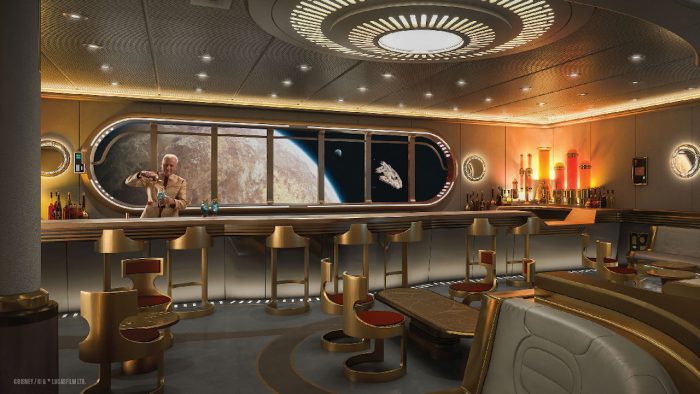 The lounge will fully immerse guests in the experience with surround sound and a "holotube" that gives guests a chance to see all the spaceships nearby — and many might look familiar!
Arendelle: A Frozen Dining Adventure
For the first time in forever…well, actually ever…a Disney cruise ship will feature a dining experience set in the world of Frozen. This dinner show will feature scenes with Elsa, Anna, Kristoff, and more as guests dine on a menu inspired by Nordic influences.
The dinner show will feature a brand new story that picks up after the events of Frozen 2.

Worlds of Marvel
So maybe there isn't an activity like the Superhero Academy for adults, but there is Worlds of Marvel on the Disney Wish that lets guests go on an official Avengers mission. It's the "first-ever Marvel cinematic dining adventure" with foods inspired by Marvel locations like Sokovia, Wakanda, and New York.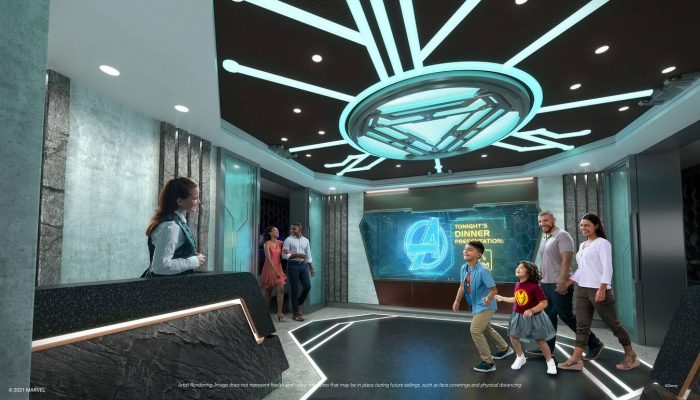 So you can eat and live in the Marvel Cinematic Universe on the Disney Wish. (We still want a super suit.)
First-Ever Staterooms Located Above The Bridge
For those guests who want a little more luxury with their cruising experience on the Wish, they can go for concierge or premium accommodations. And these staterooms are above the bridge, which has never been done before.
Those who stay here will have access to an exclusive lounge with a sun deck, and each room has floor-to-ceiling windows with ocean views. Nice!
Two-Story Suites
The royal suites on the Wish include two that have two stories, which makes them the first of their kind on a Disney ship. And to say that they promise to be stunning is an understatement. They'll feature "an elegant spiral staircase and a spectacular two-deck-high stained-glass frieze."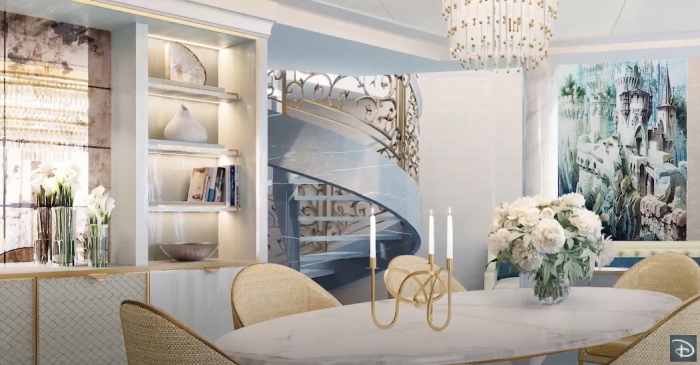 That sounds fit enough for a princess, doesn't it?
The Disney Wish is going to be unlike any other cruise ship that has ever sailed before it, and we're so excited to see it when it sets sail for the first time in 2022.
Will you be taking a cruise aboard the Wish? Let us know in the comments!
Join the AllEars.net Newsletter to stay on top of ALL the breaking Disney News! You'll also get access to AllEars tips, reviews, trivia, and MORE! Click here to Subscribe!