Star Wars: Galaxy's Edge – Disneyland
Star Wars: Galaxy's Edge opened on May 31st, 2019 in Disneyland Park.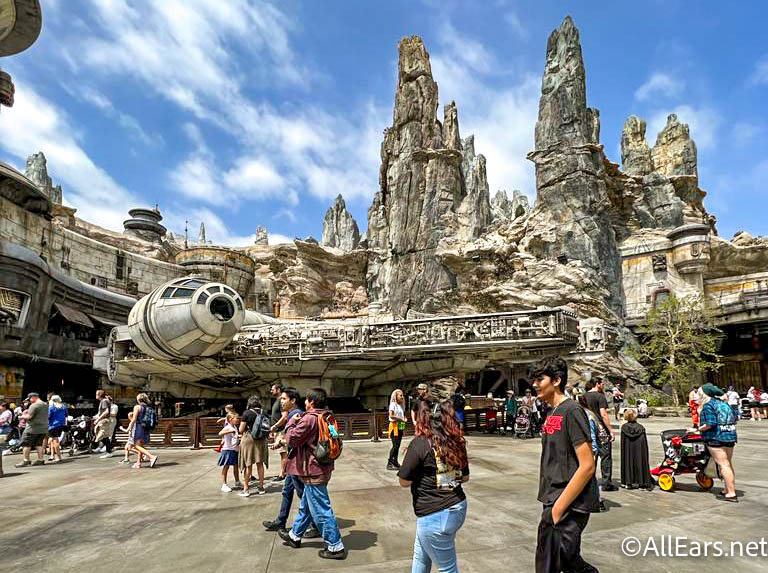 At the D23 Expo on August 15th, 2015, Disney CEO Bob Iger announced that Star Wars-themed lands would be built in both Disneyland and Walt Disney World. In Disneyland Park, the land comprises of 14 acres of the village of Black Spire Outpost on the planet Batuu.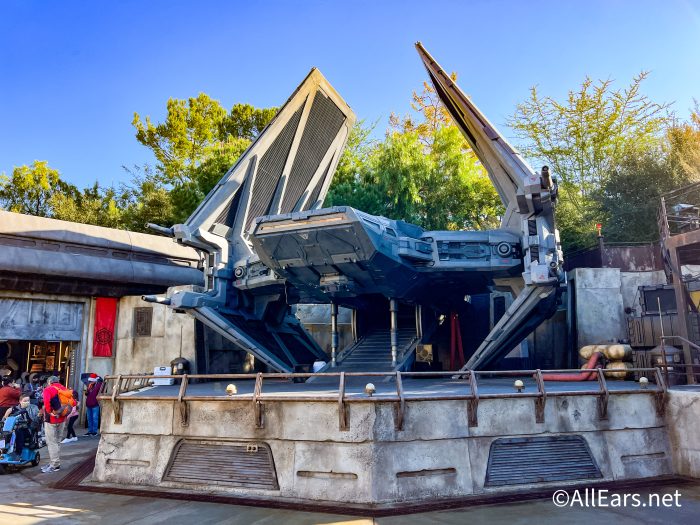 You can find Galaxy's Edge in the northwest area of Disneyland Park, with three different entrances in Frontierland, Critter Country, and Fantasyland. Big Thunder Ranch was closed to make way for the land.
Attractions
Millennium Falcon: Smugglers Run is an interactive simulator in which six riders work in tandem as Pilots, Flight Engineers, and Gunners.
You can use the standby line, the single rider line, or book a Genie+ Lightning Lane for Smugglers Run.
Star Wars: Rise of the Resistance
Star Wars: Rise of the Resistance transports guests to a rebel base — but things don't really go to plan.
After the transport ship is captured by the First Order, guests come face to face with Stormtroopers, General Hux, AT-AT walkers, and Kylo Ren. Members of the Resistance then stage an intense rescue — but we'll leave the rest a surprise.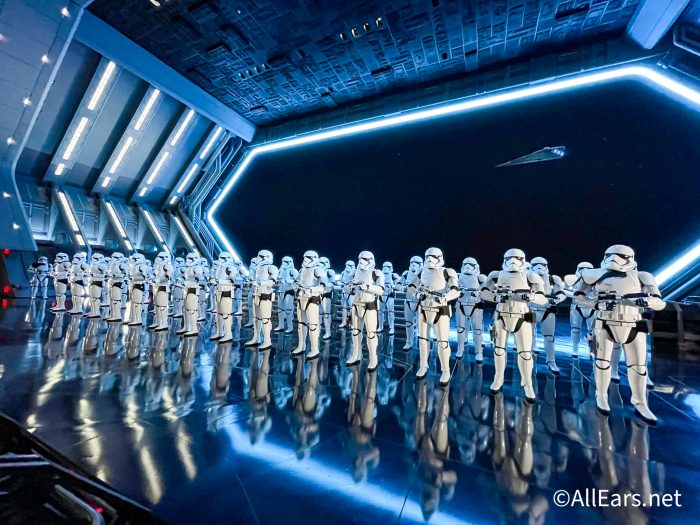 You can currently ride Rise of the Resistance by waiting in the standby line or by purchasing a separate $20 Lightning Lane.
Characters
Because Black Spire Outpost is an immersive, "working" village, you can't meet characters in traditional ways. Instead, guests can find characters in certain areas or walking around the land, including Rey, Chewbacca, Stormtroopers, Kylo Ren, and more.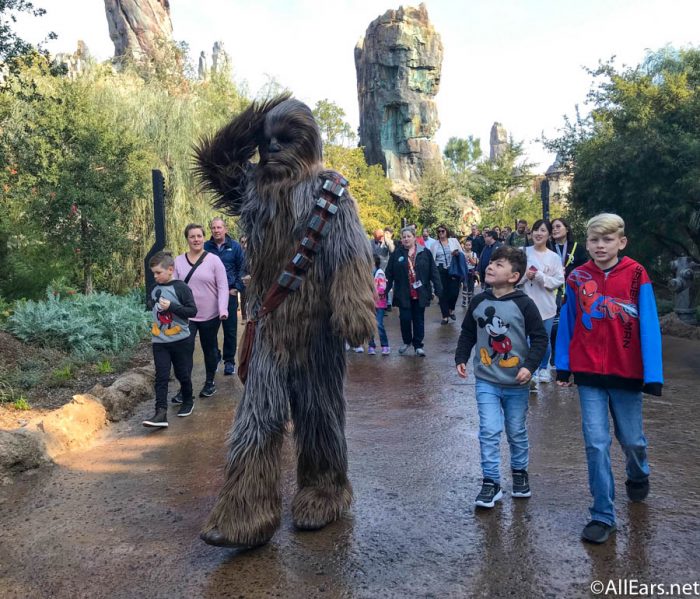 Occasionally other characters appear as well, such as Boba Fett and Fennec Shand, and the Mandalorian and Grogu (aka Baby Yoda) will be there later in 2022.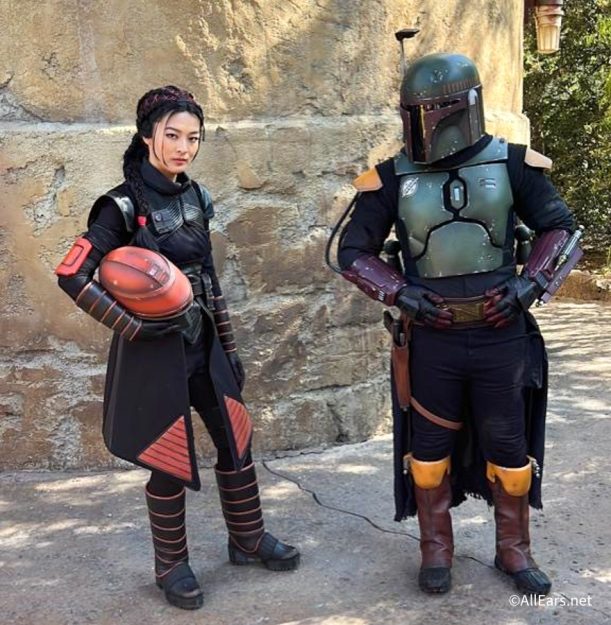 You can also come across the Resistance spy Vi Moradi and R2-D2!
Dining
Docking Bay 7 Food & Cargo
Docking Bay 7 is a quick service restaurant designed to look like a cargo bay, with seating in cargo containers and on cargo vessels. The food is typical fast food with a space twist. We like the Fried Endorian Tip-Yip!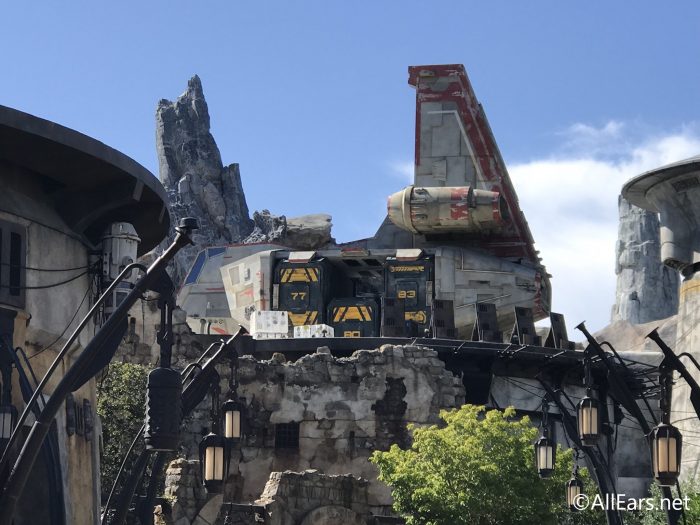 Ronto Roasters
Ronto Roasters is a walk-up quick service restaurant that serves roasted ronto meat — including the famous Ronto Wraps. This area features ronto meat turning on a spit under a podracer engine!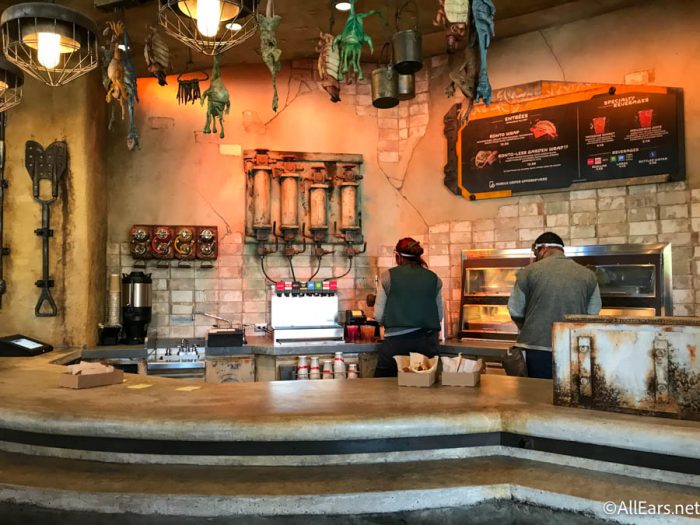 Kat Saka's Kettle
Kat Saka's Kettle sells unique popcorn flavors like the Outpost Mix, made of sweet and spicy flavored popcorn.
Milk Stand
At the Milk Stand, you can get Blue and Green Milk, which are non-dairy milk drinks made of soft-frozen fruity flavors. If you want an adult beverage, you can add alcohol to them too!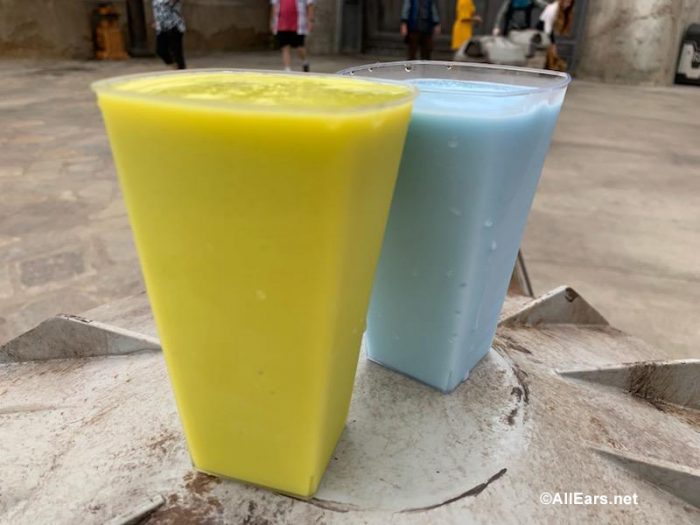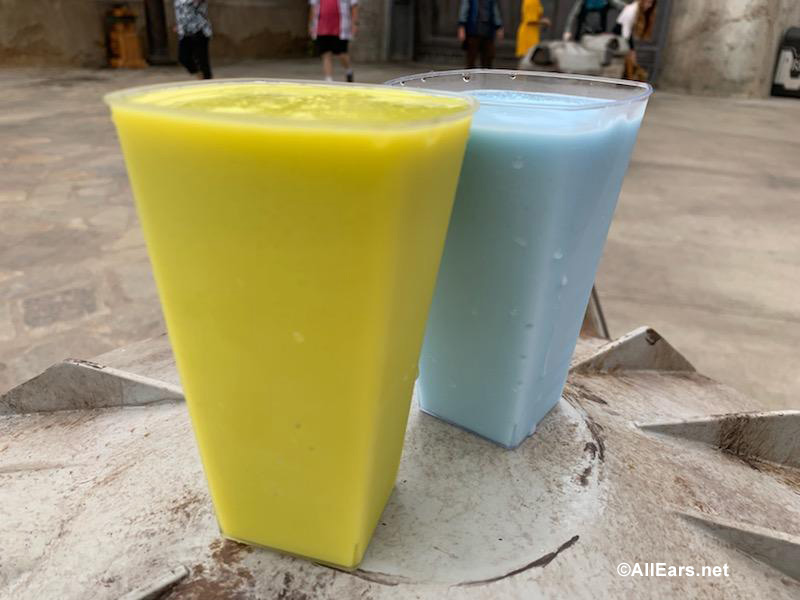 Oga's Cantina
Oga's Cantina serves up intergalactic eats and drinks while listening to DJ R3X!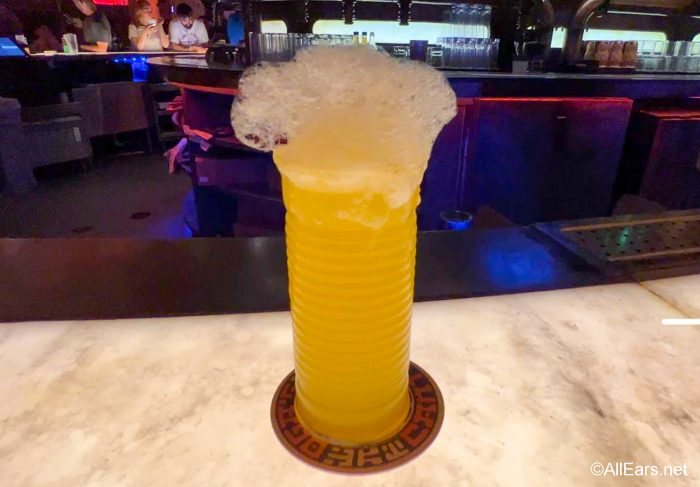 Shopping
You'll find several different places to shop in Galaxy's Edge, and they are all themed as items that could be made and found with materials in-world.
Droid Depot
Droid Depot lets you craft your own droid by using pieces for an R-Series or a BB-Series droid.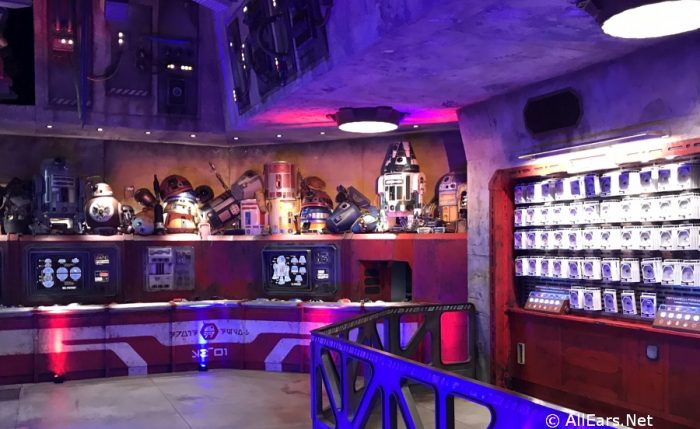 Choose from a variety of colors and designs, and complete your droid with a personality chip! Droids cost $99.99 each.
Savi's Workshop
Savi's Workshop is where you can craft your very own lightsabers! You can choose a hilt, two sleeves (out of four), one emitter (out of two), one pommel cap (out of two), one set of activation plates and switches (out of two), and a kyber crystal.
Each lightsaber is built alongside a ceremony, so it's more of an experience than simply purchasing a lightsaber. Each experience costs $219.99.
Dok-Ondar's Den of Antiquities
If you just want a lightsaber, Dok-Ondar's is where you can select from a variety of Legacy Lightsabers designed to look like some of your favorite characters' lightsabers.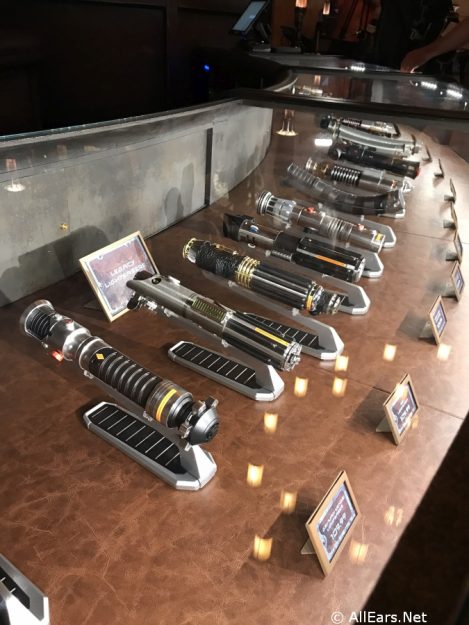 Availability can vary, so you might find different selections during your visit!
Marketplace Shops
The Marketplace has a variety of small shops to visit, including the Creature Stall, where you can "adopt" a creature.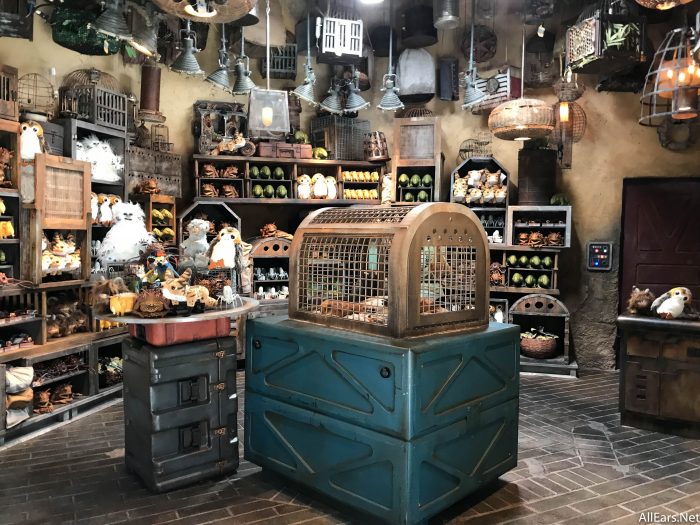 At Black Spire Outfitters, you can dress like a member of the Resistance.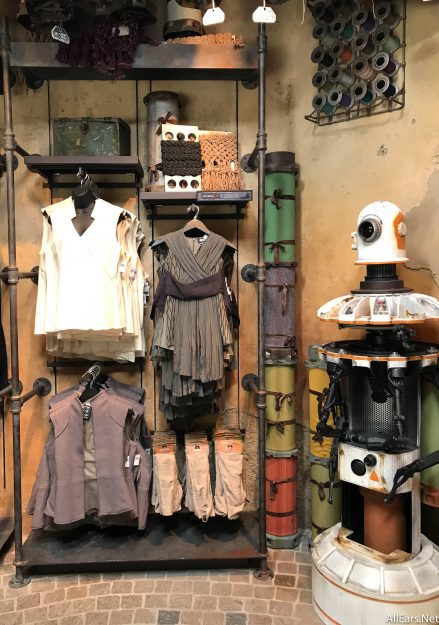 Visit Toydarian Toymaker to find a rustic toy or game.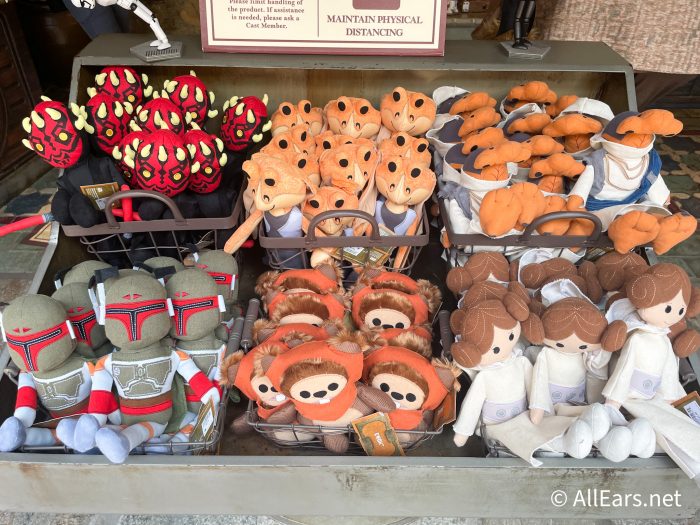 And at Jewels of Bith, you can get something fun for your collection.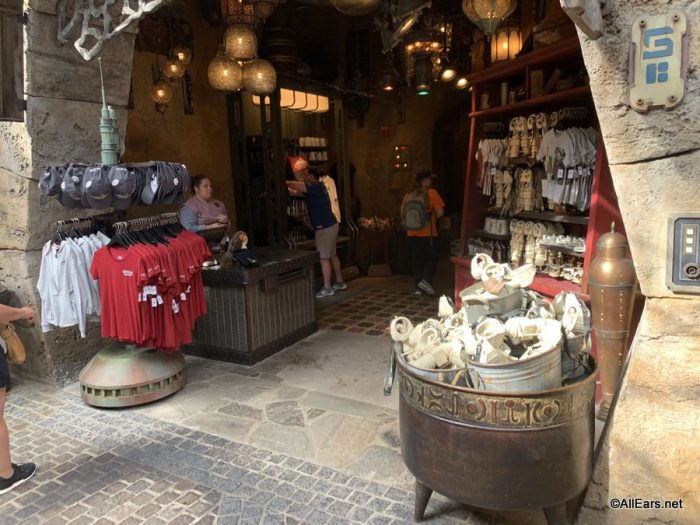 Resistance Supply
The Resistance Supply stand is located near Rise of the Resistance, and you can grab items for your Resistance wardrobe.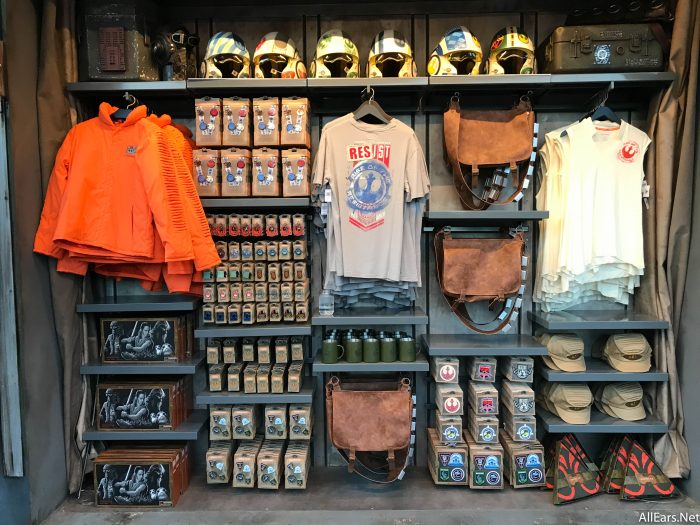 First Order Cargo
But if you're a member of the First Order, check out First Order Cargo by the Milk Stand for some Dark Side items.