Millennium Falcon: Smugglers Run
INTRODUCTION
Star Wars: Galaxy's Edge, which opened May 31, 2019, features the opportunity to fly the Millennium Falcon, in Millennium Falcon: Smugglers Run.
Introduction | Attraction | Kids and Characters | Dining | Shopping | Interesting Facts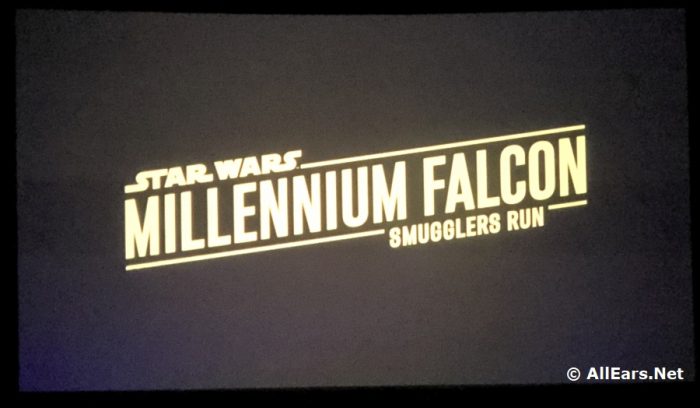 ATTRACTION
Without giving away too many spoilers: Guests receive a mission and then take on three critical roles: Pilot, Flight Engineer, and Gunner. You have to fire lasers, steer the vessel, and activate hyperspace — and the outcome of your mission actually affects other experiences within Galaxy's Edge. How you perform on the mission holds even bigger stakes: perform with skill and you may earn extra galactic credits, while bringing the ship back banged up could put you on the list of a bounty hunter. End up on Harkos's list and you may face a problem if you show up at the local cantina!
SPOILER ALERT: The following is a more detailed description with spoilers!
The setting: a village of Black Spire Outpost on the remote planet of Batuu. Your mission begins here in a spaceport, where the 110-foot Falcon will start its engines and vent thrust gases while docked nearby in a maintenance bay.
The queue takes you into Ohnaka Transport Solutions, where you'll see communication equipment and cargo containers full of Storm Trooper armor. Eventually you'll make your way up to a second-story switchback on a catwalk. There you'll see, "an animated blaster-riddled starship engine suspended from the ceiling" glowing red. As you weave through the queue, keep an ear out for the Ohnaka workers. You'll also be able to see the Millennium Falcon from several different angles while waiting to board.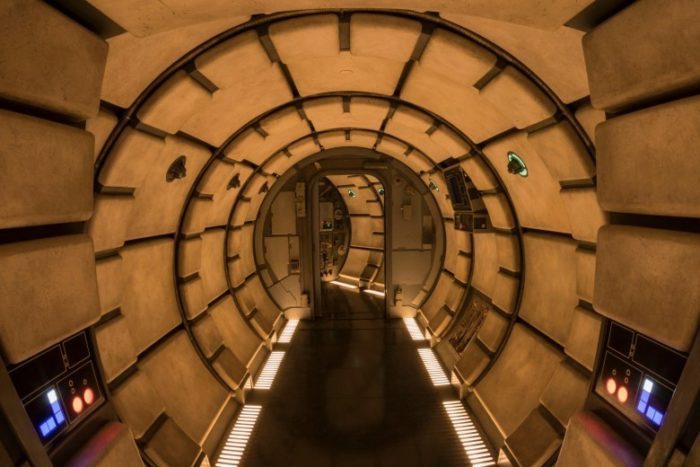 Millennium Falcon: Smugglers Run in Star Wars: Galaxy's Edge will let Disney guests walk the hallways and experience other areas of the "fastest ship in the galaxy." (Photo by Joshua Sudock, Disney Parks)
Time for your mission! You'll receive the details for your smuggling mission from an animatronic of the dreadlocked space pirate, Hondo Ohnaka and his droid R5P8.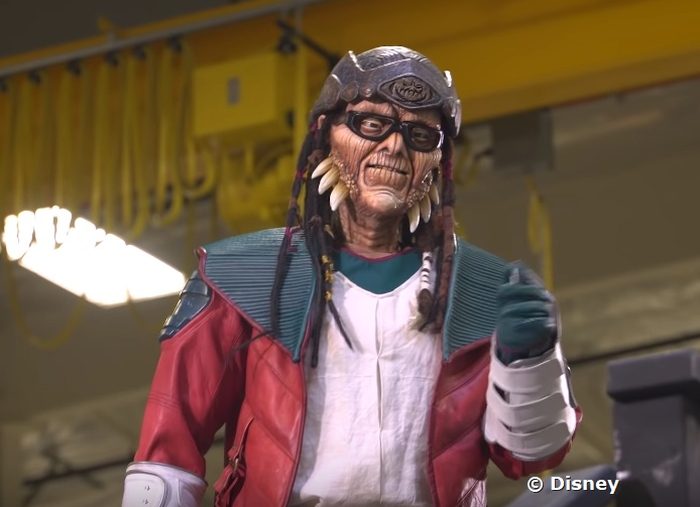 Weequay Smuggler Hondo Ohnaka
Hondo is voiced by Disney legend Jim Cummings, who voiced the character in the Star Wars series (he's also the voice of Winnie the Pooh, as well as many other Disney and Star Wars characters). The droid keeps everyone on schedule and fixes equipment in the command center. Then, you'll see the Falcon hover behind them on a video screen.
Smugglers (you) will then wait to board in the Main Room of the ship, where they can play hologram chess (Remember: "Let the Wookiee win!") and take photos while waiting for Hondo to dole out pre-flight instructions and assignments. He does so via monitor, and now it's time to jump into the cockpit!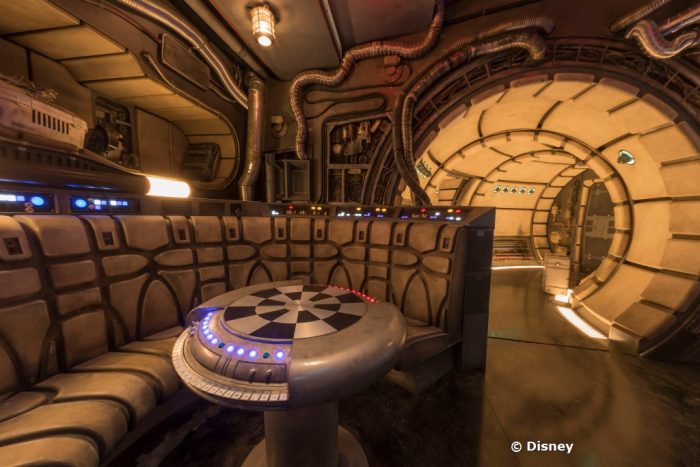 The famous "chess room" is one of several areas Disney guests will discover inside Millennium Falcon: Smugglers Run at Star Wars: Galaxy's Edge before taking the controls in one of three unique and critical roles aboard the fastest ship in the galaxy. (Joshua Sudock/Disney Parks)
Six riders get into the cockpit — two pilots in the front, two gunners in the middle, and two engineers in the back. This is very interactive as switches, levers, and buttons make sounds when activated. The hangar bay is seen outside your windows, and it's time for your mission.
You will be battling First Order TIE Fighters. And don't forget, there are different outcomes of the mission based on how well your team works together against the enemy.
After the mission, you'll return to Batuu and disembark — the Falcon will be "right where you left it."
Your skills as a smuggler can follow you throughout Galaxy's Edge. Characters in locations such as Oga's Cantina, may already know how well (or poorly) things went for you when you arrive for a "Yub Nub" cocktail.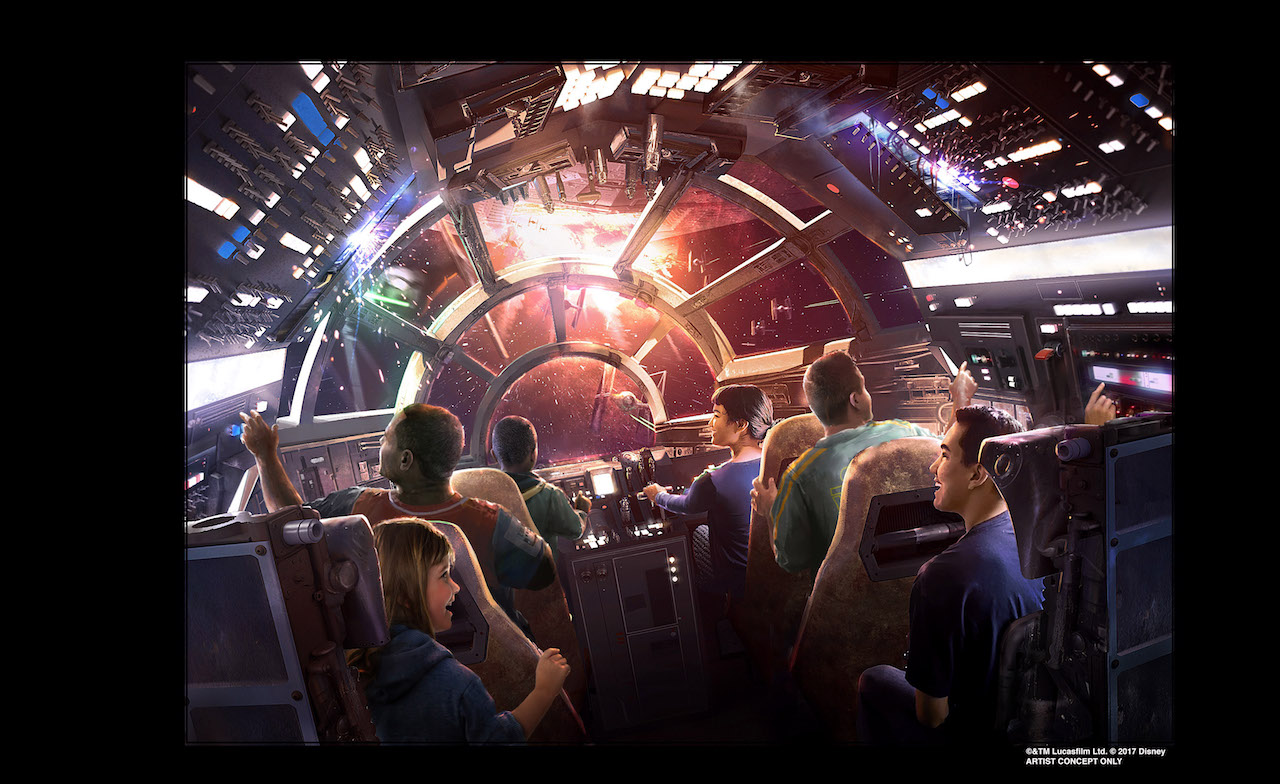 TOURING TIPS
Lightning Lane access for Millennium Falcon: Smugglers Run is available with the purchase of Genie+.
There is a height restriction on this ride. Riders must be at least 38 inches (97cm) or taller.
KIDS AND CHARACTERS
There will be some old favorites as well as new characters that guests will encounter when in Star Wars: Galaxy's Edge.
Characters in Millennium Falcon: Smugglers Run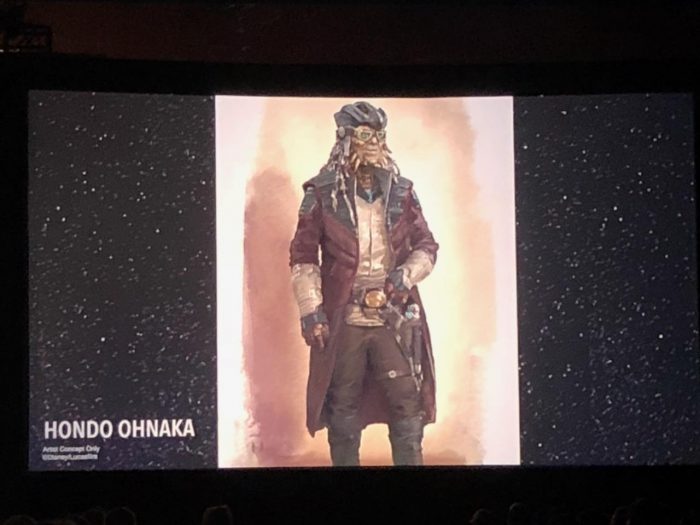 Characters in Star Wars: Galaxy's Edge
DINING
Oga's Cantina is one of the places to get refreshments in the land. By design and for aesthetic and storytelling reasons, the Cantina is small. To maximize capacity (and turnover) there will be only a handful of booths with seating. Most guests will stand in the Cantina. Guests will NOT be able to reserve tables in the Cantina.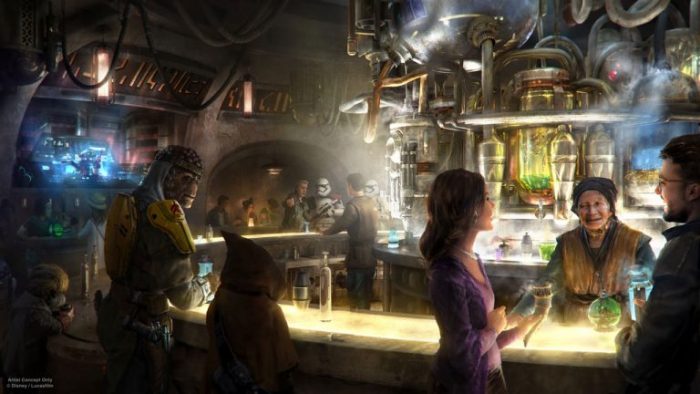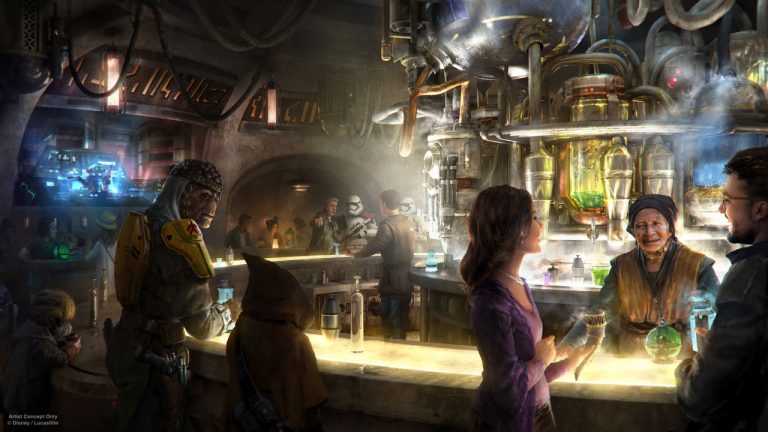 Oga's Cantina Concept Art ©Disney
As you order a drink, be sure to look above the bar — there are tubes and vessels behind the bar that might make it look like your drink is flowing from the ceiling!
As for drinks, the famed Blue Milk as well as Green Milk will be available at a stall called The Milk Stand. These are non-dairy drinks.
Guests will also find a bazaar-style outdoor market in the land, which includes a pod-racing engine used to roast meat at Ronto Roasters.
SHOPPING
Droid Depot in Star Wars: Galaxy Edge will feature customizable droids. Droids that are owned by the same family or group may recognize each other when they meet. These customizable droids cost $99.99. A full-size R2-D2 is available with a price tag of $25,000.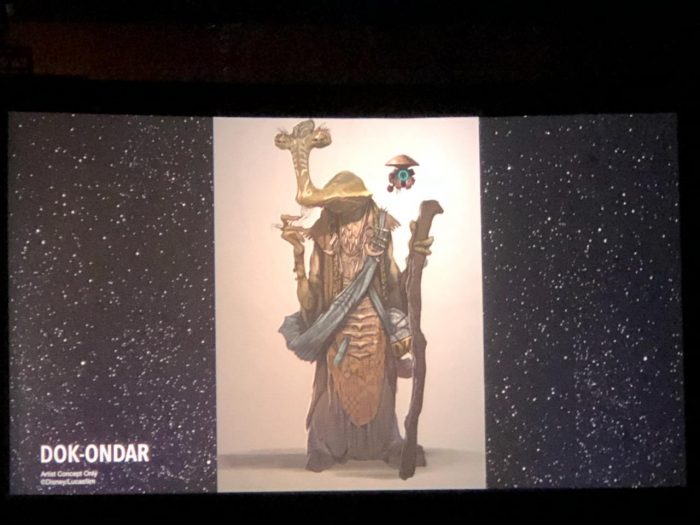 Characters in Star Wars: Galaxy's Edge
Dok-Ondar, from Solo: A Star Wars Story, will oversee another shop in the land, Dok-Ondar's Den of Antiquities. He is an animatronic and cast members will interact with him when they check if he's willing to let certain items go.
INTERESTING FACTS
The music for Star Wars: Galaxy's Edge features original themes created especially for the land by Academy Award®-winning composer John Williams. The all-new music was recorded by the London Symphony Orchestra at Abbey Road Studios.