Walt Disney World Transportation: Disney Buses
Disney Buses are the most common form of transportation at Walt Disney World, and they are seemingly everywhere. In fact, some Disney fans don't feel like their vacations start until they spot their first one on the streets of Walt Disney World's property.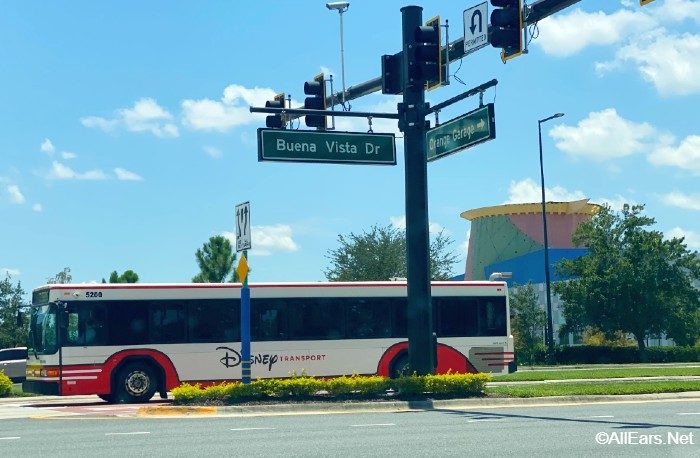 Disney Bus Size and Capacity
Disney buses aren't your school day yellow behemoths. These are large motorcoach-style buses that can transport dozens of guests both seated and standing. The majority of Disney's current buses are 30′ to 40′ long and have a capacity up to 70+ guests.
In 2014, Disney introduced the largest of the Disney buses. These are double-length, articulated buses coming in at about 60′ long. The articulated buses can carry over 130 passengers at a time.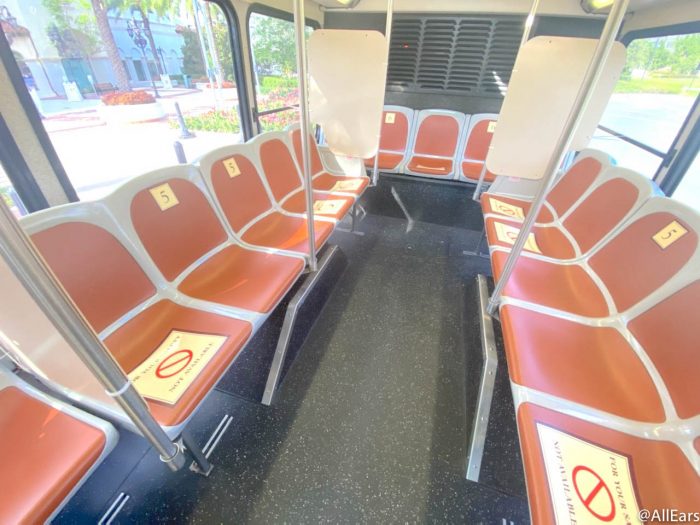 Anyone who's ridden a Disney bus knows that riding at full capacity can be a challenge. Standing on a Disney bus is a borderline workout, and if you've got a seat on a crowded bus, you'll still be knee to knee (or nose to waist) with those standing around you.
Note: When the Parks reopen in July 2020, Disney bus capacity is expected to be reduced, leading to potentially longer wait times for bus travel.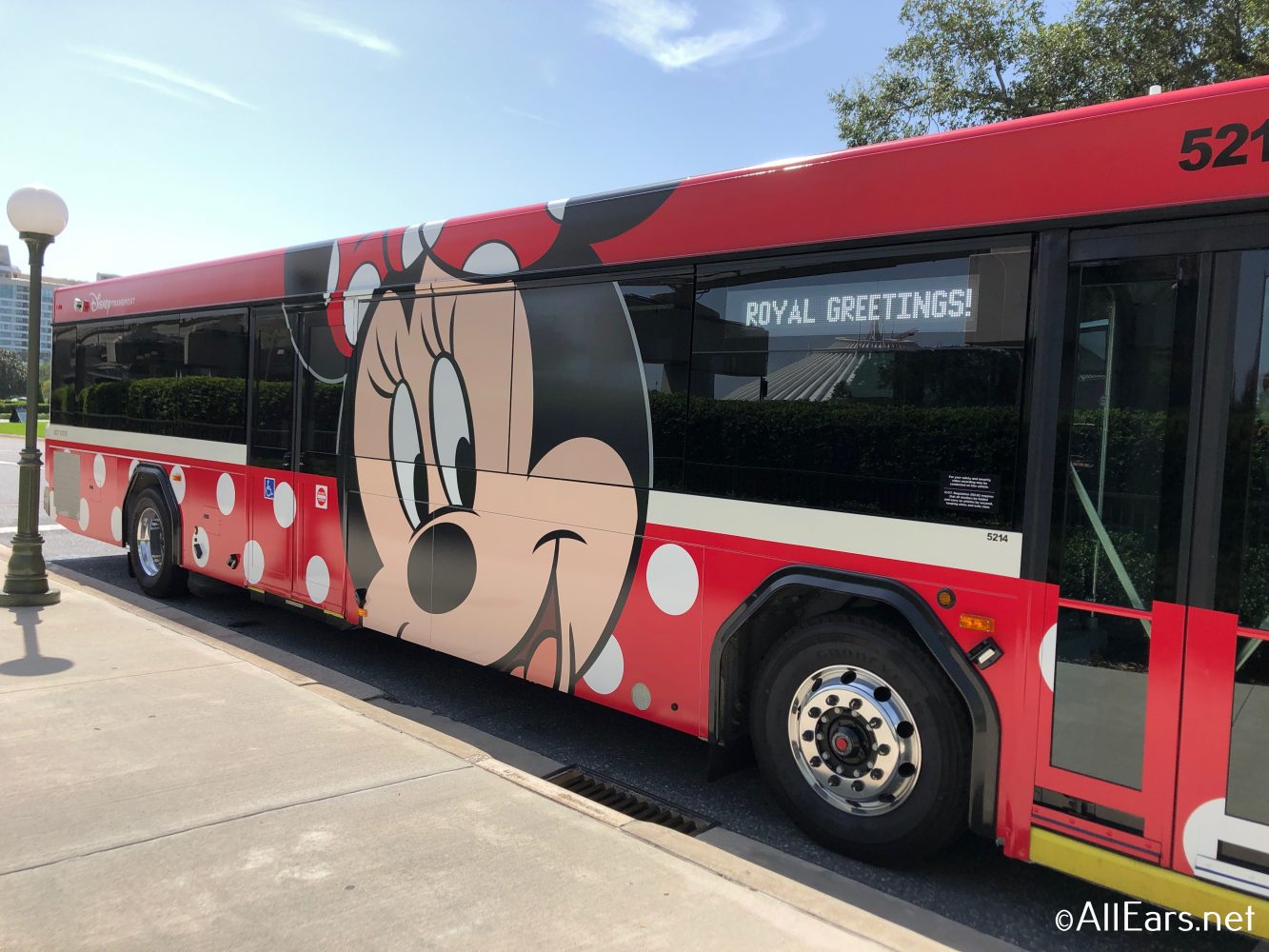 Disney Bus Service
Disney buses connect Disney Resort hotels with the theme parks, water parks, and Disney Springs. In some cases, Disney buses also connect Parks with each other and Parks with Disney Springs. Essentially, you can get almost anywhere on a Disney bus.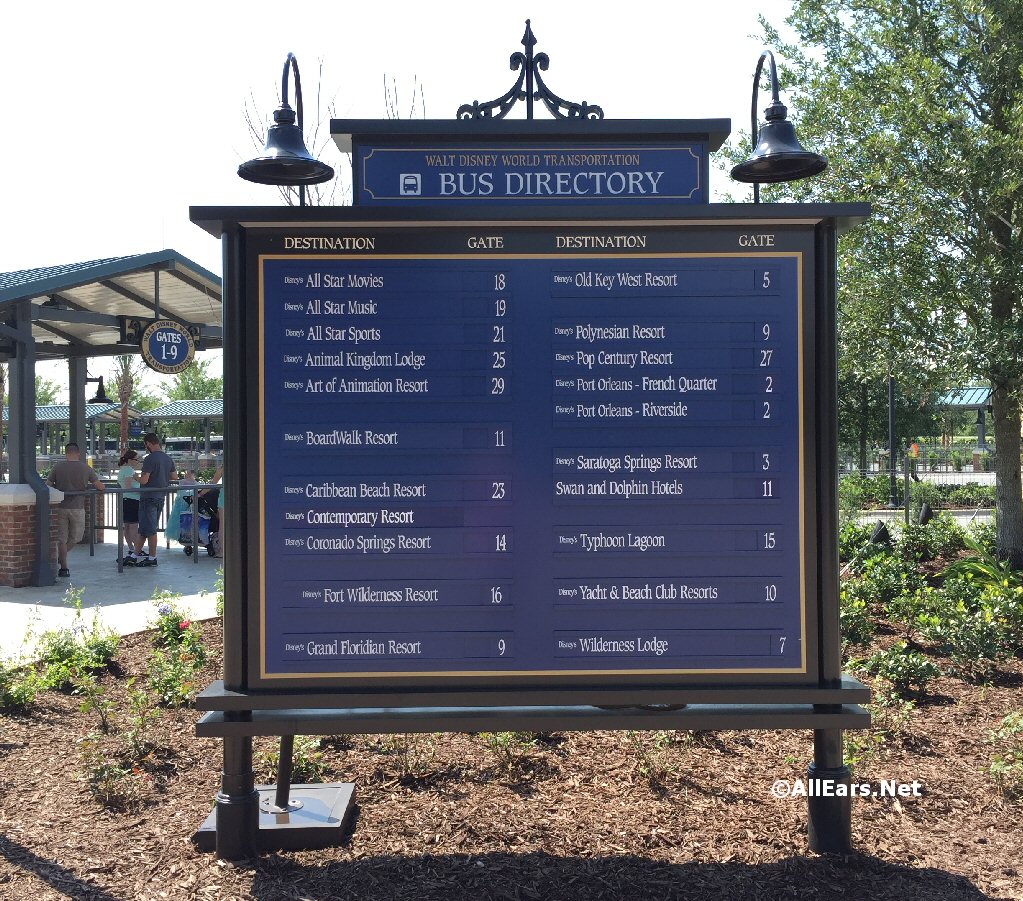 Travel Between Theme Parks and Disney Resorts
Disney says bus service from Resorts to the Parks begins 45 minutes before Park opening and ends one hour before Park closing.
Return service to the Resorts is available one hour after Park closing.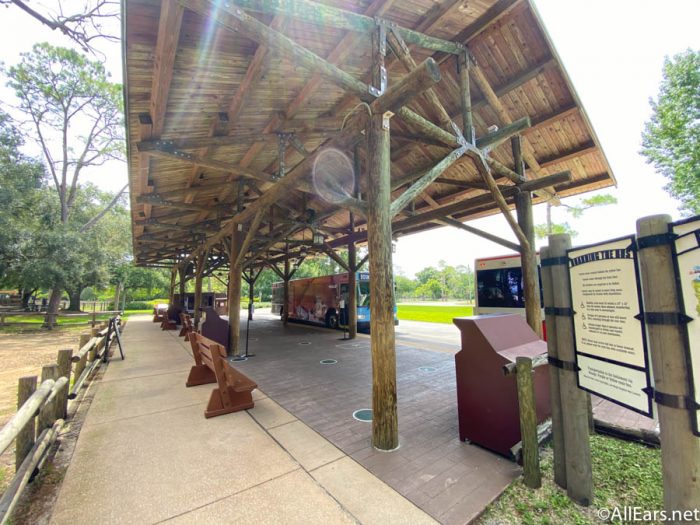 Travel Between Water Parks and Disney Resorts
Disney says bus service from Resorts to water parks begins 45 minutes before water park opening and ends one hour before water park closing.
Return Service is available one hour after water park closing.
Water park buses run on about 30-minute intervals (unlike the Parks, which are approximately 20 minute intervals).
Travel To and From Disney Springs
Buses from Disney Resorts to Disney Springs begin running 45 minutes before Disney Springs opens and end at 1AM.
Return service to the Resorts from Disney Springs runs until 2AM.
Disney theme park routes are one-way, running only from the Parks to Disney Springs, not the other way around. Disney theme park buses to Disney Springs run from 4PM to 11PM  (or one hour after the theme parks close — whichever is earlier).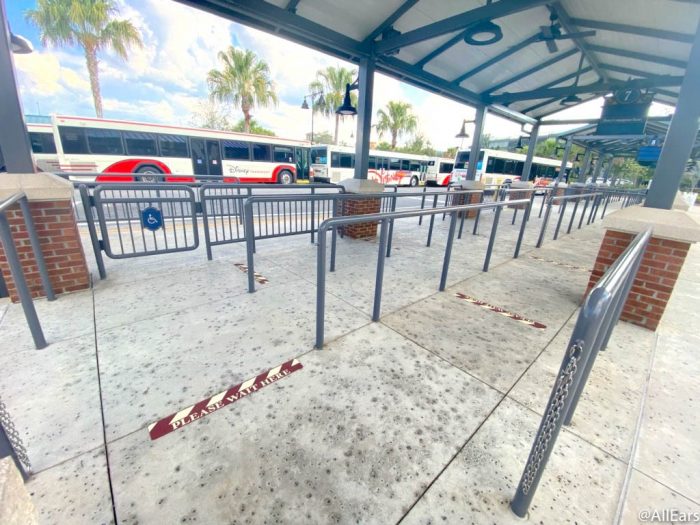 Disney Bus Route Wait Times
Disney officially says their buses run at 20 minute intervals, which would result in guests waiting at bus stops for up to that length of time before another bus arrives.
Practically speaking, this is a very fluid number. It's not unusual to wait fewer than 20 minutes for a morning ride to the Parks, for example, as more buses are added to the routes to manage rope drop crowds. But it's likewise not unusual to find yourself waiting 30-40 minutes for a bus at any time of day. The unpredictability of Disney buses is an oft-cited drawback of the service.
Note: Digital wait time boards at bus stops can give an approximate arrival time for the next bus, but these times can (and do) change frequently. You can also use My Disney Experience to check on the arrival times of buses.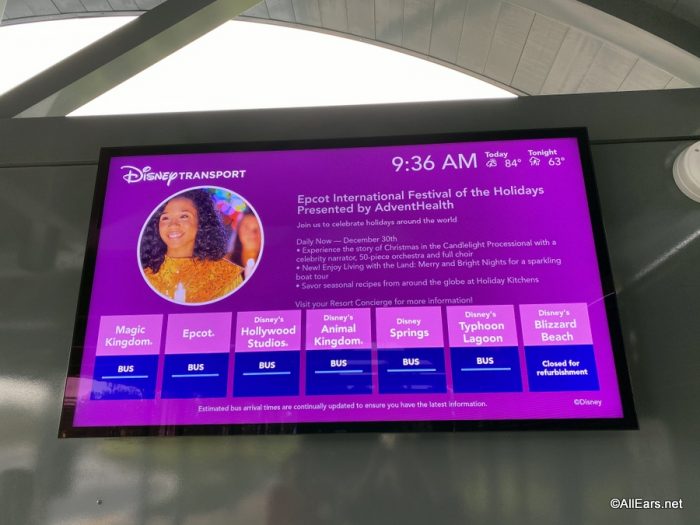 Disney Bus Accessibility
Wheelchairs and ECVs are able to drive onto Disney buses. Buses will lower to the level of the waiting area in order to board these vehicles. There are limits to the number of wheelchairs and ECVs that can fit in a single bus (two is the max).
Strollers must be folded in order to be brought on board. Stroller users keep their folded strollers with them during the bus ride.
Click here for more information about
wheelchairs and ECVs at Walt Disney World

.
Click here for more information about

strollers at Walt Disney World

.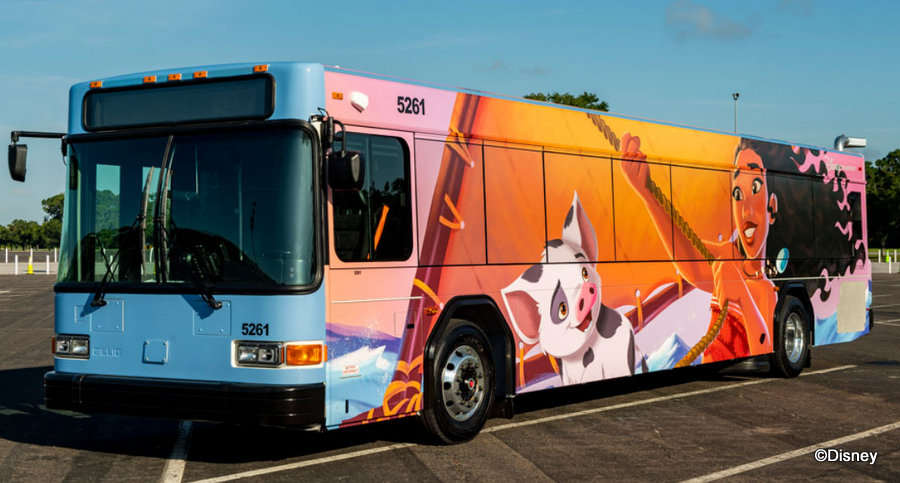 Disney Bus Upgrades
The addition of articulated buses in 2014 wasn't the most recent bus change. In 2019, an upgrade to Disney buses introduced new exterior wraps, new interior design (with laminate flooring and new seats), and USB ports for charging electronic devices.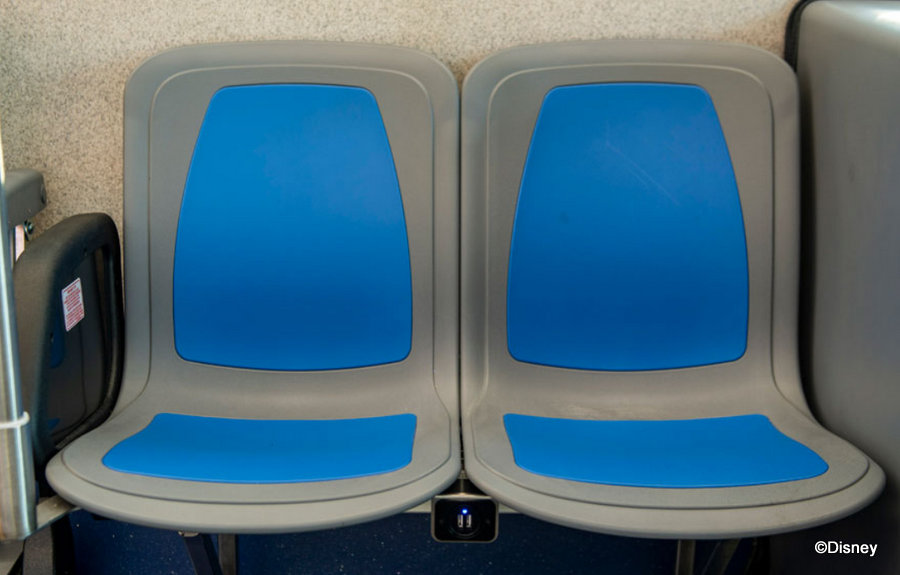 Disney's Magical Express Bus Service
In addition to internal Disney World buses, Disney's Magical Express is a bus service that takes you and your luggage from Orlando International Airport (MCO) to your Disney Resort. It can be used either one way or round-trip. Your airport return time is set by Disney and can require you to leave your Resort 3-4 hours before your flight.
Click here for more details about Disney's Magical Express.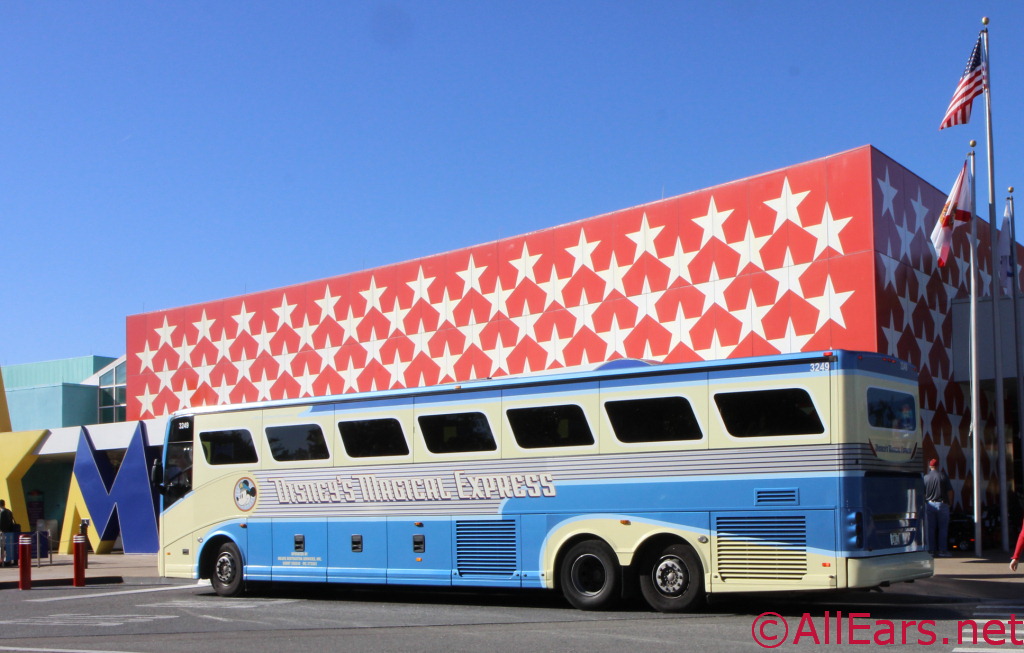 Disney Bus Service Tips
The AllEars team brings you tips from the Disney bus!
Have a sweatshirt with you if you're sensitive to the cold. Disney bus AC is legendary — and by that we mean freezing! It is especially frigid if you're soaking wet from the rain or if you're drenched in sweat from the heat.
If you're standing on a Disney bus and have the option to be near the doors, take it! You'll be one of the first people off the bus.
Hanging onto the handrails while standing on a moving bus can be tough. If you're able to stand near the half-walls that are used as dividers (especially near the back doors of the bus), you can lean on those for added stability.
Some Disney buses have a back section that is slightly raised. Sitting here gets you a better view of the World outside the windows.
Traveling between locations that don't have direct routes can be time-consuming. For example, going from one Resort to another will require a stop at a Park or Disney Springs bus stop, a transfer to another Resort bus, and an additional bus ride. Plan lots of time to get where you're going if a bus transfer is required.
Wait times at the Park bus stops can be frustratingly long at Park closing. If you're not too anxious to get back to your Resort, plan to spend some downtime lingering inside the Park while the lines at the bus stop die down. This can be a great time to take photos of an emptying Park or to drink it all in without an agenda. And since buses run for an hour after Park closing, you have flexibility to take your time heading back to your Resort.
Learn more about Disney World transportation at the links below!