Wheelchair, Scooter, & Electric Conveyance Vehicle (ECV) FAQs
When you're planning how to navigate Walt Disney World with a mobility challenge, the use of a wheelchair, scooter, or Electric Conveyance Vehicle (ECV) may ease your mind.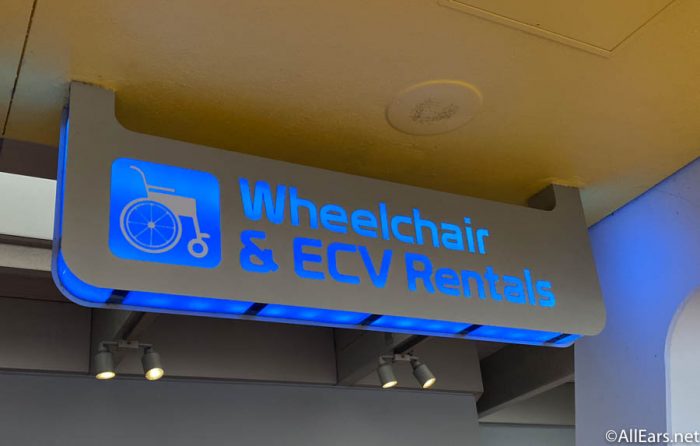 But if you've never used one of these vehicles, or if you've never rented them for use at Disney World before, you may have questions.
Rental Logistics
This decision is entirely personal, but here's some info that could help you make your decision.
If you have difficulty walking distances at home, know that Walt Disney World encompasses many square miles of property, and a day in any of the parks could result in walking 10+ miles. Add to that the distances you'll walk around your Resort (some of them are very spread out), and you could be putting a lot of mileage on your legs.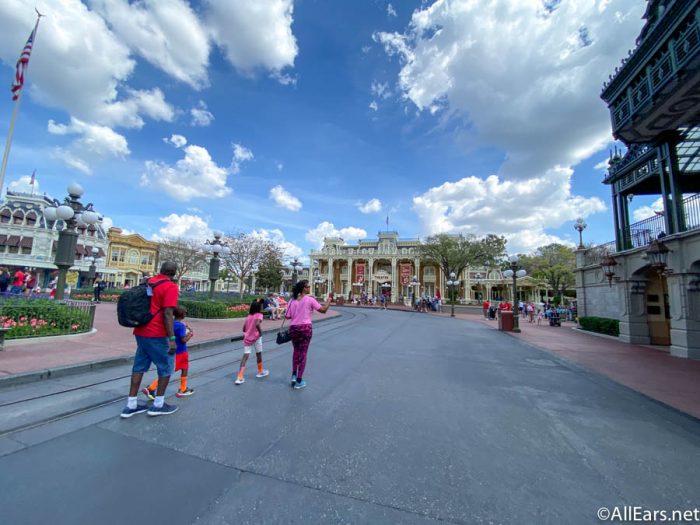 Renting from Disney means you will have wheels in the parks and at Disney Springs as needed. Renting from an outside vendor means you'll have wheels anywhere you need them.
What kind of wheelchairs, scooters, and ECVs are allowed in the Parks?
You can bring your own wheelchair/ECV to the World as long as it falls within the 32″ x 52″ maximum size for use on the Disney Transportation System. All rental options should fit within that size limit as well.
Where can I get a wheelchair or ECV rental?
If you plan to use a wheelchair or ECV at Walt Disney World, there are several options that you can consider. You can rent wheelchairs/ECVs from Disney at any of the four theme parks and at Disney Springs. Wheelchairs/ECVs are available on a first-come, first-served basis. Supply can be limited, and no reservations are accepted. You must be 18 years of age to rent ECVs.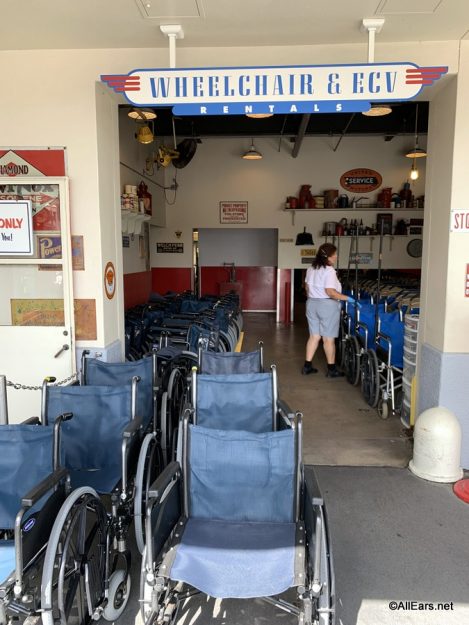 You can also rent a wheelchair or ECV from one of the numerous outside vendors that service Disney World on a daily basis. All of these vendors provide delivery and pickup at your Resort hotel free of charge. Make arrangements with the vendor directly as to which Resort you are staying at and your desired delivery/pick up dates and times. NOTE: Disney will no longer provide storage for ECV/Wheelchairs except for its featured vendors. See below for details on 'featured' vendors.
The Advantages to renting from an outside vendor include:
You can have the scooter anywhere you go; minor parks, off-site, at the resorts, etc.
The scooter is available whenever you need it, not just during park hours.
You are assured of having wheels even when the parks have run out.
You can get a vehicle that meets your specific needs (one that will disassemble to fit in a car trunk or one that will accommodate a heavier person, for example). Disney parks scooters are "One Size Fits All".
Variable speeds (Disney scooters are set at "slow").
Disadvantages to renting from an outside vendor include:
You must transport the scooter. That can mean paying extra for a Minnie Van or waiting for an accessible bus, dealing with ramps to the monorails and boats, or getting the scooter into and out of your own car/van under your own power.
Rental scooters are like rental cars: they are most often driven by people who are unfamiliar with them, and they get a lot of rough usage. They can have mechanical problems. Outside vendors do provide service for users who encounter problems, but this can be a time-consuming process.
Where can I rent an ECV or wheelchair at Walt Disney World?
All parks and Disney Springs have wheelchair and ECV rental areas. Some parks also have rental replacement locations, where you'll go if you lose your Disney rental (not rentals from outside vendors) or you need a replacement due to malfunction (again, only Disney rentals).
At Magic Kingdom: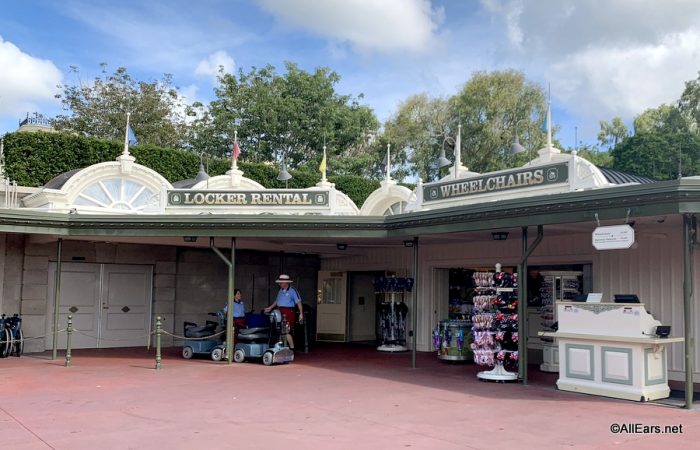 At Epcot:
Gift Stop just outside the Epcot Main Entrance (limited quantities)
Stroller and Wheelchair location inside Main Entrance (also rents ECVs)
International Gateway (also rents ECVs)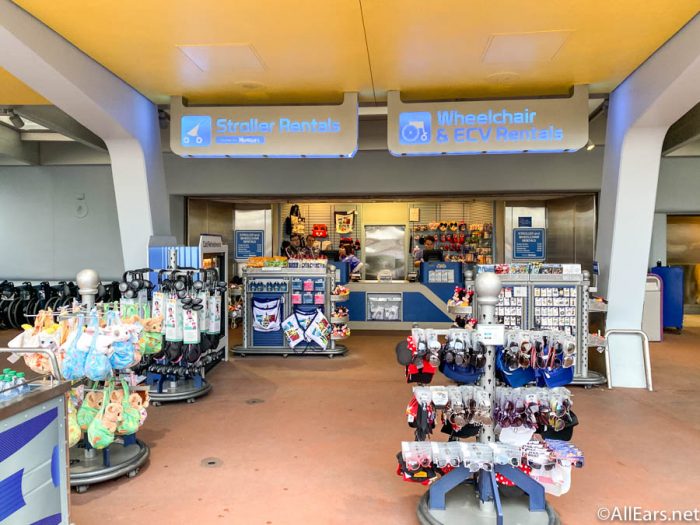 At Disney's Hollywood Studios:
Oscar's Super Service inside Main Entrance (also rents ECVs)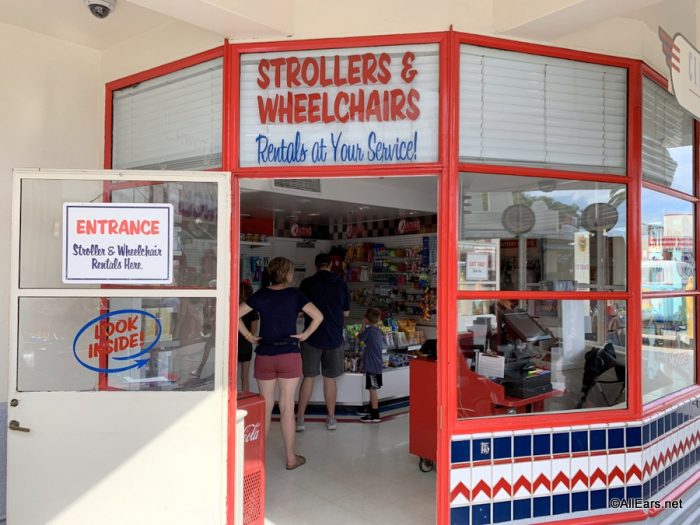 Disney's Hollywood Studios Replacement Locations:
In Character Costume Shop
At Animal Kingdom:
Outpost (limited quantities)
Garden Gate Gifts inside Main Entrance (also rents ECVs)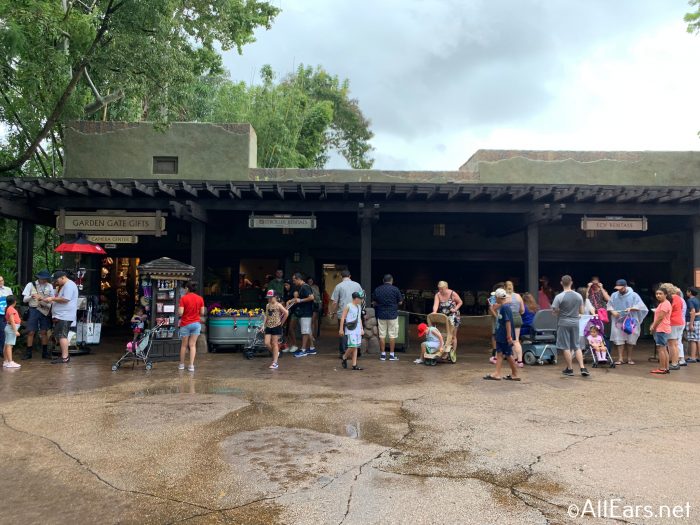 Animal Kingdom Replacement Locations:
Creature Comforts
Mombasa Marketplace
At Disney Springs:
Disney Springs Sundries (near the Coca Cola Store) (also rents ECVs)
At Typhoon Lagoon and Blizzard Beach:
There are no wheelchair or ECV rentals at the water parks.
Several wheelchairs are also available for use for free at Typhoon Lagoon and Blizzard Beach Guest Relations.
You must leave your valid ID as your "deposit".
You can bring your own wheelchairs and ECVs into the water parks (or your rental if you've rented from a third party vendor).
The water parks may also have a water wheelchair available for you. Inquire at Guest Relations.
Am I guaranteed to be able to get a rental when I arrive at the park?
Wheelchair and ECV rental at any of the parks is not guaranteed. During busy times they can run out. You may not get one when park-hopping to a second park.
If the park is out of rentals, they will take your name and contact you by cell phone when one becomes available.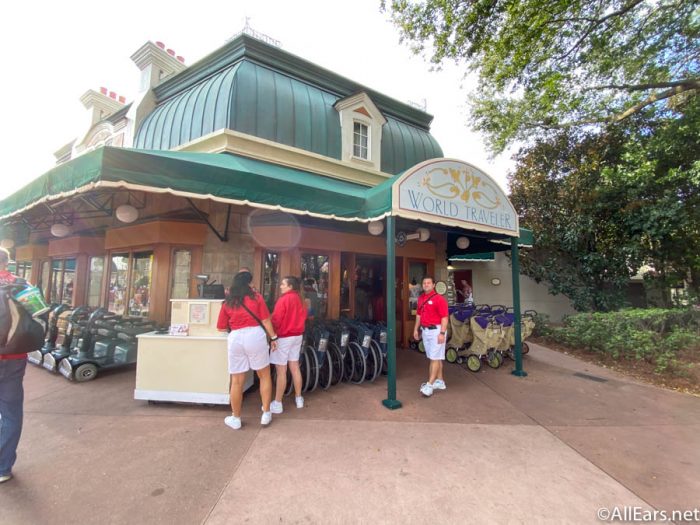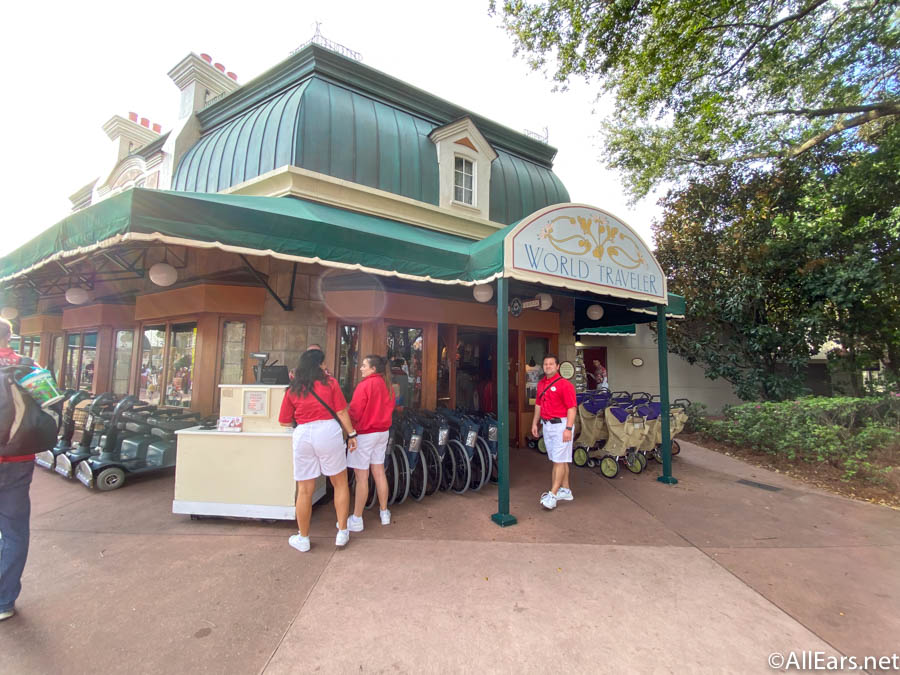 Can I bring my Disney wheelchair rental from one park to another (Park Hopping)?
Wheelchairs and ECVs are not transferable from park to park. You can only use them in the park where they are rented (i.e.  you can not drive your Disney rental from Magic Kingdom, onto the Monorail, and over to Epcot).
Your rental is good for that entire day, however, so in order to park hop, you'll want to retain your rental receipt when you return the chair or ECV at the first park, then, at the next park, present your receipt to receive a chair or ECV at that park (if available). You won't be charged twice, but you do have the inconvenience of not having a set of wheels to make the change from park to park.
What if I have trouble walking from the bus stop to the park entrance or rental area?
Typically you can find complimentary transport wheelchairs near parking lots and bus stops. These are first come, first served, and you can use them to wheel all the way to the actual rental location. These are not designed to be used inside the park.
How much does it cost to rent a wheelchair or ECV from Walt Disney World?
Prices current as of February 2020:
Wheelchairs are $12.00 per day in all four theme parks. Disney also has a Length of Stay rental option.
With the Length of Stay rental, you make a one-time payment for as many days of rental as you will need. Upon visiting a theme park, show your receipt at the wheelchair rental location, and you will be directed through the queue with little or no wait.
The Length of Stay rental ticket is $10/day (a savings of $2 per day).
The Length of Stay option is NOT offered during peak attendance times, however, such as Christmas.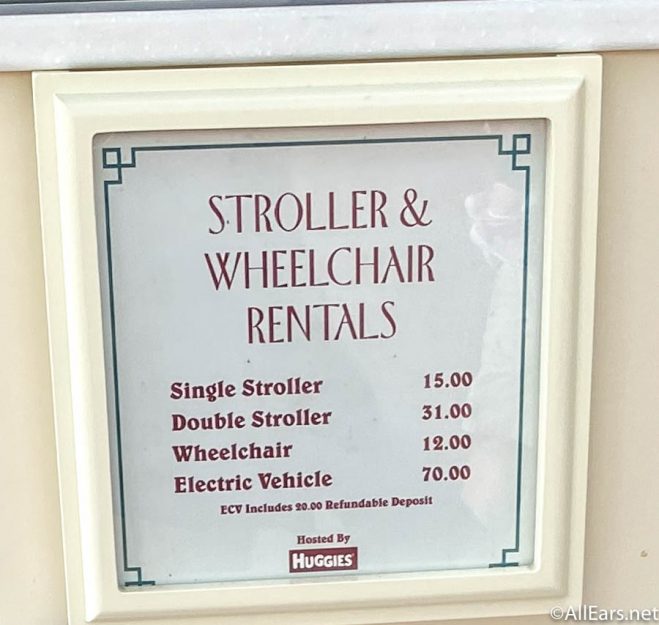 Wheelchairs are also $12.00 per day at Disney Springs with a $100.00 refundable deposit when the wheelchair is returned.
ECVs (or scooters) are $50.00 per day at the four theme parks plus a $20.00 refundable deposit when the ECV is returned. (You pay $70 and are refunded $20 when you return the ECV.)
ECVs (or scooters) are $50.00 per day at Disney Springs plus a $100.00 refundable deposit when the ECV is returned. (You pay $150 and are refunded $100 when you return the ECV.)
Note: You must be 18 years old or older to rent ECVs.
Can I rent wheelchairs/ECVs anywhere else on Disney property?
Yes, there are a few other locations to acquire wheelchair and ECV rentals. Buena Vista Scooters (an AllEars.Net Sponsor and a featured Disney vendor) is located in front of BoardWalk Inn and Villas in the Epcot Resort area.
At the Swan and Dolphin hotels, contact Concierge Staff in person to arrange ECV/wheelchair rental through a third-party vendor. The Concierge Staff will not order wheelchairs/ECVs for guests over the telephone.
Can I rent ECVs, wheelchairs, or scooters from third party vendors outside of Disney World?
Yes! In 2019 Disney made some changes regarding which vendors can drop off and pick up rentals without the guest being present. (Previously Disney would oversee these logistics for any vendors.)
Disney has selected specific wheelchair/ECV/scooter rental companies as  "featured" vendors. This means these companies are the ONLY companies allowed to drop off rentals at the front desk/bell stand of a Disney resort for them to be held for guests.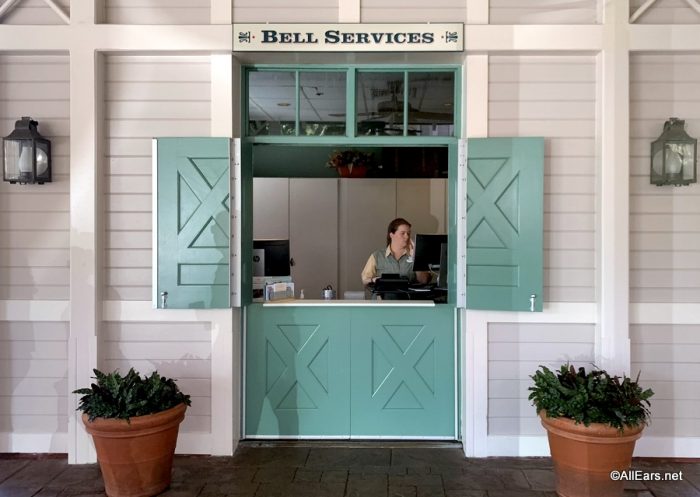 Guests using these companies are also allowed to return their rentals to their resort's front desk when they check out.
Vendors that are not on the featured list will have to arrange specific meeting times with their customers and deliver the rental in person. Likewise, when the rental is completed, the guest must make arrangements to deliver the scooter to the company. Disney will no longer provide a courtesy hold/storage for vendors not on the featured list.
The current list of featured vendors includes:
Buena Vista Scooter Rentals
Best Price Scooters and Strollers
Apple Scooter
ScooterBug
These vendors will continue to leave/pick up rental scooters with Disney resorts' Bell Services so guests do not need to be present for drop off and pick up.
Rental Safety and Tips
I'm using an ECV for the first time. Any advance planning I can do to make the trip easier? Any strange pitfalls I should be aware of?
Renting an ECV is possibly the easiest part of the process. Operating an ECV is often much trickier than guests expect. Here are some tips:
Practice, practice practice. Check your area for places that have rental scooters (malls, large grocery stores, medical supply rental companies). If a friend has one, borrow it and ask for their tips. Practice backing up, turning sharp corners, and parallel parking. Especially helpful is learning how to deal with swinging doors (ram them — gently, of course!), an elevator (drive in, back out), and a table (pull alongside, release the seat lock and turn it to face the table).
Learn how to back it up.

 Learn how to back the ECV up. It is an invaluable skill for getting onto a ramp, onto and off of a bus, or into a parking space.

Take the key out of the ignition every time you stop.

 This will do two very important things. First, i

t will save your battery charge. And second, it will keep you from going flying if somebody accidentally touches the "gas". Scooter controls are on the handlebars and therefore relatively easy for others to hit on accident. You may find yourself zooming forward (or backward!) if someone touches the control accidentally.
Bring your own key ring.

Try a plastic coil-type wrist band with a large cartoon character on it. Slip it over your wrist whenever you leave the scooter. It helps you keep track of the key, and it makes it easier to find the key if you set it down.

Be mentally prepared. If you don't usually have wheels, you may feel uneasy about using a scooter or chair. You may imagine that people think you are faking an illness or injury — especially if you "look okay" and are able to leave your chair or scooter and walk around. You may want to prepare an answer "just in case". You alone must decide what information you want to share — if any at all.
Mention the rental when you make your Resort reservation.

Even if you don't need an accessible room, be sure to mention that you will have a scooter or wheelchair — and specify which type, if you can. This may help you avoid being assigned a room in a place that doesn't have an elevator or a room where you can't get a scooter through the door.

Don't underestimate the necessity of a well-placed towel.

Remember to bring a towel or other absorbent material for the seat and/or seat back for comfort. The seats are typically vinyl and not breathable. A towel can give you a little comfort.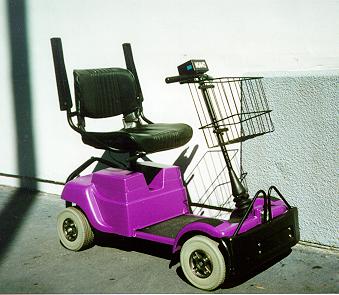 Is it a real inconvenience to ride around in a wheelchair or scooter all day? Is it realistic to plan a big vacation to Walt Disney World if I need a wheelchair or ECV?
Vacationing at Walt Disney World is a complicated process — no doubt. From planning when to go to making Advance Dining Reservations, there are a hundred details to consider. But using a wheelchair or ECV is very common, and it should not be a deterrent to you enjoying your vacation.
Here are some things to note as far as convenience is concerned. If you go at a busy time, it is a pain to maneuver in the crowds.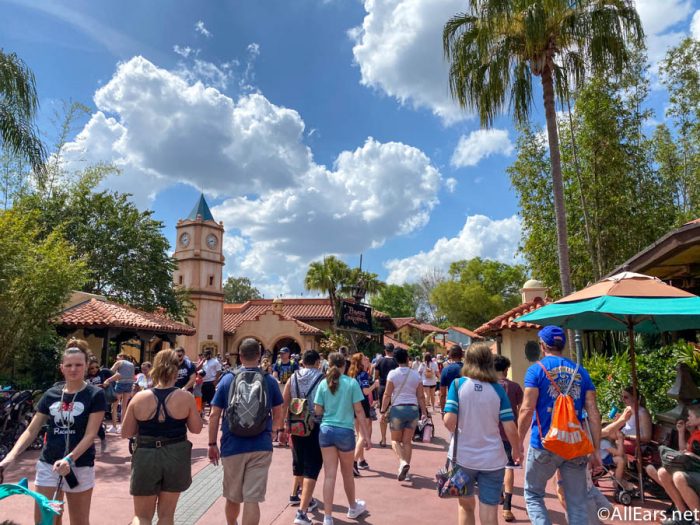 If you are traveling alone, it can be a bother to deal with doors and Quick Service restaurants with narrow ordering areas. Take your time and ask for help as needed.
You may have to plan on going slower and doing less. You may have longer waits for accessible transportation. But ultimately, you know your physical capabilities and limitations; if you need a set of wheels, don't hesitate to get some.
What happens if your ECV battery dies? How long does the battery hold a charge? Should we plan to stop a couple of times during the day for recharging? Doesn't recharging take a long time?
The answers to these questions depend primarily on the size and type of scooter and how fast you drive. Disney World's rental scooters are large, four-wheeled machines, and they seem to run all day with no problem (remember, they only operate at slow speed).
Small, three-wheeled types that can be taken apart and stowed in a car trunk seem to last about six hours when fully charged. Remembering to take the key out whenever you stop and driving slowly will stretch your "mileage".
If your battery on a rental dies and you are unable to recharge it, contact your vendor. They should be able to get to you and replace the scooter quickly. There is a charge indicator gauge on the controls, and when it gets into the "yellow" zone and starts to run slower you need to start thinking about plugging in.
Overnight (4-6 hours) will fully recharge the batteries. As little as a half-hour will get you back on the road. If you need to take a break during the day, just plug it in then, and you'll both be ready to go later on. If you're able to be out and about all day long, plan to park your buggy someplace near an outlet while you are at a meal or show.
We will have a minivan. Is a scooter difficult for a single (non-disabled) adult to maneuver in and out of the van?
Honestly, it's difficult but not impossible. You can disassemble the scooter and lift the pieces in one by one. The seat comes off, the steering mechanism folds down, the two batteries come off, and on some models the chassis can be separated into two parts. Each piece can weigh around 20-35 lbs. It may not be easy, but it is possible. Alternatively, you can often lift the whole thing into the back of the van without disassembling it — though this might take two strong people.
Is the monorail wheelchair- and ECV-friendly?
Cast members will place a ramp on the accessible car of the monorail, but it is narrow, just barely wide enough for a scooter. Backing off the ramp in a scooter may be a challenge. Practice backing up in a straight line, drive slowly, and let people help "spot" for you.
Do you suggest taking an ECV rental with you to the parks, or do you rent from Disney?
If you are going to park-hop, consider taking your own (or renting from a third party vendor) since the parks can run out of rental units early in the day. If the hassle of transporting a scooter seems too much, or if you believe you'll be comfortable walking between park entrances and Disney transportation, you might want to rent one at the park.
How do you deal with parking lot trams when you arrive by car?
If you are renting a car and have a handicap hang-tag (placard) for your car at home, bring it with you to Disney World, and use it in your rental car. That will allow you to park in the handicapped section of the parking lot, putting you as close to the park entrance as you're going to get.
If you park in the regular lot, you could end up being a long way from where the trams stop, and you'll need to walk between your car and that tram stop.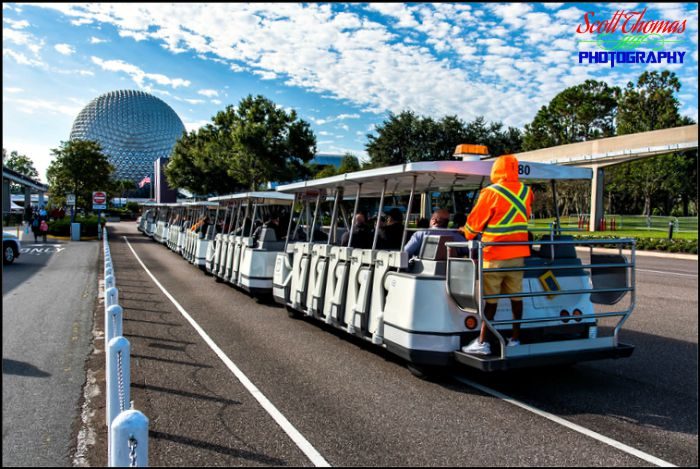 If you bring your own wheelchair to the parks, you can step onto the tram, fold up your chair, and board with everybody else. It's no worse than a stroller.
If you park in the lots and do not have your own chair, tell the Parking Lot cast members that you need to be on the end of the row near a tram stop, and explain why. They'll typically be happy to accommodate.
Of course, if you have an ECV, just drive to the park entrance.
What if your wheelchair is taken or moved while you are riding an attraction? Any good anti-theft measures?
Cast members sometimes move chairs and strollers while you are on the ride. Simply ask where it was moved to.
You may want to hang something noticeable and unappealing on the chair. That way someone is less likely to make the honest mistake of grabbing the wrong one — and might just think for that split second before making the dishonest mistake.
Most but not all offer FREE insurance against damage. There is no coverage for theft, so it is important to remove the ECV key when you get off your scooter.
Any ECV safety tips I should keep in mind?
All ECVs have a speed dial. Position it at a slow speed when boarding or exiting any type of transportation. You'll have a lot more control.
If you have a fear of driving your ECV on to or off of any transportation, ALL types of ECVs have a safety neutral lever located under the seat that enables the drive wheels to be disconnected. This enables the scooter to be manually pushed and maneuvered.
The important thing to consider with ECVs is to practice driving them as much as you can if you are unfamiliar. They are only motorized chairs and not race cars. You can injure yourself or others if you are not careful.
Disney ECVs have a weight limit of 450 pounds. Disney wheelchairs have weight limit of 350 pounds. These vehicles are only designed for one person.
---
Note this information is subject to change without notice. Call WDW directly or visit their web pages to confirm before your visit.