Big Thunder Mountain Railroad Frontierland Magic Kingdom
INTRODUCTION
"Hang onto your hats and glasses, folks, cause this here's the wildest ride in the wilderness!" And with that, Big Thunder Mountain Railroad opened on September 23, 1980 and celebrated its Grand Opening on November 15, 1980.
Big Thunder Mountain Railroad is situated at the far end of Frontierland, past Splash Mountain.
ATTRACTION
Big Thunder Mountain Railroad is a wonderfully themed roller-coaster with turns and dips through caverns, mountains, avalanches and floods reminiscent of the Old West.
The queue area takes you into the headquarters of the Big Thunder Mining Co. It was converted into an interactive queue in 2012, with more props and details to look at, to keep you entertained while you wait. There are cranks to turn and plungers that detonate blasting caps — you can even see the explosions  when you look out at the mountain! (See the video above for the entire queue and ride — with spoilers!)
You enter converted ore cars for your journey… but wait, there is NO conductor! Too late, you are off for a 3-1/2-minute ride into the wilderness!
The theming is a Southwestern landscape, reminiscent of the wind swept features found in Arizona's Monument Valley. Caves, grottos, a waterfall, big horned sheep, a spiral butte, dinosaur bones and sulfur pools are just part of the scenery you will encounter on your ride.
Speeds can reach 24-30 miles per hour so the centrifugal force as you round the turns will pull you from one side to the other.
There are no serious drops on this ride (nothing like Splash Mountain) but there are three good dips that can put some air between you and your seat.
TOURING TIPS
Big Thunder Mountain Railroad is a FastPass+ attraction and it is highly recommended that you use it during peak times.
Loose articles, hats, and glasses should be removed and secured.
The ride itself lasts 3 ½ minutes.
Height requirement for this attraction is 40 inches (102 cm).
Accessibility:  Guests must transfer from wheelchair/ECV to the ride vehicle.
Visitors in wheelchairs should continue past the entrance and go into the exit of the attraction to look for a Cast Member for boarding instructions.
Warnings:   Pregnant women or others with medical considerations are advised against riding this attraction. Guests should be free from high blood pressure, heart, back or neck problems, motion sickness or other conditions that could be aggravated by this adventure.
WDW at Large: Seats might be restrictive; guests may wish to ride alone due to  a low bar, limited leg space and/or small bench size.
Each of the six trains has an engine and five cars. For the "wildest ride" request a seat in the back rows. For tamer rides, request a seat in the front of the train.
Rider Switch (aka Child Swap) is available at this attraction.
Big Thunder Mountain Railroad is beautiful at night; be sure and ride after dark if you have the chance.
If you look closely at the second-story room of the saloon, you'll see a party going on.
Hidden Mickey Alert – Three rusty gears laying on the grass as you reenter the station.
Hidden Character Alert – "In the Magic Kingdom, walk to the exit from Big Thunder Mountain Railroad. Behind the fence (on the left side as you exit the ride), between two metal carts and behind a cactus is a cutout in the reddish rock that resembles a side profile of Tinker Bell. (Thanks to Jamie Holz, for directions to this Hidden Character)." Click on photo for more detail.
KIDS – CHARACTERS
Children must be at least 40″ tall to ride.
Rider Switch (aka Child Swap) is available at this attraction.
You may want to keep your arm around smaller kids to keep them from sliding around too much.
Magic Kingdom Characters At A Glance
Character Meet and Greet FAQ!
DINING
Pecos Bill's counter-service restaurant is located nearby. Also, open seasonally is the Golden Oak Outpost.
Magic Kingdom Restaurants At A Glance
Menus From Around the World
Vegetarian and Other Special Diets
SHOPPING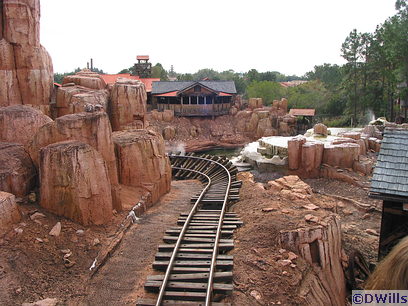 You can find limited Big Thunder Mountain merchandise at the Briar Patch near Splash Mountain.
INTERESTING FACTS
Big Thunder Mountain Railroad debuted at Disneyland on September 2, 1979. It opened at in the Magic Kingdom on September 23, 1980. Opened in Toyko Disneyland July 4, 1987 and in Disneyland Paris on April 12, 1992.
The names of the six trains are: U.B. Bold, U.R. Daring, U.R. Courageous, I.M. Brave, I.B. Hearty and I.M. Fearless.
There are 20 Audio-animatronics throughout the attraction including chickens, donkeys, possums, a goat, a long john-clad resident spinning through the flood in a bathtub, and a rainmaker whose name is Professor Cumulus Isobar.
Genuine antique mining equipment can be found around the 2.5 acre attraction. These pieces were purchased at various auctions throughout the Southwest and include a double-stamp ore crusher, an ore-hauling wagon, and an old ball mill used to extract gold from ore.
During constructions, workers used 6,500 tons of steel beams, rods and mesh, 4,675 tons of concrete, 90,000 gallons of water and 4,000 gallons of desert paint.
Dallas McKennon recorded the "Hang onto Your Hats and Glasses" announcement that is played just before you leave the station. Dallas also provided the voice for Benjamin Franklin in Epcot's American Adventure.
The attraction covers over two acres and rises almost 200 feet above sea level. It was inspired by Monument Valley, Arizona.
The main butte is 197.6 feet above sea level and 100 feet above ground.
Enjoy the music of the old west with songs like: Big Rock Candy Mountain (1885), Blue Tail Fly, (1846), Red River Valley (1896), Oh My Darling Clementine (1884) and more.
Disney Imagineer Tony Baxter led the team for Big Thunder Mountain Railroad.
Big Thunder Mountain Railroad had a minor rehab in October 2007. Sound systems were enhanced along with minor painting and minor upgrades.
Big Thunder Mountain Railroad had a lengthy rehab in 2012, including the addition of a new interactive queue.