For the First Time in Forever: A Frozen Sing-Along Celebration Disney's Hollywood Studios
INTRODUCTION
Join Anna, Elsa, Kristoff and the newly appointed Royal Historians of Arendelle in the Hyperion Theater (formerly Superstar Television Theater in the Echo Lake area of the park), for a sing-along featuring the best-loved songs from the Disney film, Frozen.
ATTRACTION
This show opens with Princess Anna from the film Frozen looking for her sister Queen Elsa. She introduces the audience to the Royal Historians of Arendelle, who comedically relate the story of the film assisted by animated clips that are subtitled with song lyrics so that everyone can sing along.
Eventually the Historians are joined on stage by Anna, Kristoff and Queen Elsa herself. The show concludes with an encore of the film's most famous song, "Let It Go," accompanied by special lighting effects and an unexpected "snowfall."
TOURING TIPS
For the First Time in Forever is a FASTPASS+ attraction.
The show lasts about 30 minutes. It is presented almost hourly — check the Times Guide for show times.
Accessibility:  Guests using wheelchairs will be seated in a special area in the rear of the theater, but may remain in wheelchair/ECV.  Video Captioning, Handheld Captioning and Assistive Listening are all available.
Warning: There are NO meet and greet opportunities at this show.
There is sometimes a special "Frozen Premium Package" offered that includes special reserved seating for this show. Read about the Holiday Frozen Premium Package HERE.
The nearest restrooms are located at the rear corner of the Hyperion Theater, at the start of Commissary Lane.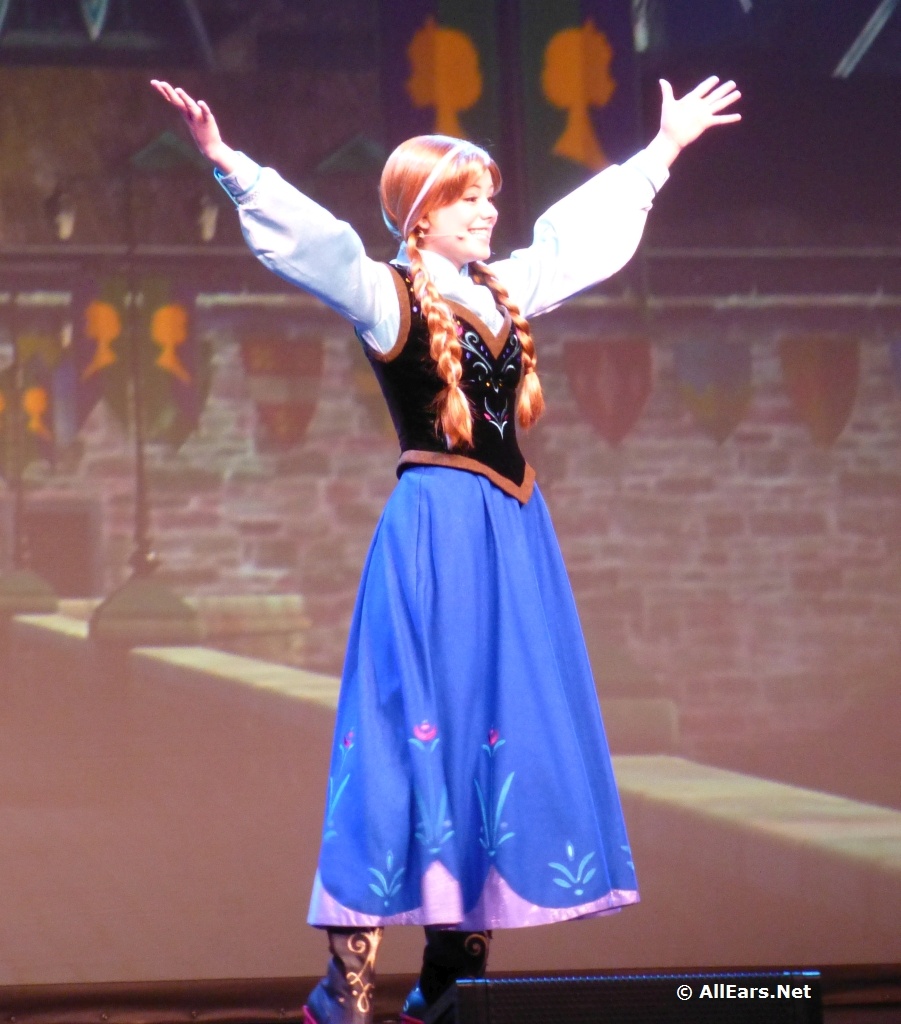 KIDS AND CHARACTERS
There is no opportunity to meet characters at this attraction. However you can see live characters Elsa, Anna and Kristoff from the film on stage. You can meet Olaf the Snowman at his nearby meet-and-greet.
Disney's Hollywood Studios Characters At A Glance
Character Meet and Greet FAQ!
DINING
Nearest place to eat is Backlot Express (for a counter-service restaurant) or '50s Prime Time Diner or Hollywood and Vine across Echo Lake for a table-service experience.
Disney's Hollywood Studios Restaurants At A Glance
Menus From Around the World
Vegetarian and Other Special Diets
SHOPPING
You will find all sorts of Frozen merchandise in the kiosks located near the entrance to the theater.
INTERESTING FACTS
The For the First Time in Forever Sing-along originally started in the Studios during the Frozen Summer Fun event, on July 5, 2014.
For the First Time in Forever moved into the Hyperion Theater (formerly Superstar Television Theater) in June 2015 for the special "Frozen Summer Fun" event.
If you have comments or tips to share with others about the Disney's Hollywood Studios, please email us. Thank you.