Star Wars: Galaxy's Edge — Disney's Hollywood Studios
Star Wars: Galaxy's Edge is a 14-acre land in Walt Disney World's Disney's Hollywood Studios. The land, which is comprised of the village of Black Spire Outpost on the planet Batuu, opened on August 29, 2019.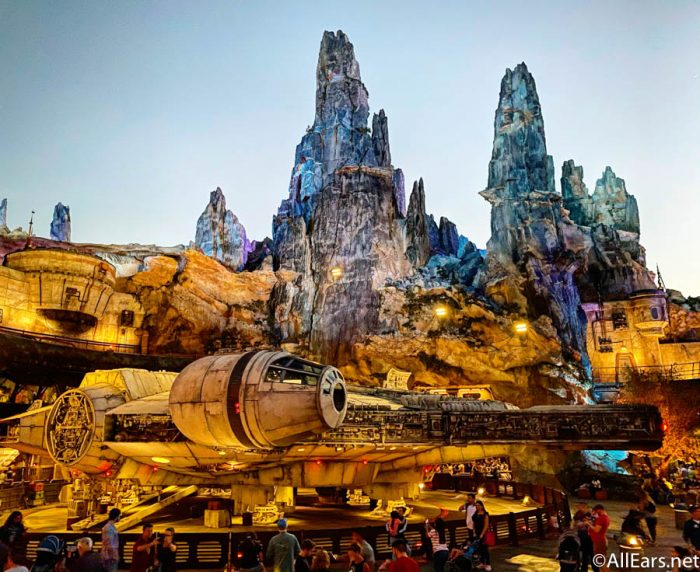 The land features five eating/drinking establishments serving up intergalactic-inspired dishes and drinks. It also offers several merchandise locations themed to the land and to the stories of the Star Wars franchise. The land also features two popular, inspired attractions and spontaneous character meet-and-greets.
Galaxy's Edge was described by Disney as the most immersive and ambitious project to date, and that immersion has come to fruition. Here we take you through the logistics of a visit to Black Spire Outpost.
Attractions and Character Experiences
Millennium Falcon: Smugglers Run opened with the land in August 2019 as the only attraction in the land's first phase. Smugglers Run is an interactive simulator in which six riders work in tandem as Pilots, Flight Engineers, and Gunners.
The outcome of the ride experience becomes attached to your presence in the land, with "citizens of Batuu" being able to interact with guests based on how they performed on the ride.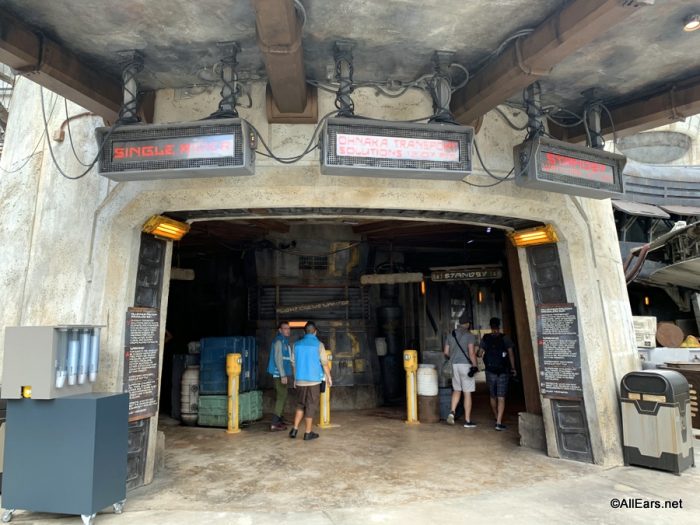 Millennium Falcon: Smugglers Run regularly posts wait times over an hour. It began utilizing the FastPass+ system in February 2019, and a Single Rider line is also available.
Rise of the Resistance, Disney's most ambitious attraction ever, opened in the land's second phase on December 5, 2019. Rise of the Resistance calls on riders to join the Resistance, taking them to a rebel base from which they will serve the cause.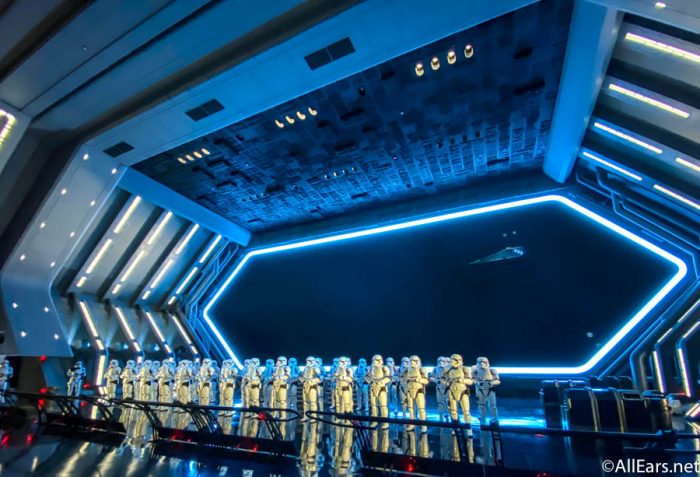 The journey to the rebel base goes awry, and soon the newest members of the Resistance are captured by the First Order. After encounters with Stormtroopers, General Hux, At-At walkers, and Kylo Ren, the ride comes to a dramatic conclusion.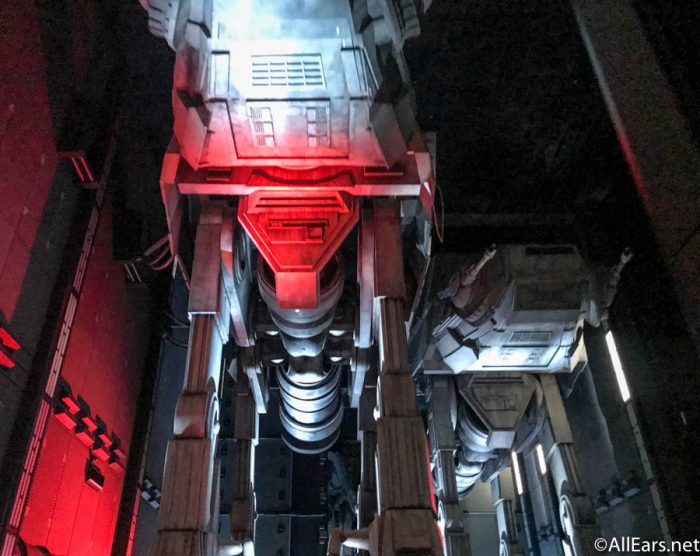 When Rise of the Resistance opened, it used a Boarding Pass/Virtual Queue system to manage crowds. Read more about it here.
Character Opportunities
Black Spire Outpost is a working village in the Star Wars galaxy, and as such, there are no set character meet-and-greets. Rather, guests will stumble upon characters living their lives in the land. Characters guests may encounter include Rey, Chewbacca, R2-D2, Stormtroopers, and Kylo Ren.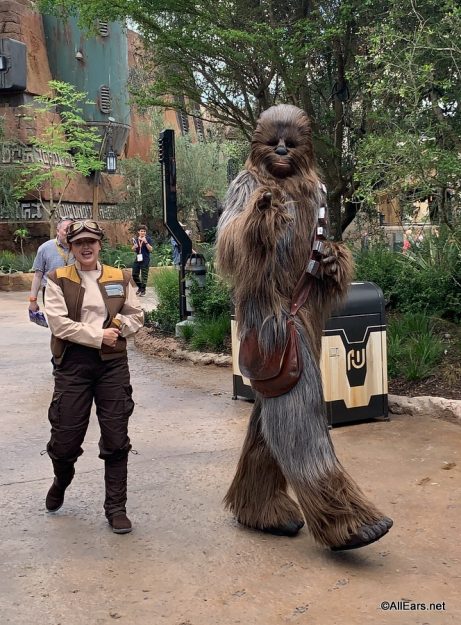 Kylo Ren and a group of Stormtroopers do have a small show (really just a reveal) when they emerge from a TIE Echelon in the First Order area of the land. Rey, Chewie, and resistance members can be seen in the Market or Resistance areas of the land.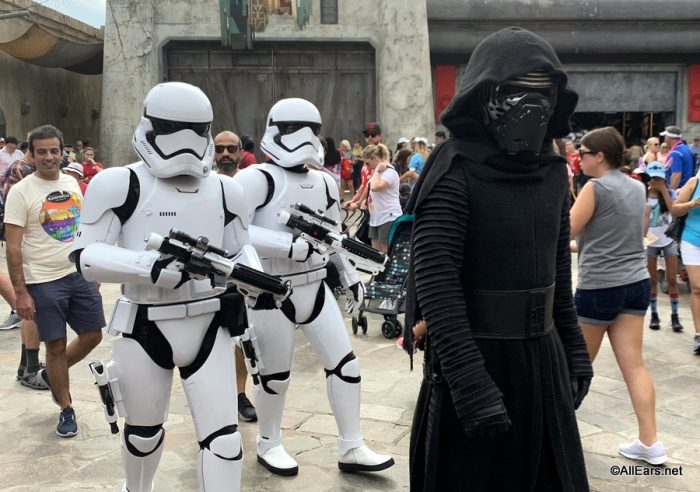 Dining
Docking Bay is the land's only true Quick Service restaurant. Complete with seating in cargo containers and on cargo vessels, the menu here features familiar foods with intergalactically-inspired names.
Our favorites include the Fried Endorian Tip-Yip and the Bright Suns Breakfast Platter featuring pork sausage and a sweet Mustafarian Lava Roll.
Ronto Roasters serves up roasted ronto meat — seen on turning on the spit beneath a podracer engine, of all things. The Ronto Wrap is one of the best things to eat in Black Spire Outpost.
This walk-up Quick Service restaurant does not have a dedicated seating area, so the hand-helds are good to grab-and-go. Some outdoor seating is available nearby but is not reserved for Ronto Roasters guests.
Kat Saka's Kettle sells popcorn in a couple different flavors. You'll always find the Outpost Mix, a sweet/spicy mix of colorful popped corn. You may also find other varieties. This is a good spot to pick up your Galaxy's Edge-themed thermal detonator Coke bottles.
For fans looking to try the infamous Blue Milk and the more recently famous Green Milk, Milk Stand is a must. The non-dairy milk concoctions are soft-frozen (like a smooth slush) and feature fruity flavors. Though not universally beloved, they're still fun to try! At Disney World's Milk Stand, older guests can get their Milks spiked, too!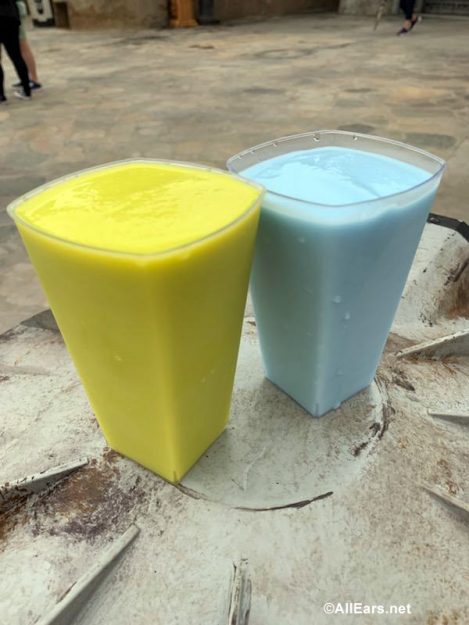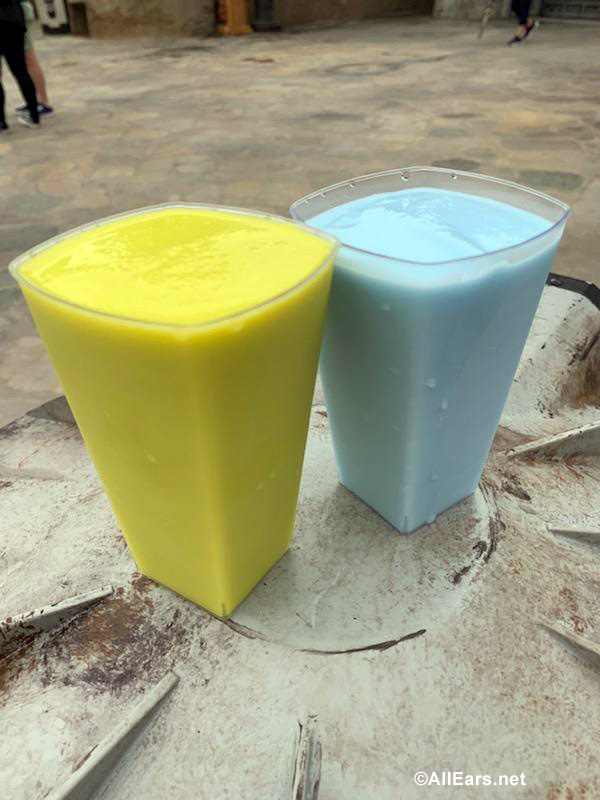 This fun, must-see cantina is packed with franchise references — and tasty, mostly-fruity drinks! Try the Fuzzy Tauntaun that turns your lips numb, or opt for a Black Spire Outpost-exclusive beer!
Don't forget to say hello to DJ R3X who you'll find spinning tunes in this popular spot.
Shopping
Live out your dream to build your very own lightsaber at this incredibly popular shop. You'll likely want to make a reservation, and prepare to select your theme, construct your hilt, and choose your Kyber Crystal!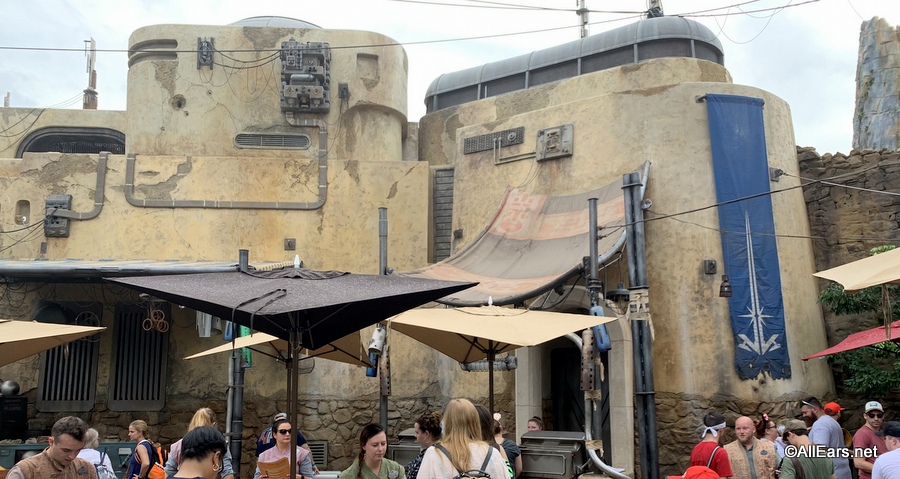 Watch AllEars build a lightsaber at Savi's Workshop here.
If you've always wanted to find the droid you've been looking for, head to Droid Depot. Here you can select pieces for an R-Series or BB-Series droid, then assemble it yourself. You'll find accessories and droid-related merchandise in the merchandise shop as well.
Dok-Ondar's Den of Antiquities
For wares from throughout the galaxy, head to Dok-Ondar's. Here you'll find Kyber Crystals and holocrons, legacy lightsabers, and more. Whether you're shopping or just browsing, be sure to look up to spot some serious Easter eggs in Dok-Ondar's collection.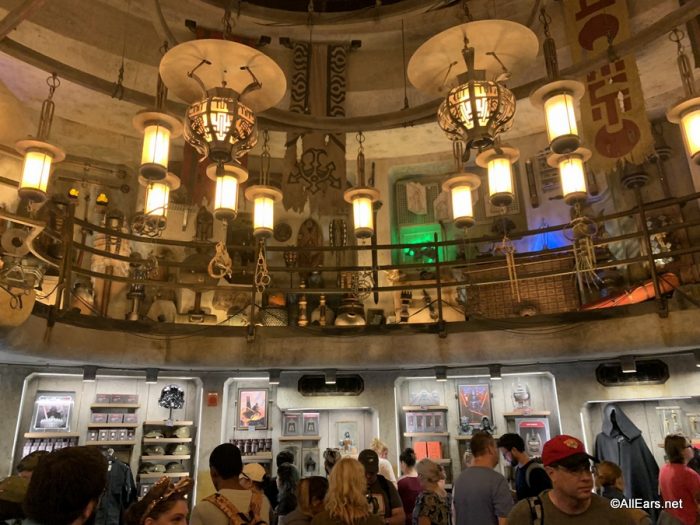 Marketplace Shops:
Creature Stall: Find a new friend to take home!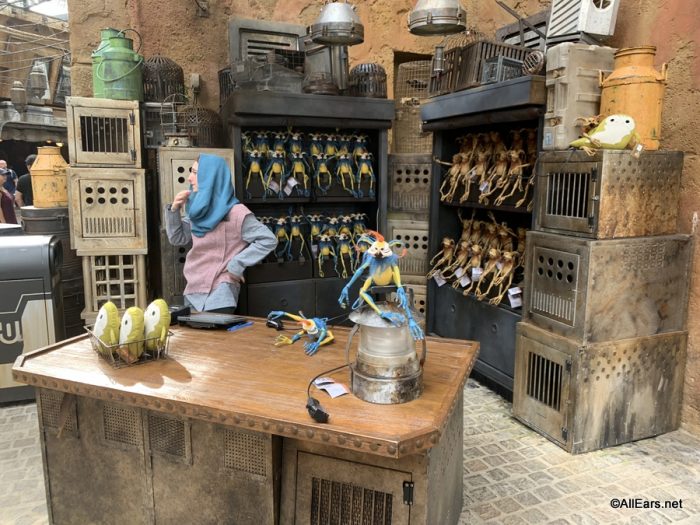 Black Spire Outfitters: Dress the part of a resistance fighter!
Toydarian Toymaker: Bring home a rustic toy or game.
Jewels of Bith: Add something special to your collection!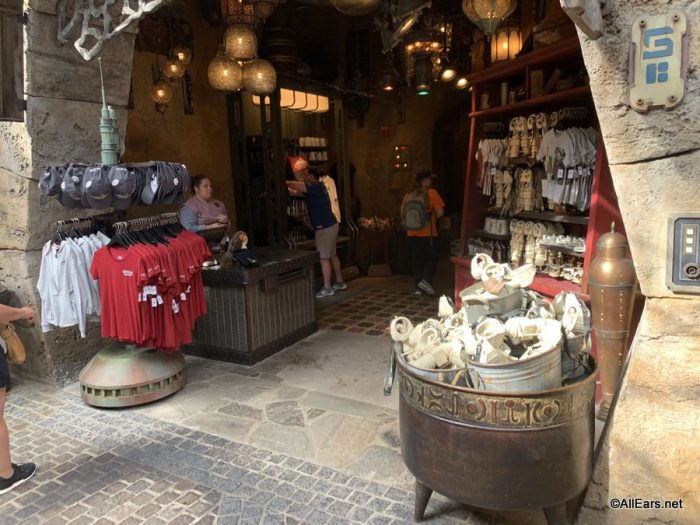 Resistance Supply
This stand near Rise of the Resistance is packed with merch for the rebel in you!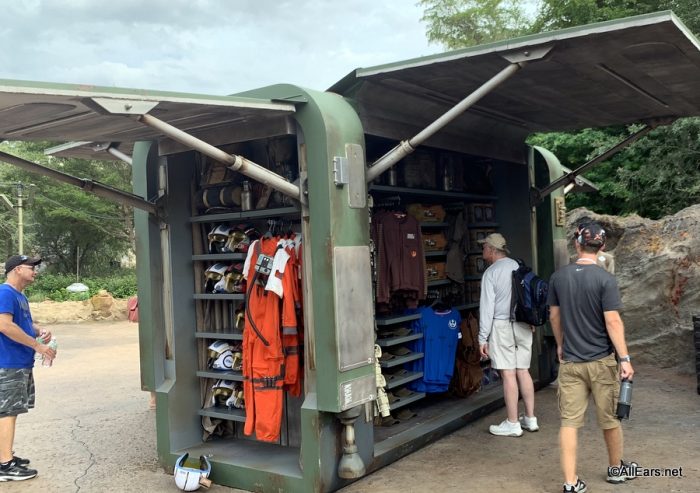 First Order Cargo
Prefer your merchandise from the Dark Side? Check out this shop near the Milk Stand and Kylo Ren's TIE Echelon.
Things to Know
Walt Disney World has two entrances to Star Wars: Galaxy's Edge. One is from Toy Story Land; the other is from Grand Avenue.
When Star Wars: Galactic Starcruiser, Disney World's immersive Resort, opens, it is expected to have a dedicated entrance to the land, too. A day in Black Spire Outpost will be part of the contained Starcruiser experience.
Details abound in Black Spire Outpost. Look for bullet holes in the sides of buildings, droid tracks in the ground below, and Easter eggs scattered throughout.
Black Spire Outpost is the largest single-land expansion in Disney Parks history.