Savi's Workshop – Handbuilt Lightsabers in Star Wars: Galaxy's Edge
Savi's Workshop is where guests head when they want their very own lightsaber. For $249.99, budding Jedi get to choose all the elements of their "weapon" and have the souvenir that every Star Wars fan wants.
Savi's Workshop Highlights:
Build Your Own Customizable Lightsaber with the guidance of a "Gatherer"
Only Builders and One Guest are even allowed into the workshop
Reservations are highly recommended and often required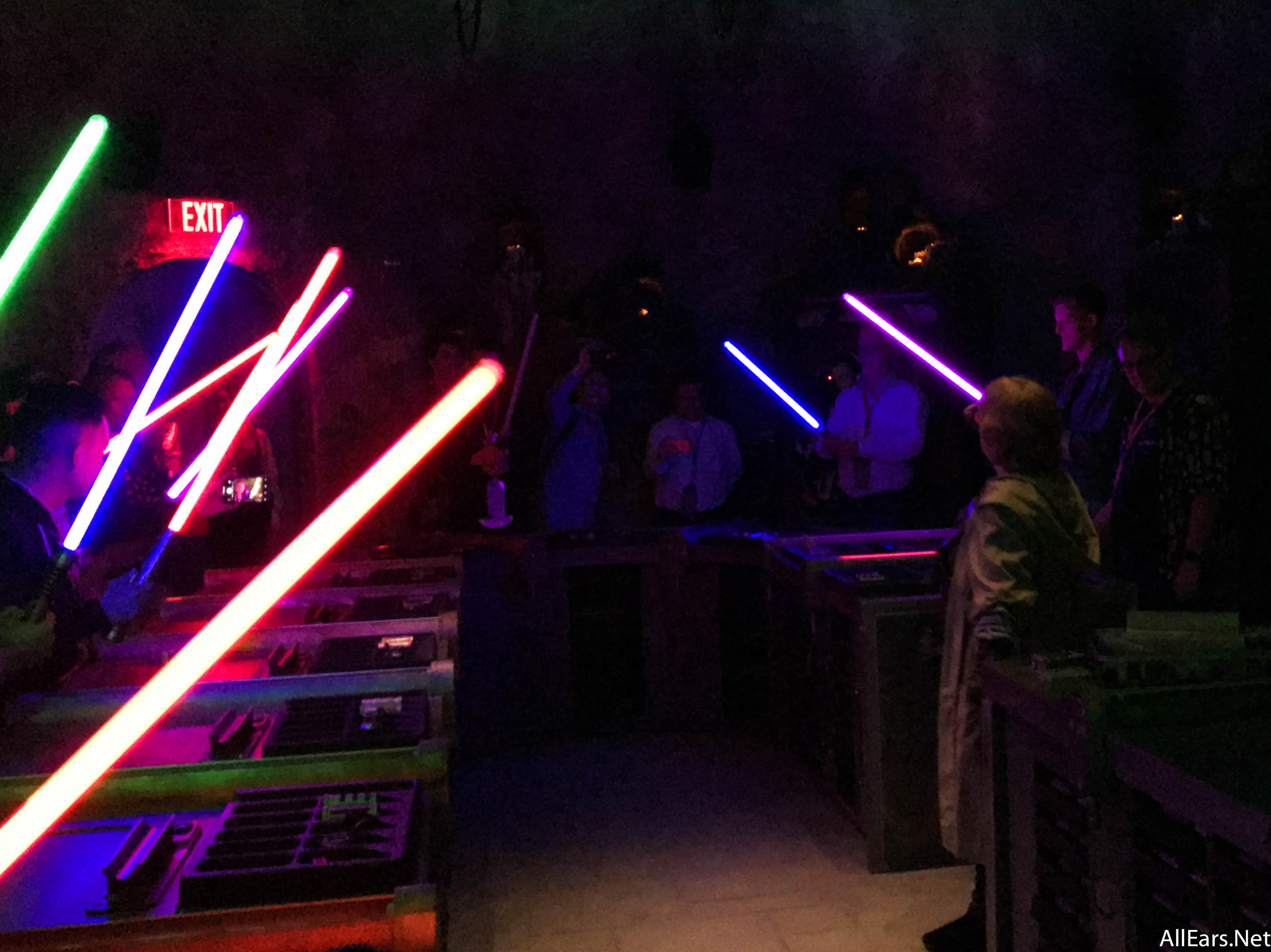 INTRODUCTION
Located in a nondescript building, Savi's Workshop is the place where "gatherers" assemble scrap metal and crystals to make the elegant weapons of a more civilized age, Lightsabers.
Savi's Workshop is located in Galaxy's Edge, near the Droid Depot and down the stairs from Dok-Ondar's.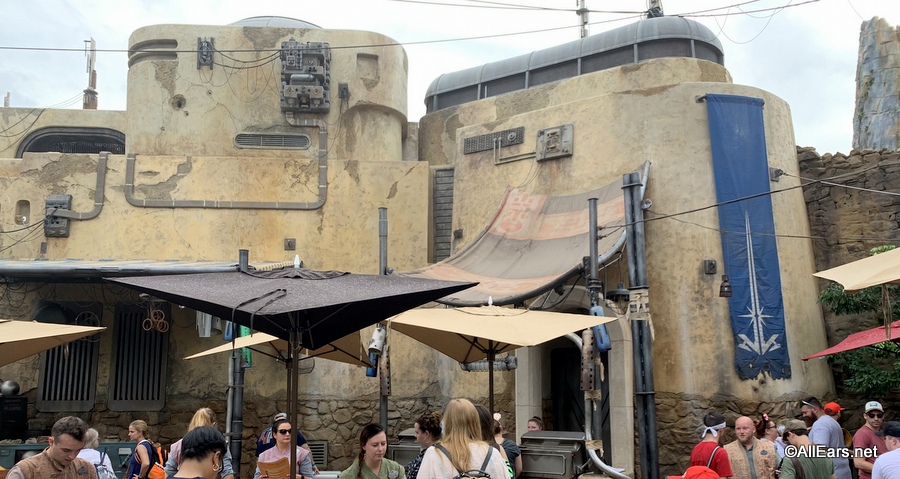 LIGHTSABER BUILDING EXPERIENCE
This section includes spoilers for the Savi's Workshop Experience. If you don't want to spoil the building experience, skip to the Logistics section. 
When arriving at Savi's, you'll need to check in with a gatherer outside. They'll check your reservation, have you pay, and invite you to look at their "scrap metal" collections to see which appeals to you.
You'll select from:
Peace and Justice
Salvaged scraps from fallen Jedi temples and crashed starships in these Republic-era designs honor the galaxy's former guardians.
Power and Control
Originally forged by dark side warriors, this style features rumored remnants from the Sith homeworld and abandoned temples.
Elemental Nature
This theme embodies the Force— an energy created by all living things, like Brylark trees, Cartusion whale bones, and Rancor teeth.
Protection and Defense
Hilt materials bear mysterious motifs and inscriptions that reconnect users with the ancient wellspring of the Force.
(Descriptions from the Disney website.)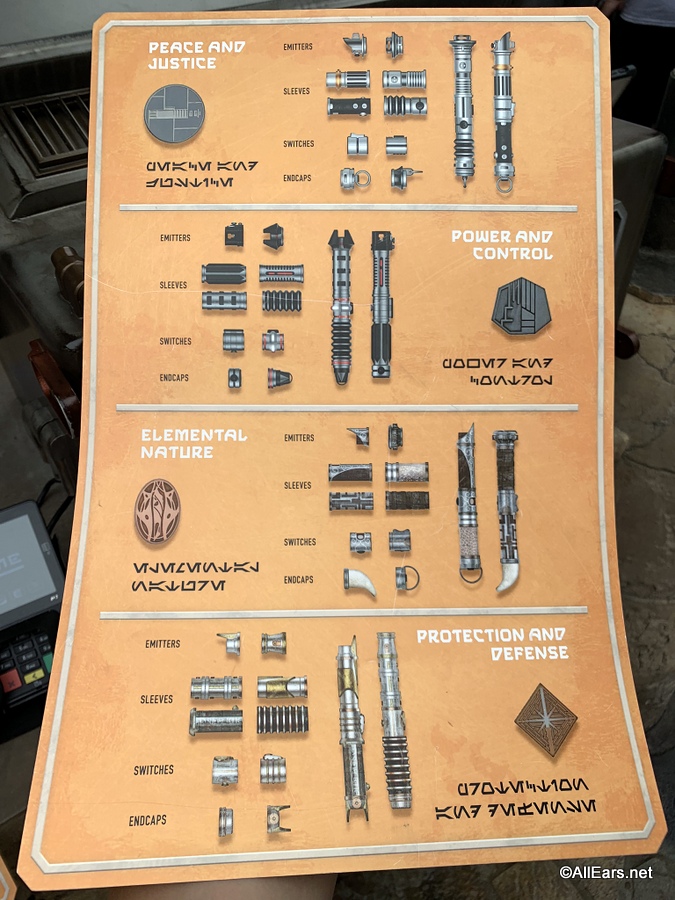 When it's your turn, you'll enter the workshop in small groups of about 10 builders and their guests.
You'll take your place at a building station. A master gatherer in the center of the workshop will introduce themselves and their assistants who stand around the room.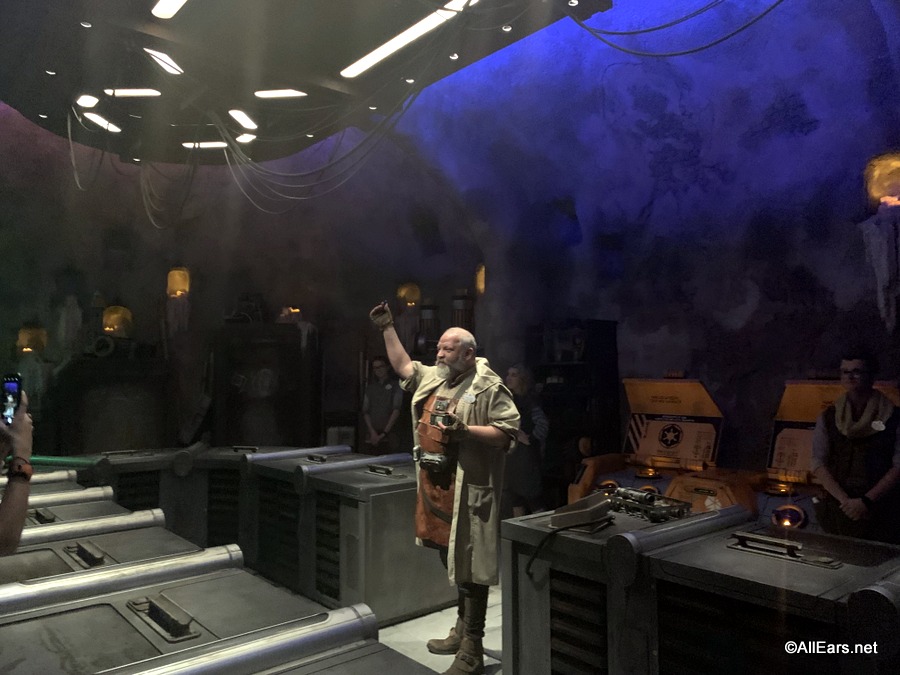 At this point, the Master Gatherer will describe the colors of the kyber crystals — red, green, violet, and blue — reminding you of the famous Jedis and Siths throughout history who wielded each color.
You'll then be asked to close your eyes and visualize which Kyber Crystal color you'd like, and the assistant will walk around the room letting you select one.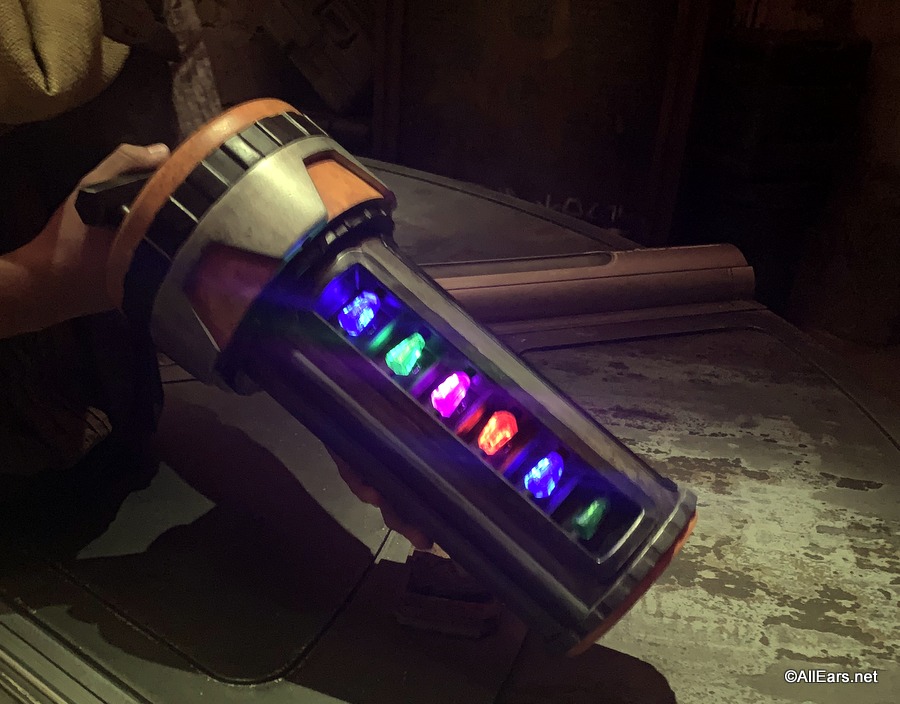 After a bit more instruction, you'll be asked to start building your Lightsaber. Your selected hilt pieces will be presented to you by the assistants, who will ensure you are building correctly.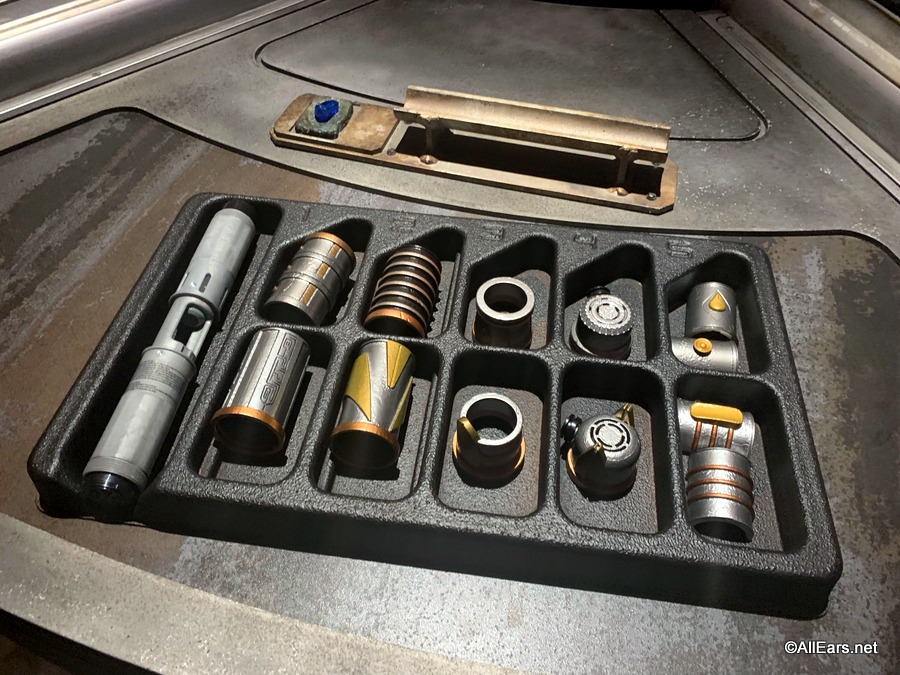 You'll begin by inserting your crystal, and then you'll build the hilt around it. When you're done, the assistants will take the hilt and attach it to the blades, which are located in special glass protected sheaths to the side of your station.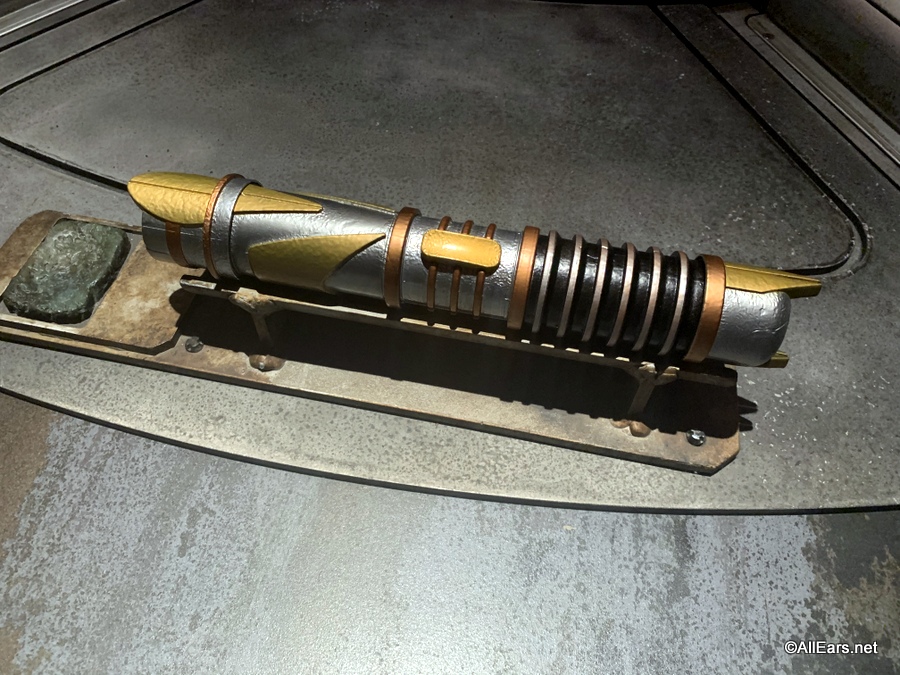 The Master Gatherer will ensure everyone is done, and the lights will dim. On his count you will turn your lightsaber on, and it will illuminate with that familiar sound.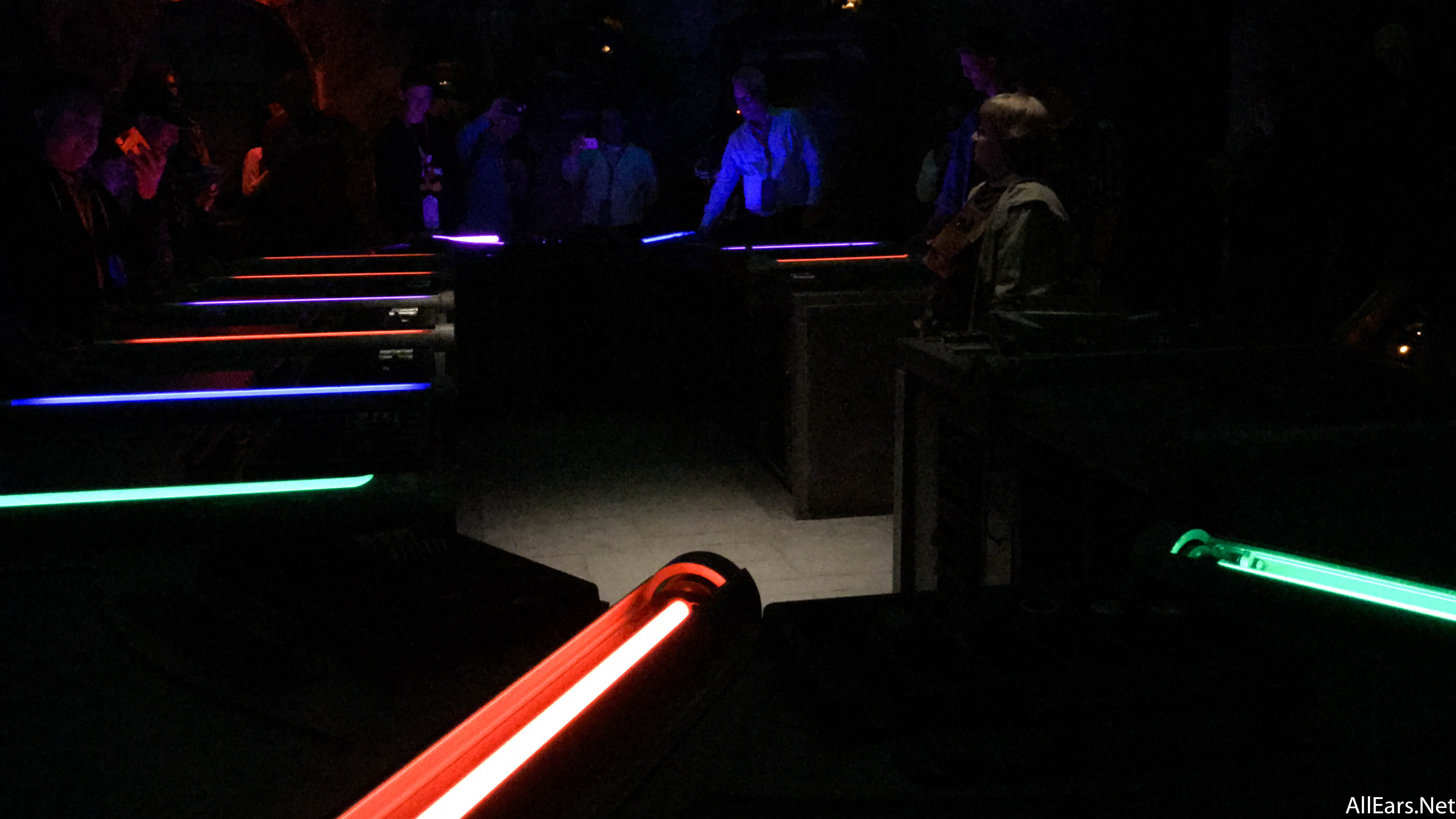 You'll be asked to raise your Lightsaber, and it's an impressive scene with all of the illuminated blades in the air!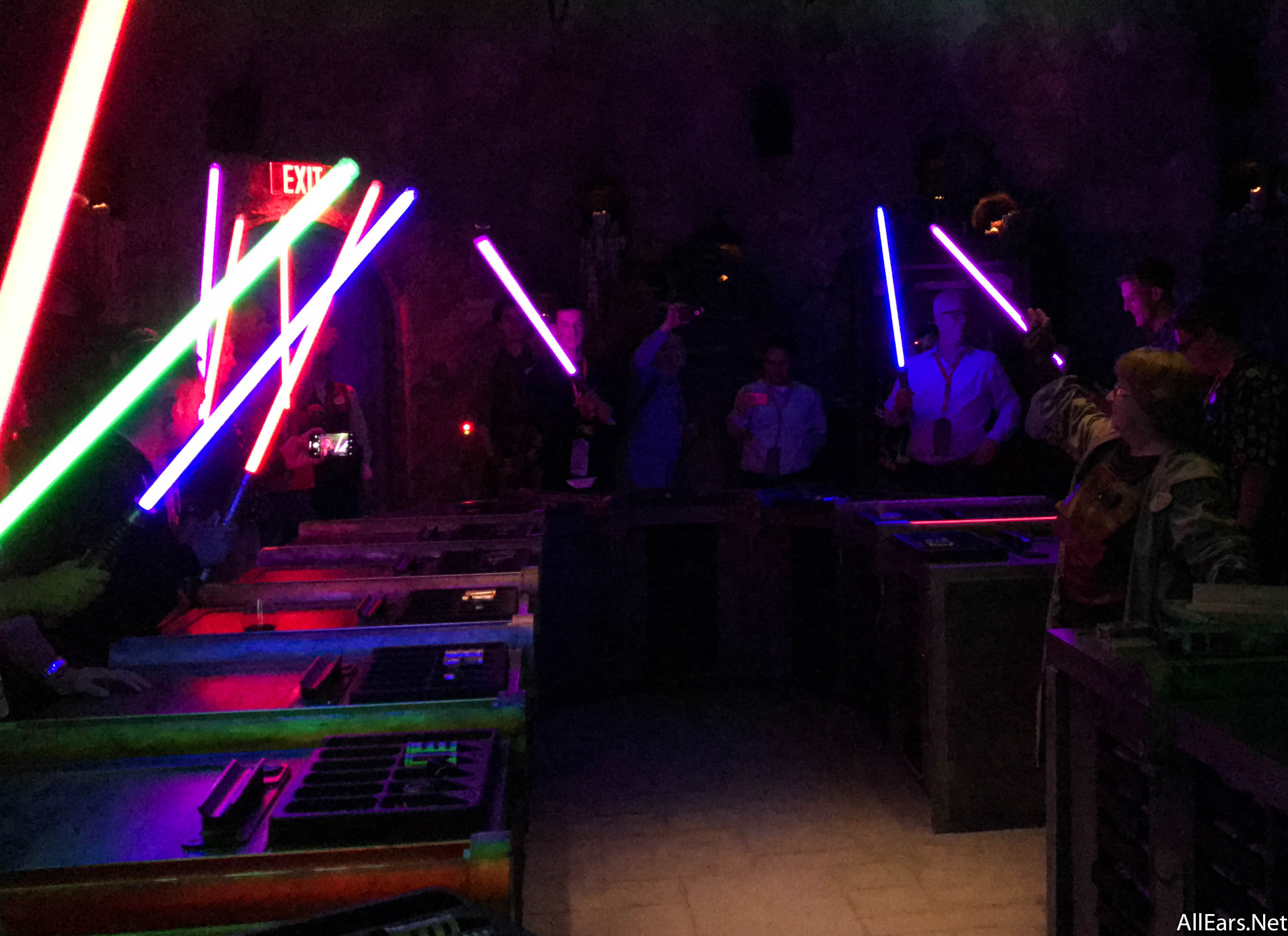 You'll be given a few more significant words, and then a carrying case you can bring your Lightsaber with you.
RESERVATIONS & LOGISTICS
The Lightsaber-building experience is limited to one builder and one guest. Only the builder can create a Lightsaber.
Custom lightsabers cost $249.99 plus tax.
Reservations can be made on Disney's website or on the My Disney Experience app 60 days in advance. It is highly recommended to book a reservation, as walk-in availability is not guaranteed and is rarely available.
Additional customization pieces are available at Dok-Ondar's Den of Antiquities. 
You can also find this location and lightsaber experience at the Galaxy's Edge version in Disneyland.
INTERESTING FACTS
If you ask about lightsabers, the outside cast members will say they collect nothing but scrap metal. They are always on the lookout for the Storm Troopers!
There is a "Wish Tree" located outside of Savi's. The Wish Tree is from the Star Wars novel "A Crash of Fate" by Zoraida Cordova. Villagers tie a ribbon or string around the tree and make a wish — and if it breaks off the wish will come true!
The Lightsabers are 31″ long.
Famous Lightsaber wielders, by color, include:
Red: Kylo Ren, Darth Vader, Darth Maul
Green: Yoda, Luke Skywalker, Qui-Gon Jinn
Violet: Mace Windu
Blue: Rey, Obi-wan, Anakin