Star Wars: Rise of the Resistance — Star Wars: Galaxy's Edge — Disney's Hollywood Studios
Rise of the Resistance Highlights:
As of September 23, 2021, Virtual Queue has been paused. Rise now uses a Standby Queue as its only means of riding. (See our experience from Day 1 of Standby here!)
Virtual Queue/Boarding Pass access may return in the future. Any references below are to prepare should that option return.
Lightning Lane access for Rise of the Resistance is available with the purchase as an Individual Attraction Selection.
40 inch height requirement
25 minute experience with multiple vehicles and events that fully immerse you into a battle with the First Order
Introduction | Attraction | Ride Logistics | Interesting Facts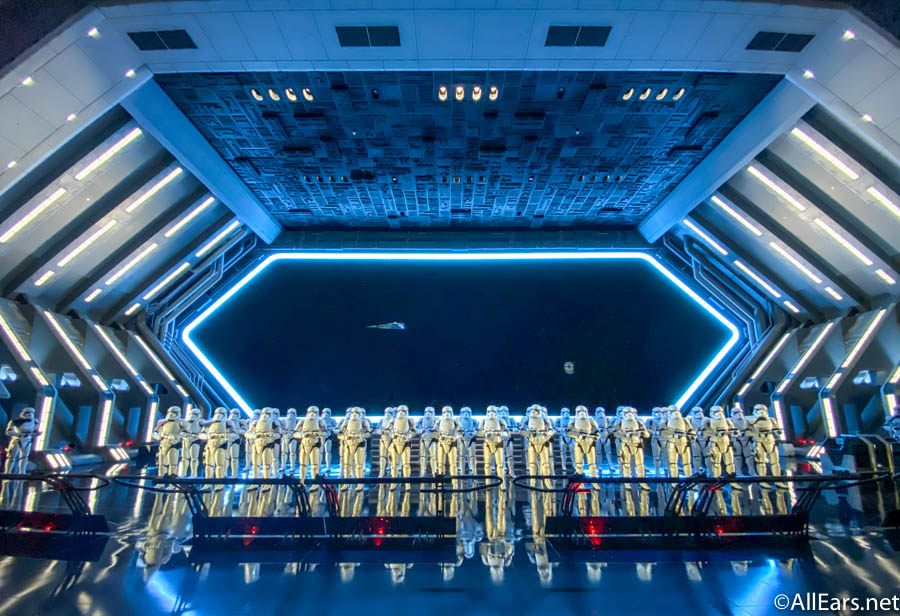 INTRODUCTION
Rise of the Resistance is an experience like you've never seen before! You have been recruited by the Resistance with a special mission — but things go awry when the First Order gets involved. It is a unique, multifaceted experience that includes multiple attraction types, popular characters both good and evil, and intense storytelling.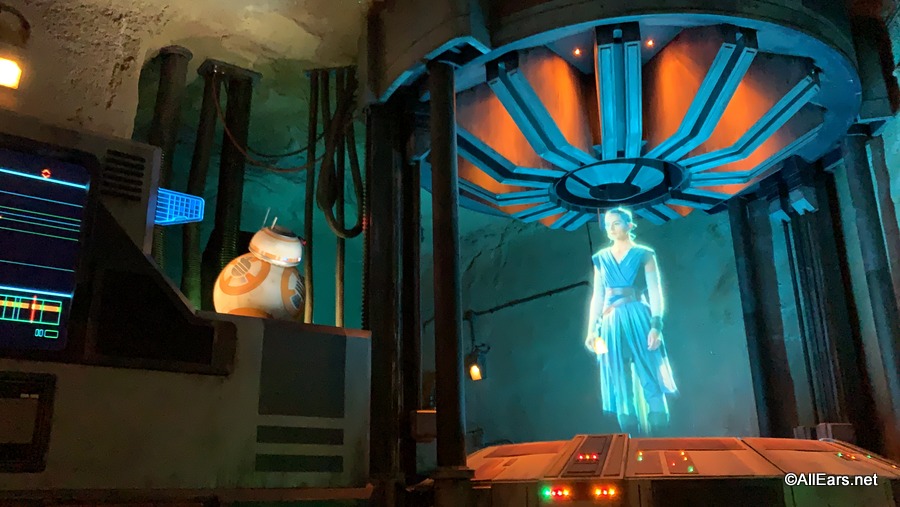 ATTRACTION
Minimal Spoiler Alert: Rise of the Resistance will take you into multiple scenarios, including on-board a First Order Star Destroyer, on a Resistance Transport, and in the pathway of AT-AT walkers!
At one point, guests can expect to be "captured" and moved by the enemy —  before they escape on a trackless troop transport piloted by a droid! Along the way, riders will see various scenes and characters including Stormtroopers and Kylo Ren.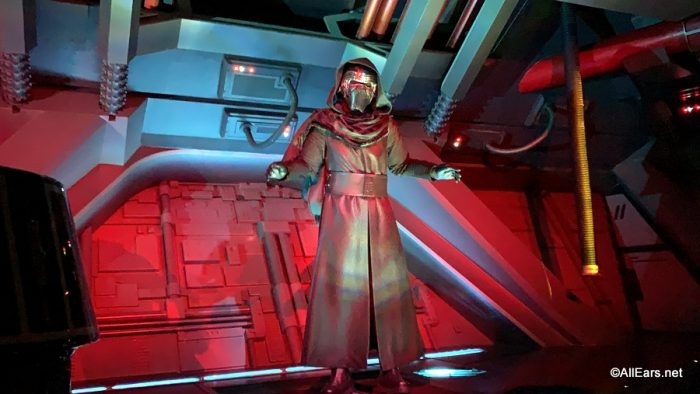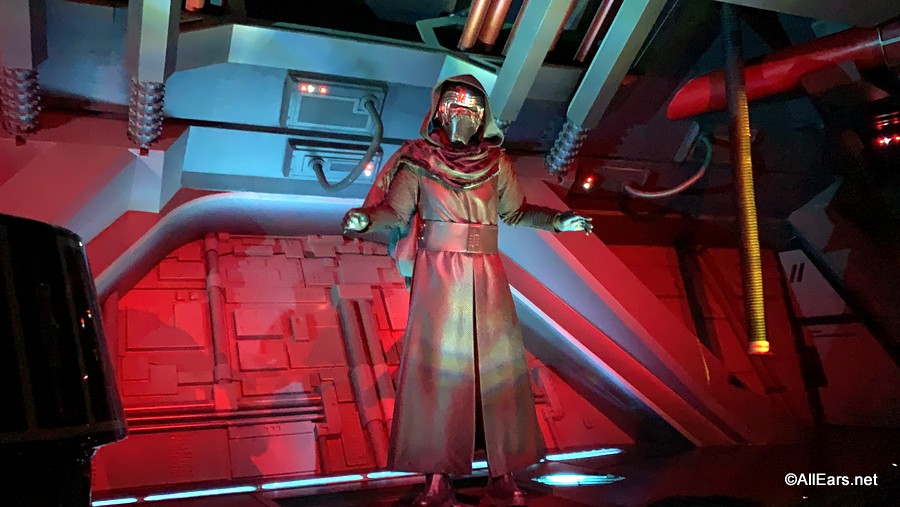 Detailed Attraction Description:
Warning: Definite Spoilers Ahead!
The queue begins in the rocky cliffs of Batuu, where you'll want to pay attention to the ground. You'll see soldier footprints as well as tracks from a droid. It turns out it was the droid Imagineers were looking for — the real R2-D2 from "A New Hope" was used here.
The line continues winding through the forest, until you reach a set of man-made (or alien-made) caves. It's here you'll reach the Resistance Base, set among the ruins of an ancient civilization.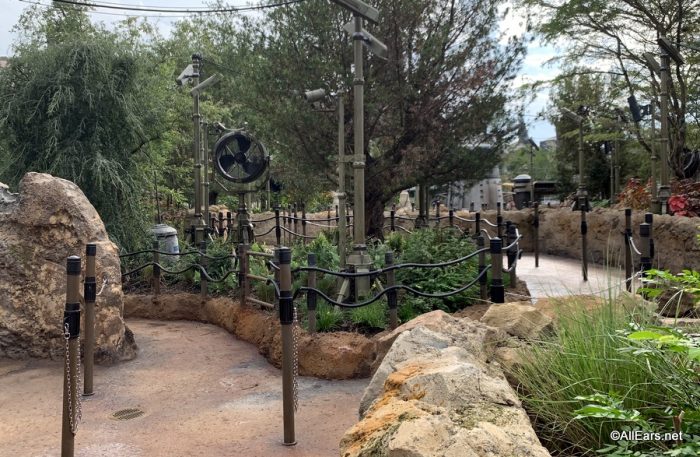 The story goes that the Resistance (which set up camp here a week ago) and the First Order are both in search of something (we don't know what yet).
As you weave through the queue, you'll see various items from the Rebels' camp — such as droids and communication gear. Make sure to keep an ear out for signs that the First Order may be approaching.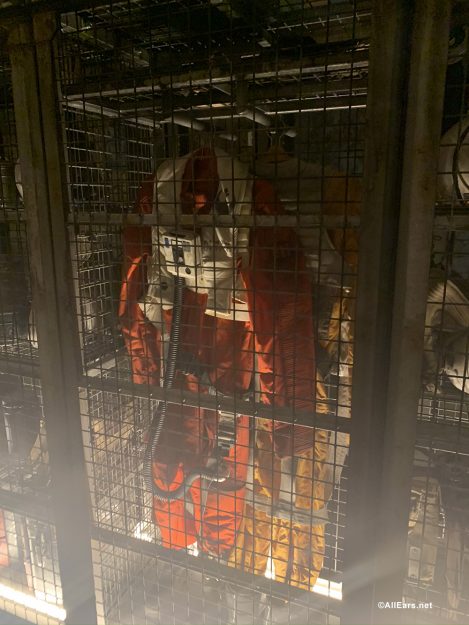 You'll continue winding through and you'll want to pay attention to the ancient site you're in. The Play Disney Parks App will be very interactive in the queue, deciphering symbols and raising questions about what has happened here.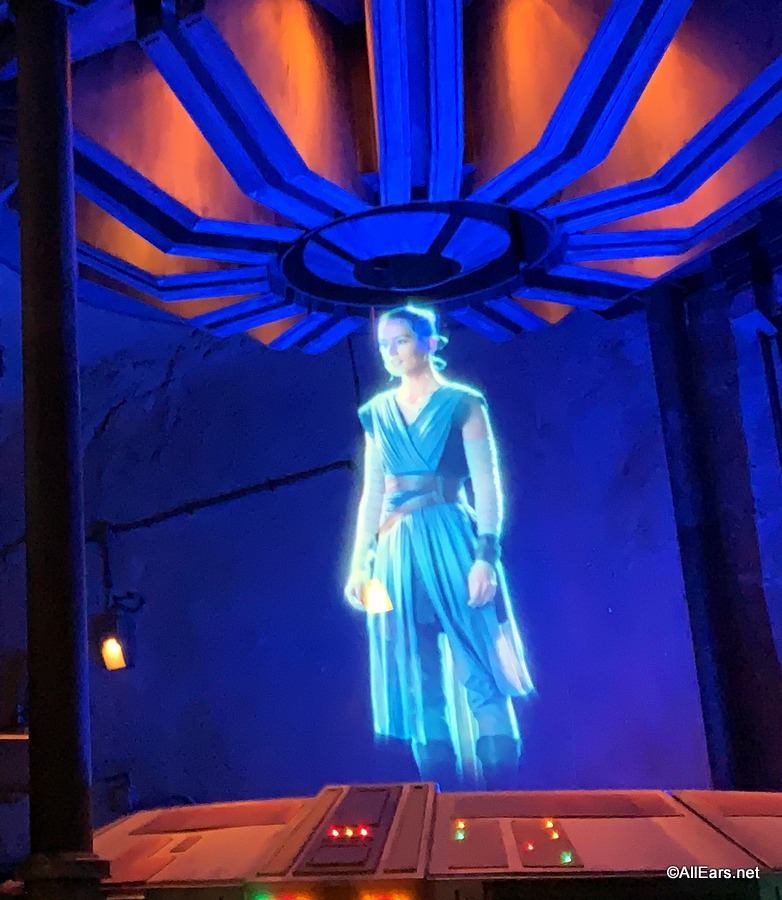 Eventually you'll make it to the Resistance Command. There you're greeted by BB-8, who presents a hologram of Rey letting you know that you'll be boarding a transport shortly for an urgent mission. Rey informs you that the rebel base is no longer safe, so you must leave ASAP to the new secret location. She urges you to keep the information private — the First Order can never know. Rey also informs you that Finn and a small band of rebels have snuck inside a First Order ship as part of the Resistance Effort.
You will be transported by Lieutenant Bek and Nien Nunb, with Poe Dameron along with other Resistance pilots flying alongside as security.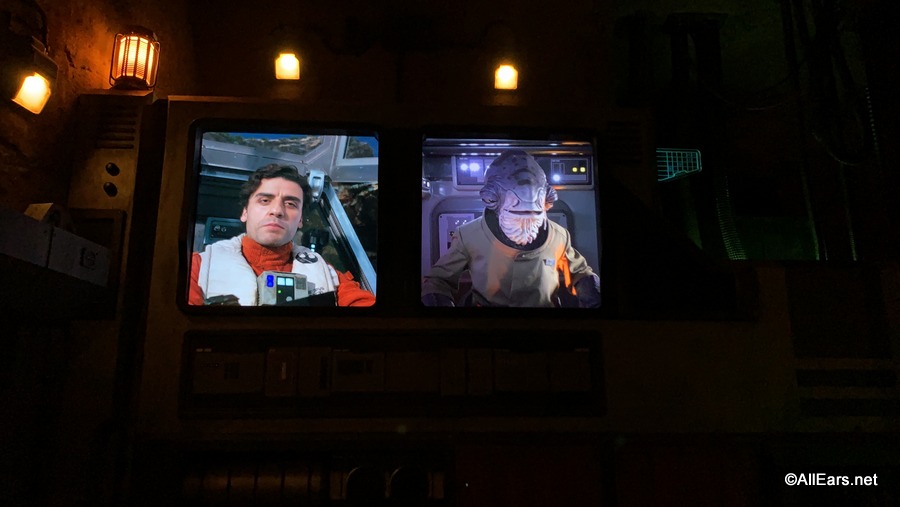 You'll then exit the bay, and be hurried onto your Resistance transport by fellow rebels. On your right,  you'll see Poe's signature black X-wing, and BB-8 ready to go!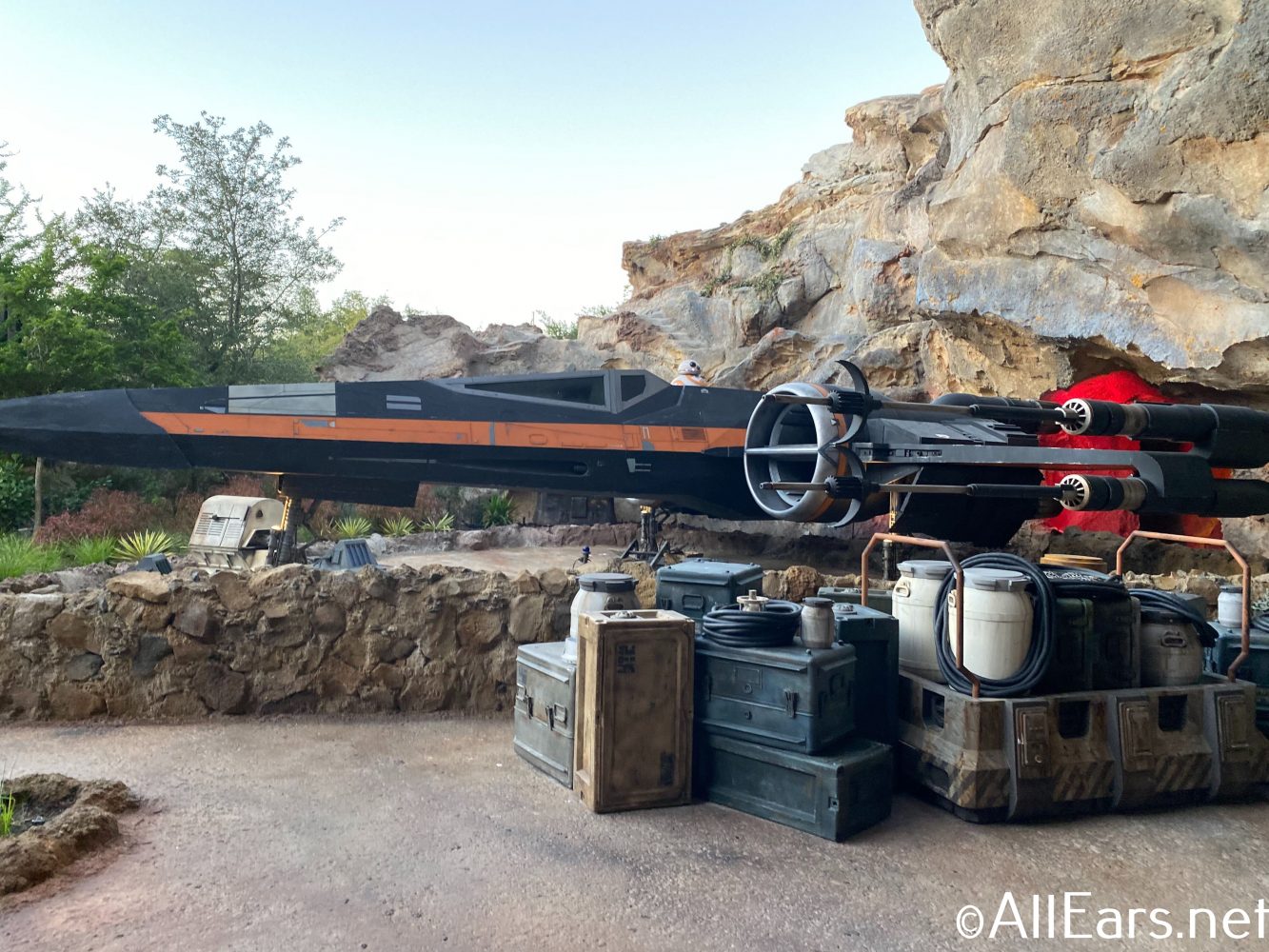 Time to go! You'll board the transport vehicle quickly and grab on! There are no seats, so instead hang on to the hand rails around the ship. Lt. Bek and Nien Nunb are piloting the vehicle which takes off. You can see the ground beneath you through the back windows. You'll also see Poe and his team on communication screens around the transport.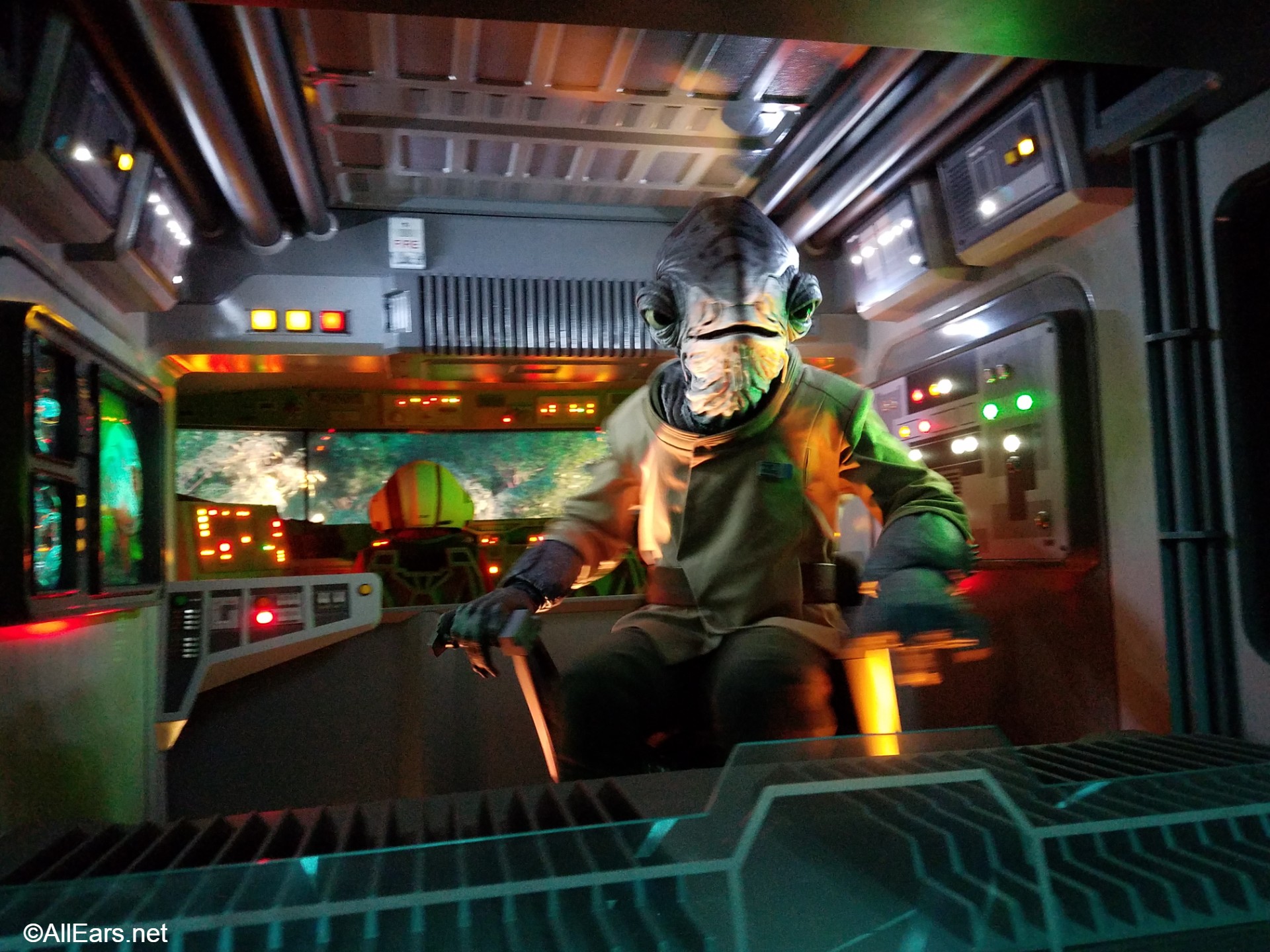 It's off to the new secret base — but not so fast! A First Order Star Destroyer appears and pulls your transport into a First Order hangar. Poe abandons you, promising to bring back help. You see General Hux on the screen who informs you "resistance scum" that you're now the property of the First Order.
Your transport is boarded by the First Order, who will instruct you to disembark ASAP. You'll leave then transport ship and board the First Order Starship. When the hangar is revealed, you'll be in a giant auditorium complete with Storm Troopers and TIE Fighters.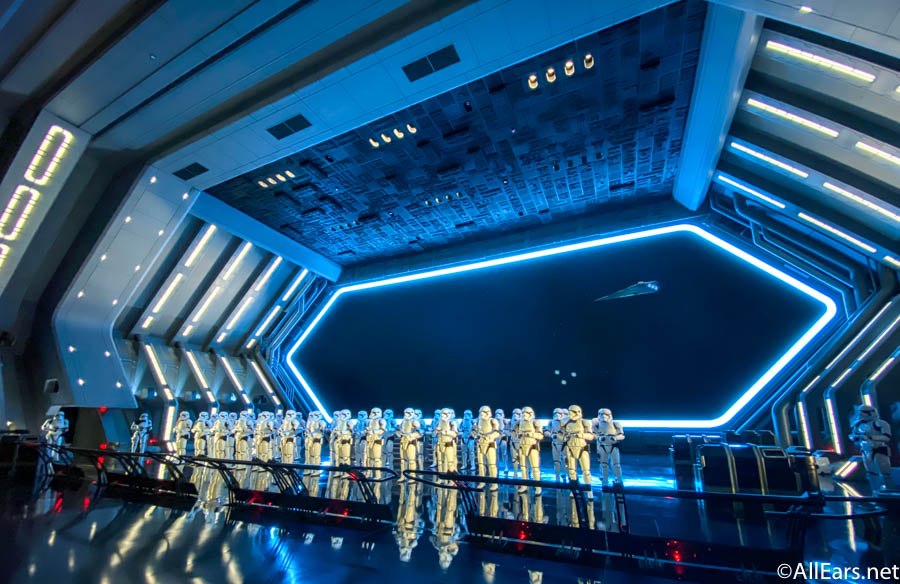 You're allowed a few moments to take "scans" (photos), and then you're ushered into a corridor. When you get to the front, a First Order Officer will ask how many are in your group, and assign you a color to stand on for interrogation. REMEMBER YOUR COLOR.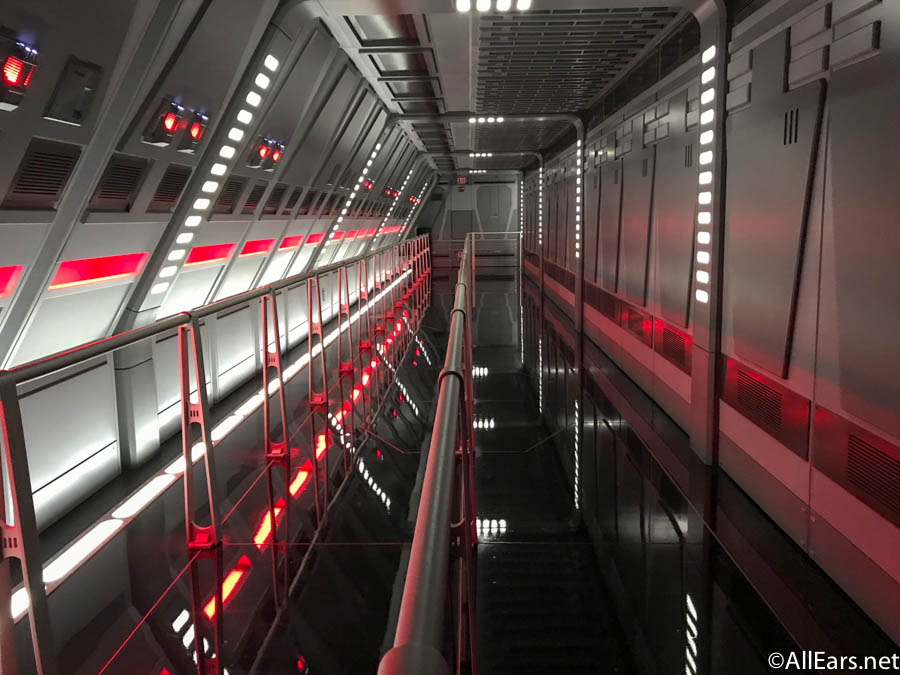 You will then be shuffled into an interrogation room, where Kylo Ren demands to know the location of the Resistance Base. Luckily, he's called away to the Bridge — and the Resistance team who's been hiding on board breaks you out!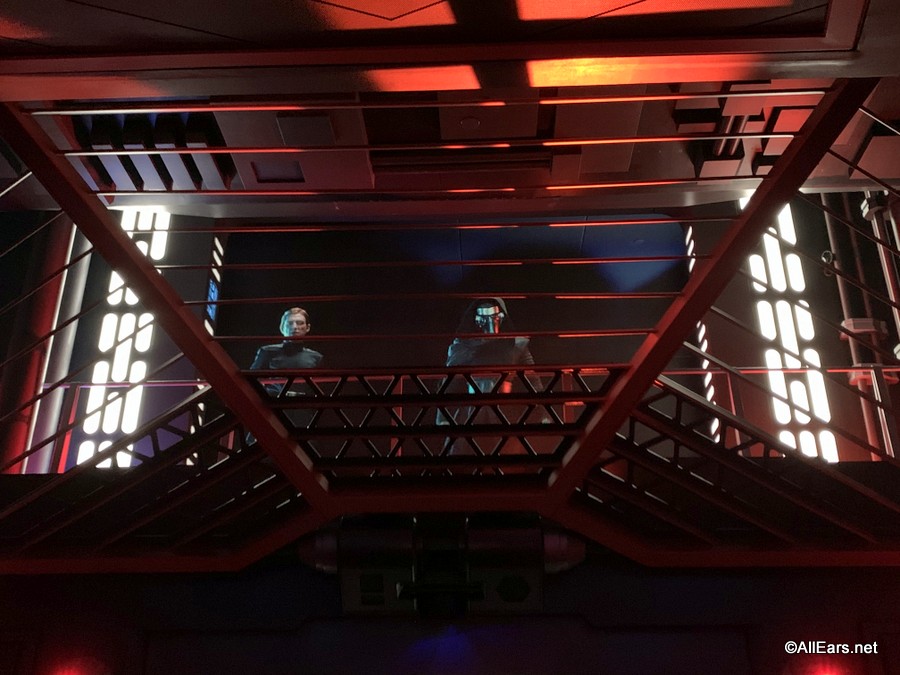 You'll escape through a hole they blast in the wall and board trackless Prisoner Transports, guided by R5 units which they've re-programmed. Remember your color from Interrogation? The Droid Transport's rows are designated by color, and you'll load into the corresponding one (red, blue, silver, orange). On a large monitor you'll see Finn explain your route — and that you're headed for the escape pods.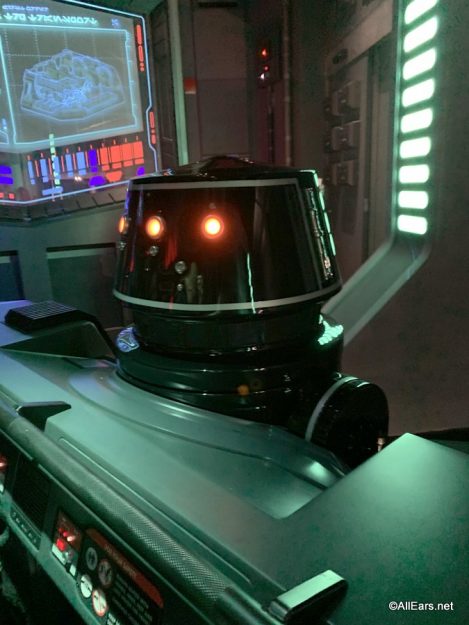 When the coast is clear, you'll roll out into the Starship's corridors. Watch out for Probe Droids and Storm Troopers!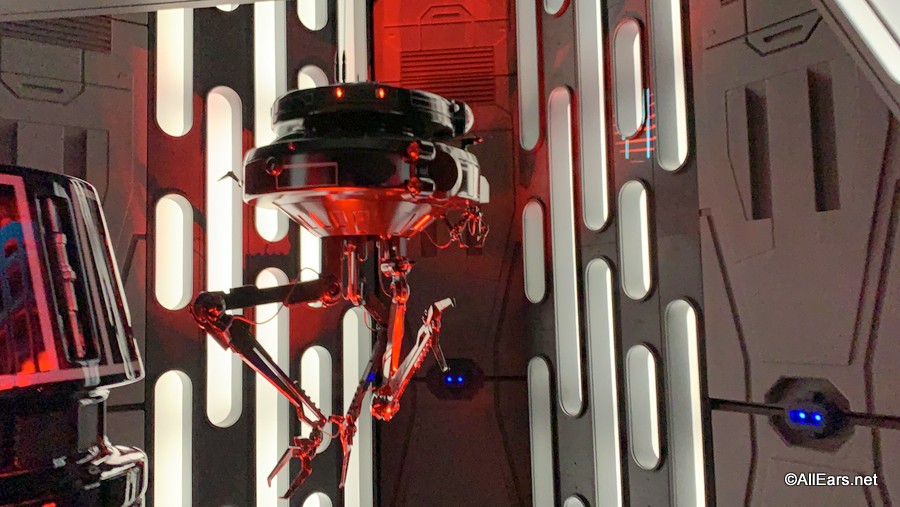 A few of the Storm Troopers realize you're the prisoners, and the chase is on! Storm Troopers continue to fire at you — leaving the damage and holes in the ship as they do. You'll then enter a HUGE hanger with life-size AT-ATs, and accidentally head upwards on elevators.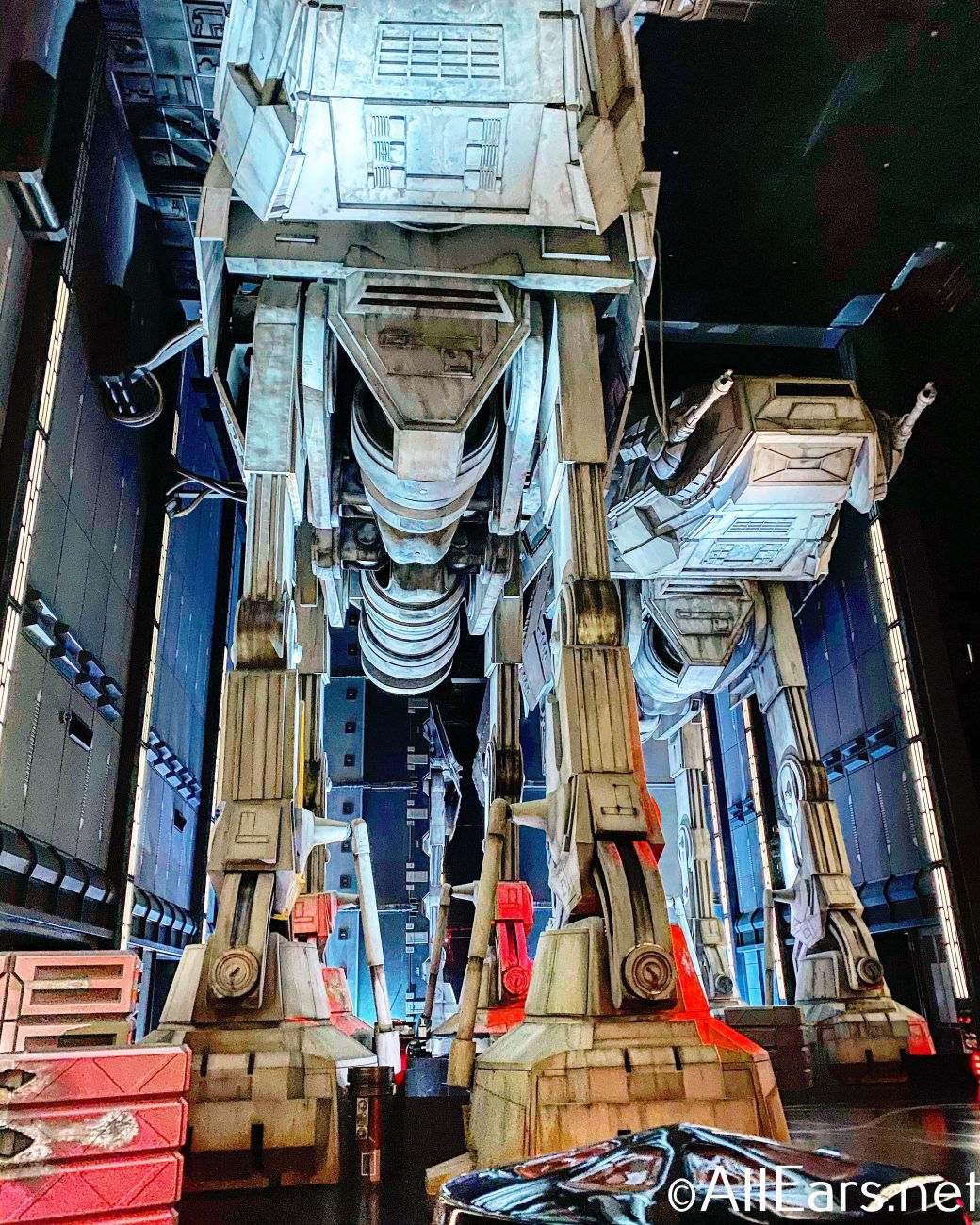 Your transports then accidentally take you to the bridge, where you can see General Hux inform Kylo Ren that the prisoners (you) have escaped.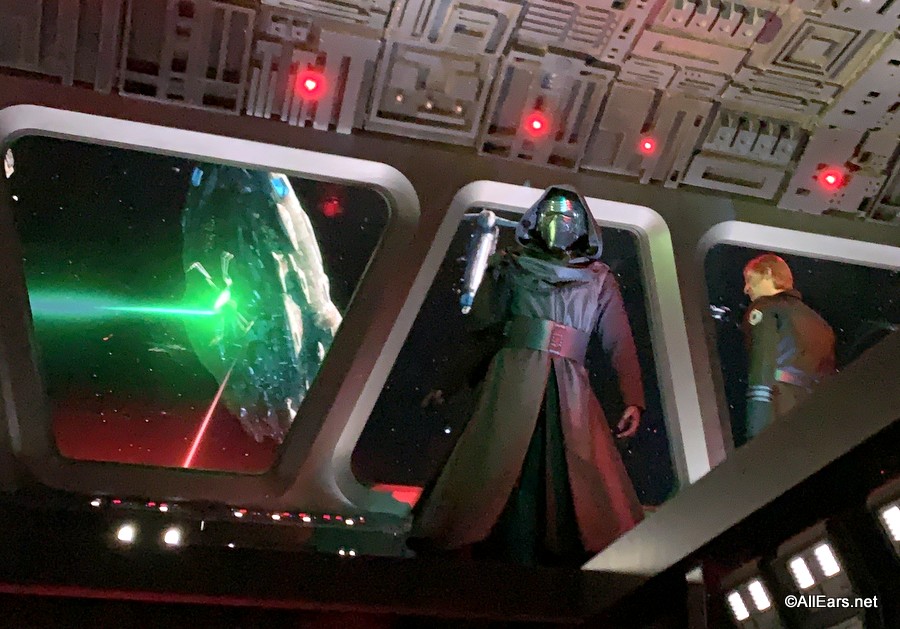 Your droids quickly get you out of there — but only to be chased by Kylo Ren himself! Be on the lookout for his iconic red saber.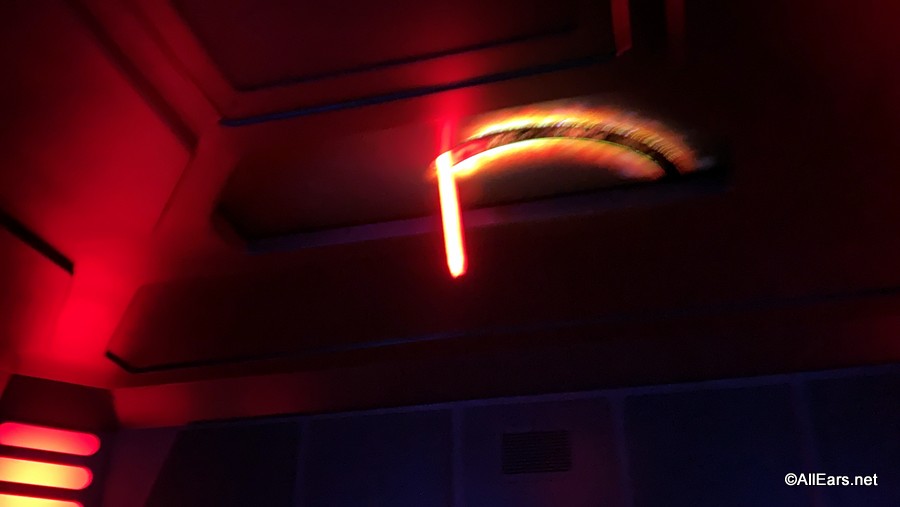 The Transport Vehicles continue to guide you through the ship dodging giant blaster cannons (shooting at Resistance pilots outside) on your way to the Escape pods. You'll run into Kylo one last time, and it seems all hope is lost — until a blast from the Resistance destroy a part of the ship causing debris to block him!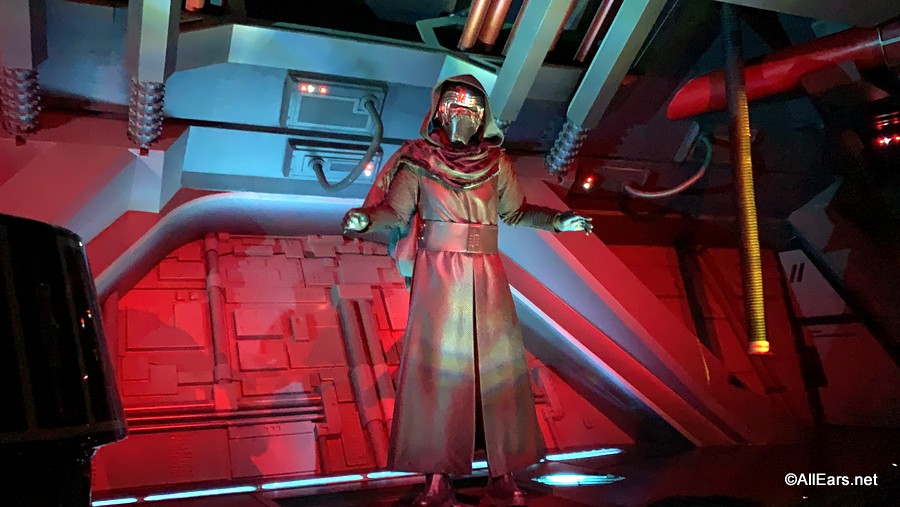 You will then load into Escape Pods, when you'll be dropped and soar back to Batuu. Listen up for Poe Dameron who helps you safely land.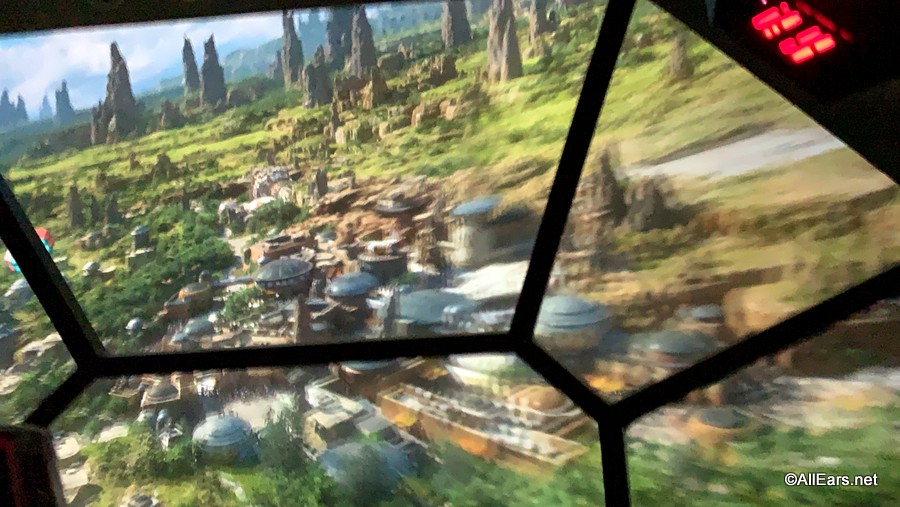 After your Escape Pod lands, you'll head to disembark — but did Lt. Bek make it?!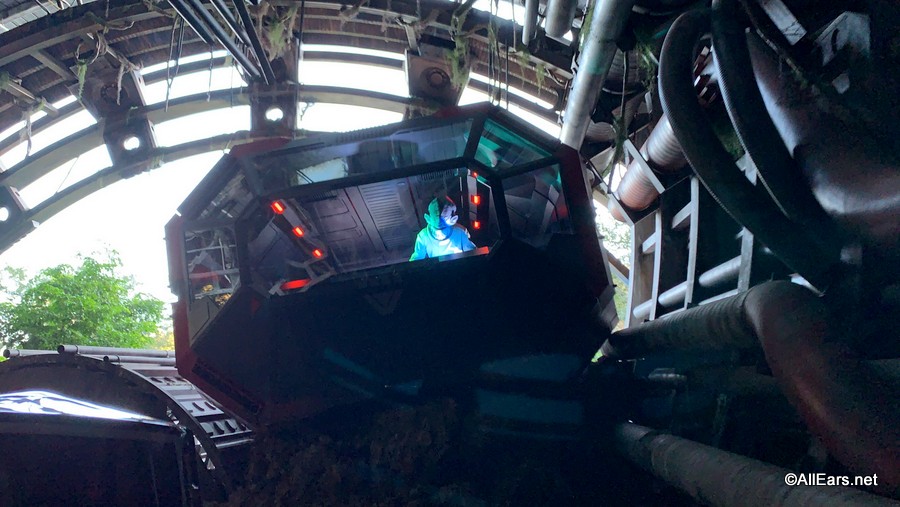 PHEW! He did — an escape pod lights up in front of you revealing Lt. Bek who thanks you, and R5, for keeping the Resistance secret safe. You then disembark back on Batuu.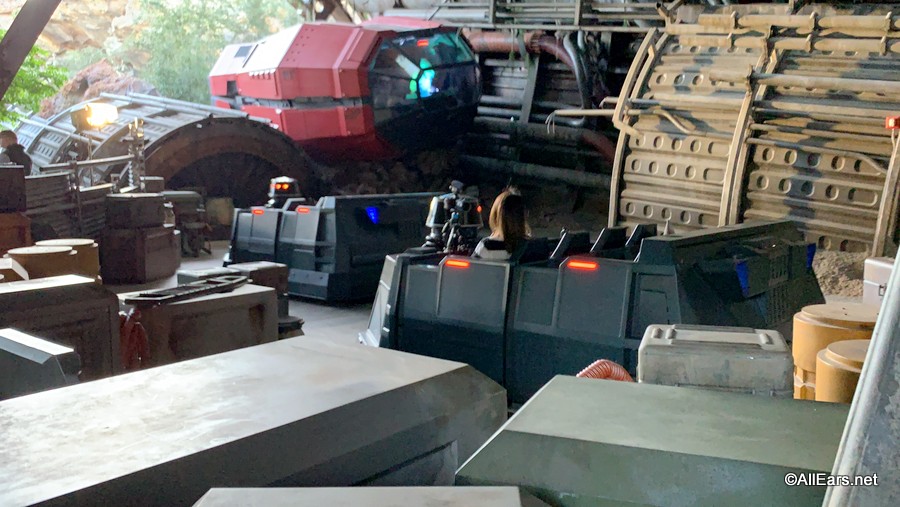 RIDE LOGISTICS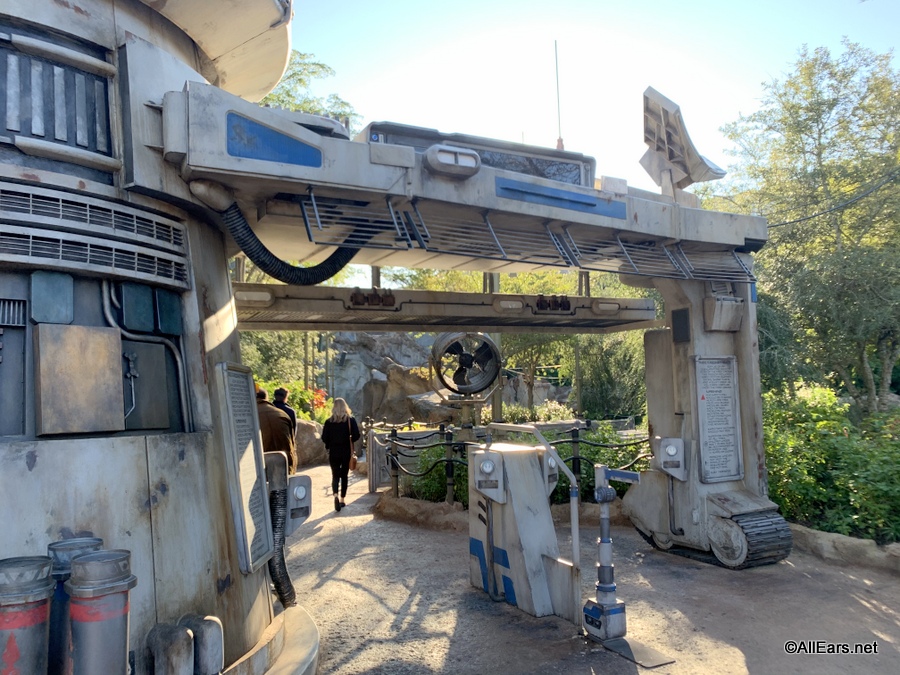 How To: Current Access
This attraction is crazy-popular, but Lightning Lane access can be purchased via Individual Attraction Selections. There is no Single Rider line.
Currently, the ONLY WAY to ride is by using the Standby line or purchasing as an Individual Attraction Selection.
How To: Virtual Queue (if it returns)
Boarding passes are distributed on a first come, first serve basis, and only guests that are in the park are eligible. Boarding Passes are available day-of and open up at two different times each day. They are typically gone within minutes. To learn step-by-step how to acquire a boarding pass, as well as tips,   you can read more here.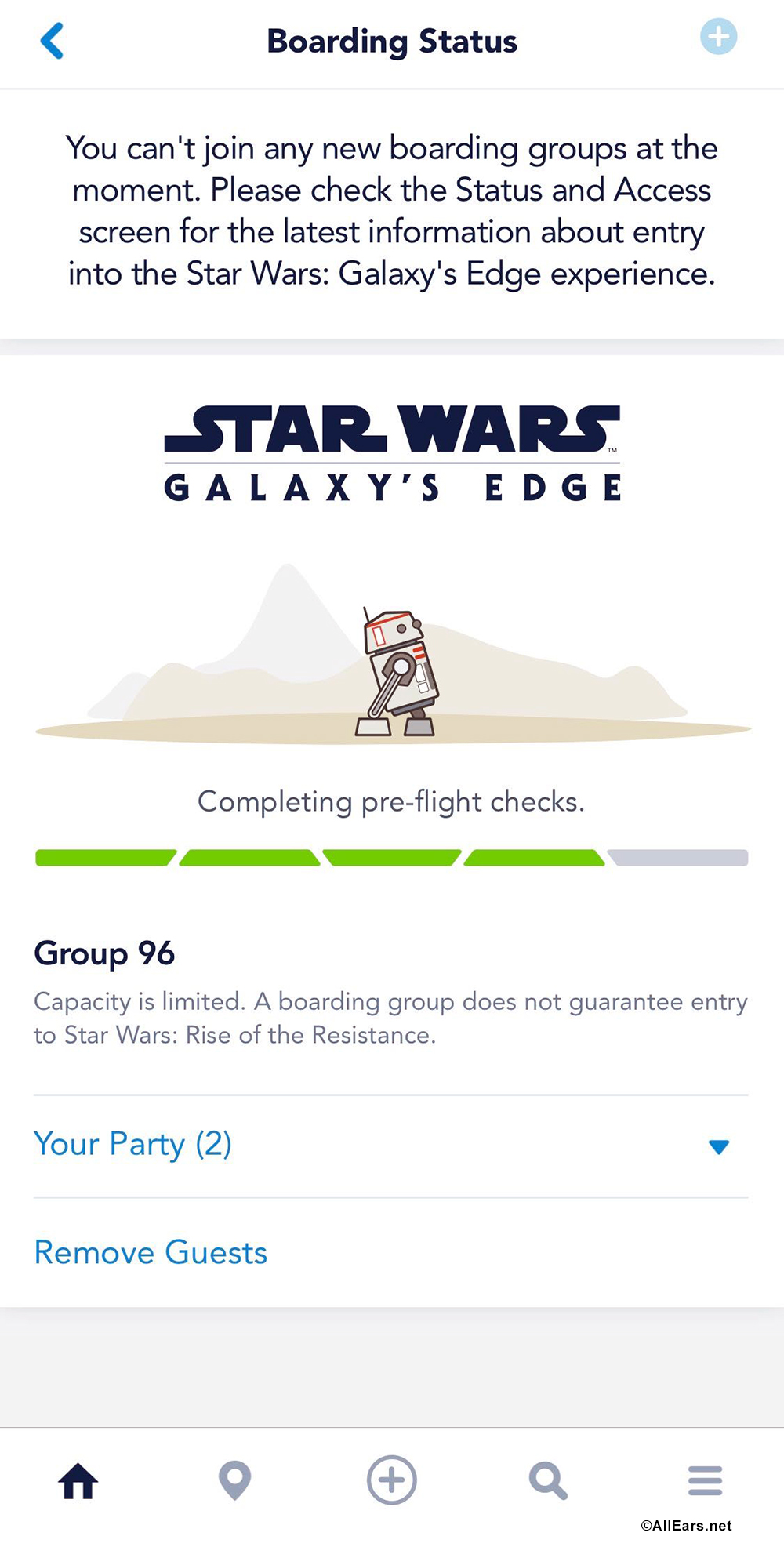 Height and Safety
There is a height restriction on this ride. You must be at least 40 inches (102 cm) or taller.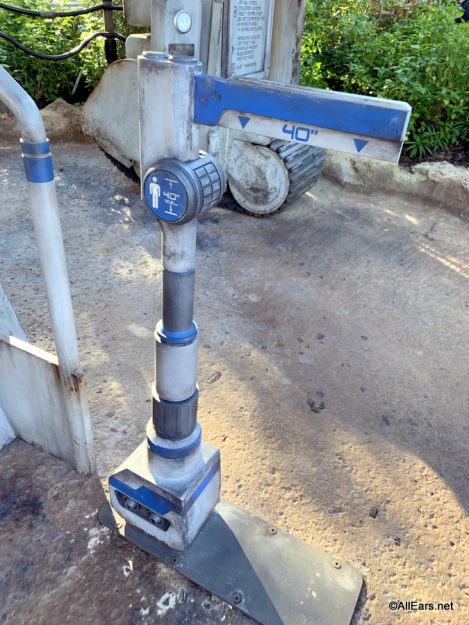 There are several health warnings, be sure to read them before joining the queue. If you have concerns speak with a cast member.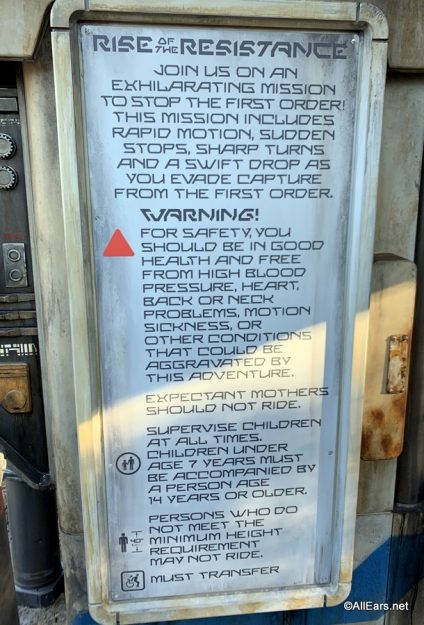 The attraction is approximately 20-25 minutes long. Be prepared for the length in addition to your time in the line!
Handicap Accessibility
Guests in Wheelchairs and ECVS can stay in their vehicles through the first part of the attraction. You will need to be able to transfer into the Prisoner Transport vehicles as they are not wheelchair accessible. It is about a 6 inch step up.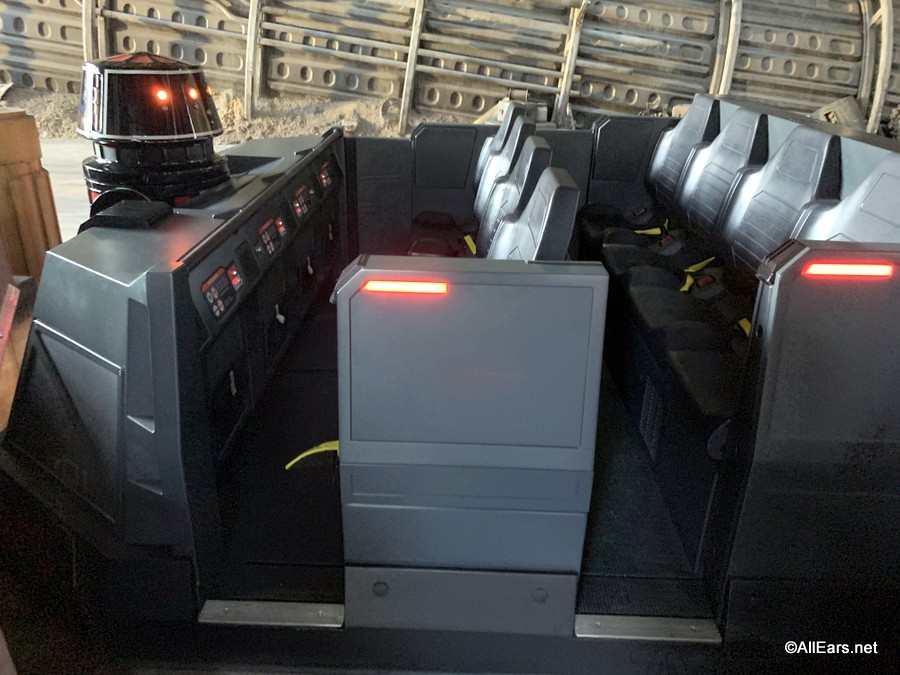 For more info on Rise of the Resistance, and to go inside the attraction, check out this AllEars TV video!
INTERESTING FACTS
The ride actually has two different tracks depending on which prisoner transport you board. For example, the silver/orange vehicle rides an elevator to the side of the AT-AT, and the blue/red vehicle goes up in front of an AT-AT.
In the queue, look in the equipment cages. You'll see flight suits, helmets, and gas masks like you've seen in the Star Wars films, including the Bacta Suit Finn wears in The Last Jedi.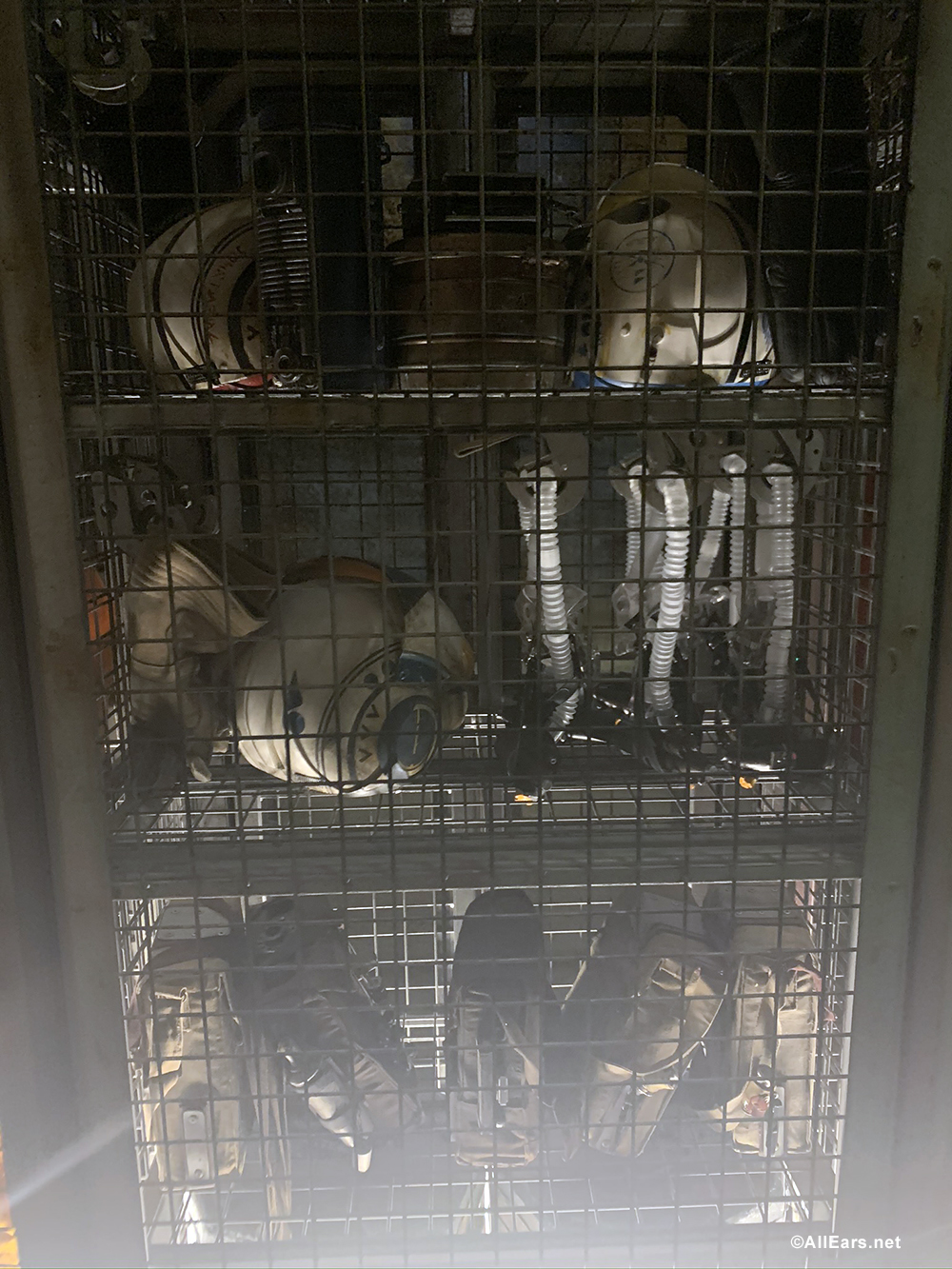 For more details of Rise of the Resistance, and Galaxy's Edge in general, plus tips on getting a Boarding Pass, check out this AllEars video!