We rode it! After months of anticipation and build up, we got to ride Disney World's Rise of the Resistance this morning. This ride is positioned as the crown jewel of Star Wars: Galaxy's Edge lands at both Walt Disney World and Disneyland.
The hype has been building. We've heard it's Disney's most advanced ride ever and  that we won't believe it when we ride it. And this morning, it was time to find out if the ride lived up to our expectations. (Spoiler alert: IT DID!)
We have some spoilers about the ride in this post, if you do not want to know any details about the ride we recommend you stop reading now (but we hope you don't). We don't give away too many spoilers, but there are some!
Rise of the Resistance Ride Queue
Before the ride, there's the queue, which we guess is where a lot of people will be spending a lot of time starting tomorrow morning. The entry is like most Disney rides.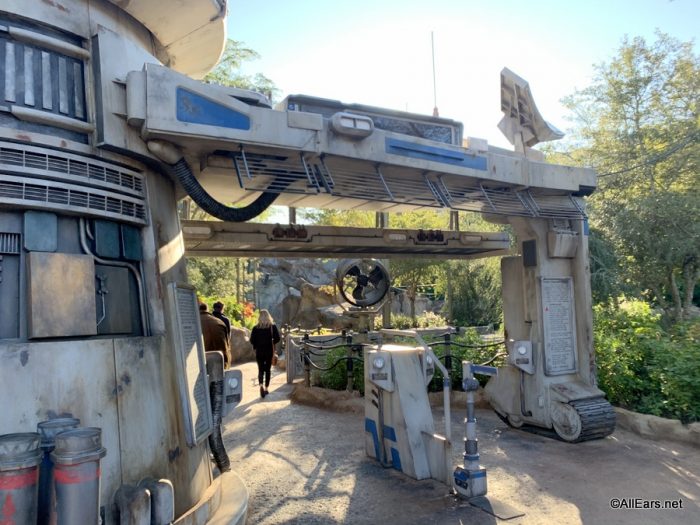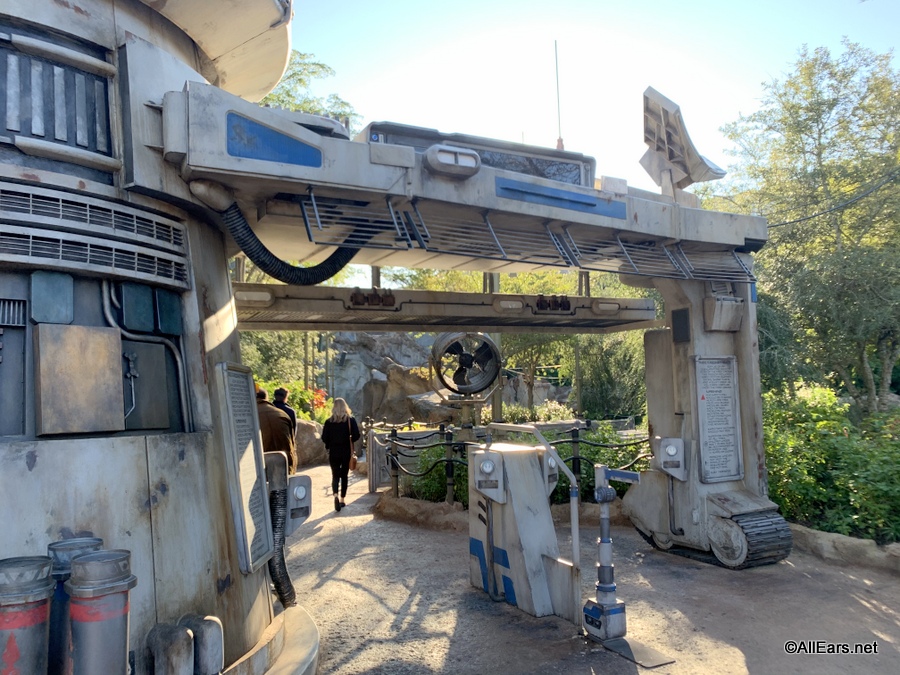 There is a non-operational FastPass+ lane right now (no date for FastPasses has been announced yet), there's also a height requirement measuring area. The height requirement is 40 inches on this ride. We know people like to get those little ones who stand at 38-39 inches onto these rides, but be respectful of the requirement. It is there for your child's safety. There is a lot of moving around on this ride and a drop (more on that later), and the height is important on this ride (as it is with all rides).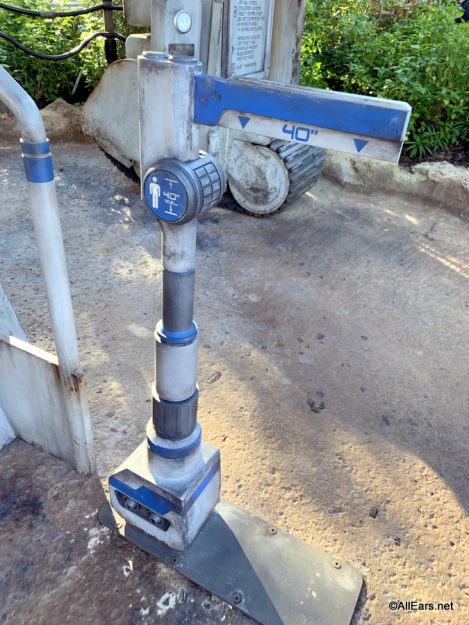 Be sure to check out the health and safety alerts on the sign and in the times guide. If you have any concerns speak with a cast member.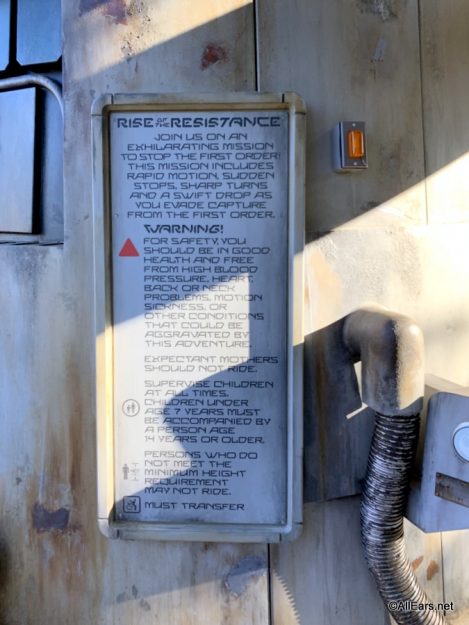 Here we go! Winding…
…winding…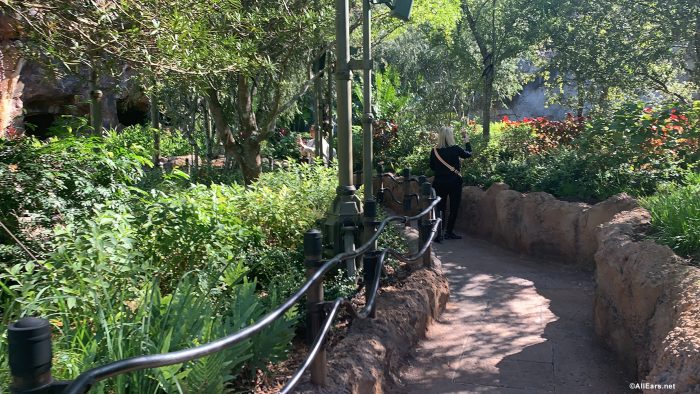 …and a waterfall!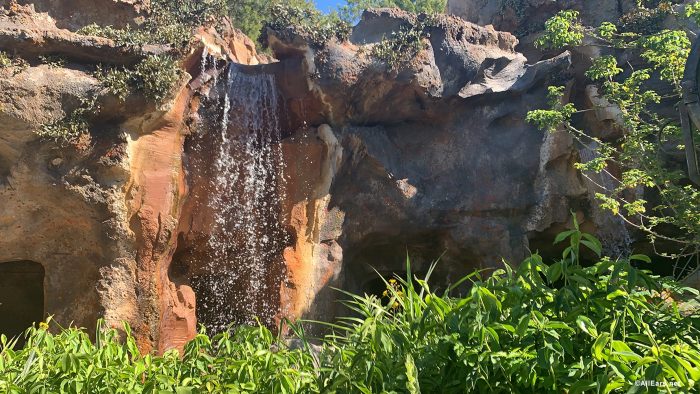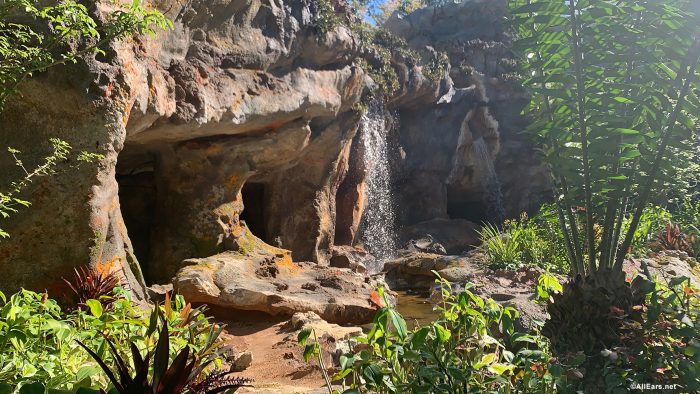 …and more winding, but this time inside! There's that waterfall!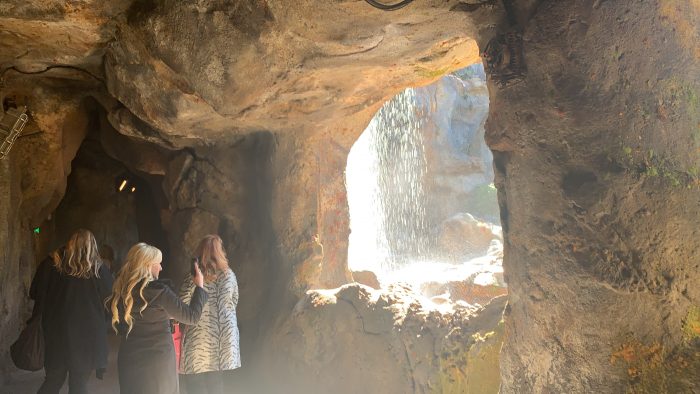 If you are thinking you may need a rest, drink, or distraction that's fine because you can have a seat along the way on crates, sip some water, or use your Datapad in the Play Disney Parks app to scan crates and more for amusement.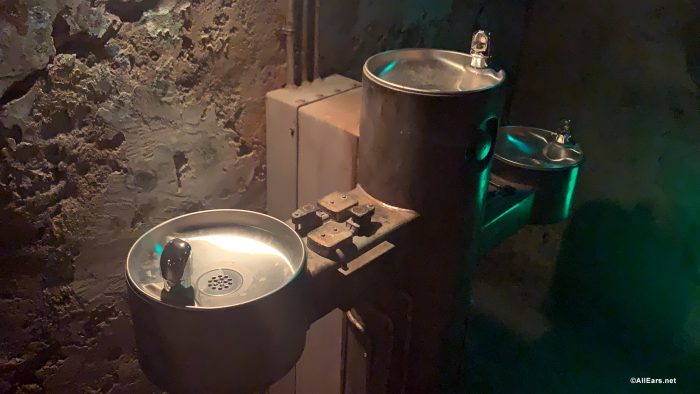 …winding…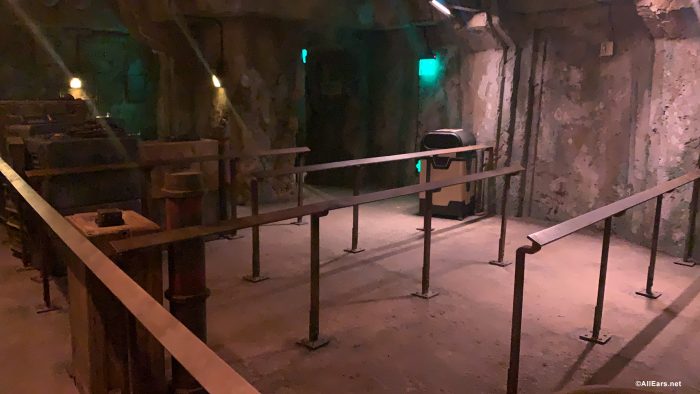 …and to some fun, interactive elements!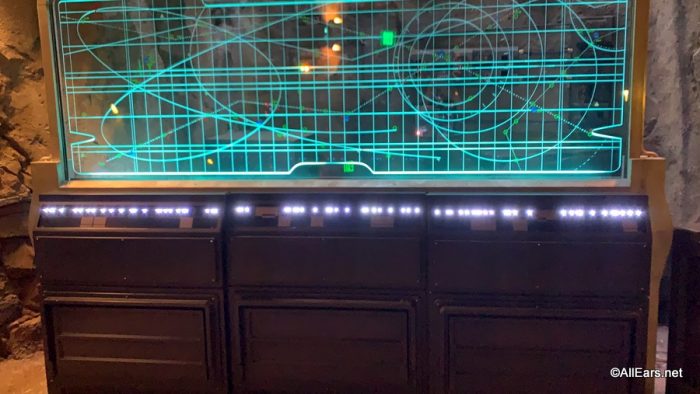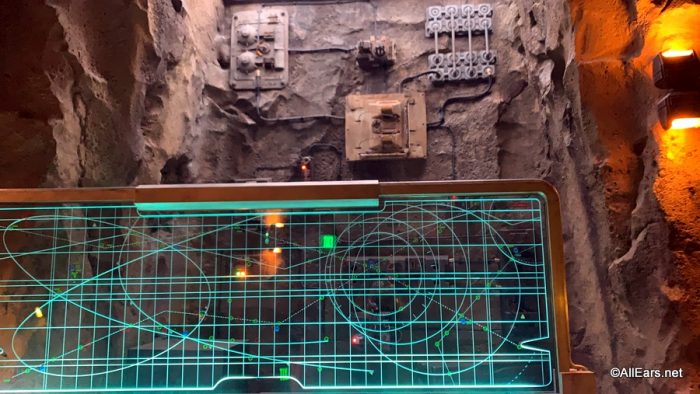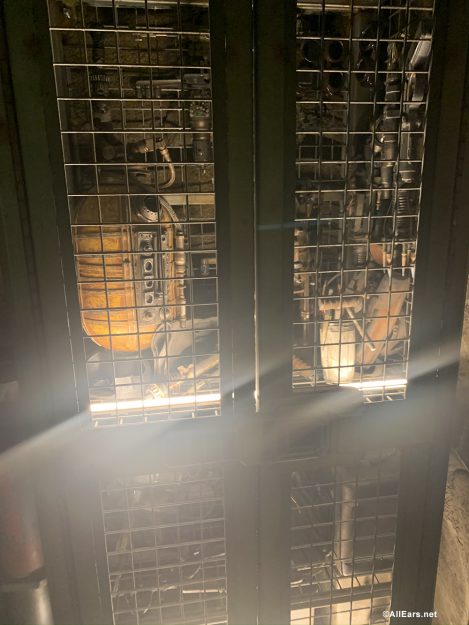 You'll catch some props along the way, as well as some "artifacts".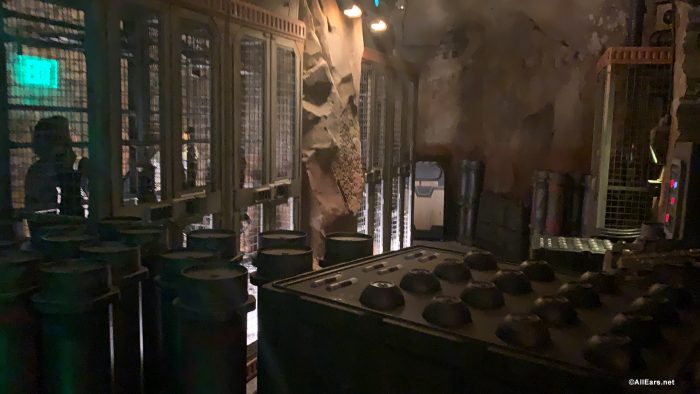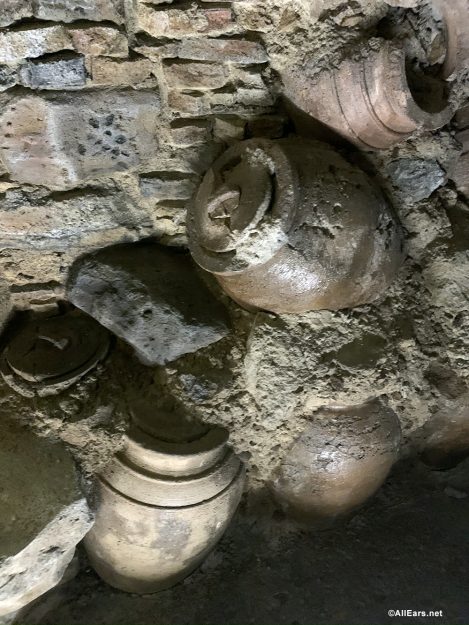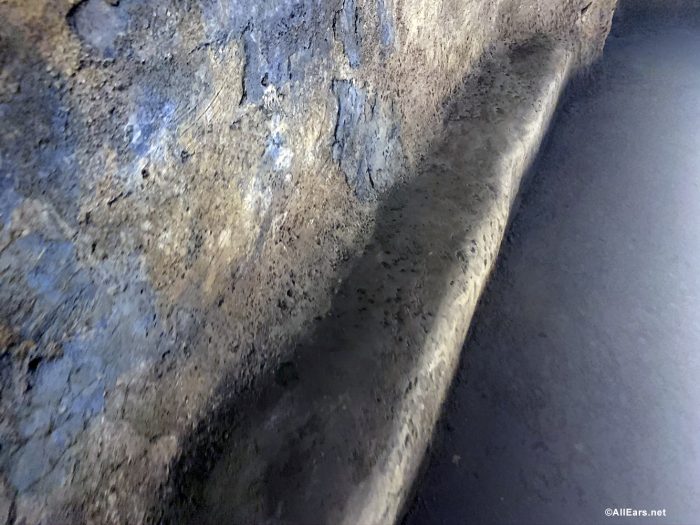 Finally, we're almost there! We promise!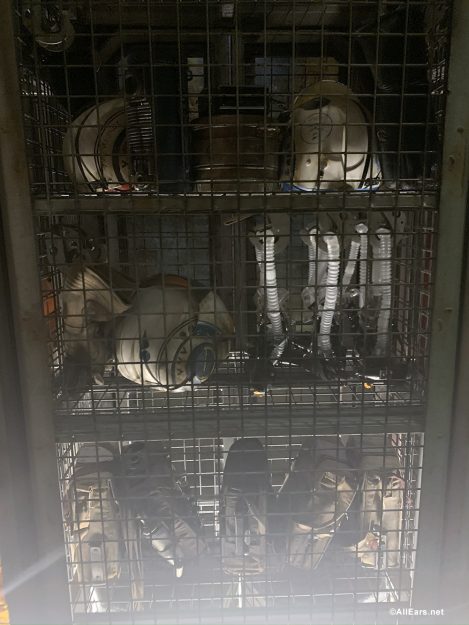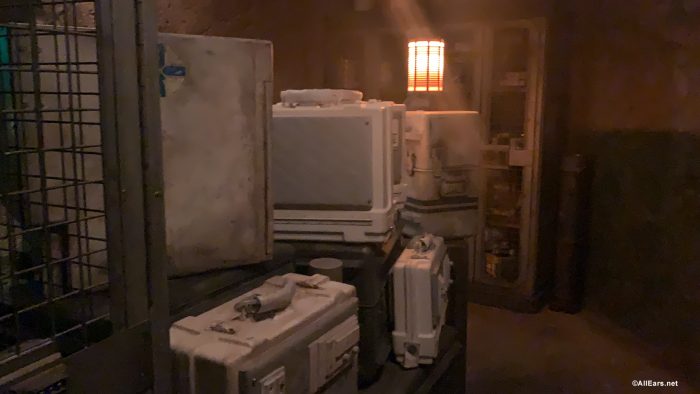 Rise of the Resistance Pre-Show
Now after the winding through the Resistance Base (and waiting, of course) it's time for the pre-show. You'll first see BB-8 as he rolls out to greet you! So cute! Next up is Rey in hologram form telling you about the mission you are about to undertake on behalf of the Resistance.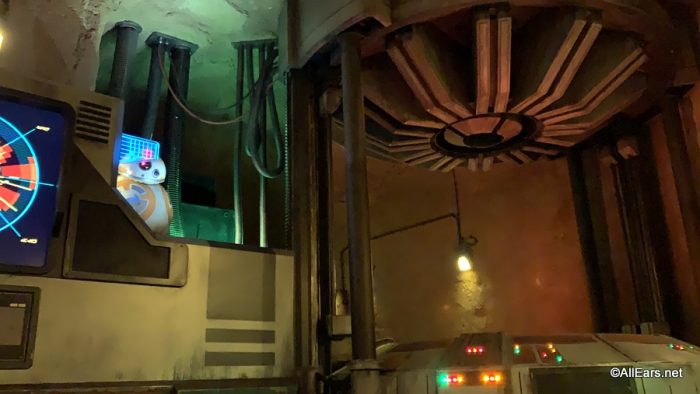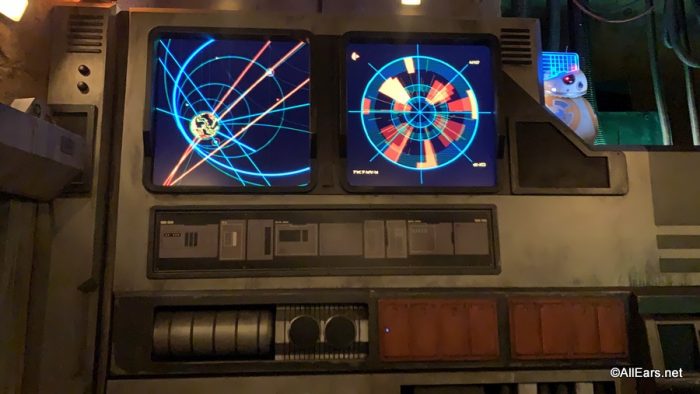 Daisy Ridley, who plays Rey in the Star Wars films, filmed this specially for the ride, as did John Boyega and Oscar Isaac as Finn and Poe respectively.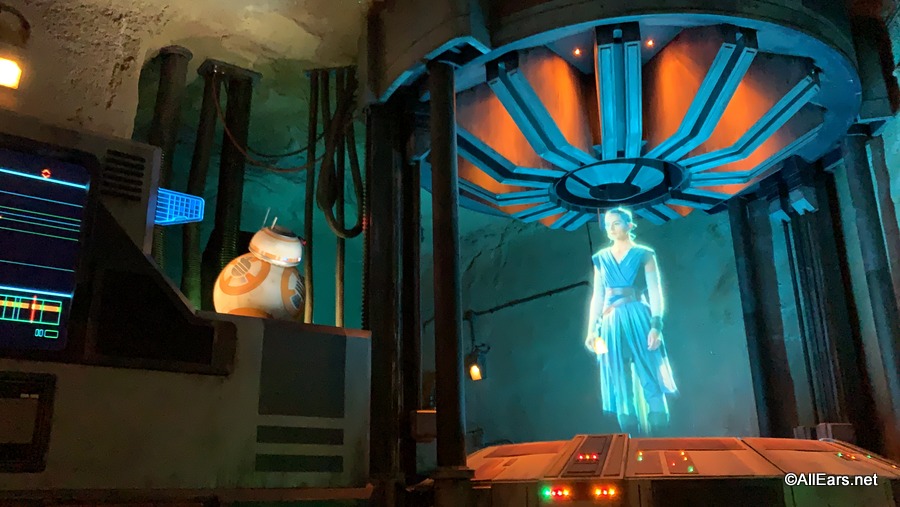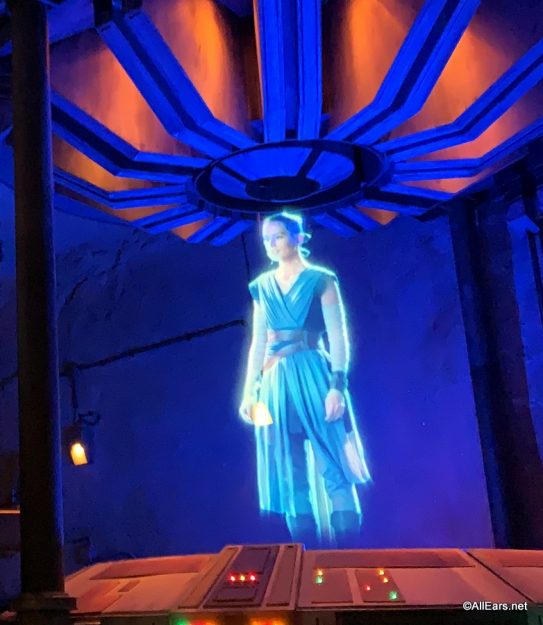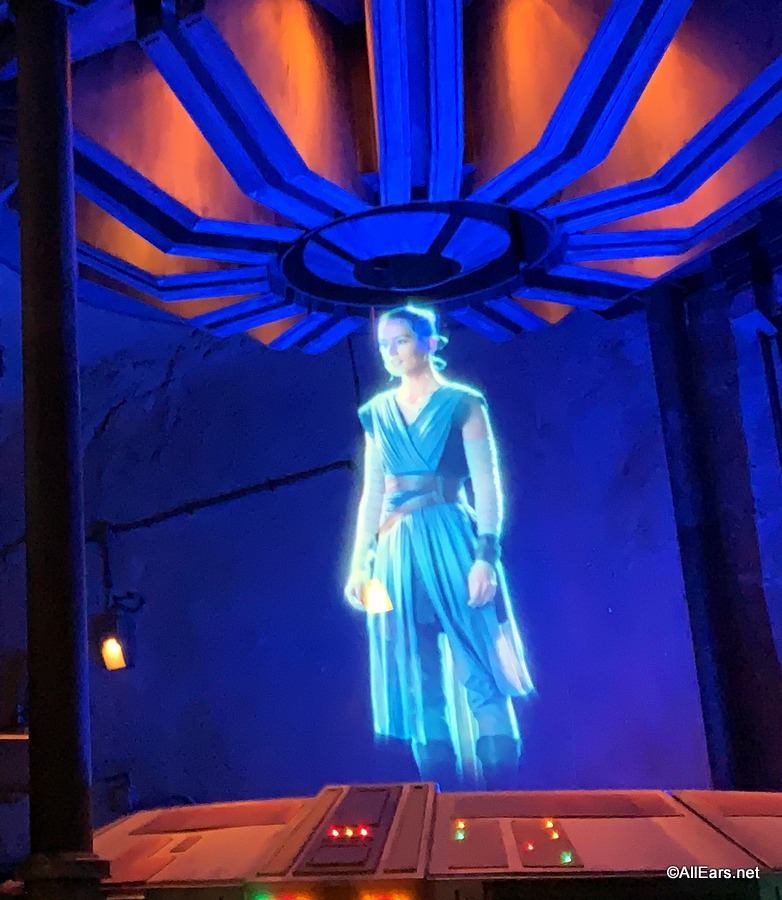 Lieutenant Bek is in the Resistance Transport Shuttle along with Nien Nunb, who serves as your pilot on the mission.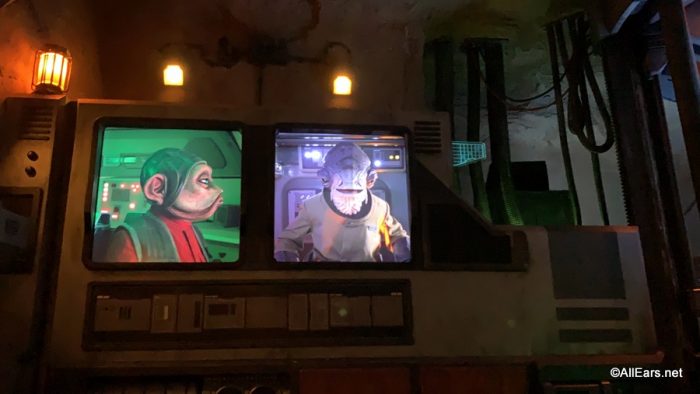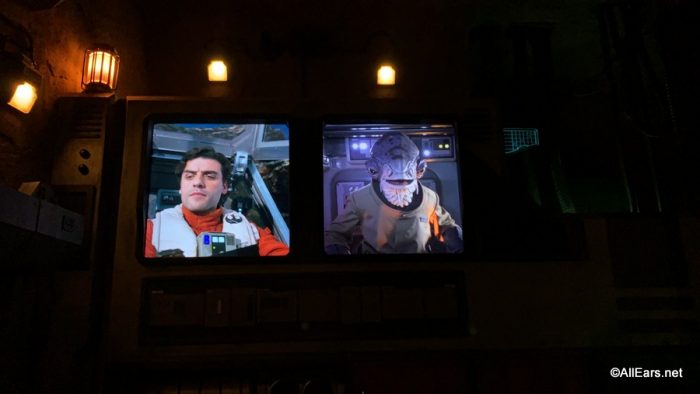 Rise of the Resistance Transport
You'll now enter the Resistance Transport Shuttle. At this point riders are standing in the area, and you have not yet taken a seat on a ride vehicle. You'll know you are taking off because the whole floor rattles as you leave Batuu and the land of Galaxy's Edge behind for a while.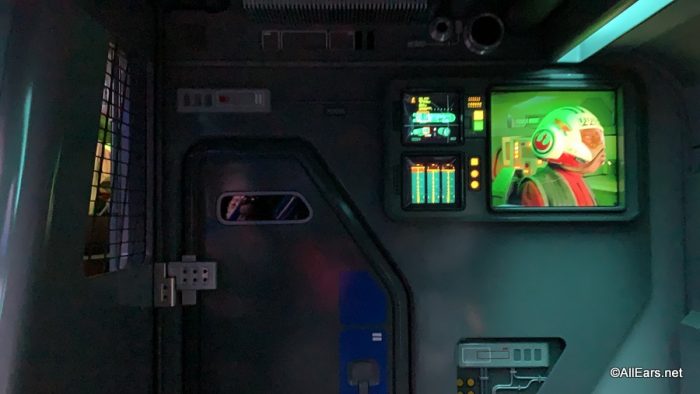 There's Lt. Bek in animatronic form in the cockpit of your transport shuttle.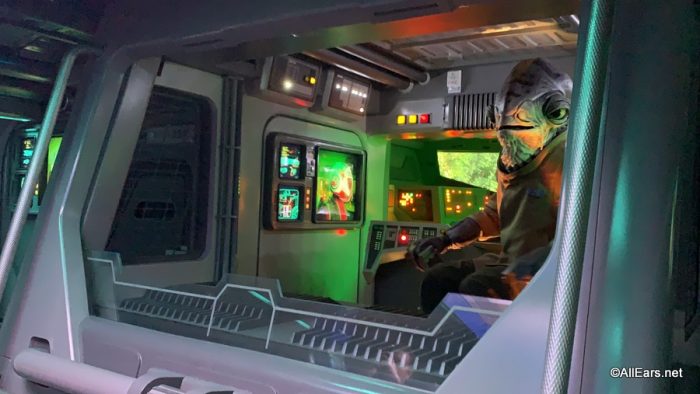 Seriously, this animatronic looks so real! And you can see Nien Nunb at the controls just beyond Lt. Bek.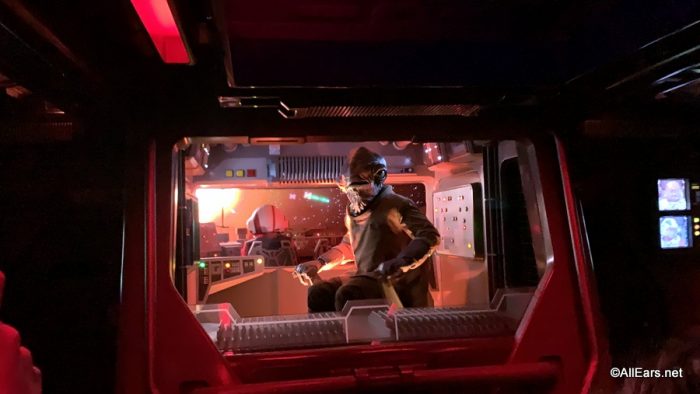 Rise of the Resistance Capture by the First Order
Well, not surprisingly, your flight doesn't go well. You wind up getting captured by the First Order Star Destroyer! This is when the adventure/fun begins. You are "greeted" by a First Order Officer (real person, not animatronic) and moved into the Star Destroyer Hangar.
This is it! The shot we have seen in concept art and previews, but nothing prepares you to walk into the Star Destroyer Hangar! There are 50 Stormtroopers in animatronic form lined up staring at you in a very menacing manner. Then that screen! That's massive! And the whole Galaxy is out there, we honestly forgot we were in Florida!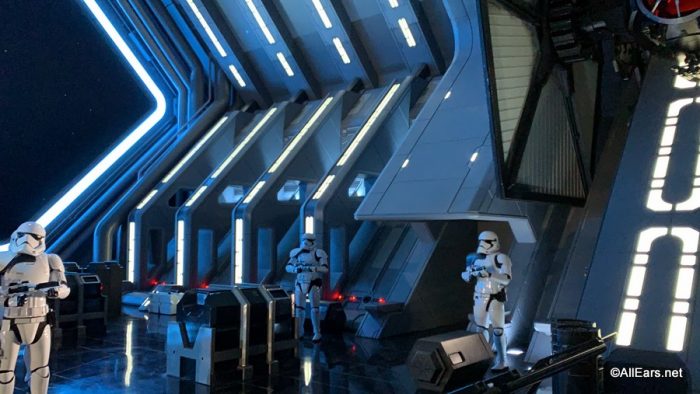 Though we were the "Resistance Scum", we loved this part of the ride. Any Star Wars fan will not believe they are standing with an army of Stromtroopers on the Star Destroyer. It's very realistic-feeling, intimidating, and awe-inspiring.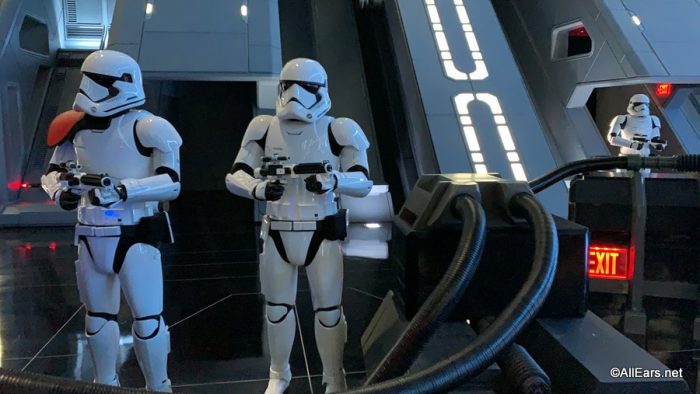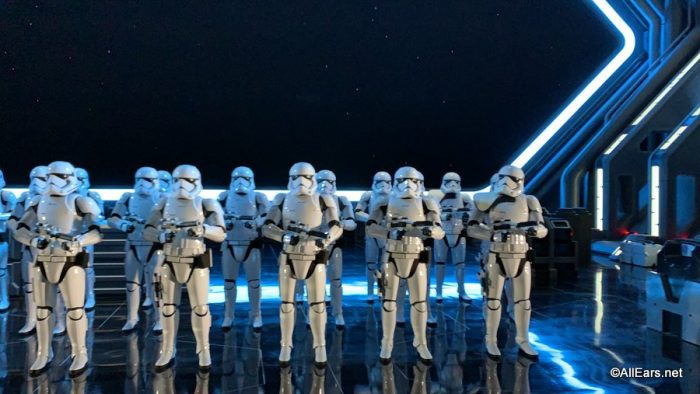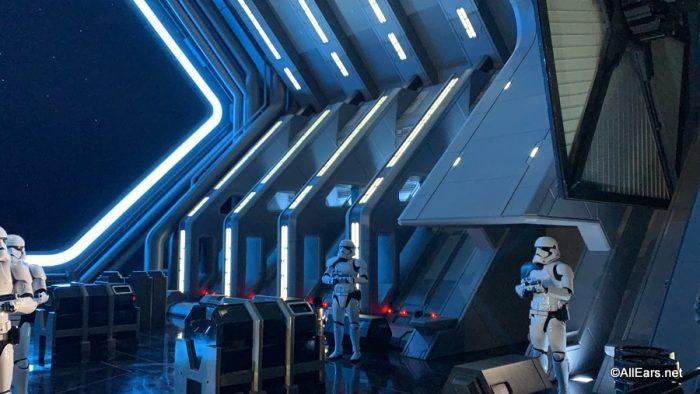 Rise of the Resistance Prisoner Transport
We aren't going to give a lot of spoilers here, but you are put in a Prisoner Transport area, or Detention Cell.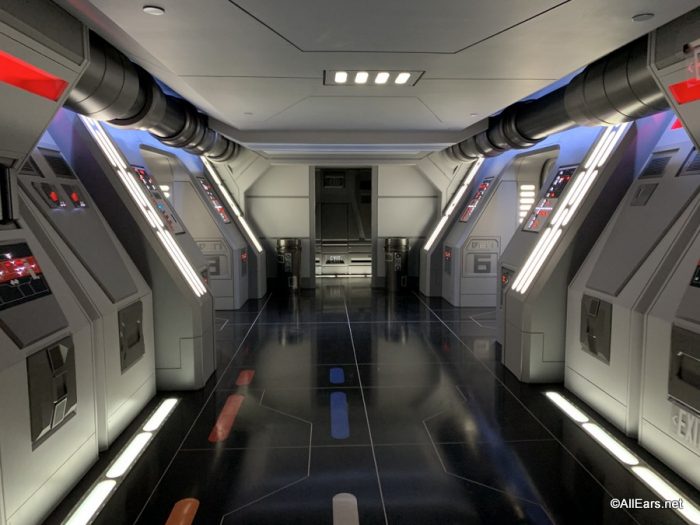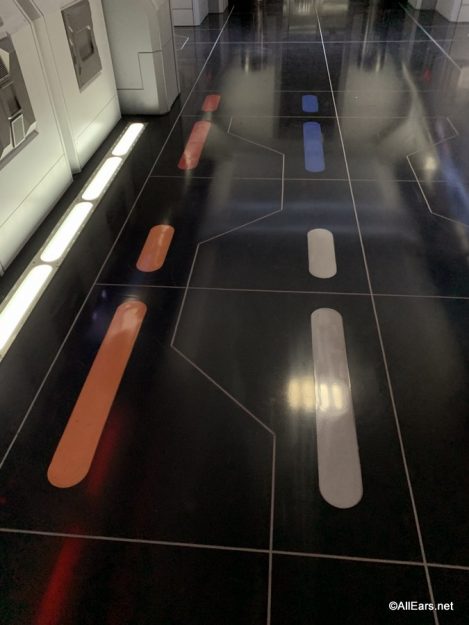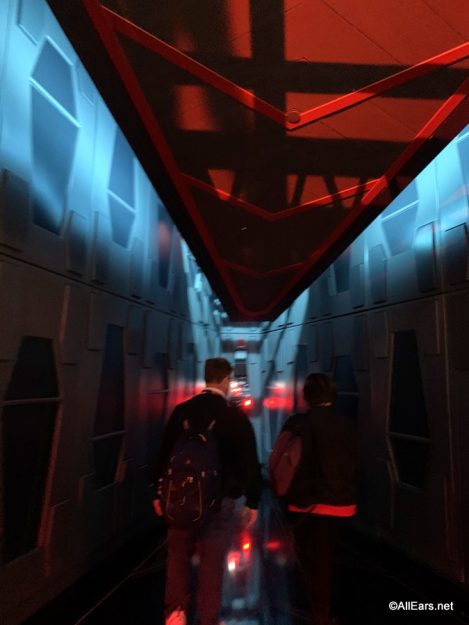 You are moved along and put in your Prisoner Transport Pods (the trackless ride vehicles).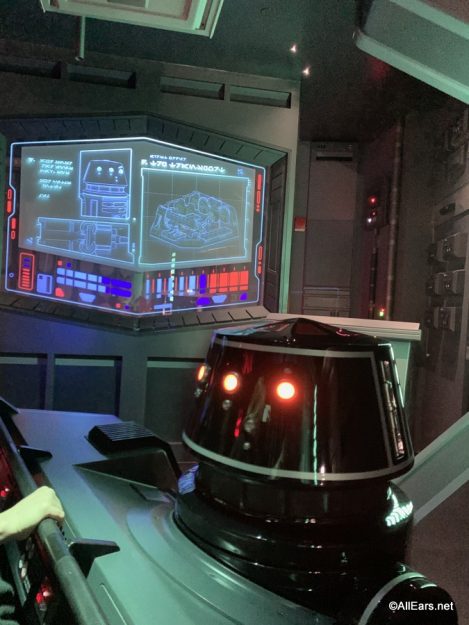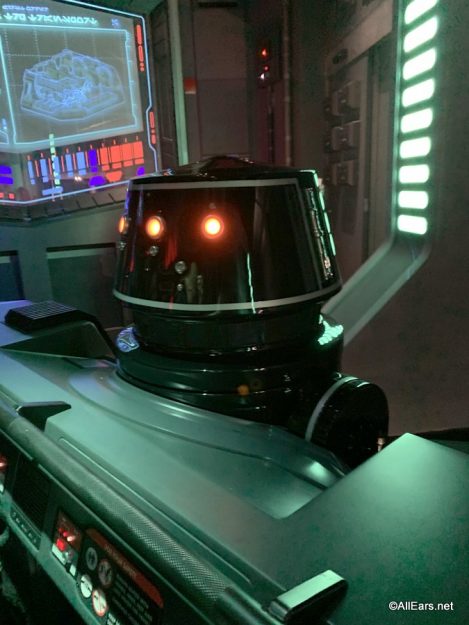 Rise of the Resistance Prisoner Escape and Rescue
But there's a chance to escape! Your Prisoner Transfer Pod is a trackless ride vehicle, and you escape with the help of the Resistance! We're not going to get into complete detail, so suffice to say, this is a wild ride.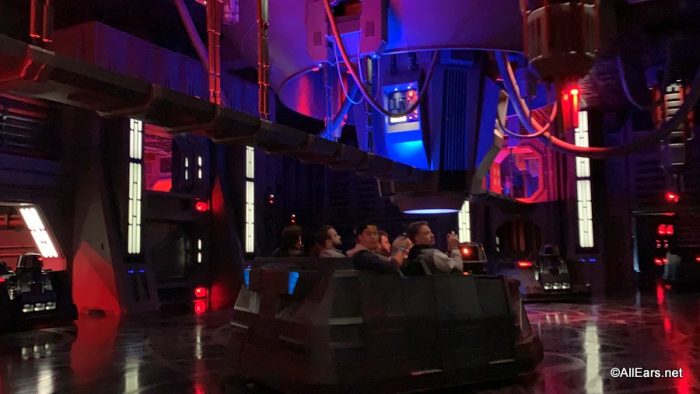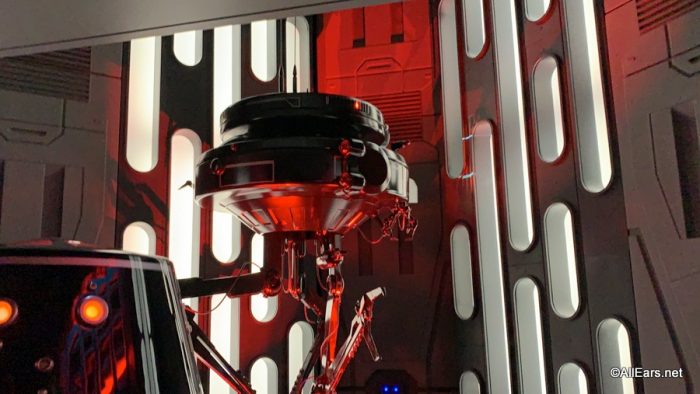 Your daring escape does encounter some bumps along the way, including Stroomtroopers and some crafty navigation between the legs of a life-size AT-AT Walker!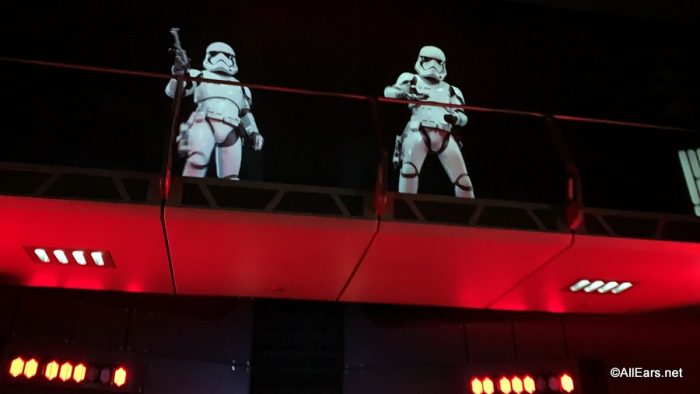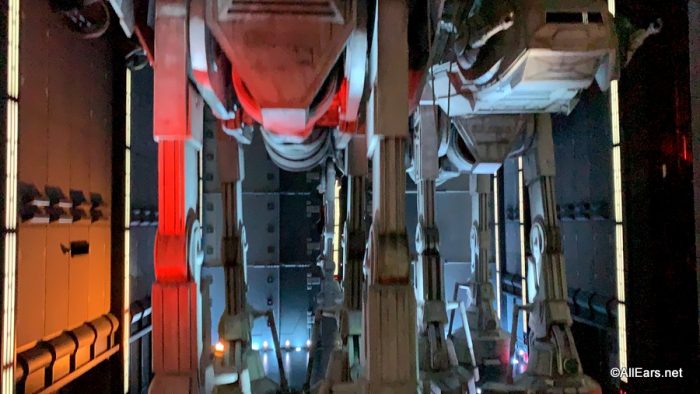 These are life-size! Awesome!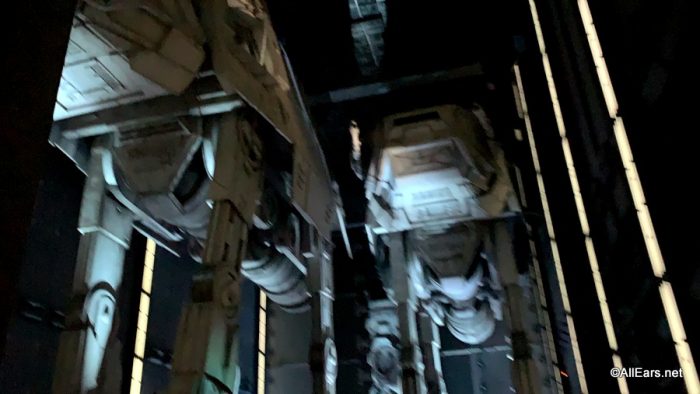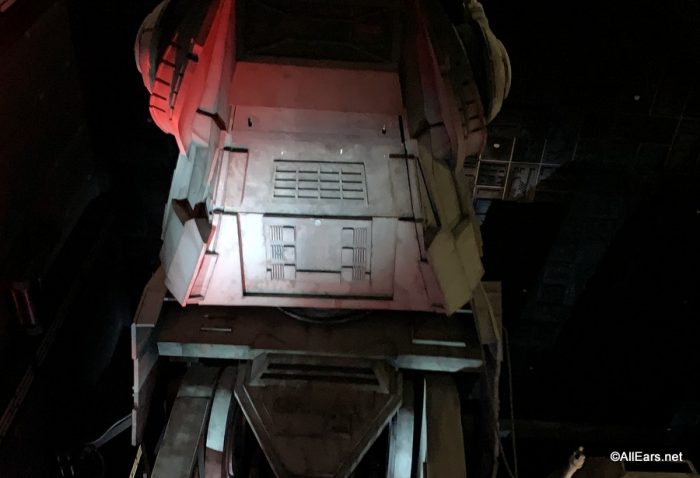 But wait! Your Transport is actually lifted up so that you come eye to eye with an AT-AT, but you quickly reverse to continue making your escape.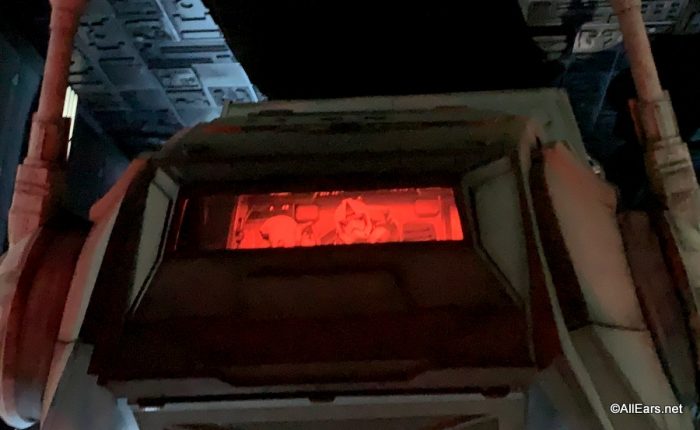 As you move backwards,  you accidently slide into a space beneath the bridge, where Kylo Ren is talking to General Hux. Kylo appears amazingly life-like — but these two figures are projections!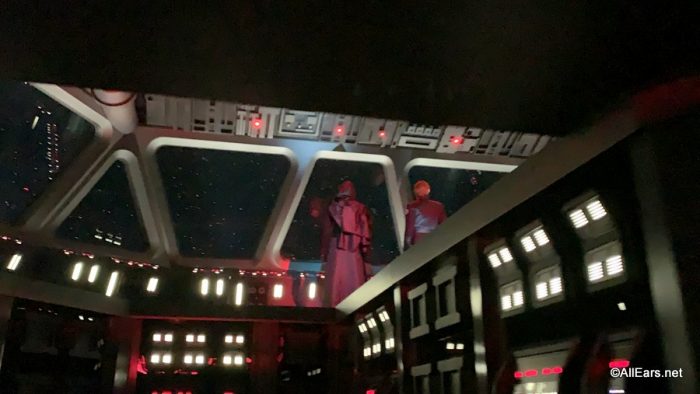 "There's nowhere to run" — better glide on your Transport, then! 😉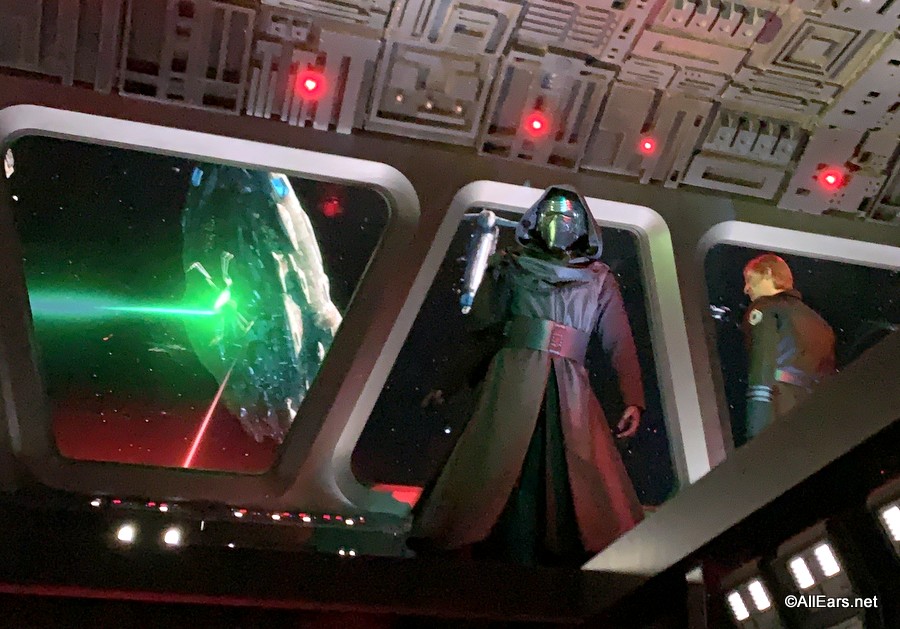 All of a sudden there's a lightsaber — and red (that means bad) at that — cutting through the ceiling…again, no spoilers, but that red lightsaber might not be who you expect!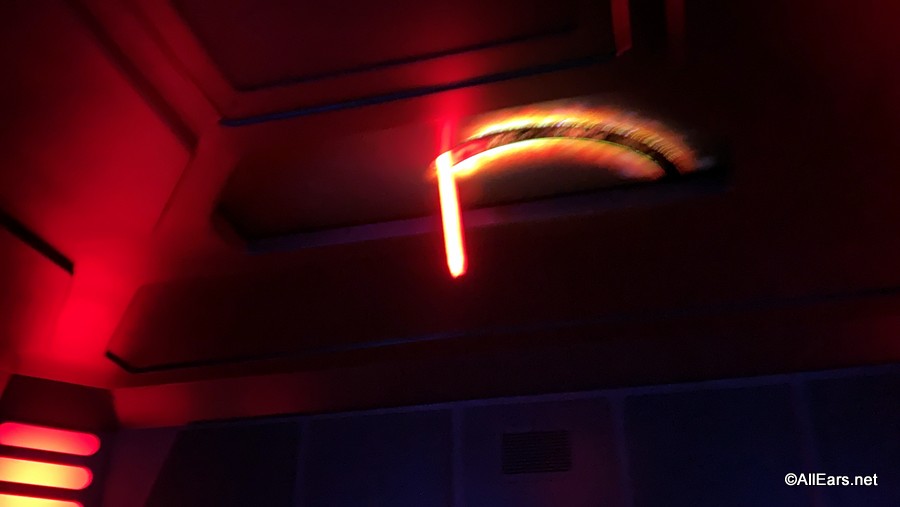 Your Transport continues, with Kylo Ren on your heels, as you narrowly avoid blasters and watch a battle ensuing outside the windows.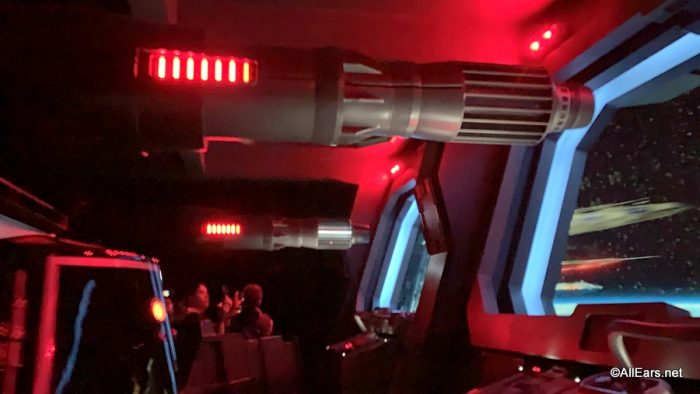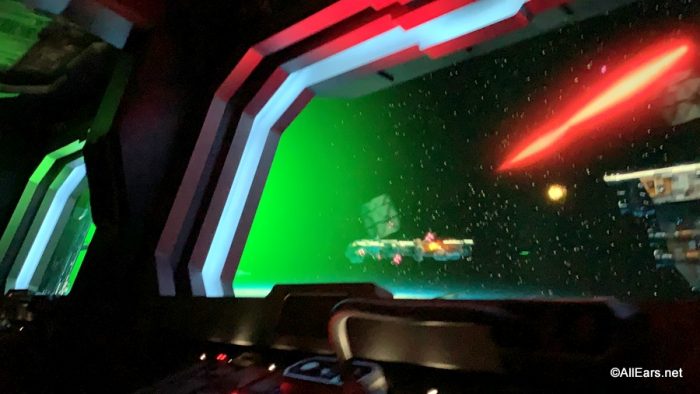 You encounter Kylo Ren once again. And as you attempt to make your escape Kylo promises: "I will destroy you and the Resistance." But at that moment, the Resistance manages a timely attack, and let's just say, Kylo Ren won't be chasing you anymore! (This is the only Kylo that's an Animatronic, believe it or not!)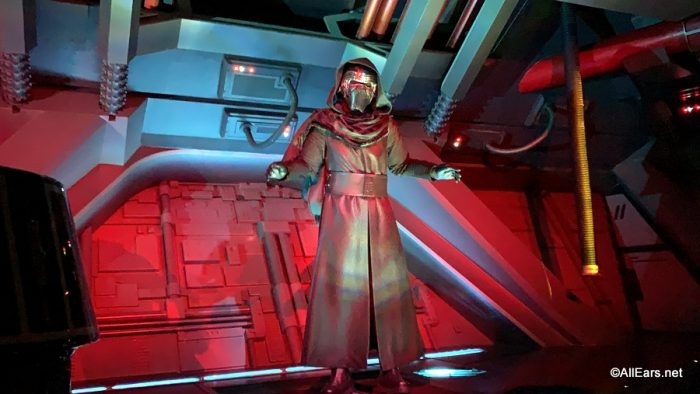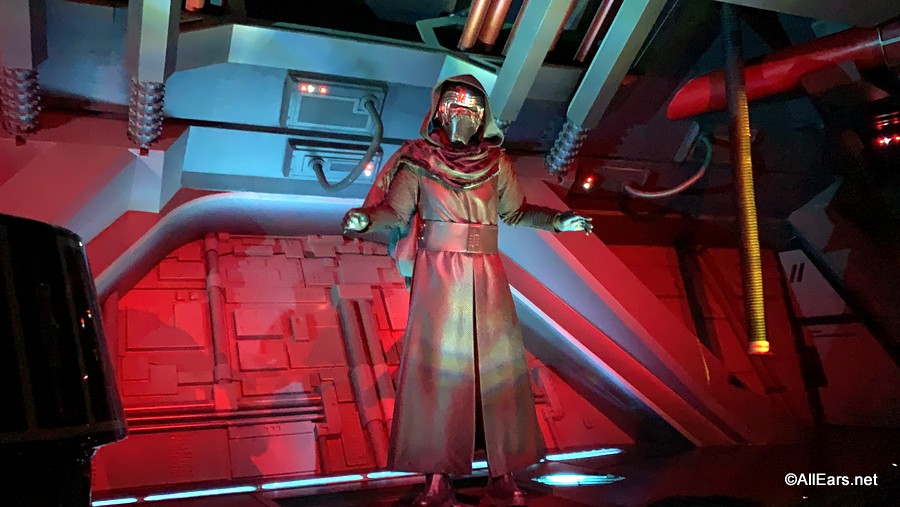 But your fight to escape isn't quite over. The Star Destroyer is being, well, destroyed. So your Transport will enter an escape pod, and you'll begin a short simulator ride. First, you'll watch as other pods on the screen drop to make their own escape. Then, your pod will drop, too. The drop is very small — perhaps 1-2 seconds and not particularly far. If you don't know it's coming, you'll be surprised, but while it's a thrill, it's a tiny one, relatively speaking.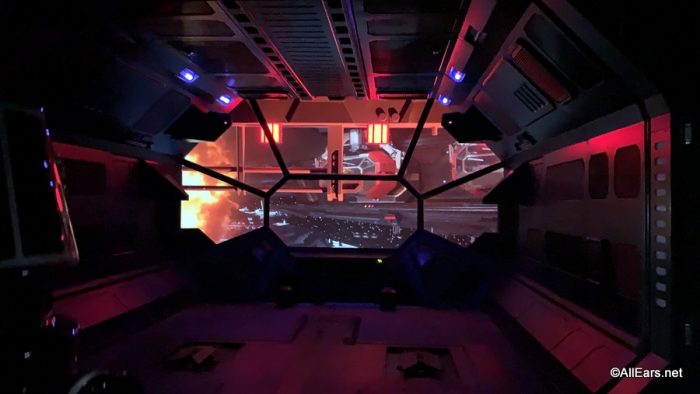 After the drop, you'll take a wild ride as you make your escape.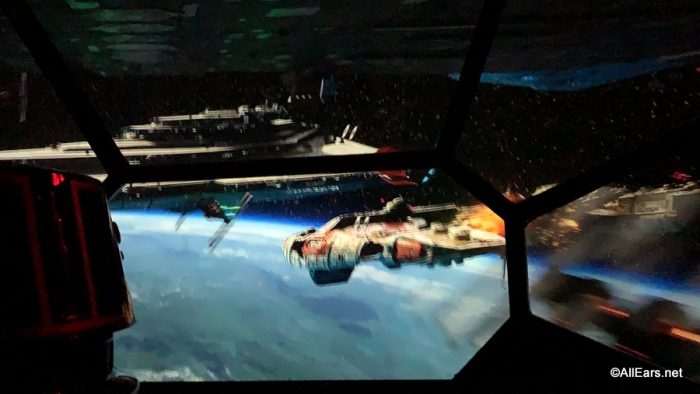 "Your escape pods came in a little off target" — but you still make it! Lieutenant Bek is there to greet you. He made it, too! "The location of the Resistance base is secure. Bravo!" You'll end your adventure with a short (simulated flight) back to Batuu.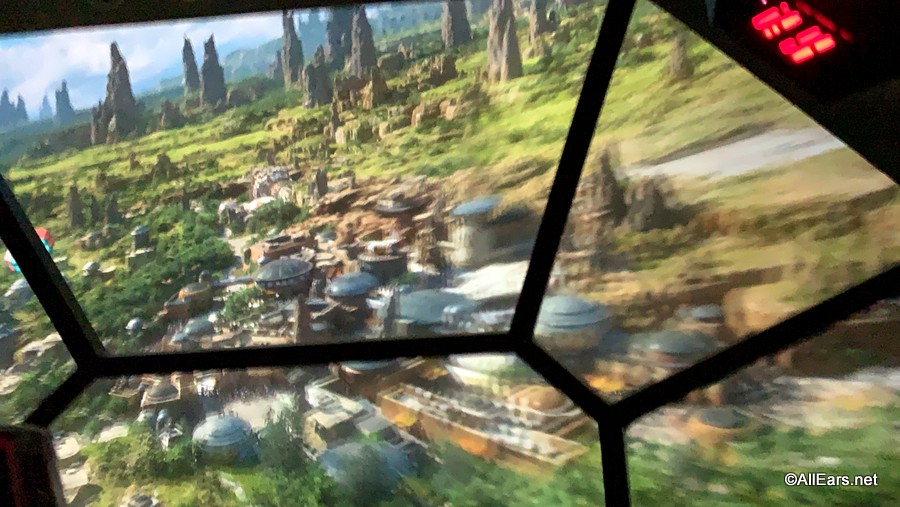 You might even recognize some of the sights as you come in for a landing! There's Ronto Roasters and the Market beyond! (Good; we're starving after all that resisting.)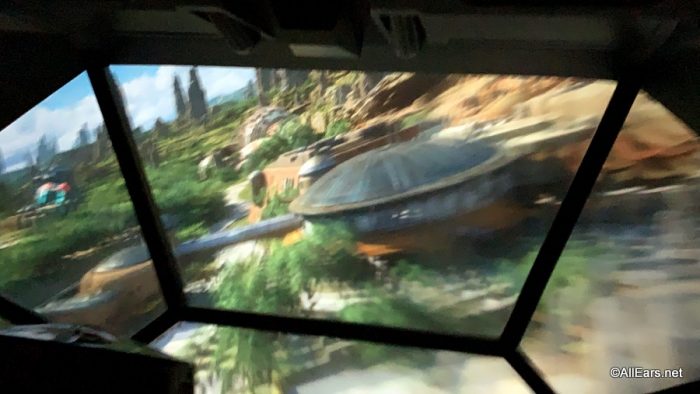 And  of course, the return to Batuu!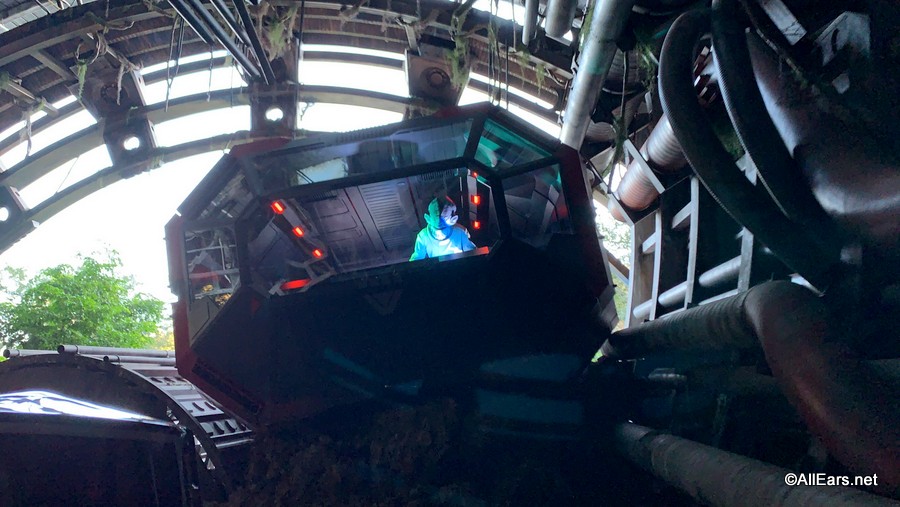 Did we like this ride? No. We loved this ride. It lives up to the hype — we can't believe that's true, and yet it is. The graphics are amazing, the Stroomtroopers are straight out of the movie, and that animatronic Kylo Ren is so real. Any Star Wars fan will love this ride. Any Disney fan (especially Imagineering fans) will love this ride. What a thrill!
What do you think? Will you be visiting Batuu soon? Are you looking forward to riding Rise of the Resistance? Let us know in the comments!
Join the AllEars.net Newsletter to stay on top of ALL the breaking Disney News! You'll also get access to AllEars tips, reviews, trivia, and MORE! Click here to Subscribe!

Disclosure: We were invited by Walt Disney World to attend the media preview of Star Wars: Galaxy's Edge's Rise of the Resistance. This did not affect our reporting of the event — our opinions are our own.