Star Wars: Galactic Starcruiser
Star Wars: Galactic Starcruiser will say "bright suns!" to its first guests on
March 1, 2022

!
Annual Passholder and DVC Member
Reservation Information:
Annual Passholders and DVC Members will be able to book a voyage on Galactic Starcruiser in a pre-sale window between October 7-9, 2021, for stays between March 1, 2022, and May 4, 2022.
General Reservation Information:
General reservations can be made beginning October 28, 2021!
Club 33 and Golden Oak Member
Reservation Information:
Pre-sale reservations for Club 33 and Golden Oak Members can be made between October 5-6, 2021.
Disney Visa Cardholder
Reservation Information:
Disney Visa Cardholders can make pre-sale reservations between October 12-16, 2021.
Scroll to the bottom of this page to
see departure dates

!
Click here to read more about the immersive Resort's opening!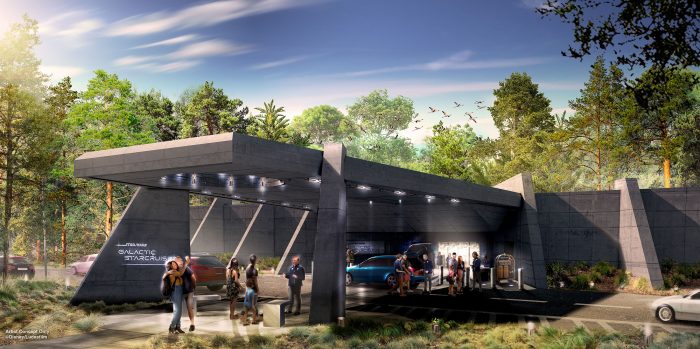 Galactic Starcruiser Concept Art ©Disney
Star Wars: Galactic Starcruiser
Star Wars: Galactic Starcruiser, more simply known to some as the Star Wars hotel, is a two-night, fully-immersive "cruise" adventure located adjacent to Disney's Hollywood Studios. It is the most highly-themed Resort that Disney has ever built, and it promises to transport guests into the world of Star Wars for an experience like no other.
Once you pass through the entrance and board your "launch pod", all mention of Star Wars as a film stops. Instead, you're a guest on The Halcyon, flagship of the Chandrila Star Line, as you embark on a cruise across a galaxy far, far away. Highly advanced screens create the illusion that you're traveling past iconic locations in the galaxy on your approach to your port of call, Batuu.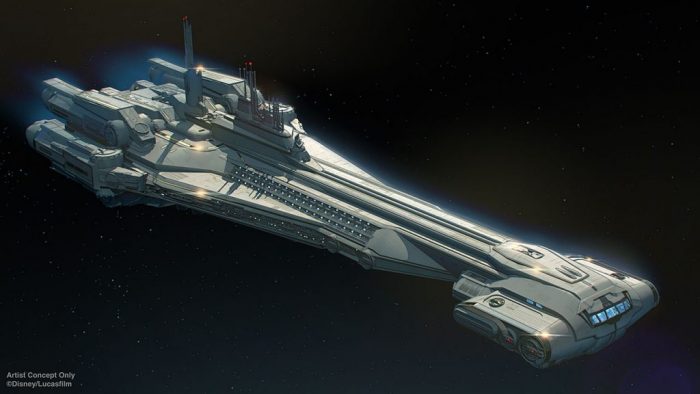 Logistics
Pricing
Disney has provided the following sample pricing. Click to enlarge the graphic.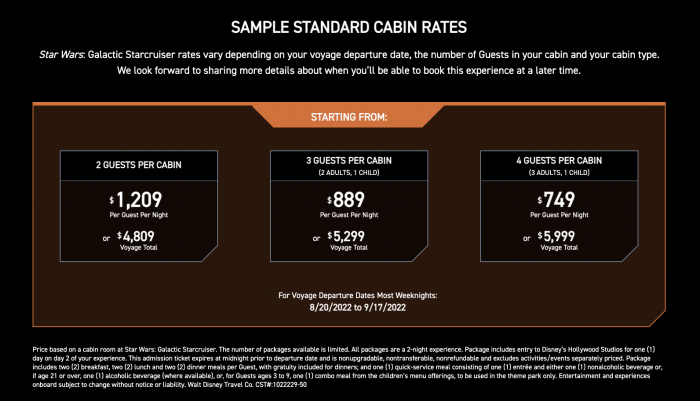 Arrival
Guests of Galactic Starcruiser should plan to arrive in the terminal between 1PM and 4PM. Guests will not be able to board before 1PM.
Upon checking in at the Galactic Starcruiser Terminal, guests will board a launch pod to travel to the Halcyon.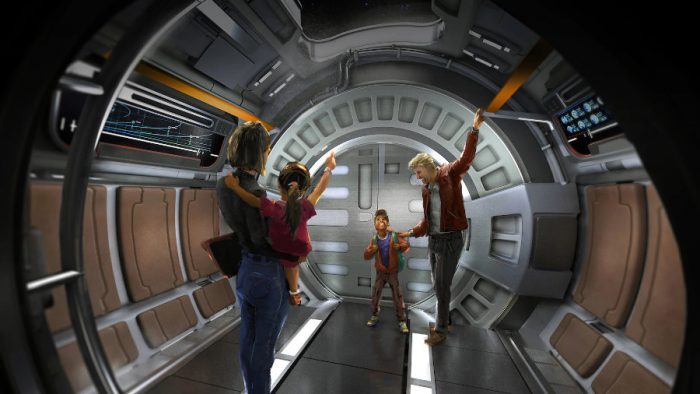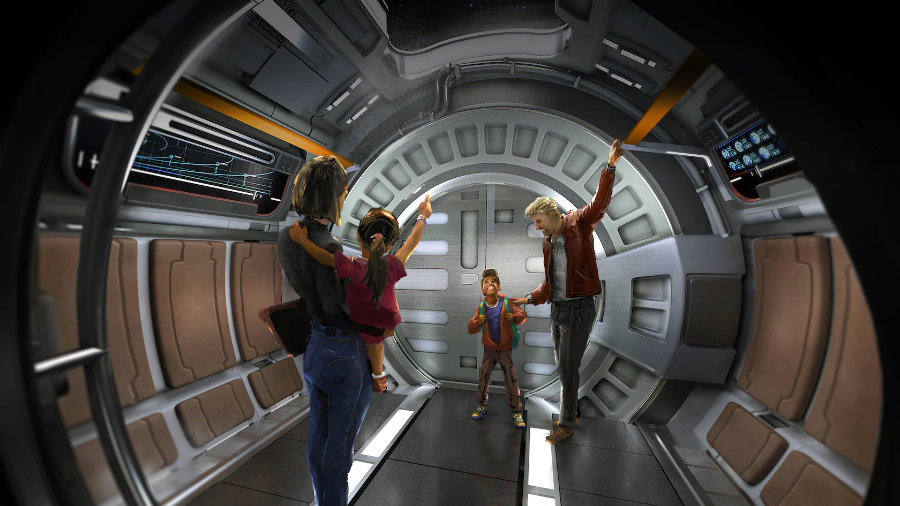 Driving
If you're driving to the ship, Disney provides this address:
Star Wars: Galactic Starcruiser Terminal
201 South Studio Drive
Bay Lake, Florida 32830
Note: Valet parking is included with your voyage on board the Halcyon.
Disney Transportation
If you are staying at a Disney Resort hotel either before or after your visit to the Halcyon, complimentary Disney transportation will be provided to and/or from your Resort for your arrival and/or departure from Galactic Starcruiser.
Tickets
Guests aboard Galactic Starcruiser will not need to purchase an admission ticket to Hollywood Studios in order to experience the "port day" in Galaxy's Edge. This excursion is included in the price of your two-day voyage aboard the Halcyon.
Travel to and from Galaxy's Edge aboard "Transport Shuttles" will run continuously on your "port" day until 4PM.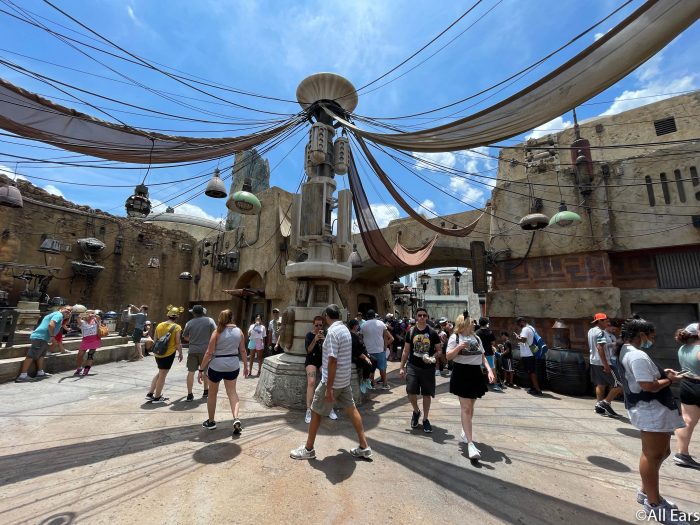 Databands
Known on Earth as MagicBands, Databands allow guests to interact with sensors throughout their adventures onboard the Halcyon. Exclusive Databands will be complimentary for guests of Galactic Starcruiser and will also be able to interact with touchpoints throughout Walt Disney World (exactly as a MagicBand does).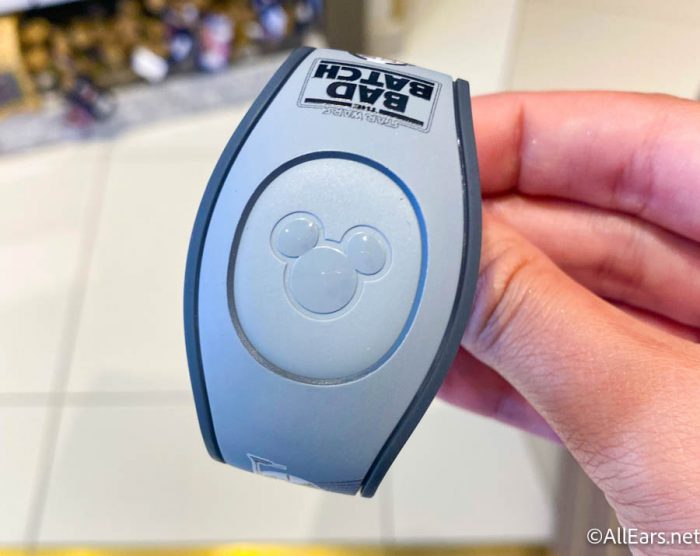 The Databand will require guests to enable location services, Bluetooth technology, and other permissions in order to fully interact with the adventure onboard. Read more about this from Disney here.
My Disney Experience
Your earth-based My Disney Experience app will still be useful during your voyage on Galactic Starcruiser. Disney says you may:
link your Disney account to your Galactic Starcruiser reservation if that wasn't done for you when you made your reservation.
use online-check-in before your arrival.
view your reservations and plans just as you would at the rest of Walt Disney World.
use Mobile Order during your time in Black Spire Outpost.
Itinerary
Within 30 days of your arrival, your personalized itinerary will be available via the Datapad on your Play Disney Parks app. The Datapad is a Galaxy's Edge- and Galactic Starcruiser-specific aspect of the Play Disney Parks app that allows you greater interaction with the land and the ship.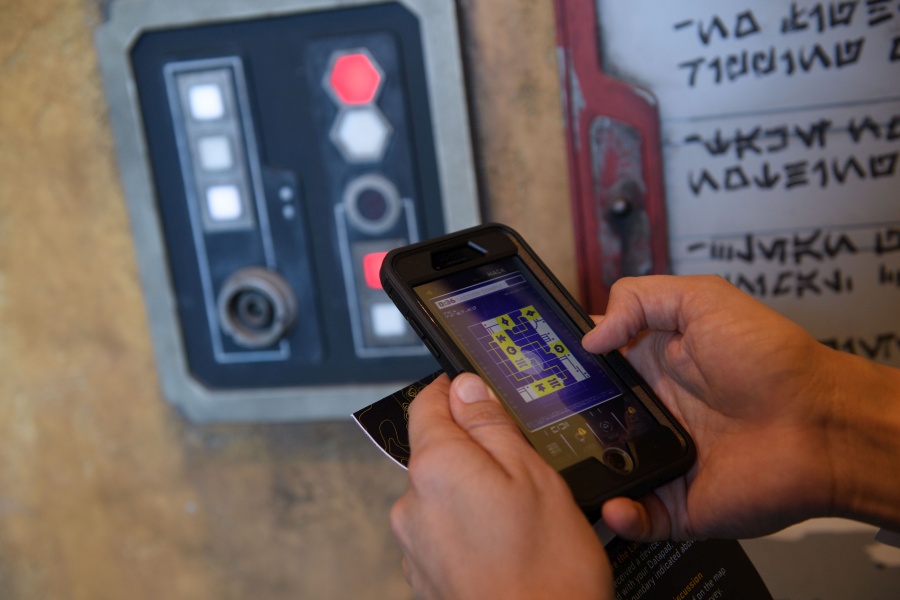 Disney has released a sample itinerary to give potential guests an idea of what their visit onboard the Halcyon might include. Activities noted in the sample itinerary include:
Ship Orientation
Sabacc Lessons
Bridge Training
Rise of the Resistance
Millennium Falcon: Smugglers Run
Droid Racing Competition
Lightsaber Training
Multiple Story Moments
Spectacular Finale
Disney also touts an end-of-cruise gala celebration, too!
Star Wars: Datapad
The Play Disney Parks app will activate onboard Galactic Starcruiser as a Datapad, just as it does in Galaxy's Edge. Your Datapad will host your personal itinerary, but it will also receive communications "from the crew and others you meet along the way."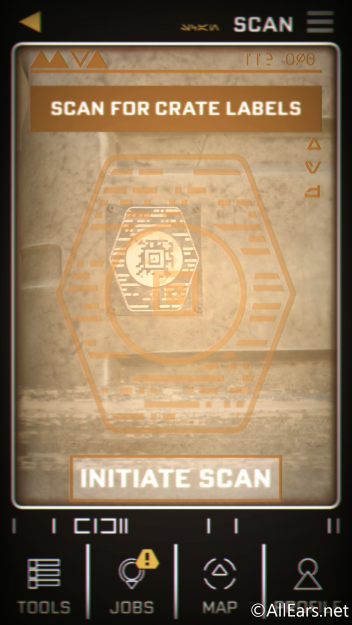 Disney encourages guests of the Halcyon to download the Play Disney Parks app ahead of their arrivals.
Costumes
Unlike the guest experience in the rest of Walt Disney World, onboard the Halcyon guests are encouraged (but not required) to wear thematically appropriate costumes.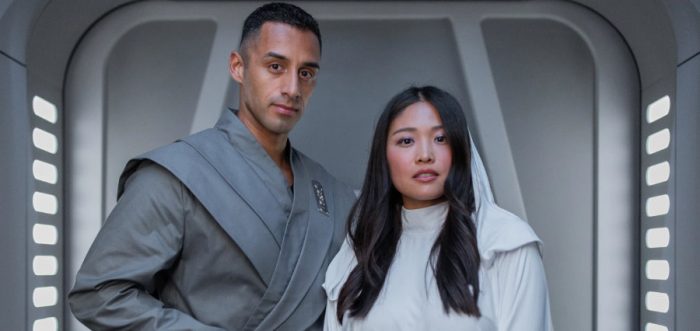 Disney recommends purchasing costumes ahead of time on shopDisney or stopping by the ship's boutique, The Chandrila Collection, to buy a costume onboard. You could also wear costumes or pieces you've purchased elsewhere or made yourself.
Cabins and Suites
Cabins
Each cabin on the ship can sleep four guests: two on a king-sized bed and two on a pair of bunks. A fifth guest may be accommodated on a pull-down Murphy-style bed.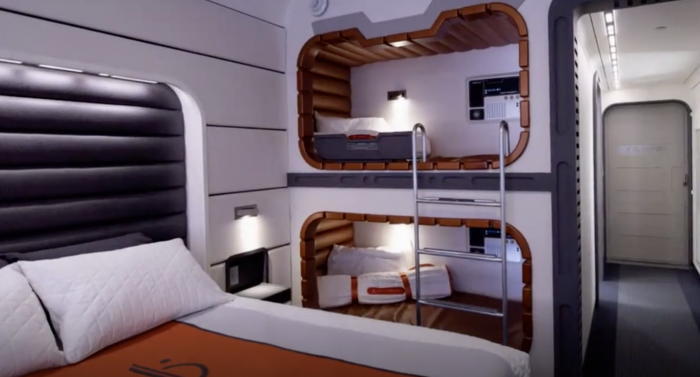 Standard cabins include:
space to sleep 4-5 guests

one queen bed
two berths (bunk beds)
one pull-down bed

a pull-out table
a mini fridge
a hair dryer
an in-cabin safe
a phone with voicemail capability
an interactive television with earth-based programming
H2O Plus® spa, bath, and shower products
Cabins will have one window looking out into "space" at a galaxy far, far away. Simulated views will include recognizable ships and expansive vistas of stars and planets.
Galaxy Class Suite
The Galaxy Class Suite is a one-bedroom suite with a separate living area that features integrated furniture. Additions included in the Galaxy Class Suite are a double-vanity bathroom, a bar area, an additional window with views of space, and "a few extra Star Wars surprises."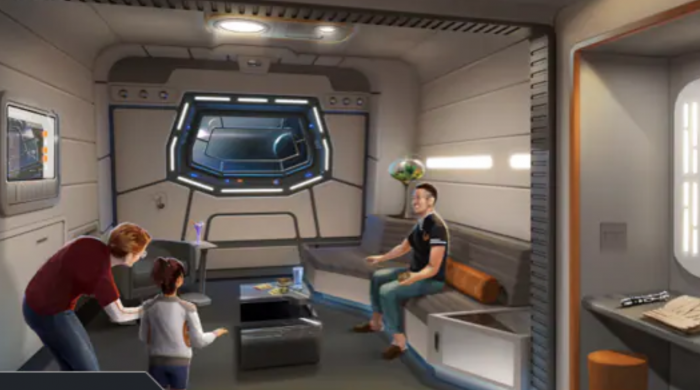 Galaxy Class Suites include:
space to sleep four

one queen bed
two pull-down beds

a mini fridge
a hair dryer
an in-suite safe
a phone with voicemail capabilities
an interactive television
H2O Plus® spa, bath, and shower products
Grand Captain Suite
Grand Captain Suites are two-bedroom suites with a separate living area featuring integrated furniture. These spacious suites include a double vanity bathroom, an additional single vanity bathroom, a bar area, three windows looking out into space, and "a few extra Star Wars surprises."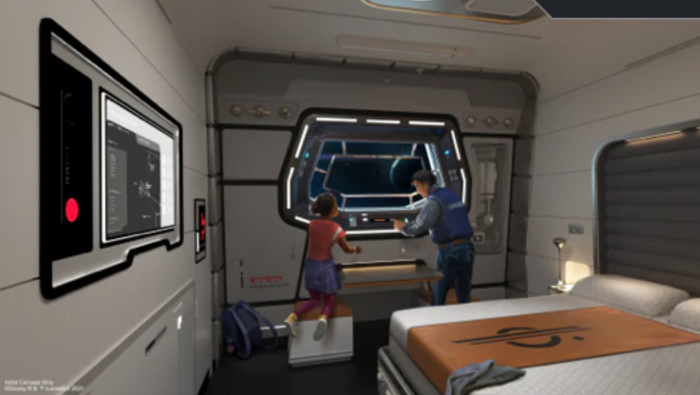 Grand Captain Suites include:
space to sleep eight

two queen beds
two berths (bunk beds)
two pull-down beds

a mini fridge
a hair dryer
an in-suite safe
a phone with voicemail capabilities
an interactive television
H2O Plus® spa, bath, and shower products
Dining
Sublight Lounge
The Sublight Lounge is a bar where guests can enjoy drinks alongside Twi'leks, Droids, and other galactic characters. Guests can play a game of holographic Sabacc while they sip on some otherworldly concoctions.

Note: Alcoholic and specialty beverages will incur additional cost.
The Crown of Corellia Dining Room
On your first night aboard the sip, the Crown of Corellia Dining Room is an immersive, Table Service supper club that offers live entertainment and "a special musical appearance by a galactic superstar."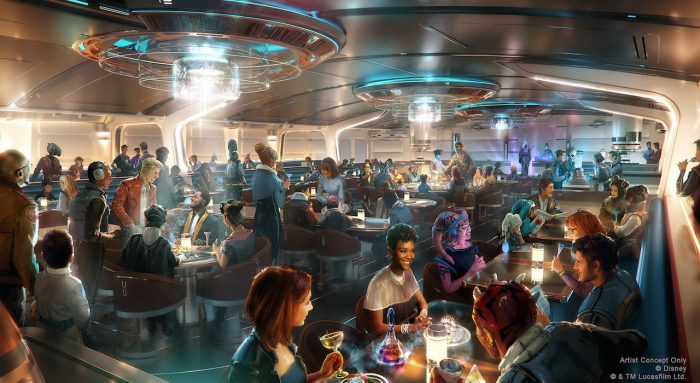 On the second night of your cruise, the Dining Room features The Taste Around the Galaxy, a multi-course menu inspired by iconic geography and locations from the Star Wars franchise. The meal will include shared appetizers, individual entrees, and a plated dessert.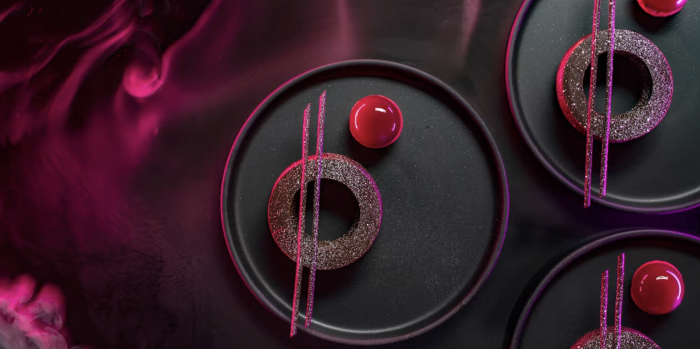 Additionally, the Crown of Corellia offers a add-on experience at the Captain's Table. This table will be situated in the center of the restaurant and feature additional courses. The price of the Captain's Table add-on is $30 (plus tax) per person for one night.

Note: There are two seatings for dinner. You will have a choice between them when you reserve your spot onboard (depending on availability).
The Crown of Corellia will service breakfast and lunch as well. Disney says guests will "help yourself" from hot and cold small plates for breakfast and sandwiches, soups, flatbreads, and other small bites for lunch. Beverages will, of course, be available at each meal as well. They include the famous Blue Milk!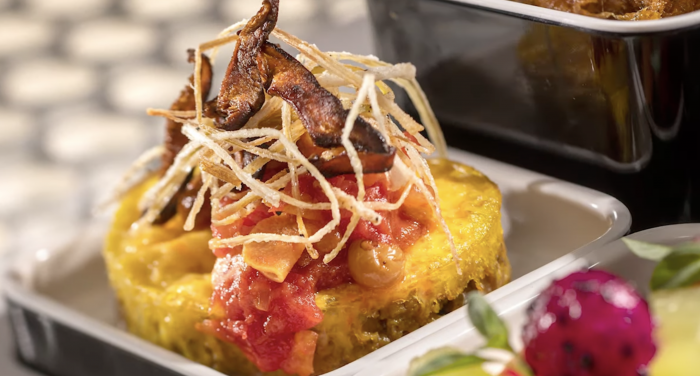 Note: You may be seated with other parties during your Table Service dining experiences at the Crown of Corellia.
Docking Bay 7 Food & Cargo
Your voyage includes a Quick Service meal during your trip to Black Spire Outpost. When eating on Batuu, the offered option is Docking Bay 7 Food & Cargo, however Disney also notes "other select locations" at Hollywood Studios will also be included.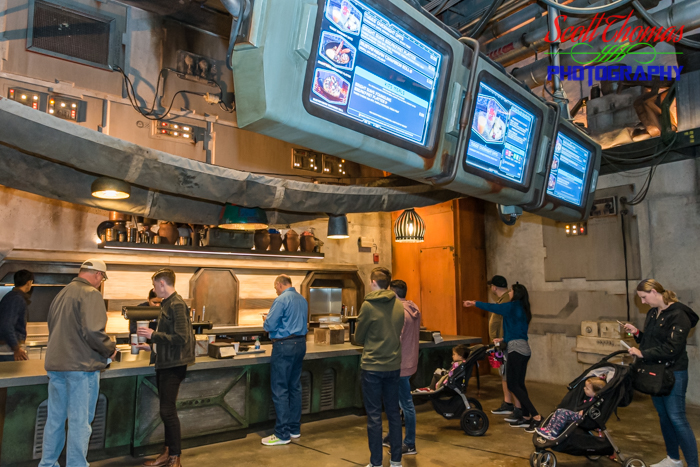 An adult Quick Service meal will include an entree and a beverage (alcoholic included for those over 21 wishing to select one). A child's Quick Service meal includes a combo meal from the kids' menu.
Shopping
The Chandrila Collection
This boutique located onboard the Galactic Starcruiser is the place to purchase costumes and galactically-appropriate attire should you wish to dress the part during your voyage.
Droid Depot Droids
Guests of Starcruiser who choose to build an astromech droid at Galaxy's Edge's Droid Depot are allowed to operate their droids onboard the ship. They may even choose to race their droids in a droid racing competition!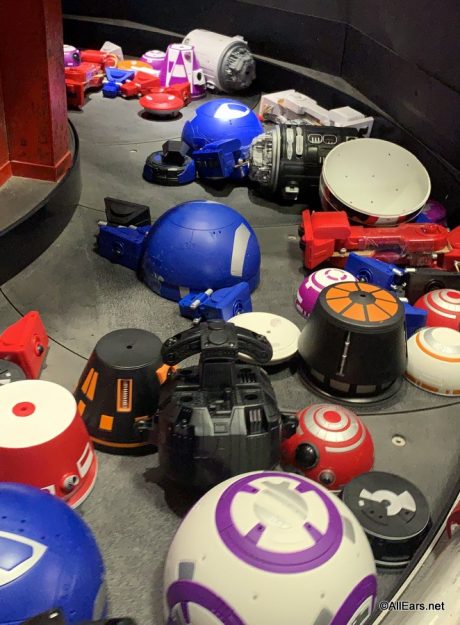 Guests will need to register for this event up to 60 days before their voyage. See Cast Members onboard to inquire about registration when you board.
The Atrium
The Atrium is the main lobby, where the crew and passengers can gather. In addition to providing ample seating, it also features frequent appearances from characters, and will serve as the main "stage" for the ongoing story.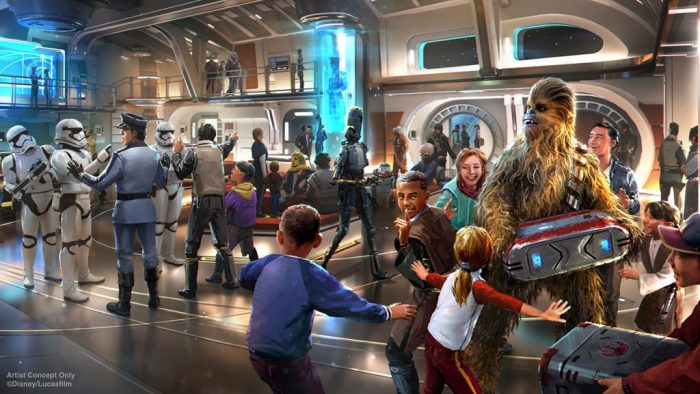 The Bridge
The Bridge is where the ship's navigation and defense systems are managed. Guests can operate these systems under the crew's guidance and may be called to battle stations during an attack by the First Order.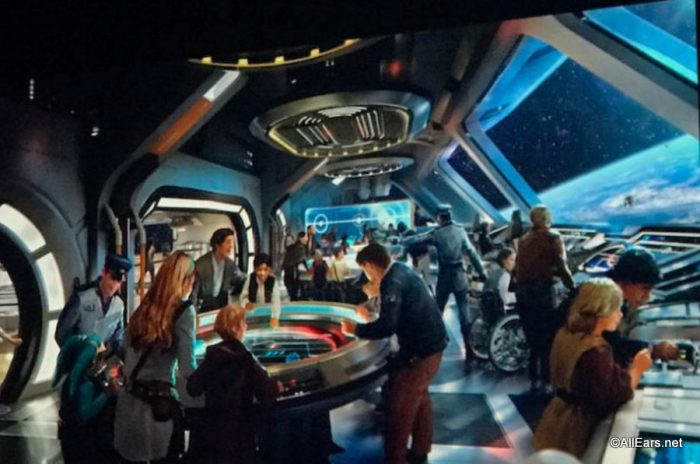 The Engineering Room
The Engineering Room is a children's play area, themed to the ship's engine room. Younger guests can crawl around and help perform maintenance on the ship's vital systems.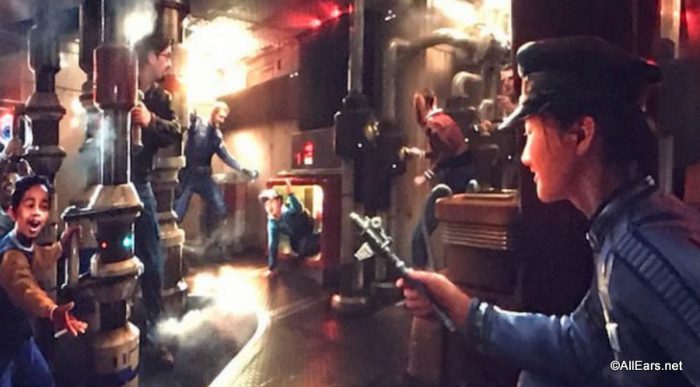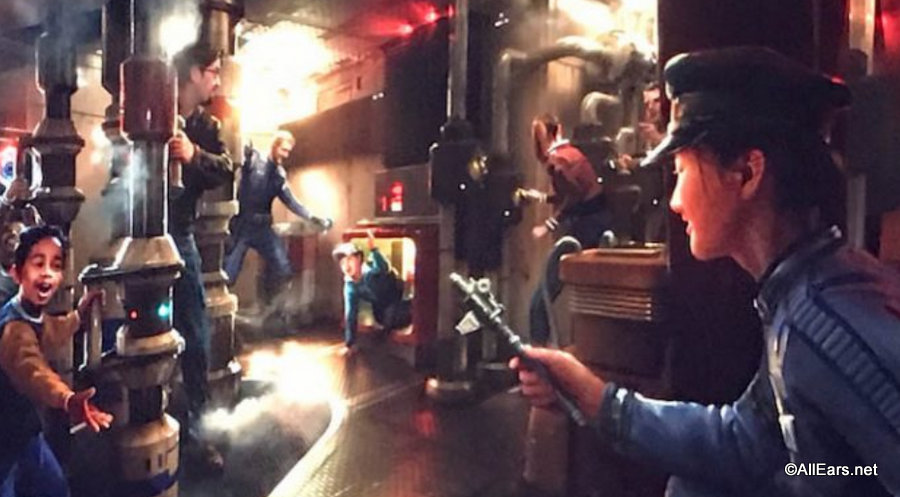 Lightsaber Training
Lightsaber Training is a recreational activity where guests can practice deflecting blaster bolts with their own training saber. As they work, they might even discover a connection to The Force.
Click here to see how
"real" lightsabers are coming to Galactic Starcruiser

!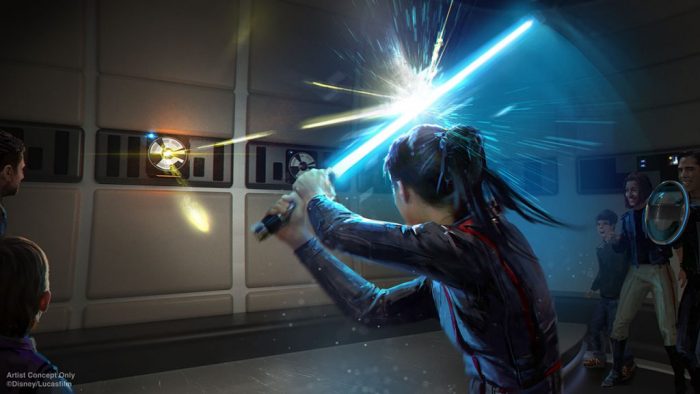 The ship is also expected to include several hidden areas, which are only accessible to guests on "secret missions".
Extras
The Story
The main draw of the Galactic Starcruiser is the story. You are a guest on board the Halcyon who finds yourself drawn into the conflict between the Resistance and the First Order. Disney promises that each guest will experience their own unique tale and that the choices they make will carry over throughout their trip.
This is a step beyond the existing Star Wars: Datapad you may have used in the Play Disney Parks app, as your physical actions in the resort and park will affect your standing, and Cast Members will respond to your choices. You could end up in the brig for tampering with the ship's controls, or make an alliance with major players in the Galaxy at the Sublight Lounge.
Character Meet and Greets
Disney purports that guests will encounter familiar characters in new ways — even helping and joining them on missions that can impact their adventures the next day as well.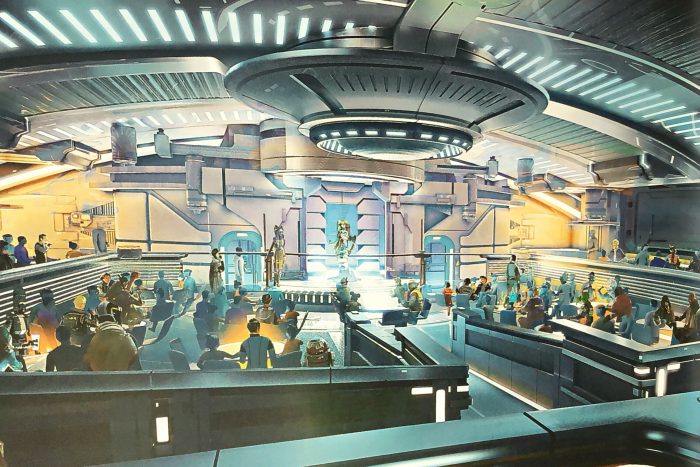 Guaranteed Attractions
During their excursion to Batuu, guests of the Halcyon will have one-time guaranteed access to experience Millennium Falcon: Smugglers Run and Rise of the Resistance.