Star Wars: Galactic Starcruiser
Star Wars: Galactic Starcruiser will say "bright suns!" to its first guests in 2022!
Click here to read more about the immersive Resort's opening!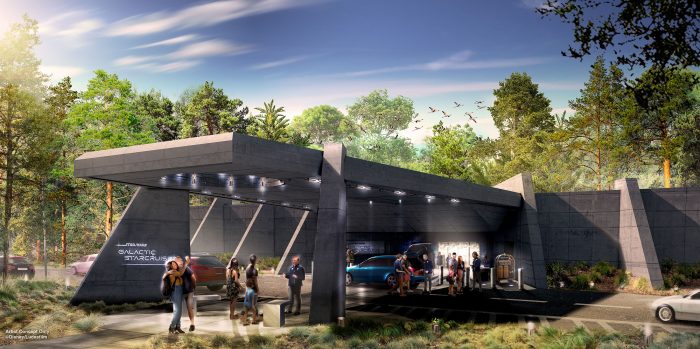 Galactic Starcruiser Concept Art ©Disney[/caption]
Star Wars: Galactic Starcruiser
Star Wars: Galactic Starcruiser, more simply known to some as the Star Wars hotel, is a two-night, fully-immersive adventure located adjacent to Disney's Hollywood Studios. It is the most highly-themed Resort that Disney has ever built, and it promises to transport guests into the world of Star Wars for an experience like no other.
Once you pass through the entrance and board your "launch pod", all mention of Star Wars as a film stops. Instead, you're a guest on The Halcyon, flagship of the Chandrila Star Line, as you embark on a cruise across a galaxy far, far away. Highly advanced screens, using the same technology seen in Millennium Falcon: Smugglers Run, Rise of the Resistance, and Space 220, create the illusion that you're traveling past iconic locations in the galaxy on your approach to your port of call, Batuu.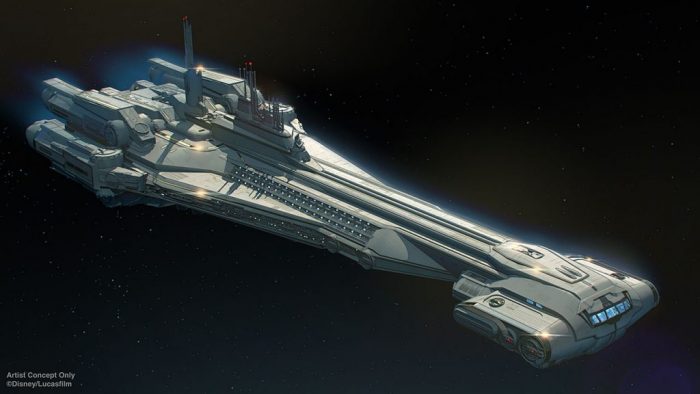 Star Wars: Galactic Starcruiser's Ship: the Halcyon 
The Halcyon is a cruise ship, which means that the bulk of your vacation experience will take place within the confines of the hotel. This isn't a Resort to book for a more general Walt Disney World vacation.
Each cabin on the ship can sleep four guests, two on a king-sized bed and two on a pair of bunks. A fifth guest may be accommodated in an as yet unannounced manner. First class and Captain's cabins have been rumored, but no official details have been announced.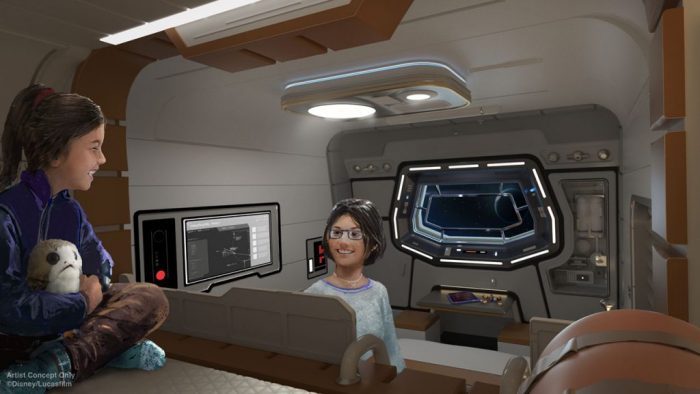 Each room features a viewport with simulated views of the galaxy, allowing you to watch the stars go by and keep up with scripted events from your room.
The remainder of the hotel is themed to a working starship, with certain guest areas themed to seem like "behind the scenes" parts of the ship.
The Atrium is the main lobby, where the crew and passengers can gather. In addition to providing ample seating, it also features frequent appearances from characters, and will serve as the main "stage" for the ongoing story.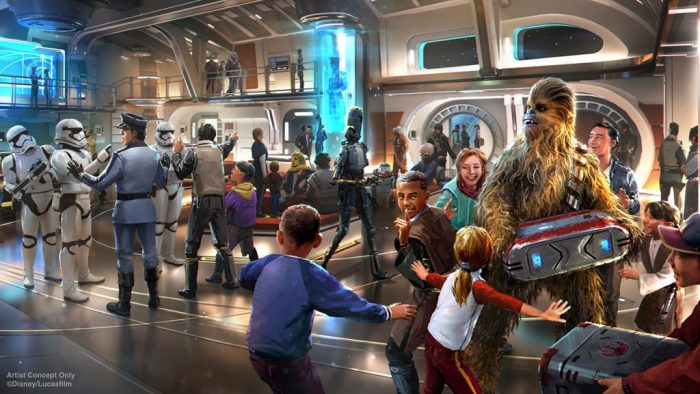 The Sublight Lounge is a bar and restaurant, where guests can enjoy food and drinks along with Twi'leks, Droids, and other galactic characters. You can play a game of Sabacc or sip on some otherworldly concoctions.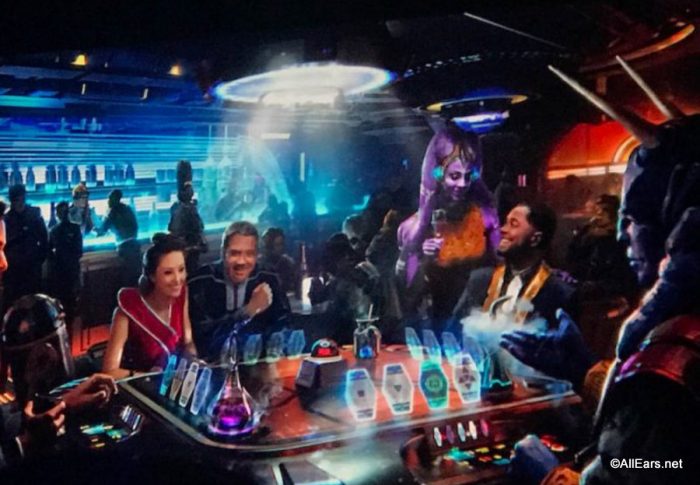 The Bridge is where the ship's navigation and defense systems are managed. Guests can operate these systems under the crew's guidance and may be called to battle stations during an attack by the First Order.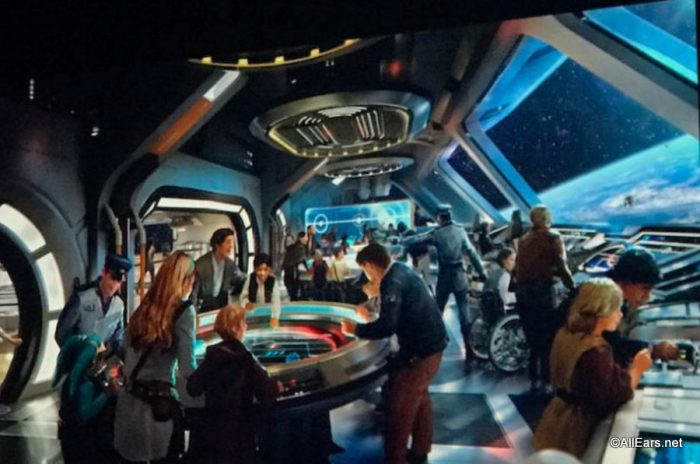 The Engineering Room is a children's play area, themed to the ship's engine room. Younger guests can crawl around and help perform maintenance on the ship's vital systems.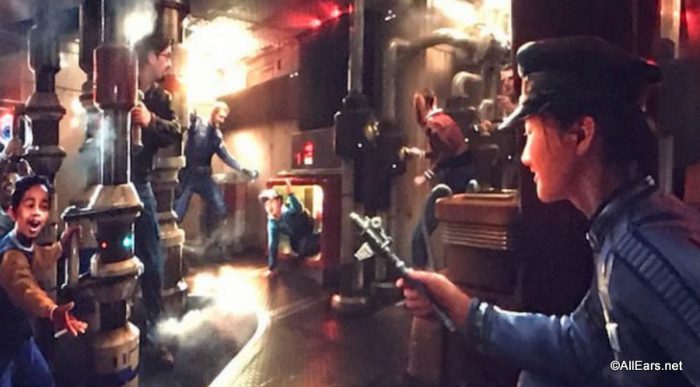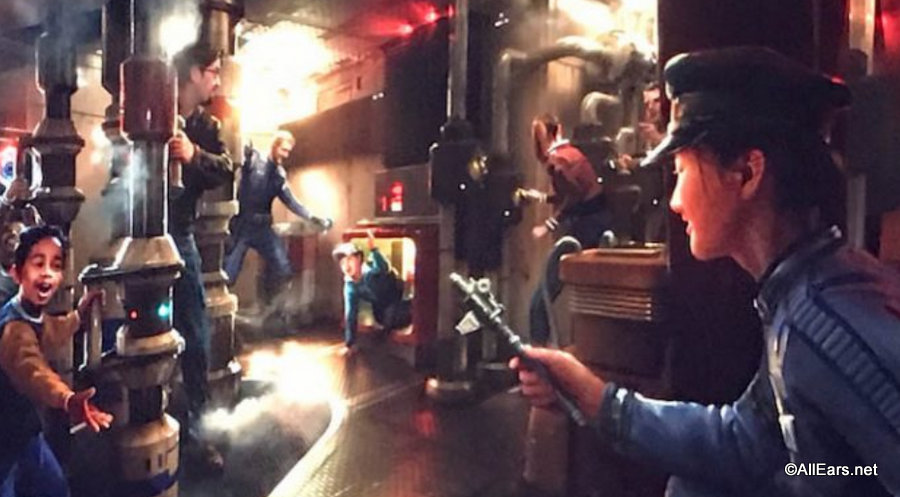 The Crown of Corellia Dining Room is an immersive supper club that will offer live entertainment along with breakfast and lunch before transitioning into a multi-course menu for dinner.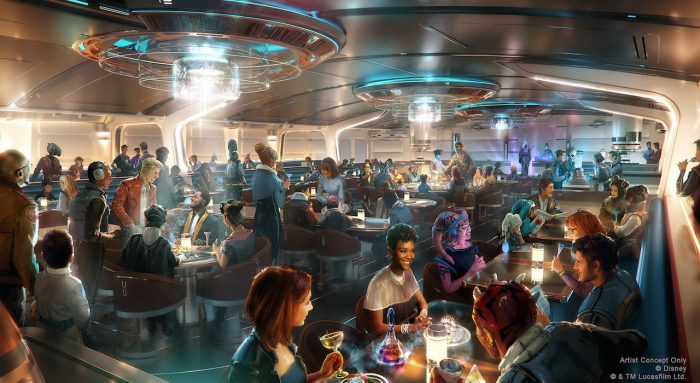 The Lightsaber Dojo (name pending) is a recreational activity where guests can practice deflecting blaster bolts with their own training saber. As they work, they might even discover a connection to The Force.
Click here to see how
"real" lightsabers are coming to Galactic Starcruiser

!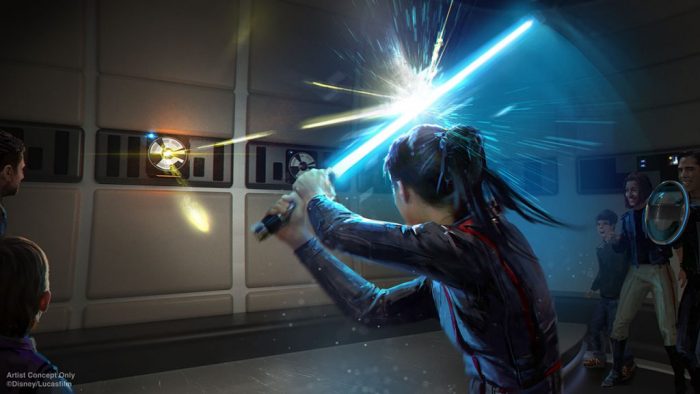 The ship also includes several hidden areas, which are only accessible to guests on "secret missions".
Star Wars: Galactic Starcruiser Perks
The main draw of the Galactic Starcruiser is the story. You are a guest on board the Halcyon who finds yourself drawn into the conflict between the Resistance and the First Order. Disney promises that each guest will experience their own unique tale and that the choices they make will carry over throughout their trip.
This is a step beyond the existing Star Wars Datapad you may have used in the Play Disney Parks app, as your physical actions in the resort and park will affect your standing, and Cast Members will respond to your choices. You could end up in the brig for tampering with the ship's controls, or make an alliance with major players in the Galaxy at the Sublight Lounge.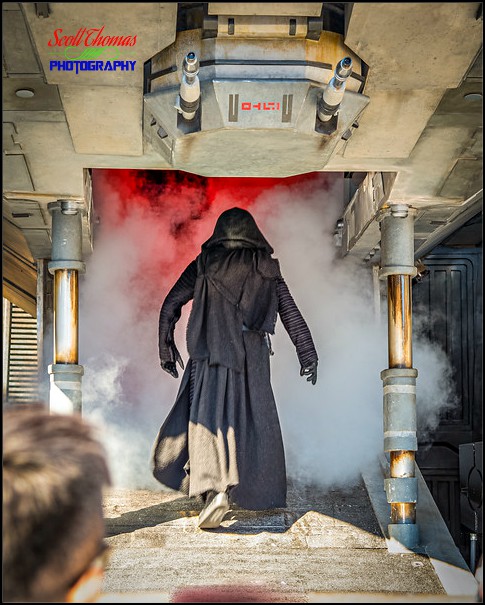 Much like a cruise, all guests check in and leave on the same day, allowing for a cyclical story. Several scheduled events will also occur throughout your two-night trip, including an attack by the First Order where guests will be called to defend the ship.
A key part of your stay is a "port day" on Batuu, the setting of Star Wars: Galaxy's Edge. Guests will take a simulated landing shuttle into the park and be given free rein of the area. Batuuans will also respond to your actions performed on the ship, adding an exclusive layer of depth to your experience.
While it is not yet confirmed, there are several rumored perks for guests on the Galactic Starcruiser, including:
A universe-appropriate wardrobe provided by Disney
Admission to Disney's Hollywood Studios included with your booking
Priority access to Galaxy's Edge rides and experiences
Questions about Star Wars: Galactic Starcruiser
Am I allowed to leave the Starcruiser to visit other parks or experiences?
We expect the answer will be yes, though it will detract from your experience somewhat. We recommend dedicating the entire two days to the Galactic Starcruiser experience, and then booking a less expensive hotel for the remainder of your Disney trip if you wish to visit the other parks.
Are there balconies or adjoining rooms?
No. The Galactic Starcruiser is entirely indoors, and all windows provide simulated views into space. No adjoining rooms have been announced.
Are there smoking or non-smoking rooms?
All Disney Resorts and guest rooms are now smoke free. You must go to a designated outdoor smoking area outside of the experience if you wish to smoke.
What are the room prices?
Neither official prices nor DVC point rates have been announced.
Room Amenities
Standard cabins contain one bed, two bunks, a bathroom with shower, and a simulated view into space. Each room contains an interactive TV that allows guests to accept missions from the Resistance, the First Order, or the criminal underworld.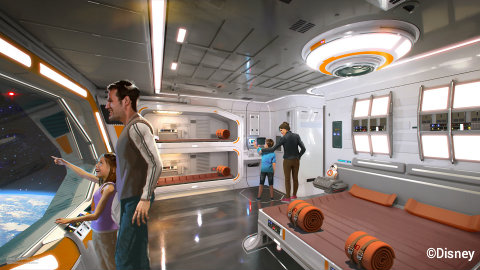 A console near each bed allows you to store and charge your cell phone. Disney WiFi is available throughout the hotel and is required to access the Star Wars Datapad.
Details on the First Class and Captain's tier cabins have not been announced, but we expect additional space and larger beds.
Is there a fee to park at Star Wars: Galactic Starcruiser?
This has not been announced. However, parking will be extremely limited, requiring most guests to valet. It is possible that valet parking will be included in your experience.
How will I get into my room?
Disney has phased out room keys and admission tickets from plastic cards to MagicBands and MagicMobile, Both the MagicBand and your cell phone can be linked to your My Disney Experience (MDE) account  and can act as your room key. Simply touch your band to the room door to gain entry, or select the function in the My Disney Experience app on your phone.
Details have not been revealed about MagicBands or cell phone use on Starcruiser, but the same technologies are expected to be used on board.
Galactic Starcruiser Check In and Check Out
Galactic Starcruiser uses a cruise ship-inspired check in (or embarkation system). Guests will check in at a specific time (expected to be 3PM) on embarkation day, spend that afternoon and evening, a full day and two nights at the resort, and then check out the third morning at a designated time (expected to be 11AM). The hotel will reset, and new guests will be admitted.
This means that check in is only permitted every other day.
Upon arrival, you are expected to confirm your reservation at the entrance and leave your luggage with bell services (should you wish to do so). You are expected to be part of a "pre-launch" experience, though no details are yet known what this will be like.
All guests are required to check out at the conclusion of the experience to be shuttled back to Earth. Extended stays are not expected to be available.
Getting to the Parks and Elsewhere
Guests wishing to visit Hollywood Studios can board a simulated shuttle that will take them directly to Star Wars: Galaxy's Edge, with a projected entrance between the Resistance Outpost and the Black Spire Marketplace.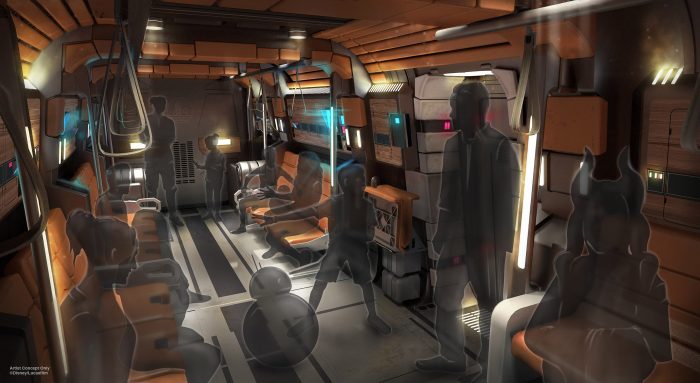 Guests who wish to visit the parks at other points during their stay may take a walking path to Hollywood Studios, from which they may access the rest of the resort via the Skyliner, buses, and other relevant transportation. As this is meant to be a self-contained experience, travel to and from Galactic Starcruiser is largely restricted to arrival and departure days.
Dining on Galactic Starcruiser
Disney has formally announced two dining/drinking locations. The Sublight Lounge will serve as the ship's watering hole, with guests rubbing elbows with all sorts of galactic friends (and foes). (Note: Sublight Lounge was originally called the Silver-C Lounge in Disney's promotional materials. Learn more here.)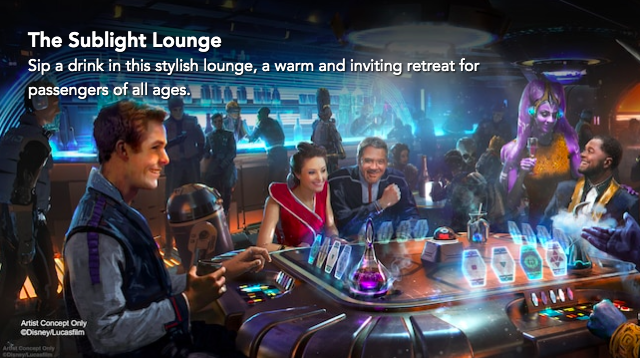 In spring 2021, Disney announced that the ship's Table Service option will be called the Crown of Corellia Dining Room. This spot will serve breakfast and lunch in a "bright and welcoming" dining room and transition to a "lavish multi-course menu" for each evening's "supper club". Disney also promises that during one night of your stay, your meal will feature "a live performance from a galactic superstar."
Click here for more details on the Crown of Corellia Dining Room.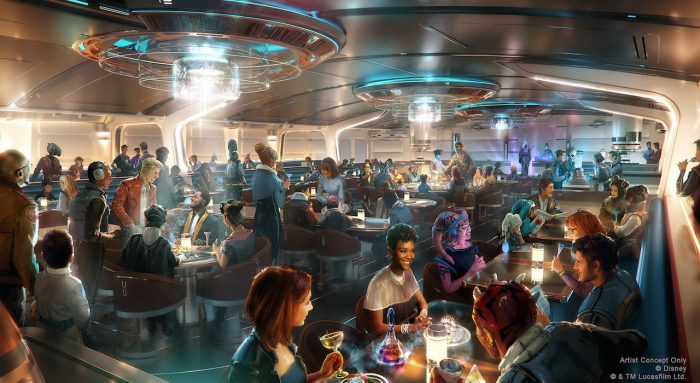 Amenities and Activities on Galactic Starcruiser
In addition to the above mentioned activities, guests will be able to lounge in the courtyard, a lush and green location filled with alien plant life.
Using their TVs and cellphones, guests can also take clandestine missions from various Star Wars characters, interacting with cast members while exploring hidden sections of the ship.
At a certain point during your experience, the First Order will attack and board your ship, complete with an appearance by Kylo Ren. The battle will result in simulated damage to the lobby.
A pool has not been included in the plans for Galactic Starcruiser.
Despite its proximity to the park, the Galactic Starcruiser will not have views of the Park's fireworks show when it returns. However, you will have views of passing stars, planets, and more, providing a beautiful nighttime experience.
Galactic Starcruiser for Kids
The Engineering Room is expected to be a play area for kids, and because it's still a Disney Resort hotel, we expect plenty to entertain younglings.