Disney Junior Dance Party! – Animation Courtyard – Disney's Hollywood Studios
An all-new Disney Junior show opens at Disney's Hollywood Studios on December 22, 2018. "Disney Junior Dance Party!" will be a high-energy, live show experience that takes its inspiration from the most popular Disney Junior shows on TV, including "Mickey and the Roadster Racers," "Doc McStuffins," "The Lion Guard" and the newest hit series "Vampirina."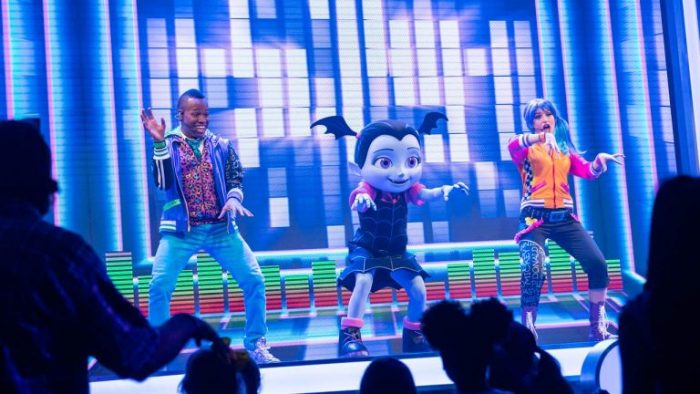 INTRODUCTION
"Disney Junior Dance Party!" will be a musically infused, interactive concert, hosted by Finn Fiesta and a DJ named Deejay, who involve you in all the fun, including live appearances from some of your favorite characters, fun music from Disney Junior and much more.
ATTRACTION
Disney Junior Dance Party — Stars of the Disney Channel's popular "Disney Junior" programming block, geared to preschool audiences, are on hand to sing and dance with guests. The party brings together several of the stars of Disney Channel's Disney Junior television shows, including Vampirina, Doc McStuffins and characters from Mickey and the Roadster Racers and The Lion Guard. This attraction is housed in Soundstage 5 in the Animation Courtyard.
TOURING TIPS
Disney Junior Dance Party! is definitely geared to the preschool set, although young school-age children (and their grown-up escorts) will also enjoy it.
The party will be held multiple times each day.
This attraction is wheelchair/ECV accessible.
Assistive Listening Devices from Guest Services Can Be Used Here.
KIDS AND CHARACTERS
Several Disney Junior Characters are available for Meet and Greet opportunities outside in Animation Courtyard.
Check your daily Times Guide for times.
Disney's Hollywood Studios Characters at a Glance
DINING
There is no place to dine in the immediate vicinity of this show.
Disney's Hollywood Studios Restaurants At A Glance
Menus From Around the World
Vegetarian and Other Special Diets
SHOPPING
Immediately upon exiting the Soundstage, there is an outdoor stand selling related Disney Junior merchandise. The Animation Courtyard Shops and the Animation Gallery are located across the Courtyard from the Soundstage.
INTERESTING FACTS
Disney Junior – Live on Stage! closed Sept. 2, 2018, to make way for Disney Junior Dance Party.
Before Disney Junior Live on Stage, this soundstage was home to Playhouse Disney Live! which opened October 1, 2001. (A revamped version of Playhouse Disney Live! opened in January 2008, with new characters.) That show replaced the Bear in the Big Blue House stage show, which closed August 4, 2001.
Disney Junior Live on Stage retired the characters of Handy Manny and the Little Einsteins when it revamped the show in February 2013.
If you have comments or tips to share with others about touring Disney's Hollywood Studios, please email us. Thank you.