Ariel's Grotto Fantasyland Magic Kingdom
Ariel's Grotto Highlights:
Meet Ariel from the Little Mermaid — in her fin!
Located in Fantasyland at the exit of Under the Sea – Journey of the Little Mermaid attraction
INTRODUCTION
Meet everyone's favorite mermaid at Ariel's Grotto in the Magic Kingdom.  It's located in Fantasyland next to the Under the Sea – Journey of the Little Mermaid attraction.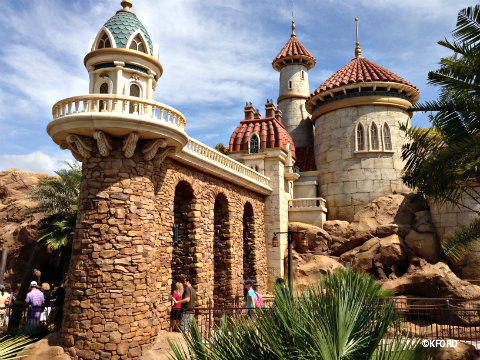 ATTRACTION
This attraction is like many other meet-and-greets for Disney characters: It consists of a basic queue and then time with the popular Disney Princess. Although there are no interactive elements to keep guests entertained, it is, of course, well-themed so you feel like you might be in a craggy cave during your wait. Most of the queue is under cover, so guests will get a break from the Florida sun (or rain).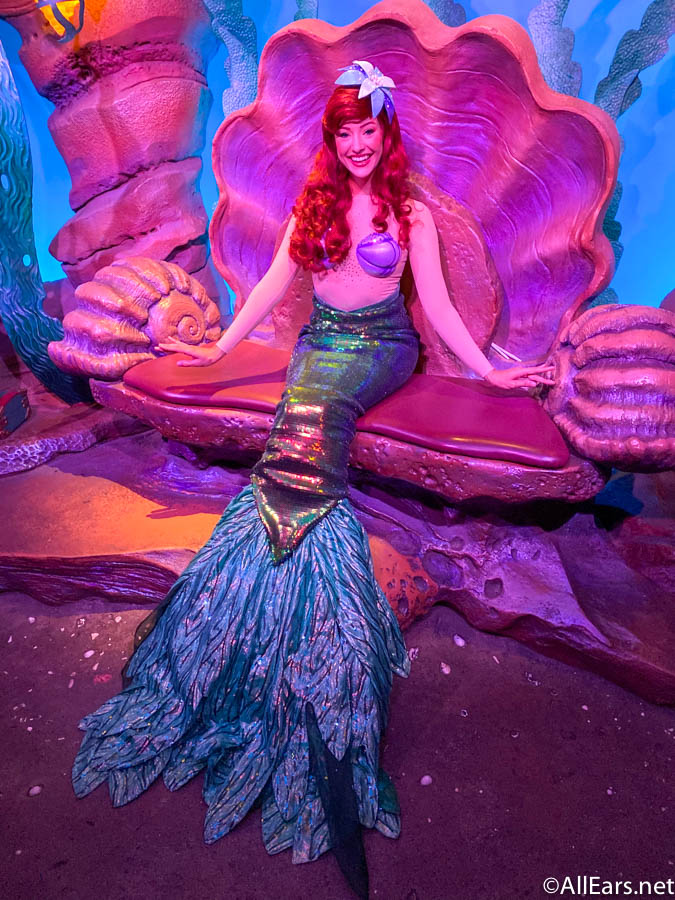 One nice difference with this character attraction is that only one or two families are allowed in the room with Ariel, so it is a more intimate experience. Having the quiet room can be helpful for shy children and for parents who want to videotape the interaction because they actually will be able to hear their children talk with Ariel.
TOURING TIPS
Wait times vary greatly for Ariel's Grotto throughout the day — from 20 to 60 minutes being the average range.
Ariel's Grotto is wheelchair/ECV accessible.
Besides character dining, this is the only place in Walt Disney World where you can regularly meet Ariel. Beyond that, it's the only you can meet her in her fin.
A Disney's PhotoPass photographer is stationed with Ariel and will take photos of your family. Cast members will be happy to use your own camera to take photos, as well, if you ask.
Ariel is happy to sign autograph books if you'd like — make sure it's ready to go when it's your turn!
Across from the attraction entrance, you'll find Prince Eric's Village Market. This small snack stand offers a few treats, such as a Mermaid Donut, Slushes, Fruit, and a Jumbo Pretzel.
They also sell a small selection of The Little Mermaid merchandise, such as dolls and toys.
Magic Kingdom Restaurants At A Glance
Menus From Around the World
Ariel's Grotto officially opened on December 6, 2012.
This is not the first Ariel's Grotto to be located in the Magic Kingdom. The previous version, which also contained a water play area, closed in April 2010 to make way for the Fantasyland expansion.
While Ariel's first grotto was closed and the second had yet to open, Ariel greeted guests in Adventureland and Prince Eric joined her. He does not appear in the new grotto.
At Disney California Adventure, Ariel's Grotto is a themed restaurant that hosts "Ariel's Disney Princess Celebration." Ariel appears in her human form.
Ariel's Greeting Grotto is a meet-and-greet attraction at Tokyo DisneySea in Japan.