Ariel's Grotto Fantasyland Magic Kingdom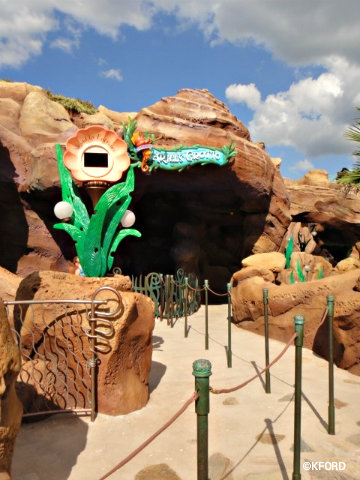 INTRODUCTION
Meet everyone's favorite mermaid at Ariel's Grotto in the Magic Kingdom. Visitors entering Fantasyland through the Castle Courtyard gates will pass Enchanted Tales with Belle, Be Our Guest restaurant, Gaston's Tavern, BonJour Village Gifts and Under the Sea — Journey of The Little Mermaid before arriving at Ariel's Grotto. Guests approaching from Storybook Circus, however, will find the attraction immediately on the right.
ATTRACTION
Ariel's Grotto — This attraction is like many other meet-and-greets for Disney characters: It consists of a basic queue and then time with the popular Disney Princess. Although there are no interactive elements to keep guests entertained, it is, of course, well-themed so you feel like you might be in a craggy cave during your wait. Most of the queue is under cover, so guests will get a break from the Florida sun (or rain).
One nice difference with this character attraction is that only one or two families are allowed in the room with Ariel, so it is a more intimate experience than, say, Pete's Silly Sideshow where the queues wrap around in front of the character sets. Having the quiet room can be helpful for shy children and for parents who want to videotape the interaction because they actually will be able to hear their children talk with Ariel.
This is one of the only locations at Walt Disney World where guests can ask for The Little Mermaid's autograph and take photos with her. At her grotto, Ariel appears in her mermaid form. She sometimes appears at character dining experiences in her human form, including Cinderella's Royal Table, Akershus Royal Dining or at the Boardwalk's Trattoria al Forno breakfast.  Ariel also takes part in various parades and shows.
TOURING TIPS
Ariel's Grotto is a FastPass+ attraction. If your child (or you) really wants to meet this mermaid, we suggest you arrange your FP+ in advance!
Ariel's Grotto is wheelchair/ECV accessible.
A Disney's PhotoPass photographer is stationed with Ariel and will take photos of your family. You can decide afterward if you would like to purchase them. Cast members will be happy to use your own camera to take photos, as well, if you ask.
The closest restrooms are located between Gaston's Tavern and Bon Jour Village Gifts. There also are restrooms in the Storybook Circus area.
Read more about this attraction in Kristin Ford's "A Mom and the Magic" blog HERE.
KIDS AND CHARACTERS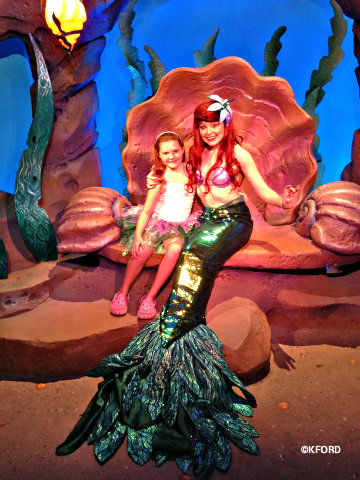 Guests can meet one other Disney Princess in the Enchanted Forest section of Fantasyland. Belle is the star of Enchanted Tales with Belle, just inside the Castle Courtyard gates. To meet her, visitors must go through the attraction and volunteer for a small role in a production in Beast's library. They will interact with Belle and have their photos taken with her. No autographs are given at this location.
Gaston, the obnoxious-but-lovable antagonist from "Beauty and the Beast," also greets guests daily in front of his tavern, which is near Enchanted Tales with Belle.
Princess Fairytale Hall is the home for other Disney princesses in the Magic Kingdom. The meet-and-greet space is located where the Snow White's Scary Adventures ride previously was housed in the Castle Courtyard. Princesses Cinderella, Aurora (Sleeping Beauty) and Tiana are frequently here, as well as other royals and Anna and Elsa, from Disney's "Frozen."
Beast walks through the Be Our Guest restaurant at dinner and then goes into the gallery to pose for photos with guests when they finish their meals. A PhotoPass photographer is stationed there.
Character Meet and Greet FAQ!
Magic Kingdom Characters At A Glance
DINING
The most-talked about dining nearby is found inside Beast's castle at Be Our Guest. The restaurant offers traditional French cuisine in a setting that makes guests feel as if they truly have stepped into Belle's world. Choose a table in the grand ballroom, a gallery or the west wing.
This dining location works as a counter-service restaurant for breakfast and lunch and a table-service restaurant for dinner, which was a first for Disney World. Among its other firsts was that it was originally the only spot in the Magic Kingdom to serve alcohol. Also, during breakfast and lunch, guests can order on touch-screens and their meals will be delivered to their tables on fancy trolleys. No more balancing loaded trays while searching for an available table! Dinner is a 3 course prix fixe menu, and requires 2 table-service meal entitlements per person if using the dining plan.
Gaston's Tavern, which does not serve alcohol, is the other nearby dining location in New Fantasyland. This small restaurant offers pork shank, Le Fou's Brew and warm cinnamon rolls among its treats. It also serves up a handful of healthy snacks.
Popcorn, ice cream, bottled water and sodas can be purchased at Maurice's Amazing Popping Machine, which is parked closed to Gaston's Tavern.
Magic Kingdom Restaurants At A Glance
Menus From Around the World
Vegetarian and Other Special Diets
SHOPPING
A line of Ariel and Under the Sea — Journey of The Little Mermaid merchandise can be found at Sir Mickey's, which is located behind Cinderella Castle. Guests can choose from women's and girls' T-shirts, tank tops, hoodies, cups, mugs, dolls, toys and more. Perhaps the most creative product, though, is the dinglehopper — a hairbrush shaped like a large metallic fork.
Big Top Souvenirs, across from Dumbo the Flying Elephant in Storybook Circus, offers items from that section of New Fantasyland, including specialty cupcakes adorned with Dumbo candies and caramel corn.
Bon Jour Village Gifts is in the Enchanted Forest section of Fantasyland. For "Beauty and the Beast" fans. This is heaven because most of the merchandise is based on this Disney story. Here, you'll find an increasing selection of goods, including Belle T-shirts for girls and women; Gaston's Tavern T-shirts for men; light-up castle goblets; gargoyle frames and candle holders; Jim Shore statues of Belle; and a collection of dishes and stemware and pillows inspired by the Be Our Guest restaurant.
Magic Kingdom Shopping at a Glance
INTERESTING FACTS
Ariel's Grotto officially opened on December 6, 2012.
This is not the first Ariel's Grotto to be located in the Magic Kingdom. The previous version, which also contained a water play area, closed in April 2010 to make way for the Fantasyland expansion.
While Ariel's first grotto was closed and the second had yet to open, Ariel greeted guests in Adventureland and Prince Eric joined her. He does not appear in the new grotto.
At Disney California Adventure, Ariel's Grotto is a themed restaurant that hosts "Ariel's Disney Princess Celebration." Ariel appears in her human form.
Ariel's Greeting Grotto is a meet-and-greet attraction at Tokyo DisneySea in Japan.
If you have comments or tips to share with others about touring the Magic Kingdom, please email us. Thank you.