Disney Festival of Fantasy Parade Magic Kingdom
The Festival of Fantasy Parade returned to Magic Kingdom on March 9th, 2022.
Festival of Fantasy is the daytime parade currently at Magic Kingdom. It starts in Frontierland and works its way through Liberty Square, before turning in front of Cinderella Castle and finishing with a stroll down Main Street USA.
The parade features state-of-the-art floats, an exclusive soundtrack, and lots of your favorite characters!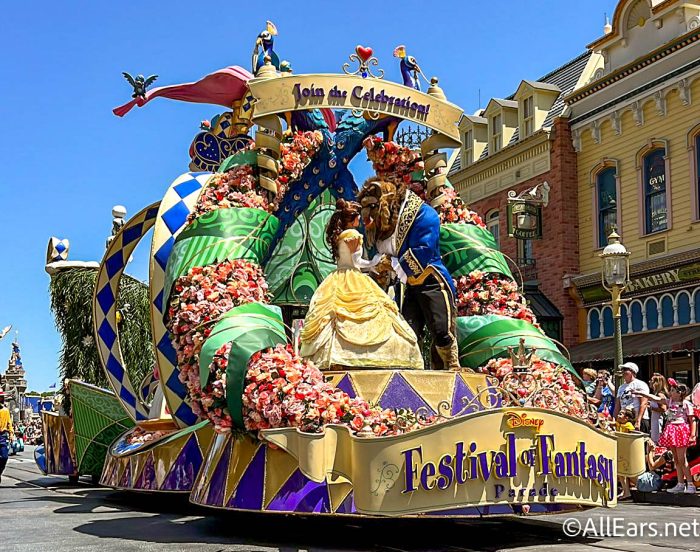 The Princess Garden – This pageantry of princesses celebrates Disney royalty. Cinderella, Tiana, and Belle accompanied by their respective princes, ride in a garden of topiaries with woodland creatures, birds, and more. Cinderella's dress playfully twirls like a turntable, while Swan Court couples lead the 50-foot-long majestic float, capped off with a special appearance by Anna and Elsa from Disney's hit animated feature, Frozen.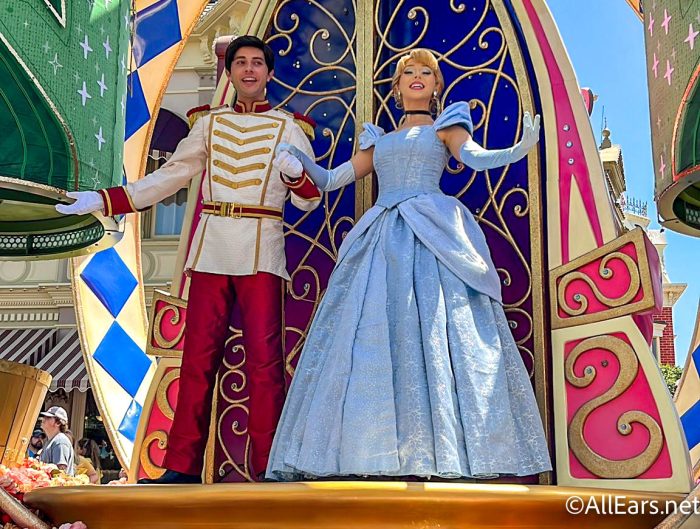 Tangled – A massive longship on the high seas showcases Flynn Rider and Rapunzel in search of adventure and another Best. Day. Ever! Rapunzel's iconic tresses weave throughout this 36-foot-long float decked out with swaying pendulums carrying dastardly thugs.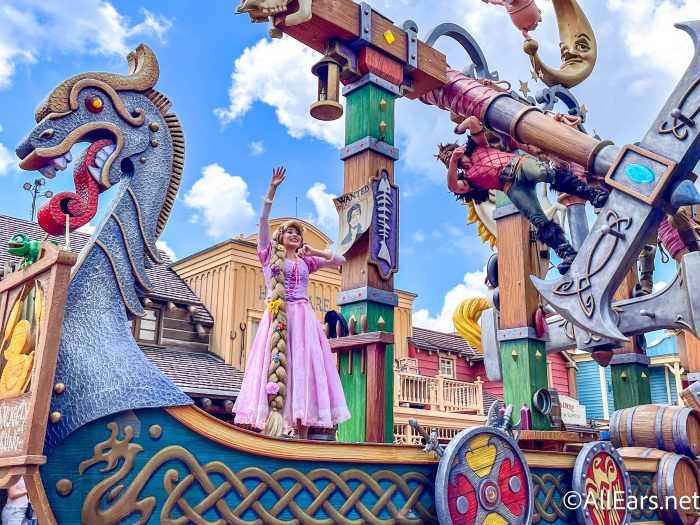 The Little Mermaid – Ariel and her friends sit atop a colorfully kinetic seashell music box that boasts an enchanting musical jubilee. There's no shortage of whimsy on this Under the Sea float with conga dancing fish kicking up their fins and bubbles galore. Shimmering fabrics and intricately designed costumes for the Lion Fish, Coral Fish, Seashell, and Sea Horse performers are runway-inspired.
Peter Pan – Straight from Never Land comes Peter Pan and Wendy soaring high aboard the famous Jolly Roger pirate ship complete with smoke effects and special surprises. A rainbow arch shines over Skull Rock and Tinker Bell nestled among giant flowers, while Captain Hook takes center stage on a swinging anchor. "Newsies-inspired" Lost Boys kick up their heels to high-energy choreography.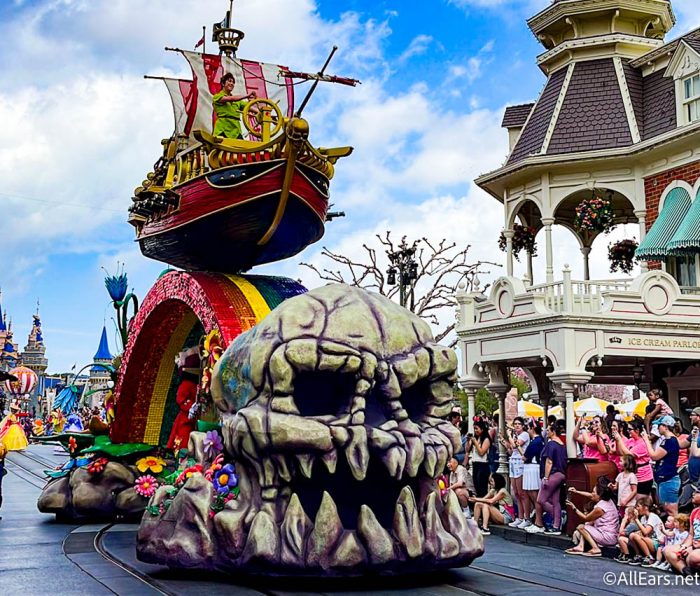 Sleeping Beauty – The heroic Prince Phillip battles a Steampunk-inspired Dragon as the wicked Maleficent. This float stretches 53 feet in length and 26 feet tall with a prickly spinning wheel dead center of the float. With fiery eyes and glowing effects, the spectacular dragon was built on an articulating chassis allowing the float to bend and flex as it moves along the parade route – a first for Disney parades. This float was designed in partnership with Tony Award-winner Michael Curry. There's Prince Phillip, thorn-inspired stilt performers, dramatic raven dancers, plus the three good fairies, Flora, Fauna, and Merryweather glide along the parade route.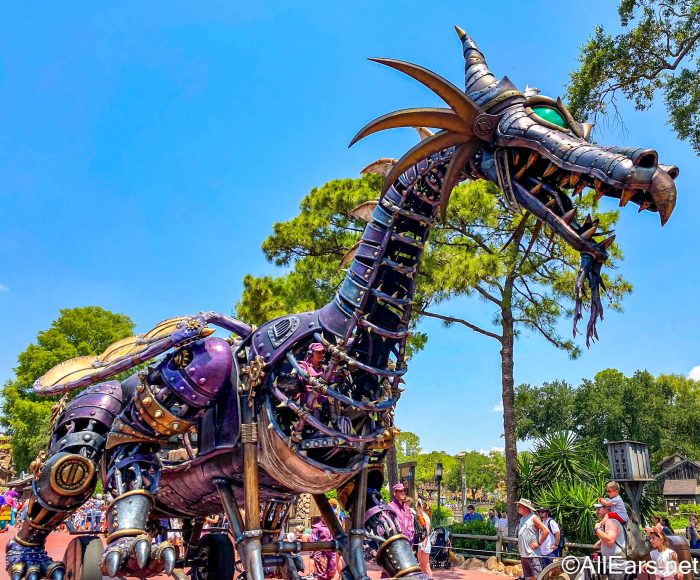 Finale and Mickey's Airship – The parade culminates with a 90-foot-long magical caravan of characters featuring Pinocchio, Dumbo, Snow White and the Seven Dwarfs, the Mad Hatter, Pluto, and more in a splashy carnival of color. There are Pegasus horses, dancing hippos, and sassy Bubble Girls with cotton-candy-like hair celebrating Storybook Circus in New Fantasyland.
And sporting festive costumes Mickey and Minnie Mouse sit sky high in Mickey's Airship — a giant hot air balloon that rounds out the Disney Festival of Fantasy Parade.
PARADE VIEWING
Standing directly in front of Cinderella Castle is a great place to view this parade, but you will have to get here early to get a good spot. Consider viewing the parade near the Liberty Bell in Liberty Square or where it steps off in Frontierland; it may be less crowded there, but this is a popular parade, so almost anywhere along the parade route will have lots of watchers waiting!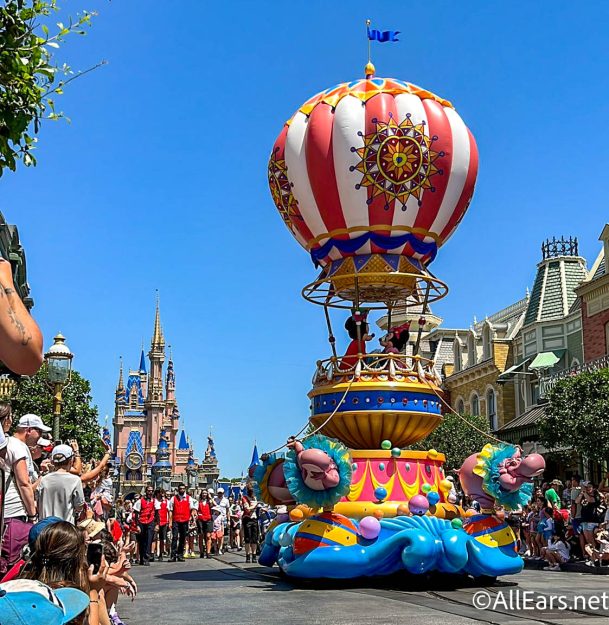 Showtimes can vary so make sure you check the My Disney Experience app so that you don't miss it!
PARADE FACTS
The Steampunk-inspired Maleficent Dragon stretches 53 feet from snout to tail and reaches 26 feet in the air.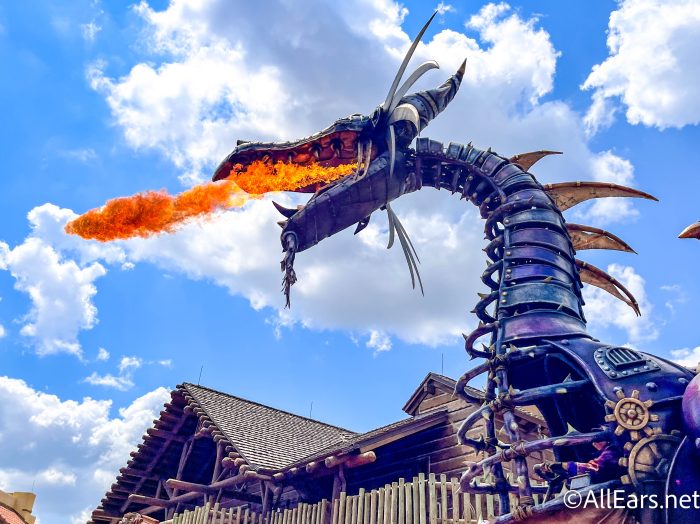 The parade features a cast of more than 100
Disney characters from more than a dozen classic stories are represented among nine parade floats
40 additional characters are presented in animated or sculptural form
Performers appear on stilts, swings, and pendulums
The Princess Garden lead float stretches more than 50 feet long
The Jolly Roger atop the Peter Pan float flies 28 feet above the parade route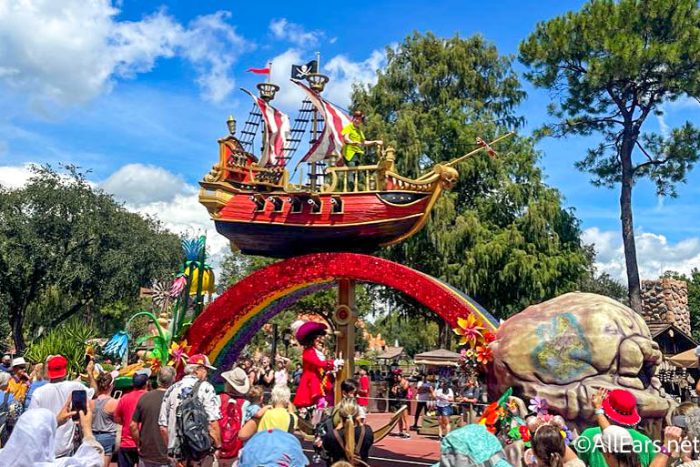 Mickey's Airship finale float is the tallest float topping out at 32 feet
The trio of finale floats spans more than 90 feet along the parade route
Some 27 separate custom-designed fabrics were designed by Mirena Rada in collaboration with Creative Costuming Graphic Artist Paul Jordan.
Counting interfacings and trims, it takes 28 separate fabrics to make up one Swing Thug #1 Costume (Tangled unit). His vest requires vinyl to be cut into 75 separate diamond shapes and then stitched onto cool max fabric.
Some pieces, including the Seashell Girl (The Little Mermaid unit) headpiece, were digitally sculpted and then grown to size with a 3D printer.
It takes 30 yards of fabric to make one Seashell Girl costume which includes 12 different colors of Nitex Mesh.
The coral pieces for the Coral Twins (The Little Mermaid unit) were custom designed. They are being hand poured in three separate colors by the artisans of the Creative Costuming Craft Team and baked and finished for 16 hours each in an oven.
The socks worn by the Lost Boys (Peter Pan unit) are custom designs that were knitted to order in Hong Kong.
Minnie Mouse's Dress and Hat (finale unit) uses 95 gold lame dots that are cut out, "blinged out," and then sewn on.
The Bubble Girl (finale unit) headpiece is made from three separate clown wigs that are blended together by the Creative Costuming Millinery Team.
Cha Cha Girl (finale unit) – Her wig was designed with 148 yards of horsehair in four colors, which is then rolled, pressed and curled by hand.
Walt Disney Parks and Resorts Creative Entertainment team members partnered with Tony Award-winning designer Michael Curry on the development of the Maleficent Dragon. Previously he worked with Disney Parks on the Tapestry of Nations parade and Finding Nemo the Musical.
Early artist renderings of the floats:
Peter Pan Float

Featuring a pirate galleon ship with Peter Pan, Wendy, Captain Hook, Mr. Smee, and Tinker Bell

Rapunzel and Flynn Rider Float

In search of another "Best. Day. Ever."

Brave Float

A troupe of Scottish dancers on a huge bagpipe will annouce Merida and her 3 brothers (as bears).

The Little Mermaid Float

Ariel and her friends arrive on a larger than life music box featuring "Under the Sea"
To make way for the new parade, the Celebrate a Dream Come True parade ended its daily run on December 20, 2013 and the final performances were January 1-4, 2014.
For a video of the parade, check this out!