Princess Fairytale Hall – Fantasyland – Magic Kingdom
Princess Fairytale Hall Highlights:
FASTPASS+ AVAILABLE
Royal Hall in Fantasyland where you can meet princesses such as iconic Cinderella, Rapunzel, and Princess Tiana
There are two queues — each leads to two royal ladies
INTRODUCTION
Princess Fairytale Hall is a character greeting spot featuring several Disney Princesses, such as Cinderella, Elena of Avalor, Rapunzel and Tiana. It is located opposite the Carrousel in an area of Fantasyland called the Castle Courtyard.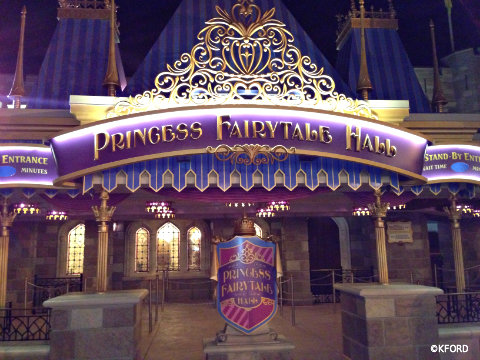 ATTRACTION
As you approach Princess Fairytale Hall, you will see that you can choose from two queues.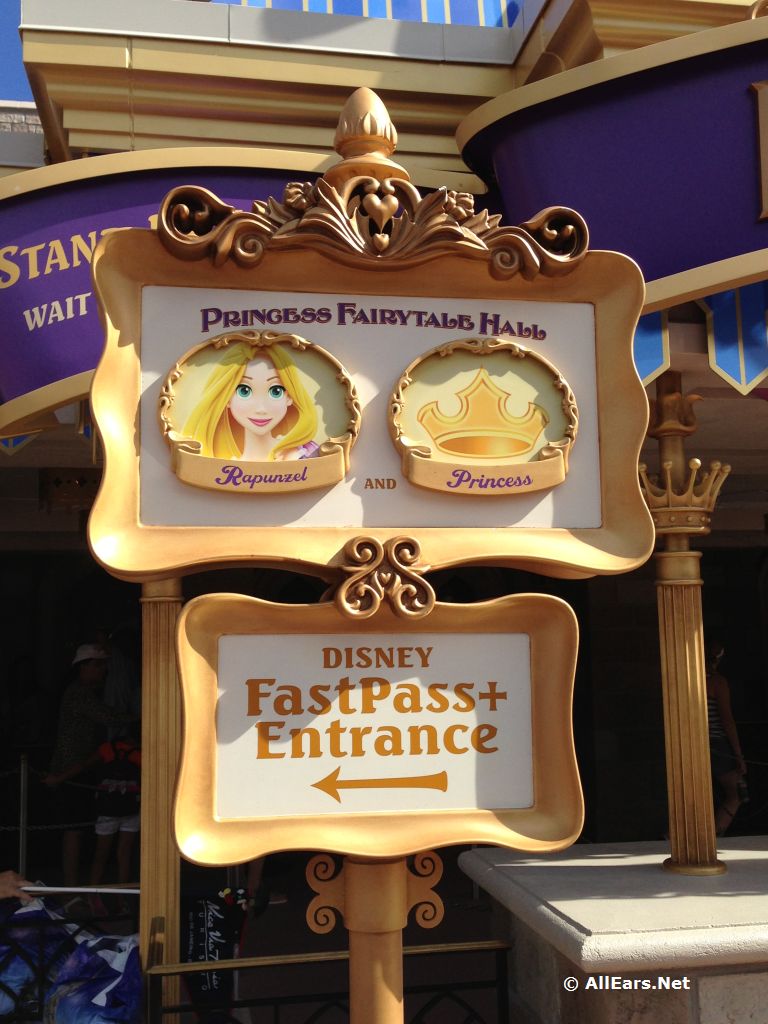 One leads to Rapunzel and Princess Tiana and the other takes guests to Cinderella and Elena of Avalor. There are signs outside directing you to the two different queues. Additionally, if one of the scheduled princesses happens to be off on a royal errand and another princess is visiting that day, the sign will let you know who you'll be meeting instead — or if there's a surprise in store!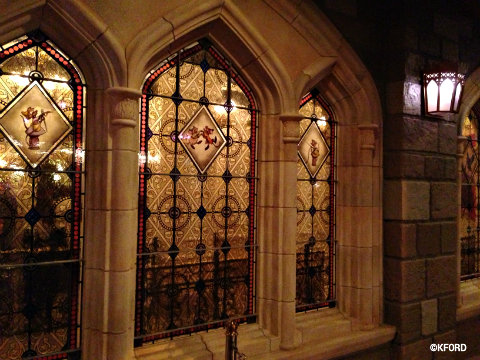 The standby queues begin outdoors in a shaded area that sets the scene with heavily bricked walls and crown-shaped light fixtures that cast a slightly purple glow. Before entering the main hall, you walk through the gallery past beautiful stained glass windows. Each has a centered image that depicts a character from the Disney film story of Cinderella.
Once inside, you wind through several turns of the line. These, too, are decorated in true royal fashion with ornate iron gates, fancy chandeliers, colorful banners and beautiful arches. Most importantly for the royal realm of Central Florida — there is air conditioning! After the last turn, you step onto a rich carpet and enter the hall, where you see portraits of Princesses Aurora, Princess Jasmine, Princess Tiana, Mulan, Snow White and Rapunzel.
When you finally reach the front of the queue, be sure to step forward so you can take a look at Cinderella's famous glass slipper, which is illuminated in a special case.
Note: if you use a FastPass at Princess Fairytale Hall, you will bypass the Royal Hall with the gallery portraits and glass slipper.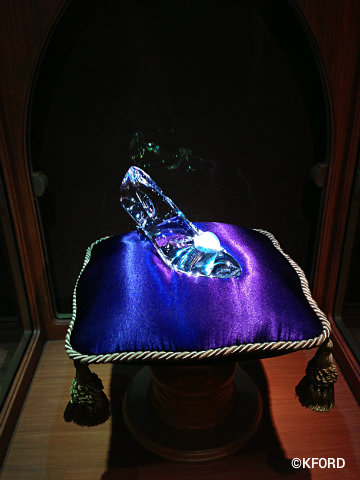 Finally, it is time to meet the Disney princesses! A cast member will direct your party into the receiving room associated with your queue. You'll meet the two princess individually, even though there are two in each room. There is a photo pass photographer with each princess.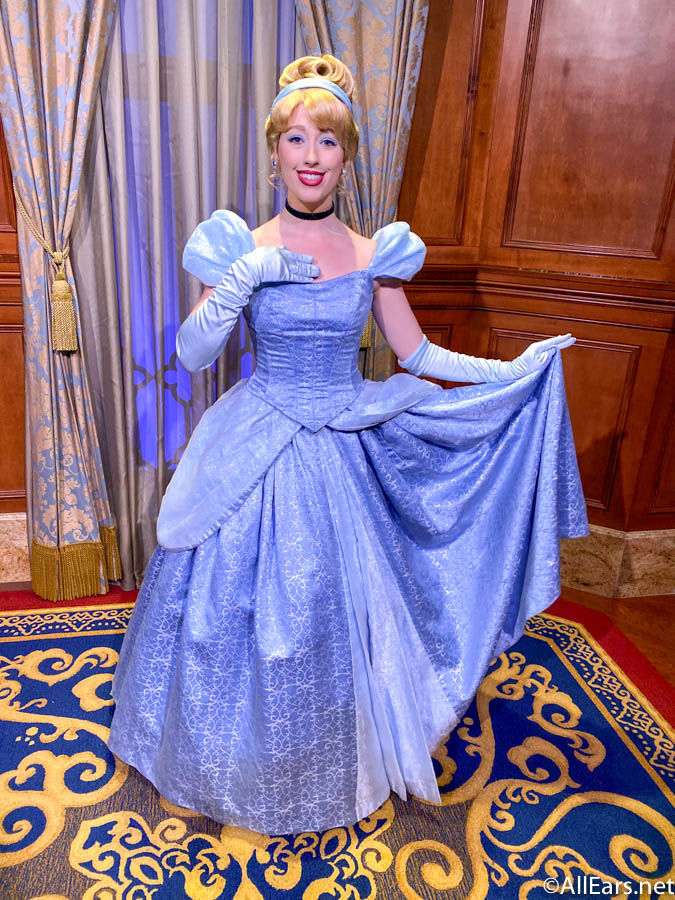 TOURING TIPS
FastPass+ is available for Princess Fairytale Hall. There will be two FastPass options — one for Rapunzel and Princess Tiana and one for Cinderella and Elena of Avalor.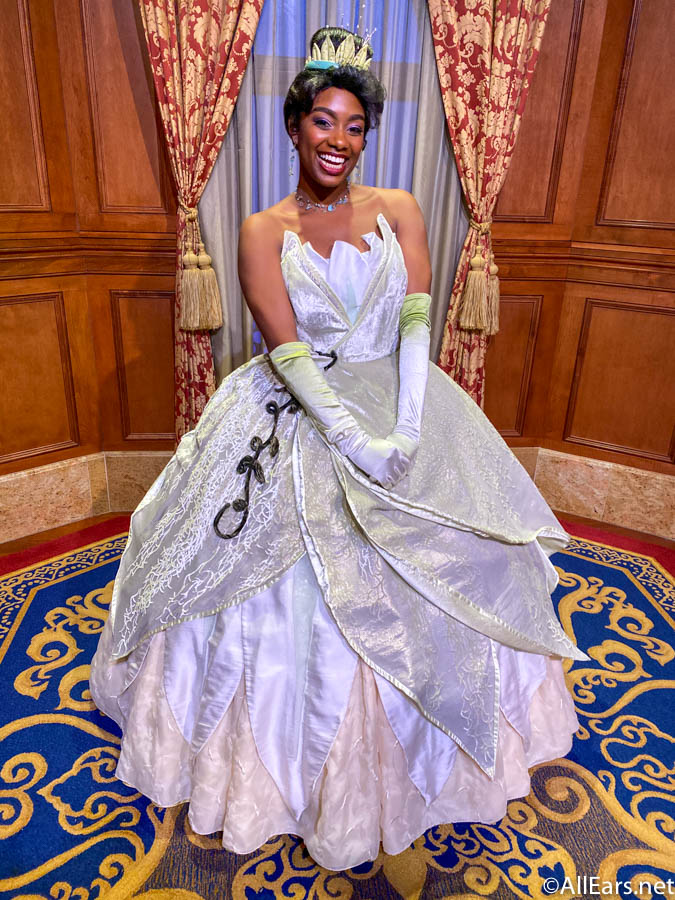 If you want to meet all four princesses, you will have to book two FastPasses or wait in line twice.
Average lines for the hall are between 30 – 90 minutes on an average day.
PhotoPass photographers are available at each of the four princesses — just make sure you tap your MagicBand on their device so your photos show up in My Disney Experience.
SHOPPING
You will exit into Sir Mickey's merchandise shop — which unsurprisingly is chock-full of princess merchandise. Find dresses, dolls, shirts and more!
Magic Kingdom Shopping at a Glance
INTERESTING FACTS
Princess Fairytale Hall is built on the site of the former Snow White's Scary Adventures, which opened with Walt Disney World. Snow White's Scary Adventures closed May 31, 2012 to make way for the new meet-and-greet location.
Princess Fairytale Hall officially opened on September 18, 2013.