Under the Sea ~ Journey of the Little Mermaid Fantasyland Magic Kingdom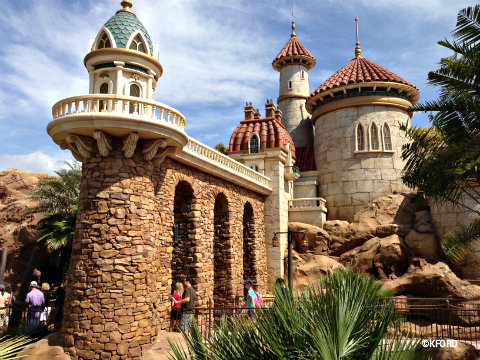 INTRODUCTION
Under the Sea — Journey of The Little Mermaid at the Magic Kingdom allows visitors to dive beneath the waves to relive the 1989 Disney classic animated story of "The Little Mermaid." This gentle, slow-motion ride officially opened on Dec. 6, 2012, though guests previewed the ride as early as October of the same year.
Visitors entering through the Castle Courtyard gates will pass Enchanted Tales with Belle, Be Our Guest restaurant, Gaston's Tavern and Bon Jour Village Gifts before arriving at Prince Eric's castle, which marks the queue for this attraction. Guests approaching from Storybook Circus will find the ride just past Ariel's Grotto on their right.
ATTRACTION
Those who have been to Disney California Adventure quickly will realize that Walt Disney World has adapted The Little Mermaid — Ariel's Undersea Adventure, which opened in June 2011 and has been popular ever since.
QUEUE — The differences between the California and Orlando attractions mostly are in the queue. The Orlando version excels in that comparison with its attention to detail and interactive indoor games. Guests can view beautiful waterfalls and shells, help an industrious crab sort thingamabobs on digital screens, and hear Scuttle's  jokes while they wait to board the ride.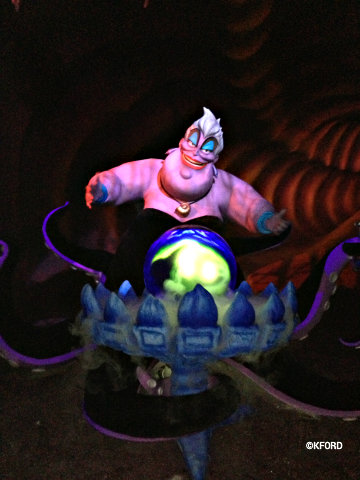 ATTRACTION — The Orlando attraction is nearly identical to its counterpart on the inside. Guests board the ride in clamshells that feel much like the Doom Buggies that travel the track at Haunted Mansion, with the ride vehicles traveling in half-circles to allow riders to see various scenes from Ariel's life. At one point the ride even goes backward down a small incline. When the vehicles perform this maneuver, digital bubbles are projected on the clamshell in front of the guest. Combined with sounds of the ocean, it's a clear indication you are traveling beneath the sea to experience Ariel's world.
The Little Mermaid's landscape is full of color, movement and song, and guests will journey through favorite scenes with familiar friends from the story. There's no avoiding Ursula, but in the end, Ariel (of course) still lives happily ever after with Prince Eric. (Ursula's scene is a short part in the ride, so parents of young children probably won't need to be too worried about the fright factor.)
TOURING TIPS
FastPass+ is available for Under the Sea — Journey of The Little Mermaid.
There are no height requirements for this gentle ride, which lasts about seven minutes.
Guests with special needs must transfer to a standard wheelchair to board this ride.
An audio description is available for visually impaired guests, and those with hearing loss can use handheld captioning devices.
The closest bathrooms are located between Gaston's Tavern and BonJour Village Gifts.
Read more about this attraction in Kristin Ford's "A Mom and the Magic" blog HERE.
KIDS AND CHARACTERS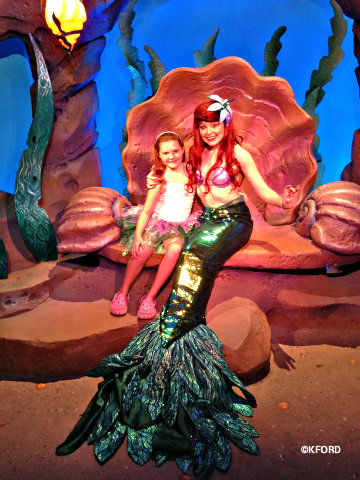 Guests can meet other Disney Princesses in locations close by, including Enchanted Tales with Belle and at Princess Fairytale Hall. The Little Mermaid is waiting for her friends in Ariel's Grotto, to the right of the attraction. In this location, Ariel is wearing her mermaid tail and top, and guests will notice some treasures surrounding her.
Gaston, the obnoxious-but-lovable antagonist from "Beauty and the Beast," also greets guests daily in front of his tavern, which is near Enchanted Tales with Belle.
Beast walks through the Be Our Guest restaurant and then goes into the gallery to pose for photos with guests when they finish their meals. A PhotoPass photographer is stationed there.
Character Meet and Greet FAQ!
Magic Kingdom Characters At A Glance
DINING
The most-talked about dining nearby is found inside Beast's castle at Be Our Guest. The restaurant offers traditional French cuisine in a setting that makes guests feel as if they truly have stepped into Belle's world. Choose a table in the grand ballroom, a gallery or the west wing.
This dining location works as a counter-service restaurant for breakfast and lunch and a table-service restaurant for dinner, which was a first for Disney World. Among its other firsts was that it was originally the only spot in the Magic Kingdom to serve alcohol. Also, during breakfast and lunch, guests can order on touch-screens and their meals will be delivered to their tables on fancy trolleys. No more balancing loaded trays while searching for an available table! Dinner is a 3 course prix fixe menu, and requires 2 table-service meal entitlements per person if using the dining plan.
Gaston's Tavern, which does not serve alcohol, is the other nearby dining location in New Fantasyland. This small restaurant offers pork shank, Le Fou's Brew and warm cinnamon rolls among its treats. It also serves up a handful of healthy snacks.
Popcorn, ice cream, bottled water and sodas can be purchased at Maurice's Amazing Popping Machine, which is parked closed to Gaston's Tavern.
Magic Kingdom Restaurants At A Glance
Menus From Around the World
Vegetarian and Other Special Diets
SHOPPING
Ariel and Under the Sea — Journey of The Little Mermaid merchandise can found at Sir Mickey's, which is located behind Cinderella Castle.
Big Top Souvenirs, across from Dumbo the Flying Elephant in Storybook Circus, offers items from that section of New Fantasyland, including specialty cupcakes adorned with Dumbo candies and caramel corn.
Bon Jour Village Gifts is in the Enchanted Forest section of New Fantasyland. For "Beauty and the Beast" fans, this is heaven because most of the merchandise is based on this Disney story. Here, you'll find an increasing selection of goods, including Belle T-shirts for girls and women; Gaston's Tavern T-shirts for men; light-up castle goblets; gargoyle frames and candle holders; Jim Shore statues of Belle; and a collection of dishes and stemware and pillows inspired by the Be Our Guest restaurant.
Magic Kingdom Shopping at a Glance
INTERESTING FACTS
There are 183 characters in Under the Sea ~ Journey of The Little Mermaid. More than 70 percent of them are featured in the "Under the Sea" scene.
The Audio-Animatronics figure of the sea witch Ursula is 7 1/2-feet tall and 12 feet wide.
If the grand mural in the load-in area were turned on its side, it would reach a depth of more than 14 fathoms.
More than 20,000 live and artificial plants decorate the attraction, inside and out.
If you have comments or tips to share with others about touring the Magic Kingdom, please email us. Thank you.