Buzz Lightyear Astro Blasters Tomorrowland Disneyland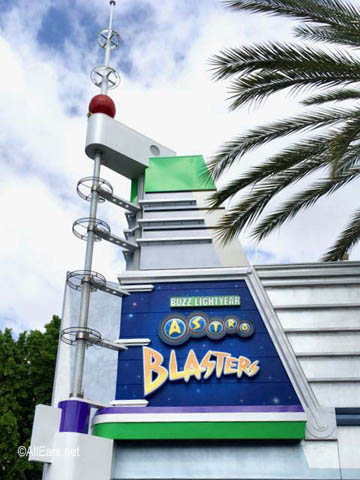 Introduction | Attraction | Touring Tips | Kids/Characters | Dining | Shopping | Interesting Facts
INTRODUCTION
Calling All Space Rangers! Evil Emperor Zurg and his robots are stealing all of the Crystolic Fusion Cells — and without them, we'll all be powerless! It's up to you, Space Rangers, to help defeat Zurg and save the galaxy. So climb aboard your XP-40 Star Cruiser and use your laser cannons
to blast away at the targets. To Infinity…and Beyond!
ATTRACTION
Buzz Lightyear Astro Blasters is located in Tomorrowland next to the Astro Orbitor, across from Star Tours. Most of the queue is outside, and after entering the building you'll pass by a series of colorful murals on the walls. If you look closely, you'll see that some of them provide information on the Galactic Alliance and your upcoming mission. Before reaching the boarding area you'll encounter a life-size audio-animatronic Buzz Lightyear who, with the aid of an animated Etch-a-Sketch, will explain your mission to stop Emperor Zurg: "Aim for the Z's!"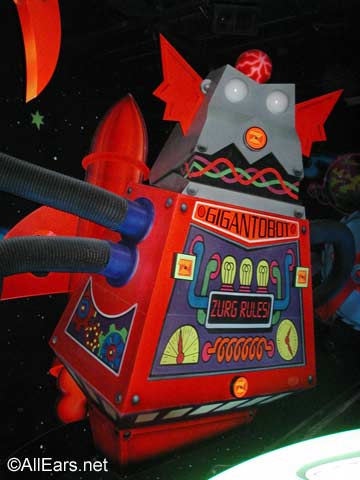 Your Star Cruiser can spin 360 degrees by using the joystick in the middle, and is equipped with two hand-held laser cannons. As you move through the different rooms, spin your Star Cruiser as needed to have better access to the various "Z" targets. The targets are of different shapes — triangles are worth more points than diamonds, which are worth more than squares, which are worth more than circles. Many targets have lights around them, and when they are lit they are worth more points.
After helping to capture Zurg your score will flash, followed by your Space Ranger level – L-1 through L-7. Consult the Space Ranger chart at the unloading area to determine your rank — are you a Star Cadet or a Galactic Hero?
TOURING TIPS
Lightning Lane access for Buzz Lightyear Astro Blasters is available with the purchase of Genie+. The Standby line typically moves quickly, but can get very long.
This ride is fun for all members of the family and there are no height requirements. Young children should be accompanied by an adult.
Wheelchair/ECV users should enter through the regular queue and transfer to a ride vehicle.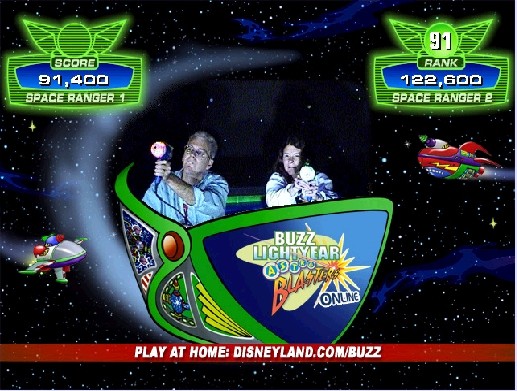 At the attraction exit are kiosks where you can email your photo and your score to other people.
READER COMMENTS:
Chrissie — This ride is different than the one at Walt Disney World. The lasers pull out from the console and you must keep pressing the trigger for it to work. (The WDW trick of holding the trigger down to gain extra points doesn't work!) The cars spin as well (you control). The scenes are different, too. There are different shapes to aim for (circle,square and triangle) ….the triangle ones are worth more and there are hidden ones in the dark hallway (it looks like shooting stars but there are actual triangles on the wall that fade in and out!).
KIDS AND CHARACTERS
This attraction is very popular with kids of all ages.
Consult the daily Times Guide for information on character meet and greets.
DINING
Tomorrowland Terrace is located just around the corner, and serves a selection of fast foods including burgers, salads, and sandwiches.
Redd Rockett's Pizza Port, offering pizza, salads, and pasta, is located next to the entrance to Space Mountain.
Disneyland Restaurants at a Glance
Menus Around the Disneyland Resort
SHOPPING
Store Command — Toy Story merchandise and Disney pins.
The Star Trader – Star Wars merchandise, Disney plush, hats, and other souvenirs.
INTERESTING FACTS
Buzz Lightyear Astro Blasters is located in the building that was the home of the former Circle-Vision attraction. After Circle-Vision closed it was part of the queue for the short-lived Rocket Rods attraction.
There are versions of this attraction at every Disneyland park in the world.
If you have comments or tips to share with others about touring Disneyland, please email us. Thank you.