Space Mountain Tomorrowland Magic Kingdom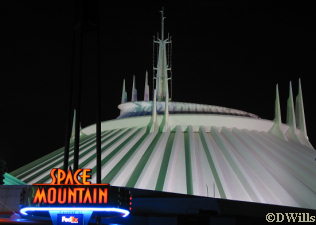 INTRODUCTION
Tomorrowland's Space Mountain has provided thrills to many guests at the Magic Kingdom since it opened January 15, 1975. Space Mountain actually originated in the early 1960s when Walt Disney came up with the idea of a high-speed attraction themed around the space age. Located at the far end of Tomorrowland, the attraction's towering white structure is unmistakable.
ATTRACTION
Entering Space Mountain, you find yourself in a dimly lit queue that seems to go on and on and on. As you near the Space Port (loading area), you hear shrieks from the space travelers who have gone before you. Eventually, you'll reach the loading platform, and will board six-passenger rockets, seated single-file, for your journey into space.
Slowly your vehicle makes its way into a tunnel of strobe lights and colors. You're then thrust into the darkness of space via a roller coaster that dips and swerves through the galaxy, past shooting stars and glowing planets! The entire ride lasts two and a half minutes with peak speeds of 28 miles per hour.
Basically speaking, Space Mountain is a very fast, bone-rattling roller coaster in the dark!
CLICK HERE to read about Disneyland Park's Space Mountain attraction.
TOURING TIPS
Space Mountain is a FastPass+ attraction and it is highly recommended that you use it during peak times.  When the rope drops to open the Magic Kingdom, most folks race off to one of two attractions: Splash Mountain (in Frontierland) or Space Mountain. Lines build quickly during busy times.
If you're up for the coaster early in the morning, a good time to ride is during the Magic Kingdom's Extra Magic Hour for resort guests.
You must be at least 44 inches (112 cm) tall to ride Space Mountain.
Accessibility: Guests in ECVs must transfer to standard wheelchairs, then to the ride vehicles to experience Space Mountain. Guests must be able to step down into and up out of the ride vehicles.
Due to the nature of the experience, service animals are not permitted on this attraction.
Portions of the video preshow, which includes health warnings, are closed-captioned.
WARNING: For safety, you should be in good health and free from high blood pressure, heart, back, or neck problems, motion sickness, or other conditions that could be aggravated by this adventure. Expectant mothers should not ride.
WDW at Large:  Seats may be restrictive; guests may wish to ride alone due to limited leg space and/or small seat size. Guests must be able to step down into and up out of the ride vehicles.
Rider Switch (aka Child Swap) is available at this attraction.
The queue area has interactive games to play along the way.
You exit the ride into the Tomorrowland Light and Power Company a gift shop carrying Space Mountain merchandise, as well as D-Tech on Demand station for creating custom phone cases and magic bands.
There is an ATM located near the Tomorrowland Light and Power Company.
KIDS AND CHARACTERS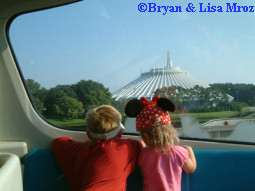 Some youngsters really love this ride and others are terrified! If they are tall enough, they'll let you know if they feel ready for the adventure.
While it would make a great place for Spaceman Mickey or Goofy, Disney Characters are typically not found in this area of Tomorrowland.
Check your daily Times Guide for times and locations.
Magic Kingdom Characters at a Glance
Character Meet and Greet FAQ!
DINING
Fast food snacks are available in Tomorrowland, but there is nothing immediately adjacent to Space Mountain.
Magic Kingdom Restaurants at a Glance
Menus From around the World
Vegetarian and Other Special Diets
SHOPPING
At Mickey's Star Traders and the Tomorrowland Light and Power Company you can purchase Space Mountain merchandise.
INTERESTING FACTS
The cone shaped peak of Space Mountain is 183 feet above ground. Space Mountain measures 4,508,500 cubic feet — capable of holding a small skyscraper inside. The base's diameter of 300 feet took two years to build. The basic structure of the mountain is composed of great ribbed slopes — 72 massive pre-stressed concrete beams forming a gigantic sealed cone. Each of the 74-ton concrete beams was cast near the Space Mountain site and then hoisted into place by mammoth cranes to complete the cone. Each beam is 117 feet long, 13 feet wide at the bottom and 4 feet wide at the top.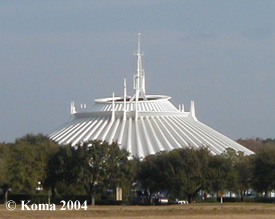 RCA was the official sponsor of Space Mountain from its opening in 1975 until 1993. In 1993, Federal Express Corporation became the official sponsor, as well as the official express delivery service of the Disney theme parks in the U.S. Federal Express ended its sponsorship of the ride in the late 1990s.
When Space Mountain officially opened, it joined the Country Bear Jamboree as the only two Disney theme park attractions to debut at the WALT DISNEY WORLD® Resort in Florida.
When fully operating, there are two sides of Space Mountain which have almost identical ride tracks. One side is 3,186 feet, the other 3,196 feet.
On August 30, 2010, Space Mountain at Walt Disney World unveiled an "enhanced audio experience" that features a new, exclusive composition. The music plays on all "flights" along with varying sound effects on 60 speakers. The so-called "Starry-O-Phonic Sound" compliments enhancements that debuted on Space Mountain previously, including new lighting, storyline elements and updated decor.
While the main structure is painted "icy white," its base is a light blue color.
The stripe on the side of the Space Mountain ride vehicles is produced by a special clear paint with phosphorous added. The paint is illuminated by the black lights in the load/unload area and by the all-night maintenance lights throughout the ride. There are four incandescent-bound black lights.
Space Mountain can be found at the other four Magic Kingdom-style Disney parks. It is said that the Disneyland Paris Space Mountain, followed by Disneyland in California, are the best.
When the attraction was finally given the green light, Mercury 9 and Gemini 5 astronaut Gordon Cooper joined the Space Mountain creative team as a consultant. He wanted to make sure that the attraction incorporated information gleaned during NASA's early space missions and that the experience felt like actual space flight. His valuable input has made Space Mountain a favorite for many years.
If you have comments or tips to share with others about touring the Magic Kingdom, please email us. Thank you.