Toy Story Mania! Toy Story Land Disney's Hollywood Studios
INTRODUCTION
Toy Story Mania! is an immersive, interactive experience that takes guests whirling through the attraction, stopping to play classic midway games hosted by their favorite Toy Story characters. Players use spring-action shooters to take aim at 3-D animated targets and score points. Point totals are displayed on the player's screen, and a virtual stuffed animal "prize" is awarded at the end of the ride.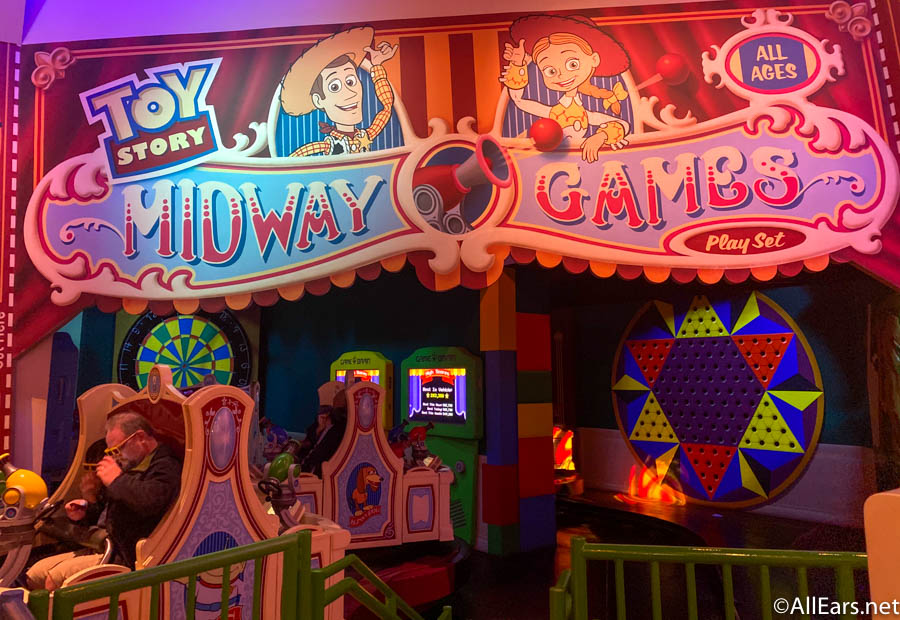 Toy Story Mania! is located in Toy Story Land in Disney's Hollywood Studios.
ATTRACTION
Queue: Entering the Toy Story Mania! building is like walking into a retro child's toy box. The all-new entrance that debuted with the opening of Toy Story Land features a carnival game box that's supposed to be the box that the Toy Story Mania! game came in.
The queue is adorned with super-sized board games and playthings: Crayola crayons, Candyland, Chutes and Ladders, Tinkertoys, Viewmaster reels, A Barrelful of Monkeys, Checkers, Little Golden Books and much more. Two new characters were added when the attraction's Toy Story Land entrance debuted in June 2018: Lenny, Andy's walking binoculars, and Chuckles the clown, who was introduced in "Toy Story 3," are represented in Toy Story Mania! by way of the boxes they originally came in.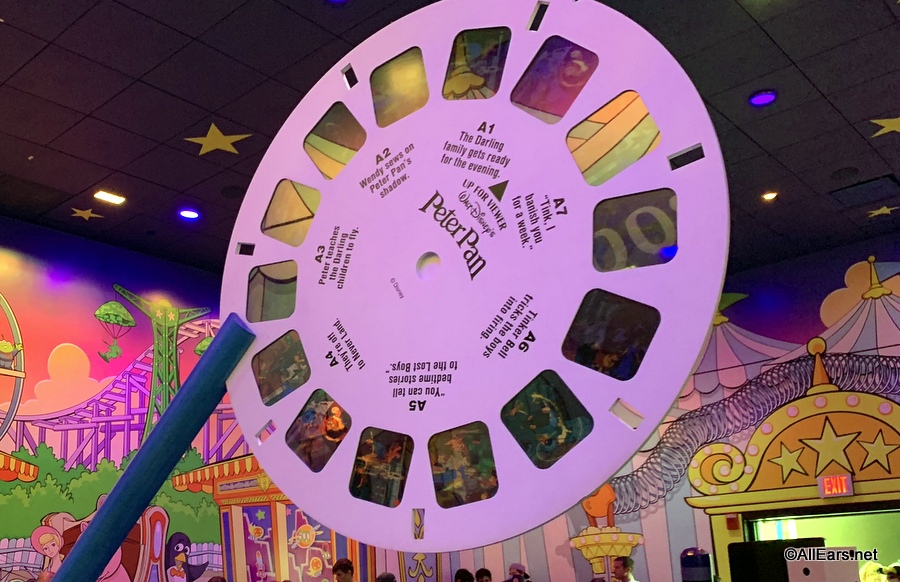 A highlight of the standby queue is the Audio-Animatronics Mr. Potato Head, which sings, tells jokes and interacts with waiting guests. Unfortunately, the FastPass queue bypasses Mr. Potato Head, and you can hear him, but cannot see him over the walls.
NOTE: You'll need to pick up a pair of 3-D glasses from a bin just after the FastPass checkpoint, before you reach the loading area.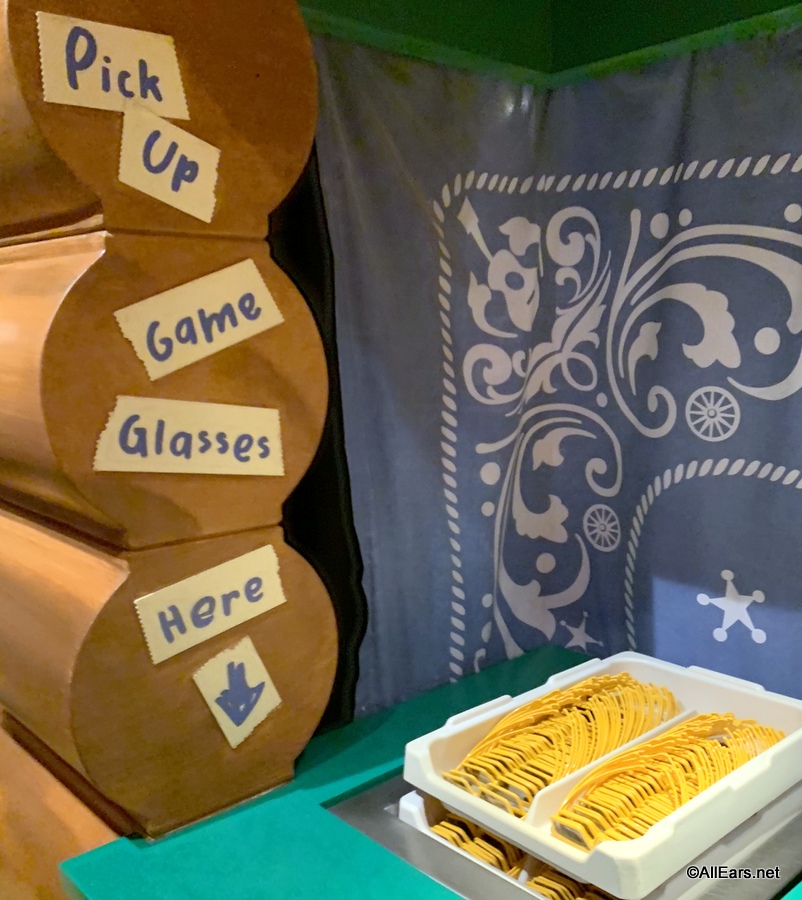 The Attraction: After winding your way through the queue, you'll end up in Andy's room — and remember, you're the size of a toy! Notice the iconic blue cloud wallpaper, Andy's bed and dresser, and books and toys along the walls.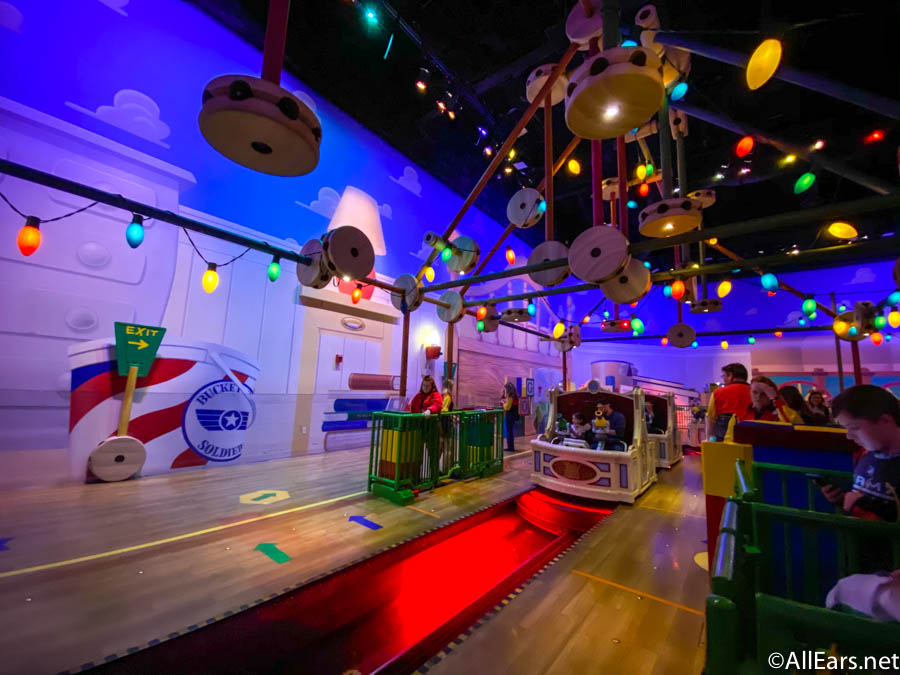 You'll board vehicles that hold four people, in pairs seated back-to-back. There are individual lap bars and each player has his/her own spring-action shooter and scoring screen. The shooters move and up and down and rotate left and right. To shoot, pull the string back and release it. The string must go all the way back before another shot can be fired.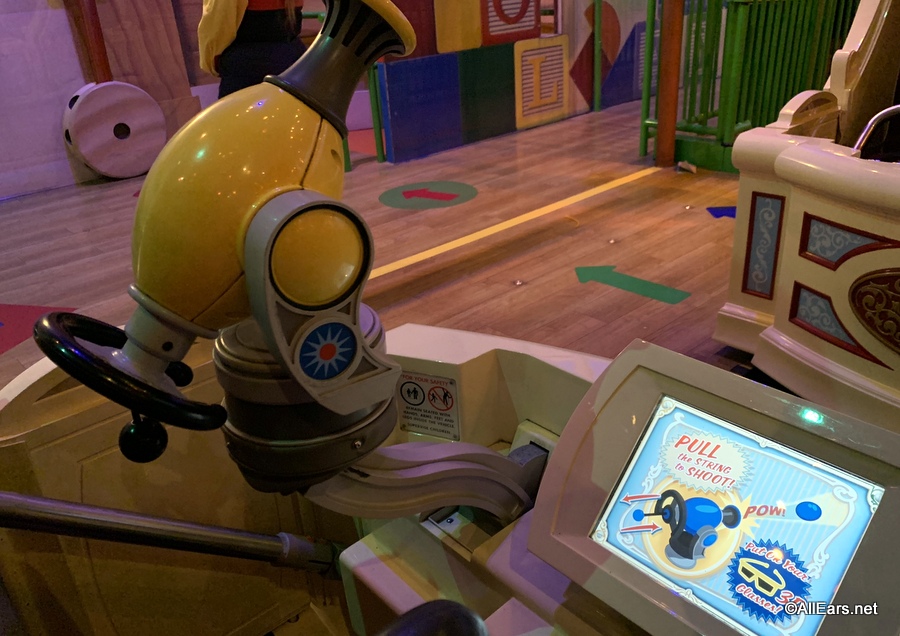 The first game is the Pie Throw. This a practice game where guests use their shooters to throw pies at the targets that Buzz and Jessie are holding. No points are awarded in this game.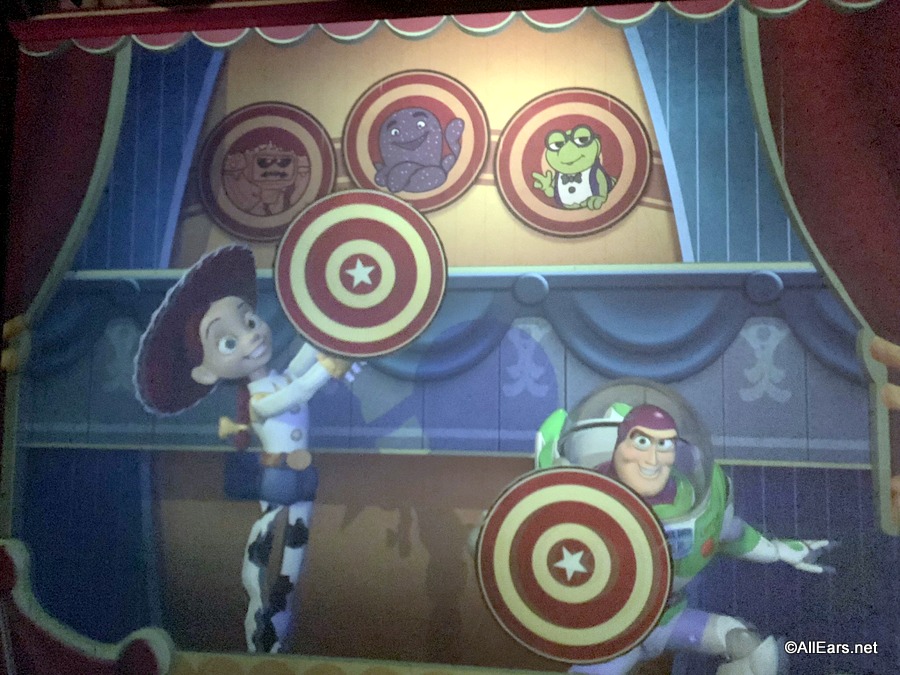 Next is the Hamm and Eggs game, hosted by Hamm and Buttercup (a toy unicorn from Toy Story 3 with heart-shaped nostrils). Players use the shooters to toss eggs at barnyard targets such as cows and ducks and knock them down.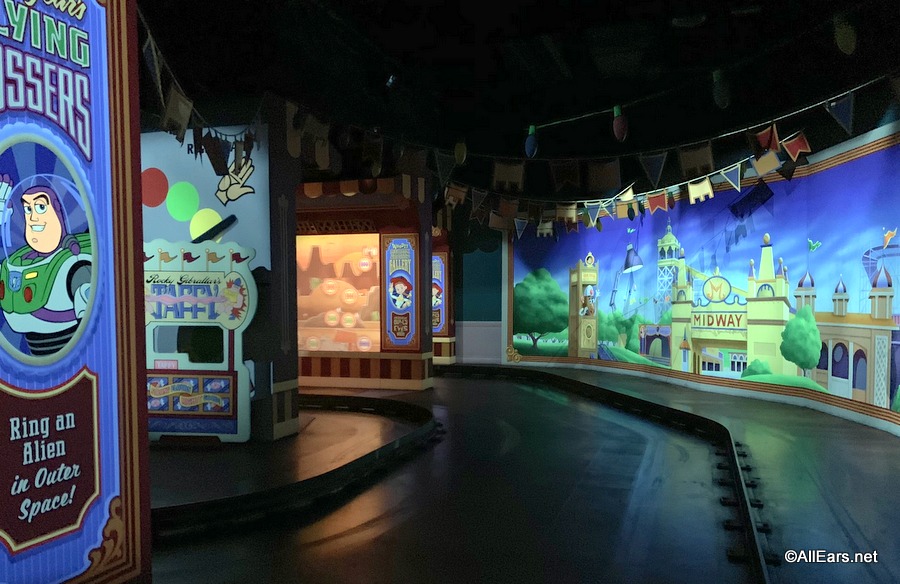 Rex and Trixie's Dino Darts invites riders to shoot their virtual darts at balloon targets in a primeval world filled with volcanoes and lava balloons.
Green Army Men Shoot Camp is a ball-throwing game, and the object is to break as many of the moving, bouncing plates as possible. Sarge yells, "I am not your mother — break those plates!"
Buzz Lightyear's Flying Tossers is hosted by Buzz and the Little Green Men. Players attempt to toss rings over aliens and rocket ships.
The final game is Woody's Rootin' Shootin' Gallery, where Woody and Jessie encourage players to throw suction cup darts at targets. Then there's an extra Woody's Bonus Roundup game. First players shoot at targets mounted on rolling mine cars, and then a stationary target pops up in front and players must fire their shooters as rapidly as possible.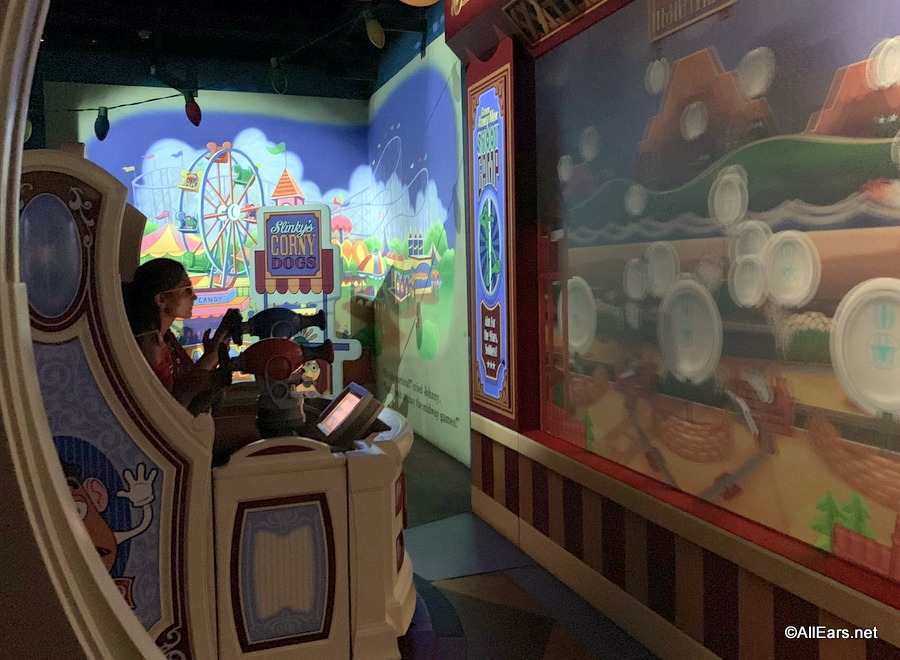 Each game is 30 seconds long. The characters count down the last five seconds. There are additional "4-D" effects to some of the games, like a puff of air as an object whirls past.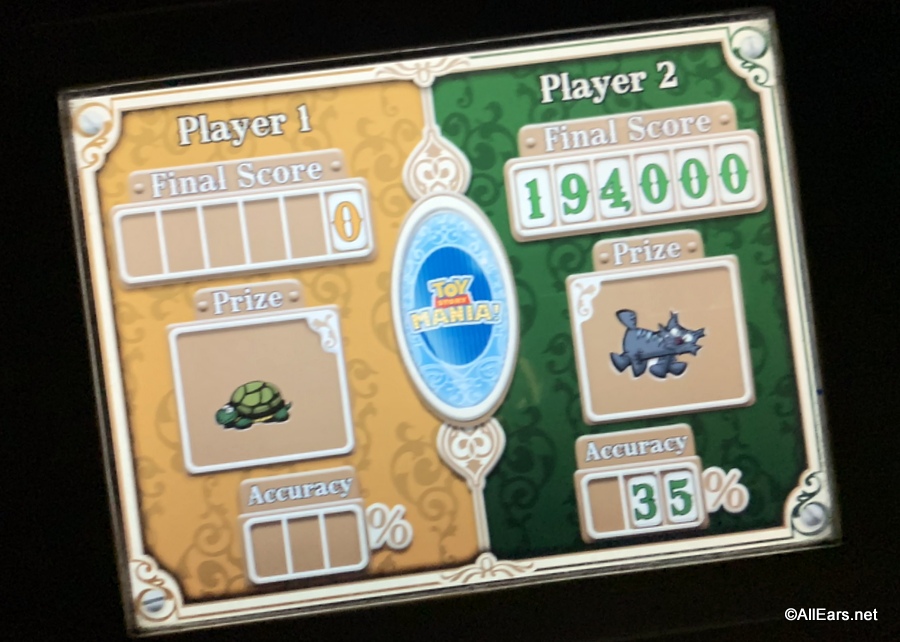 At the end of the games the final point totals are tallied and displayed, and players can see the virtual prize that they have won, as well as compare themselves to the high scores.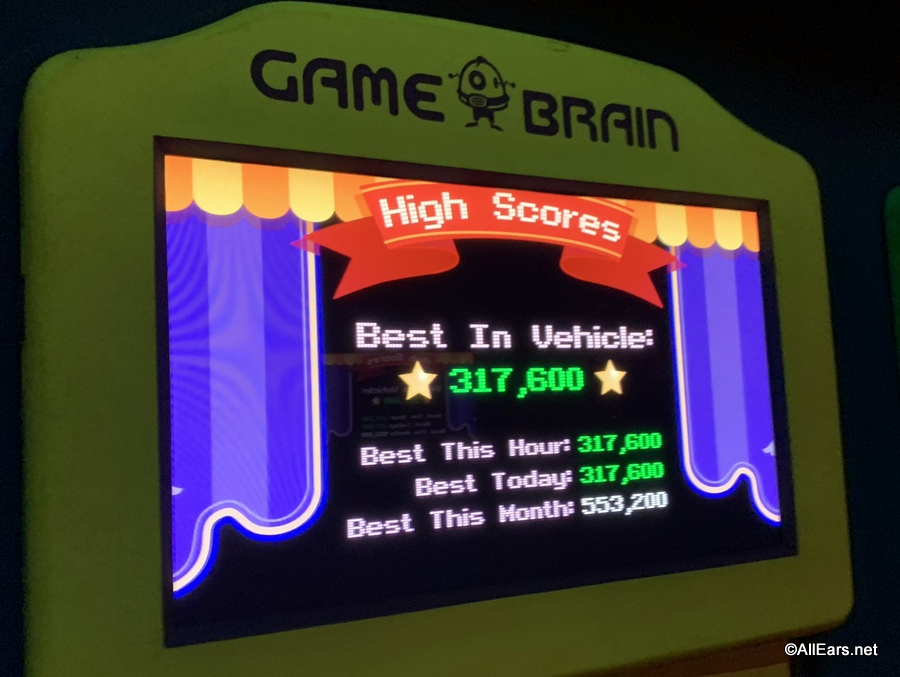 RIDE LOGISTICS
Lightning Lane access for Toy Story Mania is available with the purchase of Genie+. It is a very popular attraction, with standby waits typically ranging between 45 – 90 minutes.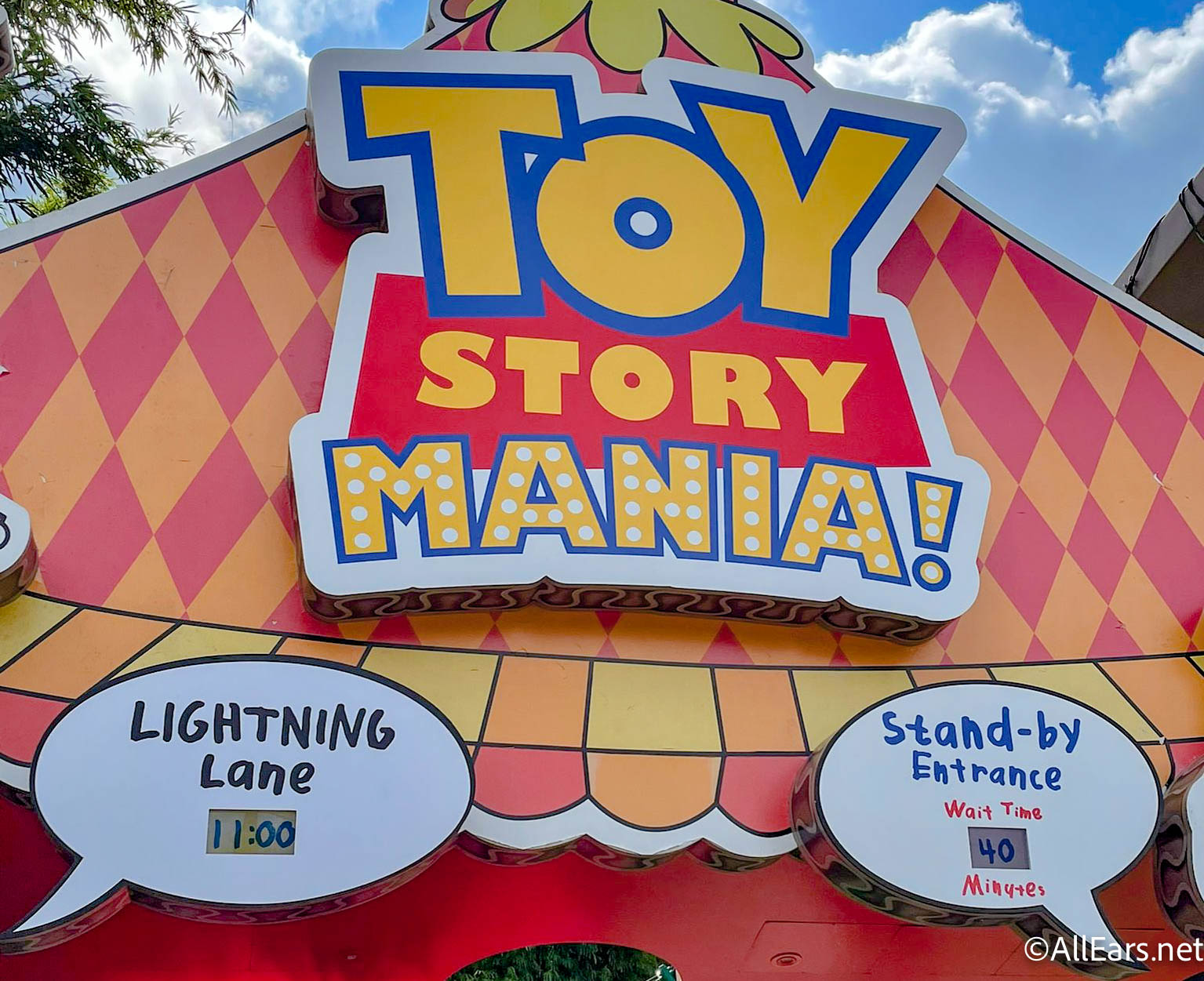 Because each car holds four passengers, Cast Members frequently will call for single riders or a party of two to fill a car. Be sure to keep your ears open!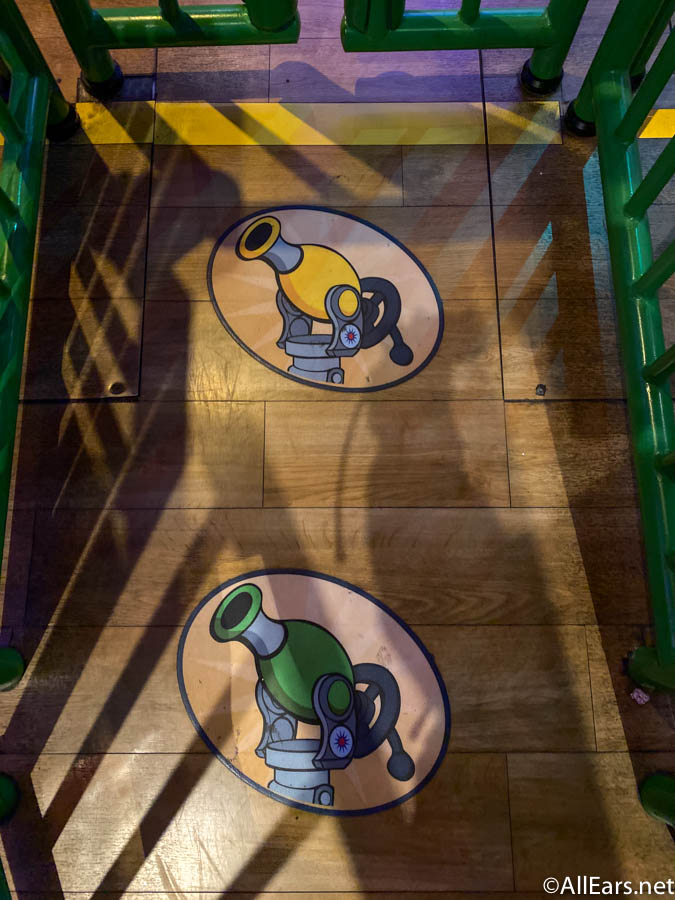 The ride is about 5 and a half minutes long. Sometimes there are delays at the end of games or between games, so it can take longer than that.
In each of the games there is at least one "Easter Egg" — targets that can trigger the appearance of bonus high-value targets or other changes. For example, in the Ring Toss game, if players can toss rings over all of the aliens in the rocket ship, then a big robot will appear and open its mouth, which has a large target in it. Depending on how much time is left in the game, it will open multiple times, with higher point values each time.
Watch for loose change in the prize scene — Hamm is carrying more than $6 in coins when his cork pops.
Everyone can play! There is no height or age restriction for guests to experience Toy Story Mania!
Players have 30 seconds in each game play area to score points.
The vehicle spins around as it whirls around the track between games, and for this reason there is a precautionary message that those prone to motion sickness should not ride.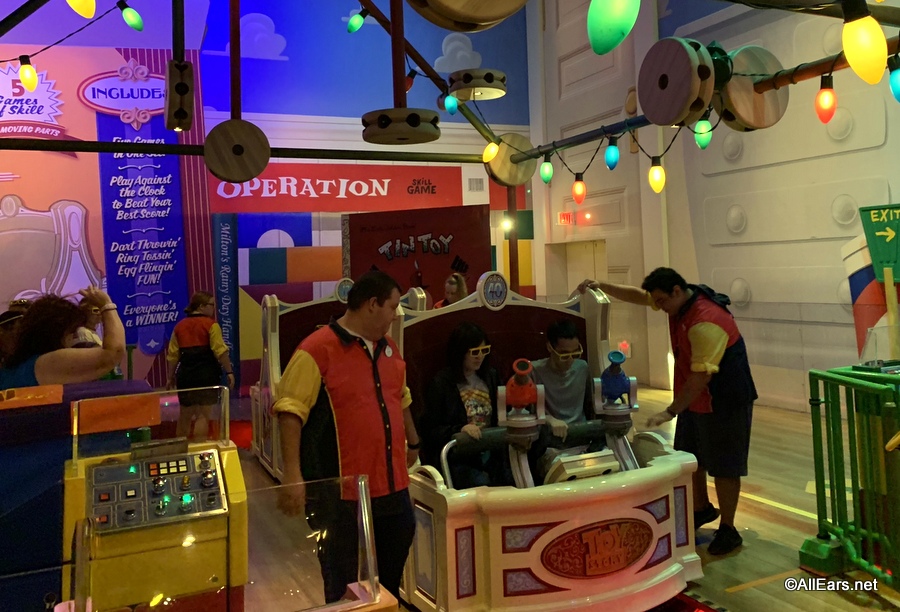 The nearest restrooms are to the left as you exit Toy Story Mania, across from the entrance of Alien Swirling Saucers.
The queue is wheelchair/ECV accessible, but guests in ECVs must transfer to a wheelchair to experience the attraction, which has wheelchair-accessible vehicles. These vehicles have their own loading zone. Push-button shooters are available for those who have difficulty pulling the string. Closed captioning is also available. Due to the nature of the experience, Guests with service animals should check with a Cast Member at the attraction for boarding information.
For more photos of the special cars, click HERE.
As you exit the attraction, you'll take a path back into Toy Story Land. Look out for Andy's toys such as toy airplanes, barrel of Monkeys, and Green Army Men, as well as the checkboard and popsicle stick walls.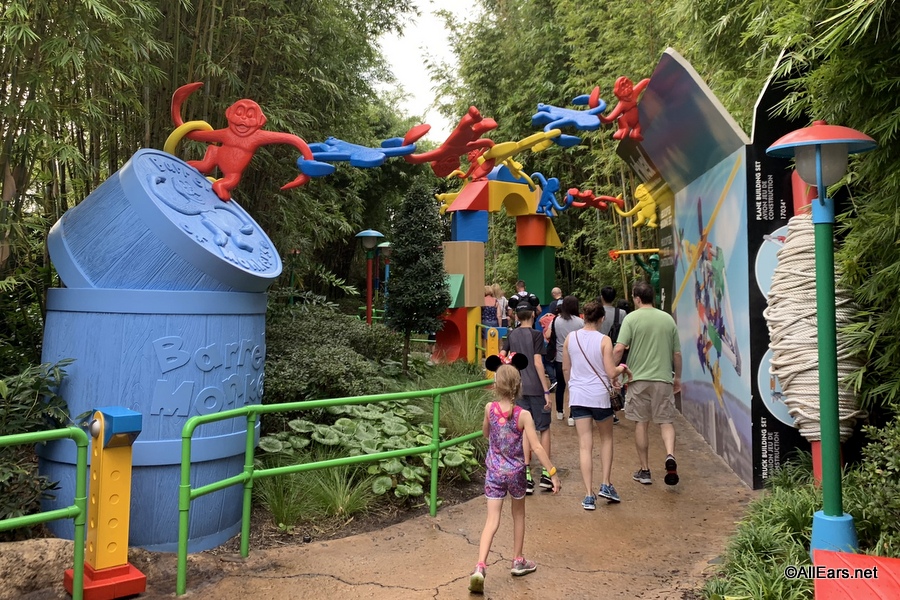 KIDS AND CHARACTERS
Toy Story Mania! is very popular with children and adults. There are a number of high value targets that are at kid's-eye level, and easier for them to see.
Next to the entrance to Toy Story Mania is a character greeting area that features Bo Beep and Woody throughout the day.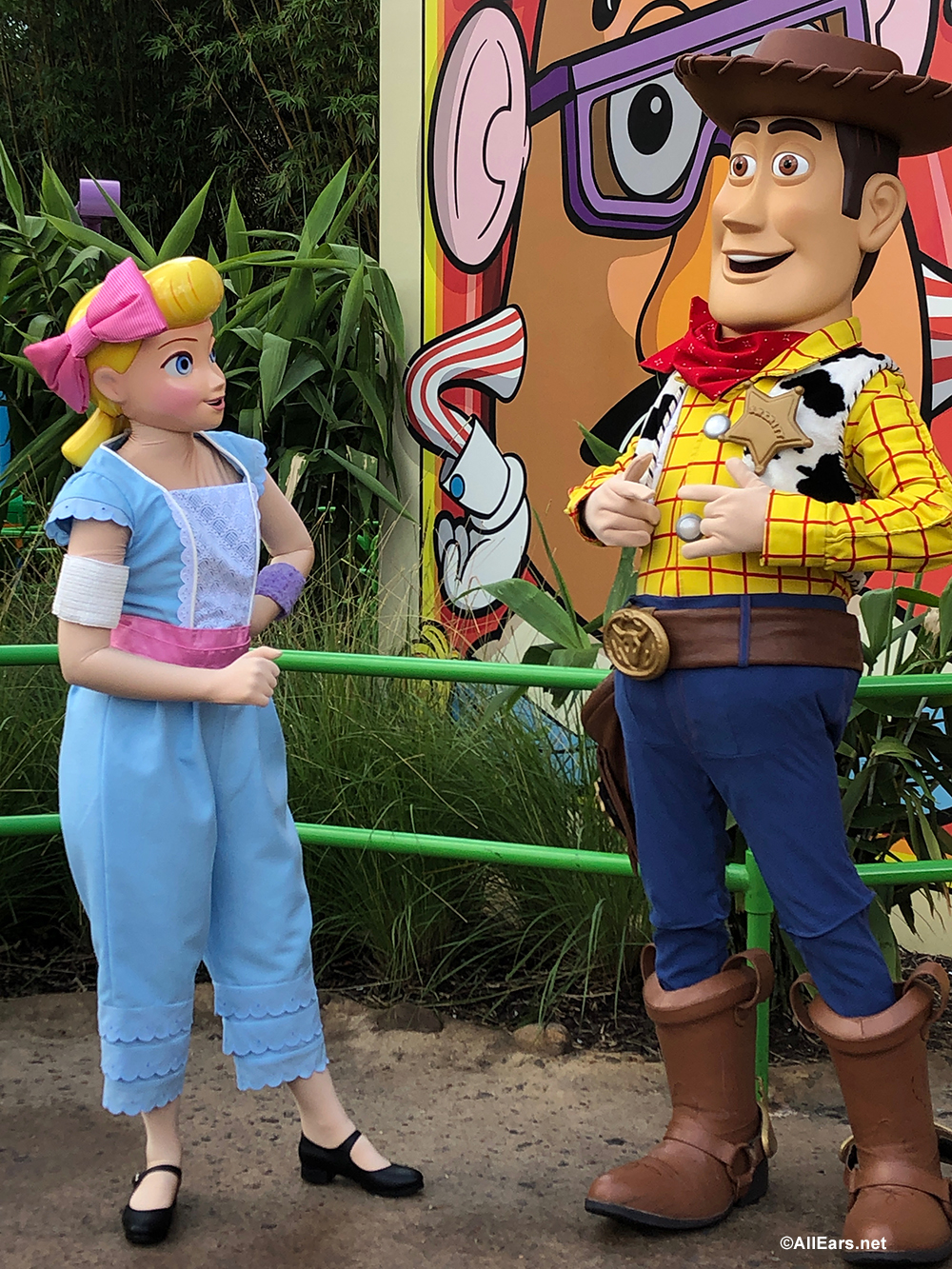 You will also find lots of Disney Characters at a variety of Meet and Greet locations throughout the Studios. Check your Times Guide for times and locations.
Disney's Hollywood Studios Characters at a Glance
Character Meet and Greet FAQ!
DINING
Toy Story Land has a themed counter-service restaurant called Woody's Lunch Box, which features quick meals and treats.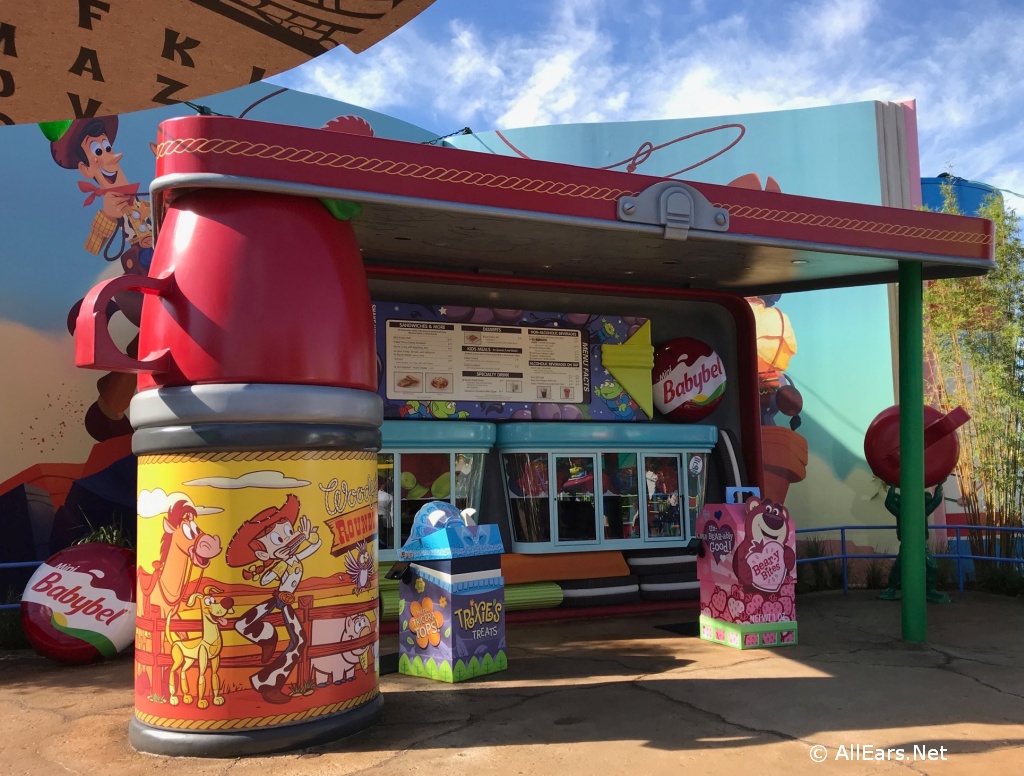 Dining at a Glance at Disney's Hollywood Studios
SHOPPING
There is a merchandise shop at the exit of Toy Story Mania. It features Andy's drawings on the walls, and has a variety of Toy Story themed merchandise including shirts, toys, and mugs.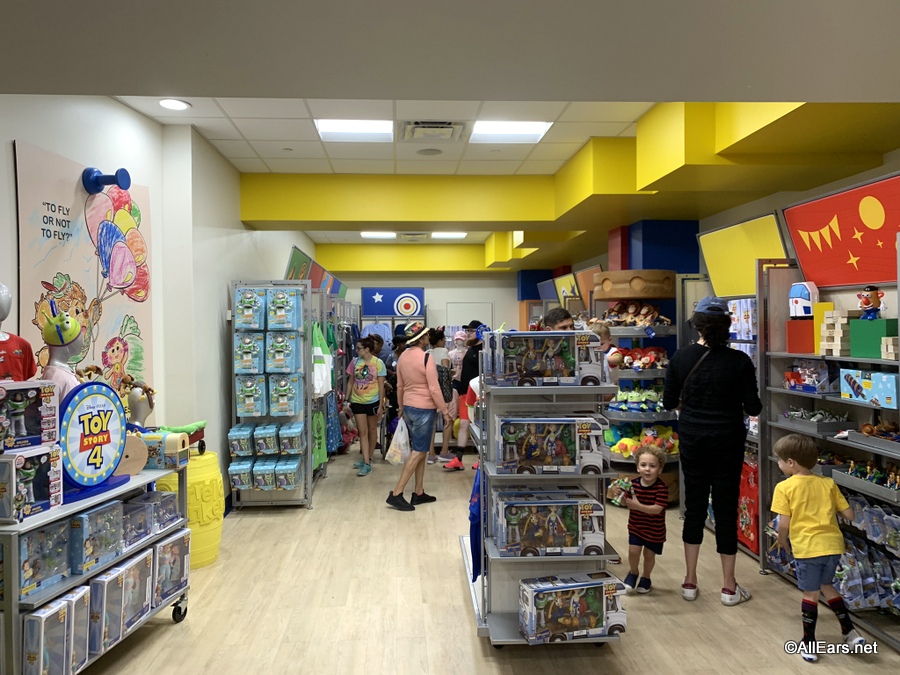 Shopping at a Glance at Disney's Hollywood Studios
INTERESTING FACTS
Toy Story Mania! opened at Walt Disney World at Disney's Hollywood Studios May 31, 2008. Its counterpart debuted at Disneyland's Disney California Adventure on June 17, 2008. In May 2010, several changes were made to the games to include characters from Toy Story 3. Rex was replaced in the Hamm and Eggs game by Buttercup, a unicorn, while Bo-Peep's Baaa-loon Pop, was replaced by Rex and Trixie's Dino Darts.
Each ride vehicle weighs as much as 8,580 Woody dolls.
It would take 5,026 toy soldiers lined up end-to-end to make up the total track length.
Toy Story Mania! is the first time that Walt Disney Imagineering created an attraction for two Disney Parks simultaneously.
It has been estimated that, each day, guests may break over one million virtual plates using the spring-action shooters.
Riders in the Sky, the award-winning group that wrote the songs that Mr. Potato Head performs as part of the attraction, is the same group that wrote "Woody's Roundup" for the "Toy Story" feature films.
This is the first attraction that Walt Disney Imagineering designed where the Imagineers had to wear 3-D glasses to art direct all the black-light paint elements.
The murals located in the load area at Disney's Hollywood Studios are the biggest murals painted since Epcot was built.
In order to create a show that responds not only to every pull of a guest's spring-action shooter, but also every move their midway tram makes, there are more than 150 computers communicating over multiple networks throughout the attraction.
At Toy Story Mania! every guest gets to experience life at the size of a toy. So in Andy's room, a 5 foot 6 inch person will feel about 14″ tall.
The attraction features an Audio-Animatronics Mr. Potato Head, as seen in the Toy Story films. More time was spent programming Mr. Potato Head than for any other Audio-Animatronics figure ever created by Walt Disney Imagineering.
Mr. Potato Head, voiced by comedian/actor Don Rickles (pictured) as in the movies, can say more lines of dialogue than any Audio-Animatronics figure ever created by Walt Disney Imagineering.
The Mr. Potato Head Audio-Animatronics figure marked the first time that an Audio-Animatronics figure could remove a body part and re-attach it (in the case of his ear).
The Mr. Potato Head Audio-Animatronics figure has new, highly expressive and animated eyes that look directly at a particular guest in the queue when speaking to him/her. Mr. Potato Head also marked the first Audio-Animatronics figure whose mouth appeared to form words and vowel sounds.
To learn more about Toy Story Mania, and go INSIDE the ride, check out this AllEars TV video!