Toy Story Midway Mania Pixar Pier Disney California Adventure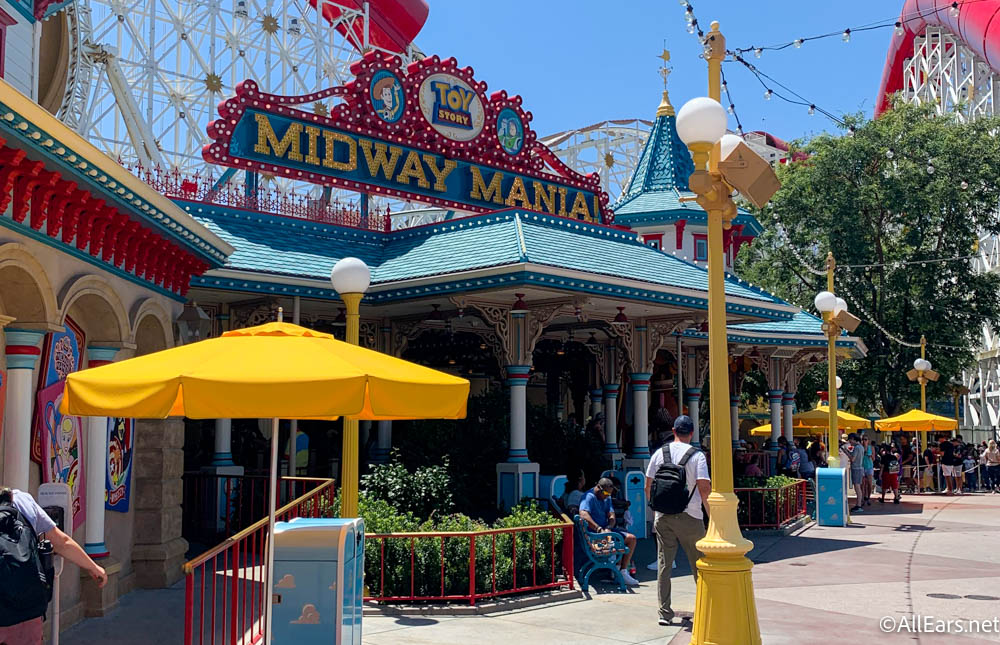 Toy Story Midway Mania is an immersive, interactive experience which takes guests whirling through the attraction, stopping to play classic midway games hosted by their favorite Toy Story characters. Players use spring-action shooters to take aim at 3-D animated targets and score points. Point totals are displayed on the player's screen, and a virtual stuffed animal "prize" is awarded at the end of the ride.
ATTRACTION
Toy Story Midway Mania is located in the Toy Story Boardwalk neighborhood of Pixar Pier. A large audio-animatronic Mr. Potato Head stands at the entrance to the queue. This very sophisticated audio-animatronic is able to interact with guests, follow them with his eyes, tell bad jokes, sing, and pick out people in the crowd for special attention. He can even reach up and remove one of his ears!
Much of the queue is outdoors, and can get very hot on a sunny day. Disney has put up some large umbrellas to provide shade, but they don't cover the entire queue and it can still be very warm. The covered part of the queue is open-air, so it can also be warm. Once inside the covered area there are a series of posters "advertising" the various games, as well as providing a little bit of instruction on how to play.
All guests should pick up a pair of 3-D glasses from the bin located near the loading area.
Ride vehicles hold four people, in pairs seated back-to-back. There are individual lap bars and each player has their own spring-action shooter and scoring screen. The shooters move and up and down and rotate left and right. To shoot, pull the string back and release it. The string must go all the way back before another shot can be fired.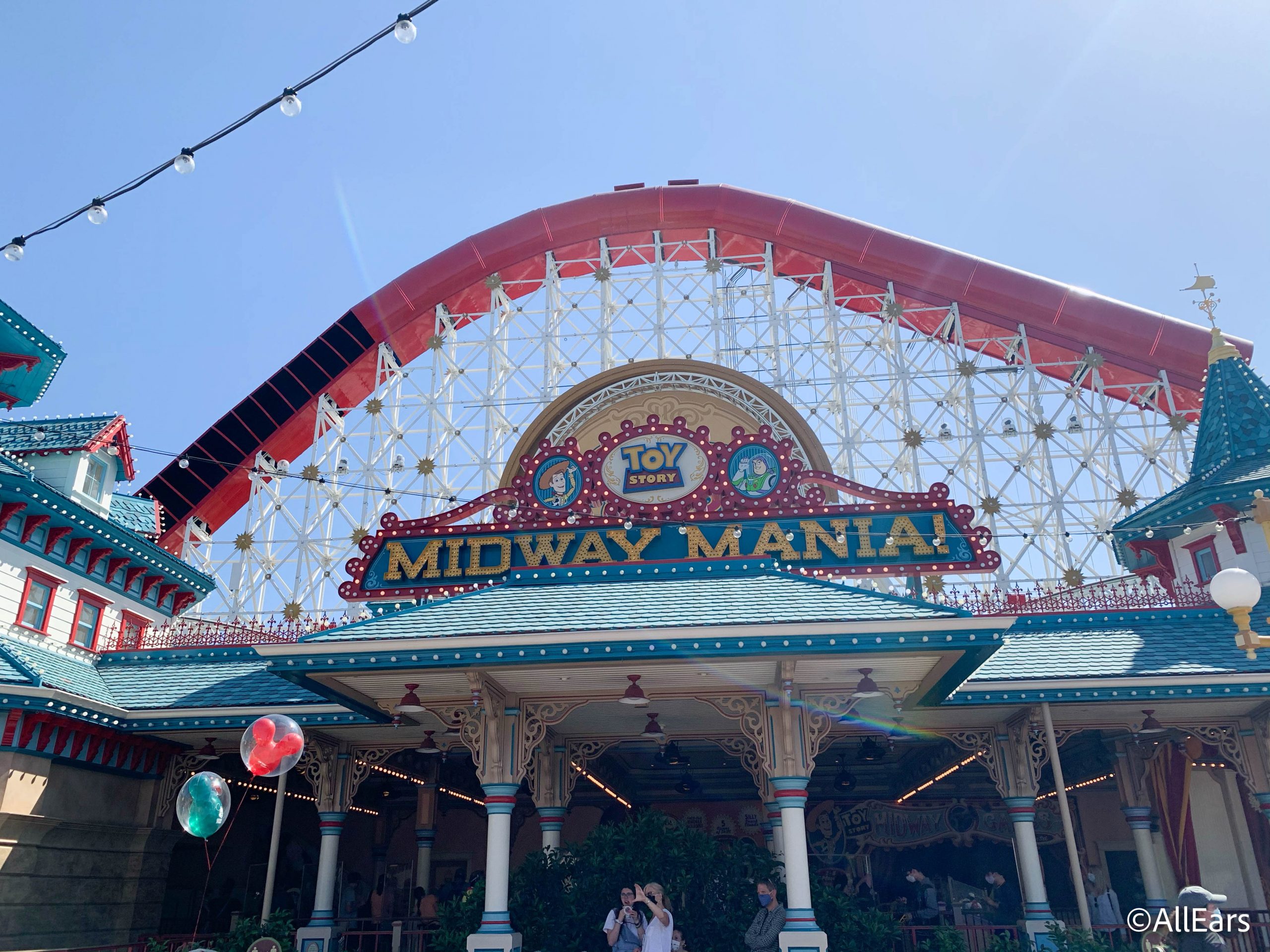 The vehicle spins around as it careens down the track between games, and for this reason there is a precautionary message that those prone to motion sickness should not ride.
The first game is the Pie Throw. This a practice game where guests use their shooters to throw pies at the targets that Buzz and Jessie are holding. No points are awarded in this game.
Next is the Hamm and Eggs game, hosted by Hamm and Buttercup. Players use the shooters to toss egg at barnyard targets such as cows and ducks and knock them down.
Rex and Trixie host Dino Darts, where players throw darts at virtual balloons, some carried across the game by other dinosaurs.
Green Army Men Shoot Camp is a ball-throwing game, and the object is to break as many of the moving, bouncing plates as possible. "I am not your mother – break those plates!"
Buzz Lightyear's Flying Tossers is hosted by Buzz and the little green aliens. Players attempt to toss rings over aliens and rocket ships.
The final game is Woody's Rootin' Shootin' Gallery, where Woody and Jessie encourage players to throw suction cup darts at targets. Then there's an extra Woody's Bonus Roundup game. First players shoot at targets mounted on rolling mine cars, and then a stationary target pops up in front and players must fire their shooters as rapidly as possible.
Each game is 30 seconds long. The characters count down the last five seconds. There are additional "4-D" effects to some of the games, like a puff of air as an object whirls past, or a spray of water after popping a water balloon.
At the end of the games the final point totals are tallied and displayed, and players can see the virtual prize that they have won, as well as compare themselves to the high scores.
TOURING TIPS
Lightning Lane access for Toy Story Midway Mania is available with the purchase of Genie+. The standby line is usually 45-60 minutes long on busy days.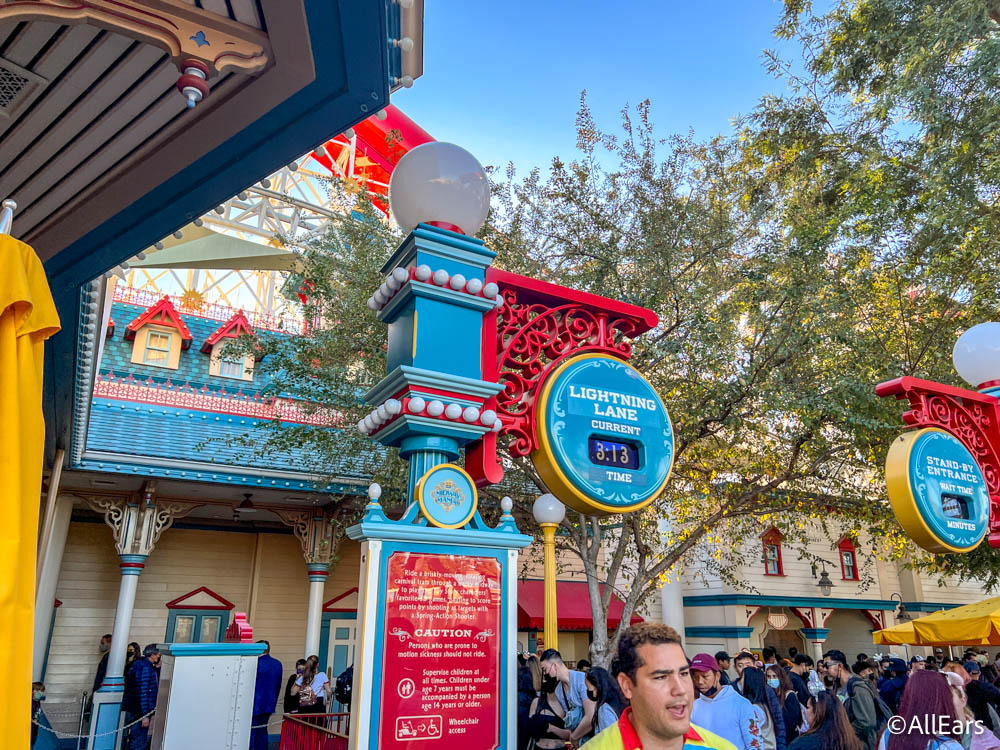 The ride is about 5 and a half minutes long. Sometimes there are delays at the end of games or between games, so it can take longer than that.
In each of the games there is at least one "Easter Egg" – targets that can trigger the appearance of bonus high-value targets or other changes. For example, the Flying Tossers game, if players can toss rings over all of the aliens in the rocket ship, then a big robot will appear and open its mouth, which has a large target in it. Depending on how much time is left in the game, it will open multiple times, with higher point values each time.
The queue is wheelchair/ECV accessible, but guests in ECVs must transfer to a wheelchair to experience the attraction, which has wheelchair-accessible vehicles. These vehicles have their own loading zone. Push-button shooters are available for those who have difficulty pulling the string. Closed captioning is also available.
To exit the attraction guests (other than those in the accessible line) must climb a set of stairs to cross the attraction's track, then go down stairs on the other side. If this might be an issue for you or someone in your party, inform the Cast Member at the loading zone.
There is no height requirement, and anyone can play.
The closest restrooms are located just behind Jessie's Critter Carousel.
KIDS AND CHARACTERS
Toy Story Midway Mania is very popular with children and adults. There are a number of high-value targets that are at kid's-eye level, and easier for them to see.
Young children should be accompanied by an adult.
Pixar characters are often available for Meet and Greet around Pixar Pier – check the Daily Times guide for times and locations.
DINING
Poultry Palace – Chicken and turkey legs
Señor Buzz Churros – cinnamon sugar and spicy churros
Angry Dogs – hot dogs
Restaurants At A Glance
Menus From the Disneyland Resort
SHOPPING
Midway Mercantile, at the exit of Toy Story Midway Mania, has a large selection of Disney*Pixar-themed plush, costumes, games, and other toys.
INTERESTING FACTS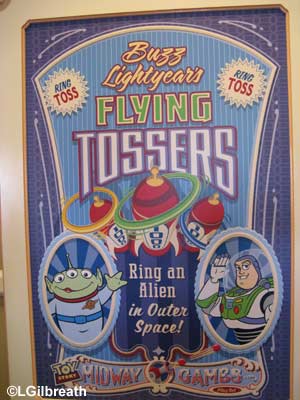 Toy Story Midway Mania! opened on June 17, 2008. It is the first time that Walt Disney Imagineering created an attraction for two Disney parks simultaneously. The attraction at Disney's Hollywood Studios opened on May 31, 2008.
The sophisticated Mr. Potato Head audio-animatronic required more programming time than any figure previously created by Walt Disney Imagineering. He has new animated eyes which are highly expressive and can look directly at a particular guest and is the first audio-animatronic whose mouth appears to form words and vowel sounds. Don Rickles pre-recorded the voice of Mr. Potato Head, who speaks more lines of dialogue than any previous audio-animatronic.
In order to create a show that responds not only to every pull of a guest's spring-action shooter, but also every move their midway tram makes, there are over 150 computers communicating over multiple networks throughout the attraction.
The Imagineers had to wear 3-D glasses to art direct all the black-light paint elements.
ADDITIONAL PHOTOS
Toy Story Midway Mania Exterior
Mr. Potato Head
How to Play Poster
Green Army Men Shoot Camp Poster
3D Glasses Bin
Ride Vehicle
Spring-Loaded Shooter
Display Panel
Toy Story Midway Mania Interior
Final Scores
Virtual Prize
Playroom at exit
If you have comments or tips to share with others about touring Disney's California Adventure, please email us. Thank you.