Radiator Springs Racers Cars Land Disney's California Adventure
Introduction | Attraction | Touring Tips | Kids/Characters | Dining | Shopping | Interesting Facts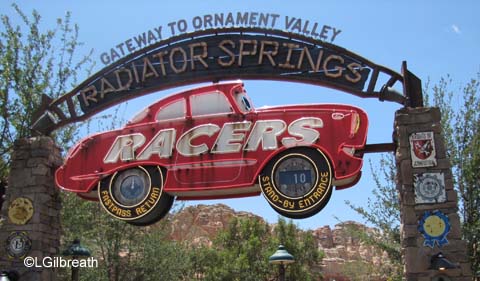 INTRODUCTION
Radiator Springs Racers is Cars Land's signature attraction. Guests take a scenic drive in a convertible through Ornament Valley followed by a tour of Radiator Springs – including encounters with all of its leading citizens. It all leads up to a thrilling side-by-side race with another car.
ATTRACTION
Lightning Lane access for Radiator Springs Racers is available with the purchase of an Individual Attraction Selection. The standby line is regularly 60-90 minutes long.
The queue: The Imagineers realized that guests would be waiting in lengthy lines, and designed a queue that offers quite a bit of shade as well as interesting things to look at while waiting. The queue is straight out of the Car Toon "Time Travel Mater, which tells the story of Stanley, the radiator cap salesman, and how he founded the town of Radiator Springs. The queue passes by the famous Radiator Spring and other elements of Stanley's Oasis, including the Amazing Oil Bottle House and Stanley's Cap -n- Tap.
The loading area is located inside the Comfy Caverns Motor Court. Usually, six cars are loaded simultaneously. Each car seats six passengers, three in the front and three in the back. Everyone has their own individual seat belt.
The attraction begins with a relaxing, scenic drive through Ornament Valley, before moving into the town of Radiator Springs. You'll encounter the Sheriff, Mater, Fillmore and Sarge, Lizzie, Red the Firetruck, Sally, and Lightning McQueen. Be sure to notice some of the details on these large audio animatronics, like the expressive eyes and the way the mouths move when they speak.
In preparation for the big race your car will either be sent to Luigi's for new tires or to Ramone's for detailing. Upon exiting your car will be next to another race car. Doc Hudson will give you both a last-minute pep talk, and then the race begins!
The cars move outdoors again, when they race side-by-side around Ornament Valley, including some hills, dips, and banked turns, before crossing the Finish Line. It's random as to which car wins.
You'll pass through the famous Taillight Caverns before returning to the loading area and exiting the vehicle. The ride takes about four-and-a-half minutes.
Radiator Springs Racers Ride-through with an Imagineer
TOURING TIPS
Lighning Lane access for Radiator Springs Racers is available for purchase as an Individual Attraction Selection.
There is a single rider line which is usually the best way to minimize your wait time. If you choose that option, be aware that your party WILL be split up.
There is a height requirement of 40 inches for this attraction.
Wheelchairs and ECVs enter the attraction through the regular queue. Riders must be able to transfer to the vehicle. For those needing extra time there is a separate loading area – please ask a cast member for details.
Taller people may find the trailer uncomfortable as there is limited knee room.
Restrooms are located between Flo's and Sarge's Surplus Hut.
KIDS AND CHARACTERS
Mater and Lightning McQueen appear frequently throughout the day at the Cozy Cones. Red the Fire Truck parks in front of Luigi's Rollickin' Roadsters, or along the road to Flik's Fun Faire.
DINING
Flo's V8 Cafe is nearby.
The Cozy Cones offer a variety of snacks.
Disney's California Adventure
Restaurants At A Glance
Menus from Around the Disneyland Resort
SHOPPING
Sarge's Surplus Hut – Cars toys and merchandise.
Radiator Springs Curios – Radiator Springs souvenirs, t-shirts, pins and accessories.
Ramone's House of Body Art – Apparel and Radiator Springs-specific merchandise.
Disney's California Adventure Shopping at a Glance
INTERESTING FACTS
Many of the license plates on the race cars contain the initials of Imagineers who worked on the attraction.
The arch between Pacific Wharf and Cars Land was designed so that guests on the attraction would not be able to see the Paradise Pier Hotel. It wasn't until later that the Imagineers realized there would be a beautiful view when looking towards Radiator Springs Racers from the arch.
If you have comments or tips to share with others about touring Disney's California Adventure, please email us. Thank you.