Avatar Flight of Passage Pandora – The World of Avatar Animal Kingdom
Soar on the back of a mountain banshee during a thrilling ride on
Avatar Flight of Passage.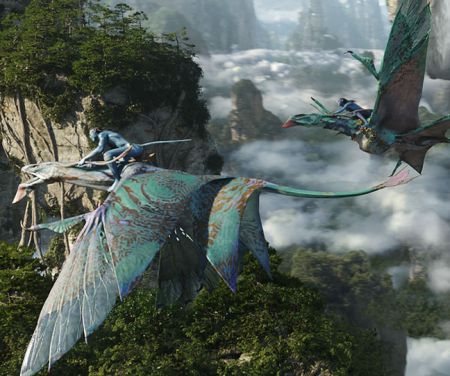 INTRODUCTION
"Fly" on the back of a mountain banshee, over the vistas of Pandora, during an exhilarating, 3D simulator dark ride. Avatar Flight of Passage is located in Pandora – The World of Avatar in Disney's Animal Kingdom.
QUEUE
The journey begins in the queue as guests begin an uphill trek around a massive root structure, over a land bridge above waterfalls to an authentic totem garden. Meandering passageways lead to a cave-like structure where the great–winged banshees, or Ikran as the Na'vis call them, are celebrated in paintings and majestic totems.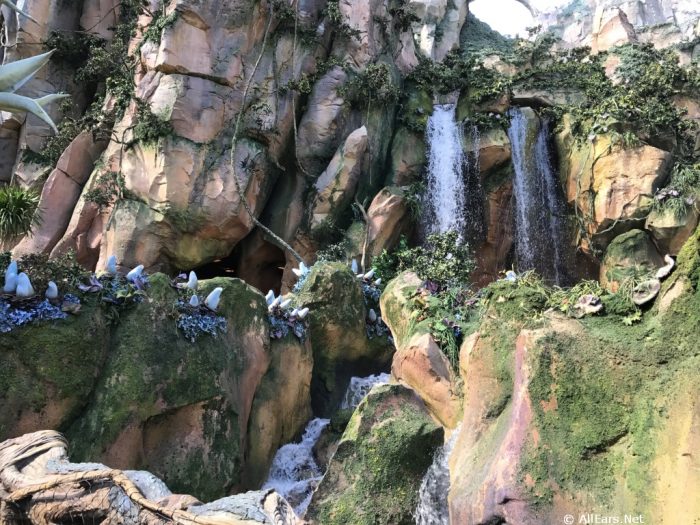 Next, guests enter an old, abandoned RDA facility with a laboratory partially restored. Here, there are scientific experiments in progress with references to habitat restoration, the ecosystem, water purification and the connection of all living things.
Next stop is the genetic matching room where explorers are scanned and genetic material is sampled to connect them to personal avatars in preparation for a flight experience. Once matched, adventurers board link chairs, don flight visors and prepare for the flight.
ATTRACTION
After entering a state-of-the-art theater, each guest straddles a single-seat simulator (like a motorcycle) that delivers a realistic sensation of riding a living creature. Guests will experience the swift and graceful movements of flight and even feel the banshee breathing beneath them. The multi-sensory experience uses cutting-edge technology and intricate special effects like never before.
This heart-pounding adventure transports explorers through the alien world of Pandora, offering lifelike encounters – splashing whale-like creatures, blowing wind, roaring banshees, and a threatening encounter with a flying predator. The exhilarating 4-minute flight through the sci-fi world of bioluminescence and floating mountains is orchestrated to a complex musical score recorded by the London Symphony Orchestra.
TOURING TIPS

Avatar Flight of Passage is a FastPass+ attraction. This attraction is so popular you will need a Fastpass to ride it,  or expect very long wait times. To better your chances of riding without a Fastpass, visit at park opening or take advantage of Extra Magic Hour.
Ride Restrictions: You must be at least 44 inches ( 112cm) tall to ride. Children under 7 must be accompanied by someone 14 or older.
You will be restrained on a moving vehicle at a significant height above ground.  This is a highly immersive 3D experience with sudden drops and acrobatic aerial maneuvers.  Those who have a fear of heights or are prone to motion sickness should not fly.
For your safety, you should be in good health and free from high blood pressure, heart, back or neck problems, motion sickness, or other conditions that could be aggravated by this adventure. Expectant mothers should not ride.
Guests using an ECV must transfer to standard wheelchair, and then to ride vehicle.
Audio Description, Video Captioning and Assistive Listening available.
WDW At Large: The seating and restraints of this attraction may prohibit guests of certain body shapes or sizes from riding.  A practice vehicle is available at the attraction entrance.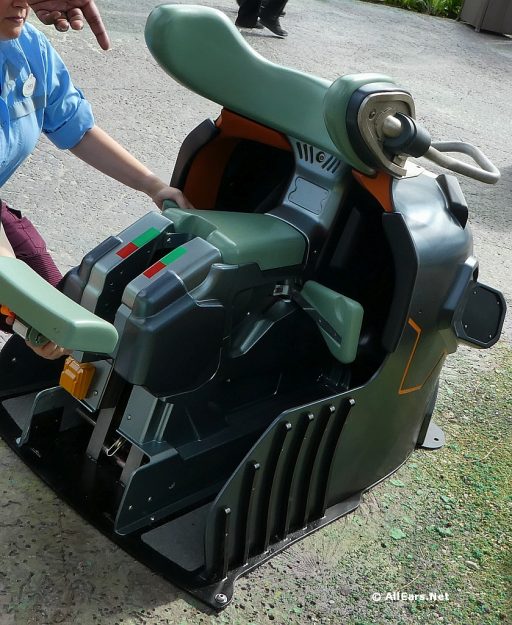 See what others thought of this experience in our Rate and Review section, or leave your own rating!
KIDS AND CHARACTERS
There are no characters associated with this attraction. Kids may enjoy the Windtraders shop, which has a variety of unique, Pandora-themed merchandise.
Characters (including Dug and Russell from UP!) meet elsewhere around the theme park. Check your Times Guide for exact locations and times.
Disney's Animal Kingdom Characters at a Glance
DINING
The restaurant in Pandora – The World of Avatar is Satu'li Canteen. This counter service spot serves healthful dishes featuring wholesome grains, fresh vegetables and hearty proteins.
Disney's Animal Kingdom's Restaurants At A Glance
Menus From Around the World
Vegetarian and Other Special Diets
SHOPPING
The main store in Pandora – The World of Avatar is located at the exit of Flight of Passage. It is known as Windtraders, and it features merchandise unique to this land.
Disney's Animal Kingdom Shopping at a Glance
INTERESTING FACTS
There are a number of Hidden Mickeys located in Pandora.
We have a collection of videos and press releases from before this attraction opened.
If you have comments or tips to share with others about touring Pandora – The World of Avatar, please email us. Thank you.