With Pandora – The World of Avatar, Disney's Imagineers created a richly detailed landscape of strange, unfamiliar images. As a result, folks continue to spot potential Hidden Mickeys here.
When you reach the lab along the Standby entrance queue of "Avatar Flight of Passage," look for this collection of small, different-sized bottles with black caps on a countertop. Two sets of three bottle caps might come together in the middle of the collection as classic Hidden Mickeys (especially the one on the left?). (Thanks to Allie).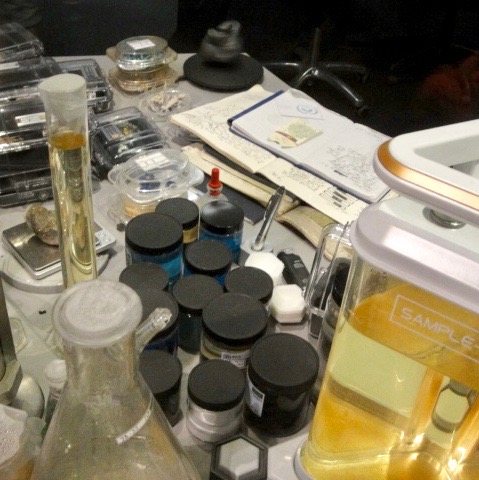 Also in the lab are these drawings on a researcher's note paper. Do three of the black circles (at the upper left margin in the photo) form a sideways classic Mickey? (Thanks to Jason, and Bret Sohl).

Circles are in the design of some of the hanging lanterns along the entrance queue of "Na'vi River Journey." Do some of these circles simulate classic Mickeys? (Thanks to Aaron).

Outside in Pandora, near the main entrance to the land, check out an image in one of the rock seating areas. As you enter Pandora, find this rock seat on the right side of the walkway, not far past the interactive tree that stands near the bridge at the main entrance. Do these three holes in the rock surface look like Mickey? (Thanks to April Beisser).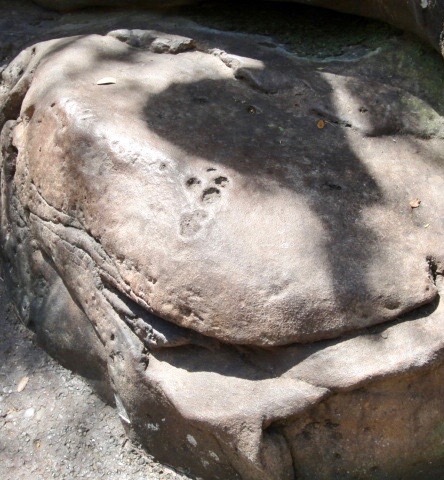 Marvel at the amazing detail in Pandora!