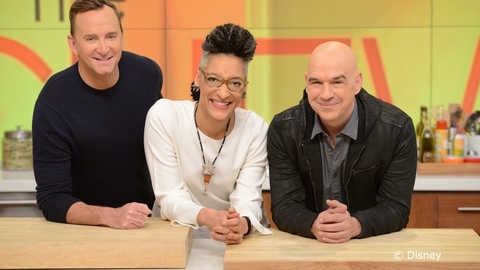 Disney Cruise Line has partnered with ABC's "The Chew" to bring its passengers unique, food-and-beverage-themed Port Adventures that celebrate the stories, cultures and flavors of the places visited.
These one-of-a-kind, culinary-themed Port Adventures are innovative and inspirational, just like the cooking and food trends the daytime talk show explores. The Chew hosts Clinton Kelly, Carla Hall and Michael Symon have given their stamp of approval on these culinary adventures offered in countless destinations across the globe.
DCL also is working with The Chew team to create brand new Signature Collection Port Adventures that will feature recipes from the show prepared by local chefs in ports of call around the world.
Here's what's on the menu:
Culinary Classes
Master the secrets to creating exotic specialties from around the world during hands-on seminars and programs led by top chefs ashore. From a cooking lesson in Tuscany to a culinary bootcamp on Prince Edward Island and time at the Klipfish Academy in Norway, you'll learn to prepare local favorites from an expert chef. The best part? Getting to enjoy your creation!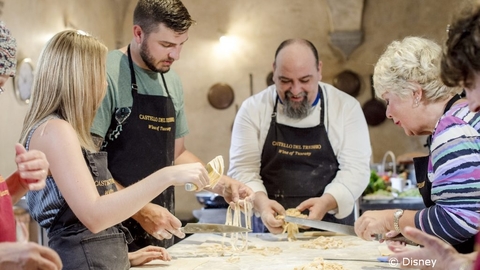 Epicurean Adventures
Eat, drink and enjoy a little something extra during select Port Adventures where savoring a delicious meal is only half the fun. In Alaska, feast on fresh seafood you've just caught on a fishing expedition off the coast of the scenic Tongass National Forest. On your adventures in Italy, compete in a cooking challenge at a local farm after exploring the ruins of Pompeii and the beauty of the Sorrento Coast.

Wine & Dessert
Work alongside kitchen pros during appetizing port excursions that teach everything from wine appreciation to dessert creation. After touring an 18th-century wine cellar in the Bahamas, you'll indulge in a 4-course meal with expertly paired wines. During an excursion to discover the legend of Scotland's Loch Ness Monster, you'll decorate a cake to artistically express your unique take on the elusive creature.
In the coming weeks, more details will be released about The Chew-approved Port Adventures in Europe, Alaska, Canada, Mexico, the Caribbean and the Bahamas.