After a year off at the Los Angeles Convention Center, WonderCon returned to the Anaheim Convention Center.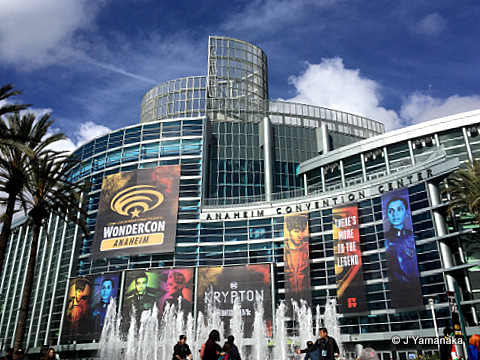 The extensive and lengthy construction projects the Anaheim Convention Center has been undergoing for awhile appear to be finally completed, with the main difference being a new North Hall accessible on both ground and second story levels. The top level was mostly used for large panels with video presentations, while the bottom floor was used for the Future Tech Live Pavillion's VR Lounge.
This was the first year for WonderCon to have a VR Lounge, although San Diego Comic-Con has had one off-site for awhile. I didn't get a chance to take a look around until Sunday when a lot of the different experiences had shut down, but it at least seems to be a nice start. Hopefully more companies like The Void will participate in the future.
HOLOGATE from HOLOGATE on Vimeo.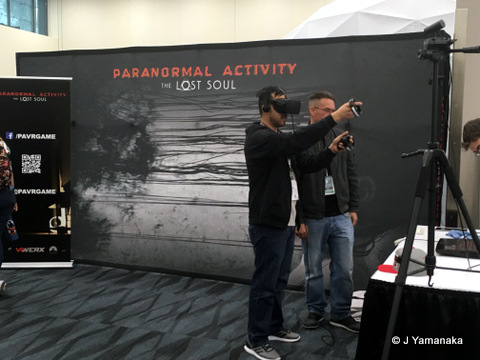 [Side note: It's always amazing to me that I'll stand around and watch big strong people play some scary VR experience where they're screaming and leaping around in terror for ten minutes, and then the booth worker will turn to me and say "do you want to try it?" ALL THE NOPES.]
Panels took place throughout the weekend on subjects generally geared towards helping people understand various facets of the entertainment industry including how to break into them.
"Animated Effects in Live Action Productions" had ASIFA-Hollywood VP David Derks moderating John Van Vliet, Eli Jarra, and Roger Kupelian's discussion on their memories of animating visual effects in film and TV.
Van Vliet on "TRON:" "To me, the most iconic thing in the movie was when the guys turn into light cycles, and that's all hand animation. And the way that happened was Richard Taylor comes in, and he's like art director/visual effects director, and he would come in and…he brought down this big transparency of the motorcycle…and then he had the cells of the guys leaning over. And he says 'here's the guy leaning over, here's the motorcycle. Get him in there…Make it cool.' I love this guy! And we worked on it and so what you see in the final thing, you see the parts start to rez up and the frame where it wipes in and the cover wipes over…that was like 72 passes on the camera where we kept winding it back, doing another layer, doing another layer and we're physically winding this film back and forth and it's taking some 20-some hours to shoot, and the whole shot is like 35-40 frames, something like that. And we're literally starting to wear out the perf holes on the film–that's how much wear and tear we're at, and if we scratch one piece in there, you're dead. But that's the kind of environment we were in…In 'TRON' I think the final product is like 13 minutes of actual CG, the rest is all hand or digital."
In "Writing for Animation," veteran writers Marv Wolfman, Shelly Goldstein, and Mark Evanier gave advice and insight into breaking into the animation market.
Goldstein on writing to sell: "…It's like balancing on a tightrope. You have to learn to juxtapose being able to make a sale with what you're doing and so that can be a little difficult these days because buyers are very nervous right now despite the need of massive content. At the same time, it has to have your fingerprint on it. It has to have that one thing that you do so well that makes people say 'ok, I want to call you.'"
"Manga: An Intro For Comics Fans" featured a varied panel of enthusiasts recommending manga and anime for different interest groups.
For Disney fans, they recommended:

"The Avatar's Narrative: Writing for Video Games" was a look at the different challenges involved in writing for an interactive medium with Genese Davis, Chris Avellone, Cameron Dayton, and William Weissbaum.

Avellone on "Star Wars: Knights of the Old Republic II: The Sith Lords:" "I didn't really like Star Wars when the opportunity came up…but, if you're in game writing, you sort of have to learn to love what you're writing for obviously, so you try to find things you like about it. So I started immersing myself in Star Wars, I read all the books, watched all the movies again and I started rediscovering what I loved about Star Wars in my youth. Oh wow, it's a really great space opera story. At the same time…I started accumulating all these questions about the universe; there were things that didn't really make sense to me: Is the Force predestination? Do these characters actually have any choice in what they're doing? Is the Force actually malevolent and trying to kill all these people? Because it seemed to really like just carving that scythe right in the Jedi. I was like is that a good thing for the Force to do? It doesn't seem to care about us very much. So I'm like well, I've got these questions, so how 'bout I put them, these questions, into one character in the game, and she is the one that always brings up these doubts and questions about the Force. And then…even though I may not super love the franchise, I can have a dialogue about the franchise through that character. That character was Kreia…that was a good experience to learn to love the franchise you're working with, and if you do have questions about it, why not use one of your characters you're writing to sort of bounce those questions both in general to the world, and to the player."
Freeform (formerly ABC Family) Channel made its first big showing at WonderCon with panels and sneak peeks of two new shows: "Siren," and "Marvel's Cloak and Dagger."
Nathan ("Castle") Fillion made an appearance introducing an advanced screening of an episode from season 2 of "A Series of Unfortunate Events."
And of course there was the usual outpouring of fandom creativity manifesting in a limitless supply of merchandise and cosplay.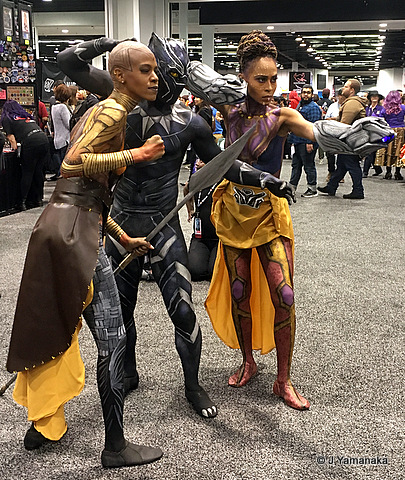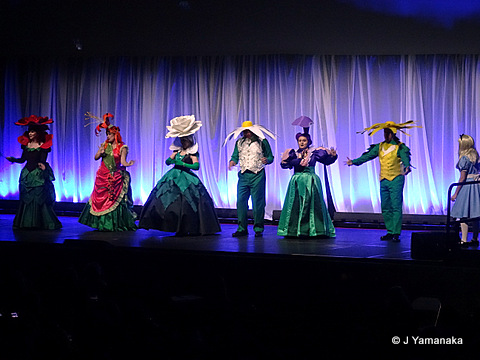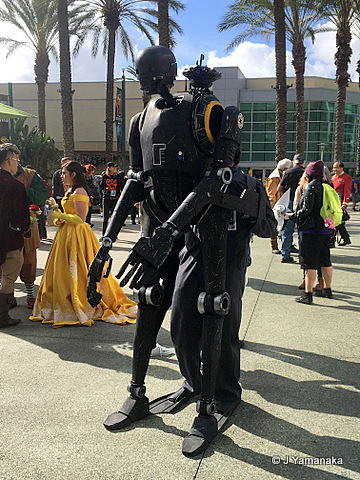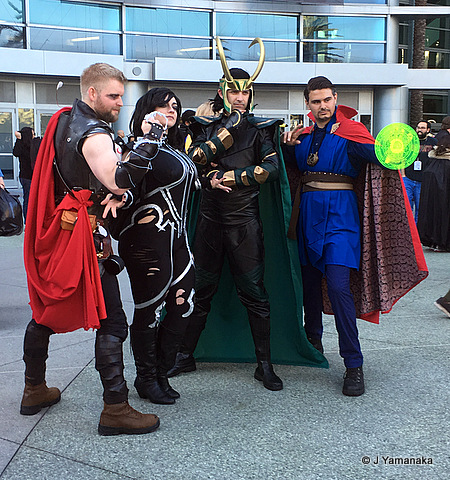 See you next year at WonderCon!